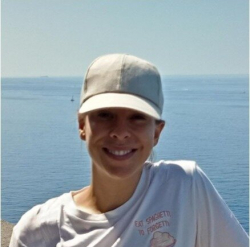 Latest posts by Maddy Chiffey
(see all)
Even among seasoned pros, the task of finding the best chainsaw to use is rarely an easy one, especially with so many things to consider.
Sure, you want the very best in terms of quality, long-lasting durability, and ease of use, but that's only the beginning.
Do you go for a corded electric model, a battery-powered chainsaw, or one that runs on good old fashioned-gasoline?
What about size and power? Is the chainsaw you're thinking of buying actually up to completing the kind of tasks you have in mind?
That's before you even get to things like brand reputation, warranty guarantees, and accessing customer service if something isn't quite right.
It's a lot to think about, and that can make the whole process of choosing the right chainsaw pretty overwhelming.
That's why I've put together this comprehensive guide, not only outlining my recommendations of the very best chainsaws around right now, but outlining the factors that really matter the most when picking the right tool for the job and how each one may impact the one tool you ultimately decide to invest in.
Why Chainsaws Are an Essential Part of Forestry Work
As I mentioned in my general guide to forestry tools and gear, power chainsaws have revolutionized the forestry industry.
While axes, handsaws, and other tools still have their place, the mighty chainsaw has proven to itself to be versatile and powerful that can be used for a wide variety of purposes including, but by no means limited to:
Tree felling
Bucking and log cutting
Limbing
Pruning
Creating firebreak gaps to prevent wildfire.
And that's just for starters.
All in all, it goes without saying that whether you're brand new to the forestry game or an old hand, you're not going to get very far without owning a good-quality chainsaw of your own.
With that in mind, let me show you what I believe are some of the very best models around before we dive into our comprehensive chainsaw buyer's guide.
Read also: How to Treat Chainsaw Rust.
What are the Best Chainsaws to Buy?
1. Dewalt 20v Max XR Chainsaw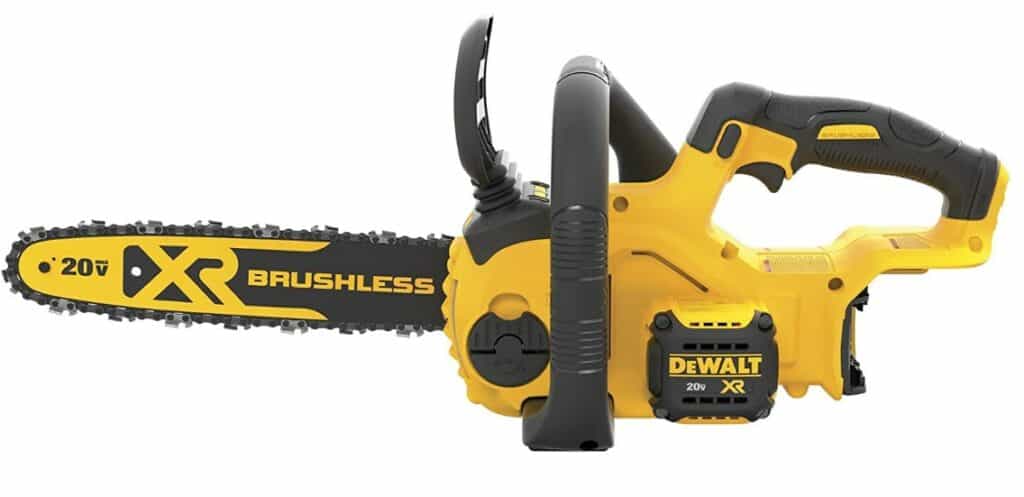 Even if you know very little about power tools, you've likely heard of the name Dewalt.
The Maryland-based brand is an undisputed industry leader known for their premium quality saws and sanders as they are for drills, demolition hammers, and more.
So it's no surprise to find that the Dewalt 20v Max XR Chainsaw emerges as the overall best chainsaw around.
What I like best about this one is that it weighs a remarkably lightweight 9 lbs, making it very easy to carry around and ensuring you can work for much longer without suffering from arm fatigue.
Yet don't let its size fool you. This is a super powerful chainsaw with a 12″ bar and chain capable of making up to 90 cuts per minute on a standard 20v battery.
Though better suited for climbing and pruning than pure tree felling, this is nonetheless a very good value-for-money option that should be an essential part of any forestry pro's arsenal.
2. Greenworks G-Max Cordless Chainsaw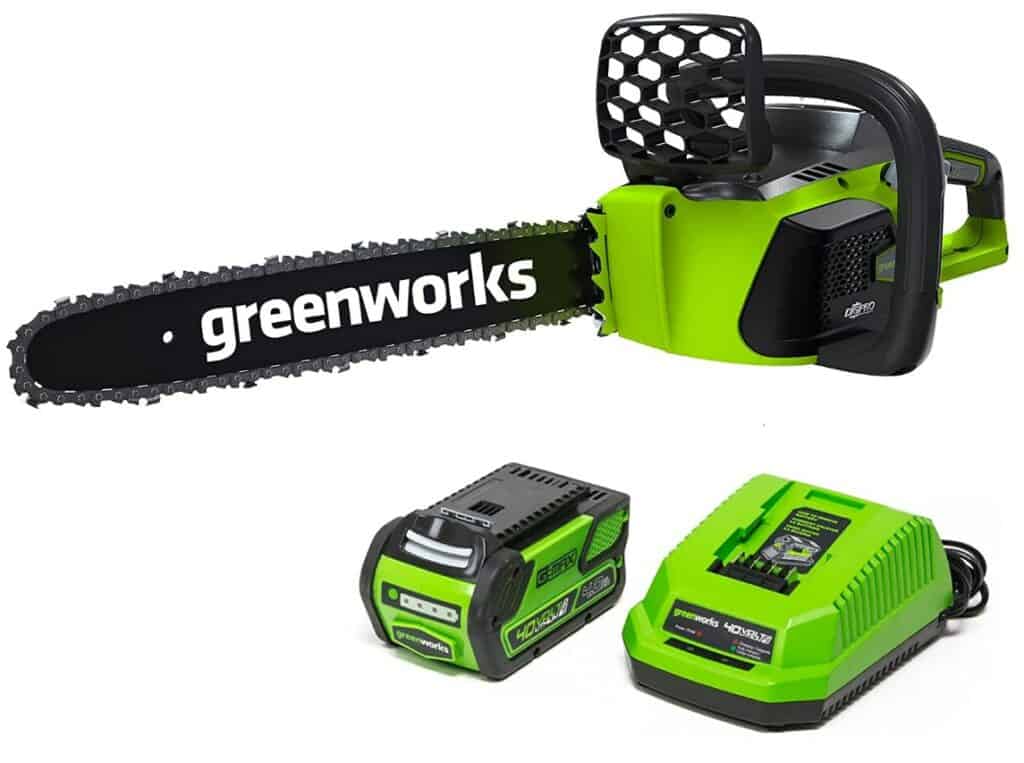 If you're looking for a premium quality cordless chainsaw and the aforementioned Dewalt model didn't quite do it for you, then the Greenworks G-Max Cordless Chainsaw proves itself to be a very worthy alternative.
The highlight with this one is the brushless motor, which delivers 30% more torque and 70% less vibration than other battery-powered chainsaws, making it not only highly efficient but also comfortable to work with and less noisy.
As I'll discuss later, a quieter chainsaw can prove invaluable when it comes to safety, and if that's a primary concern for you (as it should be), then you'll also like the addition of a chain brake and low kickback chain also help to make this one of the safest chainsaws on the market.
3. Craftsman Full Crank 2-Cycle Gas Chainsaw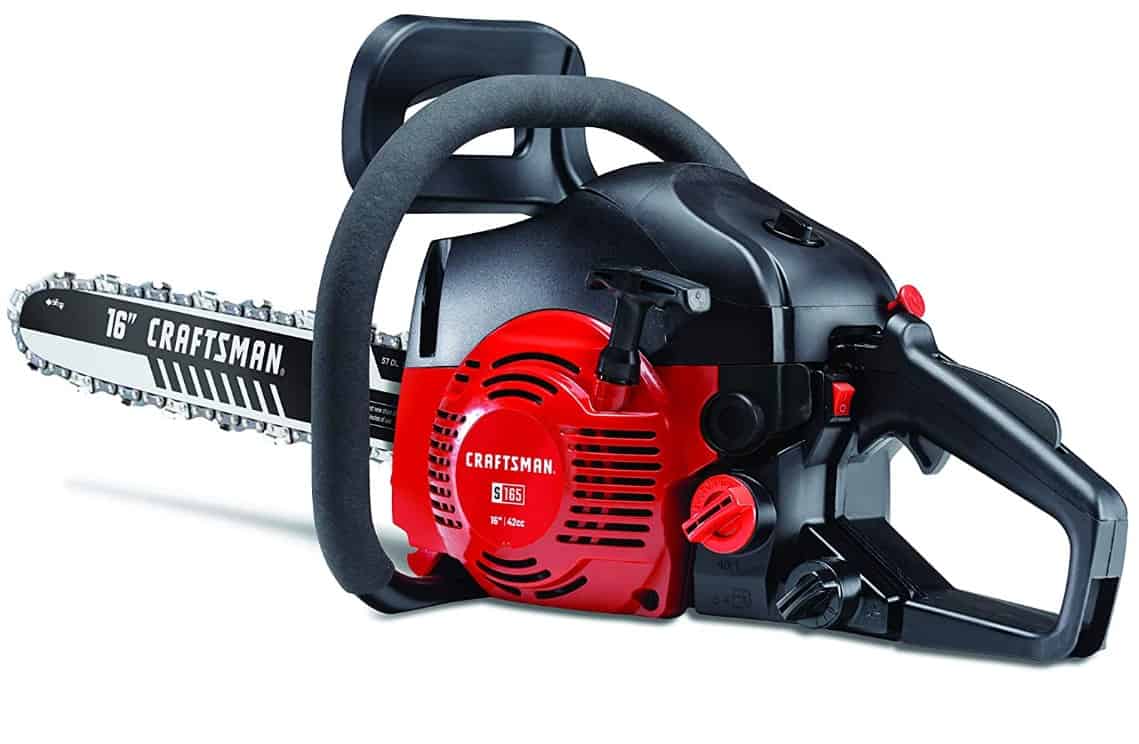 Not everyone is a fan of cordless chainsaws. If you prefer something more traditional, then the Craftsman Full Crank 2-Cycle Gas Chainsaw earns my vote for the best gas-powered chainsaw around.
Though you'll find this one at the higher end of the pricing scale, you'll also find that it offers everything you'd need from a high-performance chainsaw and then some.
This includes a super-tough 16″ Chainsaw bar and low-kickback chain, a solid 44cc full-crank 2-cycle engine that delivers a level of power that belies the Craftsman's lightweight design.
Elsewhere, I love how smooth and comfortable this one is to handle. The 3-point anti-vibration system and ergonomic handle helps to prevent fatigue and ensure flawless control and smooth performance from start to finish.
4. Black & Decker 40V Max Cordless Chainsaw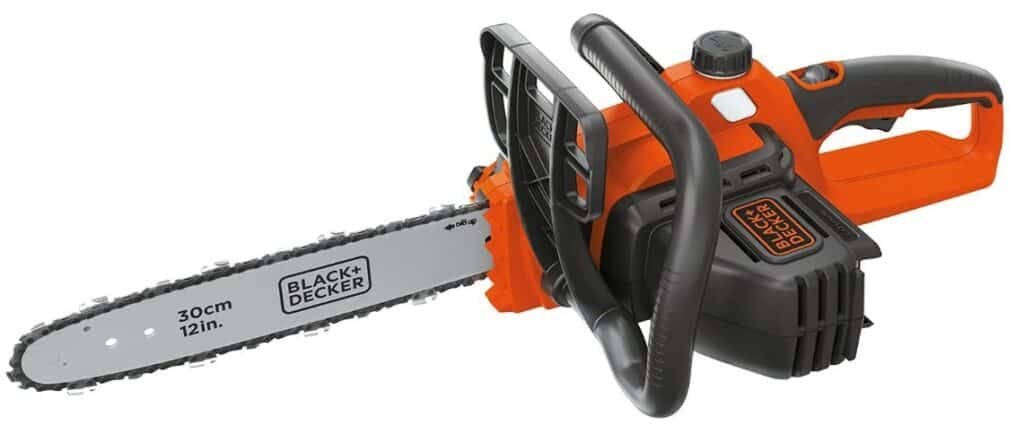 Much like Dewalt, Black & Decker have carved out a reputation as one of the biggest names in the power tool game, so you knew at least one of their top-rated chainsaws would feature in this guide sooner rather than later.
Of all the models the brand offers, it's the Black & Decker 40V Max Cordless Chainsaw that gets my vote thanks to its winning combination of high-power performance and relatively low-cost pricing.
Despite only featuring a 12″ saw, the Black & Decker 40V is incredibly strong, capable of felling small-medium trees on a single battery charge.
You'll also find a lot to like about this one if you're looking for the best chainsaw for beginners, as it's not only incredibly easy to use but very simple to maintain thanks to the automatic oiling system and tool-free tensioning.
5. Worx WG305 14″ Electric Chainsaw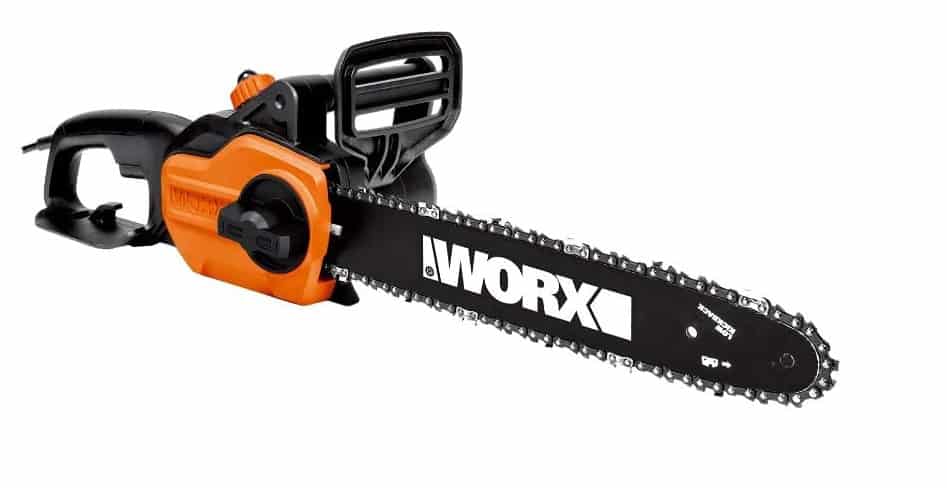 Right from the moment I laid eyes on the Worx WG305 14″ Electric Chainsaw, there were two things that immediately appealed to me.
The first was the very attractive pricing.
If you're looking for one of the best budget chainsaws on the market, the Worx WG305 is definitely a top contender.
The second is that it's a corded chainsaw, which means it's powered via a cord running from the mains.
While this does somewhat limit your flexibility and maneuverability, it also means that you can keep going for as long as you like without ever running out of power.
Still, that's not all this one has going for it.
The 14″ bar is bigger than you'd normally get with a chainsaw at this level and combines with an auto-tension chain system and powerful 8 amp motor to deliver a substantial 28 ft/s cutting speed.
6. Oregon 603348 CS1400 Corded Chainsaw
Sticking with the theme of high-quality corded chainsaws, the Oregon 603348 CS1400 Corded Chainsaw is another worthy addition to your tool kit.
Though it's a little pricier than the aforementioned Worx WG305, it also offers a larger, 16″ reduced-kickback bar and a more powerful, 15-amp motor.
Oregon also earns rave reviews thanks to its very quiet operation, making it a great option for use in built-up areas, as well as its tool-free tension tightening and maintenance, making it another solid choice for those with minimal experience.
Read more: Best Oregon Chainsaw Models.
7. EGO Power+ CS1800 Cordless Chainsaw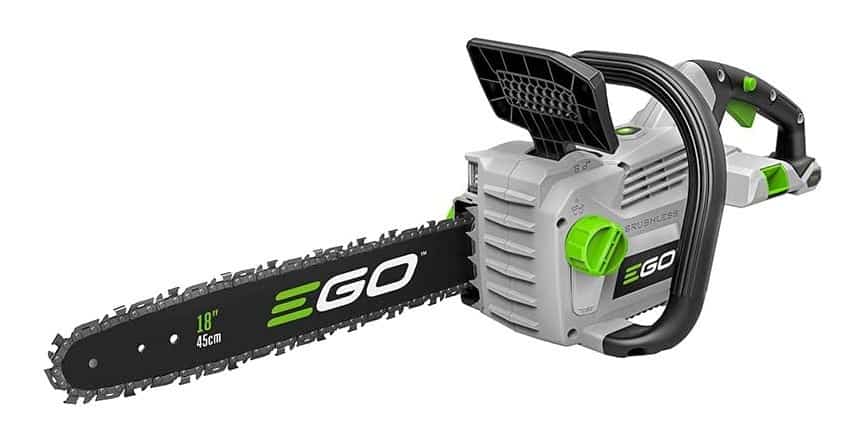 The most expensive chainsaw on this list by some margin, the EGO Power+ CS1800 Cordless Chainsaw still packs an incredibly solid punch which ensures that it more than earns its lofty price tag.
The biggest selling point with this one is the 18" Oregon Bar and Chain, which combines with a high-performance brushless motor which makes cutting through 30″ trees in a single pass almost effortless.
Beyond this, I'm also really impressed with the addition of a built-in headlamp which makes it ideal for cutting at night or during a storm, not to mention the 56V 5.0 amp battery, which delivers over 200 cuts on a single charge.
8. Milwaukee 2727 Chainsaw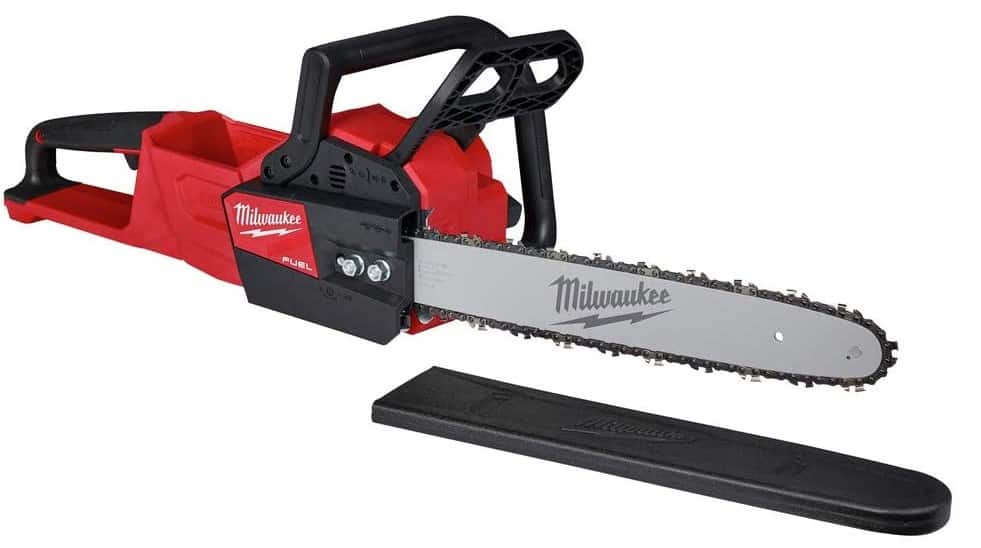 The Milwaukee 2727 Chainsaw is a nimble yet tough tool that generates the same power level as a 40 cc gas engine from a single 2.0 battery pack.
At 150 cuts per charge, it may not boast quite the same level of strength as others on this list, but it does have its upside.
For one thing, it maintains a consistent speed when dealing with heavier loads which is no doubt a welcome feature for anyone who has ever used a high-powered chainsaw which slows down the more it's put to the test.
For another, it handles like a dream, with multiple speed settings for maximum control and minimum vibrations.
If you're looking to swap your gas-powered chainsaw for a battery-operated one, the Milwaukee 2727 is a great transitional chainsaw.
9. Yoilyoqu Mini Chainsaw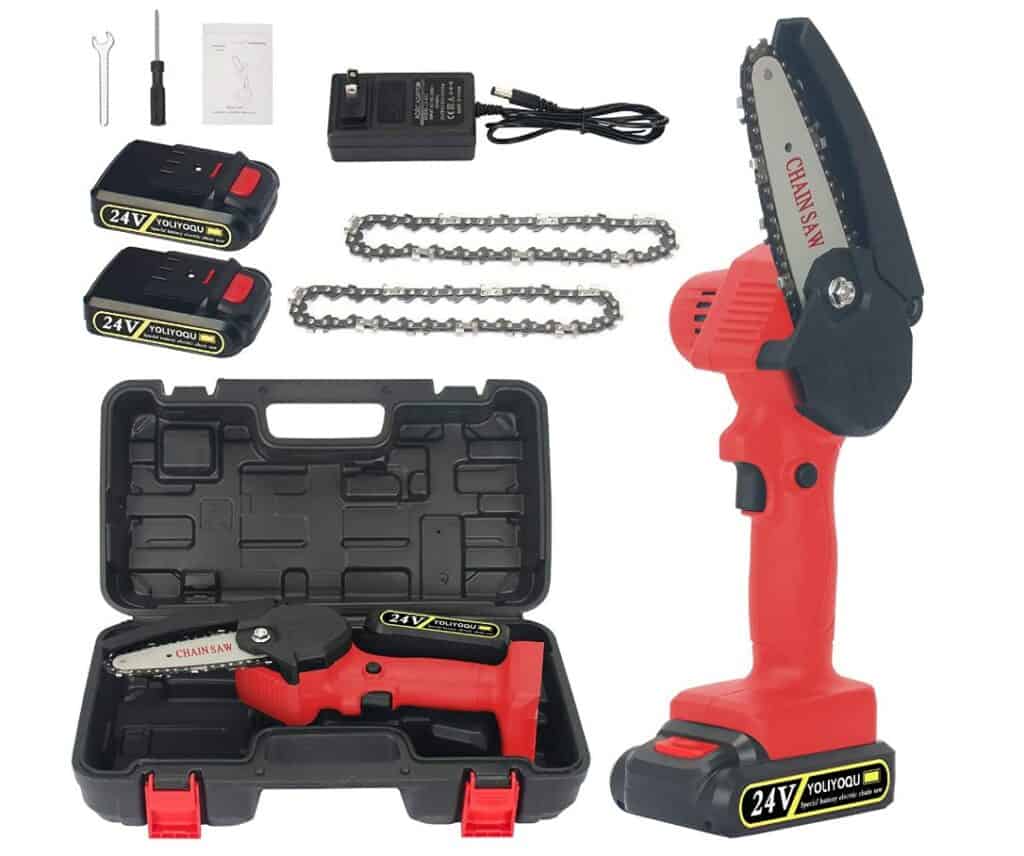 While this guide has focused primarily on regular chainsaws, there's a lot to be said for adding a mini chainsaw to your tool kit.
There's a ton of pocket-sized saws to choose from, but of them all, it's the Yoilyoqu Mini Chainsaw that consistently scores the highest rated customer reviews and comes out top in terms of all the things that really matter.
The 4″ blade delivers a speed of 5m/s, making it a good choice for pruning and even a good hand-held tool for those master woodworkers who like to indulge in a bit of sculpture carving.
What I like best about this one is that it comes as part of a complete set, including two high-performance 24v batteries, a charger, two spare chains, plus all the tools you need to tighten and replace those chains, making it the ultimate portable chainsaw kit.
10. Litheli Cordless Chainsaw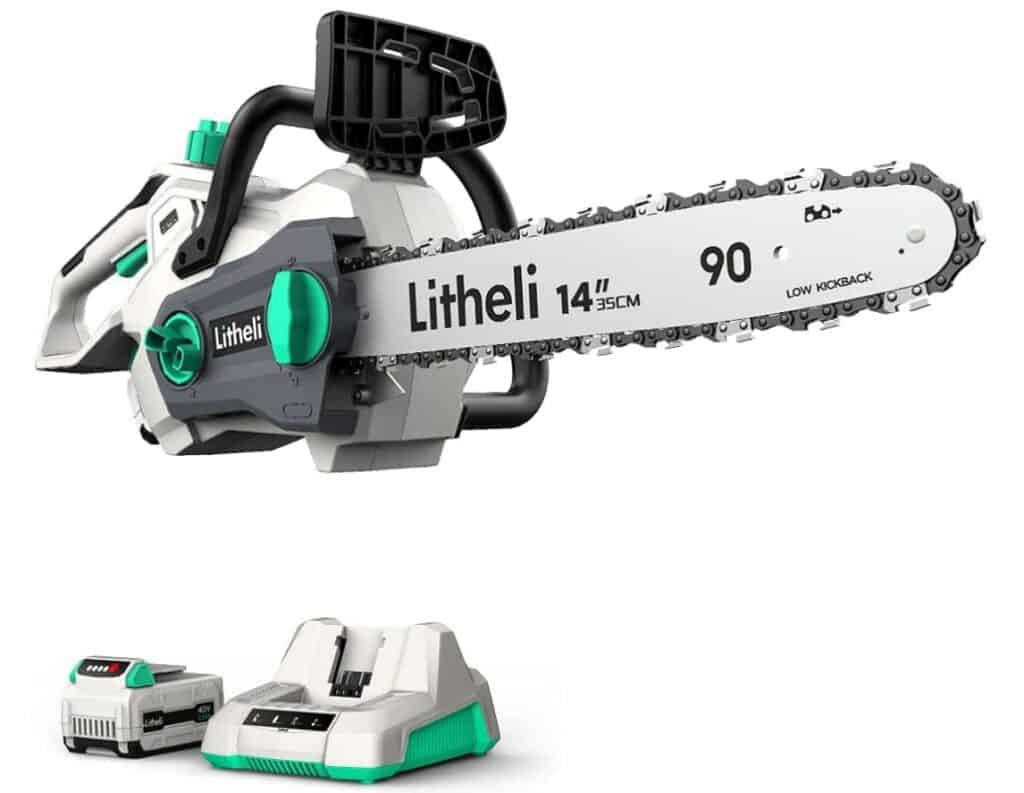 Last but not least, the Litheli Cordless Chainsaw proves itself to be one of the most versatile saws on the market.
The 14″ low-kickback bar and Oregon chain move at a chain speed of 36ft/s, meaning it's ideal for cutting through the kind of thick, tough wood that lesser chainsaws struggle with.
Like most chainsaws, the bar can always be upgraded to a large model, with the 40V battery providing sufficient power for all kinds of forestry tacks from full-on felling to log bucking and more, all with zero fumes, minimal noise, and all the flexibility that you get from a cordless model.
The Major Differences Between The Different Types of Chainsaw
If you've read through the top 10 reviews above, you've no doubt noticed that each chainsaw could be placed into one of three primary categories:
Cordless (battery-powered)
Corded (mains-powered)
Gas-powered.
There's also a fourth category -pocket chainsaws- which I touched on briefly.
While it's good to have options, it's not always obvious which one best suits your particular needs.
Below, I'll talk through the major differences between each of these four different types of chainsaw and offer my suggestion as to which one may be right for you.
1. Gasoline Chainsaws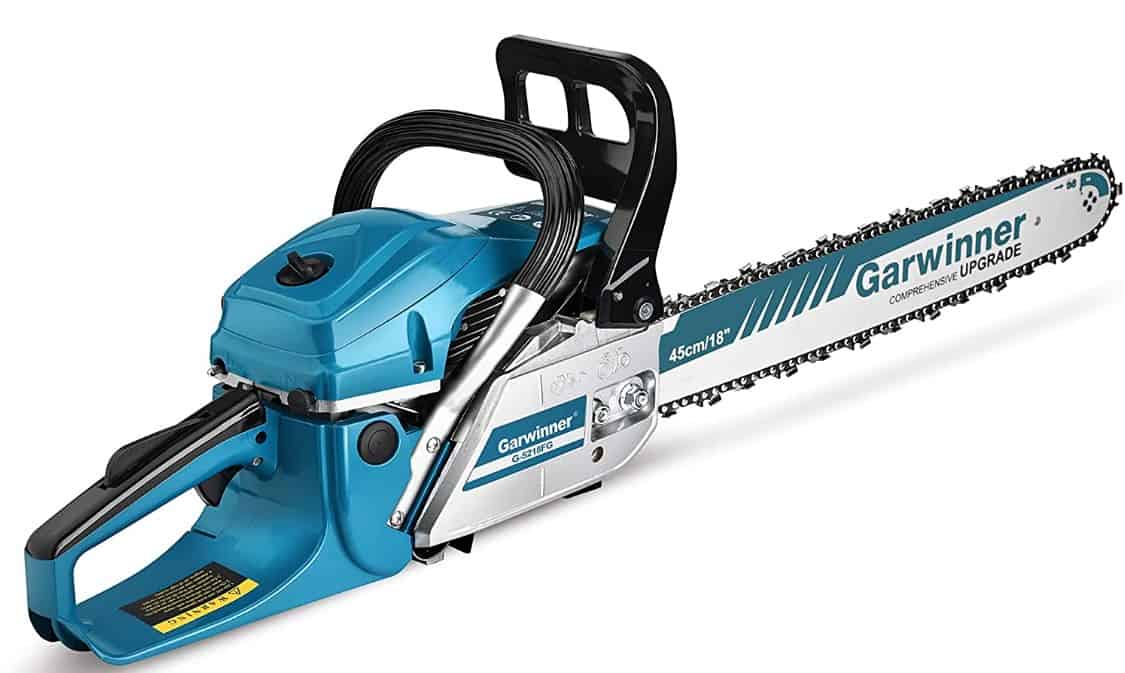 Gas-powered chainsaws are the traditional, old-school saws that most people first think of when they think of a chainsaw.
They work by filling the gas tank with sufficient gasoline and yanking -often multiple times- on a heavy-duty starter cord to get them going.
From there, the gas-powered chainsaw roars into life and proves itself to be by far and away from the most powerful type of chainsaw on the market.
Make no mistake about it; no matter what size of wood you need to cut through, a gas-powered chainsaw with a sufficiently sized bar will be more than up to the task.
That's the upside.
The downside is that gas-powered chainsaws are notoriously heavy, which can make them difficult to use, especially if you're sawing for longer periods.
That's not all; they're also incredibly loud. A typical gas-powered chain saw can reach 121 decibels. To put that into perspective, a Boeing 707 traveling at one nautical mile before landing reaches just 106 decibels. This makes wearing protective ear gear essential, but it also means that if you're in a built-up area, you run a serious risk of infuriating nearby residents with noise pollution.
Finally, on the subject of pollution, gas chainsaws are far worse for the environment than other types, with studies showing that concentrations of Carbon Monoxide (CO) emitted from gas chainsaws exceed the dangerous level of 50 Parts Per Million (PPM).
To sum up then, if you simply need the most powerful chainsaw you can get your hands on, gas may be the way to go, just be mindful of its impact on both your wellbeing and that of the environment.
2. Electric Chainsaws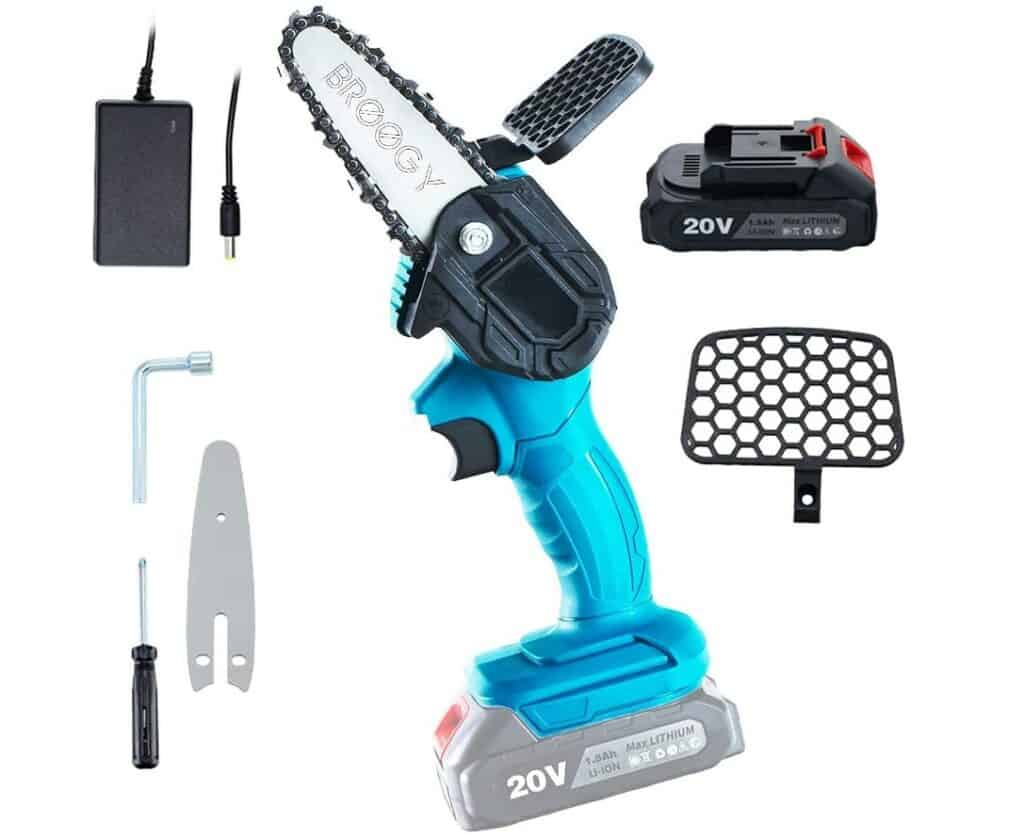 Electric, corded chainsaws are far better for the environment than their gas-powered counterparts and also have the added advantage that they never run out of power.
This is because -as you've no doubt figured out for yourself- they're powered via an electric cord plugged directly into a mains power supply.
While this doesn't give them as much power as gas chainsaws, it does tend to give your average corded chainsaw more might than a typical cordless one.
So far, so good then, but there is, of course, one glaringly obvious downfall to this type of chainsaw:
You can only travel as far as the cord will allow you.
Sure, extension cords exist, and with a really good one, it's possible to add a few hundred feet to your range of movement. However, at some point, that simply becomes more hassle than it's worth and means you'd be better off switching to a cordless model anyway.
That's not to say that corded electric chainsaws don't have their uses.
If you're only working on your own property within reach of a mains supply, they can be a great way to get a job done without ever having to worry about recharging a battery or refilling the gas tank.
What's the difference between Electric vs Gas-Powered Chainsaws? Read here to find out.
3. Battery Powered Chainsaws
Cordless chainsaws are those which are powered by rechargeable batteries.
Of the three main types, they tend to be the least powerful, but that in no way means they're not up to doing a pretty job.
With the right-sized bar and a strong enough battery, a good quality cordless chainsaw can still be used for tree felling and other heavy-duty jobs.
In that sense, they offer a solid compromise between gas and mains-powered chainsaws.
On the one hand, they offer the same amount of freedom, flexibility, and maneuverability that you'd get with a gas-powered model, albeit with none of the noise and environmental damage.
In fact, of the three, cordless electric chainsaws tend to be the quietest, making them a great choice for working in built-up areas.
Keep in mind, however, that the batteries rarely last as long as a tank of gas, so if you're heading off into the wild, it's always a good idea to take a couple of spares with you.
4. Mini Chainsaws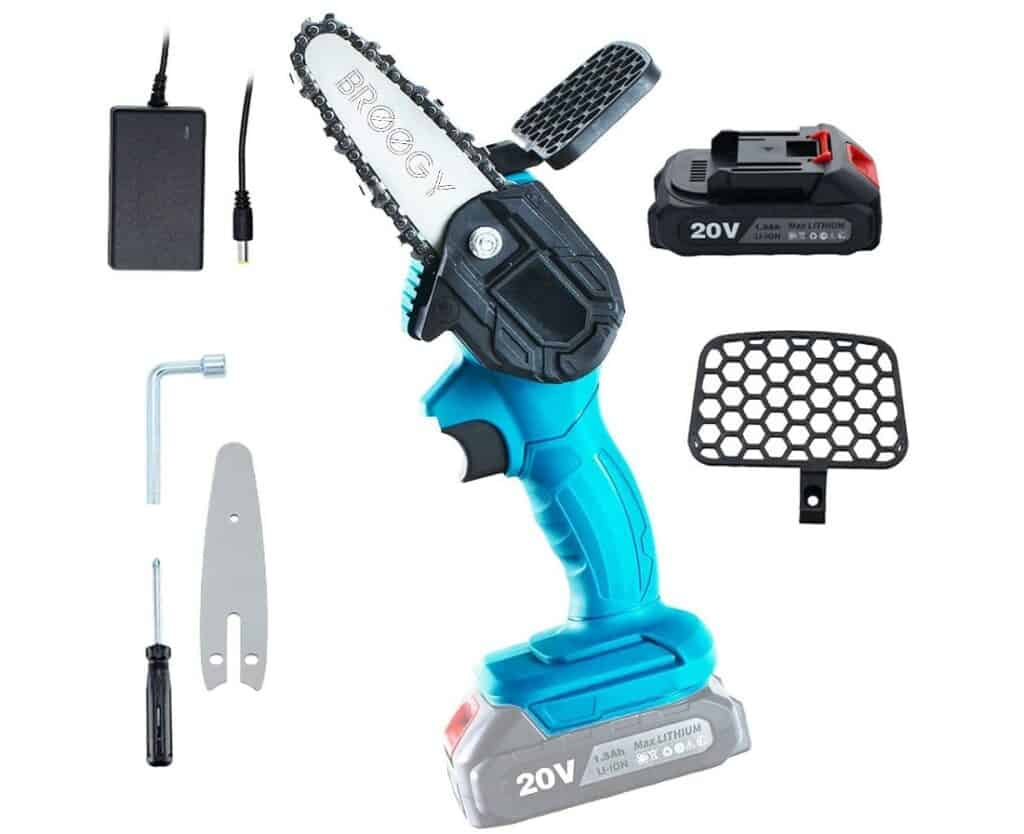 Mini chainsaws are literally what they sound like; pocket-sized saws that are portable, lightweight, and easy to carry around.
Though they normally always tend to be battery-operated, it's not beyond the realms of possibility that you may occasionally find an old-school, gas-powered chainsaw.
They work great for those small but tough pruning jobs and for getting into the kind of sharp corners and angles that you might struggle to reach with a larger model.
However, when it comes to felling and limbing jobs, their small size means they're simply not fit for purpose.
Advantages of Owning a Chainsaw
If your regular work involves using a chainsaw day-in, day-out, then owning one of your very own is practically a no-brainer, but if you find yourself only needing to use one infrequently, you may be debating whether it's better to buy or rent a chainsaw.
To help you decide, let's look at some of the advantages of owning your own power tool versus the disadvantages.
Convenience
Let's be honest, even if you only use that chainsaw once a month, or even just a few times a year, having it right there in your workshop ready to be used just makes life much, much easier.
You don't have to call the rental place, drive over there, use it within the lease period and then drive it back again.
You can simply decide to go take it out of the workshop and get the job whenever it's most convenient for you, all with practically zero hassle.
Cost-Effectiveness
A good chainsaw for working around your property may set you back somewhere in the region of $100 – $300. That seems like a fairly substantial initial investment, but if you're paying $40 – $50 per day plus a deposit in rental charges, all of those costs are soon going to add up.
That means that it may ultimately work out much cheaper to spend more money upfront to save long-term.
Familiarity and Ease of Use
If you decide to simply rent a chainsaw for occasional use, there's no guarantee that the one you used last time is always going to be available.
Since no two chainsaws are entirely alike, that could essentially mean learning a brand new piece of equipment each time. Sure, the general approach is the same, but if your preferred model is out on loan and you're left to rent an older chainsaw, you may find it's a little more temperamental or just doesn't quite get the job done in the same way.
When you own your own chainsaw, you eventually get very familiar with how it operates, its idiosyncrasies, and all.
The Disadvantages of Owning a Chainsaw
All that being said, there are times when the drawbacks of owning a chainsaw may outweigh the positives and actually make renting a much better idea.
These include:
Maintenance and Upkeep
Unlike traditional hand saws, chainsaws require a fair amount of upkeep.
Even if you're not using a gas-powered chainsaw that requires frequent fuel changes, there's tension tightening, chain replacing, and other essential tasks needed to ensure your chainsaw remains in good working order.
If you're only using your tool on a semi-regular or infrequent basis, that may be more hassle than it's worth, and it may be better to let the hire shop take care of all the maintenance for you.
Safety Concerns
Along with maintenance, safety is the biggest drawback to owning a chainsaw. Even if you're the most careful person in the world when you're operating it yourself, there's no escaping the fact that a chainsaw is a powerful and dangerous piece of equipment to keep around the home.
If you have children, it only takes one ill-fated moment of curiosity for them to get hold of that chainsaw and for something to go seriously wrong.
Other Equipment May Still Be Needed
A good chainsaw is a powerful piece of equipment that can be used for many jobs, but it's not perfect for everything.
If you're felling trees, for example, you may still need to invest in other tools to completely remove the stump. When you consider the cost of all those on top of the chainsaw, renting may prove to be more cost-effective after all.
Read also: Complete Chainsaw Recall Tracking List – Which to Avoid.
How to Use a Chainsaw Safely – Top Safety Tips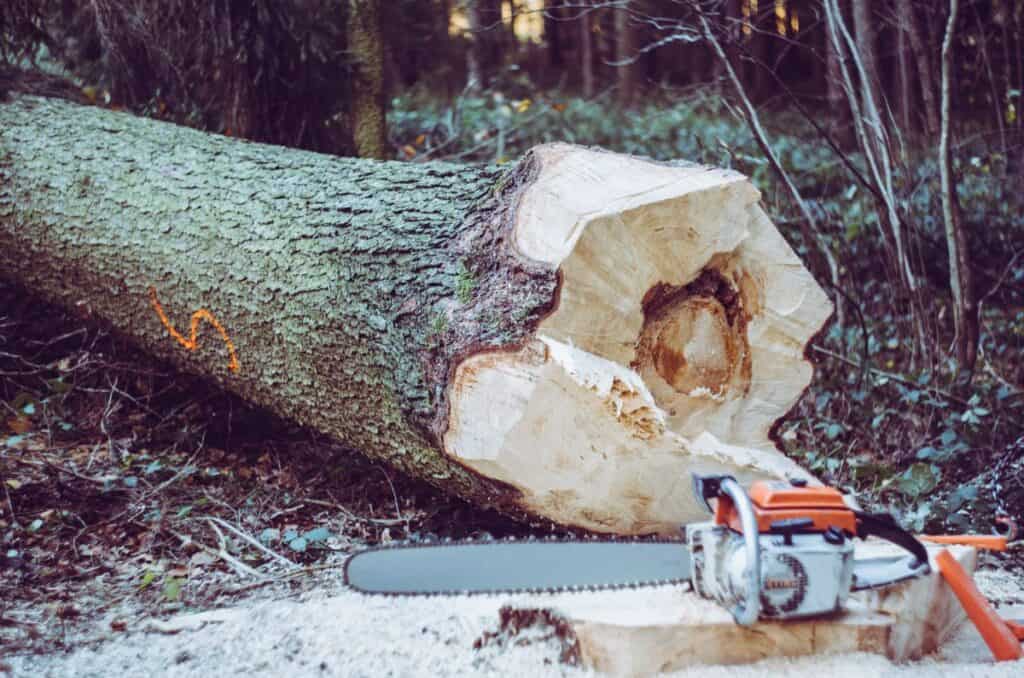 It should come as absolutely no secret that chainsaws are dangerous tools.
Even if they're not in the hands of a horror movie maniac from the Texas Chainsaw Massacre, they can still cause some major harm both to the operator and those in their vicinity.
With that in mind, here are five essential safety tips you really must adhere to before using a chainsaw.
Wear Protective Gear
Before you so much as approach the wood you're about to cut, it's vitally important to wear good quality protective gear.
At a minimum, this could include:
Solid boots
Hard hat
Hearing protectors
Goggles / eye protectors
Chainsaw chaps.
Get to Know Your Chainsaw
Having the right protective gear is only the start. Before turning the chainsaw on, make sure you fully understand how it works.
As I mentioned before, no two models are entirely alike, so be sure to read through the owner's manual in thorough detail and ensure that you not only know how to turn it on and use it but -perhaps more importantly- how to turn it off again, especially in an emergency.
Ensure a Stable Surface
Ensure that your feet are well-grounded and there's no chance of slipping, tripping, or falling. Doing so with a live chainsaw in hand could prove fatal.
Use Both Hands
Chainsaws are powerful tools. Even if you're a strong person, you'll still need both hands to operate one safely.
If you do need to free one hand for something, make sure your chainsaw is fully switched off first.
Have Someone Close By and Stay Vigilant
Ideally, it's always best to have someone with you when you're operating a chainsaw.
As long as they're standing at a safe distance, they can prove to be an invaluable help if something goes wrong.
What's more, if someone approaches or there's another hazard that you may not have seen due to the noise and activity of using your chainsaw, they're in a better place to alert you.
That doesn't mean you should rely on them entirely. Both you and your look-out person should remain plenty vigilant for signs of danger when using a chainsaw.
My Top 3 Recommendations
1. Best All-Round Chainsaw – Dewalt 20v Max XR Chainsaw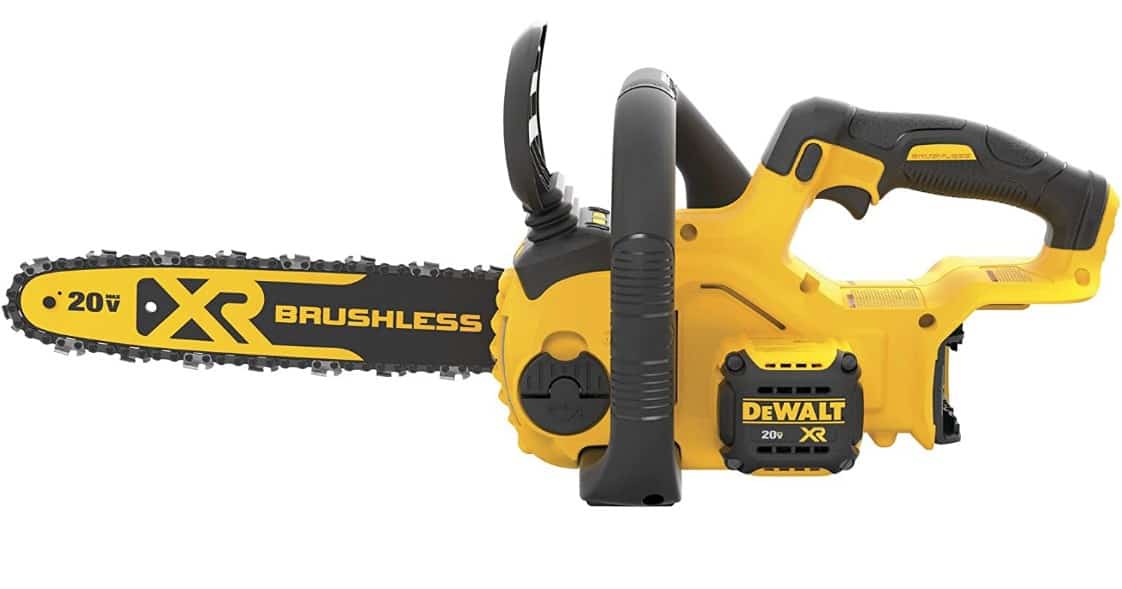 A high-performance chainsaw with a good-sized bar from a brand with a reputation for exceptional quality, the Dewalt 20v Max XR Chainsaw is not only lightweight but also makes light work out of most wood-cutting tasks.
2. Best Corded Electric Chainsaw – Oregon 603348 CS1400 Corded Chainsaw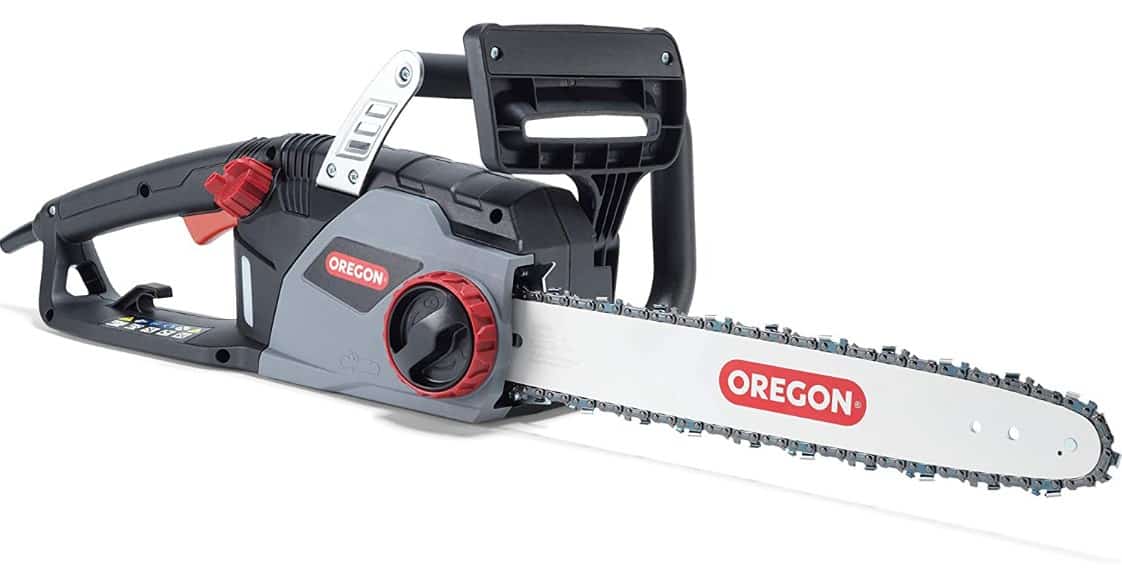 If you're using a chainsaw no further than the limits of your own property, the substantial cord length, remarkably quiet performance, and sizable 16" blade all make the Oregon 603348 CS1400 Corded Chainsaw the ideal choice.
3. Best Gas Chainsaw – Craftsman Full Crank 2-Cycle Gas Chainsaw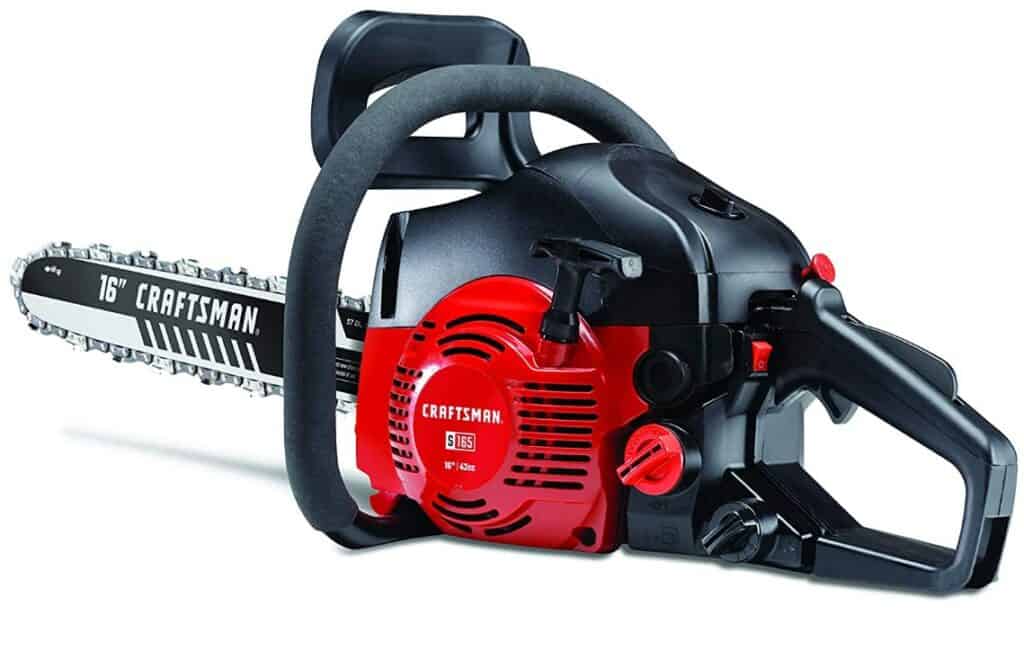 For unbridled power and unbeatable performance, look no further than the Craftsman Full Crank 2-Cycle Gas Chainsaw. This gas-powered option combines a 16″ bar with a super powerful motor which makes it the perfect choice for those extra tough jobs.
Frequently Asked Questions About Chainsaws
Question: How do I know what chainsaw to buy?
Answer: First, determine whether the flexibility of a battery-powered chainsaw, the power of a gas-powered option, or the limitless use of electric-powered is right for you. Then determine the size of bar you need – the bigger the wood you need to cut, the larger the bar. Finally, consider the brand you're buying from. Can they be trusted? Do they have a reputation for quality? Is the customer service going to be helpful if you run into a warranty?
Question: What is the best all-around chainsaw?
Answer: Deciding on the best chainsaw all boils down to your own needs and preferences, but the Dewalt 20v Max XR Chainsaw tops my list thanks to its winning combination of power, performance, lightweight design, and affordability.
Question: How dangerous is a chainsaw?
Answer: Chainsaws can be very dangerous power tools that require absolute attention to safety and full concentration while being used improperly could result in cuts, injuries, and even fatalities.
A Few Final Things to Consider When Choosing the Best Chainsaw
By now, I've covered practically everything you could need to know to help you find the best chainsaw, but there are still one or two things that it's worth repeating.
For example, choosing between an electric corded, cordless, or gas-powered chainsaw is going to be the biggest decision you have to make, but there'll be other decisions you need to make too.
The size of the chainsaw bar, for one thing. Sure, you can always upgrade this part of most chainsaws, but if you're going to be felling entire trees, then you'll need a much bigger bar than would for a spot of pruning.
Don't forget to consider the brand you're buying from either. One of the main reasons why I've singled out products like the Dewalt 20v Max XR Chainsaw and Black & Decker 40V Max Cordless Chainsaw is that they come from well-known names with a reputation for quality.
This means that not only will the products be to a high standard anyway, but that you're also going to get a better deal in terms of warranty and access to customer service, ensuring your new chainsaw continues to serve you well long after you buy it.
Read More Chainsaw Reviews
or Best of Guides: