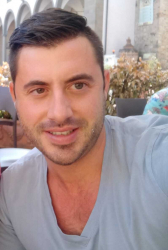 Latest posts by David Borgogni
(see all)
If you're currently thinking about picking up a brand new chainsaw, then you'll no doubt have heard of Husqvarna. They are one of the big boys in power tools and have a track record for producing some of the best tools on the market, particularly if you're a professional forester looking for quality equipment.
Today, we're looking at one of their biggest saws, the 550xp.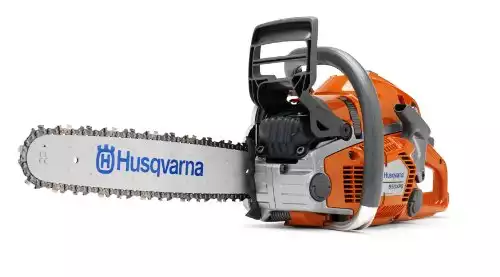 Husqvarna 550XP Autontune 18" 2-stroke Gas Powered Chainsaw | Amazon
Husqvarna 550 XP with an 18" bar is developed for professional loggers and skilled landowners. The saw has a groundbreaking design and is loaded with innovative solutions for efficient, convenient operation. Our unique X-Torq engine technology provides more power where you need it, up to 20% less fuel consumption and 60% less exhaust emission.
Buy at Amazon.com
We earn a commission if you make a purchase, at no additional cost to you.
Chainsaws come in all shapes and sizes, suited to a variety of different users and uses. The 550xp sits right at the top of the range. By this, we mean it's aimed at industry professionals and those who need a serious saw.
In this Husqvarna 550xp review, we're going to be exploring its key features, outlining the pros and cons of using one, giving you some alternatives to consider, and ending with our verdict.
But before we get into the details, let's have a closer look at a product overview to understand the 550xp's core specification.
Key Specifications of the Husqvarna 550xp
Core Features of the Husqvarna 550xp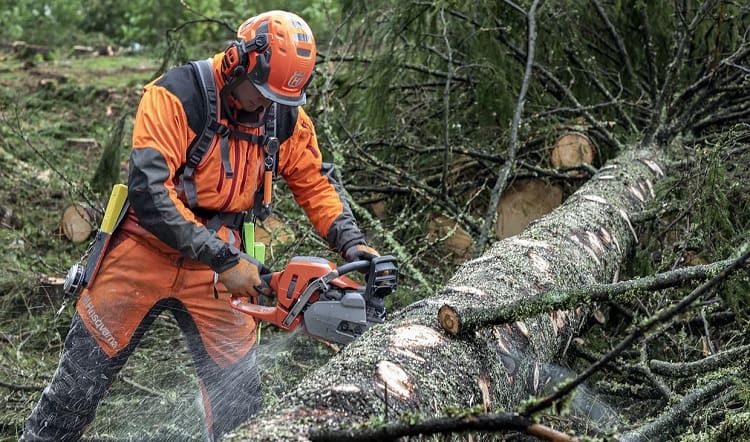 The 550xp is one of Husqvarna's premium models. It is packed full of useful features and optional extras aimed at maximizing its effectiveness. It's been built with the planet's toughest work environments in mind and is perfect for forestry workers and industry professionals alike.
It weighs 12 lbs and includes a better power-to-weight ratio and 12% more raw cutting power than any of Husqvarna's previous professional models.
Some excellent features come as standard. These include an enhanced cooling system, extended guide bars, heavy-duty filtration mechanisms, and AutoTune, among plenty of others. There is also a range of fatigue-reducing features aiming to boost user efficiency, or so Husqvarna claims.
Brand New Cooling System
Husqvarna's new cooling system has been totally redesigned. While there have never been widely reported issues with Husqvarna's cooling in the past, this latest tech evolution simply allows newer and more powerful models to be cooled just as well.
Rather than keeping the old system, adding more power, and hoping the tool could take it, Husqvarna engineers have been hard at work designing and building a system designed to last. Ultimately, this means a more powerful chainsaw with a cooling system to match.
LowVib & Safety Features
As with many previous models, Husqvarna has included their LowVib technology with the 550xp. Essentially, both the engine and rubber handles are fully isolated, dramatically limiting engine vibrations' impact on the operator's hands and forearms.
This helps to reduce fatigue daily and also prevents any long-term physical health effects that vibrations can cause.
An inertia-activated chain brake is also included in this model. It's another of Husqvarna's safety features that is present across many of their chainsaws. If an accident occurs, for example, the unit is dropped, then upon impact, the chain stops immediately and greatly reduces the risk of getting seriously injured.
Similarly, a 'dead man's switch' is included. Meaning that as soon as pressure is released from the throttle, the engine cuts out. This again guards against serious injury as a result of accidents.
X-Torq Technology
The basis of all modern Husqvarna designs, X-Torq is a patented technology that optimizes the engine for performance and efficiency. It uses up to 20% less fuel than the equivalent older generation model and produces dramatically reduced emissions.
State of the Art Air Filtration
A new and redesigned air filter has been introduced for the 550xp. Its heavy-duty design and the use of tough materials mean this saw is capable of better air filtrations and longer product life.
Better airflow through the engine thanks to its larger surface area leads to improved performance and less maintenance thanks to reduced debris build-up.
High Cutting Capacity
The 550xp is a professional standard piece of equipment. This means users would naturally expect a high cutting capacity with enough raw power to tackle the most difficult jobs.
This is exactly what the 550xp delivers, with options ranging from 13 to 20-inch cutting bars and an engine size of 50cc that delivers 3kw of power. This adjustability coupled with impressive power is what makes the 550xp a brilliant choice for commercial operations.
The newly designed engine and controls include a wider RPM range than previous models, helping to optimize performance even when working in tough conditions.
How Does the Husqvarna 550xp Perform?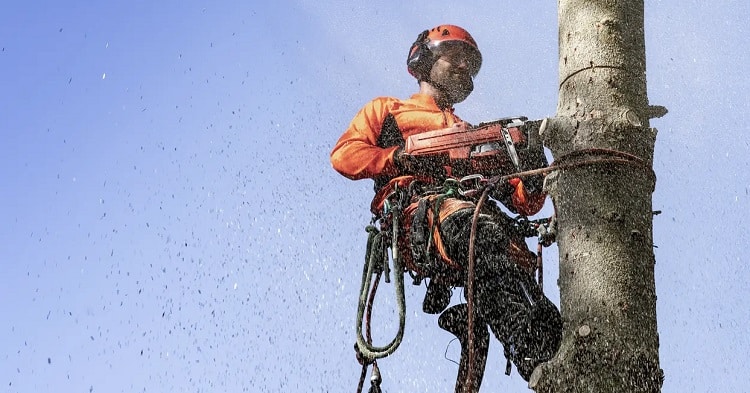 This is yet another example of a quality chainsaw from Husqvarna. It's a step up from previous generations, and its slimmed-down body improves overall usability and feel while working.
In addition, the main features that we discussed earlier, like the X-Torq engine, upgraded filtration, and cooling systems, allow this chainsaw to keep operating long after many would have been forced to stop.
From a professional standpoint, this is the basis for an excellent tool capable of getting the job done in even the harshest of working environments.
The cutting bar is interchangeable, with options available between 13 and 20 inches. This provides an excellent cutting capacity level, catering to those who need longer and shorter blades. It's an ideal saw for both felling large trees and maintaining smaller areas.
Away from the obvious benefits of the powerful engine and impressive cutting bar, the other clever innovations included with this saw help solidify it as one of Husqvarna's best tools.
The clear strip on the gas tank, for example, helps the user know when to fill up at a glance. The magnesium crankcase is built to withstand the pressures of such a high RPM rate. The adjustable oil pump makes it easy to set the saw up for your needs, and the side-mounted tensioning lets you tweak it further while on the job.
Another performance-boosting inclusion is the AutoTune included by Husqvarna. The AutoTune adjusts the carburetor depending on current working conditions. This allows the engine to run optimally and saves both the time and energy of the user.
Then we come to the 550xp's awesome feeling. The ergonomically built handles are wrapped in a rubber material that makes gripping this chainsaw super comfortable.
A solid auxiliary handle wraps around the outside of the casing with a sturdy secondary handle at the back of the unit. This is where you'll find the throttle complete with the dead man's switch. If needed, you can also pay a little extra and enjoy heated handles- perfect when working in colder conditions.
We found it to be an incredibly easy chainsaw to use with very few limitations during our testing. It's not the largest saw Husqvarna produces by any means, but it's certainly one of the best designed.
It ticks all the boxes: ease of use, power, and cutting ability. Everything you want when looking for a new commercial chainsaw.
Pros of the Husqvarna 550xp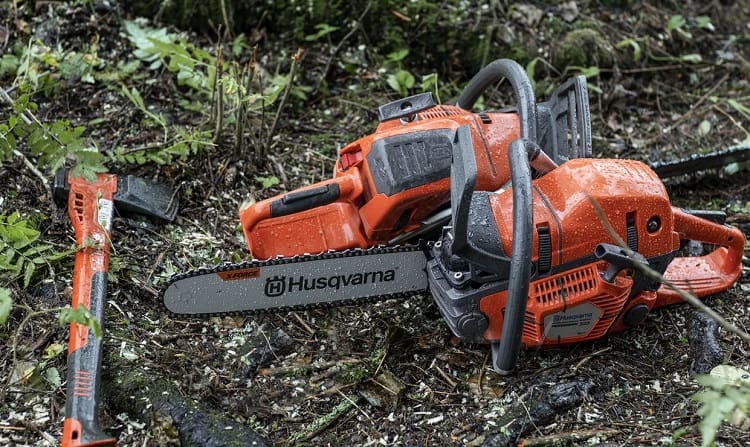 There are plenty of pros to get excited about if you're thinking of getting a Husqvarna 550xp. Here's the best of them.
Powerful & Efficient X-Torq Engine
The 550xp features an engine that produces 3kw of power. That's more plenty for most chainsaw jobs commercial outfits undertake and will help you take on some of the biggest trees while also being an option for smaller work when agility is key.
When you factor in the X-Torq technology alongside the power and precision produced by the engine, you get a well-rounded power tool. As a result, X-Torq improves fuel efficiency and helps to bring down overall emissions considerably.
Versatility, Cutting Reach & Power
Another key positive is the cutting reach of the 55xp. With an adjustable arm that ranges between 13 and 20 inches in length, it's a highly versatile tool that can be used across a wide range of jobs. This makes it a valuable tool in the arsenal of any professional landscaper or forester.
Its body has also been condensed down considerably from previous generations, meaning it's lighter and more mobile than many of the other chainsaws Husqvarna offers.
Upgraded Cooling & Filtration Systems
Cooling and filtration systems may not get the attention in the same way X-Torq and the powerful engine do, but they allow this saw to operate significantly higher than others. The redesigned cooling system allows the engine to be packed with more power and the reimagined filtration system means that power is effectively used when in use.
AutoTune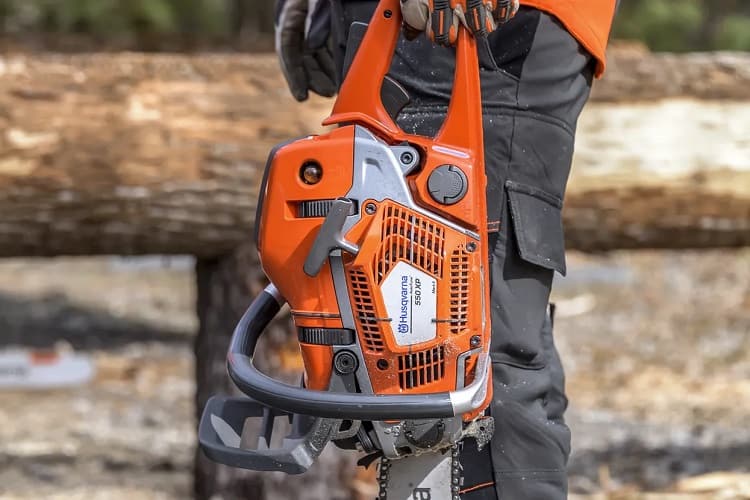 Another innovation courtesy of Husqvarna is their AutoTune technology. It works by analyzing the operating conditions and working temperatures and optimizing the carburetor settings while you work. No input is needed from the operator, and it leads to a highly efficient tool.
Cons of the Husqvarna 550xp Chainsaw
Despite the host of positives that come with the 550xp, there are a few significant drawbacks any potential suitor needs to be aware of before purchasing one.
Price
The most obvious of these drawbacks is the price. At the best part of a thousand bucks, this is one of Husqvarna's premium products, and the price reflects that. Commercial buyers may not be put off so much by this as it is an investment, but domestic users should assess other market options first.
However, despite its unattractive pricing, this is a quality product, and, as they say, you get what you pay for.
Temperamental Brake Band
One issue that seems to pop up regularly in reviews is that the brake band can be temperamental on some models. The brake band seems to be a problem only for earlier generations of the 550xp but is something to consider when buying one. If you're looking second-hand, make sure you get the newest models possible.
Are There Any Alternatives?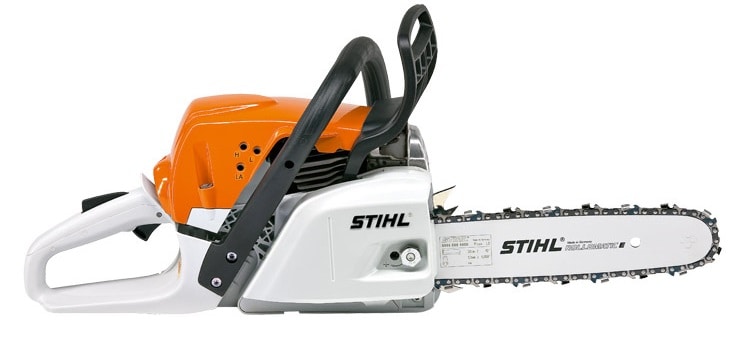 This is the direct competitor to the 550xp. It's has a similar profile, both in size and weight but comes with slightly less power than the Husqvarna. Despite this, the engine is solid and highly efficient, providing an excellent alternative to the 550xp.
They are so alike that it comes purely down to personal preference as to which one to go for. You can read more about the Stihl MS251 in our recent review.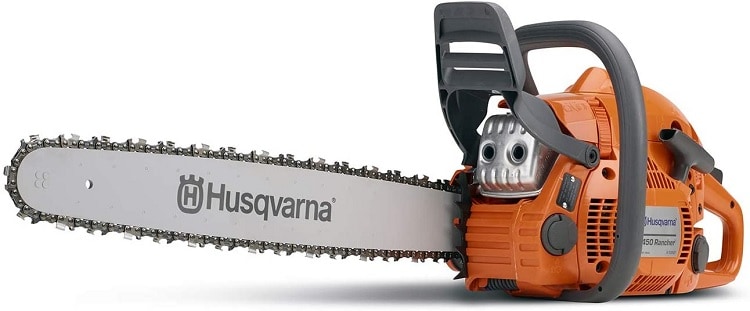 Another quality husky for your consideration is the 450 rancher. This is a larger saw that includes many of the same features as the 550xp while being a slightly cheaper option. While the 450 is fine for use commercially, it's aimed at occasional domestic users with plenty of land to tame. You can find out all about the Husqvarna 450 in our review and guide.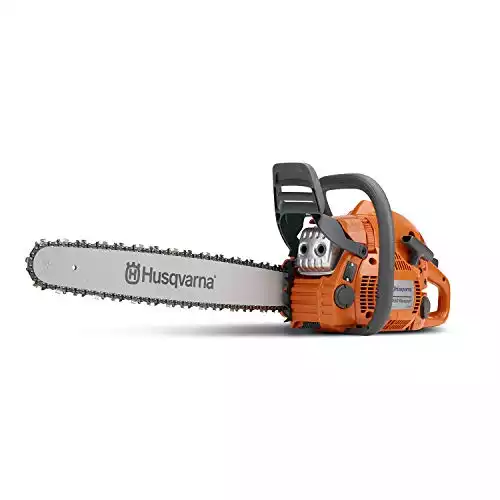 Husqvarna 20 Inch 450 Rancher II Gas Chainsaw | Amazon
The new lightweight & efficient 450E series chainsaw is an all-round saw, ideal for those looking for a chainsaw that is exceptionally easy to start & maneuver. Featuring X-Torq engine for lower fuel consumption & reduced emission levels.
Buy at Amazon.com
We earn a commission if you make a purchase, at no additional cost to you.
12/07/2023 05:24 am GMT
Frequently Asked Questions
Question: Is Husqvarna Chainsaw a Good Brand?
Answer: Alongside Stihl, Husqvarna is widely considered to be the best manufacturer of chainsaws on the planet. Both brands consistently produce high-quality saws revered by domestic users and industry professionals alike.
Question: How do You Find the Serial Number on a Husqvarna 550xp?
Answer: Serial numbers on Husqvarna products are found in different places depending on the model. For the 550xp series (or any other '55' chainsaw for that matter), the number plate is located above the oil cap. You will need this number for warranty purposes.
Question: How do You Choose the Right Chain for a 550xp?
Answer: This is not a straightforward process, as it is highly recommended that you enlist the help of an authorized sales rep so that the best chain for your saw can be established.
They will need to know who is using the saw (domestic or professional), the correct length (drive links), pitch (distance between rivets), and gauge (width of drive link). All of these factors must be considered before determining the best chain for you.
The Final Word – Is The Husqvarna 550xp a Good Chainsaw?
There is little doubt that the 550xp is yet another quality chainsaw from Husqvarna. It represents a modern saw and comes with a wide variety of features and extras designed to make work easier for the user.
Its compact nature makes it highly suited to most tasks, while the powerful X-Torq engine means it's more than capable of being used professionally. This is an efficient chainsaw that will suit most users down to the ground.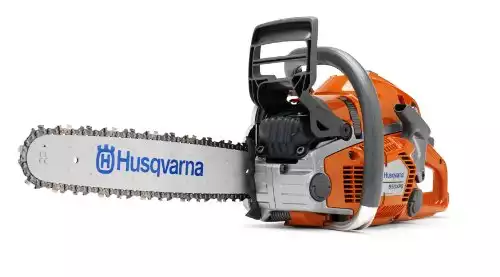 Husqvarna 550XP Autontune 18" 2-stroke Gas Powered Chainsaw | Amazon
Husqvarna 550 XP with an 18" bar is developed for professional loggers and skilled landowners. The saw has a groundbreaking design and is loaded with innovative solutions for efficient, convenient operation. Our unique X-Torq engine technology provides more power where you need it, up to 20% less fuel consumption and 60% less exhaust emission.
Buy at Amazon.com
We earn a commission if you make a purchase, at no additional cost to you.
However, there are plenty of other options available. One of Husqvarna's all-time most popular saws, the 450 Rancher, is a similar size, so definitely worth checking out. Stihl, too, is a brand synonymous with high-quality saws. Their MS251 is their equivalent of the 550xp and also well worth considering.