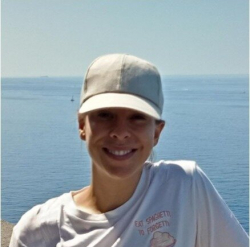 Latest posts by Maddy Chiffey
(see all)
As any seasoned landscaper will no doubt tell you, the best brush cutters can prove to be both a versatile and essential addition to your tool kit.
Used well, they can make light work out of clearing away large swaths of high-growing grass, tough-to-tackle weeds, brushwood, and even small hedges.
Still, picking just one cutter to invest in is no easy task when considering the sheer volume of options at your disposal.
While your budget will undoubtedly be an important factor, it's even more important to ensure you're getting maximum value for your money.
This comprehensive guide does just that.
Below, not only do I share with you the most crucial things to look for when choosing a cutter of your own, but I also offer my recommendations of the best options for all budgets, all outdoor spaces, and all landscaping requirements.
Who Needs a Brush Cutter?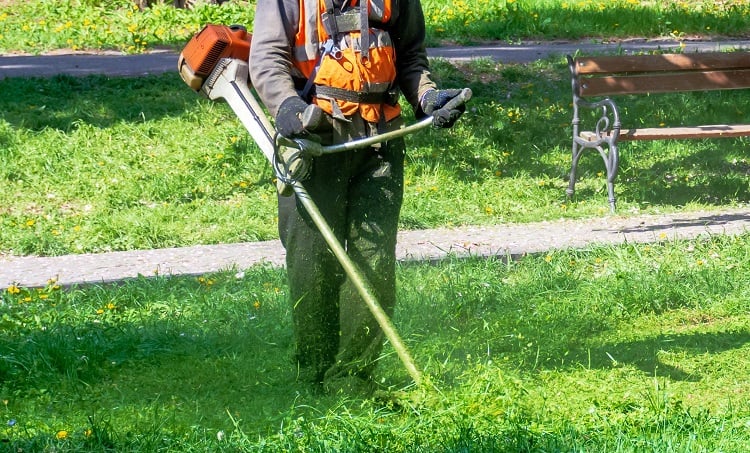 While I love nothing more than sharing the best tools and gear to help you properly manage your land, even I have to admit that not everybody really needs a brush cutter.
If you're dealing with a typical, small to mid-sized lawn garden setup that stays relatively under control throughout the year, then you may well be able to get away with using little more than a lightweight grass trimmer.
If you find yourself regularly needing to clear up large, overgrown spaces, or if you're tasked with taking care of a big estate and find that your existing string trimmer doesn't quite get the job done, a brush cutter is a way to go.
These heavyweight tools tend to be much more robust, hardy, and powerful than strimmers and trimmers, making them a better choice for tough, stubborn weeds.
They can also prove invaluable if you have a lot of out-of-control areas of your outdoor space, helping you to clear all that mess away in a fraction of the time that it would take with other equipment.
Without further ado, let me show you what I think are the 8 very best brush cutters for the average homeowner or land manager.
What are the Best Brush Cutters for Landscaping Work?
Proyama 42.7cc Brush Cutter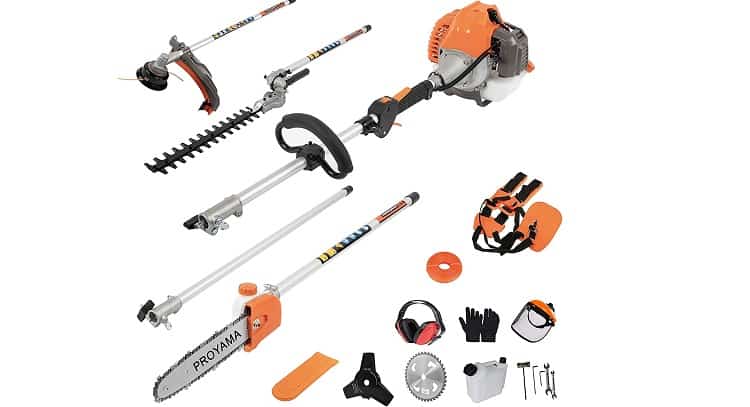 The Proyama 42.7cc Brush Cutter takes everything you could ask for in a good quality brush cutter and packs it into one impressive, value-for-money set.
First of all, it's gas-powered, which may not be as good for the environment as a lighter, battery-powered cutter, but certainly provides the kind of high-level power you're going to need to take care of those really tough parts of your land.
Besides, the 2HP 2-cycle 42.7cc comes with certification from the Environmental Protection Agency thanks to its fuel efficiency, meaning it uses less fuel (and thus causes less pollution) while still boasting enough strength to attach larger branches and stubborn spots with relative ease.
What I like best about it, however, is that Proyama also includes a whole package of additional tools and accessories, including, but not limited to:
Hedge-trimmer attachment
Pole saw attachment
String trimmer attachment
Safety equipment
40-pronged metal blade
Fuel mixing bottle.
As such, if you're looking for the ultimate landscaping kit with a premium brush cutter included, this is definitely the way to go.
Pros
Includes vibration-reduction shoulder harness for greater protection
Multi-angle adjustments make it easier to cut into awkward sports
Comes with one-year warranty.
Cons
Heavy weight can lead to fatigue and make it more difficult to use
Can be noisy.
Makita Cordless Brush Cutter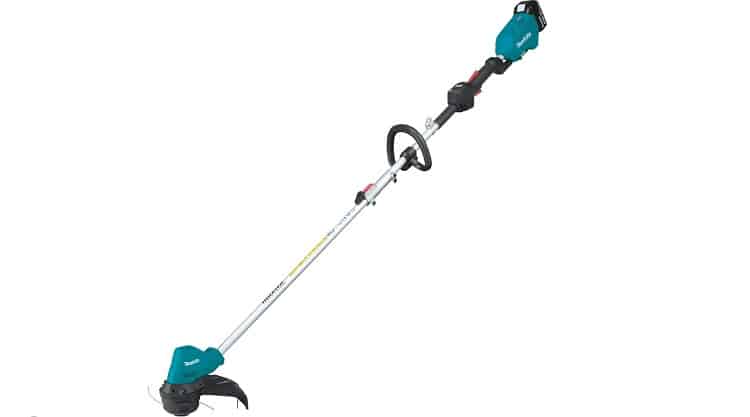 If you prefer a battery-powered cutter to cut down on environmental pollution altogether, the Makita Cordless Brush Cutter will make a worthwhile addition to your arsenal.
The BL brushless motor combines with the brand's innovative Automatic Torque Drive Technology to extend the life of the 18V battery and deliver additional power when needed.
Speaking of power, the cutter comes with three-speed settings:
Low: 4 000 RPM
Medium: 5, 000 RPM
High: 6 000 RPM.
Giving the freedom and control to only use what you need, when you need it.
It's also incredibly lightweight and easy to use, making it a good choice for novices, while the addition of a quality blower also helps make this my favorite battery-powered brush cutter set on the market.
Pros
Comes with a blower to make post-cut cleaning easier
Rubberized soft grip for added comfort
A split shaft makes it easier to store and transport.
Cons
The line feeder can be difficult to handle
Battery doesn't last as long as other electric models.
Echo SRM-2620U Brush Cutter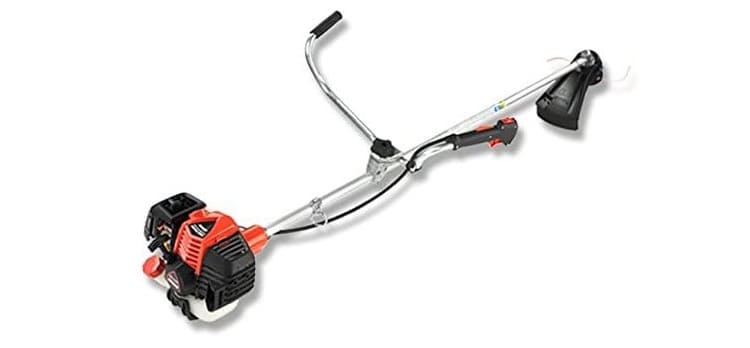 Regular readers of The Forestry Pros may already know how I feel about the Echo SRM-2620U Brush Cutter.
In my recent Echo Brush Cutter review, I mentioned how the solid 2-stroke, 25.4cc engine, well-designed fuel tank, and ergonomic handle with anti-vibration design help make it a top choice for professional landscapers.
As well as all that, the SRM-2620U also boasts a range of attachments, including an 8-tooth metal blade attachment which makes it well-suited for cutting through super-thick grass, weeds, and hedges without too much trouble.
With that in mind, if you're looking for the best professional-grade brush cutter on the market, the Echo SRM-2620U Brush Cutter is definitely worth a look.
Pros
Isolated handle minimizes vibrations
Includes 5-year domestic warranty and 2-year commercial warranty
Includes additional blade shield.
Cons
Can get overheated
Head gets clogged easily.
Husqvarna 129R 17″ Brush Cutter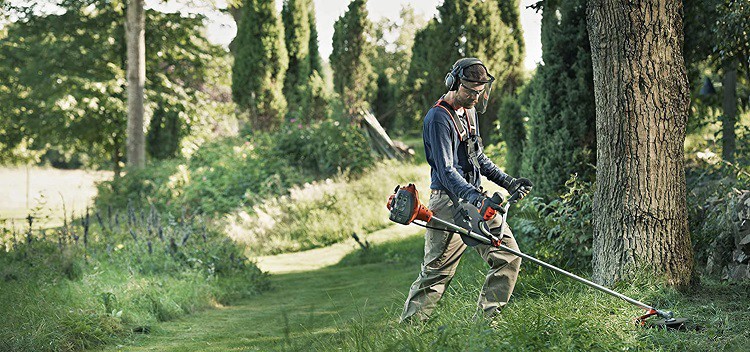 The Husqvarna 129R 17″ Brush Cutter has earned a reputation as one of the most popular mid-priced cutters on the market by offering professional-quality cutting to the average landowner.
This quality comes thanks to the powerful 27cc engine and high-torque EBevel gear, which combine to deliver top-notch performance.
That's just for starters. The Husqvarna is also one of the quietest models on the market, with noise-reduction features that help it operate at a relatively low 18 decibels. If you're working in a built-up neighborhood or simply concerned about your own hearing, this makes it a great choice.
Finally, I'd be remiss if I didn't talk about how easy this one is to use. The starter cord has been specifically designed to minimize the amount of effort you need to get it going, while the intuitive controls and automatic stop return switch all help make this a good option for beginners looking for their first cutter.
Pros
Air purge means a cold engine takes less time to start
See-through fuel tank makes filling up much simpler
Features automatic stop return switch making it easier to use.
Cons
Poor quality assembly instructions
Thin, plastic construction may lead to durability issues.
Paxcess Cordless Cutter
The Paxcess Cordless Cutter may not be the most powerful brush cutter in this guide, but it is one of the most versatile.
The two 20V 2.0Ah, 12" cutting path, and 0.065" dual line auto-feed head all make it properly proficient at clearing away weeds and other debris, after which you can use the attachments to convert into a lawn edger, ensuring you can leave things neat and tidy when you're done.
Another highlight of the Paxcess cutter is just how lightweight it is. This thing weighs just 6 lbs, making it almost 50% lighter than some of the other models we've seen.
If you struggle with a heavier cutter or you simply don't need something that's quite as heavy-duty, this one might be ideal.
Pros
Comes with a 6-piece string spool and 2-piece spool cap
Features anti-collision protection to ensure you don't damage anything you don't want to cut
Features an adjustable handle for maximum comfort.
Cons
80 minutes of battery charge only delivers 15-20 minutes of use
Auto-feed can be tricky to use.
HUYOSEN 38.9cc Gas-Powered Brush Cutter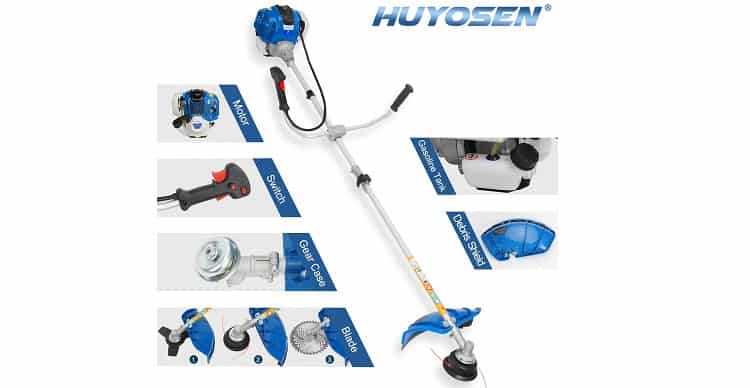 I've said it before, and I'll say it again, gas cutters really are the way to go if you need maximum performance and power to take care of those seriously hard-to-tackle areas.
This is the main reason why I'm such a big fan of the HUYOSEN 38.9cc Gas-Powered Brush Cutter, an impressive piece of kit with a 38.9cc 4-cycle engine capable of delivering speeds of up to 700 r/min.
This performance, along with the fact that it runs on unleaded gas (meaning no mixing fuels), also helps to make it one of the most efficient cutters I've come across, capable of tackling big jobs with less effort, less fuel, and less time.
I'd also add that while it isn't the all-around quietest (the Husqvarna takes that prize), it is significantly quieter than many other gas-powered tools, making it another good option if you're worried about annoying the neighbors.
Pros
Features high-quality shield mounted in an optimum position to protect from flying debris
Vibration-reducing handle to prevent fatigue and health issues
3 settings for tall grass, small grass, and brush and weeds.
Cons
Assembly can be difficult
Tends to overheat.
Wemars 42.7CC Gas Brush Cutter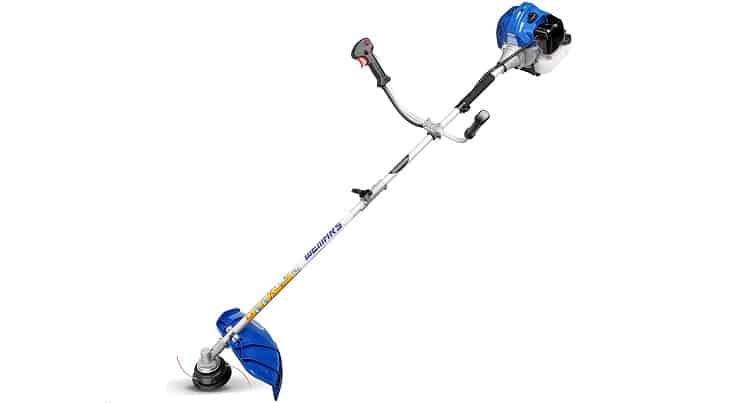 If you find yourself working for long hours, the Wemars 42.7CC Gas Brush Cutter may prove to be a good fit for you.
That's mostly because it's ergonomically designed for comfort and support, boasting a J-handle design with vibration-reducing grip and a straight shaft design.
Together, this helps to keep you comfortable and in full control of the cutter even after a long shift.
It's also a good fit for those bigger jobs because of its low emissions, ensuring that not only is environmental pollution kept to a minimum, but so too is noise pollution.
Elsewhere, there's a 3T blade that is used for cutting through thick grass, dense weeds, and an extra dual-line string trimmer for easier-to-manage lawns and gardens, both of which can be switched up effortlessly; thanks to the unique quick-change head.
It's also worth mentioning that this is one solid, robust piece of machinery, ensuring it's built to last for years to come, no matter how much you use it.
Pros
Low emission machine means less pollution and noise
Features a powerful 2 cycle 42.7cc
The quick-change head makes concerting from blade to dual line head simple.
Cons
Throttle-locking mode is difficult to use
Many users report that Wemars send them the wrong instruction manual.
Craftsman 4-Cycle 17″ Brush Cutter

Last but not least, there's a lot to like about the Craftsman 4-Cycle 17″ Brush Cutter.
The 30cc 4-cycle gas engine packs plenty of power which, when combined with a 17″ cutting width, ensures you've got everything you need to reduce the hard work involved in tackling those difficult jobs.
If that doesn't quite do it for you, maybe the multi-position handle will. It's purposefully designed to give you more freedom of movement and control and comes with those all-important vibration-reduction features to help you stay comfortable and healthy while at work.
Best of all, it's built with novices in mind, with a straight-shaft design that makes it easy to get into those hard-to-reach places, a simple two-step starting process, and an easy-winding bump head capable of holding up to 20ft of trimming line at any one time.
Pros
Makes less noise than other models
High capacity, winding bump head for ease of use
No mixing of gas and oil is required.
Cons
Heavier than average
String feeder can be problematic to use.
What's the Difference Between a Brush Cutter and Grass Trimmer?
To the uninitiated, grass trimmers and brush cutters are often seen as two different names for the same piece of equipment.
While it's true that you can get some products that offer different attachments so that you can use them for both purposes, there is a fundamental difference between the two.
The biggest difference is that brush cutters are powerful, heavy-duty machines designed for tough landscaping jobs.
Clearing away small trees and bushes, thick branches, dense knots of weeds, and tall grass are all the kinds of jobs that brush cutters do best but for which your average grass trimmer may not be strong enough to handle well.
Trimmers, on the other hand, tend to be small and lightweight and are better for trimming the lawn and tidying up those spots that your lawnmower can't get to, such as around trees or up against walls.
I should also point out that while you can get battery-powered cutters, you're far more likely to find that the best brush cutters use gas while most grass trimmers work just fine with a battery.
This is because gas tends to offer more power than a battery, making it the best option for those large projects.
The Advantages of Brush Cutters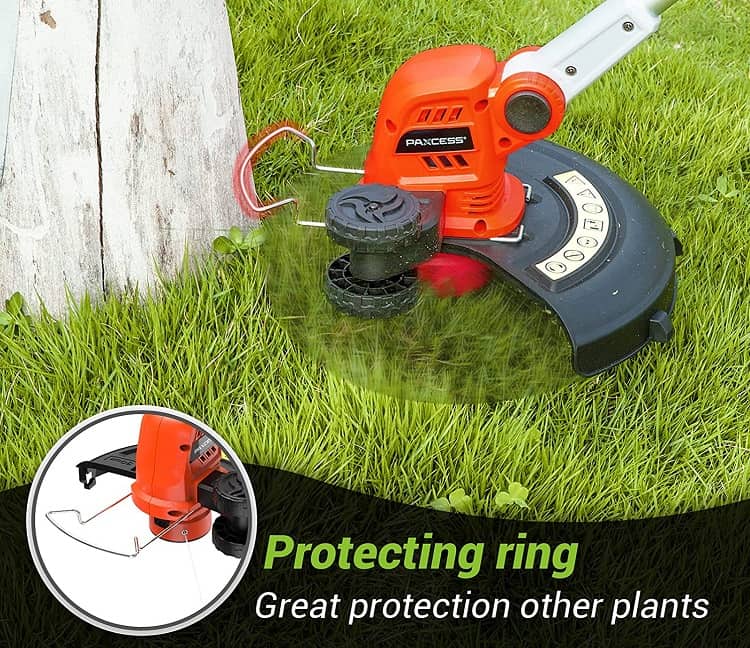 Make Light work out of Heavy-Duty Projects
The biggest benefit to owning a brush cutter is its tremendous power.
Make no mistake about it; these are big, hefty machines capable of getting through some very tough, stubborn overgrowth.
Sure, you could hack at it with a grass trimmer, hedge trimmer, or even some manual tools, but it's going to be long, hard, laborious work.
With a good brush cutter, that just isn't the case. You can take care of projects in minutes that would otherwise take an hour or more with less suitable tools.
Versatility and Flexibility
Many of the best brush cutters come with a range of attachments. If they don't, they're at the very least attachment-compatible, meaning you can buy your own extras depending on what you need.
This means that your brush cutter can do more than just hacking through the overgrowth. It can also be converted into a trimmer, a lawn-edger, and many other tools, saving you the hassle and expense of buying a separate tool for each task.
Advanced Safety Features
Brush cutters have come a long way over the years. Once upon a time, they were noisy, difficult to manage, and constantly sent vibrations through your arms and body that could cause many health problems.
These days, most of the best brush cutters come with ergonomic design and purpose-built features to reduce health issues, minimize fatigue, and keep noise pollution to a minimum.
The Disadvantages of Brush Cutters
Steep Learning Curve
There's more to using a brush cutter than simply powering it up and whacking it into the overgrowth at random.
Getting the most out of a good cutter means using a certain technique, driving it from left to right with caution, paying close attention to what you're doing so that you don't accidentally strike the non-blade part against a thick branch.
To do so could cause the cutter to kick back, presenting a safety hazard.
Repair and Maintenance
It goes without saying that any good quality brush cutter will be built to last, but that doesn't mean that things won't occasionally go wrong or that your machine won't need some TLC on occasion.
This not only takes time but can also add to your operating costs, meaning that the brush cutter may end up costing you more than the initial price tag.
Safety Issues
Even with those aforementioned advanced safety features, brush cutters can still be dangerous if not used properly.
If you hit something with the wrong part of the machine, or if the blade crashes against an immovable piece of material such as rock or metal, it can end up knocking you back or throwing dangerous debris in your face.
With that in mind, let's take a look at some important safety tips:
How to Use a Brush Cutter Safely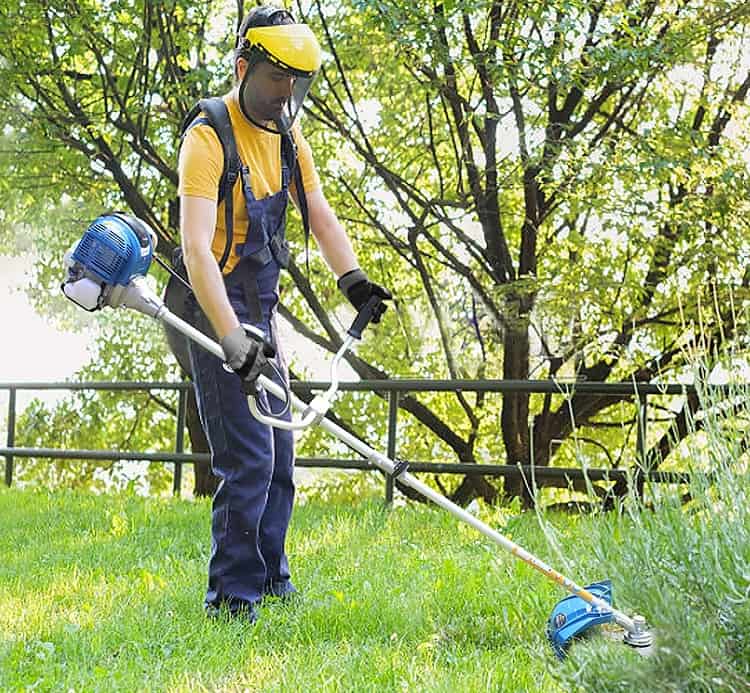 Get to Know Your Equipment
Yes, I know, pouring through the instruction manual can seem like a chore, but it's a chore that's worthwhile carrying out to ensure you're very familiar with your brush cutter and how it works.
Study it carefully, and really get to know how everything works before you head out to work.
Wear Protective Gear
It's best to approach using a brush cutter the same way you would if you were using a chainsaw or indeed any high-powered machinery and wear protective equipment.
At a bare minimum, this should include sturdy boots, gloves, and especially goggles to protect your eyes from any flying debris.
You'll also want to wear a harness to provide extra support so that the cutter doesn't get too heavy to use safely.
Clear the Area of Debris
As tempting as it is to dive straight into your landscaping project, it pays to first take some time to clear out anything that might cause an obstruction.
Rocks, metal, and thick pieces of wood are not only a safety hazard, but they can also cause damage to the blade if they make contact, so it's best to get rid of them manually before you power up your machine.
Have Someone Close By
Even if you're a seasoned pro, there's always the chance that one wrong move could spell danger. That's why it's so important to never use a brush cutter if you're completely alone.
Of course, you don't want people crowding around you, and it's wise for another person to stand at least 50 feet back from you, but it's still worth having them on standby in case anything goes awry.
My Top 3 Recommendations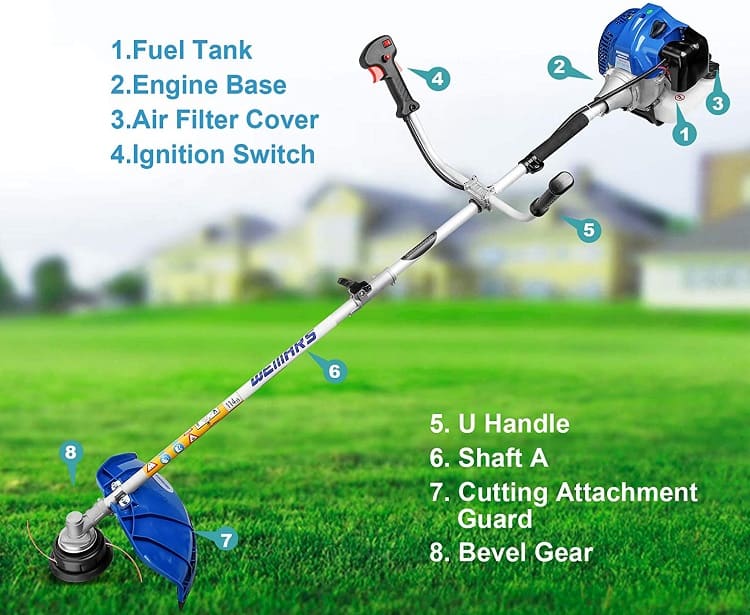 All-Round Best Brush Cutter – Proyama 42.7cc Brush Cutter
By combining a high-performance gas engine with a whole package of attachments and accessories, the Proyama 42.7cc Brush Cutter proves itself to be great value for money, giving you everything you need to tackle most landscaping jobs with absolute efficiency.
Best Battery-Powered Brush Cutter – Makita Cordless Brush Cutter
Battery-powered brush cutters may not be quite as powerful as their gas-fueled counterparts, but the Makita Cordless Brush Cutter certainly comes close. With three power settings and remarkable ease-of-use, it's the best choice for newcomers or anyone who wants to manage their environment without causing any pollution.
Best for Large Projects – Wemars 42.7CC Gas Brush Cutter
I've talked a lot about how to brush cutters can take the hassle and hard work out of clearing away unwanted weeds, grass, or bushes, but if you have a large area to cover, there's no getting away from the fact that you're just going to have to put the hours in.
If that sounds like your current situation, the Wemars 42.7CC Gas Brush Cutter is a good fit. It's durable and built-to-last, meaning you don't have to worry about it falling to pieces after excess use, and it's also built to be quiet, comfortable, and with almost no vibrations, ensuring you stay safe, well, and free from fatigue even after working for a long time.
Frequently Asked Questions
Question: How do I choose the best brush cutter?
Answer: First, determine whether you want a gas or battery-powered model. Gas is more powerful and more expensive and maybe too much if you only have a small space. Then, look at the weight as anything too heavy is going to be too difficult to manage.
Finally, cost, durability, and the number of included attachments should also factor into your decision.
Question: What attachments should I get for my brush cutter?
Answer: If your brush cutter doesn't come with attachments, you may want to consider getting an attachment to turn it into a grass trimmer and lawn edger. Hedge-trimmer attachments are also useful, as is having a variety of blades that you can switch to depending on the project.
Question: What is the quietest brush cutter?
Answer: Of all the options in this guide, the Husqvarna 129R 17″ Brush Cutter proved to have the lowest decibel level of them all, making it the quietest around.
Which is the Best Brush Cutter of 2021?
Deciding on which brush cutter to invest in is likely going to come down to your personal requirements.
If you've never used a brush cutter before you and you need something lightweight and easy to use to get started with, the battery-powered Makita Cordless Brush Cutter may prove to be one of the best purchases you ever make.
If you live in a built-up area and you're worried about noise pollution, the Husqvarna 129R 17″ Brush Cutter is incredibly quiet while still offering all the power and performance you'd need for those big jobs.
Ultimately though, it's the Proyama 42.7cc Brush Cutter which remains my favorite as not only is it incredibly powerful, but it's also easy enough to use and versatile enough to make a good choice for any landowner landscaper or forestry worker.
Check out more relevant brush cutter reviews, comparisons, and guides: