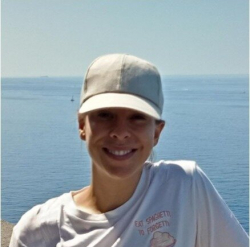 Latest posts by Maddy Chiffey
(see all)
I never liked helping my dad remove stumps manually when I was a child growing up on my family's farm because it would take me an entire day to cut the root system and take the stump out of the ground.
It's easy to see why buying a stump grinder was my top priority when I took over the farm from my father, but these tools are bulky, and transporting them to different locations on my property isn't always possible.
That's why I also have a stump grinder attachment for my chainsaw I use whenever I want to get rid of a stump that is difficult to reach.
In this article, I'll take you through the main characteristics of the best stump grinder attachments for chainsaws and help you pick the model that delivers the best value for the money.
Bottom Line Up Front
Almost all stump grinder attachments I've ever encountered were designed for Stihl chainsaws, so finding models compatible with an Oregon or Husqvarna chainsaw can be difficult.
Moreover, these accessories are only compatible with select Stihl models, so you may not be able to use them even if you have a chainsaw made by this brand. Hansa ST880 Pro Grinder Attachment and Hansa ST661 Pro Grinder Attachment are excellent options if you have an MS 880 or MS 661 chainsaw.
On the other hand, the Predator Terminator Stump Grinder Chainsaw Attachment is compatible with multiple Stihl chainsaw models.
Grinding Stomps with a Chainsaw
You don't need a stump grinder attachment to remove a stomp with a chainsaw. Even though it is difficult and time-consuming, this task can be completed with any chainsaw. Optionally, you can rot a tree stump to make it easier to remove.
Still, you'll have to do quite a bit of preparation before making the first cut. First off, you must wait until the soil surrounding the stump is soaked with rainwater. When the conditions allow you to reach the root system, you should put on the following safety equipment:
Dig around the stomp to expose its roots and remove soil or debris. Cut the roots with a chainsaw to free the stomp and take it out of the ground. Make sure to operate the chainsaw with utmost care and precision since hitting soil or rock can cause a kickback.
What's a Stump Grinder Attachment for Chainsaw?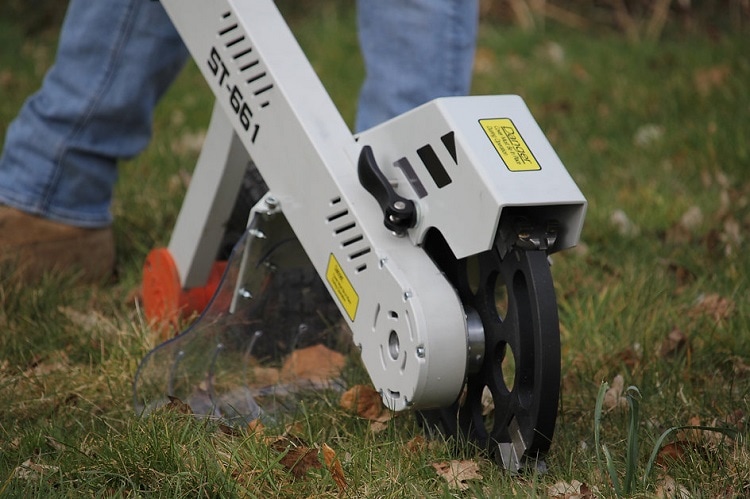 Aside from considerable safety concerns, removing stumps with a chainsaw also puts a lot of strain on the chain. So, using this tool to cut roots can dull the chain's teeth and render it useless.
Stump grinder attachments are powered by chainsaw engines, but they have their own cutting mechanisms designed to withstand contact with rocks or debris. Hence, attaching this accessory to your chainsaw will protect its chain from damage.
Most models weigh around 70lbs, which makes them relatively lightweight and easier to maneuver than conventional stump grinder models like DR Stump Grinder. They're commonly used to remove stumps from flowerbeds or areas that are hard to approach.
The length of a stump grinder attachment varies from 60 to 70 inches, which reduces the stress on the lower back by allowing you to operate the tool in an upright position. Also, assembling the accessory and attaching it to a chainsaw takes only a few minutes.
Grinding Time and Stump Size
Estimating how much time you'll need to remove a stump can be tricky since the manufacturers only offer approximate grinding times. So, cutting a 12-inch wide stump takes around thirty minutes if the chainsaw you're using has a 6.7bhp engine.
Remember that these accessories might struggle to handle stumps with diameters over twenty inches, even if they're compatible with a powerful engine like the one on the MS 881 model.
Manufacturers don't specify how deep the tool can cut. So, you may not be able to remove the entire root system with a stump grinder attachment. I don't recommend using these accessories for demanding jobs that involve cutting large stumps with complex root systems.
However, they can be handy if you want to remove a small stump with a shallow root from your backyard.
Chainsaw Compatibility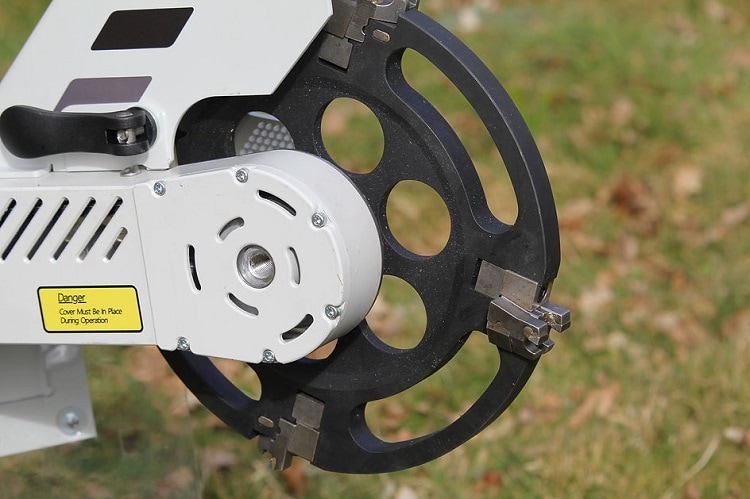 Companies like Oregon, CAT, or Husqvarna produce stump grinders. However, finding stump grinder accessories for a chainsaw manufactured by one of these brands might prove challenging.
Most stump grinder attachments I've used were made for Stihl chainsaws. These accessories aren't universal, and you can only mount them on specific models.
For instance, you can pair the Predator Terminator Stump Grinder Chainsaw Attachment with the Stihl MS 500i or MS 661 R C-M models, but using them with MS 250 or MS 261 C-M chainsaws isn't possible.
Compatibility issues limit your options to just a handful of Stihl's models. That's why I don't think buying these accessories is worthwhile if you don't already have a compatible chainsaw.
Stump Grinder Attachment Prices
You cannot buy a stump grinder attachment directly from the manufacturer. The only way to acquire the accessory is through a local distributor, but the problem is that most manufacturers don't have vast dealership networks.
To make matters worse, Predator and Hansa brands don't include the prices of their stump grinder attachments on their website. So, you'll have to contact a local forestry equipment store to find out how much these accessories cost.
Nonetheless, they're considerably less expensive than standard stump grinder options as their prices don't exceed the $1,000 mark. Neither brand provides information regarding warranty coverage on their websites. Hence, it is necessary to inquire about the warranty conditions at a local store.
Selection Criteria
All stump grinder attachments I included in this article are compatible with Stihl chainsaws. However, Stihl currently offers more than a hundred chainsaws, and only a handful of models are compatible with grinder attachments.
I could not identify models suitable for chainsaws produced by other forestry brands.
My Top Stump Grinder Attachments for Chainsaws Picks:  Hansa ST880 Pro Grinder Attachment

You can mount the Hansa ST880 Pro Grinder Attachment on a Stihl MS 880 Magnum chainsaw. This professional tool is portable as it is 68.5-inches long and weighs 63lbs. This model has a removable leg, which enables you to operate it in tight spaces.
Its mounting mechanism ensures the accessory is firmly connected to the chainsaw and leaves no room for accidents. Hansa's pro grinder has the Predator multi-tip mechanism capable of cutting through stubborn roots.
Pros
Straightforward assembly process
This model is also compatible with Stihl MS 881 Magnum model
Ground spike accessory is available
Cons
This model is hard to find
Its primarily aimed at professionals
Hansa ST661 Pro Grinder Attachment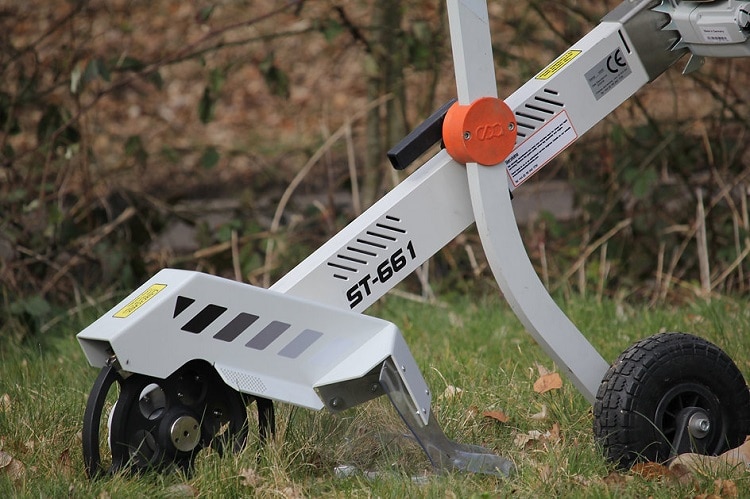 The features of the Hansa ST661 Pro Grinder Attachment and the Hansa ST880 Pro Grinder Attachment are nearly identical. The most notable difference is that the latter is compatible with Stihl MS 600 and 661 chainsaws.
Consequently, it delivers less grinding power as it runs on a 7.2 BHP engine. The ST661 Pro Grinder Attachment is shorter and lighter than the ST880 Pro model. Both accessories utilize the same cutting mechanism equipped with quick-change teeth.
Pros
It allows users to remove stumps from hard-to-reach areas
Lightweight and durable design
Excellent cutting mechanism
Cons
It is compatible with just two chainsaw models
Not suitable for stumps with thick roots
Predator Terminator Stump Grinder 500i-661 Chainsaw Attachment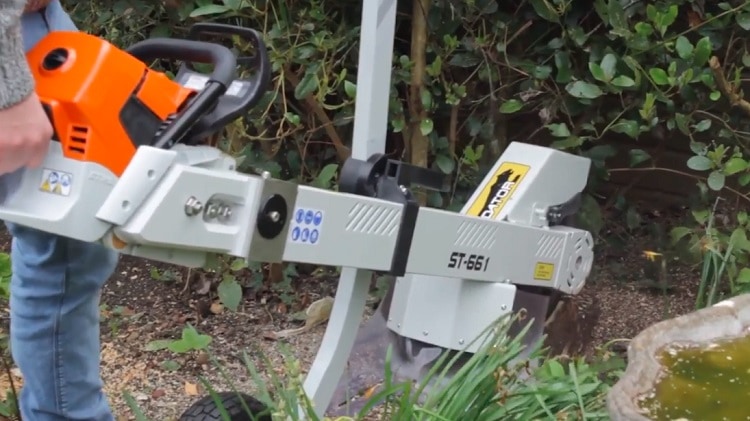 A model like the Predator Terminator Stump Grinder 500i-661 Chainsaw Attachment eliminates the need to cut roots because it allows you to grind a stomp below the ground level and cover it with soil.
The attachment works with Stihl's MS 500i and 661 chainsaws which means that its maximum power depends on the engine. This model's leg features a wheel at the lower end and a handle at the top, which enables you to operate it with utmost precision.
Pros
The attachment's guard protects the operator from debris
This model is portable
A long lifespan
Cons
It's designed for professional use
High fuel consumption
Predator Terminator Stump Grinder 880-881 Chainsaw Attachment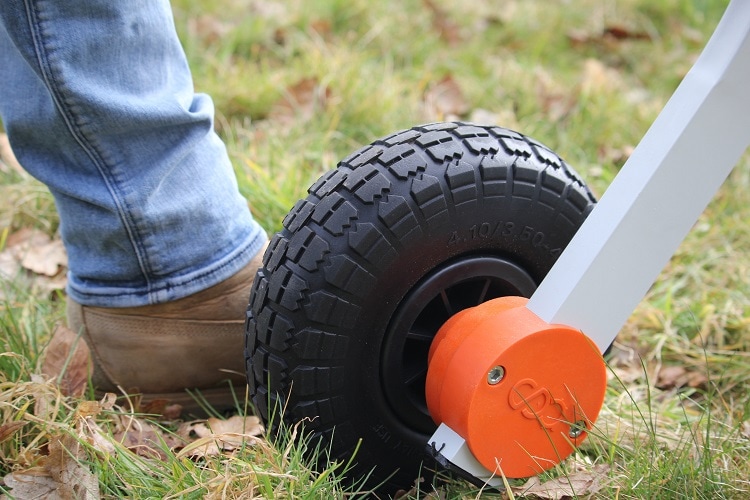 You can connect the Predator Terminator Stump Grinder 880-881 Chainsaw Attachment to Stihl's MS 880 and 881 Magnum models. This chainsaw accessory is essentially a larger, heavier, and more powerful version of the Predator Terminator Stump Grinder 500i-661 Chainsaw Attachment.
Even so, you'll need around thirty minutes to remove a 12-inch wide and 10-inch tall stomp with this tool. The attachment has a flexible leg that enables you to move it over uneven surfaces and approach a stump from different angles.
Pros
The brand offers financing options for this model
It provides a high degree of maneuverability
All components are durable
Cons
Worldwide shipping may not be available for this model
Frequently Asked Questions about Stump Grinder Chainsaw Attachments
Question: Can I Use a Stump Grinder Chainsaw Attachment without the Leg?
Answer: All models have removable legs, but you may struggle to control the tool if you remove its leg.
Question: Do Stump Grinder Chainsaw Attachments Have High Upkeep Requirements?
Answer: Keeping these tools in mint condition doesn't require much effort, as you only have to remove dirt or debris from their cutting mechanism and guards after every use.
Question: How Long Does a Stump Grinder Chainsaw Attachment Last?
Answer: These tools are durable, and you can use them for more than a decade. In addition, their grinding blades are replaceable.
Final Thoughts
I realize how expensive hiring a professional to grind a stump in your backyard can be. Still, doing so is better than buying a stump grinder attachment you intend to use sporadically. Limited chainsaw compatibility and high fuel consumption make these tools suitable for professional arborists.
I recommend choosing the Predator Terminator Stump Grinder 880-881 Chainsaw Attachment or Hansa ST880 Pro Grinder Attachment if you already have a compatible chainsaw. So, I advise double-checking if either of these tools can work with your chainsaw before purchasing them.