Husky is a name Husqvarna chainsaw users call their chainsaws. Husqvarna is a chain saw manufactured by one of the world's best Swedish chainsaw manufacturing companies. Not only does husky offer you quality chainsaws but also a variety for you to choose from.
Are you looking forward to purchasing a Husqvarna chainsaw? We went through a plethora of reviews and ratings to find the best products from the company. A buying guide is included to help you choose if the products below don't meet your needs.
Our Top 10 Husqvarna Chainsaw Picks
Below is a review of 10 of the best Husqvarna chainsaws. We chose these top Husqvarna chainsaw picks based on affordability, availability, and positive customer reviews.  The information is designed to help you make the right buying decision. Read on to know more!
1. Husqvarna 460 – 24″ Rancher Chain Saw
One of the best chainsaws offered by Husqvarna is the gas-powered Husqvarna 460 rancher. This chainsaw is fitted with a 60 cc engine and a 24-inch long bar making it suitable for professional work. If you are looking forward to cleaning up tree messes after a storm, then this chainsaw comes in handy.
To slice through softwood and hardwood this chain saw has a 2 cycle engine that has a power of 3.62 HP. That said, it requires plenty of oil to replenish the powerful engine and mix the oil fuel ratio.
For safety, this chainsaw is fitted with an inertia-activated chain brake system and has minimal vibrations. Even though you have to pull the cord fist, this chainsaw is fitted with the Air Purge Smart start to make starting it easier. It also has a side-mounted chain tensioner that allows for quick chain tensioning.
A summary of the main features are:
60 cc Engine
24" bar
3.62 HP
2-cycle Engine
Inertia activated chain brake
LowVib technology
Side-mounted tensioner
Pros
Great tool balance
Slices through hardwood with ease
Reduced vibrations
Automated lubrication
Air pre-cleaning for efficient combustion
Easy to start
Very powerful
Cons
Becomes difficult to re-start if the engine becomes hot
High price
2. Husqvarna 967166101 450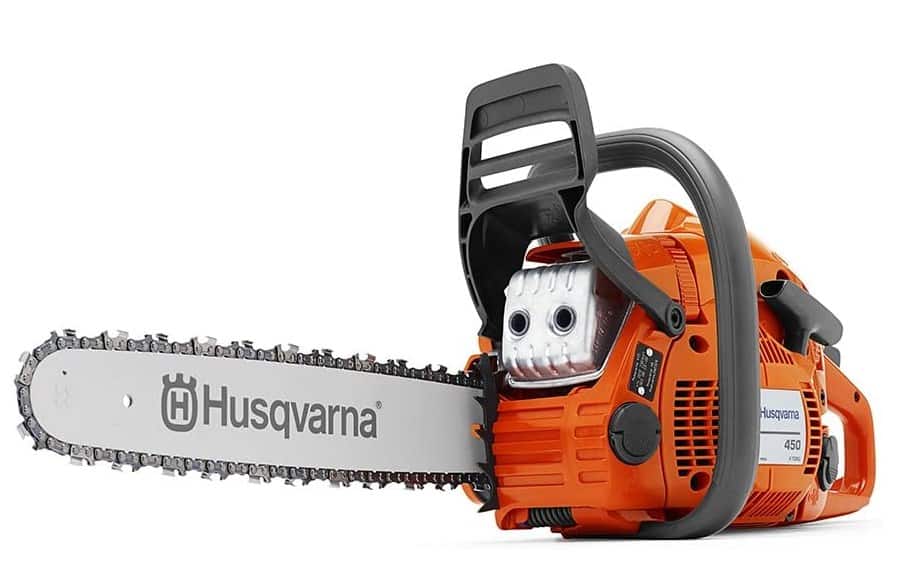 The Husqvarna 450 chainsaw is a famous choice for homeowners. It's convenient for tree-cutting tasks. It is fitted with a powerful 2-cycle Husqvarna engine which provides sufficient power for heavy-duty occasional use.
It comes with a 2-year warranty if you purchase it together with 3 to 32 ounces of Husqvarna premixed fuel. A chain with a pitch of 0.325 inches and a gauge of 0.050 inches is included for efficient cutting.
This product is also equipped with the X-Torq engine technology which maximizes power output while minimizing fuel use. Instead of the traditional pull cord start, it utilizes the air purge system to ensure easy starting.
A summary of the features are as follows:
20" bar
50 cc engine
2-cycle
X-Torq Engine
Air purge system
0.325-inch and 0.050-inch chain gauge and pitch
Pros
Strong resistance to kickback
Sufficient power
Well-balanced
Smooth starting
Low vibrations
Handles relatively large tree diameters (15-17 inches)
Efficient fuel consumption
Cons
Steep learning curve
Poor quality control at times
Some reported difficulty in starting.
3. Husqvarna 450E SASII45020 with Farm Tough Bar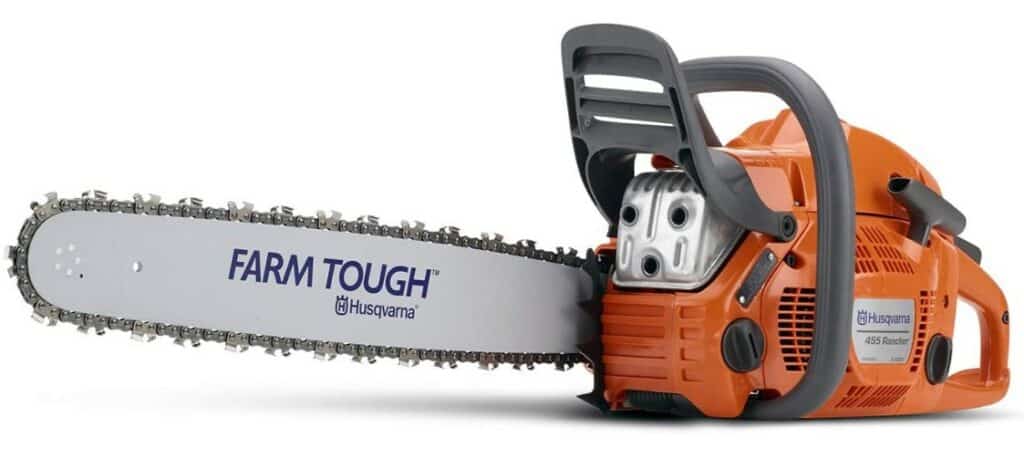 The Husqvarna 450E, is, without question the best all-around saw. This saw has a low weight of 11.3 pounds. This chainsaw has a 20-inch long Duro bar for logging tree diameters of more than 15 inches. The center plate on this bar is extended to offer more support on its nose sprocket and sealed bearings.
Having the nose sprocket bearings sealed means no greasing for the chainsaw. It also has an efficient X-Torq engine technology which lowers fuel consumption and emission levels.
For safety, it is equipped with an inertia-activated chain brake. As for comfort, LowVib features have been fitted. Also, this chainsaw employs a smart start feature which makes it extremely easy to start the engine. You also don't require a lot of effort when pulling the cord to start the engine.
The main features are:
Smart Start
Air injection
Fuel level visibility
Quick-release air filter
Ergonomic rear handle
Combined stop/choke control
Snap-lock cylinder cover
20-inch Duro bar
50.2 cc
3.2 HP
Chain tensioner
Pros
Reduced air filter cleaning
Reduced vibrations
Minimal starting effort
Fuel level indicator
Ergonomic, comfortable handle
Cylinder cover snaps in place
Easy access chain tensioner
Works with an 18" bar
Cons
Reported to heat then stalls
Starting system fails at times
4. Husqvarna 445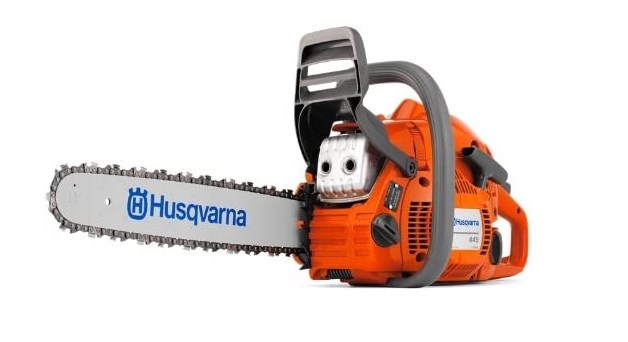 The Husqvarna 445 is the perfect choice for anyone looking for a user-friendly and well-balanced chainsaw. This chainsaw is light, portable, and works well regardless of temperature. It has a 2 cycle 45.7 cc engine that produces 2.8 HP of sawing power enough for cutting trees around the yard.
It employs a centrifugal air-cleaning system that prolongs the engine life. Additionally, large debris is kept away from the air filter. The vibration levels are kept to a minimum and a quick-release air filter pops out with ease when you need to clean it.
Major features are:
45.7 cc engine
X-Torq
Centrifugal air cleaning
Combined start/stop change
Smart Start
Quick-release air filter
Chain tensioner on the side
LowVib technology
Extendable 2-year warranty
2.8 HP Engine
Pros
Snap lock feature offers faster parts replacement and cleaning
Reduced fatigue in the hands and arms
Reduced engine wear from large debris
Low fuel consumption
Felling marks provided
Starting is a breeze
Ergonomic trigger and handle
Works with 20-inch bar length
Cons
Non-CARB compliant
Chain falls at times
5. Husqvarna 450E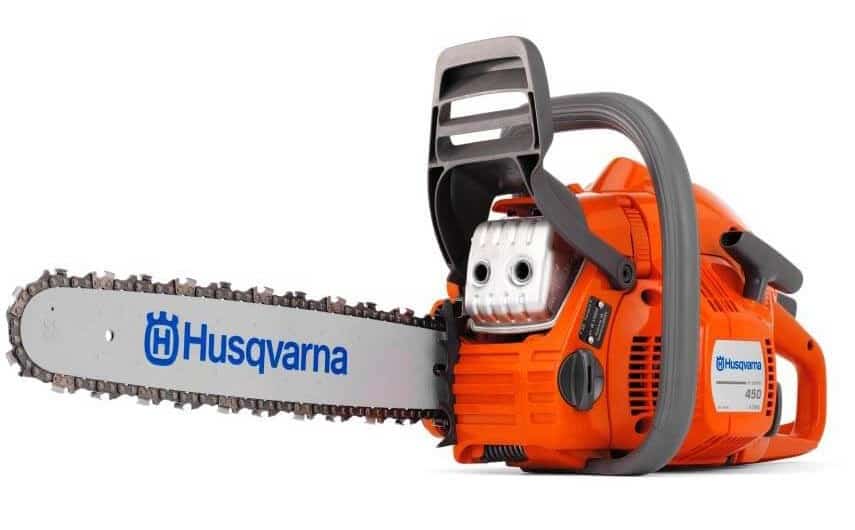 The Husqvarna 450E chainsaw is an impressive low emission power tool as well as a more fuel-efficient tool compared to its competitors. It has a powerful 2-cycle 50.2 cc gas engine. This provides sufficient power to work the 18 inches long bar and chain.
This chainsaw is convenient for small or medium-sized jobs such as limbing and pruning. As much as it can fell large tree trunks, it is more suitable for felling thin trees.
It has an automatic oiler that reduces your workload although there are reports of oil leakage. To keep vibrations under control, this chainsaw is equipped with LowVib tech. Just in case the chain snaps, inertia activated chain brake is included to bring it to a stop.
Other features include:
Automatic chain oiler
50.2 cc engine
18" bar
Inertia activated medium-sized
LowVib
Smart Start
X-Torq
Centrifugal air injection
Combined stop/start switch
Sound power level
Pros
Reduced noise levels
Excellent safety features
The impressive air cleaning system
Needs a single pull to start
Fuel efficient
Auto-return switch
Easy to adjust chain tension
Cons
Non-CARB compliant
Fitting a bar is a problem
6. Husqvarna 440E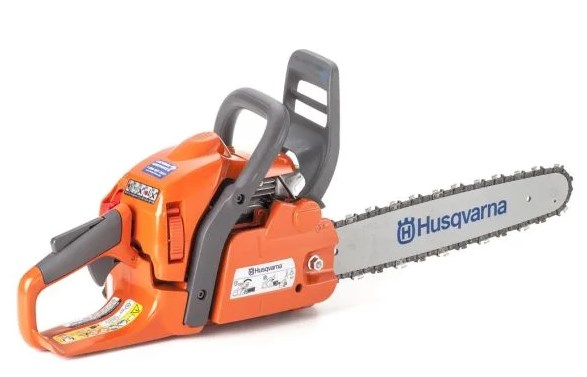 Need a quick clean-up for tree messes? Look no further since the Husqvarna 16"440E is designed for such tasks.
This chainsaw offers you a balance between professional performance and homeowner requirements. It has an engine of 40.9 cc that produces enough power for the 16-inch bar and chain to cut through sizeable tree trunks, limbs, and branches.
Although starting may at times be problematic, this chainsaw has an easy-to-use quick-release tensioner, is convenient, powerful, and easy to start. It also offers a balanced use for professionals as well as consumers.
Read our full Husqvarna 440 Review here.
The main features are:
16-inch bar
40.9 cc engine
2-stroke engine
X-Torq
Forged 3-piece crankshaft
CARB compliant
Tool-less tensioning
Quick-release air filter
Weighs 9.78 pounds
18-inch max bar length
Smart Start
Auto-return stop switch
Pros
Don't need a tool to adjust chain tension
Low vibrations
The chain brake feature works great
Relatively light
Impressive warranty
Runs well
Easy to start
Cons
Sometimes leaks oil
Starting difficult to figure out
7. Husqvarna 240 952802154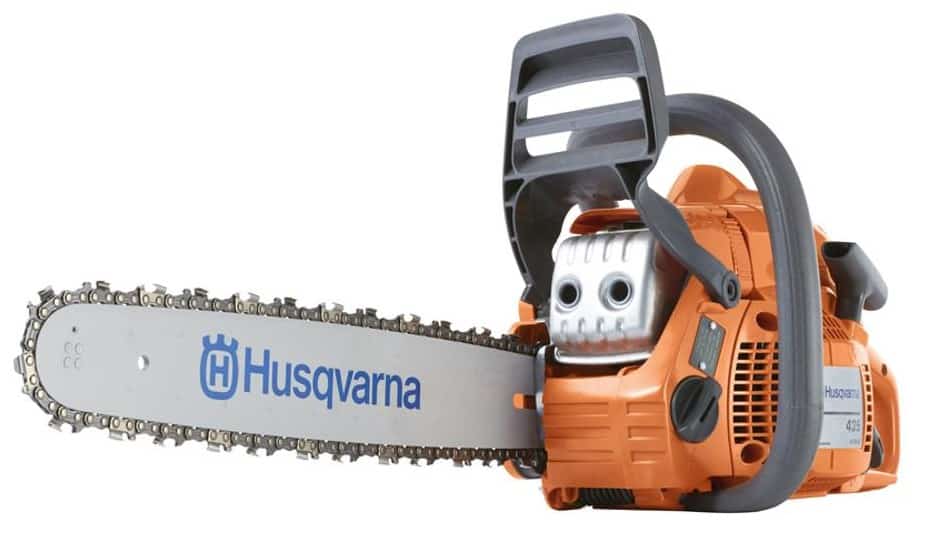 The Husqvarna 240 2 HP is an excellent lightweight chainsaw built for carrying out light trimming works such as trimming small tree limbs, clearing bushes, or felling small trees for firewood.
This chainsaw has an engine of 38 cc that generates 2HP convenient for completing your tasks quickly. This chainsaw comes at an affordable price and offers great features.
It's equipped with Smart Start for an easy start, LowVib for reduced hand fatigue, and a centrifugal air cleaning system.
Read our full Husqvarna 240 Review.
The major features are:
2 HP output
3/8-inch pitch: 0.050-inch gauge
38 cc engine displacement
Combined stop/choke control
Side-mounted tensioner
X-Torq feature
Air purge technology
Pros
Excellent power for light-duty cutting jobs
Relatively affordable
Compact for easy transportation and/or storage
Easy to maintain
Slices through 8-10 inches of wood
Sturdy, rugged construction
Economic fuel consumption
Cons
Limited capabilities
Turns off at times
8. Husqvarna 240 Chain Saw – 14in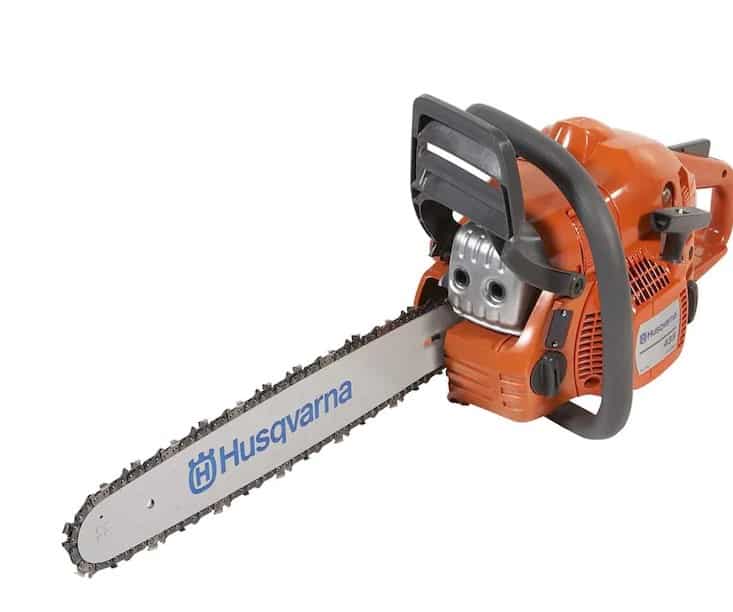 The 14" bar Husqvarna fairly works the same way as the 16-inch 240 "husky", but it handles fewer tasking jobs. Although their engines have slightly different engine displacements their power output is almost the same.
The combined choke and engine stop function allow for easy operation in averting any potential energy flooding. The vibration levels are minimized by the LowVib system.
This chainsaw is also fitted with the air purge system, which removes accumulated air in the fuel system and carburetor. This ensures you have an easy time pulling the cords. All in all, this chainsaw offers its best performance when doing light tasks.
Main features include:
Carburetor and fuel system Air purge
14-inch bar
38.2 cc
3/8-inch chain pitch
0.05-inch chain gauge
Centrifugal air cleaning
2 HP
LowVib system
Combined choke/stop control
X-Torq engine
Ergonomic handle
Pros
Great for hobby and pruning work
Easy to operate
Ergonomic, comfortable handle
Environment-friendly engine
Great value for the price
Feels light
Cons
Finicky starting without much care
Does not idle as it should
9. Husqvarna 120i 14-In. Brushless Chainsaw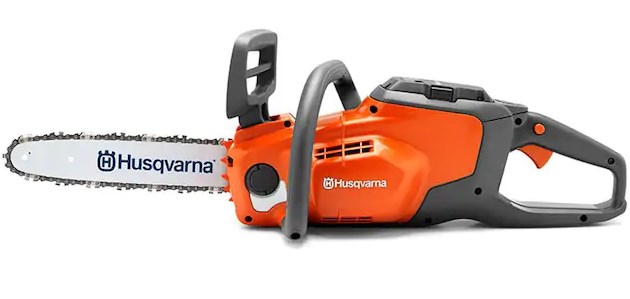 The Husqvarna 120i is lightweight weighing only 10.8 pounds. The design and build are meant for homeowners. More importantly, this chainsaw is not gas-powered and has a battery of 40 volts. This makes it suitable for tasks such as cutting branches, pruning as well as the felling of trees of about 10 inches or less in diameter.
It has the advantage of being noiseless therefore convenient for use at any time of day or night. The 14-inch bar and chain are driven by the brushless electric motor which is powered by the 40 volts battery.
Its improved motor efficiency allows it to run for a long time on a single charge. You can put it on save mode when doing very light work.
The major features to consider are:
40 volts battery
Weighs 10.8 pounds
Brushless motor
Fuel save mode
Low noise (101 dB (A)
14-inch bar and chain
Intuitive keypad
Instant start
4Ah battery and charger
Pros
Relatively low noise operation
Ergonomic handle
Save mode maximizes runtime
Easy chain tensioning
High-efficiency motor (brushless)
Easy to use, intuitive keypad
Comfortable soft-grip handle
Can operate for long periods when fully charged
Cons
Battery may drain when off
Only good at light tasks
10. Husqvarna T435

Looking for a gas-powered light-duty chainsaw? Then the Husqvarna T435 is the best option for that. This chainsaw is built for handling tasks such as pruning limbs with a diameter of 10 inches, pruning orchards, and vineyards. It comes with the advantage of hoisting it up trees utilizing a sturdy pole for branches higher than your reach.
It's praised for being an awesome tool for preparing your cords of firewood for heating purposes. This chainsaw of 35 cc and 12-inch bar requires good maintenance for efficient performance. You need to routinely clean the air filters, keep the automatic oiler reservoir well filled and use it for jobs it can handle. To increase its efficiency, you can swap the bar with a 14" one.
Read our full Husqvarna T435 Review.
Some of the main features are:
12-inch bar
Accommodates 14-inch bar
X-Torq engine
35 cc engine displacement
Sturdy pole extension
LowVib
X-Torq engine
Side-mounted tensioner
Quick-release filter
Air purge system
Top handle
3/8-inch chain pitch, 0.05-inch gauge
Pros
Lots of light-duty uses
The bar can be expanded to 14 inches
Lightweight
The top handle provides adequate control
Fast sawing speeds
Well balanced
Easy to clean filter
Cons
Poor quality control
The startup can be finicky at times
Best Husqvarna Chainsaw Alternatives
If you don't want, or you feel the above options don't work for you, we got you covered. The following is a list of the best Husqvarna chainsaws. They are compiled according to each category. Let's take a look!
Best Husqvarna Chainsaw Electric Alternative – Makita UC4051A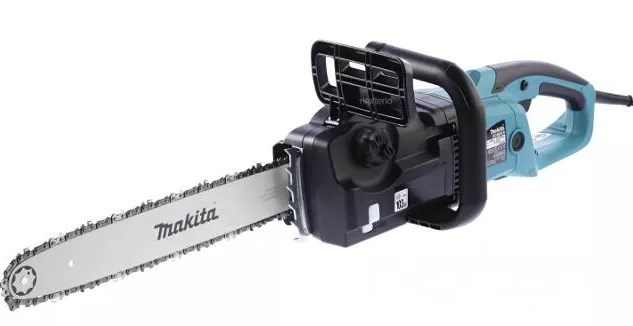 This corded electric chainsaw offers impressive performance without a gas motor. The chain speed is 2,900 feet per minute with a 16-inch bar that is powerful enough to cut through large logs and limbs easily.
This Makita chainsaw is built with an ergonomic rubberized handle and a soft trigger switch. For protection against motor burnout, it is fitted with a built-in current limiter. It also has an automatic chain oiler as well as an electric chain brake.
No tools are required when adjusting or replacing the blade or chain giving you an easy time. Even though you'll need plenty of power to operate this chainsaw, you'll enjoy having not to deal with the hassle of a high-maintenance gas engine.
This chainsaw weighs 15.5 pounds, a little bit heavier than most comparable models. Like all other electric chainsaws, you require an outdoor-rated extension cord. The good news is it comes with a 30-day satisfaction guarantee combined with a one-year warranty.
Features:
Type: Corded Electric
Bar Length: 16-inch
Power: 14.5 amp
Weight: 12.3 pounds
Automatic Chain Oiler: Yes
Pros
Easy to start
Powerful performance
Low maintenance
Automatic chain oiler
2,900 ft. per minute
Cons
Complaints about assembly being difficult
Best Husqvarna Chainsaw Gas Alternative – Echo CS-400-18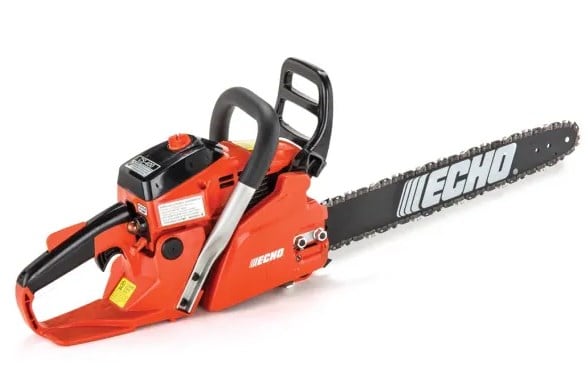 The Echo CS-400-18 is a gas chainsaw that offers an amazing amount of power and is easy to handle. Its properties include an 18 -inch bar and a two-stroke, 40 cc engine making it work effectively when slicing through pieces of wood.
Being a professional-grade chainsaw, it is fitted with an automatic oiler, heavy-duty air filter, a minimal effort starting system with digital ignition, a side-access chain tensioner, and an air pre-cleaner.
Unlike other gas chainsaws, it is easy to start as well as operate. With just over 10 pounds, it's lightweight but carries enough fuel for heavy-duty home projects. The fuel tank can hold approximately 14 ounces of fuel. Lastly, the product comes with an amazing five-year warranty for non-commercial use.
Features:
Type: Gas
Bar Length: 18 inch
Weight: 10.1 pounds
Automatic chain oiler: Yes
Pros
Great performance
Lightweight
Easy to start
18-inch bar length
Automatic chain oiler
Cons
Not legal in some cities
Noisy
Best Budget Husqvarna Chainsaw Electric Alternative – WORX WG303.1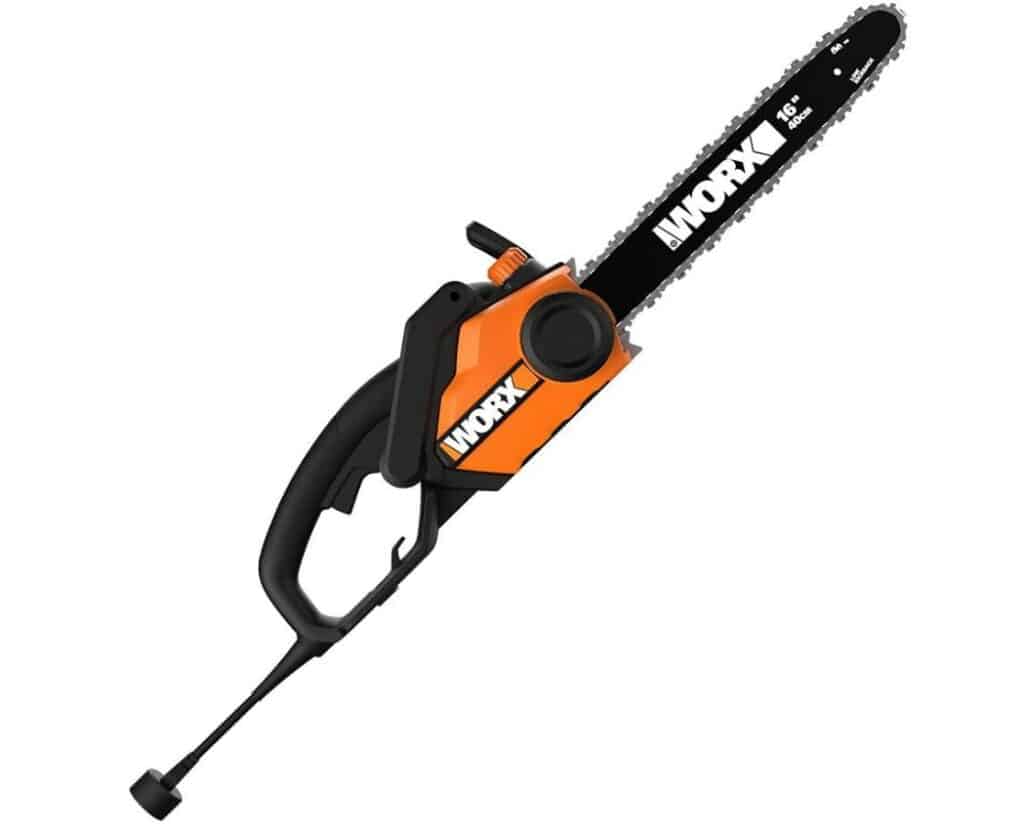 The WORX WG303.1 chainsaw is an electric chainsaw with a 16.5-inch bar and 14.5 amp. It comes in at an affordable price when you hook it up to a compatible outlet. When it comes to cutting speed, ease of use, and handling, this tool has great ratings by users and professionals.
Its properties include a chain brake, ergonomic handle, automatic chain oiler, and an automatic chain tensioner. Weighing 11 pounds, it's fast, balanced, and convenient for lightweight duties.
This model lacks vibration isolation, meaning you experience some shaking. It has a three-year warranty.
Features:
Type: Corded electric
Bar Length: 16 inches
Power: 14.5 amps
Weight: 11.1 pounds
Automatic chain oiler: Yes
Pros
Comfortable, padded handle
Automatic chain tension and oil
Excellent performance
Automatic chain oiler
Affordable
Cons
The chain adjuster knob is large
Best Budget Husqvarna Chainsaw Gas Alternative – HUYOSEN 18-Inch Gas Chainsaw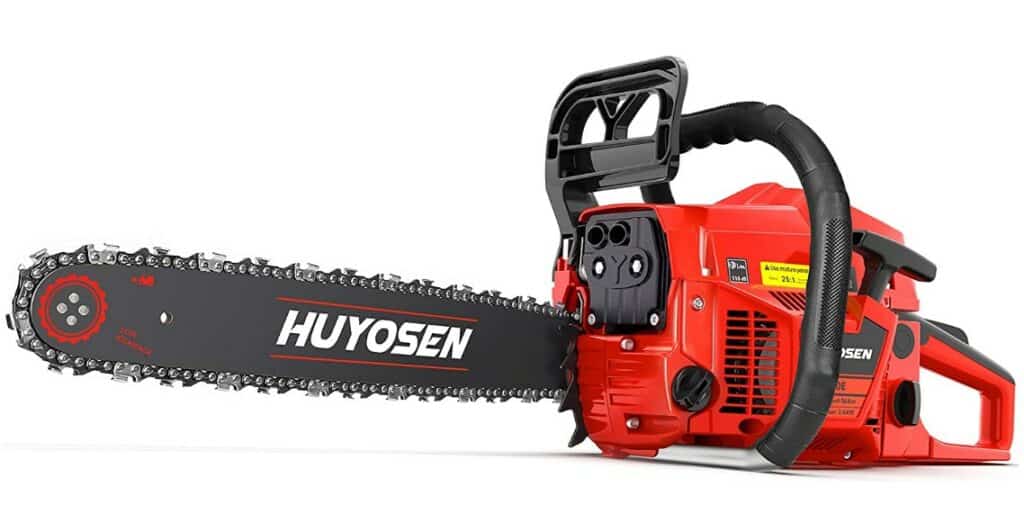 This HUYOSEN chainsaw has an engine of 54.6 ccs and an 18-inch bar. the features make it a convenient but heavy chainsaw. It's built for pruning tree limbs, saplings, and brush but not large oak trees.
It is easy to start, with just a push of a button. The automatic oiler keeps the bar and chain in good running condition. At the same time, the blade offers a lot of chew with a sprocket-tipped 18-inch bar and chain.
This chainsaw is adaptable and easy to handle. It may be the reason it's suitable for trim jobs and pruning large trees in tight spaces.
Features
Type: Gas
Bar Length: 18 inches
Power: 54.6cc
Weight: 15.6 pounds
Automatic chain oiler: Yes
Pros
Excellent performance
Easy to start
Long 18-inch bar
Powerful 54.6 cc engine
Automatic chain oiler
Cons
Illegal in some cities
Somewhat heavy
How to Choose the Best Husqvarna Chainsaw
Husqvarna offers you a wide range of good chainsaws you can purchase. Sometimes, it can be a daunting task picking one chainsaw over another.
Below is a buying guide to clear up the confusion and to help you find the perfect choice for your needs.
Consider What You'll Be Using the Chainsaws For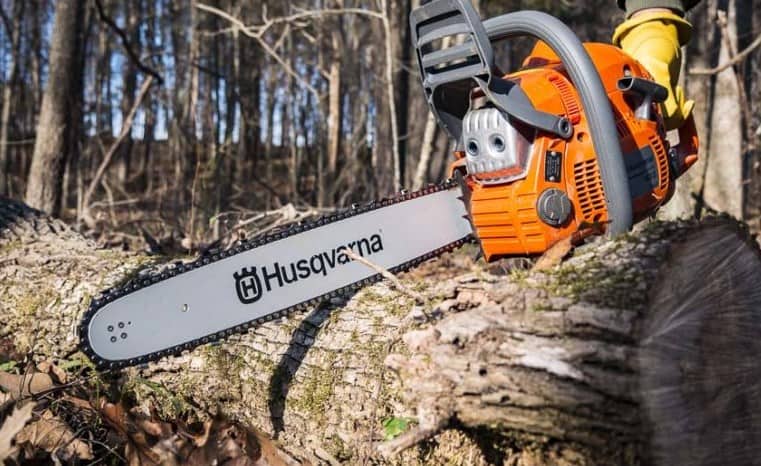 The use of the chainsaw should be the first thing you think about. Do I need a professional chainsaw or a heavy-duty saw for home and gardening? On the other hand, do I need a semi-pro semi DIY chainsaw?
Such considerations ensure you eliminate some of the options in your list. More importantly, it helps to determine the bar length and engine displacement you require. Here are some of the options:
Light Duty Yard Maintenance
If you are looking for a chainsaw for this purpose, a 12 to 16 inches long chain bar would work well. The engine in this case doesn't have to be too powerful since you'll be dealing with light-duty tasks unless you are planning to clear up thicker branches.
Moderate Duty Work
In this case, you'll need a chainsaw with a longer bar of between 16 to 18 inches. If you occasionally have to bring down thicker branches and small trees, a slightly more powerful engine will work well for you.
Heavy-Duty, Professional, and Crisis Ready Options
A chainsaw with a bar of between 20 and 28 inches is the perfect fit for professional ventures and DIY activities. Also, a very powerful engine is essential. This makes it efficient for felling trees, chopping firewood, or cleaning after storms. It also comes in handy for handling crises such as fallen trees and large branches.
Longer Bar or More Engine Capacity
The second step is now settling between the engine capacity and the bar length. The rule of thumb is the longer the bar chain, the more powerful the saw. Keep in mind this is not always the case. There are some chainsaws with shorter bar lengths, but very powerful engines.
A longer chainsaw means an increased challenge when it comes to controlling it. The energy generated by a chainsaw is what draws the line between a professional saw and a DIY homeowner saw. If you want a powerful saw, you should consider purchasing a saw with a higher 'cc'.
Gas Powered Or Electric?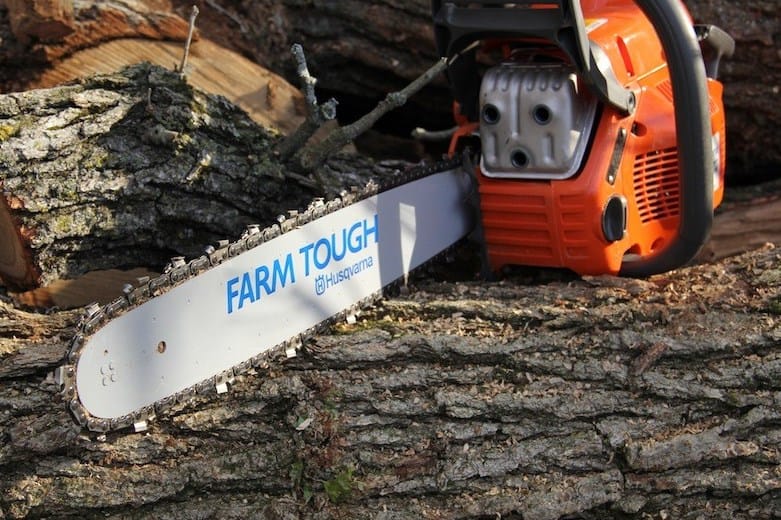 Husqvarna chainsaws are either powered by gas or electricity. Electrical powered chainsaws are further divided into corded or cordless chainsaws which we will look into.
You have to consider the amount of power you need, the weight you are comfortable with, and emissions. So what's the difference between gas and electric and which should you choose? Read on to learn more!
Gas-Powered Chainsaws
They are the most powerful chainsaws, though heavy and noisy. If power is something you are going for, they are the best. When making a purchasing decision it's important to look at the bar length and engine capacity to get a quality product.
Battery Powered (Cordless)
These chainsaws are powered by rechargeable Lithium-ion batteries. The battery adds a little more weight but you can easily move around with the product. Unfortunately, they are the least powerful.
They have the advantage of being easy to start, with fewer vibrations compared to gas-powered chain saws. A thing to note is they also run quieter. For environmentalists, this is the chainsaw of choice. It's a great choice for buying a chainsaw with a higher voltage rating that means more power for you.
Corded Chainsaws
They are more powerful than battery-powered chainsaws but less powerful than gas-powered chainsaws. They are less popular and there are only a few options for those who need increased power at a reduced weight.
They have the limitation of being dependent on the availability of power considering the limited range of the power cord you use. When purchasing this you should consider the ampere rating in 'amps'. The higher the amps the more motor power.
Safety Features
Husqvarna offers very powerful chainsaws that require some level of competency to operate. To avoid any accidents, start by reading the user's manual.
You must purchase a tool that guarantees your safety in case of mishaps. As much as most of the Husqvarna chainsaws are fitted with proper safety features, always consult the user manual to ensure you use it properly.
In your safety checklist, you should look for an anti-kickback chain, chain catcher, emergency stop button, anti-vibration mechanisms, and chain brake. The handle should offer you a grip that ensures you can hold the product firmly. It is also important that you wear personal protective equipment at all times when using a Husqvarna chainsaw.
Maintenance
For any Husqvarna chainsaw to serve you for a long time, regular maintenance is key. As you purchase one you should be sure that you can maintain the chain tensions, clean the air filters, replace the air plug, lubricate the parts as well as sharpen the chain.
This will require effort and commitment. If you are not the type of person to do that, you should consider an easy-to-maintain tool or soliciting the services of reputable chainsaw maintenance professionals. The battery-powered Husqvarna chain saw is a good pick for you if you like D-I-Y maintenance.
Weight
Weight plays an important role as it determines your ability to operate, keep under control, and deal with your chainsaw. Also, your physical ability to deal with the weight of the product should be considered.
You should go for a husky chainsaw whose weight you can handle. This ensures you can operate your tool easily.
Environmental Concerns
Environmental concerns in this case are the impact of the use of the chainsaw on the environment and those around you. This includes noise pollution and excess carbon fumes. Husqvarna chainsaws are designed to reduce these effects. Some models have been fitted with X-Torq engines to make them fuel efficient thus making sure they have lower emissions.
Some models fail to meet the regulations by CARB. You should check and certify that the model you are purchasing is allowed in your area. Additionally, very noisy chainsaws may affect your neighbors. Always make sure you get a product that fits your region's laws and regulations to avoid fines and other inconveniences. After all, you don't want to get a quality product that you can't use.
Warranty
There is no question about the importance of a warranty when purchasing a power tool. High-quality chain saws have a longer warranty, which is proof of the manufacturer's confidence. Husqvarna chainsaws have a 2-year warranty that is good for an above-average quality product. An extension of the warranty based on the conditions is also offered.
Husqvarna Chainsaw FAQs
Question: What does XP Mean?
Answer: Extra Performance is the straightforward answer. What is an XP® chainsaw? These are chainsaws are designed with higher maximum rotations per minute (RPM), a better power-to-weight ratio, more horsepower, faster acceleration, and a special power band optimized for skilled users. Go for such a Husqvarna chainsaw if you can afford it.
Question: What does a Husqvarna Model Number Mean?
Answer: The first digit you see in any Husqvarna chainsaw model number is the series or generation. There are currently 5 generations of Husqvarna saws: 1, 2, 3, 4, and 5. For example, the 4 in the Husqvarna 450 means it's a 4th generation Husky chainsaw. The second and third digits, following the series number, refer to the engine's cc.
Question: Are Husqvarna and Jonsered the Same?
Answer: Take note that from 1979 to a few years ago, Jonsered and Husqvarna were owned by Electrolux. Jonsered and Husqvarna left Electrolux. Currently, Jonsered is one of Husqvarna's subsidiaries. That said, Jonsered manufactures equipment such as chainsaws under license from Husqvarna AB.
Question: What Engine does Husqvarna Use?
Answer: Husqvarna Motorcycles designs and develops a variety of enduro, motocross, and supermoto machines using their two-stroke or four-stroke engines. Their capacity ranges from 125 cc to 693 cc. Huskvarna, Sweden was where it all began. The company opened a modern facility in this area, the company's hometown, in 2015.
Conclusion
With any Husqvarna chainsaw, you never go wrong. It doesn't matter if you are purchasing a professional-grade or a consumer-grade Husqvarna chainsaw. Getting the best pick is up to you. If you're having a hard time narrowing down your choices of chainsaws, we highly recommend the Husqvarna 445 chainsaw. It's an easy-to-use chainsaw, especially if you've never used a chainsaw before. Plus, it's easy to start and doesn't have strong vibrations!
If you didn't find something you can use from the options offered, check out the buying guide above. Not only will it give you some ideas, but it also saves you the trouble of finding one without a guide.
Continue reading related Husqvarna chainsaw model reviews and guides: