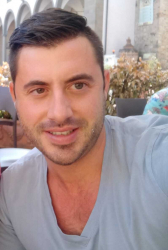 Latest posts by David Borgogni
(see all)
Husqvarna is one of the premier chainsaw manufacturers globally and one we are particularly fond of here at Forestry Pros. So whether you're looking for the perfect domestic saw or something suitable for commercial cutting, there's bound to be a husky suited to you.
Today, we're looking at one of their most popular mid-sized models, the 440. This is our Husqvarna 440 review and guide.
When it comes to gas-powered chainsaws, there are many different shapes and sizes to choose from. However, lightweight models are better suited to smaller jobs around the home, typically providing the perfect solution for domestic cutting requirements.
On the other hand, larger models tend to be favored by professionals and foresters who need to tackle large amounts of debris and thick trees.
Somewhere in the middle sit mid-sized chainsaws, offering more cutting power than the smaller models but still maneuverable enough for use around the yard. The 440 is a great example and one that we'll be looking at today.
In this review guide, we'll be diving into the core features of the Husqvarna 440, including its pros and cons, who (in our opinion) the tool is most suited to, as well as some alternatives worth considering. We'll also be answering some commonly asked questions and providing our final verdict on the 440.
But before we delve into the nitty-gritty, let's take a look at the key specs of the Husqvarna 440.
Key Specifications of the Husqvarna 440
| | |
| --- | --- |
| Engine Size | 40.9cc |
| Tank volume | 0.78 pints |
| Weight | 9.7lbs |
| Power | 2.4 horsepower |
| Cutting Arm Length | 18-inch (standard) |
| Latest Price | Check here for the latest price |
Core Features of the Husqvarna 440 Chainsaw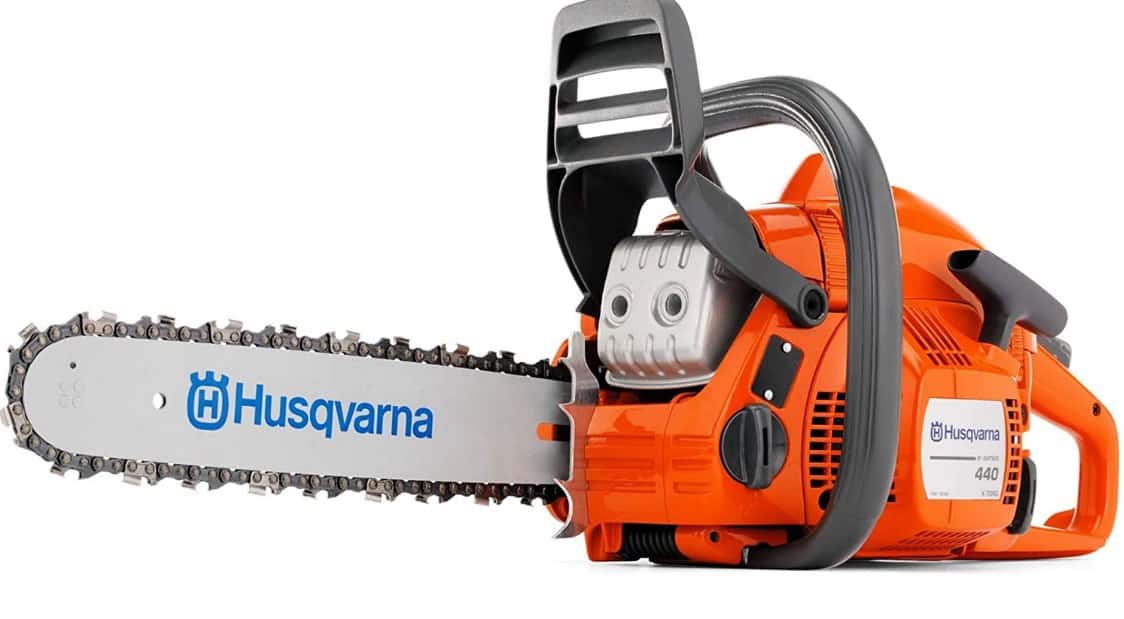 The 440 sits pride of place in Husqvarna's mid-range of chainsaws, providing more cutting power than the smaller models like the 240 and 350 but not quite being able to tackle the largest of trees, as well as the 572xp, can. If a larger, more powerful chainsaw is what you're after, then be sure to check out our recent 572xp review and guide.
The 440 is a well-rounded and highly adaptable tool that has been designed with both domestic and commercial use in mind. It benefits from being well balanced when in use thanks to its lightweight frame but doesn't suffer any power shortages, meaning it's a highly effective tool across a wide range of working scenarios.
In the following section, we'll look closer at some of the best features you can make the most of when working with a 440. From immense cutting power to agility and precision, the Husqvarna 440 brings a lot to the table.
Air Injection
Husqvarna has included their patented air injection technology with the 440. The air injection allows larger dust and other debris particles to be removed from the air filter during use. This prevents excessive build-up and prevents maintenance issues from happening.
The clever system is now standard across all Husqvarna chainsaws, so seeing it included here is good. In addition, by removing larger particles as you work, the 440 requires a lot less maintenance than older models. This saves the user time and money further down the line, helping to justify the premium prices Husqvarna charge for their saws.
X-Torq Engine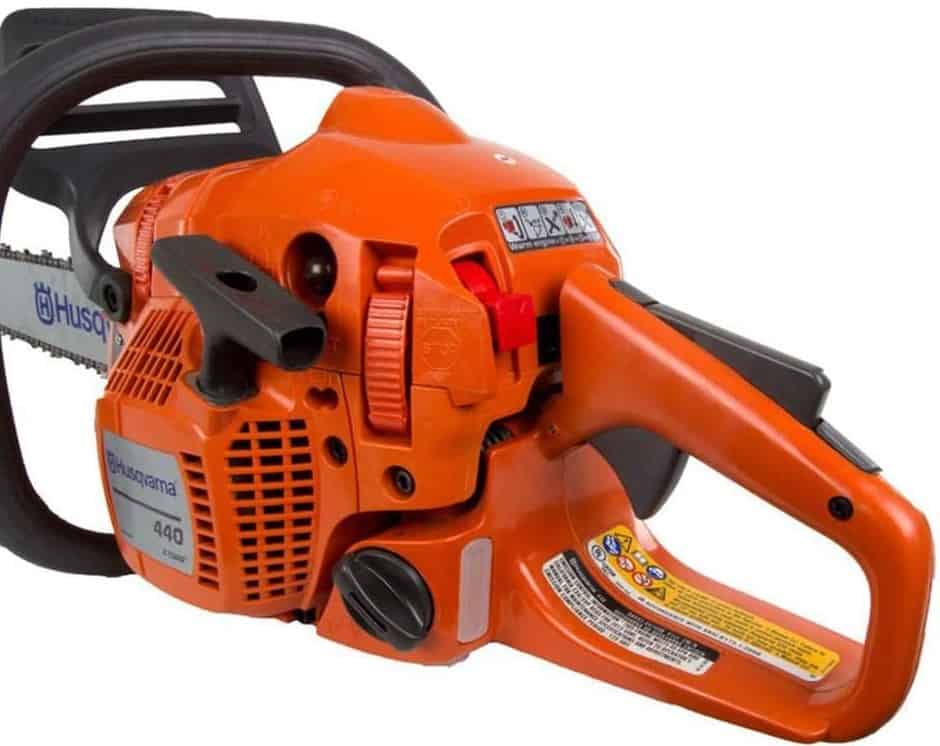 It's hard to argue that the engine is probably the most important part of any gas-powered tool, and the 440 is no different. Husqvarna's brilliant X-Torq technology has made its way into this model, meaning engine efficiency greatly improves while retaining a high power output.
The X-Torq technology is a tried and tested way the manufacturer has brought down running costs and emissions while ensuring cutting power is unaffected. So it's no surprise that these engines have now found their way into all-new premium Husqvarna products.
LowVib
Vibrations caused by the engines are well documented as causing health issues in the blood vessels found in hands and forearms. This is particularly true when using these tools over extended periods.
To combat the effects these oscillations have on the user, Husqvarna has developed industry-leading anti-vibration technology. 'LowVib' works by isolating both the engine and handles, dampening any vibrations generated before they have the chance to reach the user's hands. While it does not 100% remove them, the harm they can cause is greatly reduced.
Smart Start
Smart Start is another core feature found throughout Husqvarna's chainsaw range. This is designed with usability in mind and helps to start the engine quickly and easily. It reduced the resistance of the pull cord by 40% compared with previous generations and got the engine going on the first, second, or third attempt. This is particularly useful when the motor is cold on those freezing work mornings.
Professional-Grade Ergonomics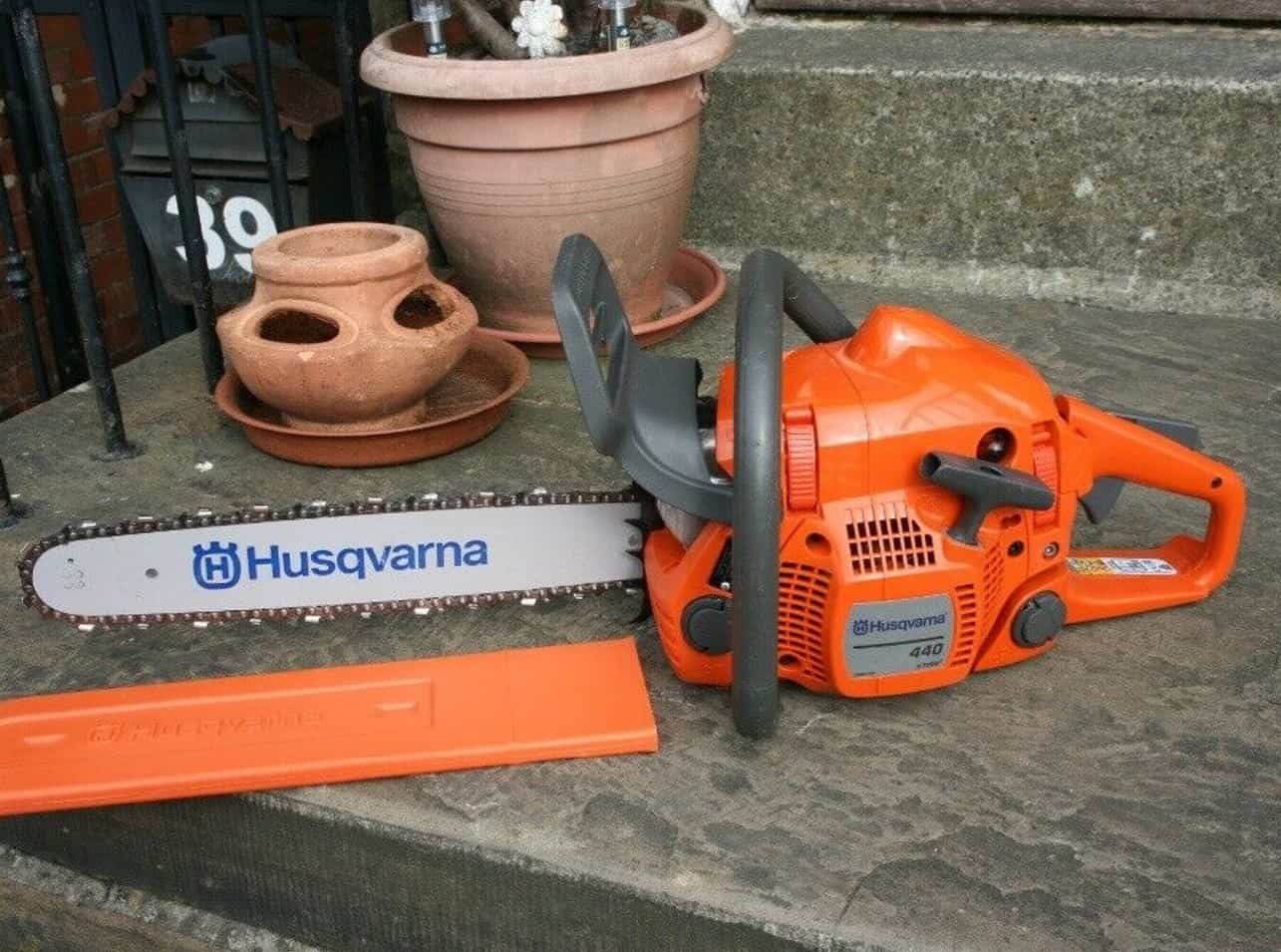 The 440 comes with various options when it comes to gripping the saw effectively. It features a main handle where the throttle is located alongside a larger auxiliary handle that makes maneuvering the unit around nice and easy.
The grips are constructed using a rubber composite that ensures maximum grip while working and allows you to cut wood or clear debris quickly and effectively.
Safety Features
Of course, as we know, chainsaws can be hazardous tools to operate. Therefore, they should only ever be used by those with experience or in the company of those who know what they're doing. Thankfully, Husqvarna includes a variety of safety features to keep users extra safe.
First of all, the inertia-activated chain brake will stop the sharp cutting chain from rotating whenever an impact is detected. This could be the saw being dropped or the user falling while working at height, for example. There is also a dead man's switch fitted as standard to further prevent the chain from being active when not in the user's control.
As well as these safety measures being in place, there is a chain catcher fitted to the bottom of the saw. This helps to guide the chain and stop it from jumping or snapping off while in use. This, along with both front and rear hand guards, protects users when working in even the densest foliage.
How Does the Husqvarna 440 Perform?
When looking at the performance of the 440, it's clear to see that this is a contender for the best Husky on the market. It's made using the ultimate combination of power and agility, making it super versatile and easy to use for a wide range of potential users.
Domestic workers will find this chainsaw more than capable of tackling the jobs that need doing on their lands, while commercial outfits will certainly benefit from having one of these saws to support their larger workhorses.
As with pretty much all of the modern-day huskies, the included features add real value. The patented LowVib tech is well documented as reducing the potentially harmful oscillations generated while the motor runs. We definitely found this true during testing, with the 440 being one of the most comfortable saws we've tested in a while.
The ergonomic handles stand out as excellent features too. They offer a great level of grip and feel while working, allowing users to be more precise in what they do. The front auxiliary handle plays a pivotal role in making this tool usable, especially when cutting horizontally.
In terms of cutting power, the 440 generates 1.4kw from its 40cc engine – more than enough to be able to tackle any job you'd expect a mid-sized chainsaw to be able to complete. The majority of foliage and branches that need cutting back can be managed, with even the thickest debris and tallest trees proving no match for the 440.
The X-Cut chain works well and seems to be as sharp and reliable as Husqvarna claims. Although make sure you bear this in mind when using it and use all of the required safety equipment.
We found the safety features included to work well. The inertia-activated chain brake, dead man's switch, and guards were all tested and passed with flying colors. These additions really help give confidence to the user when operating the saw for the first time.
Crucially, this chain is also straightforward to start. Many older generation models seize up over time, and getting them going can be an issue – not so with the 440. The easy-start tech and 40% less resistance on the starter cord means getting this going is a piece of cake.
The X-Torq engine is another feature that ensures the 440 excels. So it's no surprise that since its invention, it has gone on to be included with every premium Husqvarna product. Not only is the engine more efficient thanks to its reduced fuel consumption, but it also releases far fewer harmful emissions.
Pros of the Husqvarna 440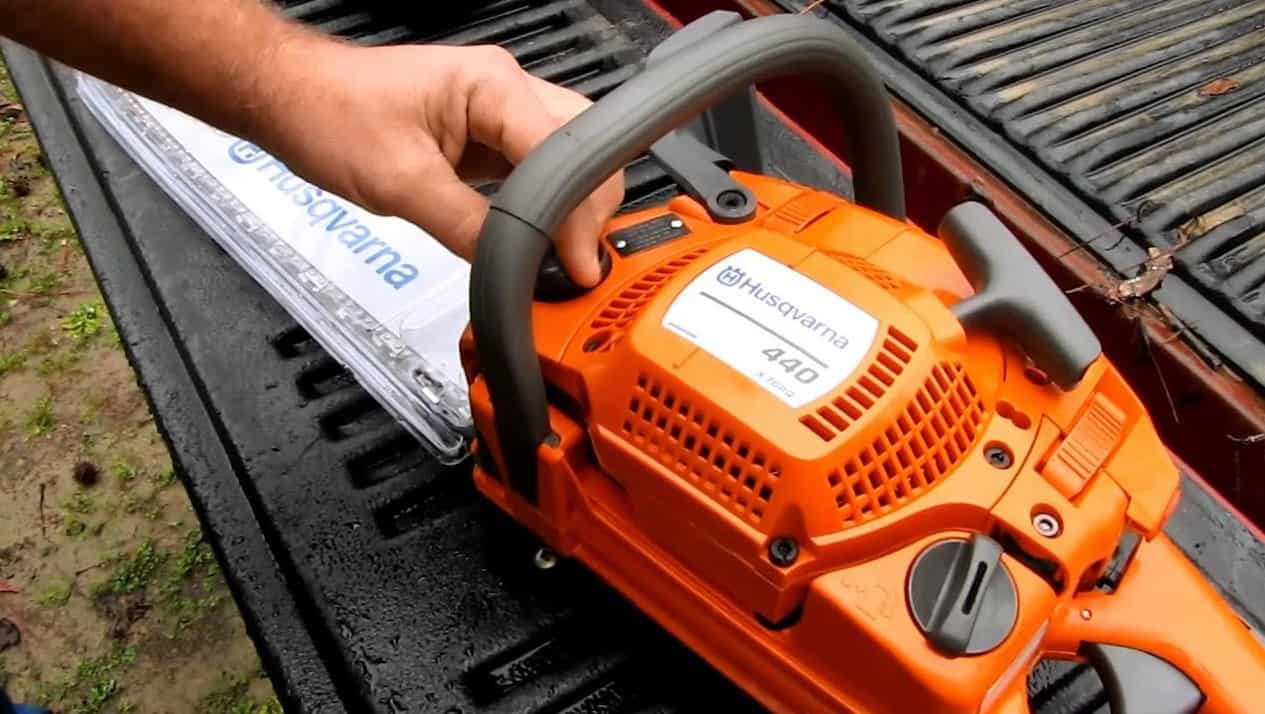 This well-designed tool has lots of positive points to discuss. Here, we'll focus on each of them and identify how they could influence your decision to get one.
Low Vibration (LowVib)
The LowVib tech is a great bonus for anyone considering one of these chainsaws. It works well and is a useful tool to have against the negative side effects of vibrating machinery.
Air Injected Cleaning
Reducing time spent fixing your power tools is always a great thing. The 440 harnesses air-injected cleaning to remove large dust particles before they have the chance to clog the filter.
This means you have to clean it less frequently, and there is a lower chance of having issues. Also, as the air filter is a common source of problems for gas engines, reducing the maintenance needed on it helps greatly. Accessing the air filter is also really easy, even if you're wearing safety gloves.
Professional Grade Ergonomics
All of the handles are solid and well designed, making maneuvering the 440 simple. Cutting upwards into wood as well as down into it is manageable thanks to the auxiliary handle. Accessing the fuel and oil reserves easily adds to the functionality that you expect from any quality Husqvarna product.
The X-Torq Engine
One of the stand-out features of any modern Husqvarna is the engine. X-Torq technology has been developed to be among the most efficient in the power tool industry and great for the environment. It definitely lives up to Husqvarna's claims with the ability to get through lots of foliage before needing to refuel.
Cons of the Husqvarna 440
Price
The price tag is really the only major downside. But, as a top-quality Husqvarna, it comes at a price, and although well worth it in our eyes, some people may be put off. Just remember, though, when it comes to power tools, you always get what you pay for.
What Are the Best Alternatives?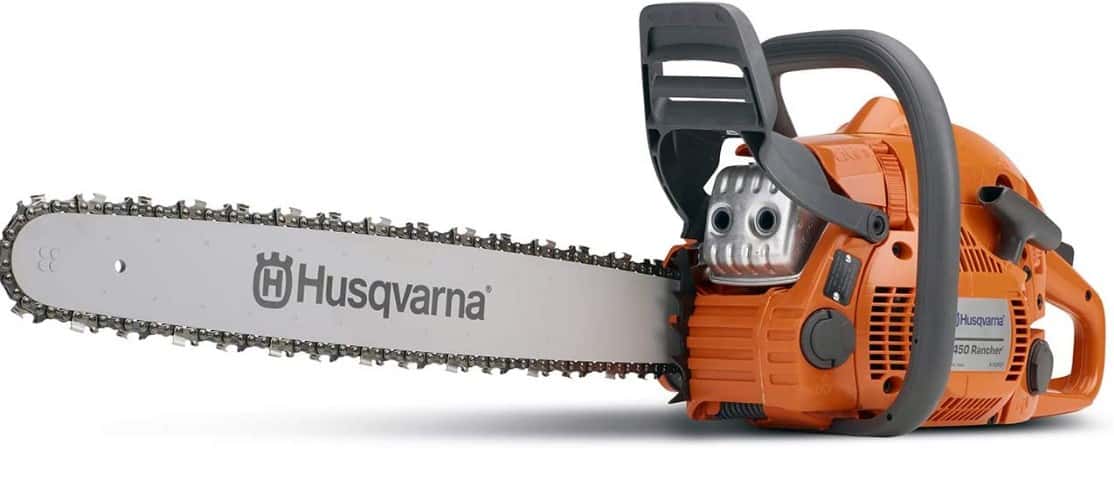 The 440's bigger brother, the 450, is ideal when needing something that bit bigger and more powerful. It comes with a 3.2 horsepower X-Torq engine and a 20" cutting arm as standard. Much like the 440, it can be used both domestically and commercially but offers more cutting power.
Check out our detailed Husqvarna 450 review to find out more.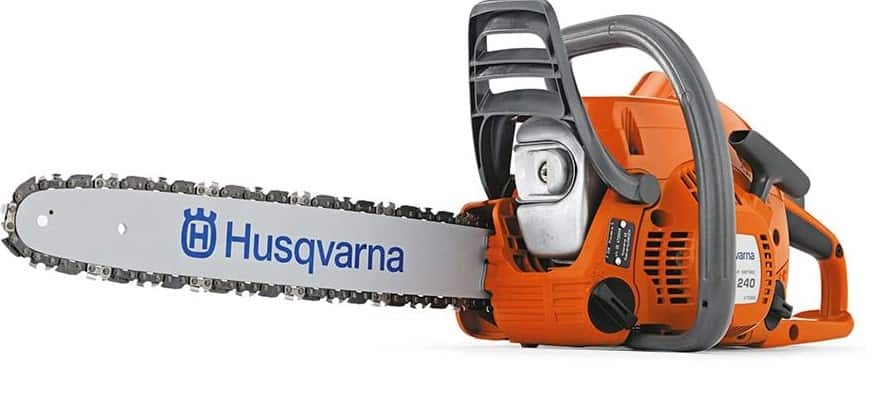 On the other hand, if you're looking for a chain saw at the other end of the scale, the Husqvarna 240 could be perfect for you. The cutting arm on the 240 sits at 16 inches long, and it weighs just 10.3lbs, making it perfect for domestic chores or semi-regular use on larger patches of land.
If you think this sounds like it could be for you, read our latest Husqvarna 240 review and guide.
Frequently Asked Questions
Question: What is the T adjustment on the chainsaw?
Answer: The T screw on a chainsaw regulates the fuel sent from the tank to the carburetor while idling. Therefore, adjusting this screw can be a way of combating many common chainsaw issues.
Question: What is the spark plug gap on a 440 Husqvarna chainsaw?
Answer: The spark plug gap on the 440 models is 0.5mm, and the cylinder displacement is 40.9 cm³ / 2.5 cu. Inch and the fuel tank volume is 0.37 liters or 0.78 pints.
Question: What size chain does a Husqvarna 440 take?
Answer: The chain length depends on the model you have, specifically the cutting arm length. For example, you may need an 18-inch chain or a 14-inch one, depending on the length of the cutting arm. The chain pitch is 0.325 inches, and the chain speed is 23.1 m/s.
The Final Word – Is The Husqvarna 440 The Right Chainsaw For You?
Anyone already looking into getting a Husqvarna knows the merits of owning one. They're top-quality machines that cater to a wide range of people, making them an excellent choice. You'll unlikely be disappointed if you decide to pick up a 440, but be sure you're getting the right husky for the jobs you need doing.
If, for example, you think you'll need more power and a longer cutting arm, make sure you check the 450 rancher out. That ensures you'll have what you need to cut down on anything standing in your way.
On the other hand, if something smaller would be better suited, then the 240 really is an excellent choice for anyone who values maneuverability over power.