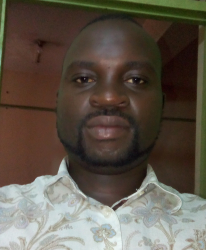 Latest posts by Haron Omaita
(see all)
A well-maintained yard not only makes your home look attractive but also increases its value. To tidy up your outdoor areas, it's vital to have the best equipment to handle your yard work.
While garden and lawn mowing tools are essential tools to have, another useful tool to have is a good wood chipper. The right wood chipper will help you easily clean up and maintain your yard, letting you use fallen branches, leaves, and other garden waste as mulch or compost.
Since there are many different wood chipper brands and models on the market, shopping for the right one for your needs can be quite tricky. Fortunately, we're going to go over the things to consider when choosing the best wood chippers, as well as our best wood chipper selections to help you pick out the perfect one for your yard.
How Does a Wood Chipper Work?
A wood chipper runs on either an engine or an electric motor. The engine power will determine whether the tool is for commercial or domestic use. Most domestic wood chippers have a horsepower of 20 or less, while some commercial models have a horsepower of more than 200.
The crankshaft is attached to the clutch and is powered by the engine. The clutch drives the drive belt. Once the clutch is activated, it moves the drive belt, causing the impeller to rotate. The impeller is where the blades are in a chipper.
Once the impeller is engaged, any wood that you feed into the chipper is ground up into tiny bits. When all the wood has been ground up, it's pushed out of the chipper.
Forms of Wood Chippers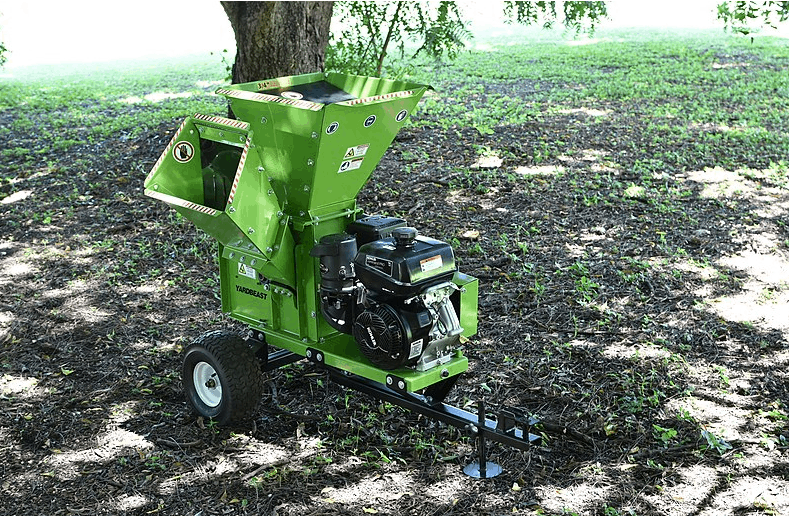 There are many different types of wood chippers, categorized according to their source of power and size, and the type of work they do.
Wood Chippers
A conventional wood chipper can break down bits of wood into almost any size so long as the piece fits into the chipper's chute. There are sharp blades inside attached to a revolving disc. As you feed wood through the chipper, the rotating blades cut the wood into pieces which are then ejected from the side.
If you need to dispose of tree branches, you should definitely buy a wood chipper. Another obvious benefit is that the machine can chop up any type of wood, whether fresh or dry.
Wood Shredders
This tool looks like a wood chipper but has two distinct differences. It uses blunt blades (flails) to cut the wood and produces mulch instead of chips. If you want to clean up yard waste and trim smaller branches, a wood shredder might be the better option.
Mulchers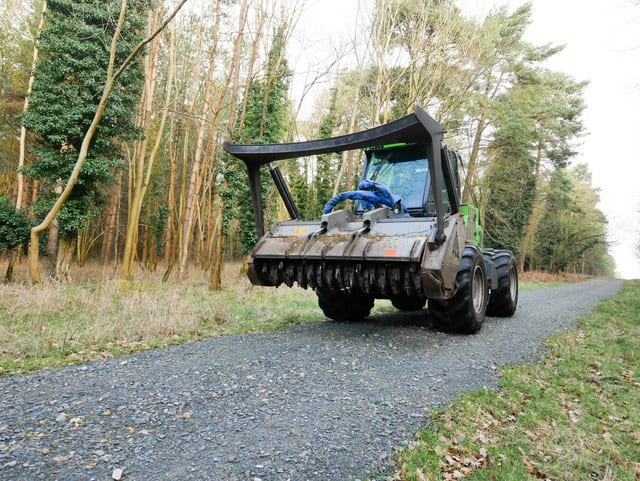 This is the perfect tool if you're dealing with softer organic yard materials. A mulcher can't chop up an actual branch of a tree but works well with leaves, small twigs, and grass to create compost.
Electric Wood Chippers
An electric wood chipper resembles a golf bag, so it's easy to spot. This machine is compact and works more quietly than either a PTO or gas chipper, but it often doesn't have the capacity and power to handle any material that's more than 2 inches thick.
However, provided that you're only tidying up yard trimmings and small branches, electric chippers can more than do the trick. They are easier to use, inexpensive, and lighter.
Gas Wood Chippers
These are the most widely used domestic wood chippers. They're bigger and louder than electric wood chippers and also emit a chemical odor thanks to the combustion of gasoline. But gas wood chippers can generally handle material that's at least 3 inches thick, letting you chop up much bigger pieces of wood.
Also, gas wood chippers are more powerful than their electric cousins and don't have to be placed near a power source to use. These chippers are in the medium price range in between the less expensive electric wood chippers and the costlier PTO wood chippers.
PTO Wood C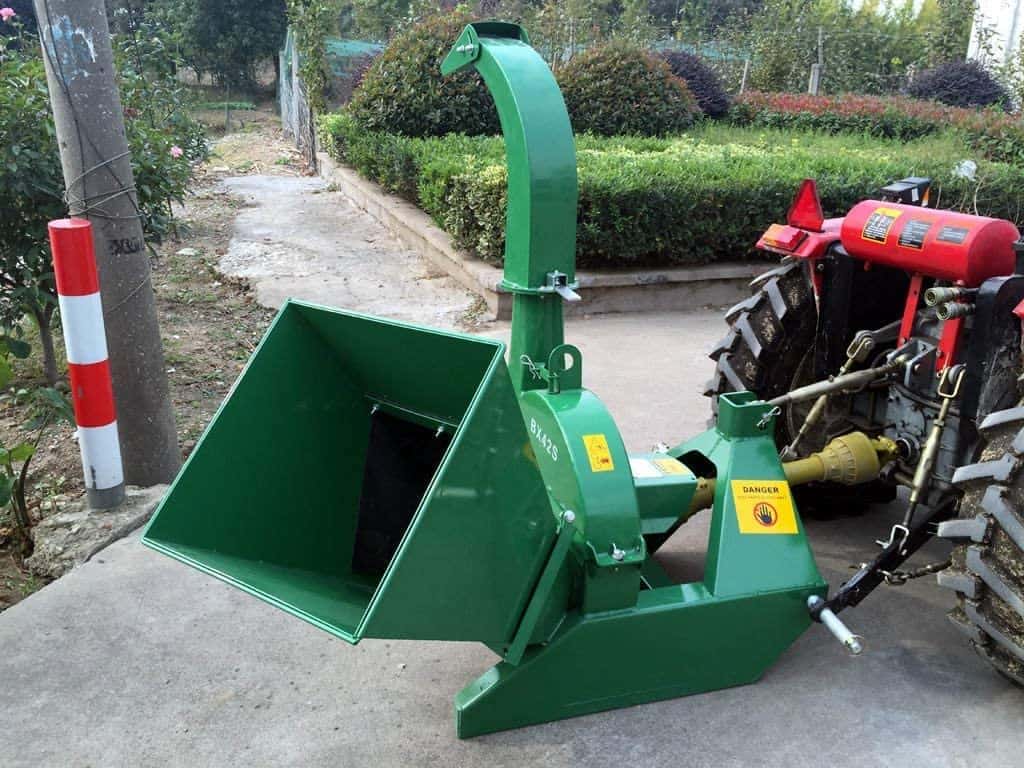 Chippers
Power take-off (PTO) is simply the wood chipper's drive shaft that lets it connect to an output shaft on your truck, tractor, or mower. This connection allows the PTO chipper to get energy from the vehicle's engine. This way of powering a wood chipper produces a lot of energy, making PTO chippers more efficient than either electric or gas chippers.
PTO wood chippers can chop up larger materials much faster and they're a wonderful choice for those who live in vast plots of land. But PTO chippers are much more expensive than both gas and electric chippers and you need a compatible vehicle engine for the chipper to work.
The Benefits of Having a Wood Chipper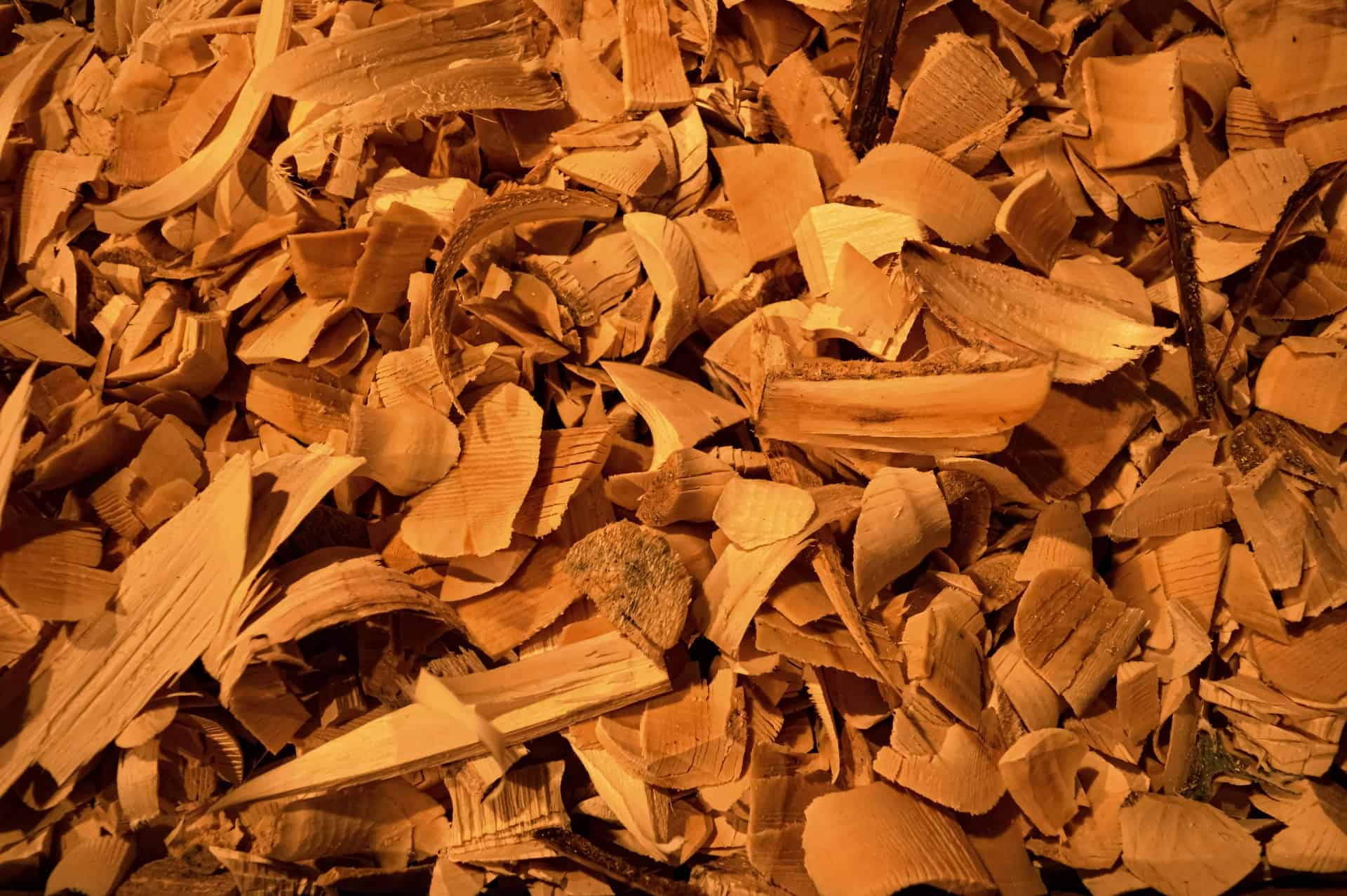 Having a wood chipper of your own comes with various benefits, but the most notable one is the yard waste disposal benefit it offers.
Old trees can fall without warning and it's necessary to trim them annually. However, this might leave you with lots of yard material and wood to get rid of. Using a wood chipper, you can easily get rid of the wood chips produced or use them in other ways.
In addition, wood chippers are a handy tool for lowering the potentially toxic emissions produced by the burning of chemical-treated wood. Rather than release these harmful gases and stench into the environment, you can use the wood pieces as mulch.
Apart from that, you can also produce pressed wood for a variety of carpentry tasks, including furniture making, or even use it as biofuel to help power other machinery or certain cars.
Factors to Consider When Selecting the Right Wood Chipper
Before picking a good wood chipper, take a moment to learn the most important things to consider when shopping for one.
Power
Wood chippers use a strong motor to turn numerous blades with sufficient force to cut up solid wood fast. The force that drives these blades is called torque.
Torque is basically the rotational power that a motor imparts on an item. In this case, torque pushes the blades to slice through any material fed into the chipper. Most domestic chippers have a torque rating of between 7 pounds and 15 pounds.
Bag Capacity
Some wood chippers have bins or bags to collect the debris, so if you want one that has a bin or bag, you must also consider the bag's capacity.
Bigger bags are ideal if you want to use the chipper for a major cleanup job. But the larger the bag, the more difficult it'll be to empty its contents.
If weight is an issue, then it might be wise to buy a smaller bin or bag that'll require more regular emptying rather than risk getting injured lifting a heavy bag.
Reduction Ratio
This is the ratio of how small the wood material will be once it's passed through a wood chipper. For instance, if a chipper's reduction ratio is 8:1, this means it'll shrink the material to an eighth of its original size.
In general, wood chippers come with a reduction ratio of as little as 20:1 to as much as 8:1. But the smaller the material that's produced, the more energy and power that will be needed to run the blades. In a nutshell, the bigger and more powerful the wood chipper, the more expensive it can be.
Cutting Blades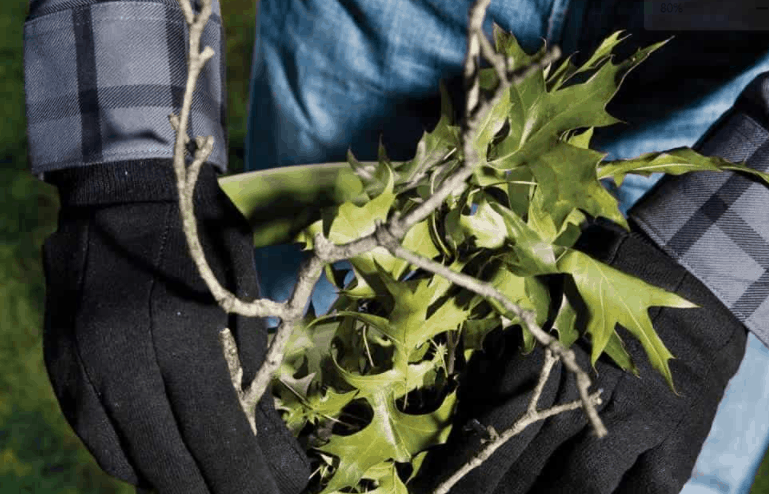 The ability of the blades to slice through wood is an important factor to consider. Consider how you're going to use the wood chipper. If you'll be using it to cut up small branches and pieces only, then it'd be wise to get an electric chipper. These chippers usually cut through material that's no more than 2 inches thick.
But if you need to chop up thicker material, consider buying a PTO or gas wood chipper. These chippers can cut through material that's up to 4 inches thick. Some commercial-grade wood chippers can even slice through up to 7 inches of material, but these are considerably more expensive than the regular domestic wood chipper.
Shredding Chute
This is a handy extra feature that can help you clean up leaves, weeds, or other soft organic waste. A shredding chute is a separate feature on a chipper that's used to shred softer material, letting you dispose of branches, leaves, twigs, grass, weeds, or other organic yard waste.
While a leaf shredder alone can do this job, a chipper with a built-in shredding chute is a much better spacing-saving and cost-effective solution that still gives you the same results. But bear in mind that a leaf shredder/wood chipper combination costs more than the regular wood chipper.
Safety Tips When Using a Wood Chipper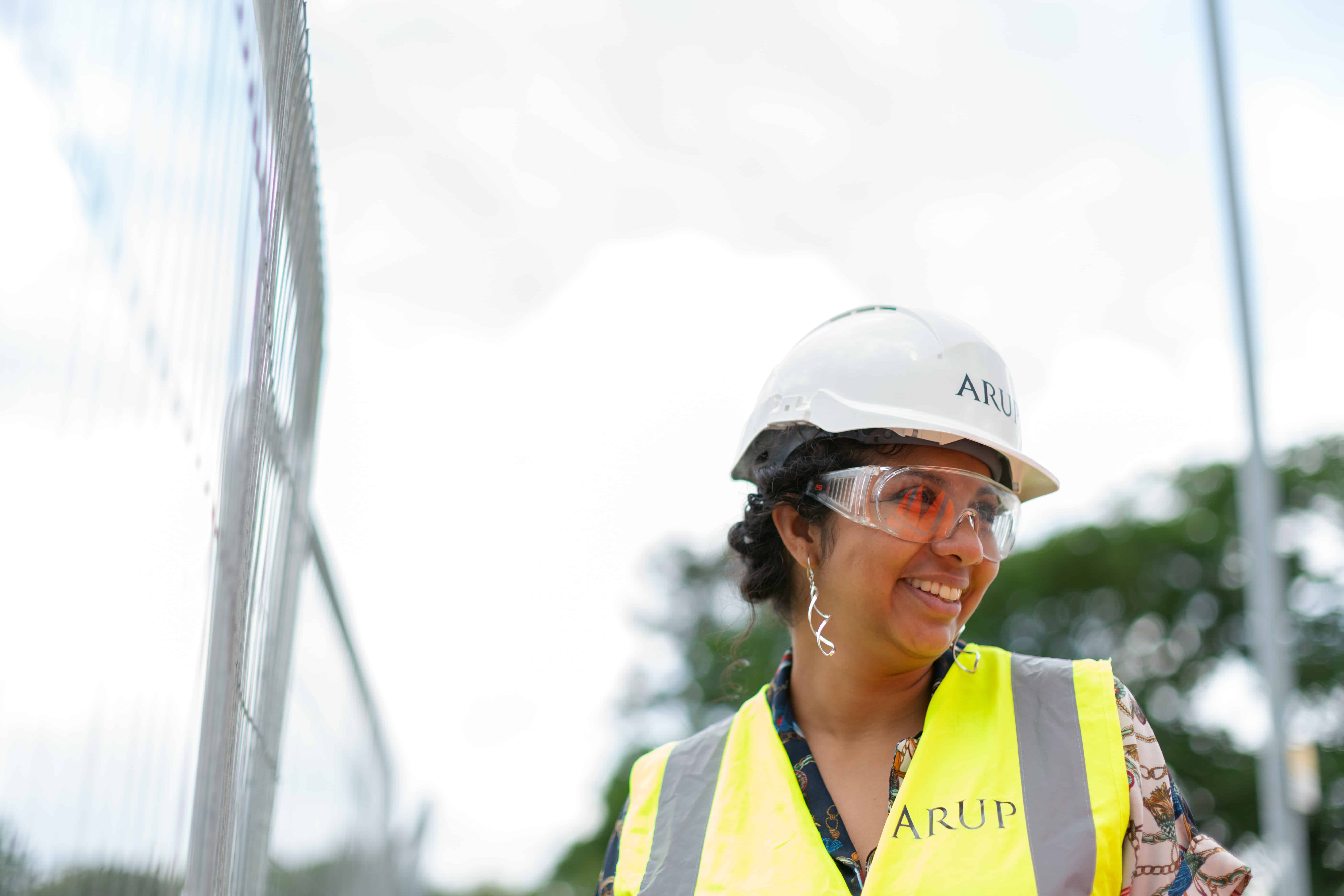 It goes without saying that safety is of the utmost when operating a wood chipper. Considering what this machine is capable of doing to tree branches, you wouldn't want to take any risk when using it. Bearing that in mind, here are some vital safety tips to keep in mind when using a chipper.
Read the Instructions
It's quite easy to overlook the instructions that come with a wood chipper. However, it's always recommended to read the instructions before using a wood chipper for the first time.
Your chipper might have certain safety features that you wouldn't notice without going through the instructions. Above all, you need to figure out how to switch it off in case of any emergency.
Don't Wear Baggy Clothing
Perhaps the easiest safety tip when using a chipper is to avoid wearing any baggy clothing. Things such as cords from hoodies, necklaces, and ties can easily get tangled in the wood chipper blades and put you in serious danger. The best outfit to wear when operating a wood chipper is a simple pair of jeans plus a shirt or jumper.
Feed the Chipper Carefully
Be sure not to feed the wood chipper too big of a load at once as it'll struggle to chop up the pieces and the blades might get jammed. Also, keep a safe distance between you and the wood chipper. After loading it, stay at a safe enough distance until it's time to load more branches.
Wear Proper Safety Equipment
In addition, it's important to put on proper protective gear when operating a wood chipper. Apart from having safety goggles on, you should also put on earmuffs, a helmet, and sturdy boots (preferably with a steel toe cap).
Our Top Selections
We've chosen our top-rated wood chippers below based on a variety of factors, including power source, cost, and size to help you pick the best option for your yard.
Best Electric Chipper: Sun Joe CJ601E Wood Chipper/Shredder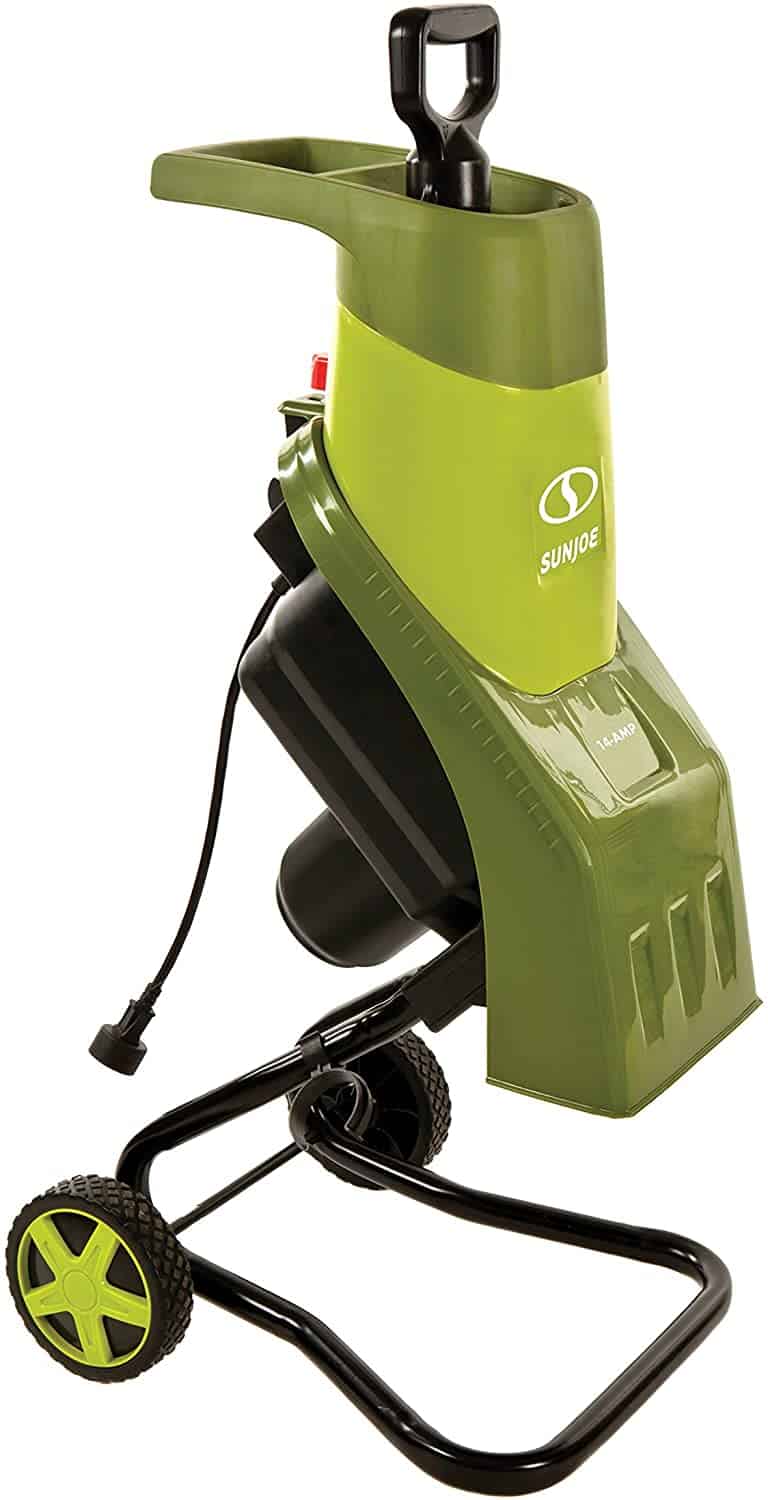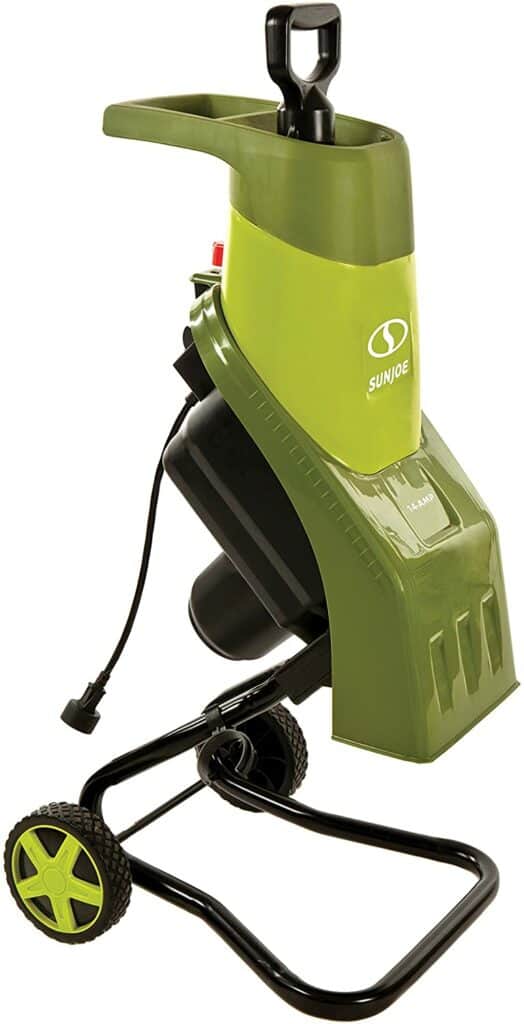 The Sun Joe CJ601E Wood Chipper/Shredder is all you need and want in a regular wood chipper and much more. It's lightweight and mobile and helps you get rid of all waste in your yard.
For an electric wood chipper, this is a strong little machine that boasts a 15-amp motor and handles branches of up to 1.5 inches in diameter. With a reduction ratio of 17:1, this produces great mulch for your garden and yard. With 4,300 rotations every minute, your smaller twigs, leaves, and debris can be shrunk in double-quick time.
With a quietly running motor, this wood chipper is ideal for residential places, especially if there are neighbors nearby. Moreover, it's very compact for quick storage and with powerful, durable tires, you can easily move it. Since the chipper weighs just 26 pounds, you can also transport the machine with ease when necessary. The quick access to blades and simple maintenance are other notable benefits as well.
If you're looking for a wood chipper to tidy up your yard several times per year, this machine is difficult to pass up when it comes to performance as well as price.
Best Budget Chipper: Sun Joe 1.5 in. 14-Amp Electric Wood Chipper/Shredder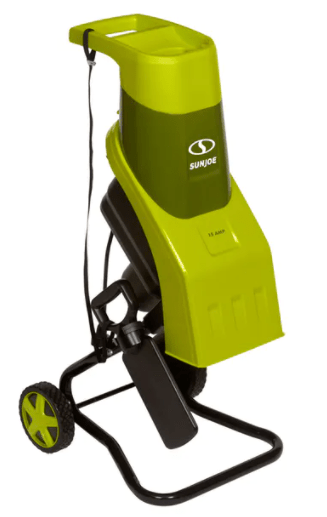 If you have a small yard, then the Sun Joe 14-Amp Electric Wood Chipper and Shredder could be the perfect fit for it. This well-priced wood chipper features an electric motor with up to 4,300 rotations per minute. It won't use up much room in your workshop, shed, or garage—simply place it in a corner and you're good to go.
This Sun Joe chipper can cut limbs and sticks of up to 1.5 inches in diameter and create useful mulch for your yard or garden. This light-duty wood chipper isn't designed to do serious landscaping work or clear fallen trees, though.
Best Portable Chipper: Sun Joe CJ603E 15-Amp Electric Wood Chipper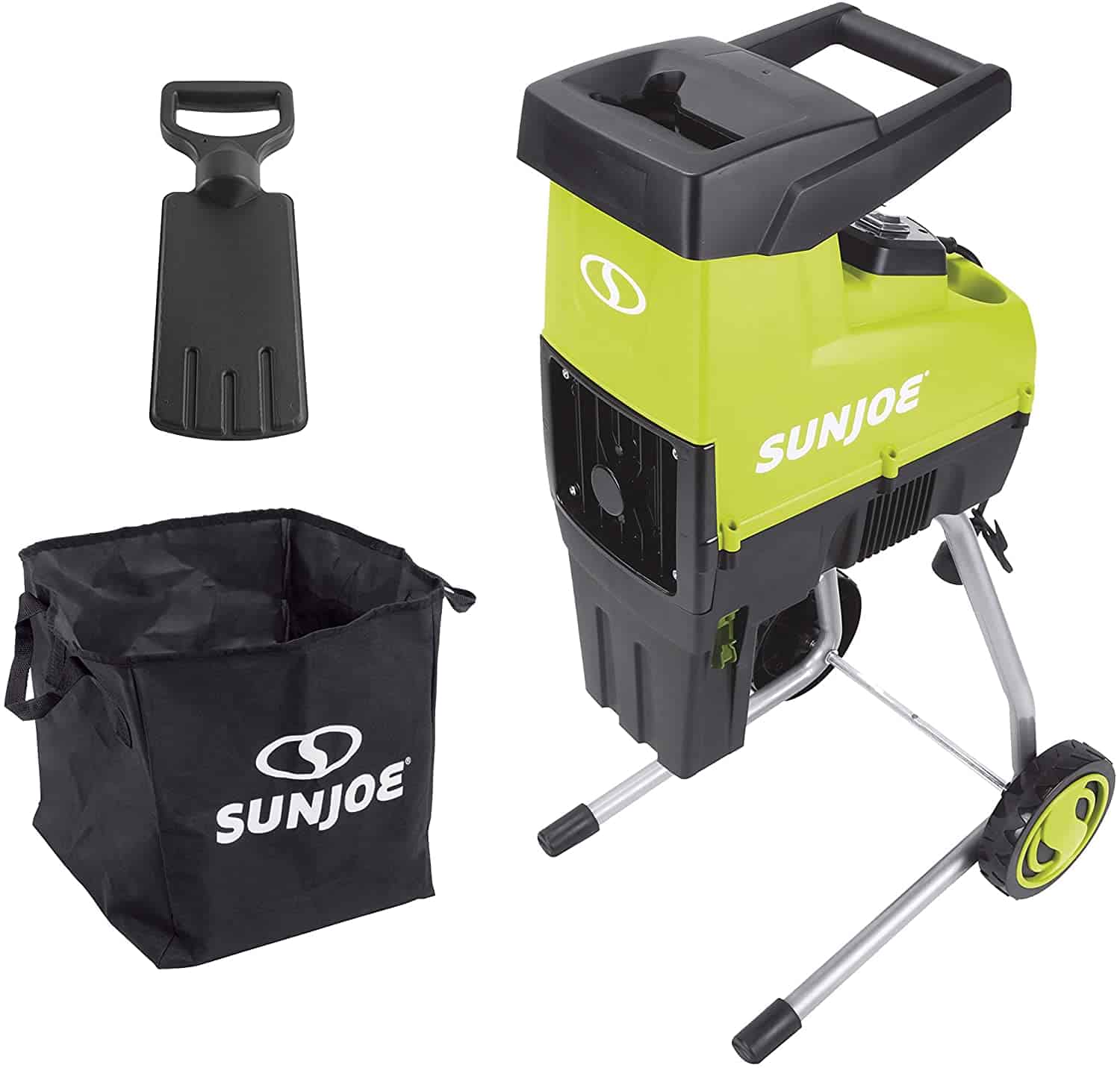 For a highly portable and compact wood chipper, this little machine certainly packs a punch! It works perfectly on everything smaller than thick branches and logs.
If you've got more than one pile of wood or waste or a large yard, the Sun Joe CJ603E 15-Amp Wood Chipper is a wonderful choice. It's lightweight and small but handles most waste easily. It even boasts a slightly bigger mouth than other comparable chippers on the market, measuring 1.7 inches wide.
The wood chipper has an easy-to-fill hopper that's also easy to empty. It boasts a compact design and its rear wheels make it much more maneuverable. If you're looking for a portable wood chipper that you can easily move around or move from one yard area to another, this chipper-cum-shredder is a perfect choice.
Best Heavy-Duty Chipper: GreatCircleUSA Heavy-Duty Wood Chipper/Shredder/Mulcher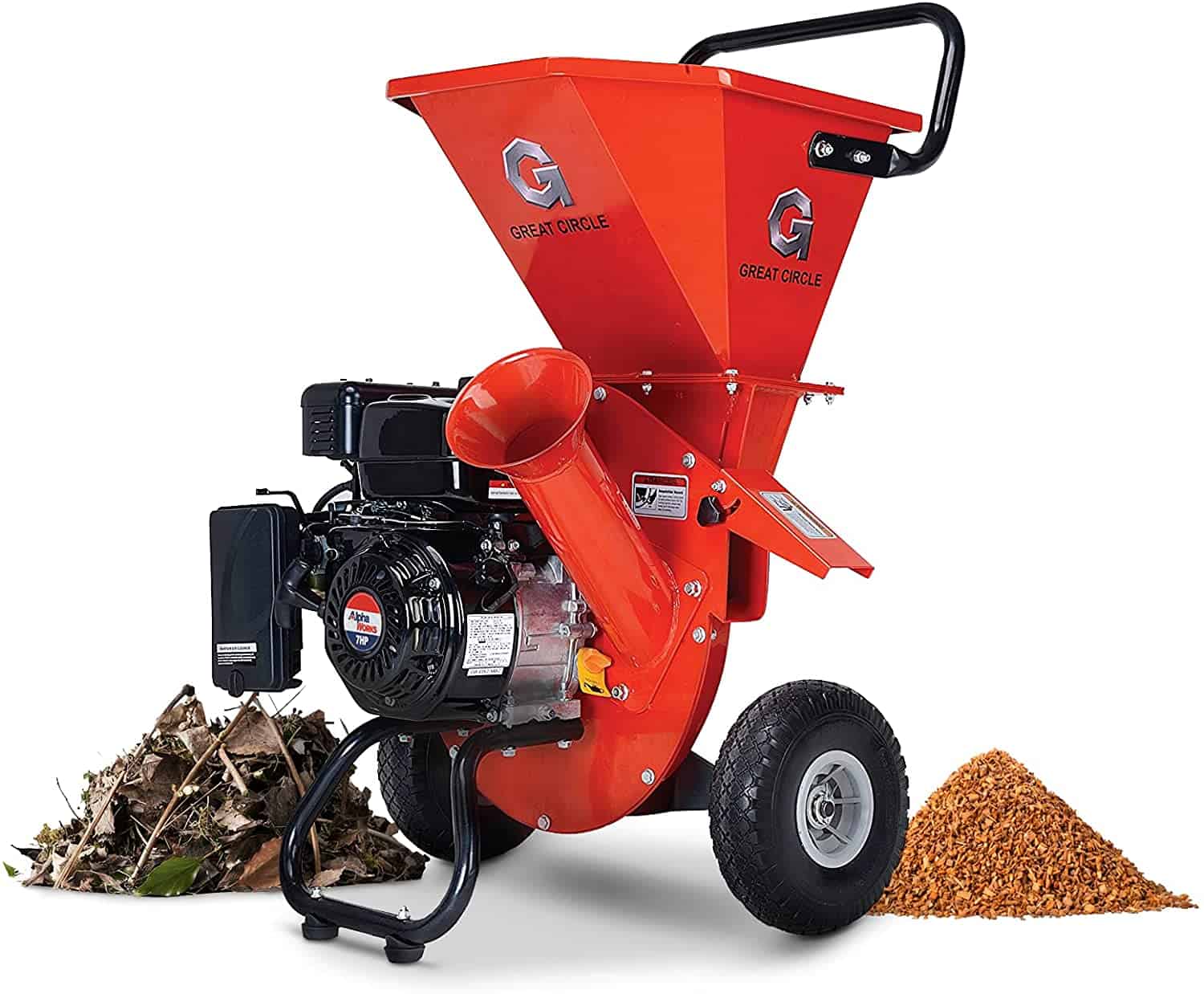 Small wood chippers, such as those made for no more than a 2-inch thick material, are ideal for minor yard debris and small yards. But when you're handling huge branches or even removing a whole tree, you need something that can get the work done.
The gas-powered GreatCircleUSA Heavy-Duty Wood Chipper/Shredder/Mulcher can handle up to a 3-inch thick material. The blades cut through any serious organic yard debris at a 15:1 reduction ratio and the featured hopper can shred less rigid yard material. While the whole unit weighs 125.7 pounds, you can hook it up to a lawnmower, all-terrain vehicle, or tractor as long as you've got a tow bar.
This chipper has an in-built discharge bag and a couple of heavy-duty wheels that let you tug it behind you. This domestic wood chipper boasts an impressive capacity to chop up wood, but you may need to buy a commercial-grade chipper if you're looking for something bigger.
Best Light-Duty Chipper: WEN 41121 15-Amp Electric Wood Chipper/Shredder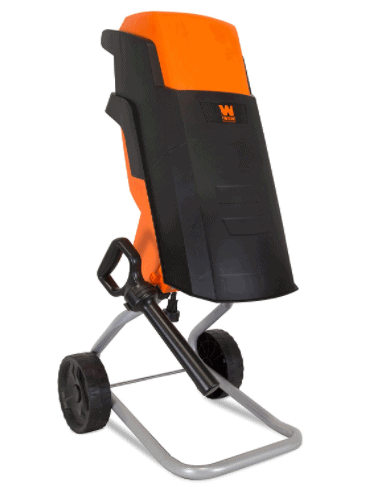 The WEN 41121 15-Amp Electric Wood Chipper/Shredder is made from top-quality materials and parts and features double blades that make light work of the majority of your yard debris. The 15-amp wood chipper/shredder is built to mainly handle small twigs, branches, and leaves. It boasts ultra-sharp blades measuring 7 inches long.
The machine was designed with high performance and safety in mind as well. That's why it features both a push stick and a safety hopper. It makes 130 cuts a second and also boasts 6-inch wheels for greater portability. If you're looking for a reliable and powerful chipper specifically for handling fallen leaves, twigs, and branches, then look no further than this chipper-cum-shredder.
FAQs
Question: What's the Best Wood Chipper Brand?
Answer: The best wood chipper brands currently on the market include:
• Patriot Products CSV-2515
• Sun Joe CJ602E-GRY
• Landworks Wood Chipper/Shredder
• All Power America Heavy-Duty APWC420 Chipper
• Landworks Leaf Mulcher
Question: What should I Consider When Shopping for a Wood Chipper?
Answer: When shopping for a wood chipper and shredder, be sure to consider the following things:
• Engine horsepower: This is the machine's power. Greater horsepower means higher capability.
• Reduction ratio: This is how efficiently the wood chipper shrinks yard waste. For instance, a 10:1 reduction ratio means the unit can decrease 10 bags of waste to just 1 bag of shred yard material.
• Chipper capacity: This is the maximum thickness of branches that the chipper can cut up.
• A tow trailer or bar helps you use a lawn tractor or all-terrain vehicle to transport the chipper.
• Self-sharpening knives and blades make maintenance easier.
• A tilt-down hopper allows you to rake grass or leaves into the wood shredder.
• An electric starter enables you to easily crank a gas-powered chipper and shredder.
Question: What's the Best Wood Chipper to Get?
Answer: The top-rated wood chippers on the market today are:
• Forest Master 6.5 Horsepower Petrol Chipper
• T-Mech 15 Horsepower Petrol Wood Chipper
• Bosch AXT 25C
• Hyundai HYSG150-2
• Titan Pro Petrol Wood Chipper
Question: Is it Wise to Buy a Wood Chipper?
Answer: An electric wood chipper is perfect for chopping up smaller branches and loose debris. Gas-powered chippers can also turn larger branches into mulch. If you do have a large yard and have a considerable amount of debris to get rid of daily, then you should definitely buy a wood chipper as it's a great investment.
Question: Do Wood Chippers Actually Work?
Answer: Yes, wood chippers are excellent tools that chop up branches, twigs, limbs, and other solid yard waste into small chips. Depending on the size of the pieces, you can use them for a variety of things, like for kindling a pit fire, mulching a garden, or creating pressed wood for furniture creation or other detailed carpentry projects.
Last Word on How to Find the Best Wood Chipper
A wood chipper is a substantial financial investment. Not only is it expensive but it can also be quite huge and unwieldy. A chipper is also a potentially dangerous machine to use if you don't follow the instructions and warnings from the manufacturer.
The right wood chipper for you will be powerful and durable and will help you clear thicker branches and small clippings.
Keep in mind that gas-powered models are more effective than their electric cousins, so they're ideally suited for huge properties. But if you're concerned about environmental impact and noise levels, then go for an electric model.