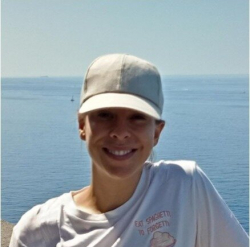 Latest posts by Maddy Chiffey
(see all)
When I was younger, my family would burn a lot of wood during winter, so every year, we'd spend days, sometimes even weeks, preparing firewood for the heating season.
My father and I bought a 22-ton log splitter a few years ago, which increased our productivity and made preparing firewood for the winter much more manageable.
The model we got came with a standard 2-way wedge that could only split logs in half, so we still had to invest a lot of time into cutting down logs to stove lengths.
After a while, we decided to search for a 4-way log splitter head accessory. As it turned out, finding a suitable 4-way wedge for our log splitter was easier said than done.
In this article, I'll share our experience to help you find the best 4-way log splitter heads for your log splitter.
Bottom Line Up Front
4-way wedges aren't universal, and you can only use them with compatible machines. Hence, most brands produce 4-way wedges suitable for select log splitter models.
For example, Boss Industrial CW-S 4-way log splitter wedge only fits the EC5T20, ED8T20, and ES7T20 electric log splitter models, and it's incompatible with log splitters made by other brands.
The same applies to the Swisher 18840 4-way log splitter that works with Swisher's 28-ton and 34-ton log splitters. So, you won't be able to use this accessory if you have a 37-ton or 40-ton log splitter.
Compatibility is the most critical factor you must consider when choosing a 4-way wedge for a log splitter because all other traits of these accessories are identical or similar.
My Top Picks at a Glance
What is a 4-Way Log Splitter Head?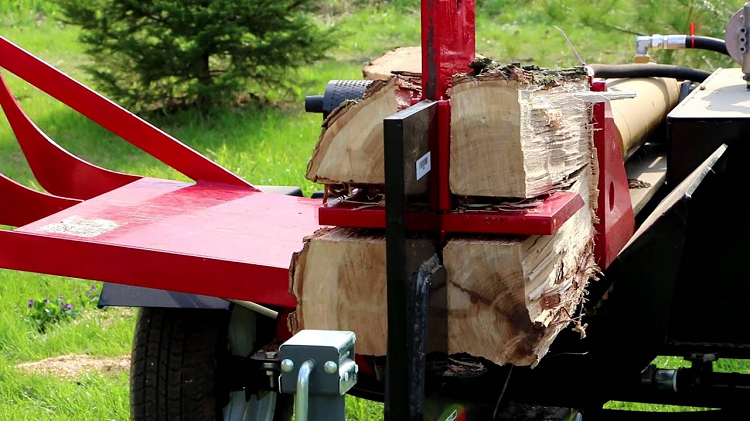 All log splitters are equipped with wedges that split logs into two pieces. Yardmax is among the rare manufacturers that include a 4-way head accessory with its electric and gas log splitters. However, most industry-leading brands sell these accessories separately.
4-way log splitter wedges are mounted over the machine's stock 2-way wedge to enable the user to cut a log into four pieces instead of two. They're usually made of steel, although some brands offer models made of iron.
Most models are around 10 inches long and weigh between 10 lbs and 20 lbs. The accessory is easily removable, so you can take it off and clean it once you're done using it. Moreover, 4-way log splitter wedges are durable, and you won't have to replace them often.
4-Way Log Splitter Head Compatibility
The biggest hurdle you'll have to overcome when searching for a 4-way hedge is determining if the particular model is compatible with your log splitter.
The best option is to buy a model designed for the log splitter you have. Attempting to modify a Boss Industrial 4-way wedge to fit onto an Oregon log splitter can be potentially dangerous, even if it's possible.
Here are a few more factors you must pay attention to when selecting a 4-way log splitter wedge:
Recommended tonnage – These accessories fit machines in a specific tonnage range. If you have a 22-ton log splitter, you must ensure the 4-way wedge can withstand its power output.
Splitting direction – Most log splitters let you cut firewood in horizontal and vertical positions. However, some 4-way wedges only work in a horizontal position which is why you must check if the accessory you want to get supports the machine's both splitting directions.
I must point out that some log splitter manufacturers don't produce 4-way wedges for their models. Your best course of action, in this case, is to make a custom 4-way wedge.
This is by no means easy, and I don't recommend trying to build a 4-way wedge if you're not an experienced metalworker.
Sharpening a 4-Way Log Splitter Head
You shouldn't be concerned about the attachment's blade sharpness when buying your first 4-way wedge because all models are factory-sharpened.
However, you may not need a new 4-way head for your log splitter if you already have one that has lost some of its cutting ability. The solution, in this case, is to sharpen the 4-way wedge.
This isn't a particularly simple task since you can easily damage the head if you fail to keep it level with the surface. You'll need coarse and fine metal files to sharpen the wedge's top and sides.
I suggest hiring someone to help you sharpen a 4-way wedge if you're unfamiliar with the process since getting all the steps right can be difficult.
Prices and Warranties
Cutting down the time you spend on splitting logs comes at a cost. Most 4-way wedges are expensive, and their prices range from $50 to over $400.
How much money you'll have to spend to get one of these accessories also depends on the log splitter model you have.
4-way wedges for a 20-ton log splitter cost around $150, while models made for machines with lower power outputs usually cost between $50 and $100. Despite their high prices, I still think that buying these attachments is a good investment.
Most models come with one-year warranties, but you'll probably use the 4-way wedge you choose much longer because they don't deteriorate quickly, even if they're used frequently.
Product Selection Criteria
Log splitters are usually compatible with a single 4-way head attachment.
So, my goal was to identify 4-way wedges suitable for log splitters produced by industry-leading brands such as Boss Industrial, Swisher, or Oregon.
I must remind you that all 4-way head attachments you'll find in this article are compatible with a handful of log splitter models.
Hence, you should first check if any of the wedges featured here are suitable for your log splitter to avoid spending money on an accessory you cannot use.
The Seven Best 4-Way Log Splitter Heads
Boss Industrial CW-S 4-way log splitter wedge
Owners of Boss Industrial's 5, 7, or 8-ton electric log splitter models can benefit from buying the SW-S 4-way log splitter wedge. However, you should keep in mind that this attachment isn't compatible with the brand's 10-ton log splitter models.
The wedge is made of steel, and it weighs ten pounds. The slide-on slide-off mounting mechanism makes installing and removing the accessory easy.
You should consider one of the following models if you have a Boss Industrial log splitter with a power output above 8 tons:
I'd like to remind you that the prices of these 4-way wedges aren't the same even though their features are identical.
Swisher 18840 4-way Log Splitter Attachment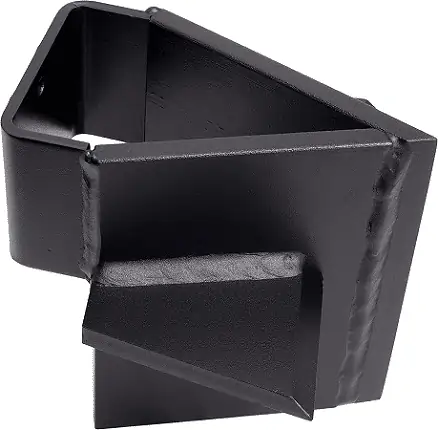 Durability is one of the Swisher 18840's key attributes. The 4-way log splitter is made of high-grade steel and remains sharp for a long time. Moreover, you can easily sharpen its blades when they become dull.
The attachment is compatible with Swisher's 22, 28, and 34-ton log splitter models, but the machine's beam must be in the horizontal position when using the accessory. The manufacturer offers a one-year warranty for this product.
Oregon S401443TSC 4-way Log Splitter Wedge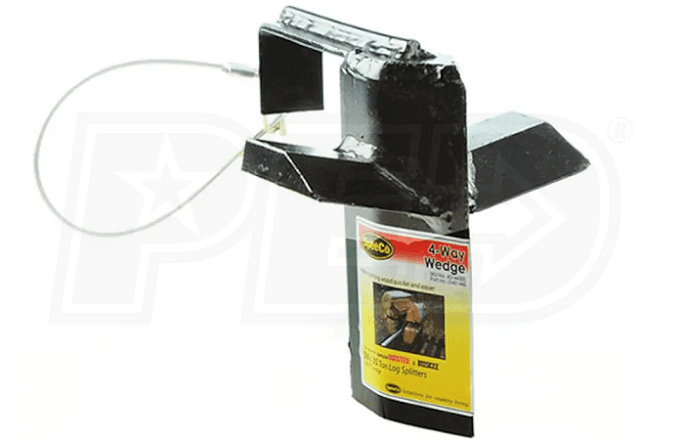 An affordable 4-way wedge like the Oregon S401443TSC can reduce the time you need to prepare firewood for winter.
The accessory is compatible with Oregon's latest 22-ton and 28-ton log splitters, and you cannot fit on older models with the same power outputs. The attachment comes with a lynchpin and a cable that enable you to install it safely on the machine's stock blade.
However, finding this accessory can be challenging.
RuggedMade 4-way Log Splitter Wedge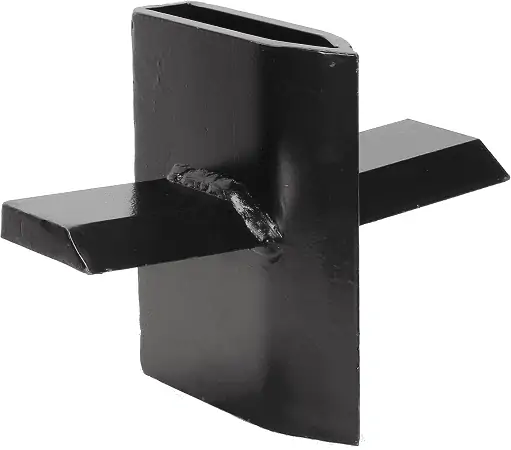 The manufacturer recommends using this 4-Way Slip-On Wedge with log splitters from the RuggedSplit 300 series that features 22-ton models.
It's worth noting that the accessory doesn't fit the brand's machines with built-in blades wider than 0.9 inches. In addition, you must make sure that the attachment's bevel side is up when mounting it onto the log splitter.
Notable Mentions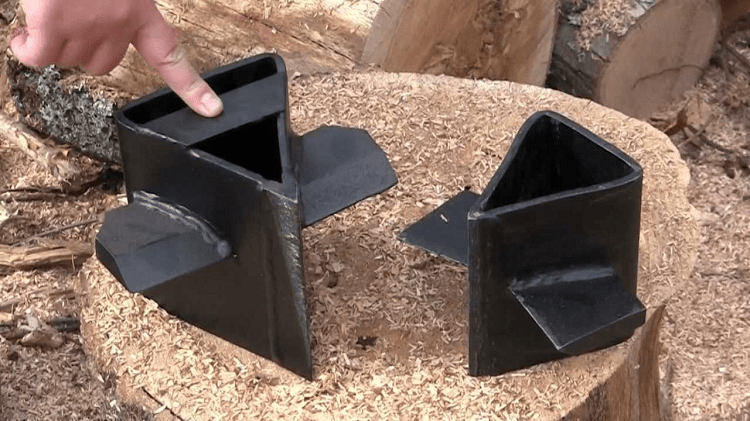 Frequently Asked Questions about 4-Way Log Splitter Heads
Question: How Often Do I Have to Sharpen a 4-Way Wedge?
Answer: You'll have to sharpen the 4-way head's blades once every few weeks or months, depending on how often you use it and the firewood varieties you're cutting.
Question: Are 4-way Log Splitters Different Form Wood Splitters?
Answer: A wood splitter is a wedge that allows you to manually split logs into two or four pieces using a maul or axe's butt. On the other hand, a 4-way log splitter is an attachment designed for a log-splitting machine.
Question: What to Do If I Can't Find a 4-way Head for My Log Splitter?
Answer: Some brands don't produce 4-way attachments for their log splitters, which is why people often modify wedges to fit their models. This solution can be dangerous, and I think hiring a professional to build a custom 4-way wedge for your log splitter is a much safer option.
The Verdict: How to Choose a 4-way Head for a Log Splitter?
I know how confusing searching for a 4-way log splitter head can seem to someone who never used this accessory because I was in the same position years ago.
This process is only complicated if you don't know precisely what you're looking for, so to make things easier for yourself, you must find out which log splitter model you have, its maximum power output, and the width and length of its stock blade.
Boss Industrial CW-S 4-way log splitter wedge is your best option if you have one of the brand's 5-ton,7-ton, or 8-ton models, while the Boss Industrial CW-W 4-way wedge is the perfect solution for log splitters from the Boss Industrial's WD series.
You should consider models like Swisher 18840, Oregon S401443TSC, or 4-Way Slip-On Wedge if you have RuggedMade, Swisher, or Oregon log splitter.