Latest posts by Samantha Biggers
(see all)
There are big log splitters, and then there are 40-ton log splitters. When it comes to splitters, this is about as big and powerful as it gets. There are a few 42-ton splitters out there, but just a few.
I really only recommend 40-ton log splitters for either professionals or maybe someone that has a large wooded property that they plan on improving over the years. These splitters have a price tag that goes along with their size, so you need to be sure that you will actually benefit a lot from the extra power to justify the cost and the amount of space a 40-ton splitter takes up on your property.
My Bottom Line Up Front: A 40-ton log splitter is not so easy to find. I would highly recommend the Countyline 40-Ton log splitter. I really like how easy it easy to find this log splitter!
How I Chose The Best 40 Ton Log Splitter
While it is possible to get machines that are custom-made, I chose to only feature 40-ton log splitters that the average person can just order and receive fairly quickly.
At the end of this post, I have included some log splitters that are close to the 40-ton size that is worth considering if you cannot find the 40-ton log splitter you want.
I Included Kinectic and Traditional Models
Even if you have looked at a lot of log splitters, there is a good chance that you haven't looked too closely at kinetic splitters. A kinetic splitter can increase productivity a lot due to the fast cycle time.
My Top Picks
Interesting Read: How to Find the Best Log Splitting Wedge.
Do You Really Need a Splitter With This Much Power?
While most of us would do just fine with a smaller splitter, there is something to be said my husband and I have about 5 acres of forested property, and we use a small wood splitter but I have to say sometimes it would be nice to have a splitter with a little more power for those really hard to split rounds.
Pros
Amazing 1 second cycle time for maximum productivity
Two-handed safety feature operation
Excellent for commercial use
A very large log table included
Kohler 7 HP CH270 Commercial Engine
Cons
Costs more than most consumer log splitters
The DK 40-ton Kinetic Log Splitter is an excellent choice for the forestry professional that wants to make the most use of their time. At around $2,800, this splitter is not as expensive as you might think a commercial-grade machine will be.
The Kohler Command Pro Commercial CH270 engine has a 3-year warranty. The 40-ton kinetic ram is heat treated for strength and durability.
This is a very stable log splitter thanks to the extended stability stand and the exceptional wheels. The DK has really rugged ATV wheels that are a major upgrade from the standard tires you see on almost any other log splitter.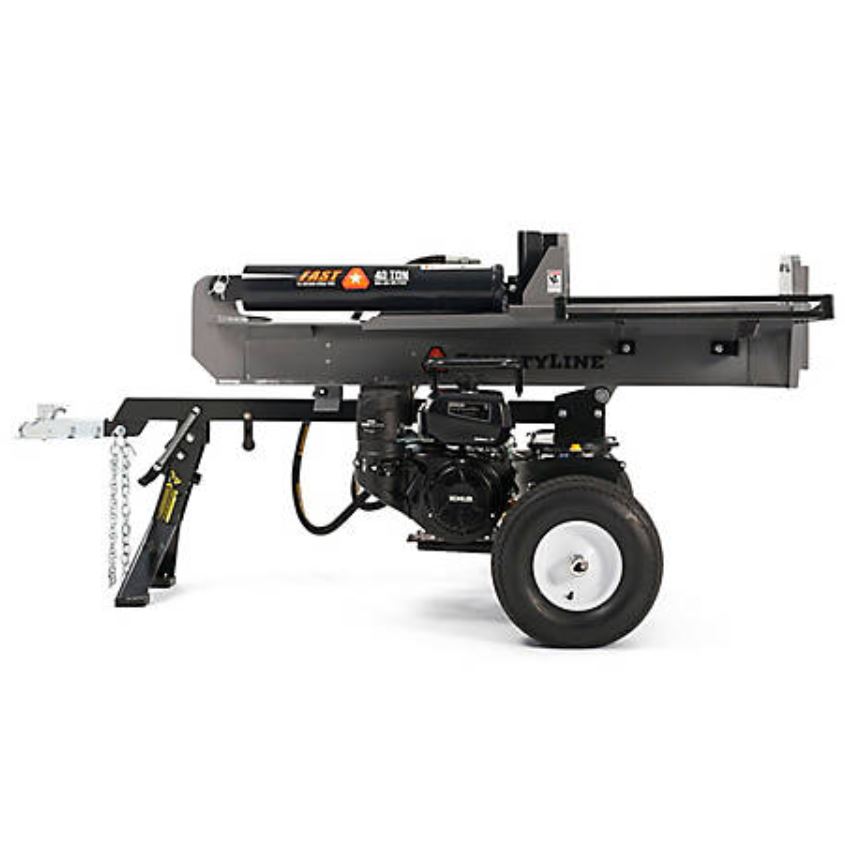 Pros
Easy to have delivered for store pickup at any Tractor Supply
14 HP Kohler Command Pro Engine
4 Way Splitting Wedge Available
9.5 second cycle time
Cons
At $2,800, it costs considerably more than smaller log splitters that will take care of most jobs.
I am always impressed with the wide range of products Tractor Supply offers via their Countyline brand. This 40-ton log splitter gets points for being so easy to find and with a great warranty. The 14 HP Kohler Command Pro Engine offers plenty of power and is known for being very user-friendly and easy to work on if needed.
This log splitter has an excellent user satisfaction rating. It splits even the hardest-to-split logs with ease because of the massive amount of power of this splitter.
I recommend this splitter to professionals and landowners alike that want one of the most powerful splitters that money can buy.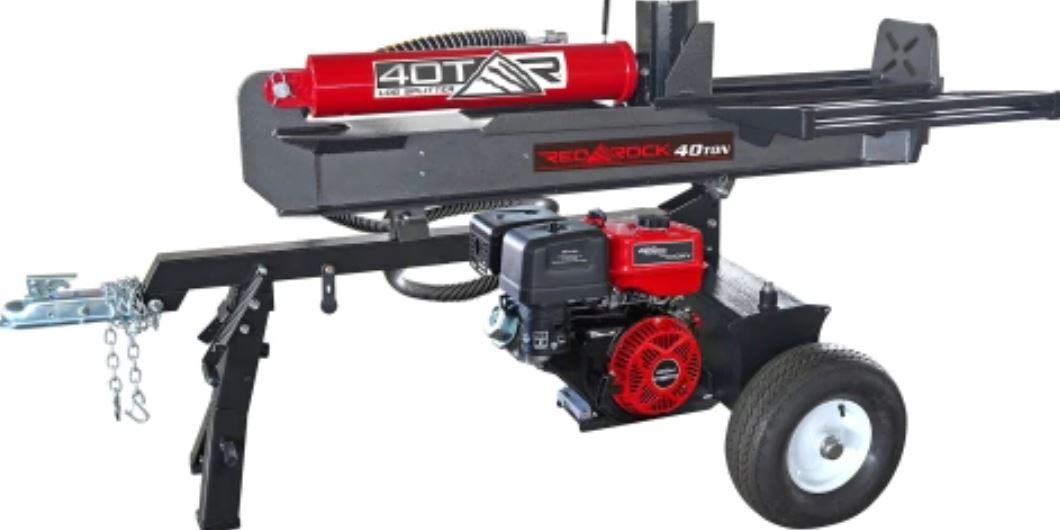 Pros
9.5 second cycle time
Heavy duty design
4-way splitting wedge available
Cons
Must order through Princess Auto, a chain of Canadian auto parts stores
This log splitter was the first one I found that is made for and sold by an auto parts store chain. From what I can tell, it is possible to order from this Canadian chain and have items delivered to the USA. Since there are so few 40-ton log splitters available, I thought it was worth showcasing this splitter.
The engine details are pretty basic. The Princess Auto site says the engine is a 420 cc 4-stroke air-cooled engine. There is no brand name beyond that.
I am impressed with the 10″ splitting wedge size. You can split some big rounds with a wedge that big, and if you want to reduce splitting time further, for less than $100, you can buy the 4 way splitting wedge and just slip it on.
I recommend this splitter as an option for our friends in Canada or near the border that are looking for a tough and powerful log splitter.
Alternatives To A 40 Ton Splitter
Since there are so few 40-ton log splitters on the market today, here are a few 42-ton log splitters considered if you decide you need one of the biggest splitters out there for your firewood projects.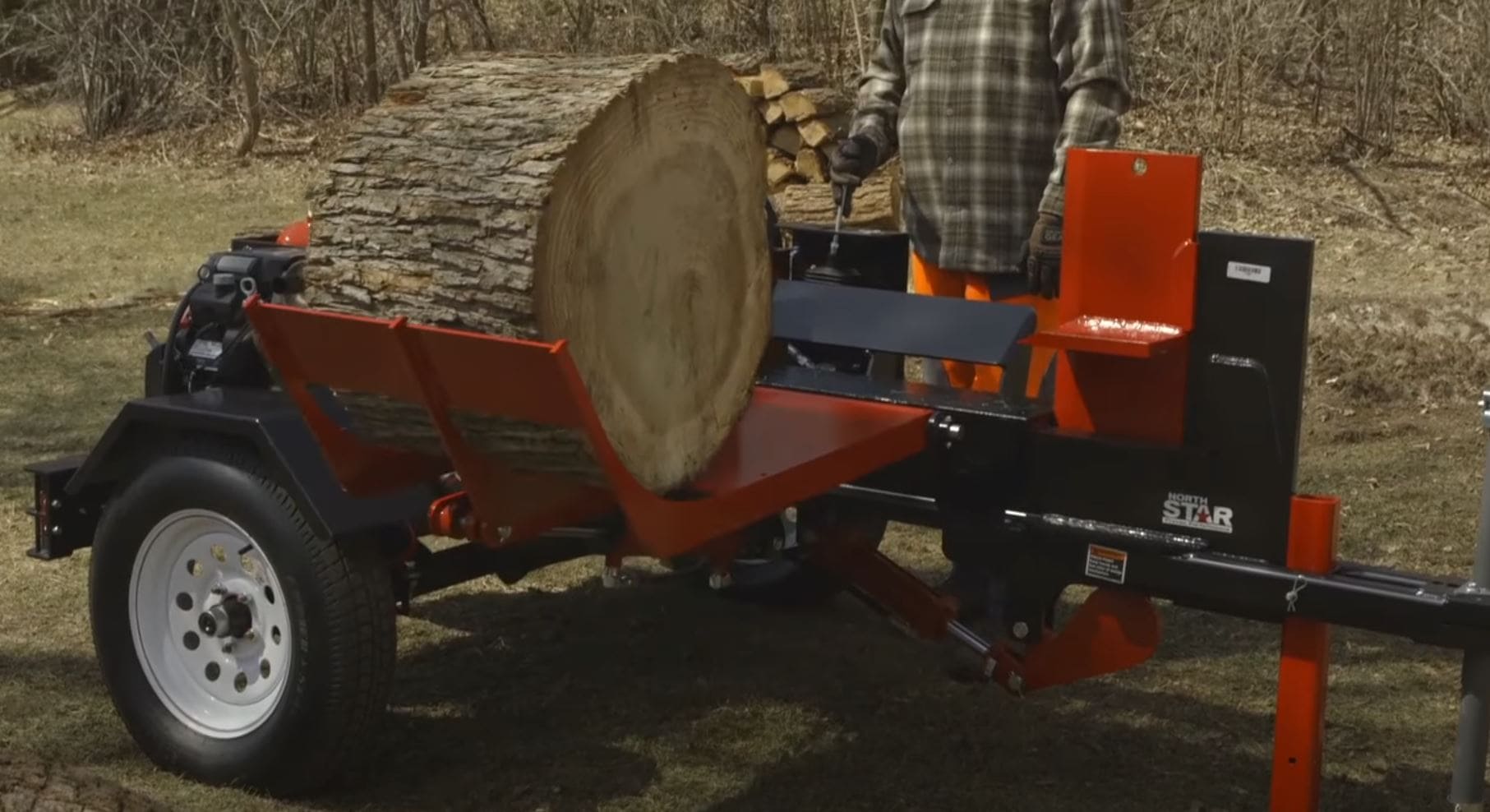 Pros
Heavy-duty beam construction
Log lifter saves labor
Commercial grade log splitter
High-speed tires for highway transport
Cons
Log lifter and other special features make this a very expensive log splitter at just under $12,000
For those that want the ultimate log splitter and have the funds, there is this exceptionally powerful log splitter with a hydraulic log lift. The lift can lift logs that weigh as much as 660 lbs. The hydraulic adjustable 4-way splitting wedge is built in and designed to take on very large rounds with no problem at all. This is really the ultimate log splitter for a commercial operation.
You will never lack power with this splitter because it comes with a powerful Honda GX630 engine.  The Honda GX series engines are amazing. I have never had a machine come with a Honda GX that did not perform exceptionally well.
The hydraulics on this splitter has some great features that help keep your splitter running smoothly. The Quad filtration system keeps fluid clean and everything operating smoothly.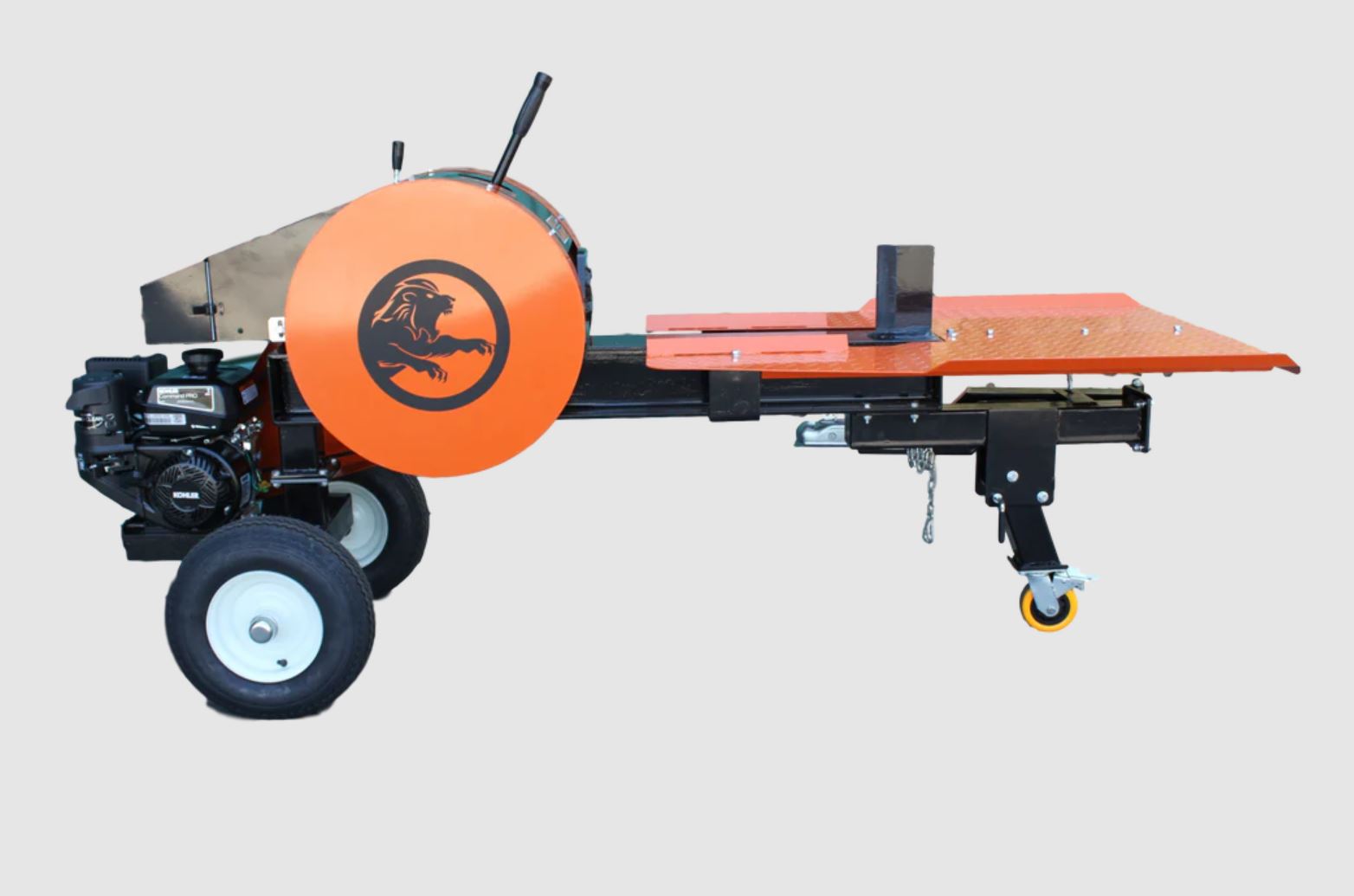 Pros
Designed to perform well under very rugged and tough conditions
1-second ram speed and 3-second total cycle time
Rated to split logs up to 23″ in diameter
Cons
Price
The warranty period is short
The Power King is an amazing splitter with an impressive 3′ x 4′ worktable included. The Quad Clean Cyclonic Air Filter works hard to keep out contamination and ensure the Kohler Command engine is working as efficiently as possible.
This is a great splitter for those that need to split a lot of firewood in a short period. The tires are DOT approved for easy transport. I do have to point out that this splitter has a very low tow speed. Whereas a lot of log splitters are safe to tow at speeds up to 45 mph, the Power King is only rated to a low 30 mph.
Log Splitter Safety Tips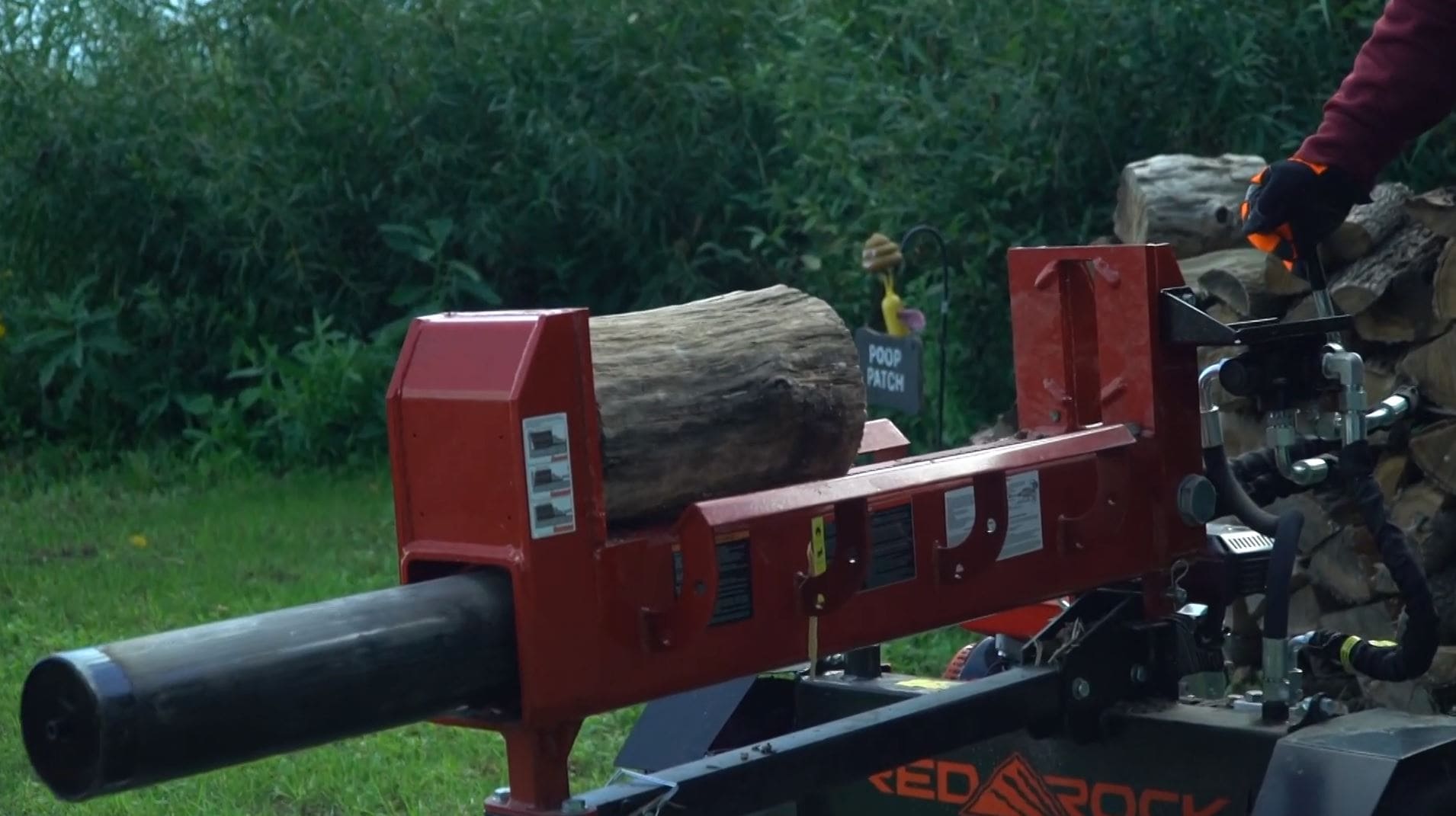 A 40-ton log splitter is powerful. It is important to be careful when operating, especially if you are new to using a log splitter.
Always Wear Safety Glasses.
Safety glasses are an absolute must the entire time your wood splitter is in operation. In fact, I would even go so far as to make sure that you wear safety glasses or goggles that fully encapsulate your eyes. I have used regular safety glasses enough to know that splinters and other debris can definitely find their way around an opening of any size, so it is best to have something that doesn't allow for the opportunity.
Check Your Splitter for any Problems Before a Major Operation.
Start out slow when splitting. Splitting a few easier pieces at the start of a day gives you the opportunity to observe your splitter in action and catch any problems.
Never Ignore Maintenance Issues and Problems.
If you notice there is a problem with your splitter, then you need to stop and get the issue fixed before continuing. A small problem can lead to an unsafe situation or a much more expensive repair down the road.
Best 40-Ton Log Splitter: The Bottom Line
If you are in the market for a large and powerful log splitter, then a standard splitter that splits in a horizontal or vertical position will give you the most versatility for your dollar. Of course, this style of splitter offers a cycle time of just under 10 seconds on average, whereas a kinetic splitter that only splits in the horizontal position has a 1 second cycle time.
For the average person, I recommend the Countyline 40-Ton Log Splitter because it is a familiar design and easy to find. If there is a problem or if you have any questions, then it is simple to contact Tractor Supply customer service. I also like that you can purchase a 4-way splitting wedge to reduce splitting time.
If you really need speed, then a kinetic splitter may be best for a commercial endeavor, but you need to be sure that you are comfortable only splitting logs in one position.
FAQs
Question: How big of a wood round can I split with a 40-ton log splitter?
Answer: In the horizontal position, most splitters can take on a round up to 26″ in length. As far as diameter goes, that is at least in part determined by how large of a round you will lift onto the splitter. While smaller 5-ton log splitters are limited to just 10-12″ per manufacturer recommendations, a 40-ton log splitter can easily split a 24″ diameter round. If you choose a splitter that can be adjusted to split in a vertical position, then you can split practically any round that you can maneuver into place.
Question: Why is it so hard to find a lot of different 40-ton log splitters?
Answer: This is a huge size for a splitter. Most log splitters purchased are smaller and cost less money. A 40-ton splitter is typically only used by people that use their splitter as part of a business. It is possible that you can find other models than those featured in this post by checking out local businesses that sell heavy outdoor equipment. As with any used piece of equipment, make sure you get a demonstration before buying.
Question: Can I make a 40-ton log splitter?
Answer: There are plans for building your own log splitter if you are somewhat mechanically inclined. The cost of doing so and the time involved will vary depending on the design and how skilled you are. Here are a few links to sites that sell wood splitter plans for DIY.
References