Latest posts by The Forestry Pros Team
(see all)
A mulcher is a great machine to help keep your yard tidy, while the mulch that it creates has many benefits to your garden, such as improving soil health and reducing weed growth.
In our guide on how to find the best mulcher, we will explore why having a mulcher is so important, the different types you can buy, as well as the top mulchers on the market.
We will also outline some safety advice for using this type of machine and answer some frequently asked questions towards the end.
What is a Mulcher?
A mulcher is a machine used to chop various types of garden debris, including twigs, dead leaves, plants, and other small materials. A mulcher breaks them down so this debris turns into mulch.
Mulch is made of loose clippings (from the debris we described above), and it can be placed over the soil in your garden. Some of the reasons for doing this include:
Improving the fertility of the soil

Conserving the soil and retaining moisture

Using the mulch for garden decoration

Reducing weed growth
Many gardens use mulch for practical and aesthetic purposes.
Rather than spending money and buying bags of mulch, you can create your own with a mulcher machine.
What are the Different Types of Mulchers?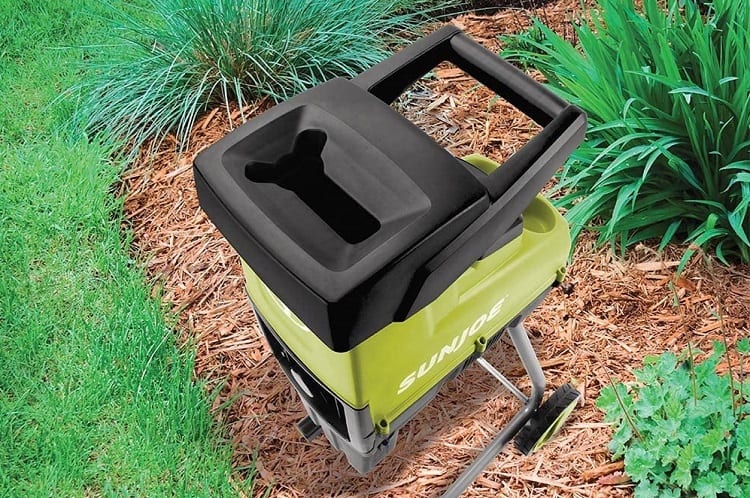 There are three different types of mulchers that you can buy. There are also mulchers powered by different sources, which we will look at later on.
Handheld Mulchers
A handheld mulcher is the most common type used in residential settings as they are easy to use, store, and move around with.
A handheld mulcher usually comes as a 3-in-1 tool that includes a leaf blower, vacuum, and mulcher. You basically walk around your yard, and with this type of mulcher, you can either move leaves into one space or mulch up leaves and small debris as you go along.
This mulcher type is better suited to smaller jobs, and you do not need to be more careful of debris that can clog up the machine (for example, acorns or large twigs).
It is a very versatile tool , and many people prefer this type of mulcher because it can perform several jobs, and it is usually cheaper than a stationary mulcher.
Stationary Mulchers
The other type of mulcher that you can buy is known as a stationary mulcher.
This garden machine stays in one position, and you feed debris into it to create mulch. This is shredded up and collected in a bag at the bottom for you to begin spreading it around your garden.
The upside of using one of these mulchers is that they are often more powerful and can make mulch faster from different types of debris. Unfortunately, it can shred everything you put into it; however, it will be able to handle a larger quantity of garden waste and also.
The downside is that you first need to collect leaves, plants, and other materials to put into the mulcher. This will require another machine or tool such as a leaf shredder or even just a rake.
Walk-behind Mulchers
A walk-behind mulcher is less common than the other two models, and they also tend to be much more expensive.
This type of mulcher looks remarkably like a lawnmower and works by pushing it around your yard to pick up the garden waste. In fact, many walk-behind mulchers also double up as a lawnmower. This machine turns waste into mulch as you go along, and it is straightforward to use and operate.
Gas vs.

Electric Mulchers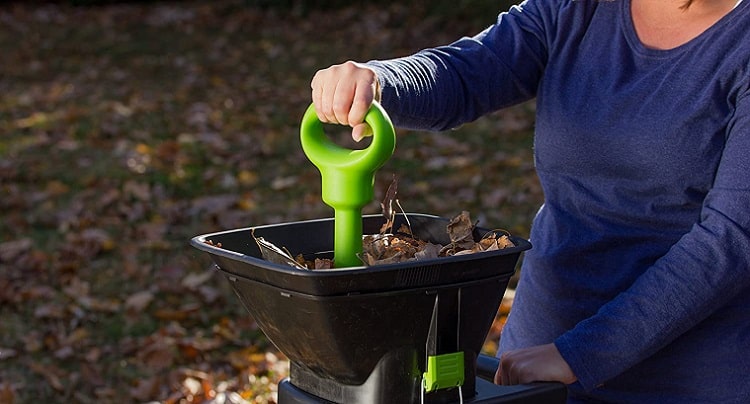 The two most common power sources for mulchers are gas or electric powered.
Gas-powered mulchers are suited to bigger yards, so they are the best option if you have more space to cover. They can often shred larger amounts of debris too. There is no limit to a gas-powered mulcher as you can use it anywhere you like, and it doesn't need to be plugged in.
The downside to a gas-powered mulcher is that it can be noisy. If you live in a quiet residential area, be prepared to make some excess noise when making mulch in your yard. These mulchers also tend to be more expensive than electric models.
Electric models are cheaper to buy, so they can be an ideal choice if you are on a budget. If you have a smaller yard or space to go over, an electric mulcher can be the best option as they are limited in range. This model needs to be plugged in, and the length of the cord hampers you.
Another thing to consider when buying an electric mulcher is their tendency to jam more than gas-powered models; however, they are quieter and better suited to residential areas.
Things to Consider when Buying a Mulcher
Later on, in this mulcher guide, we will look at the top models on the market. However, you do need to consider some things before you go and purchase one of the mulchers on our list.
Mulching Ratio
The mulching ratio is one of the most important features when deciding on a mulcher. It is the ratio that outlines how well the machine is going to break down debris.
The simple way to explain how this works if your mulcher has a ratio of 13:1, it means you can grind down 13 bags of debris into one bag of mulch.
Of course, other factors can impact this, such as if the debris is high in moisture or very densely packed; however, it is a good statistic to look at and find out the machine's overall effectiveness.
Cost
Next up, we have the cost of the mulcher.
When buying any tools, whether a mulcher, wood chipper, or chainsaw , you need to factor the cost into your decision. Try to make a budget and stick to it as much as possible to avoid spending unnecessary money.
However, if you come across a mulcher that does cost a little more than you initially intended to pay, but it is more powerful and comes with more features, it may be worth splashing out the extra dollars.
power
The power of your mulcher is going to depend on whether you buy an electric or a gas-powered model. More power doesn't always equal to a better machine, and you should weigh up the strength of the mulcher with other factors. However, higher-powered machines can offer better performance and efficiency.
If you buy an electric mulcher, the power will be measured in amps, and 13 to 15 amps is generally seen as a good power rating. For gas mulcher, the machine's power will be in CC or HP, and you should look for gas models with 10HP to 15HP (200 – 300CC)
Additional Features
You may come across mulchers that offer different features, and this can also be factored into the decision on what model to buy.
Some mulchers will offer varying speeds, so you can adjust how quickly or slowly the mulcher operates. This can be very useful for chopping up different types of yard debris and breaking down tougher items.
In addition, some mulchers will have features such as being able to use it as a leaf blower, although this is limited to handheld mulcher models.
So, when buying a mulcher, look beyond the basics of mulcher ratio and power, as some will offer more options than others.
The Major Differences Between Mulchers and Chippers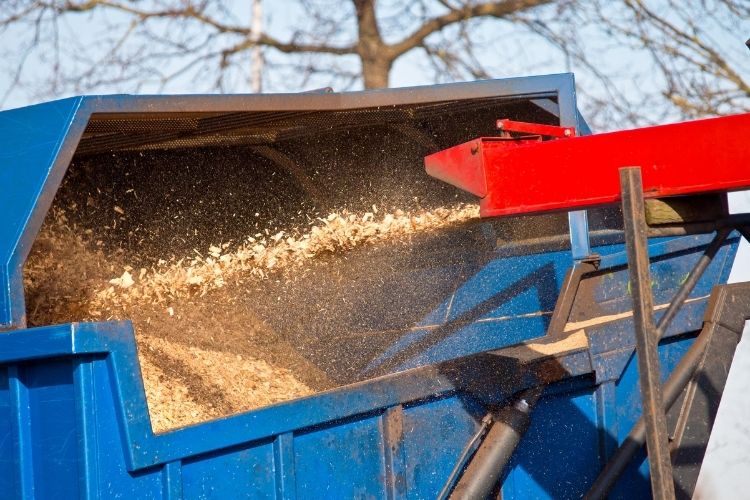 Reading through our guide to the best mulchers, you may be wondering what the difference is between a mulcher and a wood chipper . They sound pretty similar.
The big difference between a mulcher and a wood chipper is that mulchers don't have the same power as a chipper. A wood chipper can grind up and break down much larger branches, and they are often used for chopping up trees.
This isn't a job that is suited for a mulcher as they can only handle smaller debris.
A mulcher should be used for twigs, leaves, plants, and other small items in your yard, whereas a wood chipper is for larger pieces of wood such as thick branches.
Advantages of Using Mulcher
A mulcher can be an invaluable tool for your yard as it is ideal for chopping up small debris used for mulch. This can help your soil, reduce weed growth, as well as offering other benefits. Some of the advantages of using a mulcher include:
It is ideal for home use –

You don't need to hire anyone to come and turn debris into mulch as there are many small, compact models available that are well within the price range for home people.

Get's rid of leaves and other garden debris –

Rather than raking and then binning the leaves in your yard, using a mulcher can help your garden overall.

Creating mulch from leaves and twigs can help your soil and make your yard look much neater.

Environmentally-friendly –

Reusing and recycling your garden waste is good for the environment.

Instead of throwing leaves and other items into the trash, you can reuse them to benefit your garden and help protect the environment.
The Disadvantages of Using a Mulcher
Mulchers are very effective at what they are designed for; however, there are some drawbacks when using this type of machine.
Can't handle larger items

– Mulchers, particularly those designed for home use, can't chop up bigger items such as thick branches.

If you need to do this, it is best to use a

wood chipper

as a mulcher can only deal with smaller garden debris.

They can clog easily

– Depending on the type of mulcher you buy, it can easily block and jam.

For example, things such as acorns often clog up a mulcher, which means you need to turn it off and try to unjam the machine.
Safety Tips for Using a Mulcher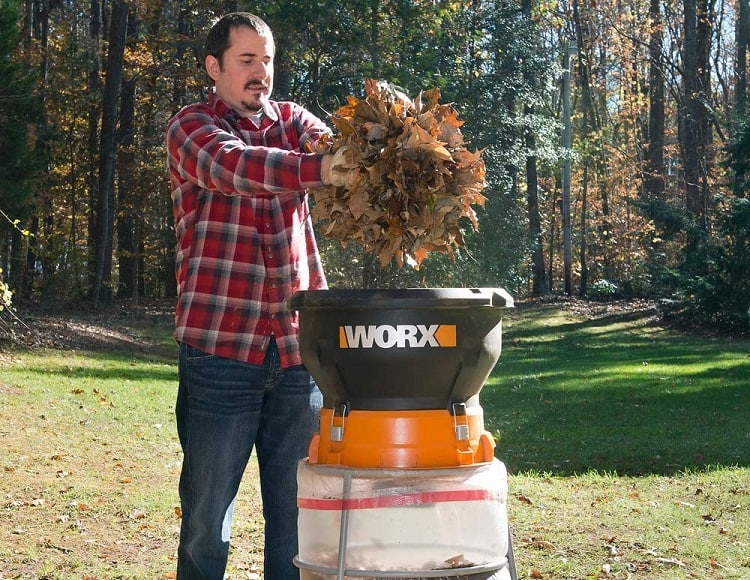 Before we move onto showing you the top mulcher models on the market, you need to know about some safety tips. Mulchers are safe to use if you operate them correctly; however, if you have never used one before, we have some advice to keep you safe when working this machine.
Don't try and Remove Clogs while it is Running
Mulcher's tend to clog, especially with smaller models. If you experience a jam, make sure you completely turn the mulcher off first before trying to unclog it. It sounds simple and basic, but many people try to remove debris without thinking, resulting in serious injury.
Read the Operating Instructions First
If you have never operated a mulcher before, ensure that you read through all the documentation and instructions before using it. This will ensure that you know how to use the mulcher safely and will cut down on the possibility of misusing the machine.
Don't Let Kids Use the Machine
It can be tempting to send the kids out to the yard to do the garden work, and while this is fine for jobs such as raking leaves, mulchers can be dangerous machines. Therefore, we don't recommend letting younger kids use a mulcher for safety concerns, and even older children should be supervised.
Ensure it is Turned Off before Adding Fuel
If you are using a gas-powered mulcher, make sure you turn it off before adding fuel. Some people try and top up the machine with fuel when it is still running, which is a serious safety concern. Instead, turn it off and let it cool down before you add any more gas.
Wear Appropriate Safety Equipment
Finally, you need to use appropriate safety equipment when operating any type of machine or power tool. For a mulcher, we recommend you have:
Eye protection such as goggles

Ear protection as some mulchers are noisy

Strong and durable gloves

Hard-wearing shoes such as steel toe-capped boots
These safety items can significantly help reduce any injuries when using a mulcher.
My Top Recommendations for Mulchers in 2021
Worx WG430 13 Amp Electric Leaf Mulcher – Best Overall Mulcher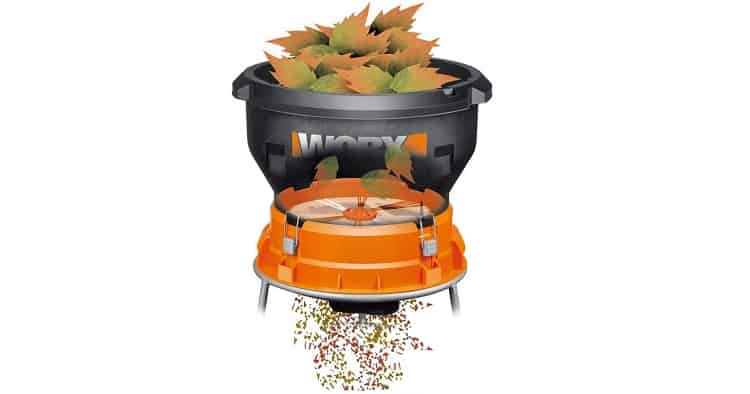 Our top mulcher choice is the Worx WG430 13 Amp Electric Leaf Mulcher .
It might seem strange that we are choosing a stationary mulcher as our top pick, as it means you will need to put in some extra effort to rake up leaves and other small pieces of garden debris. However, it is the overall power and performance of this mulcher that we like.
This electric mulcher has 13amp power, and it comes with an impressive 11:1 mulching ratio. That means it can chop up 11 bags of garden waste into one bag of mulch.
This is a highly reliable mulcher that is available at a reasonable cost too. It only weighs 20 lbs which isn't bad for this type of machine, and you can quickly move it around your yard or transport it to use in another location. Additionally, the engine has 24 air-cooled cutting lines for maximum performance.
One downside is that it doesn't have a storage bag, which needs to be bought separately.
Overall, this is a powerful stationary mulcher that doesn't cost a ton, is easy to assemble, and is very user-friendly.
pros
Very powerful and quick electric stationary mulcher

It is available at a reasonable cost

It has a mulching ratio of 11:1

Air-cooled cutting lines
Cons
You need to buy a storage bag separately
Landworks Wood Chipper Shredder Mulcher – Best Gas Mulcher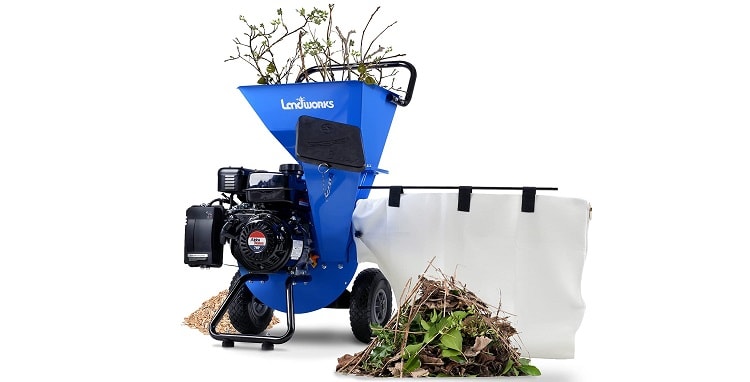 If you are in the market for a gas-powered mulcher, the Landworks Wood Chipper Shredder Mulcher is our top recommendation.
This powerful mulcher can also be used for some wood chipping, and it is a versatile machine with an impressive mulching ratio of 15:1. This Landworks Mulcher has a 3-in-1 design with mulching, shredding, and chipping capabilities, and you get around 3 hours of use with one tank of gas.
You won't need to spend hours putting this mulcher together, as you can assemble it in about 30 minutes. We also like the price that this gas mulcher is sold at, and it is cheaper than other models that don't offer the same power or capability.
The downside of this mulcher is that the mulch bag supplied with this machine is quite small, so you may want to buy a bigger bag if you can find one that fits onto the mulcher. Also, you can't use it on pines, pine cones, or thick branches.
This is a very good gas-powered mulcher that offers excellent performance, has 3-in-1 capabilities, and can easily be moved around due to the attached wheels.
pros
Powerful gas 3-in-1 mulcher
It has a 15:1 mulching ratio

Will run for 3 hours on one tank of gas

It has wheels for easy maneuverability
Cons
The collection bag is quite small

You need to purchase a vacuum kit separately
Earthwise GS70015 – Best Electric Stationary Mulcher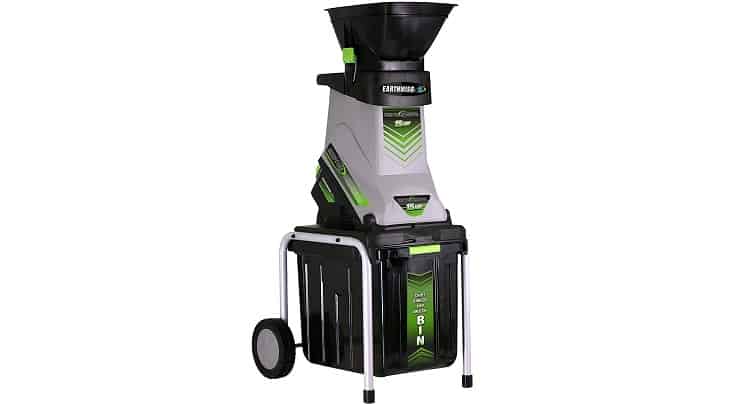 Sticking with stationary mulchers, for now, the Earthwise GS70015 is our pick for the best electric stationary mulcher.
The 15 amp electric motor combined with an 11:1 mulching ratio makes this a powerful mulcher that can quickly and efficiently chop loose garden debris. This machine is a good choice if you have a small yard or limited space to connect a mulcher to a power supply. It needs to be constantly plugged in for it to work, but it is pretty compact and would work well for home use.
The 1.2 Bushel collection bin ensures you can collect a significant amount of mulch with this machine.
We can't find many downsides to this stationary electric mulcher. The electric power means you are limited where you can use this mulcher, and you will need to rake leaves and other items separately. However, it is a powerful and efficient machine that is ideal for smaller yards.
pros
Powerful mulcher with 11:1 mulching ratio

It comes with a 1.2 Bushel collection bin

has wheels for limited movement

Can mulch branches up to 1.75″ thick
Cons
It needs to be plugged into a power source
BLACK+DECKER 3-in-1 Electric Leaf Blower, Leaf Vacuum, Mulcher – Best Handheld Mulcher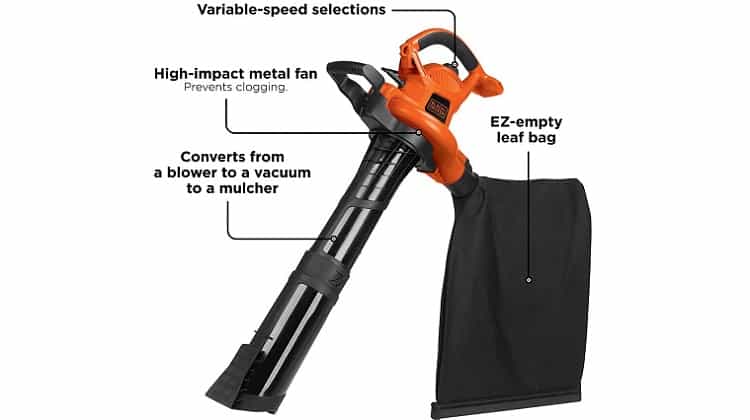 Moving onto the best handheld mulcher, and the  BLACK+DECKER 3-in-1 Electric Leaf Blower, Mulcher comes out as number one if you want this type of model.
This incredibly budget-friendly machine is ideal for mulching up leaves and small debris around your yard. The great thing about this mulcher is that it can be used as a standard leaf blower and leaf vacuum too. With an impressive 16:1 mulching rate and variable speed settings, this mulcher packs quite a punch.
The fact that it only weighs 8.1 Pounds makes walking around with this mulcher a breeze.
This isn't the most durable mulcher; however, you sacrifice some durability for the lightweight design. Overall, if you want an efficient handheld mulcher available at a budget price, this offering from Black+Decker is our recommendation.
pros
Ideal for small debris mulching in your yard

easy to move around

It can be used as a leaf blower and vacuum

Impressive 16:1 mulching rate
Cons
This isn't the most durable mulcher
Sun Joe CJ603E 15-Amp 1.7-Inch Cutting Diameter Electric Silent – Best Mulcher for Low Noise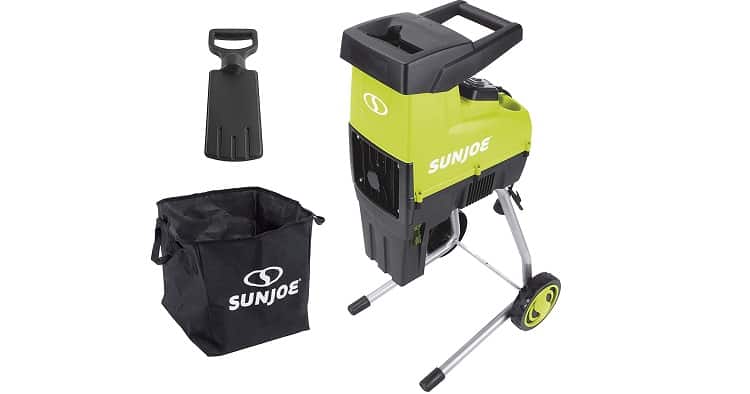 Mulching can be noisy, especially if you live in a residential area. So while you probably won't be out creating mulch every day, you won't want to disturb your neighbors too much while you do it either.
The Sun Joe CJ603E 15-Amp 1.7-Inch Cutting Diameter Electric Silent on our list. This electric mulcher is very low noise, so you can use it in your yard without causing any significant disturbance.
It can handle leaves, twigs, brush, and small branches, with an excellent reduction ratio of 21:1. The 7-inch wheels allow you to move this mulcher around easily too. We would also recommend this mulcher if you haven't used one before as it is straightforward to operate and beginner-friendly.
pros
It doesn't make much noise

simple to use

It has an impressive mulching ratio

It can be moved around easily
Cons
Electric powered so needs to be plugged in
Billy Goat TKV650SPH Leaf Mulcher – Best Walk Behind Mulcher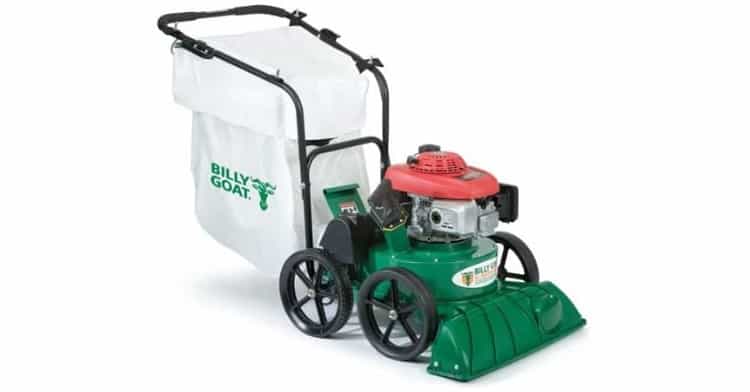 If you have some money to spend, we recommend going with the Billy Goat TKV650SPH Leaf Mulcher .
A word of warning, this is an expensive machine, so you do need a sizeable budget to buy one. However, if you can afford it, this is a very powerful mulcher. It is gas-powered with the 187cc Honda Engine and the 2-Inch chipper can grind up most items in your yard.
The 12:1 mulching ratio is ideal for residential use, and it has a powerful vacuum and isn't likely to clog easily either. In addition, you can cover big areas with the 40-gallon bag, so this is the perfect mulcher to use if you have a larger yard.
This is a heavy mulcher (140 lbs), and it generates a lot of force. Controlling and steering this mulcher might be a challenge for some people, especially those with mobility problems.
pros
Powerful walk-behind mulcher

It comes with a 40-gallon bag

Can cover large areas
Cons
Controlling and steering this mulcher might be difficult for some people

This mulcher is expensive compared to others
Frequently Asked Questions
Question: How does Mulcher Work?
Answer: A mulcher works by chopping various garden debris such as leaves and twigs and turning them in mulch that you can use in your yard.
Question: What Can I Use Mulch for?
Answer: Mulch can be used for different purposes, and if you put it on top of the soil, it can help improve the earth's fertility, retain moisture, and reduce weed growth. Mulch can also be a decorative feature.
Question: Are Mulchers Dangerous to Use?
Answer: Not really. As long as you follow the necessary safety instructions and use appropriate safety equipment, mulchers are safe. However, we don't recommend that kids use these machines, and you should always read the operating instructions first.
Question: How are Mulchers Powered?
Answer: Mulchers are usually powered either by electricity or gas. Electric mulchers are often quieter but need to be plugged into a power source, limiting the range. Gas-powered mulchers are normally more expensive, but you can use them wherever you like.
Question: Can I Use a Mulcher as a Wood Chipper?
Answer: No. Unless the mulcher you buy has specific wood chipping capability, it can't be used to chop up larger branches or hardwood. Mulchers can handle twigs and small branches, but anything larger than this will likely jam or even break the machine.
Conclusion: The Best Mulcher
Having a mulcher means you can keep your yard tidy by getting rid of excess leaves and various debris. You can turn this garden waste into mulch, improve your soil, or even use it as a decorative feature. They are very practical, but they are good for the environment as you are recycling garden waste.
There are many different mulchers on the market, but our top picks are: