Latest posts by The Forestry Pros Team
(see all)
Stihl is one of the leading chainsaw brands globally, and its chainsaws are ideal for cutting down branches, chopping up firewood, and pruning trees. In our guide to the best Stihl chainsaw models, we will explore the top chainsaws on offer from this German manufacturer.
We'll go through all the things you need to consider before buying a chainsaw, the different types of Stihl chainsaws available, and answer some frequently asked questions at the end. First, let's find out who Stihl is and why their chainsaws are so popular.
Who Is Stihl?
Stihl is a well-known German company that has a long history of producing chainsaws and other power tools.
They were formed in 1926 and quickly became an early innovator of chainsaw technology. Andreas Stihl, who founded the company, designed and built the first chainsaw by hand, and the business grew internationally in the following decades.
Today, Stihl is a major multi-billion dollar global company that produces a wide range of fantastic power tools, including chainsaws, blowers, and trimmers.
Read also: How to Find the Best Stihl Chainsaw Bars.
What Are the Different Types of Stihl Chainsaws?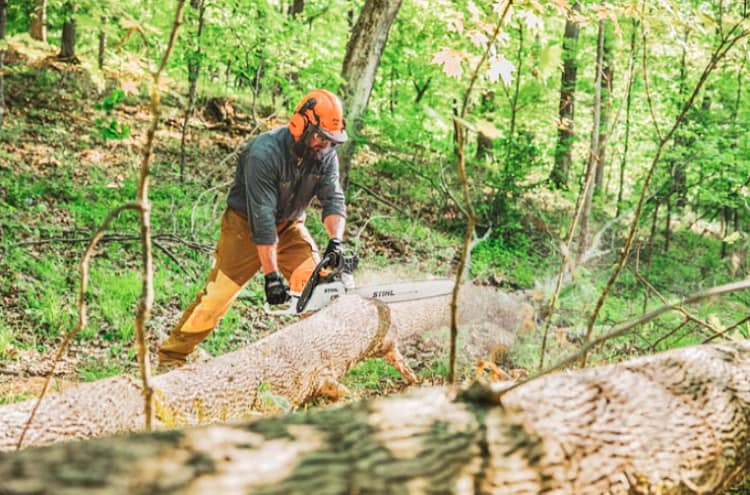 Stihl makes various types of chainsaws, and they have many models available. The chainsaws they make can be broken down into three main categories.
Cordless Stihl Chainsaws
Cordless Stihl chainsaws are among the lightest power tools on offer, and they have several benefits of petrol and electric-powered models. These chainsaws usually are battery-powered. The benefits of using a cordless chainsaw include lower vibrations, reduced noise, and better control, which is why many novices prefer this tool.
If you haven't used a chainsaw before and don't have the confidence to go for a petrol or electric model, a cordless battery-powered Stihl chainsaw is an ideal choice.
Electric Stihl Chainsaws
Another lightweight option is an electric-powered Stihl chainsaw. This type of chainsaw also benefits from having lower noise than a petrol-fueled tool, and they are handy for use in your backyard. A significant downside of an electric model is that they need to be constantly plugged in, limiting where you can use it.
If you only need a chainsaw for small jobs in your garden and you will be close to a power outlet, then an electric model is a good choice. However, if you need a chainsaw for using out in the wild or somewhere away from a reliable power source, you will be hampered with this type of model.
Petrol Stihl Chainsaws
Lastly, we have petrol-powered Stihl chainsaws. A petrol chainsaw is a typical model you see when you think of this tool and offer several advantages. They often come with more power and cordless and electric models and are suited to cutting down larger trees and objects or being used more frequently.
Petrol chainsaws do have some downsides. One is that they are usually much louder, so they can disturb your neighbors, mainly if you often use the tool. They are also not ideal for beginners as they do have a significant amount of power and often vibrate a lot. If you haven't used a chainsaw before, you might find a petrol model hard to control and use at the start.
Chainsaws for Different Purposes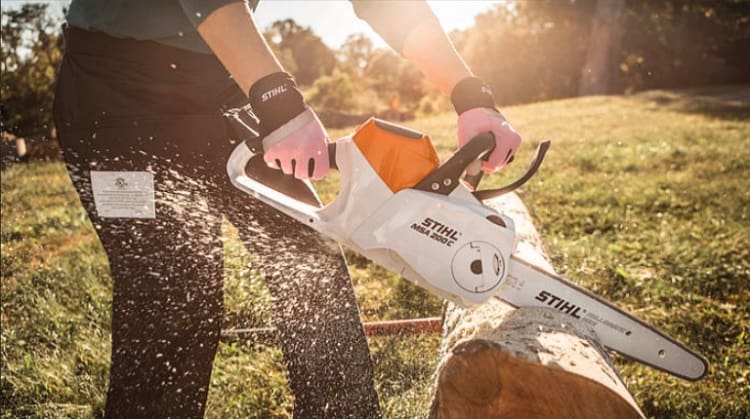 Before we get into all the things you should consider before buying a chainsaw, there are Stihl chainsaws designed for different purposes. Stihl offers chainsaws for both domestic works and for professional services.
The chainsaws designed for use in your backyard are usually cheaper but often don't have the same amount of power and features as those for professional services. Instead, they focus more on comfort, such as having anti-vibration technology.
The other type of Stihl chainsaws is used for farming, land clearing, and professional tree services. They usually are more expensive because they require added durability and reliability as they will be used more frequently. These chainsaws also utilize more power and aren't aimed at beginners but rather professionals who will be using the tool on a daily basis.
Things to Consider When Buying a Chainsaw
A chainsaw is a very powerful tool, and there are several things you should think about first before you buy one.
Power Source
Stihl offers chainsaws that are powered by different methods. You should think about the type of work you will be doing with the chainsaw and where you intend to use it. For example, if you will be working in pretty remote areas, petrol or a battery-powered chainsaw is best. However, if you will be working in your backyard and have good access to a power source, an electric model is a good option.
The power source of the chainsaw can also determine the overall power and noise levels. Petrol chainsaws often have more power than electric chainsaws, but they will be louder, so it is something to consider if you will be using it frequently in a residential area.
Cost
Stihl chainsaws can often be a bit more expensive than some other brands; however, they offer models to suit all budgets. When buying any power tool, set a budget and try and stick to it as best you can. The price you are willing to pay for a chainsaw should also link in with the work it is needed for and how often you will use it.
For regular use, it is better to spend money on a durable and robust model that won't need to be replaced in the short term, but if you need a chainsaw for small jobs, a cheaper model will probably suit you.
Experience
Certain Stihl chainsaws are better suited to beginners than others. If you don't have a lot of experience using a chainsaw, it is sensible to opt for a model that isn't too powerful or doesn't produce excess vibrations.
This will ensure that you can use the chainsaw safely while still getting the job done. Lightweight chainsaws are also ideal for beginners as they are easier to control and move around.
Additional Features
Stihl chainsaws often come with a range of additional features that can make cutting branches, pruning trees, and operating the tool a lot easier.
You can quickly find out the additional features of Stihl chainsaws by the model number. Chainsaws with a C in the model number mean that they have been designed with additional comfort in mind. This can make the chainsaw easier to use, especially for beginners.
Petrol Stihl chainsaws often come with a feature called Ergo Start, and you will know this if the model number has an E in it. This technology makes starting up a petrol chainsaw easier and has an extra spring between the crankshaft and the starter rope rotor.
Another additional feature that you find on Stihl chainsaws is the Quick Chain Tensioning system. This makes tensioning the chain more straightforward, and you won't need any other tools to do this. Stihl chainsaws with this feature have a B in the model number.
The Major Differences Between Chainsaws and Circular Saws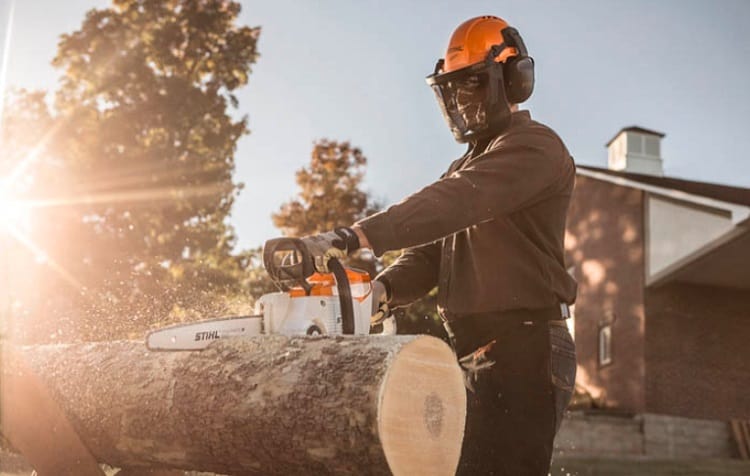 You might wonder if a chainsaw or a circular saw is better for the work you need to carry out. The big difference between these two tools is that a chainsaw is intended to make rough cuts and cut down trees and branches into smaller pieces. A circular saw is designed for precision work, and it is smaller than a chainsaw. They aren't as heavy as a chainsaw, and they also don't make as much noise.
These tools are designed for different purposes, and while they can appear to carry out the same function, they shouldn't be used as a substitute for each other.
Advantages of Using a Stihl Chainsaw
A Stihl chainsaw is an excellent tool if you need to cut down trees, get rid of large branches, or cut the wood into smaller pieces. Some of the advantages of using a chainsaw include:
Trusted brand – Stihl is one of the most trusted chainsaw brands globally, and their chainsaws are manufactured to a very high standard.
Power and efficiency – If you need to cut trees or branches quickly, a Stihl chainsaw is ideal for the job. They make the process much more efficient than using a handsaw, and less effort is involved too.
Versatility – Chainsaws are very powerful, and this means you can cut various types of materials. Depending on your Stihl model, you can easily cut through wood, metal, and even many hard materials.
Low vibrations – Stihl chainsaws are designed to limit the number of vibrations produced when it is in use. This makes them easier to control, and you can use the chainsaw for longer.
The Disadvantages of using a Stihl Chainsaw
While Stihl is an innovative and major chainsaw manufacturer, there are some downsides.
Can be expensive – You can find Stihl chainsaws to suit nearly all budgets, but they can be a bit more costly than other brands. Although, you do pay extra for superior quality and reliability.
Maintenance – All chainsaws require a degree of care, and Stihl models are no different. They have been working on reducing the maintenance needed for their chainsaws, but you will still need to put in some work to keep the tool in top shape.
Safety Tips for Using a Chainsaw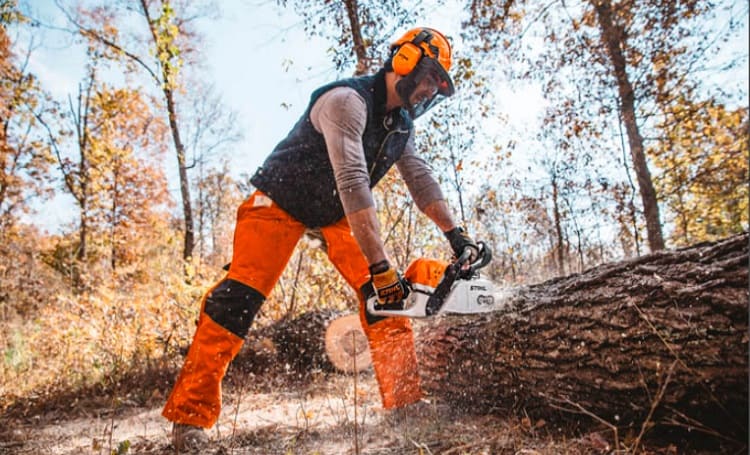 Even though chainsaws can seem pretty daunting, they are safe to use if you follow the correct procedures. We have compiled some tips to help you to use a Stihl chainsaw safely.
Don't Stand on Unstable Surfaces
When using a chainsaw, ensure that you are standing on a stable surface and don't operate the tool if you are at risk of falling. This includes standing on ladders or scaffolding. Make sure you have both feet on a firm surface before operating a chainsaw.
Use Both Hands
You should always operate a chainsaw with both hands, don't use it by gripping it with one hand. Make sure that you have a tight grip on the chainsaw with both hands before using it, as failing to do this can cause the tool to slip, which may cause serious injury.
Check the Chain Tension Before Use
The chain can loosen, and if you begin to use a chainsaw with a loose chain, this can cause a severe injury. Ensure that you check the tension of the chain before you start to use the chainsaw.
Only Cut Materials it is Designed for
Chainsaws are very powerful tools, but that doesn't mean they can cut through every type of material. Read the instructions for your particular chainsaw model and only cut through the materials it is designed for.
For example, Stihl chainsaws pack quite a punch but trying to cut through materials that a chainsaw isn't suited for can result in injury and damage to the machine.
Wear Appropriate Safety Equipment
Lastly, ensure that you have the proper safety gear when operating a chainsaw. Some safety equipment that is essential when using a chainsaw includes:
Eye protection such as goggles
Ear protection
Sturdy boots
Gloves
You can buy many pieces of protective equipment that are specially designed for use with a chainsaw.
My Top Recommendations for Stihl Chainsaw Models in 2021
Stihl MS 170 – Best Overall Stihl Chainsaw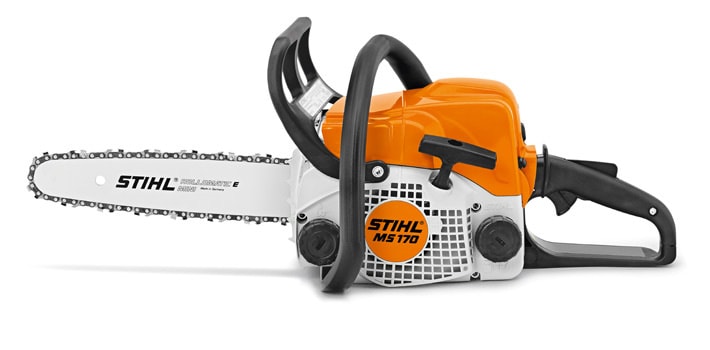 Our top pick for the best Stihl Chainsaw is the MS 170. It isn't our number one choice because it is the most powerful or because it can cut down the biggest trees; instead, it is a great all-rounder. The MS 170 is ideal for anyone who needs a reasonably powerful chainsaw that is easy to use and operate.
The MS 170 is perfect for homeowners who need to cut down decently sized trees, logs, and branches. It offers great versatility as it is comfortable cutting trunks up to 16 inches in diameter, but it can also carry out some precision work in bushes. This chainsaw starts quickly, so you won't need to yank the chain ten times to get it going.
This is a petrol-powered chainsaw, producing some noise, which is something to be wary about. The downside to this chainsaw is that the tank only holds 8.5 ounces, which is slightly on the low side. It is okay for occasional work, but you will have to refuel it often if you need to use it consistently.
However, if you want a Stihl chainsaw, a great mid-range model that does a bit of everything and is ideal for beginners, the MS 170 is our recommendation.
Pros
This chainsaw is an ideal all-rounder
Efficient startup system
Relatively lightweight and easy to control
Can cut mid-range trees and carry out precision work
Cons
The fuel tank only holds 8.5 ounces at a time
Stihl MS 362 C-M – Best Professional Stihl Chainsaw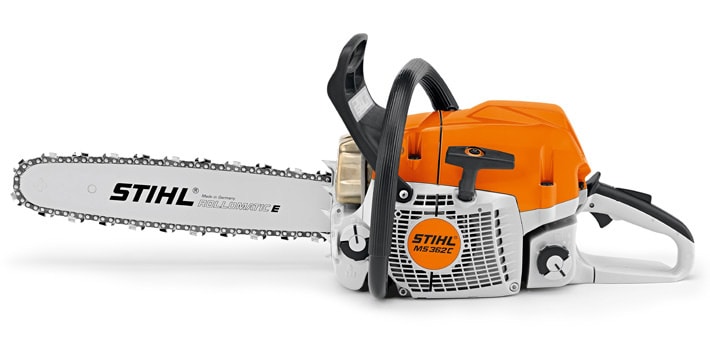 If you require a Stihl chainsaw for professional use, we recommend going with the Stihl MS 362 C-M.
It isn't the smallest chainsaw on the market; however, it is relatively lightweight and ideal for use for long periods. In addition, some people find that they have better control over chainsaws that don't weigh as much and the MS 362 is a very powerful tool. It comes with 4.69 BHP and can cut through both hard and softwoods without any problems.
This model is great for professionals as it has a fuel capacity of 20.3 ounces, which means it should run for a reasonable period without refueling. One significant advantage of this chainsaw is the microprocessor which links to the engine and makes adjustments as you go along depending on what materials you are cutting.
The MS362 will get slower if you begin cutting through particularly large logs (over 23 inches), but it is a minor downside to an otherwise great Stihl chainsaw.
Pros
Ideal Stihl chainsaw for professional use
Can operate for a long time without needing to be refueled
Lightweight and provides a good level of control
Microprocessor for enhanced efficiency
Cons
This chainsaw can slow down when tackling extra-large logs
Stihl MSE 250 C-Q – Best Electric Chainsaw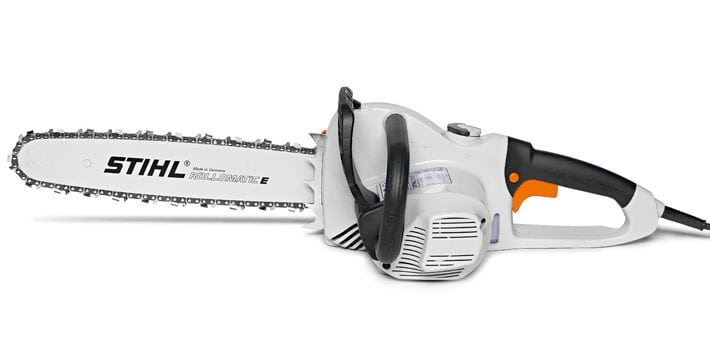 An electric chainsaw is often a sensible, cost-effective option if you just need a tool to carry out small jobs in your yard on an occasional basis. The Stihl MSE 250 C-Q is our top pick for an electric model.
A central plus point of this Stihl chainsaw is the low noise levels. Electric chainsaws tend to be quieter than petrol models; however, the MSE 250 is exceptionally quiet and perfect for use in a residential area. You won't annoy your neighbors with this chainsaw, but it isn't just the low noise that puts this model on our list.
While this chainsaw is primarily designed for professional use, it is available at a decent cost, so it would suit people who want an electric chainsaw for small jobs in their yard. The Stihl Quickstop® chain brake system is an excellent addition to this model as it allows an instantaneous stop to the chain. The brake system helps to avoid any kickback.
The big downside is that it needs to be plugged in to work, so you'll have to be near a power source. However, this is a fantastic electrical model from Stihl that is suited to working in residential areas.
Pros
Powerful electric chainsaw
It comes with the Stihl Quickstop® chain brake system
Low noise and quiet operation
Ideal for home use
Cons
It needs to be plugged into a power source
Stihl MSA 200 C-BQ – Best Battery Powered Stihl Chainsaw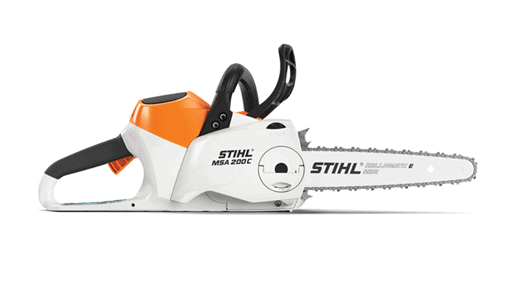 Having the freedom to use your chainsaw wherever you want and not be hampered by requiring access to a power source is vital for many people, and this is why the Stihl MSA 200 C-BQ is our top battery-powered pick.
This model offers tremendous power that is nearly equal to several petrol Stihl chainsaws. The battery lasts about 15-minutes; this doesn't seem long at first glance, but you can buy upgraded batteries that will last longer on a full charge. Some upgraded versions can last for over two hours, although this will increase the cost.
The MSA 200 is lightweight (it only weighs about 11 lbs), ideal for those who aren't massively experienced using a chainsaw, as it can offer better control. The lighter weight also helps reduce fatigue. The cordless nature of the chainsaw means you can use it anywhere, and it gives off less noise and zero emissions which is great for the environment.
Pros
Powerful battery-powered Stihl chainsaw
Upgraded batteries can last for over two hours
Lightweight and easy to control
No emissions and is low noise
Cons
You will need to spend extra if you want better battery life
Stihl MS 391 – Best for Larger Trees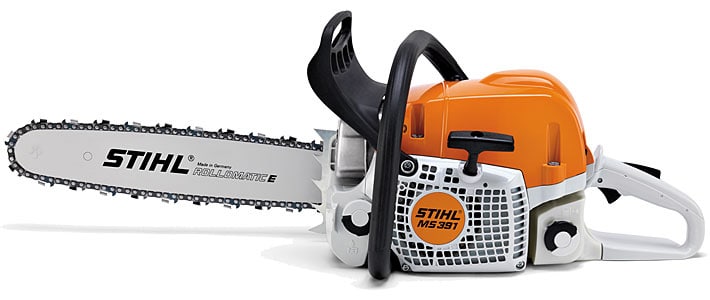 Last on our list is the Stihl MS 391, and we have included this if you need to cut large trees or branches.
This is an incredibly powerful Stihl chainsaw and simply using it on small branches is a waste because this model is geared towards heavy-duty work. If you have a large tree or need a chainsaw to keep up with the demand or rigorous work, the MS 391 is what you need.
There is a 64cc engine on this chainsaw, and it has the same fuel capacity as the MS 362 that we looked at above. If you are worried about getting a petrol chainsaw because of the emissions, the MS 391 is environmentally friendly. It has its own filtration system that cuts down on the emissions generated when the chainsaw is in use.
The only real downside we have found with this chainsaw is that it can have issues starting up when it has been in use for a while. However, if you need a chainsaw for a heavy-duty ranch, farm, and forestry work, the MS 391 is an excellent option.
You can read our full review of the Stihl MS 391 here.
Pros
Heavy-duty chainsaw built for taking down trees
Has its own filtration system to keep its emissions low
Large petrol tank
Cons
There are issues starting it when it is hot
STIHL MSA 140 C-BQ – Best Lightweight Stihl Chainsaw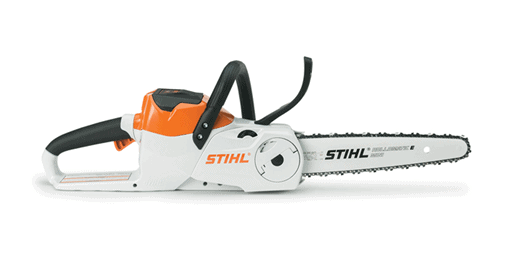 A lightweight chainsaw can provide greater control, and the Stihl MSA 140 is our top lightweight offering from Stihl. This compact model weighs just 2.6 kg, and the battery can last for up to 45-minutes, which is pretty impressive. If you need a cordless chainsaw for use around your yard, it is hard to go wrong with the MSA 140.
This chainsaw won't hand big logs or pieces of wood (anything over 12-inches will be a struggle), but for chopping up smaller logs into firewood and pruning trees and bushes, it offers reliability and efficiency.
The Quick Chain Tensioning system from Stihl is present, and this makes it much easier to tighten the chain to avoid accidents. This chainsaw is also relatively quiet, and you will notice a big difference in noise between this model and a petrol-powered one.
To get the full benefit of this chainsaw, you will need to buy some extras such as a higher-powered battery and charger, which will increase the overall cost.
Pros
Lightweight battery-powered chainsaw
It comes with Quick Chain Tensioning system
Ideal for cutting up firewood and pruning trees
The battery can last for up to 45-minutes
Cons
You do need to pay extra money to get additional items for this chainsaw
It isn't suited to cutting through thick logs
FAQs
Question: Is Stihl a Good Chainsaw Manufacturer?
Answer: Yes. Stihl is a leading chainsaw manufacturer, and Andreas Stihl, who founded the company, designed and built the first chainsaw by hand.
Question: What Can I Use a Chainsaw for?
Answer: A chainsaw can be used for various purposes, such as cutting down trees, branches and cutting larger pieces of wood into logs. You can also cut other materials with a chainsaw, and they are a handy tool to have due to their versatility.
Question: Is Chainsaw Dangerous to Use?
Answer: Chainsaws do come with certain risks, and they can be dangerous if you fail to follow the correct safety procedures. However, if you wear proper safety equipment and use the chainsaw as intended, you shouldn't have any problems.
Question: How are Stihl Chainsaws Powered?
Answer: Stihl chainsaws are powered by petrol, electric, or there are battery-powered models available. Petrol chainsaws tend to have the most power but are very noisy, whereas electric or battery chainsaws are a bit quieter.
Question: Are Stihl Chainsaws American-made?
Answer: Many Stihl chainsaws are manufactured in the USA. Most petrol-powered Stihl chainsaws are built in Virginia Beach, although the parts and components often come from overseas.
Conclusion: The Best Stihl Chainsaws
Stihl is a worldwide recognized chainsaw brand, and its long history has seen them become the favored manufacturer for many people.
We love Stihl chainsaws due to their durability, reliability, and the variety of models on offer. They provide battery, electric, and petrol-powered models that are aimed at both homeowners, casual users, and experienced professions.
The best Stihl chainsaws on the market are: