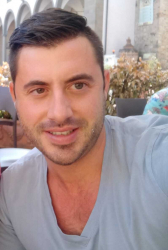 Latest posts by David Borgogni
(see all)
Today's focus is on one of the power tool industry's big hitters. Stihl is well-known for designing and producing some of the finest chainsaws on the market and has become one of the most popular manufacturers. This Stihl MS391 review article is looking at their top-of-the-range offering, the MS391.
Ideal for both commercial and domestic use, Sthil is a brand synonymous with quality forestry tools. They are the biggest and arguably best chainsaw manufacturer globally, with foresters and professional landscapers alike trusting their products when working.
In our MS391 review and guide, we'll outline its key specifications, discuss pros and cons and even provide you with some alternatives to have a look at. We'll then round off with our own thoughts on who this chainsaw is best suited to.
But before we get into the details, let's look at the key specifications of the Stihl MS391 chainsaw.
Stihl MS391 Key Specifications
Core Features of the Stihl MS391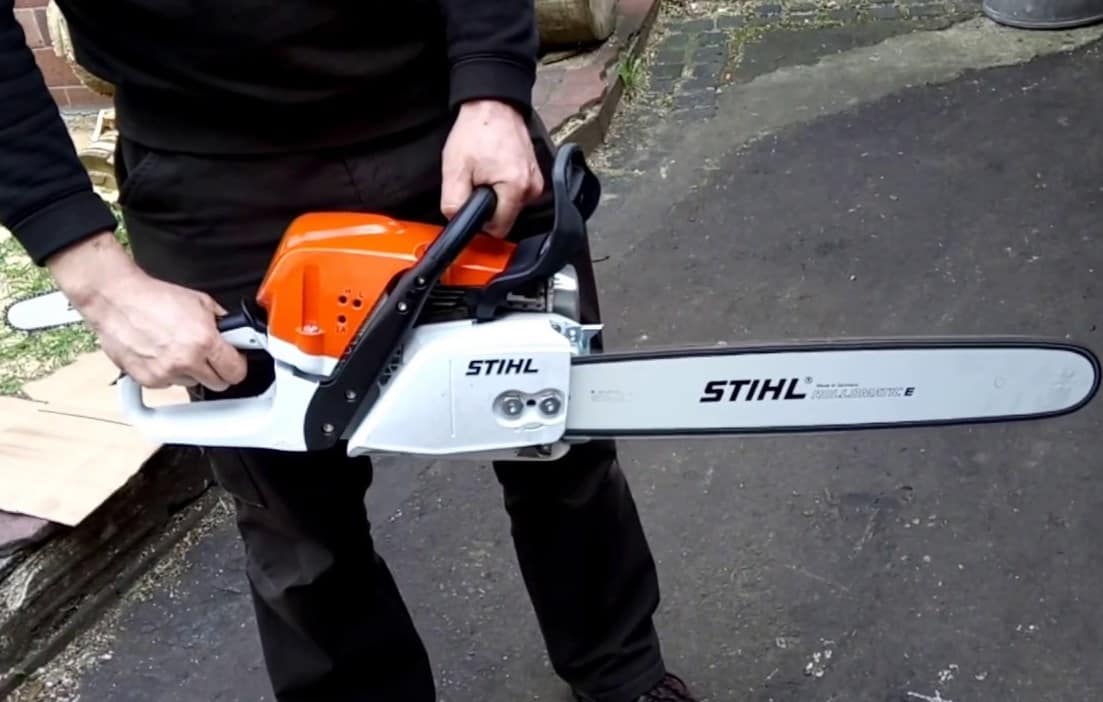 When looking for your new saw, it's important to make the right decision. Building a good understanding of each product's key features is the ideal way to ensure you're fully informed before making your decision.
Depending on the task at hand and who the chainsaw is aimed at, the features included can vary dramatically. Here, we'll outline the MS391's key features and explain how they could benefit you as you work.
Side Chain Tensioner
Adjusting chain tension quickly and easily makes this saw highly versatile, allowing you to adapt to different working conditions. There is a tensioning screw located on the side of the unit underneath the sprocket cover. All users need to do is adjust this screw until the desired tension is reached. By implementing this system, Sthil has removed the user's need to come into contact with the dangerous cutting chain.
Pre-Separation Air Filtration System
The air filtration system itself has been completely reimagined. This helps to achieve a longer product life when compared with older models, thanks mainly to its pre-separation function. Pre-separation works by swirling air around the filter, separating larger particles and removing them from smaller ones. This 'pre-cleaned air is then directed to the filter, allowing for better performance and less maintenance.
Anti-Vibration System
The effects of vibration on the hands and forearms of power tool users have been well researched and documented over the years. Functional anti-vibration mechanisms are a must for any modern tool with blood vessel issues arising from prolonged use. Stihl has developed a highly effective anti-vibration system that dampens the oscillations generated from the engine, greatly reducing the levels of vibration users are exposed to.
IntelliCarb™ Compensating Carburetor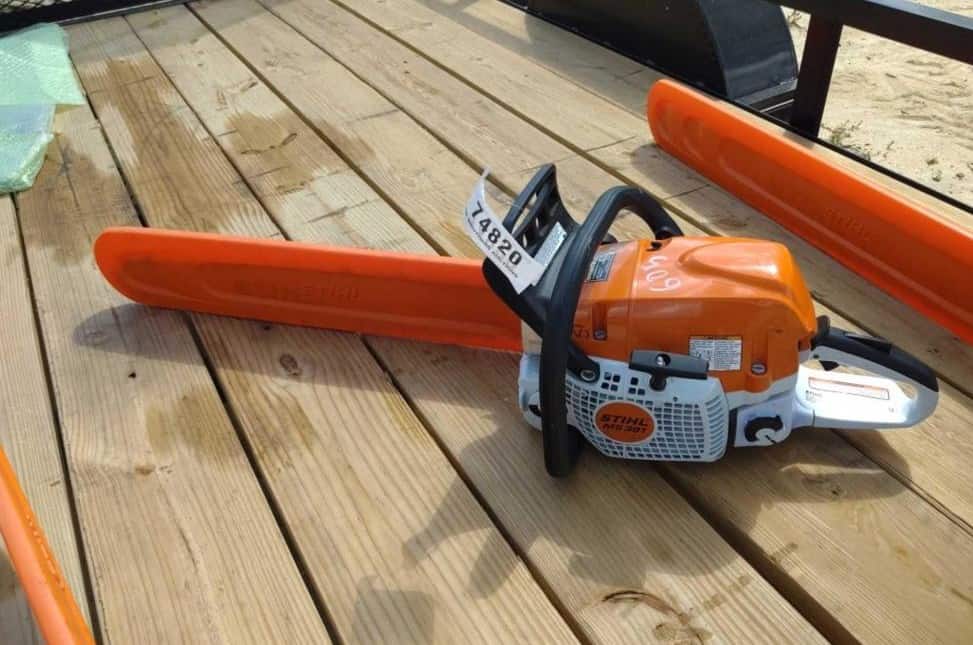 Stihl's IntelliCarb Compensating Carburetor has been designed to adjust the air and fuel flow automatically. The ratio is adjusted depending on flow from the air filter; if the filter becomes partially or even totally blocked, the carburetor automatically adjusts to compensate. This allows the engine to maintain optimal RPM.
As the air filter dirties and allows less air through, the IntelliCarb system optimizes fuel flow so that the engine still operates well, even with less air to use. This is in contrast to how traditional carburetors work, as they typically utilize the air from the 'dirty side of the air box.
Environmentally-Friendly
Stihl has created its 'caring for nature' seal to ensure its products adhere to its environmentally-conscious practices. This seal is applied to all products that produce excessively low or zero exhaust emissions (low meaning cleaner than EPA or CARB emission standards).
M-Tronic
The included combi lever utilizes Stihl's 'M-Tronic' technology that optimizes fuel mixture, ensuring maximum RPM is maintained at all times. This ensures performance remains as efficient as possible under a variety of working conditions. So whether you're working in the cold or out in the heat, M-Tronic makes sure your Stihl chainsaw will work perfectly for you.
Ematic Chain Lubrication System
Stihl claims that their new Ematic lubrication system reduces oil consumption by nearly 50%. It achieves this by ensuring accurate lubrication of the chain links and guide bar rail. This then leads to lower oil consumption when compared with traditional lubrication systems, less wear on the chain, and longer product life.
Sthil also says that this system is further enhanced when used in conjunction with their Oilomatic saw chain.
How Does the Stihl MS391 Perform?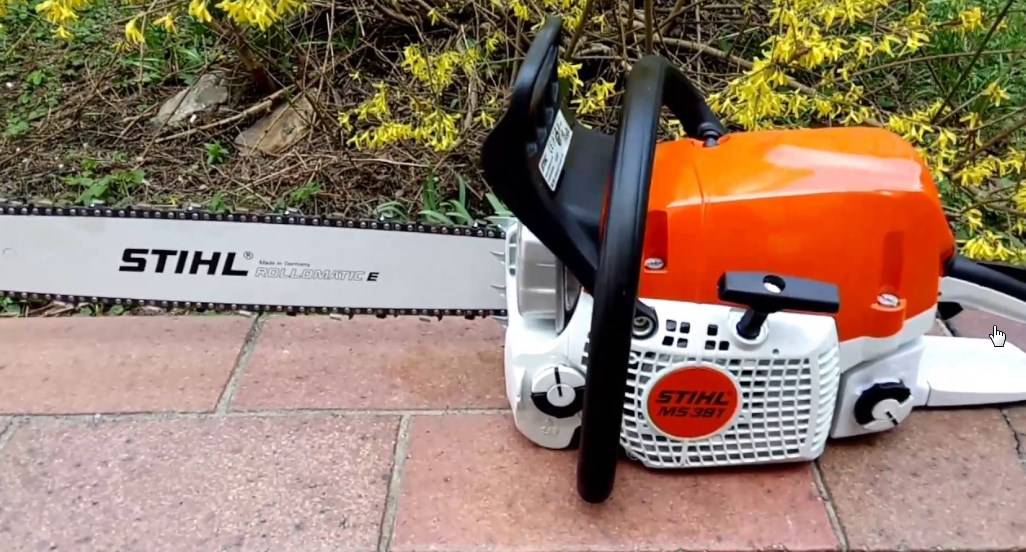 The MS391 is a chainsaw that delivers on all of Stihl's promises. Of course, as their top-of-the-range premium chainsaw, you'd expect high performance given the brand reputation – our testing confirmed this is indeed the case.
The 4.4 horsepower engine delivers more than enough power to cut through the thickest of trees, and thanks to a 20-inch cutting bar, the power can be transferred to a sizable chain. Designed predominantly for professional use, commercial outfits will benefit greatly from having one of these in their arsenal, whether agriculture, horticulture, or forestry focused.
The chain lubrication system is one of the best we have tested. It oils both the chain and the guide bar rail efficiently – Stihl's claims about improving usability ring true here.
What users really want to know, however, is just how well this thing cuts. Well, as you might have guessed, the MS391 cuts like a dream. Modeled as Stihl's premium chainsaw, it performs just like one. We tested it out on various scenarios, from larger trees right down to the kind of foliage you'd tackle in a domestic setting, and we had very few issues.
The Stihl name comes with a reputation for quality and reliability, so it's good to see the product living up to expectations, as this is often not the case. In addition, we found the IntelliCarb feature to be particularly useful, especially when working across various environments in one day.
Along with the carb and lubrication systems mentioned, the environmental credentials of the MS391 also make it an attractive prospect. Stihl's 'caring for nature' seal has been given to this product, meaning buyers can rest easy in the knowledge that their new power tool produces next to no emissions.
Finally, the ergonomics and controls are designed well. This is crucial when choosing your chainsaw as a unit that is uncomfortable to use over long periods becomes a hindrance rather than a help. Additionally, despite its power and cutting prowess, the unit does not feel too heavy and was easy enough to maneuver, something that is particularly important when looking for versatility in a mid-size saw.
Pros of the Stihl MS391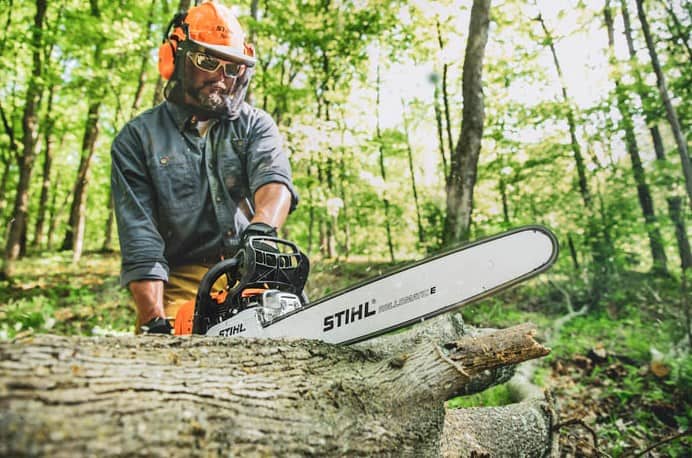 As we have established, the Stihl MS391 is suitable for use on jobs, around your backyard, or on the farm. Here, we'll take a closer look at the pros of the MS391 and look deeper into the benefits of getting one, particularly if you're looking in a commercial capacity.
Highly Reliable
This is always one of the most important points to consider when choosing a new tool. Opting for an established brand over a cheaper alternative is usually a good way to ensure your new purchase is built to last.
With Sthil, you know what you are getting – excellent performance balanced with quality and reliability. With the added benefit of modern features like the lubrication system and IntelliCarb, reliability is even greater than previous generations. So if you can justify the initial price, you're pretty sure to save in the long run.
Intelligent Design Features
Although many modern chainsaws have similar design features, the MS391 takes them to the next level. For example, Stihl's patented vibration dampening tech is considered one of the best in class, and its advanced combustion engine makes it one of the cleanest and most efficient saws on the market.
Ease of Use
Alongside being incredibly reliable, the MS391 is straightforward to use. All of the main functions have been compiled into a single lever meaning even beginner chainsaw users will be able to use one. The combi lever also makes throttle management easy, with only the required fuel being released at any one time. This prevents issues like engine flooding.
Cons of the Stihl MS391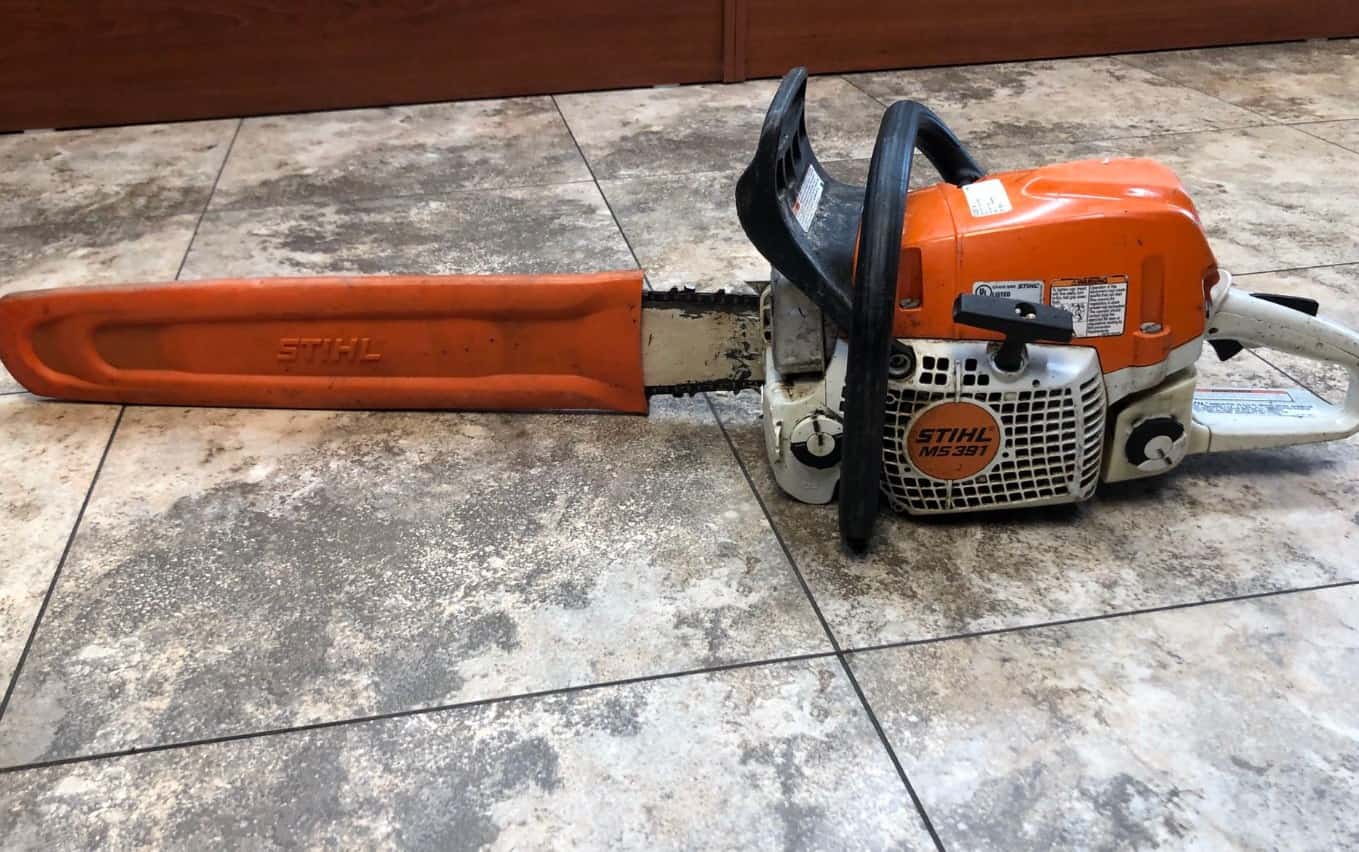 Despite all of the good points associated with the MS391, there are some negatives to consider. Here, we'll take a closer look and outline how they may affect you.
Price
Stihl is a premium brand, and the MS391 is their flagship model. This means the price point is set quite high to reflect that. While this saw does come with a larger initial spend, most users find they save in the long run thanks to the quality of the product and reduced maintenance costs. So you certainly get what you pay for.
Weight
At 13.7lbs, this is not a light chainsaw. This means it's not the best tool for anyone looking for maximum maneuverability and is best suited to those with prior sawing experience and who are comfortable using heavier machinery. If you're after a slightly lighter chainsaw, then check out our recent Husqvarna 240 review and guide.
Are There Any Alternatives?
The Husqvarna 450 is one of their premium offerings. Situated in the same category as the MS391, this is an excellent option from one of Stihl's biggest competitors. It includes the modern technology and array of features you would expect, including low vibration, an X-Torq engine, and an X-Cut chain. Check out our Husqvarna 450 review and guide for more information.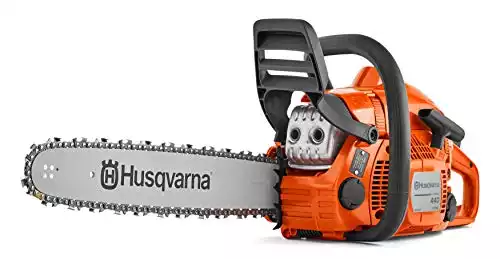 Husqvarna 450R 20" Gas Chainsaw | Amazon
The Husqvarna 450 Rancher is a superior all-round chainsaw with heavy-duty power and impressive performance. Features LowVib® anti-vibration technology for safe, comfortable control. Powered by an X-Torq® engine for reduced fumes and fuel consumption.
Buy at Amazon.com
We earn a commission if you make a purchase, at no additional cost to you.
12/06/2023 04:40 pm GMT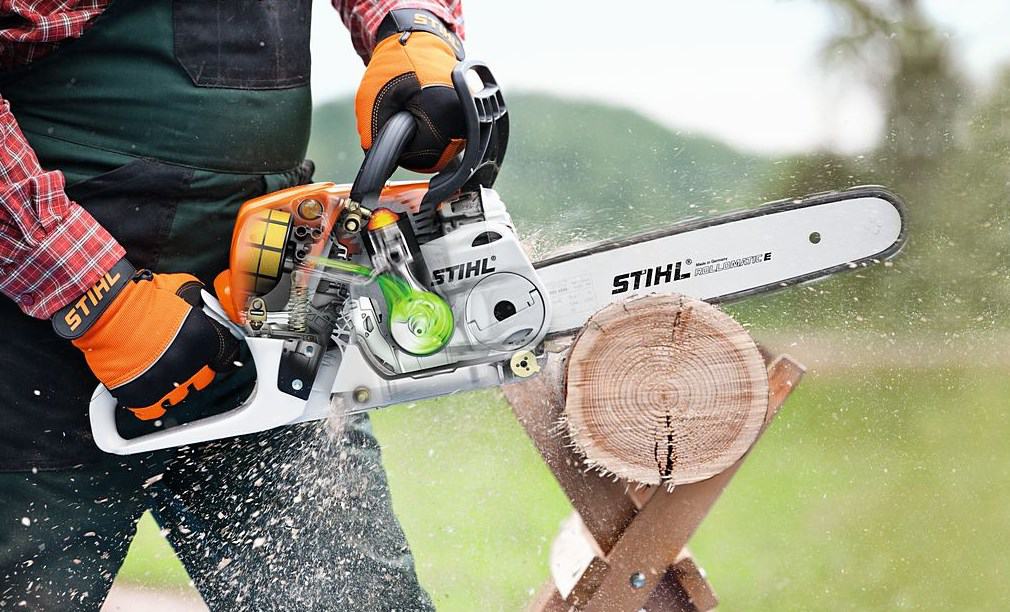 Stihl's premier range also includes the MS251. Smaller than MS391, this is one of the top domestic chainsaws available. It's a slightly lighter and less powerful version but features all of the major benefits you get with the MS391. So if you like the idea of owning a Stihl but don't need the full-size 50cc engine, this is a great alternative. You can read more about the MS251 in our recent review.
Frequently Asked Questions
Question: Is the ms391 a pro saw?
Answer: While the Stihl MS362 is their out-and-out professional saw, the MS391 is an able deputy. Thanks to its powerful engine and interchangeable cutting arm, the MS391 can be used for more heavy-duty work while remaining an option for domestic use.
Question: How big of a bar can you put on a Stihl 391?
Answer: The guide bar lengths recommended by Stihl are between 16 and 20 inches. Having this kind of flexibility allows the MS391 to be truly versatile as it caters to those who need ultimate cutting length and those who need compact maneuverability.
Question: What does MS stand for on a STIHL chainsaw?
Answer: You may think MS is some complex product identifier used by Stihl for inventory purposes. In fact, the reason all Stihl chainsaws start with MS, MSA, or MSE is as an homage to the company's roots. MS is short for 'motorsage' or chainsaw in German.
The Final Word – Is The Stihl MS391 a Good Chainsaw?
The MS391 is very much positioned as one of Stihl's premium products. It's packed full of features and designed to be a supremely easy chainsaw to use without sacrificing any power. So naturally, this is a saw best suited to professionals, but it is more than suitable for domestic users, as we have mentioned.
Although this is a great option for the majority of users, there are plenty of alternatives available. Some of our favorites from Stihl's competitors include the Husqvarna 450 rancher (ideal for those needing a larger saw) and the Husqvarna 240 (perfect for anyone who values maneuverability overpower and wants a compact saw).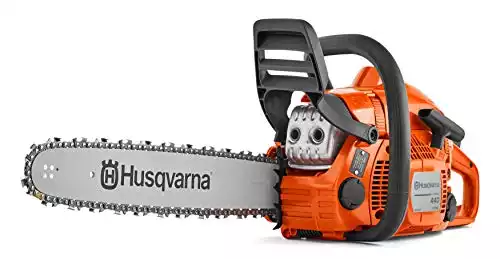 Husqvarna 450R 20" Gas Chainsaw | Amazon
The Husqvarna 450 Rancher is a superior all-round chainsaw with heavy-duty power and impressive performance. Features LowVib® anti-vibration technology for safe, comfortable control. Powered by an X-Torq® engine for reduced fumes and fuel consumption.
Buy at Amazon.com
We earn a commission if you make a purchase, at no additional cost to you.
12/06/2023 04:40 pm GMT
From Stihl themselves, the MS251 is another fantastic example of a quality saw available from the manufacturer. As a slightly smaller model than the MS391, the 251 is aimed more towards the domestic market.