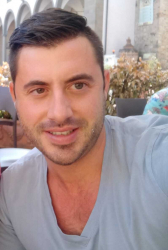 Latest posts by David Borgogni
(see all)
Stihl is no stranger to the power tool world and has one of the best chainsaws ranges around. They are known for developing and building quality products, and today we're going to be talking about one of our favorites. This is the Forestry Pro's Stihl MS 251 review and guide.
In this article, we'll be taking an in-depth look into the world of Stihl and its compact MS 251 model. We'll be outlining its key features, letting you know what pros and cons you can expect with it, and offering some suggestions on other alternatives you may not have considered.
After that, we'll answer some frequently asked questions before offering our final thoughts on this chainsaw and who it may be best suited to.
But before we dive into the details, let's take a look at an overview of the Stihl MS 251's core features.
Key Specifications of the Stihl MS 251
Core Features of the Stihl MS 251
The Stihl MS 251 chainsaw comes with many common features that you would expect to find on a top-quality saw. As a result, it's perfect for completing work around the home and ideal for felling small trees, pruning and thinning larger ones, and cutting up firewood quickly.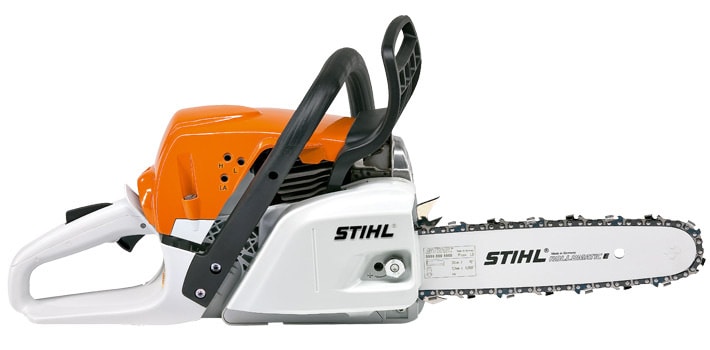 Compared with previous generations of Stihl's domestic chainsaw, the MS 251 burns up to 20% less fuel with up to 50% fewer emissions released into the atmosphere. That means it's ideal for those who want to work for longer without polluting the environment and keep their health in check too.
The chainsaw also includes handy features like a quick chain adjuster, Easy2Start tech, a master control lever, and reduced vibration technology that all help to make this an easy-to-use saw with plenty of power.
Anti-vibration system
Being exposed to intense vibrations from the handles of power tools has been linked to long-term effects on the blood vessels found in the hands and arms. Stihl has designed and incorporated a highly effective anti-vibration system that dampens the oscillations produced by the gas engine. This greatly reduces their impact on the user's body and allows them to continue to work over extended periods.
Pre-separation Air Filtration System
Stihl has developed and included an advanced air filtration system on the MS 251 that dramatically extends the life of the engine's air filter. The air filter is often the source of maintenance issues, and extending its life saves the buyer both time and money by avoiding these problems further down the line. It works by ejecting larger dust and debris particles from the filter before re-routing the filtered air via the pre-separator duct.
Compensator
The MS 251 also features a compensator that prevents the air-fuel mixture from getting too rich as the air filter clogs. This clever design delivers the correct amount of fuel to the carburetor based on the quantity and quality of air being processed through the filter.
This helps keep the air to fuel ratio on track and constant, allowing the engine to generate maximum power. You won't need to clean the filter until you experience a noticeable drop in power and performance.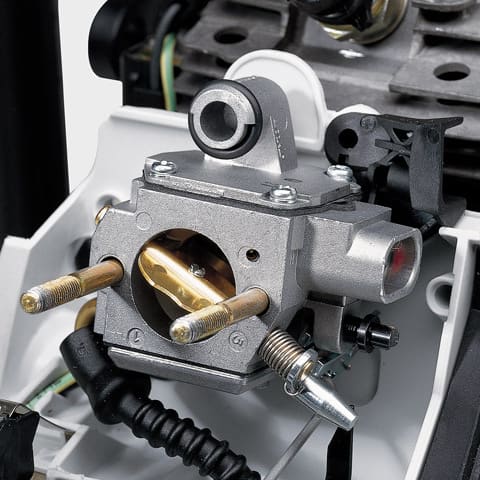 Single-lever Master Control
Many hours have gone into designing the controls on the MS 251, and what Stihl has ultimately come up with is uniquely simple. All major functions, including the start, throttle, choke, and stop, are located in the same place and operated with a single lever. This makes it the perfect domestic tool for anyone who values supreme simplicity and ease of use with their tools.
Side Chain Tensioner
Adjustability is key when using a chainsaw, and finding one with plenty of options is a must. Luckily the MS 251 comes with a tensioning screw that allows you to adjust the chain tension to suit your needs. It also means you can avoid contact with the sharp and very dangerous cutting chain.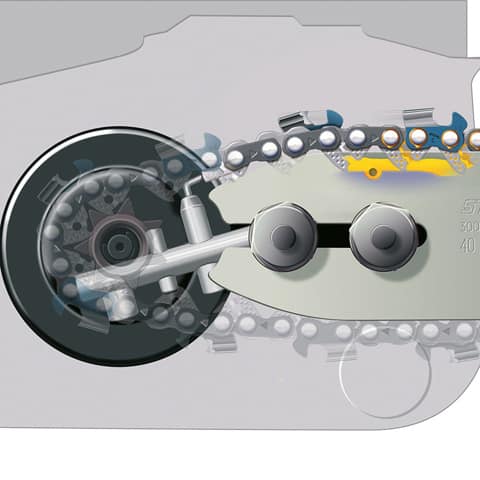 Ematic Chain Lubrication System
Lubrication is key to running any engine, and the Stihl MS 251 is no different. The ematic lubrication system not only keeps the engine well oiled but also automatically lubricates the chain as you cut.
This prevents any unnecessary jamming and damage from occurring. When you use this chainsaw with a Stihl Oilomatic chain, it provides ultimate lubrication and, therefore, performance. Stihl even claims that using this combination of oil and chain reduces consumption by up to 50%.
Tool-free Filler Caps
Another way this chainsaw is aimed at domestic use is by including bespoke catches designed for use without any tools. This makes it easy for any user to access and open the fuel and oil tanks without any special tools or complicated latches. They can even be used with work gloves on for added functionality.
Compact and Easy to Use
For domestic use, a chainsaw has to be not only light but compact and easy to store. With the Sthil, you have a tool that weighs in at just 4.5kg, making it light enough for almost anyone to use without an issue. The cutting arm is also nice and compact, making it easy to maneuver and suitable for storing in a garage or garden shed.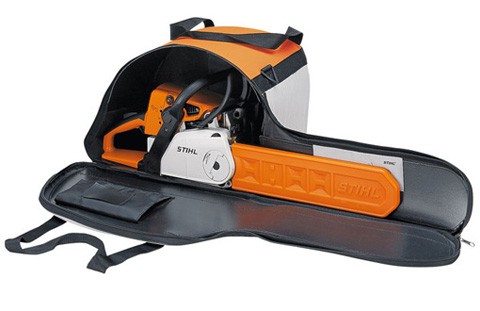 How Does the Stihl MS 251 Perform?
You already kind of know what you're getting when you purchase a Stihl, a high-quality product that performs well and needs relatively low maintenance. With the MS 251, Sthil has once again delivered on this reputation and designed a product that is well suited to the vast majority of people looking for a domestic chainsaw.
It performs well when carrying out tasks like cutting down small trees as you'll be able to fell them and cut them to size in no time. Of course, they're useful for work on larger trees too, but more as a supporting tool as they are ideally designed for pruning larger trees or cut them up once already felled.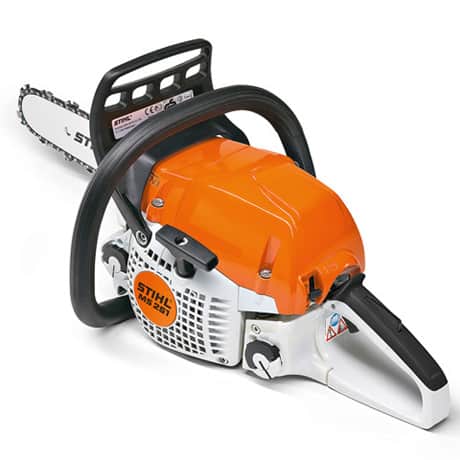 Its lightweight and compact design make it ideal for anyone to use. That includes those who may usually struggle with the bigger and heavier designs. Its ergonomic features and simple operating system also make it easy for those who regularly use chainsaws to get their yard work done.
The features that Sthil outlines as being core to the MS 251 seem to work well. In particular, the anti-vibration gives this chainsaw a smooth feel as you cut through trees and branches. It's so important that manufacturers get this right, thanks to the recognized effects of being exposed to long periods of vibration on the arms and body.
The rethought and redesigned control system sees all of the necessary controls and switches brought together in one handy place. In addition, the single lever system mitigates the need for any complicated controls and helps to make this chainsaw perfect for domestic use as even those with little experience can operate it.
While it is a more compact model with a smaller cutting arm than many heavy-duty models, do not be fooled into thinking this is a low-powered machine. For domestic use, this is more than capable of getting the majority of jobs done, from cutting down trees in the yard to clearing foliage and chopping firewood down to size.
The ergonomics and overall feel of the chainsaw are solid while still retaining its agility. This is designed by an experienced company thanks to its excellent handling, comfortable auxiliary handle, weight, and smaller blade length. This extra handle allows you to cut up into small branches just as easily as cutting down into them and means you can position the chainsaw as required when performing tasks like cutting firewood.
Pros of the Stihl MS 251
This agile domestic chainsaw comes packed with features that make it great for use around the yard at home. Here, we'll take a closer look at how those translate into positives that you can expect to benefit from should you decide to go ahead and get yourself one.
Lightweight
At the core of what the MS 251 does is its agility and ease of use. So naturally, the domestic user values these traits much more than raw power or a 28-inch cutting arm. At just 10lbs, almost anyone will be able to wield one of these chainsaws should they need to.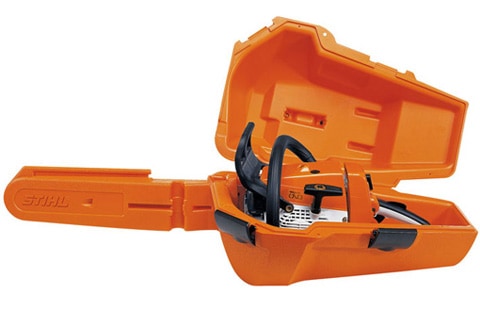 Although it does sacrifice some power for its agility, this doesn't affect its ability to tackle smaller jobs one bit. There is a fine balance between sacrificing too much power and getting it to spot on; we think Stihl has done a fine job with the MS 251, making it a great fit for anyone in the market for a domestic chainsaw.
Features That Help You Work For Longer
Several clever design inclusions will help you work better and for longer. For example, the anti-vibration technology helps guard against long-term health problems and fights the number one cause of fatigue when using power tools. The vibrations generated from the engine cause your hands and forearms to get tired much quicker than the rest of your body.
The tool-free filler caps are another example of features that help speed up your work. No having to mess around finding the right tool to access the fuel and oil reserves. Instead, simply pop the catch open to access them. This can also be done while wearing protective gloves to speed the process further up.
Extended Chain Life
Stihl's ematic chain lubrication system keeps the chain from ceasing up automatically, which means you do not need to think about applying lubricant yourself. If the chainsaw is only being used repeatedly, this can become a serious cause for malfunction and maintenance issues. By having the automatic system in place, you don't need to worry.
Reduced Air Filter Maintenance
The advanced air filtration mechanism we touched on earlier reduces the need for maintenance checks dramatically. A common issue with gas-powered tools is that air filters get clogged, starving the engine of oxygen and causing issues.
Thanks to this design feature, the MS 251 can expel the largest bits of debris automatically, helping save you both time and money when it comes to maintenance.
Cons of the Stihl MS 251
As with most products, there are several downsides to consider before taking the plunge and getting yourself one.
Price
The Stihl is by no means an expensive chainsaw. On the contrary, it's one of the best small/mid-range chainsaws around for a few hundred dollars. The issue is that several competitors produce many more chainsaws for the same price or even slightly less.
It is not too much of an issue if you like the Stihl brand on your products, but it could prove food for thought for those looking for the best value.
Are There Any Alternatives?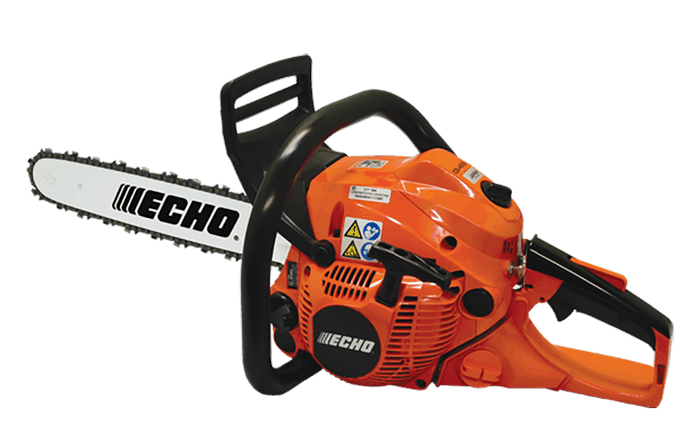 The Echo CS-490 is regarded by many to be the best in class at this size. It features a similar power output, engine size and weighs roughly the same but comes loaded with even more tech and state-of-the-art features. Some of them are worth having, like the inertia-activated chain brake, which has been a staple of most chainsaws built in the last 5 years.
Echo cs-490 Profressional Grade Chainsaw | Amazon
The ECHO CS-490-20 features a 50.2cc professional-grade 2-stroke engine and 20 in. bar. At 10.6 lbs., it's the lightest weight saw in its class. Great saw for large landowners, farmers/ranchers, firewood cutters and homeowners.
Buy at Amazon.com
We earn a commission if you make a purchase, at no additional cost to you.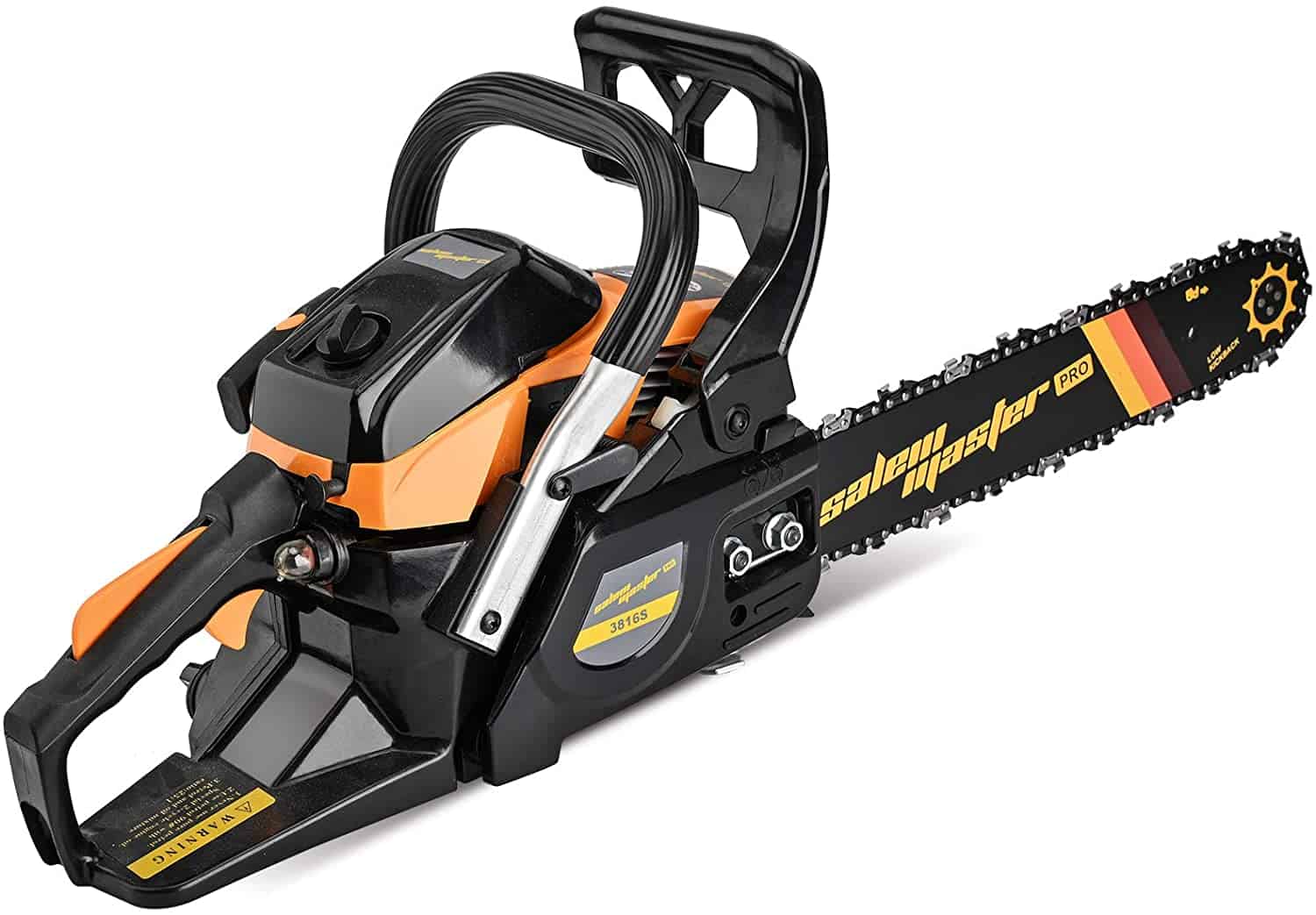 The Salem Master 38cc chainsaw is another great alternative to the MS 251. It offers much of the same functionality, similar power, and lightweight design as the Stihl at a much lower price point. Unfortunately, it doesn't come with the same amount of features as the Stihl does, but that is expected at a reduced price.
Salem Master Gas Chainsaw | Amazon
Salem Master 38cc 1.9hp powerful gas chainsaw delivers steady power to the 14-inch bar and low-kickback chain. The engine speed can be up to 8500 rpm. Ideal tool for cutting firewood and felling trees with much higher efficiency.
Buy at Amazon.com
We earn a commission if you make a purchase, at no additional cost to you.
Frequently Asked Questions
Question: What protective clothing is required when operating a Stihl?
Answer: To protect against the risk of injury, anyone operating a Stihl chainsaw needs to wear the following protective gear; snug-fitting clothing with long sleeves and full-length pants, protective gloves, a hard hat, protective glasses, and sturdy footwear.
Question: Where do I find the serial number?
Answer: Serial numbers are usually found stamped on the motor housing or crankcase. They will be to the right or left of the muffler as you look down on the chainsaw. It will be a 9 digit number that begins with a 1, 2, or 5.
Question: Why does my chainsaw flood?
Answer: Engines will usually flood due to too many attempts to start the machine with the choke engaged. Be sure to follow the starting procedure found in your instruction manual, as this will inform you how best to start your saw. A good rule of thumb is to remember that when using the full choke setting, more gas, and less air into the combustion chamber will increase your chances of the engine firing.
The Final Say: Is The Stihl MS 251 a Good Domestic Chainsaw?
The MS 251 has been proven time and again to be one of the top-rated domestic chainsaws around. It comes from a highly respected and reputable manufacturer and features the right balance of power, features, and weight reduction to make it easy to use in any home.
While it doesn't provide the necessary power to work well in a professional capacity, if all you need is smaller trees felling around the home or firewood prepared for the winter, the MS 251 could be the perfect chainsaw for you.
If you like the sound of the Stihl but aren't committed to buying from a big brand, bear the alternatives that we mentioned in mind. Both the Echo CS490 and Salem Master are great choices too.
Echo cs-490 Profressional Grade Chainsaw | Amazon
The ECHO CS-490-20 features a 50.2cc professional-grade 2-stroke engine and 20 in. bar. At 10.6 lbs., it's the lightest weight saw in its class. Great saw for large landowners, farmers/ranchers, firewood cutters and homeowners.
Buy at Amazon.com
We earn a commission if you make a purchase, at no additional cost to you.
Salem Master Gas Chainsaw | Amazon
Salem Master 38cc 1.9hp powerful gas chainsaw delivers steady power to the 14-inch bar and low-kickback chain. The engine speed can be up to 8500 rpm. Ideal tool for cutting firewood and felling trees with much higher efficiency.
Buy at Amazon.com
We earn a commission if you make a purchase, at no additional cost to you.
Continue reading and see how the Stihl MS 251 compares to Stihl MS 271.