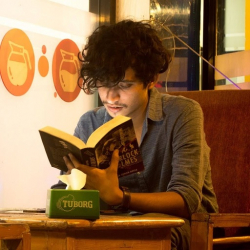 Latest posts by Sandesh Kc
(see all)
The STIHL MS 291 chainsaw is a powerful and feature-packed chainsaw by STIHL that isn't just yet a professional chainsaw but almost performs like one.
When it comes to chainsaw manufacturers, STIHL has been one of the most reputed and dependable brands you can find anywhere around the world and they continue to maintain their top-brand position with each of the chainsaw models they produce.
However, when you are on the hunt for a new chainsaw in the market, choosing the right model that best fits your needs is a challenge even if you have narrowed your options down to market leader brands like STIHL and Husqvarna.
So understanding what a specific model of chainsaw is best fitted for and what are the key features of the chainsaw is, is very important.
You also need to understand the proper way to use the chainsaw to make the most out of it and make it last for years, especially when the chainsaw costs you a princely sum of money.
Related: Is STIHL a Worthy brand? Find out here.
So today, in this Stihl ms291 Review we're going to be looking at all those things and more about the STIHL MS 291 chainsaw model so that you can decide whether or not this is the chainsaw for you. And it most likely is if you are looking to upgrade your sawing game with a powerful yet user-friendly and low maintenance chainsaw.
Product Specifications of the STIHL MS 291 Chainsaw

STIHL aptly markets the MS 291 as a high-performance and fuel-efficient chainsaw. This professional gas-powered chainsaw runs using 3.76 horsepower from a 55.5 cc engine, which is a 2-stroke engine with a 2-mix system.
The powerhead is 12.3 pounds and gives us a power-weight ratio of 0.305 HP per pound. The 2-mix system engine technology is designed to burn through less fuel and it delivers a 20% fuel efficiency compared to the previous STIHL chainsaws.
The 20-inch bar is the biggest bar that this machine will take and the oiler is not an adjustable one. Also, there is no decompression valve provided in the MS 291.
All these specifications are impressive in themselves as can be expected from the standard features of all STIHL chainsaws, but STIHL has packed this chainsaw with tons of additional features and technologies, that we'll discuss later in this article, which makes this chainsaw extremely powerful, user-friendly and fitted for serious timber operations.
| | |
| --- | --- |
| Manufacturer | STIHL |
| Model No: | MS 291 |
| Type: | Gas-powered Chainsaw |
| Powerhead Weight | 12.3 lbs |
| Bar Length | 16 inches (Recommended) -20 inches |
| Engine | 55.5 cc |
| Engine Power | 3.76 bhp (2.8 kW) |
| Fuel-Capacity | 16.9 ounces (500 ccs.) |
| Chain Oil Capacity | 8.12 ounces (240 ccs.) |
| Chain Type | Oilomatic Chain, .325 RM3 |
| Vibration Level | 4.5 left/right m/s2 |
| Cylinder | Chrom |
| Anti Vibration System | AV+Stahlfeder |
| Bumper Spike | Stahlkralle |
| Handle Type | Standardgriff |
| Case Included | No |
The Pros And Cons of STIHL MS291 Chainsaw In A Nutshell
Pros
Powerful 55.5 cc engine
Impressive Air Filtration System
Noticeable Reduction in Vibration
Low maintenance with Automatic Lubrication
Future-proofing with a significant reduction in emission
Accessibility with Master Control Lever.
Cons
No compression release like that of other professional STIHL chainsaws
Might feel a bit overweight during extended usage
Reported engine flooding issues
Users have reported issues like piston melting.
STIHL MS291 Chainsaw Overall Performance Review
STIHL MS 291 is one of those rare chainsaws which has achieved lots of positive reviews and feedback from all types of customers ranging from professional lumberjacks to absolute beginners.
However, this chainsaw is best suited for individuals who have a fair bit of experience in using chainsaws to fell trees and especially to make firewood.
For someone looking to upgrade from mid-level performance chainsaws to semi-professional chainsaws, the STIHL MS 291 can be the best upgrade, especially because of its ergonomic design and its high endurance and performing ability in working continuous hours.
You can place the MS 291 at the "farm and ranches chainsaws" category since it neither can be placed among the lesser powerful chainsaws by inferior brands nor can it compete with the real professional massive chainsaws made by brands like STIHL itself and Husqvarna.
The MS 291 is ideally suited for felling small to medium trees, cutting logs into sections for firewood, timber construction and other small sawing operations.
The impressive product specs discussed earlier and some of the other key features which we'll discuss in detail below makes the experience of using this chainsaw very smooth, ergonomic and most importantly, efficient. This chainsaw is a successor to the popular MS 290 and it sure performs like one.
Key Features of the STIHL MS291 Chainsaw
Pre- Separation Air Filtration System
The Pre- Separation Air Filtration System is a unique technology that offloads the work that your air filter will do by adding a pre layer of dust particle separation with the use of air drawn into the engine. Using a swirling motion or a centrifugal force, the heavier and large dirt particles are separated in this stage.
Then the usual air filter will do the trick of capturing the smaller dirt particles before the air is ejected. In layman's terms, the air coming out will be filtered twice using different mechanisms and less dirt will accumulate on the air filter increasing its lifespan.
STIHL claims to double your air filter cleaning time with this new pre-separation air filtration system. But with little extra care and by using the option to add accessories like the HD2 filter, you can even extend your air filter life by even more than that.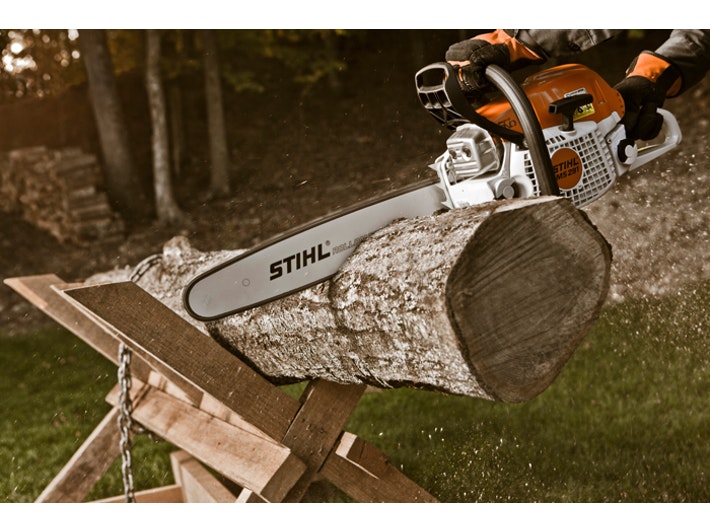 Anti-Vibration System
We all know that using a power tool takes a toll on your body. Especially for a power tool like a chainsaw with extreme levels of vibration, it harms the health of your blood vessels, muscles, spine and your whole body.
So, before choosing a chainsaw for you, it is extremely important to consider the anti-vibration system used in the chainsaw. The STIHL MS 291 uses an AV + Stahlfeder Anti-vibration system that significantly lowers the level of vibration that reaches your hand despite being a high powered chainsaw.
This not only is good for your body but also helps you make the cuts more accurately with low levels of vibration.
Highly efficient Combustion Technology
An efficient combustion technology generally means that it uses less fuel and generates higher power with lower fuel consumption.
The combustion technology used in the MS291 uses 4 overflow channels that result in an air and fuel mix ratio. This fuel-air mix ratio enhances the combustion and even increases the performance of the chainsaw by allowing it to reach a higher torque and RPM.
Reduced Emission 2-Mix Engine Technology
The advanced 2-mix engine technology is advantageous in terms of its effectiveness, good lugging power, environmental friendliness, economical nature and future-proofing the machine. But all of these advantages can be tied down to the reduction in emissions caused by this engine technology.
You can find a "caring for nature" seal on the engine which means that the emissions levels are not only within the emission standards but will continue to be so even if the standards are made stricter in future.
To be precise, STIHL claims a 20% reduction in fuel consumption and an impressive 50% reduction in emissions compared to its previous products.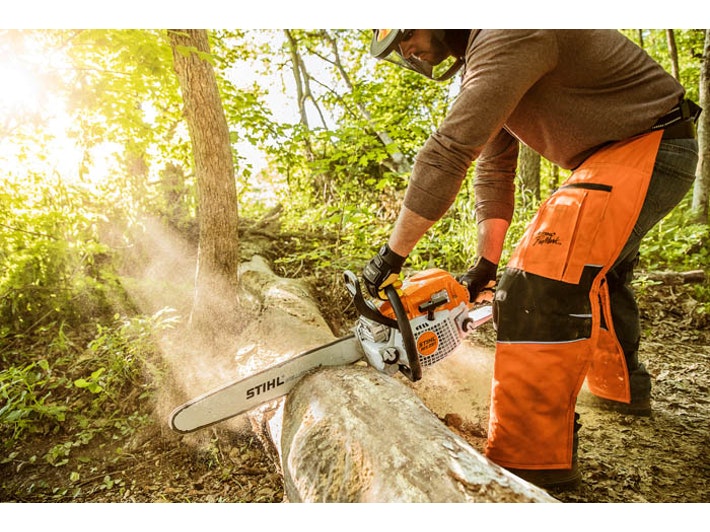 Compensator
We just discussed that the 2-mix engine technology and the combustion technology reduce both the fuel consumption and emission levels. But it comes with complications of the improper mix of air and fuel due to blockage of the air filter. This can result in the engine getting shut down or damaged faster.
To solve this problem, a compensator is installed in the MS 291 that regulates the fuel amount that enters the carburetor to match the air being flown in through the air filter.
The compensator used in this chainsaw is the IntelliCarb Compensating Carburetor which unlike the other common carburetors does not utilize air from the dirty airbox but instead regulates the fuel to match with the air flowing in.
What it means to us average users is that by maintaining this intricate balance, we will have our chainsaw running smoothly and powerfully at all times.
Easy Side Access Chain Tensioning
We know that oftentimes, what makes a chainsaw or any other tool better than the rest is not in its engine performance but how easy it is to operate in day to day operations. The easy side-chain tensioning feature provided in this chainsaw makes it very easy to tighten or loosen your chain with a bar wrench.
This is a very valued feature among chainsaw users because an imperfectly tightened chain in a chainsaw can not only reduce efficiency but can have serious consequences. Just use a bar wrench on the chain tension located accessibly between the bar nuts.
Automated Lubrication System
A well-lubricated chainsaw is vital to its peak performance. Manually oiling the chainsaw is not a big task in itself but having to do it regularly can be quite frustrating. Automatic lubrication is a feature that we are getting to see in a lot of chainsaws but it doesn't work perfectly as it does in this STIHL MS 291 chainsaw.
With this chainsaw, you can be assured that all your chain links and the guide bar rails will always be well lubricated as long as you keep filling in the oil.
Make sure to always go for the recommended Oilomatic saw chain since it reduces the need for lubrication in the first place by up to 50%.
Easy Control and oil Filling Features
Another noticeably effective feature is that all of the functions you will need to fully use your chainsaw are performed using one lever that is right in the line of your thumb.
You can start, choke, throttle and stop your chainsaw with the single lever without having to take your hands off the handle and it makes it very easy to operate the saw at all times.
Another small but important feature is the tool-free opening of the oil tank caps. You can open the caps with just a flip-up, half turn and pull out motion and it is as simple as it gets.
Winter & Summer Shutter
You'll find yourself using this versatile chainsaw in snowy winters as well as sunny summers. A machine that cannot adjust to its working environment is prone to lose its efficiency over time.
So, to ensure that this chainsaw, and especially the IntelliCarb Carburetor runs in optimal temperature, all you need to do is adjust the Winter/Summer shutter correctly.
Safety Features of the STIHL MS291 Chainsaw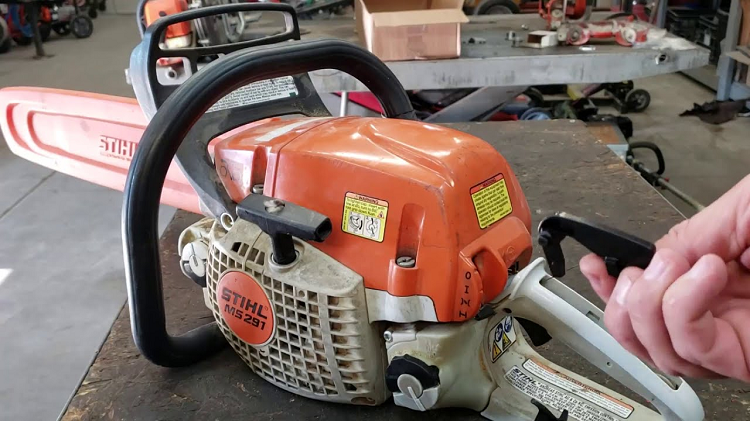 When you purchase a high-end power tool, you want to be assured that along with the safety precautions you'll adopt while using it, your tool itself comes with adequate inbuilt safety features to prevent both minor and major accidents.
Fortunately, the STIHL MS 291 comes with a quick-stop chain brake and a front handguard ( which is common these days in almost all good chainsaws) that act instantaneously to stop the chain and prevent your hand from any danger.
This QuickStop brake is activated either by your hand or by the inertia when the saw kicks back with adequate force and is effective in breaking off the chain motion in no time.
Moreover, kickbacks are greatly reduced by the handle with a loop-handle grip by increasing your control over the chainsaw.
STIHL is very serious about its customers – yours and my safety, which is why it has a special colour coding system with green and yellow colors which must be referred to while selecting the power-head, bar and chain combination.
This enables us to achieve minimal kickbacks. Instead of me expanding the system here in this article, you should consult with your STIHL dealer while making the purchase.
Finally, on the STIHL webpage, it is mentioned that the use of green-reduced kickback bars and green low kickback bars are always recommended on every chainsaw by the brand.
How to Maintain your STIHL MS 291 Chainsaw
While these safety features act to keep you safe during woodworking, you also need to do your part to keep the chainsaw safe and in perfect combination so that it cuts properly and runs smoothly, further ensuring your safety.
The first thing you can do for the maintenance of your chainsaw is to read the product instruction manual properly. Another obvious decision for extending the life of your chainsaw is to store and transport it only in a case.
Although this chainsaw doesn't come with a case, you can get one from STIHL and it will protect your chainsaw from any physical injury.
Again, referring to the aforementioned colour-coding system when choosing the correct bar and chain combination is as important for the chainsaw as it is for you.
To be precise, for the STIHL MS 291, the best chain is the oilomatic chain and the recommended bar length is the 16-inch bar although bars up to 20 inches are often used in this chainsaw without any significant problem.
Proper care should also be given while choosing the fuel for this chainsaw. Your chainsaw will not endure any harm as long as you use fuel with less than 10% of ethanol content. Always make sure to use high-quality oil that is high-octane and low ethanol.
You need to perform maintenance and care activities like inspection, checking parts, cleaning, repairing, or sharpening and replacing. These activities should be carried out periodically for specific parts of the chainsaw.
For more detailed instruction on the maintenance and care of the STIHL MS 291, please refer to page no 52 of the instruction manual mentioned above.
Comparing STIHL MS 291 with Alternative Chainsaws and Which one to Buy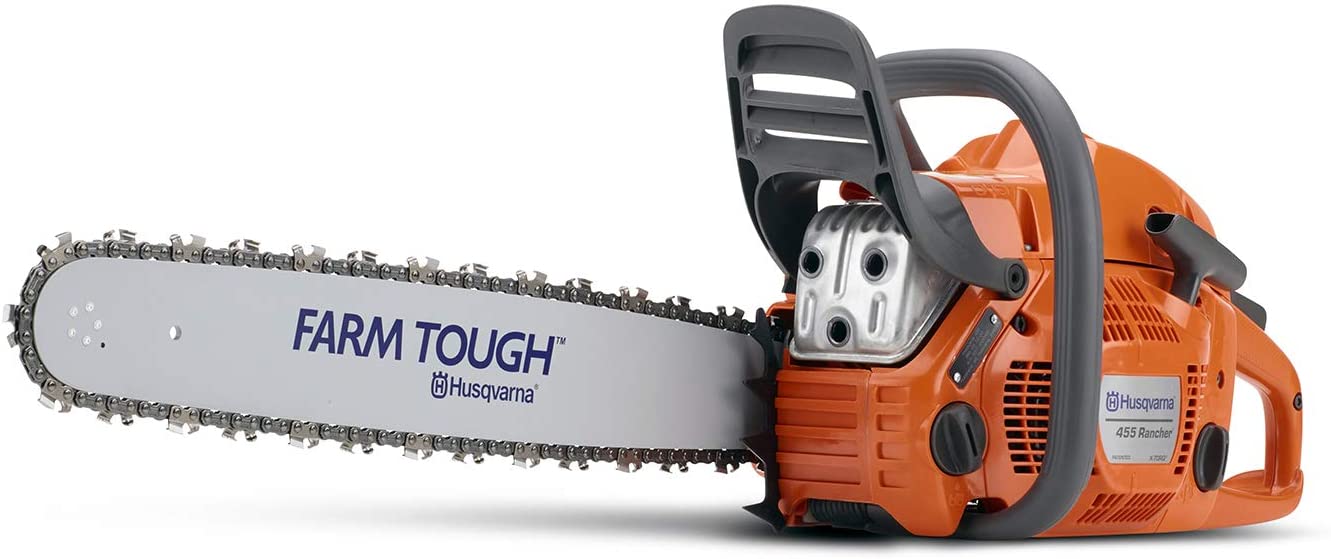 The closest competitor to our STIHL MS 291 chainsaw is the Husqvarna 455 Rancher and there's a lot of debate surrounding which one is better.
They are comparable in a lot of aspects like the 55.5 cc engine, around 12 lbs of weight, similar power of around 2.7 kW and also in the features like reduced vibration, air filtration, low emissions and other safety features.
Unlike the STIHL which supports 16-20 inches of bars, the Husqvarna supports 18-20 and has a lower rpm. The Husqvarna is often easier to start and doesn't report as much flooding issues as the MS 291.
You can't go wrong with either of these if you are looking for a farmyard chainsaw and the choice comes down to personal preferences. I prefer the STIHL brand from personal experience but you need to choose based on the pricing and availability of these chainsaws.
Best Gas Powered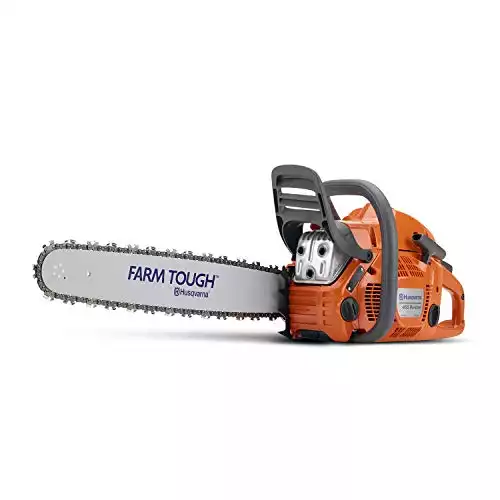 Husqvarna 20 Inch 455 Rancher Gas Chainsaw | Amazon
This gas powered chainsaw is ready to cut trees, whether you need to prune, limb or cut firewood. The ergonomic design of The Husqvarna 20" 455 Rancher gas chainsaw allows the homeowner to handle the power of the saw with ease.
Buy at Amazon
We earn a commission if you make a purchase, at no additional cost to you.
12/07/2023 12:41 pm GMT
Interested? Here's our complete Husqvarna 455 rancher review, find out if it's worth buying.
STIHL MS 261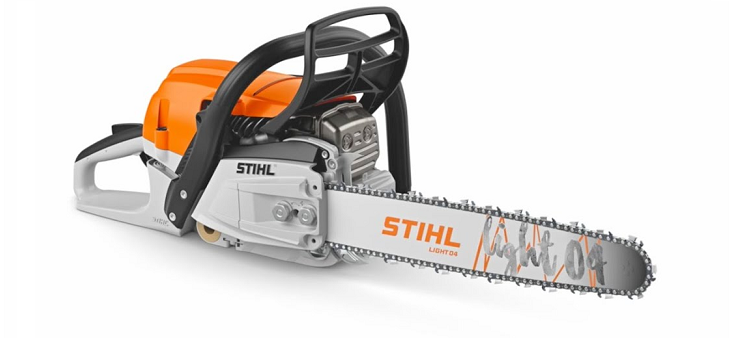 For an untrained eye, the STIHL MS 291 and the STIHL MS 261 look the same with the identical STIHL orange colour, similar size and bar length. However, they are very different in how they work and what they are used for.
The STIHL MS 261 is the STIHL brand's pro series saw and a significant upgrade from the STIHL MS 291 in terms of performance and power.
As a professional chainsaw, the MS 261 benefits from 2 pounds lower weight of the body which is very important when cutting wood for an extended period of time.
The compression release absent on the MS 291 is present on the MS 261, as would be expected from a pro chainsaw which makes it very easier to pull the rope and start the chainsaw with low effort.
The Master Control Lever is even easier to operate in the MS 291 and makes starting the chainsaw so much easier.
The engine power of the MS 261 is 4.0 bhp and it slices through smaller wood and doesn't struggle even with large ones.
The STIHL MS 261 is built for large volume cutting and if cost and chainsaw experience isn't an issue for you, I'd easily recommend you the MS 261 over the MS 291 chainsaw. But if you don't need the pro features and the feel in your chainsaw, the STIHL MS 261 is the one to go for.
Continue reading our comprehensive Stihl MS 261 Review.
Frequently Asked Questions (FAQs)
Question: Is the STIHL MS 291 Chainsaw a Professional Chainsaw?
Answer: The STIHL MS 291 chainsaw by STIHL is a 'farm and ranch' category of saw and wouldn't fit into a professional saw category.
You may call it a semi-professional chainsaw. But there are many arborists and lumberjacks out there who have made this chainsaw their primary chainsaw by recognizing its potential for heavy-duty tasks as well.
However, the MS 291 is best suited for the average firewood cutter to fill his firewood needs or a landowner who constantly requires clearing and felling operations in his medium-sized woodlot or just some general property maintenance. In this category for these usages, it is one of the best chainsaws you can get.
Question: What is the Best Fuel and Oil to Use for the STIHL MS 291 Chainsaw?
Answer: The best fuel to use for the MS 291 is the STIHL Ultra 2-cycle engine oil which is the fuel that will provide you with maximum performance as well as extend your engine lifespan. However, you will be fine as long as you use a high-octane and low ethanol fuel by STIHL with an ethanol level lower than 10%.
As per the bar and chain oil, a good choice would be the platinum bar and chain oil by STIHL.
Question: Why is My STIHL MS 291 Flooding?
Answer: Flooding occurs due to an improper way of starting your chainsaw. The step-by-step guide to starting the MS 291 will most likely resolve the issue of flooding. If it doesn't, you'll want to get your saw checked at the STIHL dealer.
Specifically, the main cause of the flooding is when you pull the starter chord several times even when the saw is in the full choke position. When in full choke position, to increase the ignition chances, more fuel than air is passes into the combustion chamber.
Repeated pulling of the rope can thus cause flooding. To prevent this, if your chainsaw doesn't fire even after several pulling of the rope in the full-choke position, you can go ahead and move the lever to an open-choke position so that less fuel and more air will flow into the chamber to balance it out. This will start the engine and solve the problem.
Question: What Sized Trees or Branches Can I Cut With this Chainsaw?
Answer: It depends on the bar you've got attached to your chainsaw. The STIHL MS 291 can be used with bar lengths from 16 inches to 20 inches. As a general rule of thumb, you can cut branches or trees just 2 inches shorter than your chainsaw bar length.
So, the maximum recommended size of branches you can safely cut with this chainsaw is 18 inches. However, there are other factors into consideration like the type of wood, your experience with chainsaws and working conditions.
Question: What are the Necessary Protective Gears While Using this Chainsaw?
Answer: The more the power of your tool increases, the more you need to be buckled up for your safety. The ideal gears would start with proper clothing that isn't too tight to restrict your movement and not too loose to come on the saw's way.
Also, wear saw-resistant padded trousers and overalls. Other accessories you need to wear are non-slip heavy-duty gloves, sturdy boots, chainsaw helmets as well as earplugs, and a mask.
Question: What do MS mean on STIHL Chainsaws?
Answer:  While often the product names are a short form to one specification or the other, the MS on the STIHL chainsaw line simply stands for Motorsäge meaning chainsaw in the German language.
However, you can distinguish STIHL chainsaw types based on this since MS chainsaws are gas-powered, MSA is battery chainsaws and MSE is electric chainsaws by STIHL.
Conclusion
To sum it all up, the STIHL MS 291 is an excellent chainsaw that shines among its competitors with its unique features, powerful performance, low maintenance and comfortable operation.
The specification of this chainsaw like the 55.5 cc engine, high RPM, 3.76 HP engine power, etc places it among the top lists of the farm chainsaws available out here. However, its additional features have made it one of the widely used chainsaws in ranches and farmhouses across the country.
If you are buying this chainsaw from within the States, you'll also be glad to know that most of the gas-powered STIHL chainsaws sold in the US market are made here.
Although slightly heavy for continuous use, the anti-vibration system comes to the rescue of your arms while the reduced emission technology and pre-separation air filtration system ensures environmental friendliness and compliance with legal standards.
The master control lever and tool-less cap openings made the experience seamless and very productive.
However, I prefer the MS 261 C chainsaw by STIHL, which is a professional brother to the MS 291 with a couple of pounds lower weight that makes it suitable for extended usage as well.
And you also might want to consider it since the price difference between the two isn't huge compared to the professional features you'll be getting.
Nevertheless, the MS 291 is an excellent chainsaw for anything firewood-related, felling medium-sized trees, clearing lands, and managing your property. Finally, make sure to follow this guide while starting and using this chainsaw to make the most out of it.