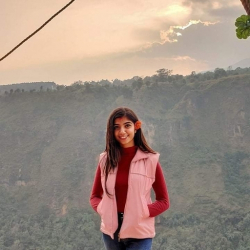 Latest posts by Rukmita Ghimire
(see all)
Pruning your tree is exactly similar to trimming your hair – for a good look and most importantly removing damaged, diseased branches –  just like split ends of your hair. This is where you'll need a tree pruner- to shape your trees which are a bit of an eyesore.
Tree pruner covers a variety of tools: pole saw, looper, pole pruner, and compound pruner. Every tool is manufactured with a common purpose – to prune the tree but requires a different level of skill and strength.
When it comes to power tools, there's always an advantage or disadvantage to working with them. Each of these pruners also has its own advantage and limitations about the reach, diameter of branch, and maneuverability.
One of the confusing tasks about the purchase of any power tool is the selection of the best. Choosing the right tree pruner will be a tough task if provided with dozens of options in front of you. This is where our guide will be of great help.
We'll include our top picks of tree pruners with their pros and cons, provide decision-making tips to guide you to find the best tool for your need.
Different Types of Tree Pruner
Based on how the tree pruners are powered, they are divided into three main categories. Let's take a look at what each of the tree pruners has to offer you.
1. Manual Tree Pruners
As the name suggests, these pruners solely rely upon your skill and strength. These are the lightweight pruners that are convenient to work with especially on those overhead branches.
The manually operated pruners do come with extended options, but what really bothers is – you are the engine/motor. It's all fun until you need to prune more than just a couple of trees. If so, you'll soon get tired out – which brings us to the next option, electric tree pruners.
2. Electric Tree Pruners
Electric tree pruners come with two options – Corded and battery operated.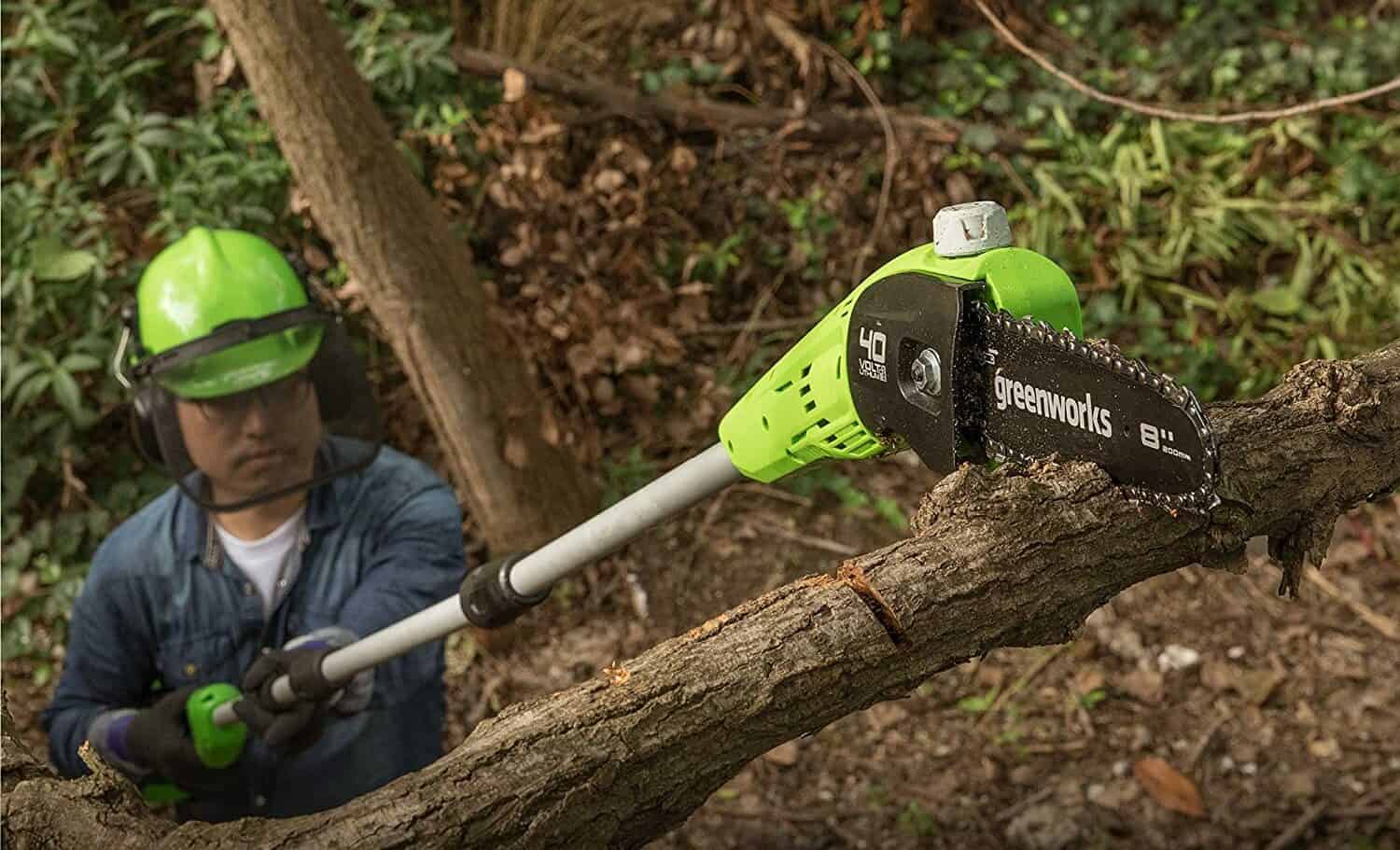 Corded Electric Tree Pruners
These tree pruners are usually considered as most affordable options. You can use these machines to prune the trees around your house or in small garden areas.
The downside of this machine is that the usage is limited only to the amount of cable they are attached to. If you choose to perform at quite a distance, you may need an extension cord.
Battery Operated Tree Pruners
The major advantage of using a battery-operated tree pruner is it is not limited to the amount of cord it's attached to. This means it has enough mobility and will give you unrestricted freedom of movement.
Having said that, your working time will be dependent on the power of the battery remained in the pruner. So, while looking at these models, you must be careful and check how many cuts can it make per charge. This will give you a clear idea about how much work you can do per charge. The model with higher voltage will make the pruning jobs faster.
3. Gas Powered Tree Pruners
These models are the most used by commercial tree pruners for some heavy-duty work. Gas-powered pruners are heavy and are the most powerful among the above-mentioned models. If you have a yard with a large area and huge trees, this model is best for you.
But, there are few things you should be clear about beforehand. Gas-powered tree pruners emit fumes and are noisy, and heavy to use. If you've got a two-stroke engined pruner, you must also know – how to create the right fuel mix.
Whether it's manual or gas-powered, the price of the tree pruners is quite the same. The pruner that fits in your budget is easy to find- that means you should start by considering your needs to find the right pruner. And to find the right pruner, you must be familiar with the tools.
Listing out here are a variety of tree pruners tools:
Pole saws
In simple terms, pole saws are the saws fixed on the extended poles. They might be manual, gas-powered, or electric — reaching up to the height of 8 to 12 feet. If you're willing to cut the branches with a big diameter, say up to four inches, a gas-powered pole saw is perfect for you. Manual operated pole saws are used to cut the branches with a comparatively small diameter.
Loppers and Pruners
Loppers and pruners are manual blades used for cutting branches with 1-2 inches of diameter. Pruners are one-handed tools operated in smaller branches with an inch or less diameter. Loppers provide you extra leverage with long handles and are two-handed tools – cuts bigger branches of 2 inches in diameter.
There are again two different categories of loppers and pruners:
Bypass: These models are used to cut the living branch – to get the perfect cut so that there is less mechanical injury to the tree. A bypass lopper or pruner has two curved blades exactly like that of scissors. The blades must be razor-sharp creating a clean slice.
Anvil: This pruner or lopper is appropriate for quickly cutting the dead branches. Anvil pruners or loppers contain a straight blade that crushes a branch into an opposite flat piece. The cut isn't as sharp and precise as bypass, hence is suitable for removing dead branches.
Pole Pruners
Pole pruners are of great length and are the longest pruning tool available. They can reach the height of 21 feet – many of them are telescopic, reaching branches at different heights. They are operated by rope or handle.
What to Look for in a Tree Pruner?
Spending money can be a tough job if you can't see the perfect tree pruner in your mind's eye. You must be very clear about the product of your need. Here we've outlined the feature you must seek so that the product worth every penny.
1. Weight of the Tree Pruner
Till now, you're well known about the fact that you've to carry and operate the pruner by yourself – without resting it on anything. You must be able to carry the pruner, feel comfortable with it and operate it with good control – from the ground.
Manual pole saws are designed with lighter weight followed by electric pruners being a bit heavy and gas-powered pruners being the heaviest.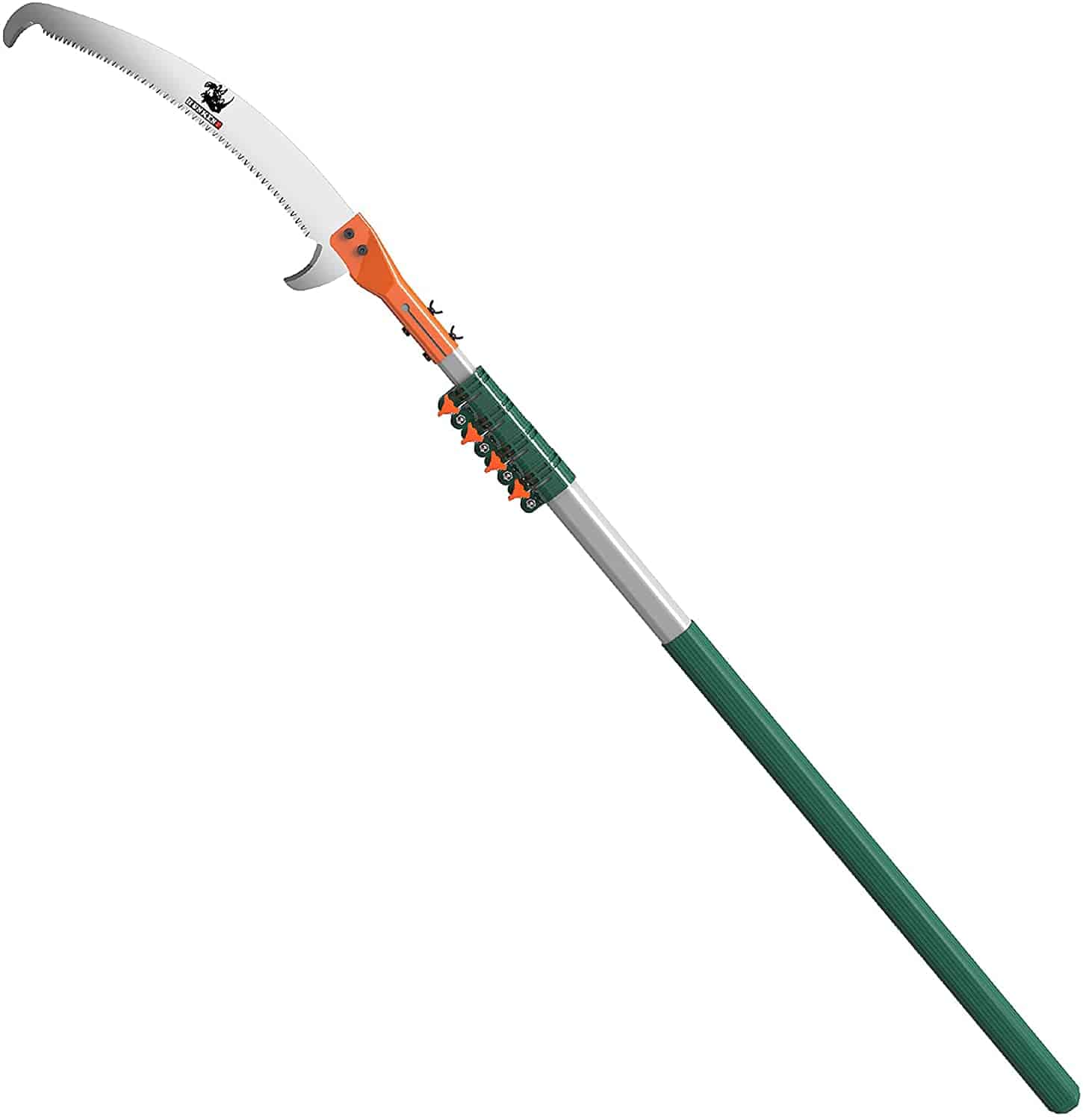 2. Length of the Pruner
The major reason you want to buy a tree pruner is to avoid the use of a ladder. Having said that, the height of the pruner becomes a major feature to look for while buying one for you.
Each, long pruner and short pruner has at least one downside. A long pruner, though, will reach most of your desired heights but are hard to control. While a short pruner may not reach a branch at a certain height.
So make sure you take a thorough tour of your backyard or the tree you need to prune and select an appropriate pruner for them.
3. Versatility of the Pruner
The product which can be used in more than a single way really amazes us. The same is the case with tree pruners. There are compound pole saws that make removal and re-attach of the blade possibly easy whenever you need them.
4. Blade Design on Pole Saws
Blades on pole saws are the business product, the design of the blade matters a lot. There is a high chance that the plant residue may accumulate on the blade. So make sure that the blade features a high carbon-steel metal and is rust-resistant. Serrated blades are much of work since it cuts the branch with less fatigue.
5. Quality
Quality is all that matters in any product. You would rather compromise other features but the quality of the product should be top-notch. Go through several reviews before picking your tree pruners. These will give you a hint about the low or high quality of the product.
Best Tree Pruners 2021
1. Black+Decker 20V Max Pole Saw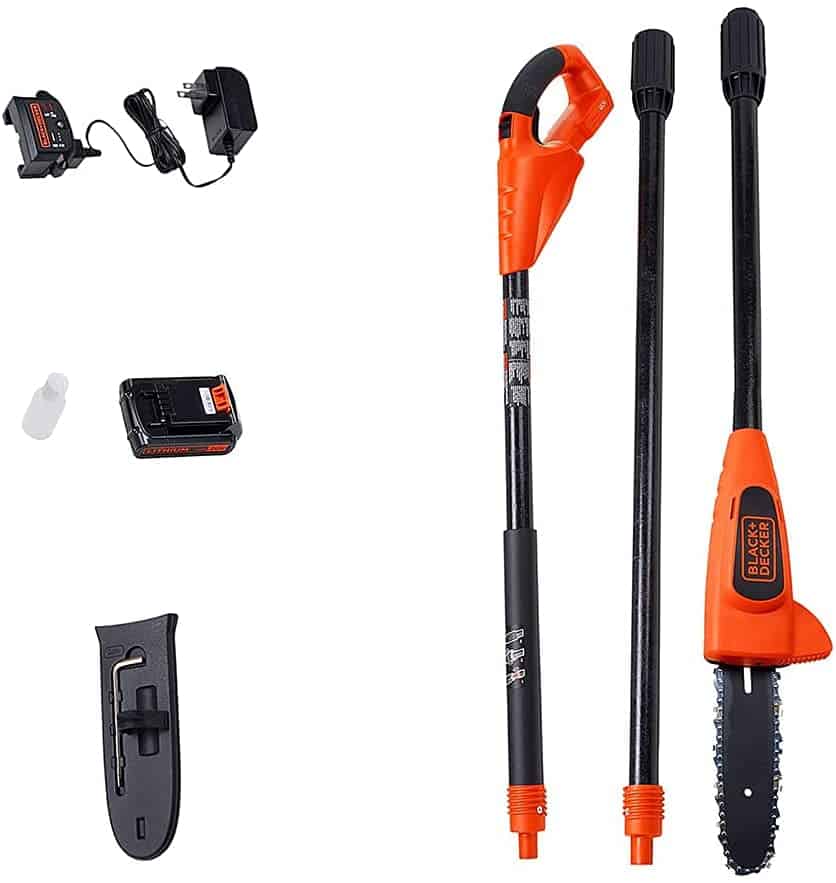 Black and Decker is one of the trusted brands in outdoor machinery. Black+Decker 20V Max Pole Saw is lightweight, featuring a fiberglass pole that can reach the height of 14ft. It has an 8 inches bar and chain for clean cuts on branches up to 6 inches in diameter.
Pros
It is an electric pole saw leaving zero-emission to your yard
The battery of 20V Max Lithium-Ion with long life span and charges 5 times more than other NICD batteries while idle
This battery provides up to 100 cuts of 1.5 inches branches per charge
The center extension of the pole helps you for maximum reach
In-line powerhead provides easy visibility between branches
Lightweight and cordless – easy to maneuver
Cons
The base is heavier than the cutting edge – can be difficult to balance
2. Fiskars 14 inch Extend Tree Pruner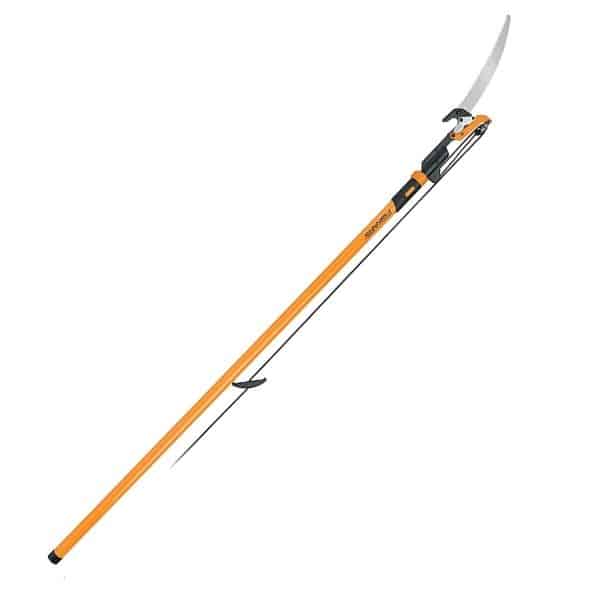 Fiskars 14 inch Extended Tree Pruner is another lightweight tree pruner that can reach the height of 14 ft. Thanks to its Power-Lever technology feature, it cuts high branches with a 2X more power sturdy tree trimming system.
An oval-shaped, lightweight yet strong pole reduces the flex and fits at the natural shape of your hand, and allows you to control the direction of cut. It gives powerful cuts and trims large as well as small branches with a two-in-one trimming system.
Pros
Includes steel pruner to trim branches as thick as 1-1/8 inch and 15-inch WoodZig saw for cutting thicker branches
To reduce the chances of rust and gumming, this pruner is provided with low-friction coating
An advanced double-locking system ensures the extended pole stays put
This model has a full lifetime warranty
Cons
The wing nut can sometimes come loose.
3. Sun Joe 8-Inch Telescoping Electric Pole Chainsaw
Sun Joe 8-Inch Telescoping Electric Pole Chainsaw is an ideal tree pruner for you if you want to tackle those hard-to-reach branches with ease. All you need to do is, just stand on the plain ground and adjust the Sun Joe's telescoping pole chainsaw.
This tool has an overhead reach of 15 feet and is powered by a motor of 6.5 amp. Thick and stubborn branches are of no worries with this pole chainsaw.
Pros
Power of 6.5 amp runs with a speed of 6000 rpm
The chainsaw can cut branches up to 7.5 inches thick
Sun Joe telescoping pole chainsaw is featured with an 8-inch cutting bar and chain that has automatic chain lubrication
The pole comes with a comfortable foam grip and the model is easy to start
Since it is electric, no chances of fumes and emissions
The safety switch at the base prevents accidental starting
Cons
Oil reservoir leaking has been reported in several cases
4. TABOR TOOLS GG12A Anvil Lopper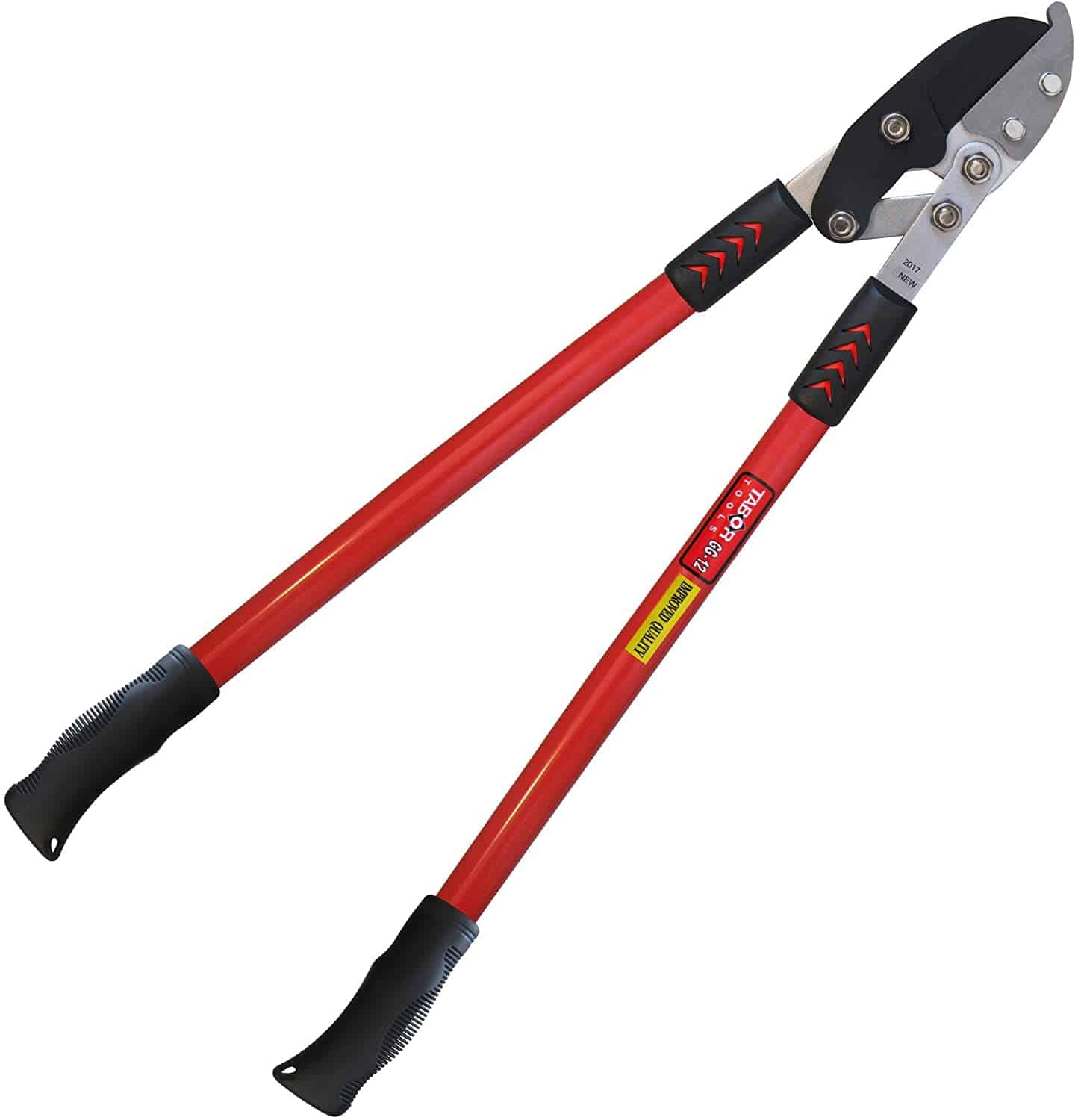 TABOR TOOLS GG12A Anvil Lopper is an excellent tool for both green and dry wood. It gives you comfort while in operation because of its ergonomically contoured grips, innovative mechanisms, and coated blades.
The upper blade of the Anvil lopper is narrower while the lower blade is wider. Think of it like a knife on a chopping board. The wide anvil works as a support system in order to avoid crushing the bark. And the narrow/curved anvil provides an easier cutting action.
Pros
This lightweight lopper can chop through 2-inch branches and can reach an overhead height of 30 inches
Its compound action blade feature multiplies the force applied to the blades 3 times
It offers comfortable grip and extra leverage to navigate around higher limbs
Anti-shock rubberized grip on handle provides you extra comfort
Replacement cutting blades are available as well.
Cons
A rough cut may lead to sudden injury
5. Corona LR 3460 Cut 'n' Hold Pruner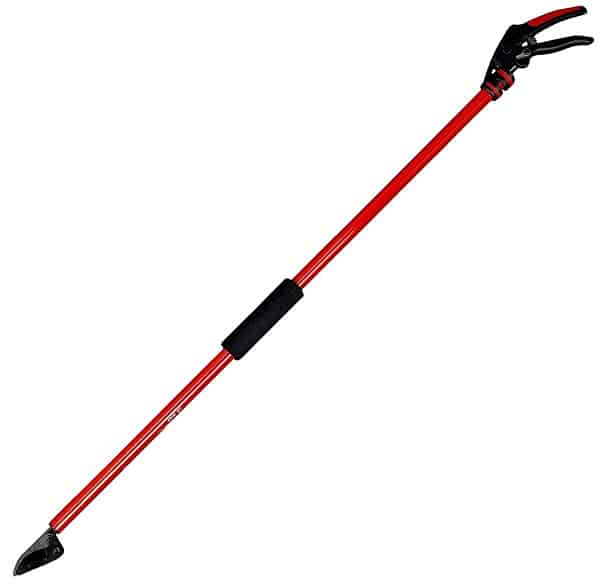 Designed for small twigs, Corona LR 3460 Cut 'n' Hold Pruner is perfect for light-duty works – to cut small twigs. Keeping safety in mind, this model is designed with the Cut 'n' Hold feature. This holds the stem until you release – preventing the falling limbs.
Pros
With this tool, you can cut the limbs which are 46 inches high
Has high-carbon steel blade which is non-sticky and does not attach the residues
Contains ergonomic co-molded handles for comfort
Cut and hold feature hold stem until you release
Cons
Can only cut branches of 0.5-inch thickness
Advantages of Using a Tree Pruner
Pruning a tree not only removes unwanted branches but encourages new growth, helps to produce quality fruit – in fruit-bearing trees. To harvest a quality fruit someday, it really does pay to prune your trees. When it comes to convenience, a tree pruner with an extended or telescopic model reduces the fatigue by enabling you to work from the ground. Adding more to this, we're here to list out some importance of using a tree pruner.
1. Helps in Reaching Higher Branches
It is one of the major advantages while using a tree pruner, trees with a higher canopy are of less worry. The extended model of tree pruner, provided with a saw really does your work in next to no time. If the tree you are trying to prune is situated in uneven topography, they are not going to be an issue with a tree pruner. Along with that, some thorn-bearing trees will not limit you from using the tree pruner.
2. Eliminates the Need for a Ladder
Tall trees with a higher canopy require a ladder to reach the branch of your need. Plainland in that case will be of no trouble, but if the tree is situated on an uneven base, using a ladder can be a risky job. Needless to say, using a tree pruner in this case will let you simply stand on the ground and let it do the rest of your work. Above all, it will keep you safe from injury, and risk of falls.
3. Reduces the Fatigue
An extended pole of tree pruner prevents you from stretching your body to reach the branch. It allows you to trim comfortably reducing the fatigue and tiredness you feel considerably after the pruning task.
4. Reduces the Chance of Injury
If you've ever climbed a tree, you'll get bruised, poked, or scratched. To reduce this chance of injury, a tree pruner lets you reach thick and thorny branches without the need to climb on the tree. Also, it eliminates the chances of fall from a significant height.
Disadvantages of Using a Tree Prune
All that being said, there are some downsides to these tree pruners as well. Let's see if the positive side of the tree pruner can make you ignore the drawbacks or not.
1. Maintenance
For any of the machinery tools, what really matters is to keep them in top-notch condition. If your tool is gas-powered, there are high chances of clogging in the carburetor.
If you are using the tool less than often, that too worsens the condition. You must choose those pruners which have comparatively low maintenance – manual tree pruners can be the ones in this case.
2. Safety
Balance is the key while using a tree pruner. Working on something which is above your height is itself a tough task. Above that, you have to balance the pruner and be able to swing that to a particular degree – that's challenging.
There is always a question mark in safety when you're working with power tools. In such a case, you must be very careful and seek after maximum possible safety features.
Safety Tips for Using a Tree Pruner
Accidents are uncalled guests – it may happen to anyone anywhere. So, it's best to remain cautious and be alert while using the tree pruners or any other power tool for that matter.
We've listed out some of the safety tips you should keep in mind before using the tree pruners.
1. Wear Protective Gears
Since you're working on something overhead, it is imperative that you're wearing safety glasses to protect your eyes. Along with that, these may also include:
Protective helmet
Thick, non-slip gloves
Hearing Protection
Long sleeve clothes
Solid boots

2. Be familiar with the pruner
Before diving into the pruner, study its features and take a thorough read of the manual. Get to know your pruner a lot more like – how to turn it on and how to shut it down. Study about the blades and their comfort features as well.
3. Ensure Stable Surface
As we mentioned above, balance is the key. Choosing a stable surface is most important while using any tree pruner. Ensure that the ground you're standing on is free from any obstacles, has no chances of tripping, slipping, or falling.
My Top Recommendations
1. Best for Large Trees – Sun Joe 8-Inch Telescoping Electric Pole Chainsaw
Sun Joe 8-Inch Telescoping Electric Pole Chainsaw is the best you can get for stubborn and hard-to-tackle branches. A 6.5 amp motored with the reach of 15 feet and capacity to cut 7.5 inches thick limbs – this is the best you can get.
2. Best Cordless Pole Saw – Black+Decker 20V Max Pole Saw
With a 20V Lithium-Ion battery, 8 inches bar, and chain, Black+Decker 20V Max Pole Saw becomes the best choice for cordless pole saws. Since it is battery-operated, emits fewer fumes, and is environment friendly.
3. For Light-Duty Works -Corona LR 3460 Cut 'n' Hold Pruner
Corona LR 3460 Cut 'n' Hold Pruner is a perfect option for you for nearby home chores. Its cut and hold mechanism will protect you from any kind of injury. A high carbon steel non-stick blade makes it more durable.
FAQs
Question: Why is it important to prune trees?
Answer: Over the years, the tree canopy increases which will limit the sunlight penetration, available nutrients and increases the chance of disease and pest infestation. Pruning in those trees reduces such possibilities and increases the chances of new growth. In fruit-bearing trees, pruning increases the quality of the harvest.
Question: When should I prune trees?
Answer: The perfect time for pruning the deciduous tree is late winter (February and March). While the conifers are supposed to be pruned from June to July when the new needles are half grown.
Question: What are the things to be considered while using a tree pruner?
Answer: For pruning, you must choose a day with good weather – neither rainy nor windy. Use both hands while in operation and avoid stretching your body in order to reach above. Make sure you are standing on a plain surface and on one side rather than just below it. Perform exactly as the guideline suggests and try to make a 45 degree cut each time.
Conclusion
Deciding on which tree pruner to buy is solely your decision. We've just put our insights on how is that particular tool. But, if you're using the tree pruner for the first time, it's always better to start with lightweight tree pruners like Corona LR 3460 Cut 'n' Hold Pruner.
However, if you are experienced personnel and looking for something big, we suggest you Sun Joe 8-Inch Telescoping Electric Pole Chainsaw.