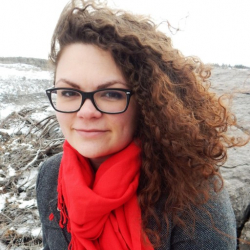 Latest posts by Candace Osmond
(see all)
Everybody loves to have a nice yard, with trimmed hedges and pruned trees, but when it comes to putting in the effort, we're always looking for tools to make our jobs easier.
A cordless pole saw is exactly that kind of tool which is why we're going to address the issues of finding the best cordless pole saw, one with decent battery power, a safe and sturdy construction, and one that left a good overall impression on its users.
At a Glance: The Best Cordless Pole Saws
What Is a Pole Saw?
The simplest definition for this power tool is that it is a saw located at the end of a pole. Naturally, there's a lot more to pole saws than this blunt explanation.
3 Main Types
There are three main pole saw categories: electric pole saws (corded models that require a power outlet to run), cordless units (which are battery-powered and highly portably because you're not limited to power outlet proximity), and gas-powered models (which use gas to function, are very powerful, but also very loud).
Pole Saw Uses
A pole saw is used to reach branches that are difficult to reach with a handsaw. Although the saw is capable of cutting through wood, it is not large enough to completely replace a chainsaw.
If you want to section a tree trunk, a chainsaw must have sufficient power and be of an appropriate size to do so, whereas a pole saw is best suited for tree pruning.
Electric Compared to Gas
Pole saws can be used to chop branches ranging in size from 2 inches to 9 inches in diameter, depending on the power capacity and the size of the tool.
It's important to remember that the best electric pole saw will almost certainly have a lower power output compared to the best gas pole saw, so if the instrument will be used on a regular basis to cut through really thick branches, a gas pole saw is preferable.
What to Look for in a Cordless Pole Saw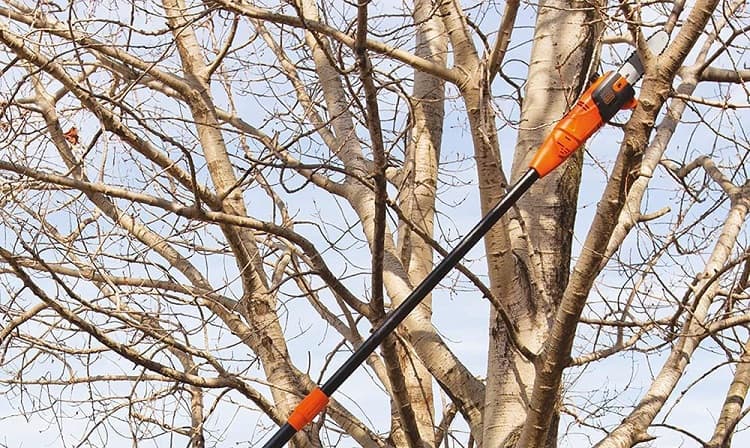 If you've never bought a cordless pole saw before, we've put together a list of features to be on the lookout for which will determine why one pole saw might be better than the next one for your particular needs.
This is also the criteria we used when making the best options for you to consider in this guide.
Length of the Cutting Bar
When using a pole saw, the cutting bar defines the largest branch diameter that can be safely cut. Typical bar lengths are between 6 and 12 inches (8-inch pole saws are the most popular choice).
Gas-powered pole saws have the longest cutting bars (which are typically between 10 and 12 inches in length), which is one of the reasons they are better suited for more demanding operations.
Cutting bars should be at least 2 inches longer compared to the diameter of the branch you're looking to cut. For example, an 8-inch bar would be required to cut a branch with a diameter of 6 inches.
Operating Height
The "working height" of a pole saw is frequently listed on the package, although it does not refer to the actual length of the pole and this is important because a lot of people fall for misleading descriptions of products that promise to reach an impressive length.
The reach that you actually see is the length of the pole plus the length of your arm. Manufacturers often estimate arm length by 2 to 3 feet, thus if a pole saw claims to have a 10-foot operating height, the pole saw will be 7 to 8 feet long.
Work height is typically limited to 10 to 12 feet for pole saws and operating above that point might be dangerous due to the difficulty in controlling the tool, especially in windy situations.
Many types are equipped with telescopic poles, which allow you to customize the length. A telescoping pole makes it easy to move between the trimming that needs to be done at ground level and trimming that requires using the saw overhead.
Weight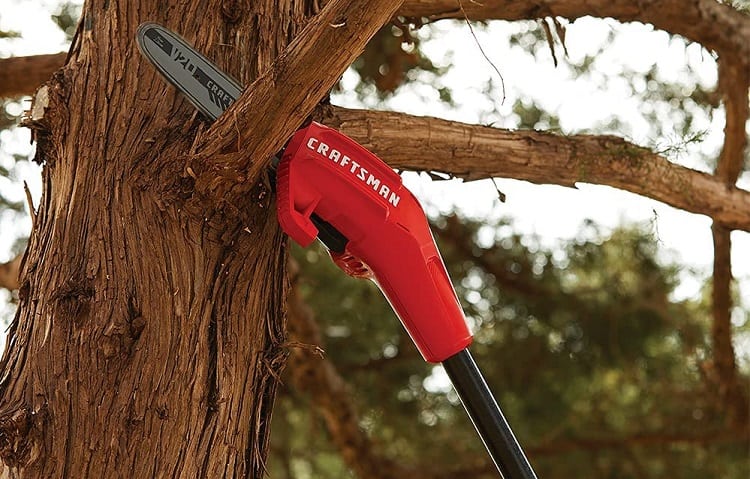 The fact that these tools are not supported by anything other than the user must be kept in mind at all times. This is true even when a telescoping pole is extended to its maximum length, and the weight of the tool must be correctly maneuvered at all times.
In other words, if you don't always have full control over the tool, then it's too heavy for you.
Cordless pole saws usually weigh between 15 and 20 pounds, and they are lightweight compared to gas models, but not as light as corded ones, which usually weigh less than 15 pounds.
Battery Runtime
Cordless pole saws are powered by batteries, which have a normal runtime of 30 to 60 minutes. The runtime of a cordless pole saw depends on the power output and the type of battery used.
As soon as the battery is depleted, it must be recharged. As a result, it is a good idea to keep a backup battery on hand so that one is always charging.
Safety
A pole saw can be an extremely dangerous tool to use, so make safety your number one priority. You should take some time to read over the instructions in order to ensure that you are following the manufacturer's recommendations for use.
It's also important to remember that, while the pole saw may seem comfortable when used at ground level on a hedge, as the pole is extended, the pole saw becomes more difficult to hold onto, maneuver, and maintain control of the saw.
You want to look for features such as handles that offer a good grip or telescopic poles that you can always shorten if you feel you need more control over the tool.
Opt for pole saws that come with blade guards to protect both the saw and you when the tool is not in use.
Popular Brands of Cordless Pole Saws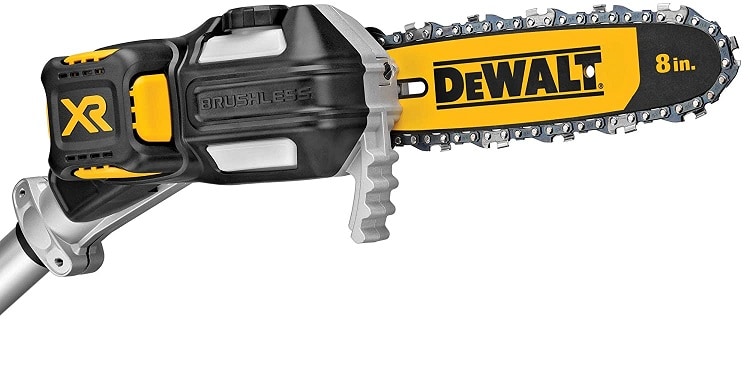 There are plenty of brands that manufacture and sell cordless pole saws, and some of the best names on the market are:
 

BLACK+DECKER – Machines for manufacturing candy dipping and milk bottle caps were among the first things introduced when BLACK+DECKER was first born. Their products today include indoor vacuums, small appliances, and power tools.

 

DEWALT – This is one of the most famous power tool brands in the world, with a history that goes back to 1922. Today, DEWALT manufactures and sells everything from air compressors and lasers to heaters and hedge trimmers.

 

CRAFTSMAN – Throughout the past nearly century, CRAFTSMAN has become known as the brand that homeowners, home builders, motor enthusiasts, and master technicians rely on.

 

Greenworks – Since 2014, Greenworks has strived to continuously launch competitive power tools that meet the users where they're at. They're mostly famous for their string trimmer and lawn mowers.

 

Worx – Worx is another trusted brand that makes gardening tools. Their product line-up includes chainsaws, lawn mowers, snow blowers, trimmers, power cleaners, and others.
Cordless Vs Corded Pole Saw
Pole saws that run on rechargeable batteries are known as "cordless pole saws". Those with medium-to-large yards who don't want to be constrained by the length of an extension cord will find them to be an excellent choice.
These pole saws are perfect for cutting branches ranging in diameter from 3 to 8 inches in diameter, and they are significantly quieter compared to their gas-powered equivalents.
When it comes to the power of these units, you will notice it is measured in volts, and is proportional to the size of the battery, running from 40 to 80 volts.
The more volts there are, the more powerful the saw will be. Pole saws that run on batteries are often more expensive than pole saws that run on electricity or gas.
The usage of a corded electric pole saw is a cost-effective choice for consumers with small yards. Because it is connected to a power outlet, which means you are limited in how far you can trim because of the length of the extension cable you use.
They operate more quietly than gas-powered models, but don't expect them to be completely silent because all pole saws generate noise.
Electric pole saws generate power measured in amperes (amps), and the majority of them have a power range of 6 to 10 amps, which is sufficient to cut branches ranging in diameter from 2 to 5 inches.
Top 5 Best Cordless Pole Saws
DEWALT 20V MAX XR Pole Saw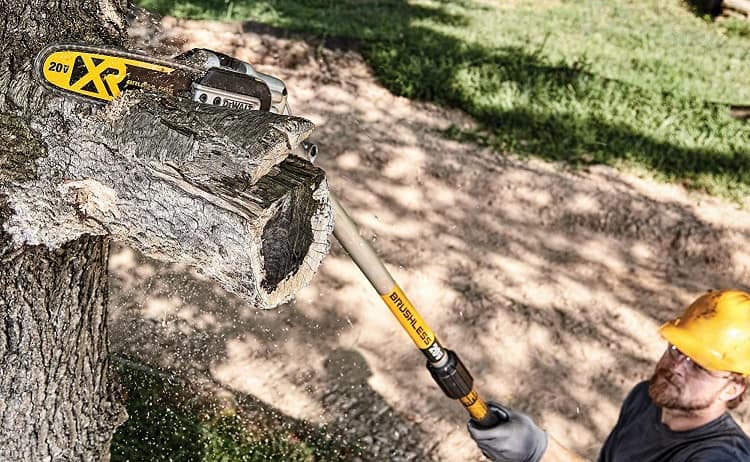 Key Specs
 

Auto-oiling feature

 

15-foot reach

 

Comfort grip handle

 

Brushless motor

 

Max 96 cuts per charge
With the 20V MAX* XR Brushless Cordless Pole Saw, you can take care of all of your pruning needs. The tool is designed with an 8-inch bar and chain and is powered by a high-efficiency brushless motor that can make up to 96 cuts on a single charge.
For a total reach of 15 ft., the well-balanced and sturdy pole shaft can be extended up to 10 feet.
It has an automatic oiling feature that makes it even more convenient and timesaving. In addition, the DEWALT pole saw is equipped with metal bucking strips for a robust cutting grip, and a tree hook for quickly and conveniently removing clipped branches.
Pros
 

Low maintenance due to auto-oiling feature

 

10-foot extension pole for a 15-foot reach

 

Comes with a tree hook for easy branch removal
Cons
 

Misleading description. Doesn't have a 15-foot extension
CRAFTSMAN V20 Pole Saw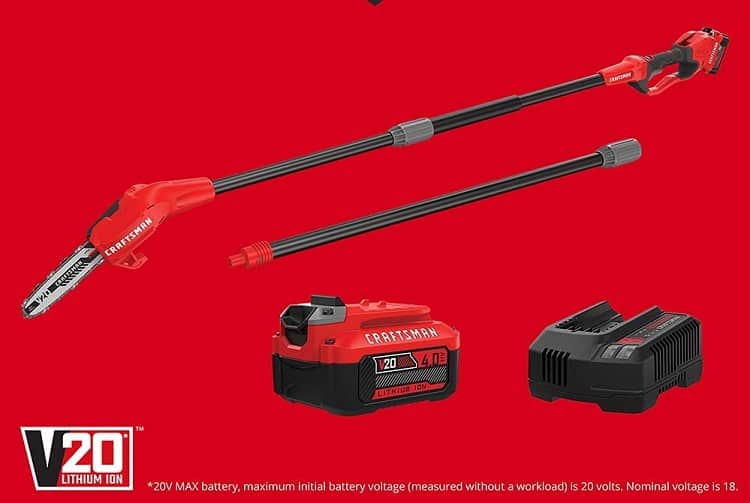 Key Specs
 

High-capacity battery

 

Angled head and blade

 

Soft grip on pole extension

 

Integrated hook

 

Replacement parts available

 

Charger included
The V20* Cordless Pole Chainsaw is equipped with a large 4.0 Ah battery and a motor that's very powerful, helping you to trim those nasty branches and give your vegetation a fresh and clean look.
The handy extension pole has a reach of up to 14 feet when fully extended, but that can vary based on your height. It comes with the VERSATRACK hook, which is built into the VERSATRACK system, and can be used to conveniently store it.
Pros
 

Lightweight and easy to maneuver

 

Extended battery runtime

 

Battery and charger are included
Cons
 

Lacks a chain oiling system
Greenworks 40V 8-inch Cordless Pole Saw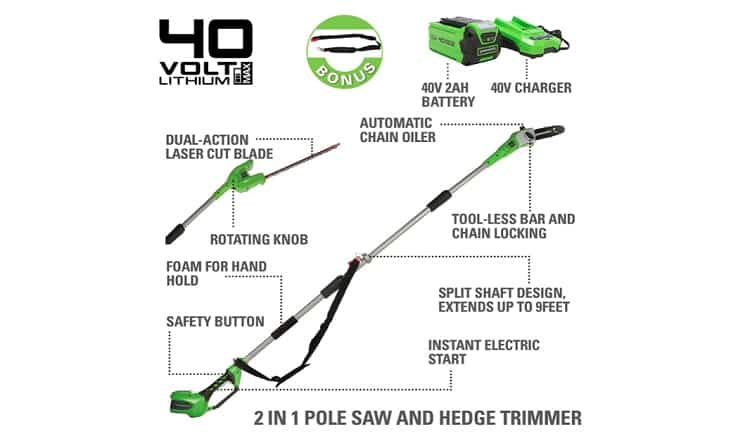 Key Specs
 

Battery and charger included

 

20-Inch steel dual action blade

 

Automatic oiling system

 

Up to 65 cuts per charge

 

Quick start
Another great cordless pole saw to consider is this Greenworks model.
Known for making some of the best power tools around, this brand doesn't fail to disappoint with this product either, delivering a saw equipped with an 8-inch bar and chain and a battery that can perform up to 65 cuts on a full charge.
It is a lightweight product with a quick starting system that makes it ready for trimming incredibly fast.
It has a standard length of 6 feet and comes with a battery and charger, so no extra purchases are required (note that the price for other pole saws you find online reflect the price of the tool alone and might not have batteries included).
Pros
 

Battery and charger included with purchase

 

Automatic oiling system for faster lubrication

 

Easy to switch between pole saw and hedge tool
Cons
BLACK+DECKER 20V MAX Pole Saw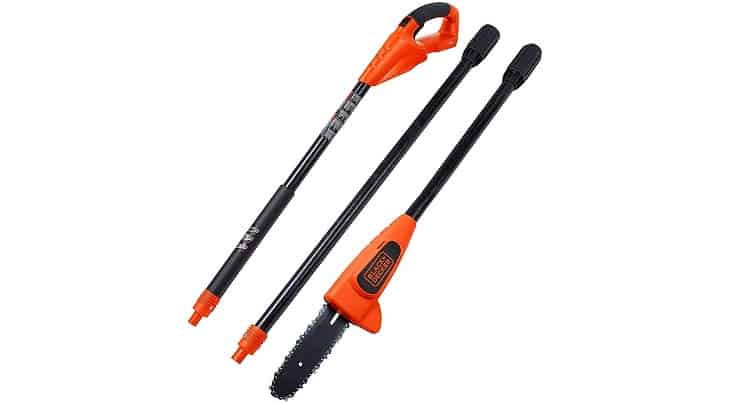 Key Specs
 

Up 100 cuts on a full charge

 

8-inch cutting bar and chain

 

Max cutting diameter of 6 inches

 

Fiberglass pole

 

Only the tool is included
When it comes to cutting overhanging tree branches up to 14 feet in height, the BLACK+DECKER Bare 20V MAX pole saw is a fantastic tool to have on hand.
This bare tool is compatible with a 20 V Max Lithium-Ion battery, which has a longer lifespan and can hold a charge for 5X longer than equivalent NiCd batteries of equal capacity.
This pole saw enables for a usable length of 6.5′ or 10′ and an overhead reach of up to 14 feet when used in conjunction with the center extension.
An in-line power head is also included with this device, which enables for simple manipulation and visibility between branches.
Pros
 

Lightweight and adjustable fiberglass pole

 

Locking collars for quick assembly

 

Fast trigger start

 

Safety lock switch to avoid accidental starting
Cons
 

Battery and charger are not included
Worx WG323 Pole Saw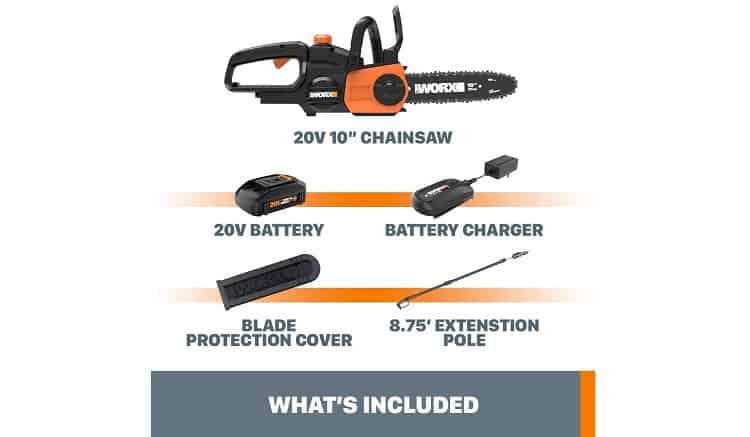 Key Spesc
 

Automatic tension

 

10 pounds in weight

 

Tool-free chain tension system

 

Ergonomic grip

 

Fast start up
This is, hands down, one of the most user-friendly pole saws out there. It is equipped with an on/off switch on the handle at the bottom of the pole, which eliminates the need to continually raise and lower the chainsaw only to turn it on and off.
When attached, the battery attaches to the base of the pole, making it simple to remove and replace when it is time to recharge. When you're not using it in conjunction with the saw, it clicks into the saw itself.
The pole can be removed without the use of any tools, and you'll be left with a fully functional chainsaw to use on the ground to cut up fallen branches and other such debris.
Automatic tensioning and lubrication systems ensure that the tool and chain are in peak operating condition every time it is utilized.
Furthermore, the 20V 2.0Ah battery and charger that are included with this pole saw may be used to operate any tool on the Worx Power Share platform, allowing you to save money in the long term by not purchasing additional batteries.
Pros
 

Automatic lubrication for lower maintenance times

 

Battery is included

 

Power switch is easily accessible
Cons
 

Difficult to use with pole attached (heavy)
What Should I Look For in a Cordless Pole Saw?
A cordless pole saw should have:
 

A good battery that can offer extended runtime without adding too much to the overall weight of the saw.

 

Safety measures and accessories that keep you safe both when you're using the saw and when you're not.

 

An extendable pole that reaches your desired height while also making it easy to maneuver the tool.
FAQ
Question: What is the Best Pole Saw for the Money?
Answer: The BLACK+DECKER LPP120B pole saw offers an incredible array of features considering its relatively low price.
Question: What is the Best Electric Pole Saw?
Answer: The Worx WG309 (https://www.amazon.com/dp/B00MN4YCFA/) is considered to be one of the best electric pole saws because it is conveniently-priced product that offers consistent performance, a lightweight body that's easy to manipulate, and a tool-free installation system which makes it ready to use in under a minute.
Question: What is a Cordless Pole Saw Used For?
Answer: A cordless pole saw is powered with a rechargeable battery. If you've got small or medium-sized projects in your yard, you won't have to worry about messing around with an extension cord to get your projects done.
These pole saws are great for branches that are up to eight inches in diameter.
The Bottom Line on Cordless Pole Saws
The DEWALT DCPS620B pole saw is one of the best products in its category because it delivers optimal performance at a reasonable price and provides a quality trimming experience with each use.
It has low kickback, an auto-oiling feature, and a comfort grip handle for easy maneuvering. For more power tools and forestry tips, check out our other articles on TheForestryPros.