Latest posts by The Forestry Pros Team
(see all)
The Husqvarna 562 XP is created for loggers or landowners who know how to handle chainsaws. In this Husqvarna 562xp review we'll show you how this Husqvarna chainsaw has an almost perfect design and has creative features for easy operation. It also has an autotune and a large-surface air filter. One of its unique features is the X-Torq engine technology that gives it more strength where needed.
Keep in mind it uses less fuel consumption by up to 20% and fewer exhaust emissions by up to 60% less compared to similar products in the market. RevBoost is a feature that offers high chain speed meaning it's efficient at pruning and de-limbing.
Husqvarna 20" Bar 562XP at Chainsaw | Amazon
Developed for professional loggers and skilled landowners. The unique X-Torq engine technology provides more power where you need it, up to 20% less fuel consumption and 60% less exhaust emission.
Buy at Amazon.com
We earn a commission if you make a purchase, at no additional cost to you.
09/21/2023 12:34 pm GMT
There are several options for this saw. Knowing them helps you know the best one for your needs. First, there's an option to pick between the standard version or the other with heated handles and a carburetor. Secondly, there is a first-generation with an additional RevBoost feature. The second generation does not have this feature.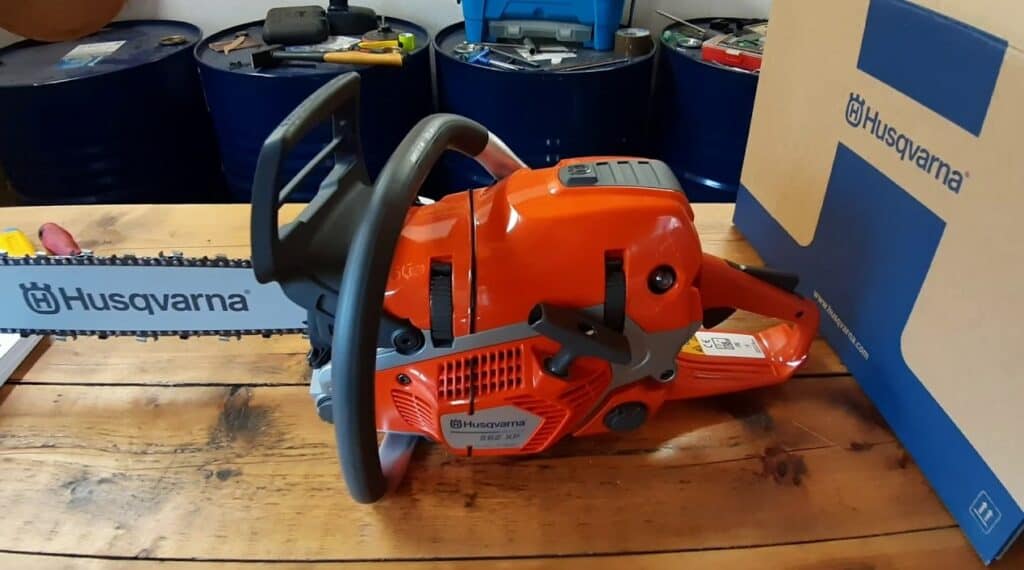 To know more about this saw, you need to learn details such as the design it uses and how it works. We compiled information from the manufacturer's website and testimonials from people who have used it. This way, we were able to come up with an in-depth review of the product. Check it out below.
Design
The design is not unique to other saws at this price point. However, some features may interest you. Check them out below:
Side-mounted chain tensioner – Makes it easy to access the chain tensioner
Quick-release air filter & air filter cover
Easily removable air filters – When you need to clean or replace it
Felling marks – Colored marks on the chainsaw body aiming at the direction of the "tree fall"
Flip-up tank cap – Makes it easy to close or open the tank during a refuel
Combined choke/stop control – Helps in easier starts and reduces the risk of the engine flooding
Heated handles (only with the G version) – Has improved comfort and productivity and they keep your hands warm. Easy to control meaning it increases safety
Slimmed-down design – The saw is easy and convenient to handle in many situations because of its slim body
Visible fuel level – The tank is transparent making it easy to know how much fuel is left in the tank
Air Purge – Removes air from the carburetor and fuel system meaning starting it is easy
Snap-lock cylinder cover – When you need to open it up, pop the snap-lock on each side of the saw and you are good to go
Durability
This is another factor you should always consider when you are looking for a chainsaw. The durability will determine how long your product will last. It will also have an impact on the performance. Check out the features that make Husqvarna 562 XP durable.
They are:
Three-piece crankcase – A three-piece crankshaft is installed. It's designed to provide maximum durability for the toughest applications
Magnesium crankcase – This has a guaranteed long life since the crankcase is built to withstand high RPMs and challenging professional use
Air injection – An improved engine life and less maintenance and cleaning of the air filter is realized. It's because the centrifugal air cleaning system prevents large dust particles and debris from reaching the air filter
Adjustable oil pump – You can control oil flow depending on weather conditions and/or application
Retained bar nuts – This prevents the saw from losing the bar nuts
Safety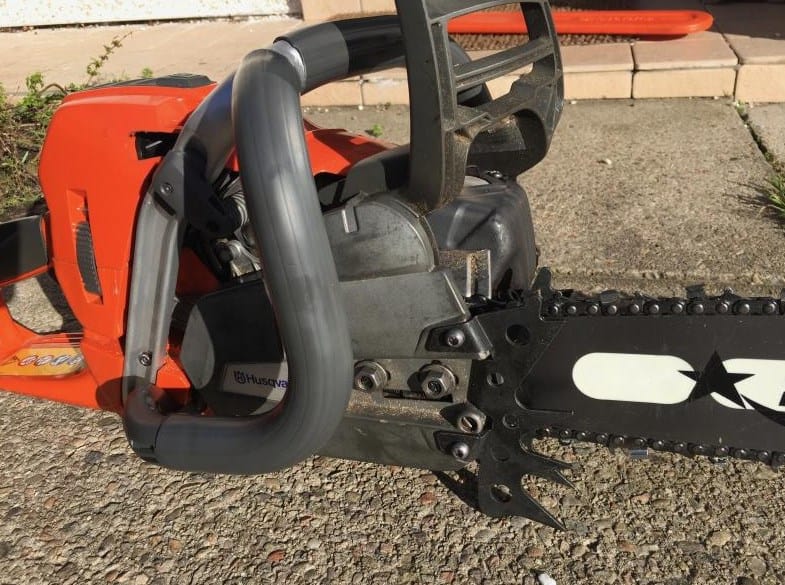 Considering this is a chainsaw, safety is a feature that you need to consider. Husqvarna 562 XP has several safety features such as:
LowVib
All husky chainsaws have a vibration dampening system known as LowVib. Reduced vibrations you may feel while operating the saw are the result of metal springs in the engine suspension. This ensures you work longer without getting exhausted.
Additionally, LowVib protects you from developing health complications related to using a chainsaw. To provide a more natural holding position, the front handle and handguard are offset by 7 degrees
Inertia Activated Chain
The inertia mechanism is designed to stop the chain from running in case of any kickback. This reduces the risk of injury.
Performance
The Husqvarna 562 XP has several performance features. Knowing them helps you determine whether or not it meets your needs.
Performance features on this product are:
Auto-Tune – An automatic engine setting that results with a strong engine performance. It compensates for different fuels, clogged air filters, temperature, humidity, and altitude
RevBoost (only first generation) – Gives rapid movement and efficient chain speed for the best limbing performance.
X-Torq – This is the best thing about any new Husqvarna saw. Emissions are reduced by up to 75% and fuel consumption by up to 20%. Spend less on gas and inhale fewer fumes. The saw is also CARB compliant.
Fast acceleration – All moving engine parts have less weight resulting in increased speed
Smart Start – Ensures the engine starts with minimal effort
Husqvarna 20" Bar 562XP at Chainsaw | Amazon
Developed for professional loggers and skilled landowners. The unique X-Torq engine technology provides more power where you need it, up to 20% less fuel consumption and 60% less exhaust emission.
Buy at Amazon.com
We earn a commission if you make a purchase, at no additional cost to you.
09/21/2023 12:34 pm GMT
Husqvarna 562 XP Alternatives
Now that you know the features of Husqvarna 562 XP, you can compare them to others in the market. The following three chainsaws are the best alternatives to this product. According to our online research, people who didn't get the Husqvarna 562 XP went for the following three options.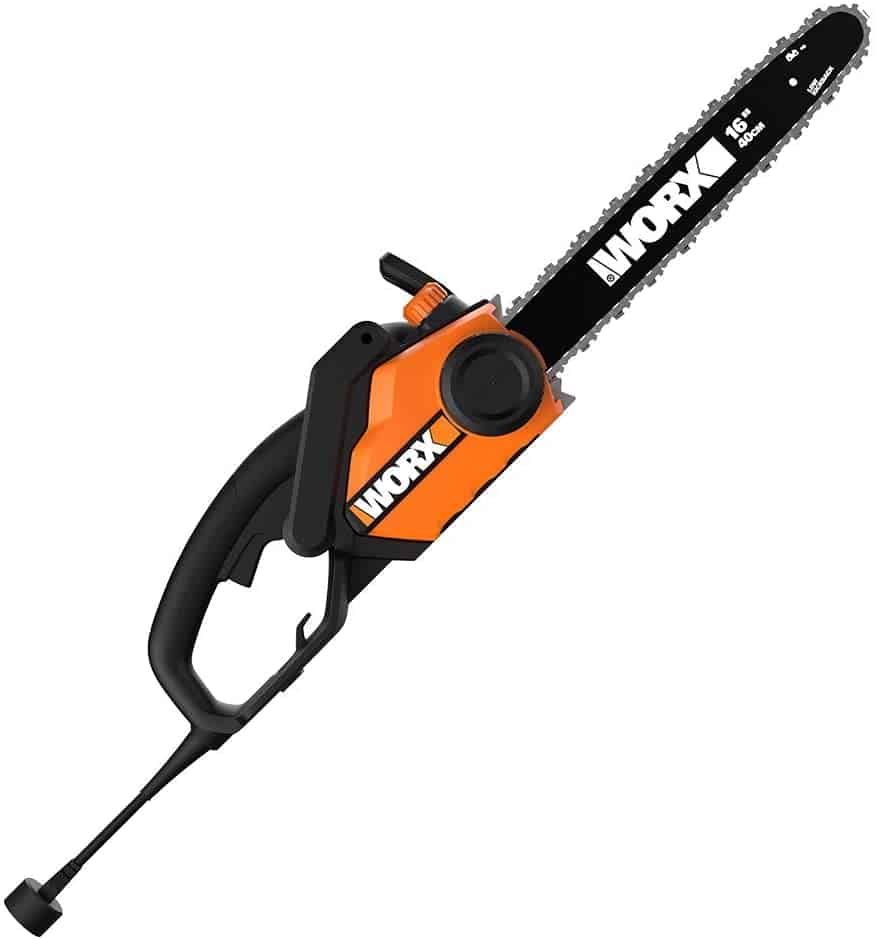 It's hard to beat the Worx WG303.1, as long as you don't mind using a power cord, because of its budget-friendly price. Features include a 14.5-AMP motor and a 16.5-inch bar. Loggers and landowners who have used it state it has great features such as handling, ease of use, and above-average cutting speed.
Although it's not pricey, this saw has amazing features. They include an automatic chain tensioner, an automatic chain oiler, a chain brake, and an ergonomic handle. It's lightweight (11 pounds), balanced, fast, and handles lightweight duties around the yard easily.
On the downside, it lacks vibration isolation. This means you may experience some shaking with this model. The good news is it comes with a 3-year warranty.
Features
Automatic chain oiler
Weighs 11 pounds
Corded electric chainsaw
5-inch bar length
Uses 14.5 Amps of power
Pros
Lightweight
Ergonomic handle
Automatic chain tensioner
Chain brake
Automatic chain oiler
Cons
Lacks vibration isolation
Must use a power cord
WORX WG303.1 14.5 Amp 16" Electric Chainsaw | Amazon
The powerful 16" 14.5 Amp Electric Chainsaw is packed with modern conveniences that make it easy to use. The auto-tensioning and auto-lubrication systems make sure this saw is always in peak operating condition.
Buy at Amazon.com
We earn a commission if you make a purchase, at no additional cost to you.
09/21/2023 09:56 am GMT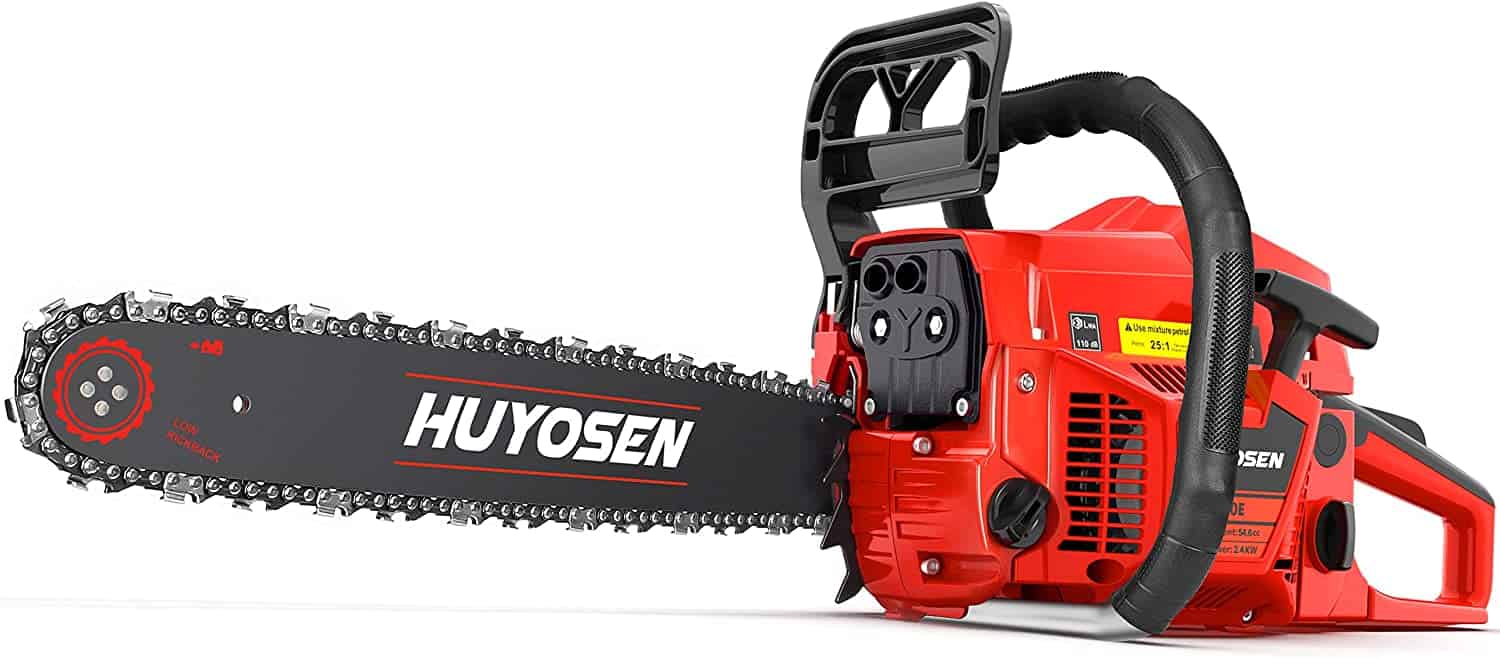 The Huyosen 54.6 cc 18-Inch Gas Chainsaw is an affordable option to the Husqvarna 562 XP. It's sturdy and reliable making it a good choice for handling pruning and limb cutting around the yard. Take note you shouldn't use it to cut large trees. Its 18-inch blade makes it easy to work on pruning tree limbs, bushes, and saplings.
Some chainsaws have a "hard start" problem. This Huyosen model comes with a start button meaning you don't have to struggle to start it manually. The blade has a sprocket-tipped 18-inch bar and chain. These two ensure you get better mileage than others in the market.
Additionally, the automatic oiler ensures the bar and chain are maintained during and after use. That said, this is one of the best gas chainsaws for trims and pruning large trees.
Features
Automatic chain oiler
Weighs 15.6 pounds
Gas chainsaw
18-inch bar length
6 cc engine
Pros
Start button
18-inch blade
Automatic oiler
Affordable
Portable
Cons
It may be a bit heavy for some people
Not for every state and region
HUYOSEN Gas Chainsaw | Amazon
Huyosen Gas Chainsaw offers a powerful motor for large branches and demanding cuts. This chainsaw has a 20'' low-kickback bar and chain for improved cutting performance.
Buy at Amazon.com
We earn a commission if you make a purchase, at no additional cost to you.
09/21/2023 04:11 am GMT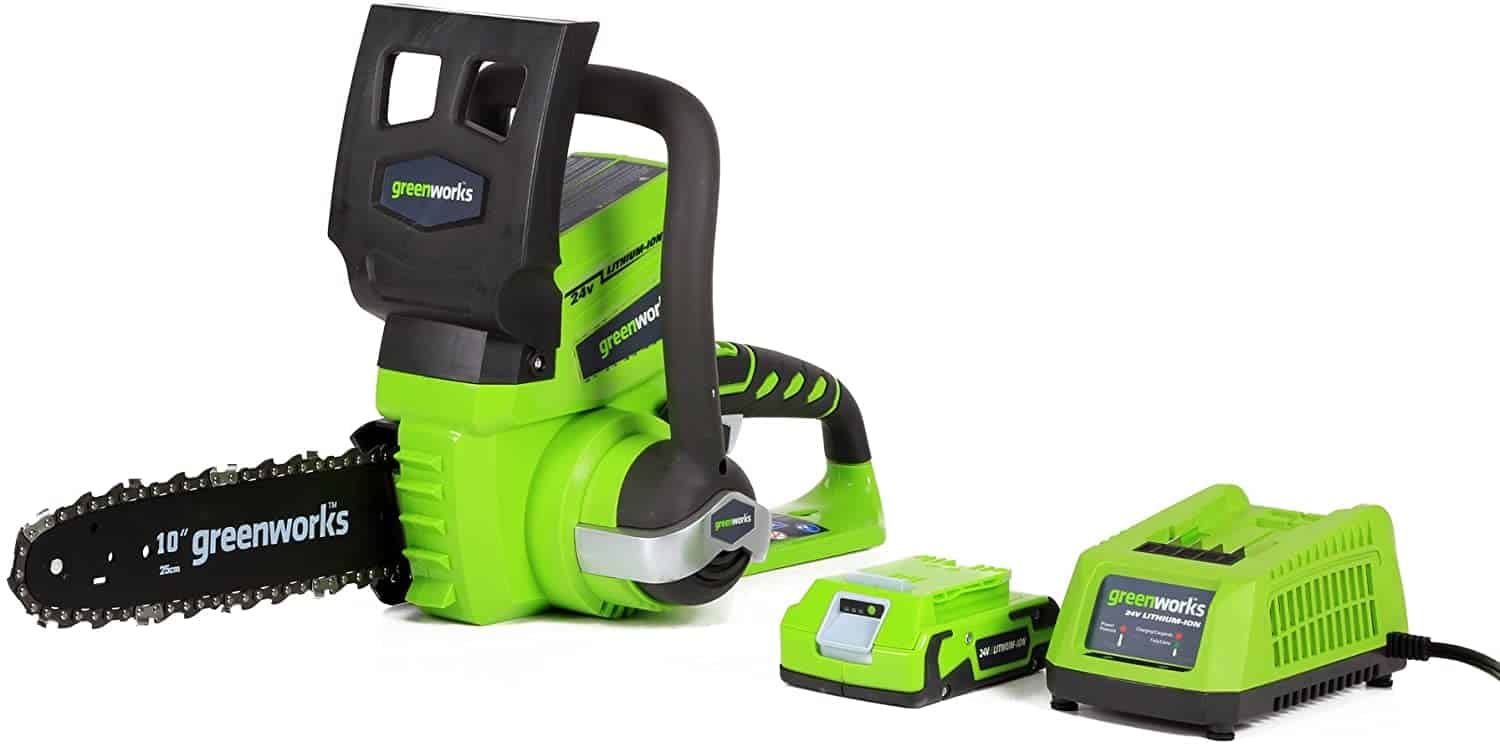 Do you need a small chainsaw for light-duty trimming and pruning tasks? Do you want to move around with it without worrying about an electric outlet? If your answer is yes, then the Green Works 20362 is your best option. The product comes with a rechargeable 24-volt lithium-ion battery and a 10-inch bar.
This Green Works chainsaw has an easy-to-grip ergonomic handle, tool-free tension adjustment, and an automatic chain oiler. The battery can make up to 30 cups of thick branches or boards before you need to recharge. Charging takes about 45 minutes. That's more than enough to tackle small yard jobs you may need to complete in a day.
Keep in mind it isn't the best choice for cutting big logs or large trees. The saw weighs less than 8 pounds. This means you can use it comfortably if you are not strong. You also get a 4-year warranty on the chainsaw.
Features
Automatic chain oiler
Weighs 7.9 pounds
Cordless chainsaw
10-inch bar length
24-volt battery
Pros
Cordless
Easy to start
Lightweight
4-year warranty
Automatic chain oiler
Cons
Can't cut large trees or logs
Needs an electrical outlet to recharge
Greenworks 24V 10" Chainsaw | Amazon
Greenworks G-24 System offers versatility with a range of tools to choose from to get the job done with outdoor and indoor tools for all your DIY projects.
Buy at Amazon.com
We earn a commission if you make a purchase, at no additional cost to you.
09/21/2023 09:11 am GMT
Husqvarna Chainsaw Terms and Buying Guide
You need to know some terminologies before you can get a chainsaw. These terms or phrases help you understand the features of the product. Read on to know more.
Guide Bar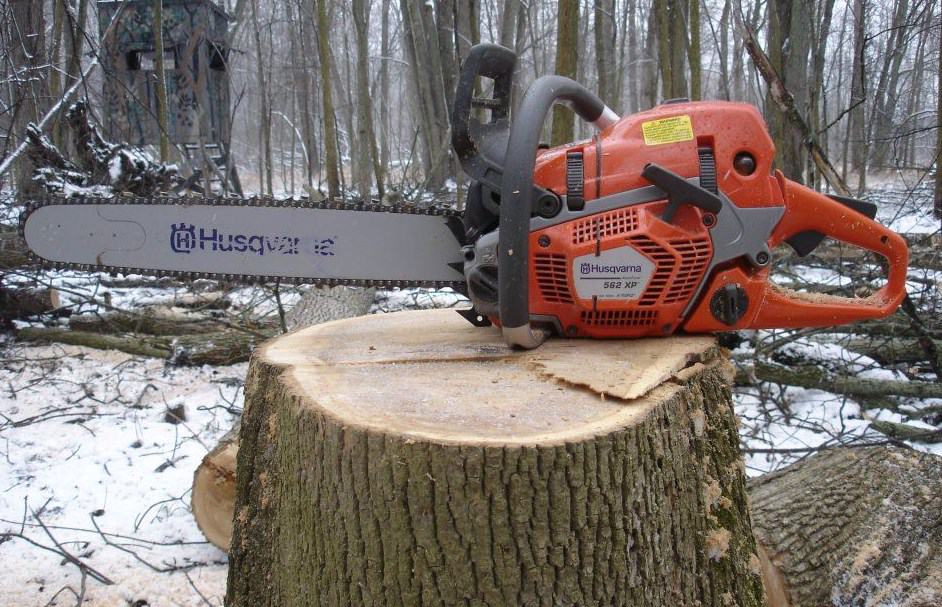 It is the heart of any Husqvarna chainsaw. This is where the chain spins around. The length of the bar determines the thickness of a limb, log, or tree it can cut. The standard lengths for the common jobs around the yard are 12 to 24 inches.
A rule of the thumb is to use a bar length that is 2 inches longer than the thickness of the limb or tree to be cut. If you can't purchase multiple chainsaws, an 18 or 20-inch bar is what you need because they're the most versatile.
Power/Fuel
This is the source of power a chainsaw uses to run. Options available are gasoline, batteries, or electricity. The most powerful products are gas chainsaws because they run as long as there is fuel in the tank.
Chainsaws that are battery operated and use a Lithium-Ion battery are the runners-up. Why? They are good for portability but are not as powerful as their gas counterparts. Electric chainsaws are more powerful than their battery-operated counterparts. However, the fact that they need to be plugged into a wall outlet limits your mobility.
Fuel/Power Types
There are three main types of power or fuel sources for chainsaws. They are:
Gas Chainsaw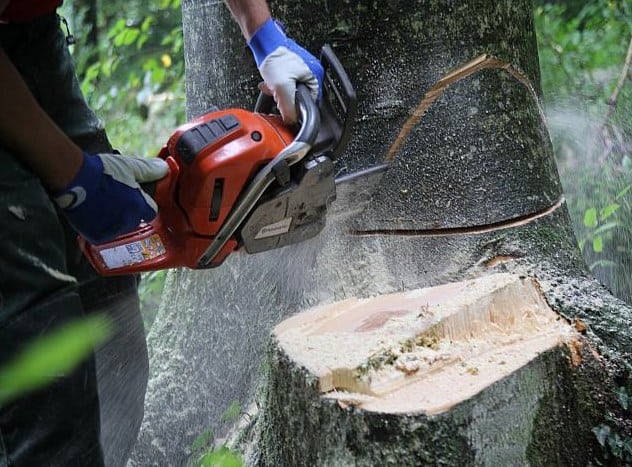 These are chain saws that use gasoline. They are two types i.e., 2-cycle and 4-cycle. A 2-cycle chain saw has a mixed ratio of 40:1 or 50:1 of fuel and oil. A 4-cycle chain saw only uses gasoline and comes with a separate oil tank.
Battery (Cordless) Chainsaw
This is a chainsaw that uses Lithium-Ion batteries. The main benefit of this chainsaw is that it produces less noise compared to gas-powered saws. It's easy to carry around and doesn't produce fuel emissions. The disadvantage is that they have less power and 18 inches is the largest bar length you will find.
Electric Chainsaw
A chainsaw that uses electricity via a cord must be plugged into a power outlet. They are stronger than battery-operated chainsaws but not as strong as gas chainsaws. The main demerit with electric corded chainsaws is that they're not portable. Distance is limited by the length of the power cord from the nearest electrical power outlet to the saw.
Oiler
Oiling in all chainsaw bars and chains is a must to reduce overheating and wear and tear. There are three types of oilers which are two automatic versions and a manual option.
Manual oilers give you total control when oiling your machine, therefore, require constant attention. Automatic oilers (also known as fixed flow) automatically lubricate the unit. The second type of automatic oiler (also knowns as adjustable flow) lubricates constantly and gives you the option of stopping the process.
Chain Brake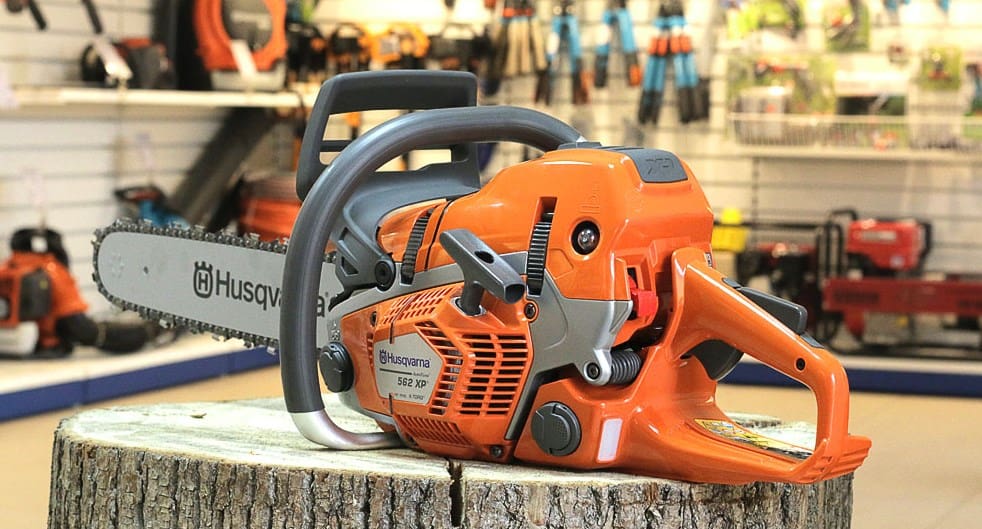 Chain brakes are a safety precaution that helps stop the chain from spinning when there is a sudden thrust of the bar towards the operator. There are two types of chain brakes namely inertia activated and manual.
Inertia-Activated chain brakes engage automatically when force is applied upwards. Manual chain brakes work when pushed forward by your hand or arm.
Bucking Spikes
They are the metal spikes at the base of the bar on the front of a chainsaw. They have two functions. One is they offer smooth sawing by jabbing the spikes into the tree trunk or log so you can position the saw blade downward for a clean cut. The second is they work as a safety feature to hold onto a log or tree trunk in case of kickback to ensure you don't get injured.
Chain Tensioning System
Allows you to quickly adjust the strength of the chainsaw chain on the fly. Most designs don't use common tools. This means you need one where you can easily adjust the chain's tension without using a specific tool.
Vibration System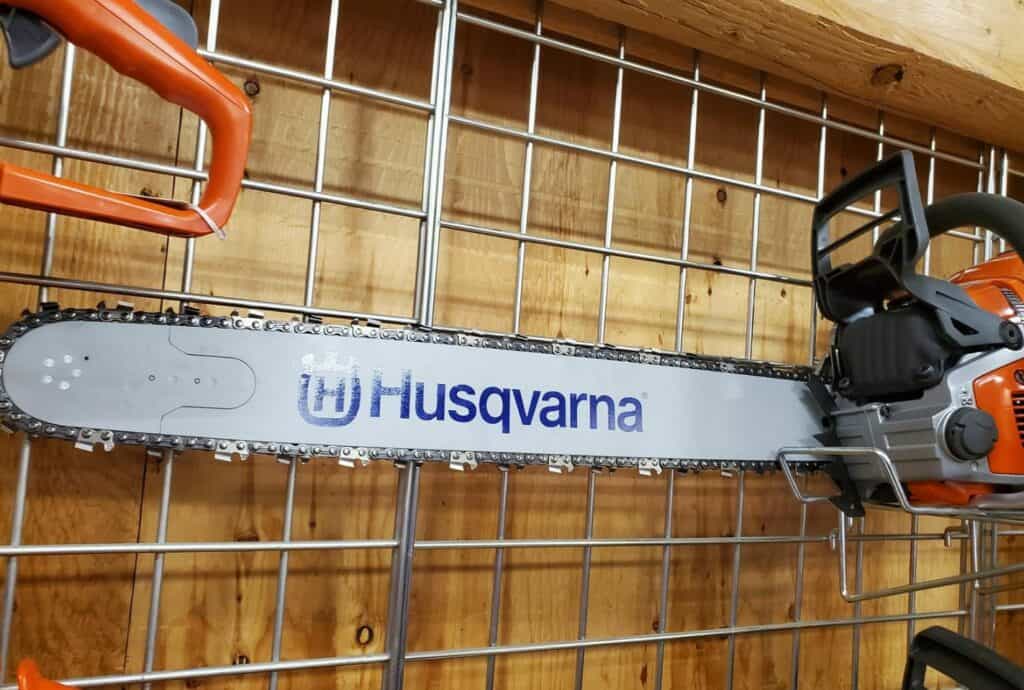 It can be described as a unique design that makes sure the chainsaw's rear handle isn't in contact with the engine. The result is reduced vibrations on your hand. This ensures you can use the chainsaw for longer periods.
Chain Catcher
A piece of metal in front of the clutch and on the bottom of a chainsaw acts as a safety measure. It works by making sure risks of injury are reduced should the chain break or malfunction.
Husqvarna 562 XP FAQs
Question: How Many CC's Does a Husqvarna 562 XP Have?
Answer: This Husqvarna model is a professional chainsaw designed for skilled loggers, arborists, and landowners. It's rated at 4.7hp, which is equivalent to almost 60 ccs.
Question: What Does XP Mean in Husqvarna 562 XP?
Answer: Husqvarna has a professional series and a better XP series. The XP means "extra performance." Any Husqvarna chainsaw with the XP abbreviation has more features. They include higher RPMs, a better power-to-weight ratio, and more horsepower. This is why they are designed for experienced chainsaw users.
Question: Is the Husqvarna 562 XP a Good Chainsaw?
Answer: Two of the best manufacturers of chainsaws worldwide are Husqvarna and Stihl. This means the 562 XP offers superior performance to the majority of other consumer brands in the market.
Question: Are Jonsered and Husqvarna the Same?
Answer: Not really. Jonsered is a brand that is owned by Husqvarna AB.
Conclusion
The Husqvarna 562 XP is a great chainsaw for loggers or experienced chainsaw users. Get it if you are looking for a gas-powered chainsaw to use on your yard or ranch. The features mentioned are meant to show you what to expect from the saw.
In the event you feel it doesn't meet your preferences, you can opt to choose one of the alternatives provided. Additionally, you can use the buying guide to find a different Husqvarna chainsaw. Either way, the information provided is sufficient to give you everything you need to get the right chainsaw.
Husqvarna 20" Bar 562XP at Chainsaw | Amazon
Developed for professional loggers and skilled landowners. The unique X-Torq engine technology provides more power where you need it, up to 20% less fuel consumption and 60% less exhaust emission.
Buy at Amazon.com
We earn a commission if you make a purchase, at no additional cost to you.
09/21/2023 12:34 pm GMT