Introduction
Mini chainsaws are best for pruning and cutting small logs and bushes around your garden. If you are looking to buy a powerful small-sized chainsaw for your projects, then you have come to the right page. Today we will guide you to buy the best mini chainsaw in the market.
The effectiveness of a chainsaw depends on how it's going to be used. If you need to prune lower branches and clean bushes around your house, we recommend buying a battery-powered chainsaw.
If you have a large garden and going to use it for a longer time, then go for a gas-powered chainsaw. Whatever be the case, don't forget to match your requirements before buying one.
Let's go into details and help you out so that you don't regret after purchasing a chainsaw.   
What is the use of Mini Chainsaw?
A chainsaw is an excellent tool to have if you own a yard. There are lots of projects done every day by millions with this small yet powerful tool. A mini chainsaw would make your wood cutting experience a lot easier if you know how and where to use them properly. The common uses of a mini chainsaw are given below:
Did you know, you can cut small trees with a mini chainsaw? A small-sized tree that has a smaller diameter is easier to hold and cut by a lightweight chainsaw. 

After felling, Mini Chainsaws are great for pruning limbs of the felled trees. You can also do pruning at a lower height for a standing tree. 

Electric trimmers or hedge clippers are good for cleaning small bushes around your house. But when the branches are thicker in diameter, it gets tricky. One small chainsaw can quickly trim large bushes that can save a lot of time. 

If you are a garden owner, you might have some logs kept in the yard. Mini Chainsaws are perfect for cutting small-sized logs in your yard. Tree fallen unexpectedly can also be cleaned easily by this saw.

From the start of woodworking history until now, the axe has been used by people of almost every era. But using an axe for a long time causes back pain and aches. Mini chainsaw can improve the woodworking experience by a greater margin. For example, splitting firewood is now a lot more comfortable using a small chainsaw than any traditional tool. 
Types of Mini-chainsaw
Before using or owning a mini-chainsaw, you must know all available types of small chainsaws in the market. This will narrow down your requirements which will help you pick the best chainsaw without any hassle.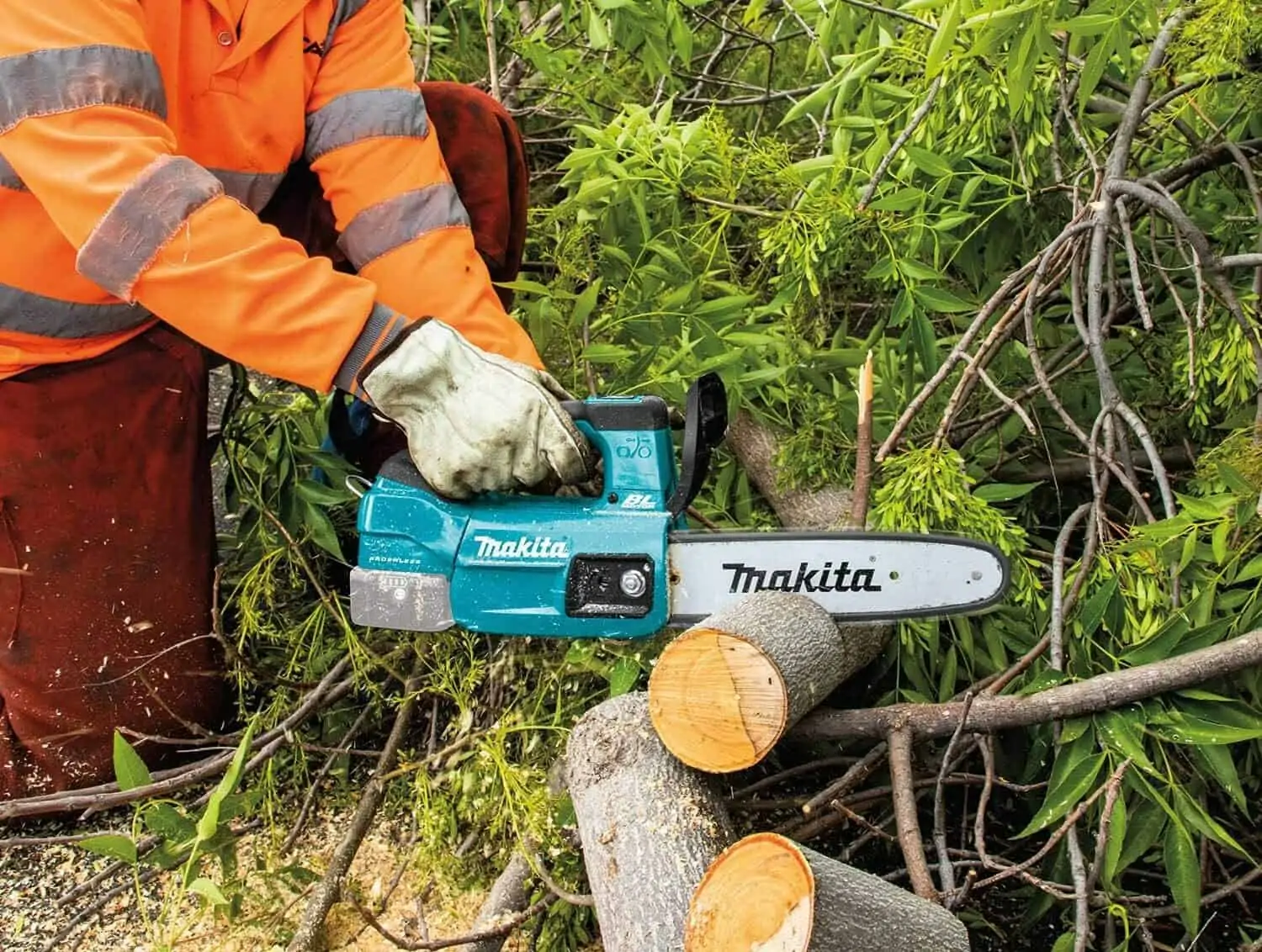 We can differentiate chainsaws based on the power used and design. 
Based on the power used, the lightweight chainsaw can be of three types. They are Gas, Electric, and Battery Powered Chainsaws. Let's find out their respective features from the chart given below:
| | | | |
| --- | --- | --- | --- |
| Category | Gas-Powered Chainsaws | Battery Powered Chainsaws | Electric Chainsaws |
| Power Source | Gas or Oil | Rechargeable batteries | Electricity. |
| Cut Speed | Fast | Slow | Slow |
| Cutting Time | Long | Limited | No Limit |
| Buying Cost | Moderate | Expensive | Cheapest |
| Maintenance Cost | Simple | Heavy | Heavy |
| Weight | Heaviest | Moderate | Lightest |
| Emission | Heavy | No emission | No emission |
| Sound | Loudest | Quiet | Quiet |
From the above chart, it's clear that a gas-powered chainsaw is best for frequent usage besides some drawbacks. With an electric one, you are getting a comfortable and easy-to-use domestic chainsaw. The main setback is that you can't use it everywhere you go as it runs on electricity. With a battery-powered chainsaw, you can minimize this drawback, but you are bound to carry extra batteries with you, which are expensive.
Based on the design, there are three varieties of Chainsaws. 
Handheld chainsaws
These are simple and the most common types of chainsaws used for different woodworking jobs. There are two handles for guiding the cut by two hands. At the moment chainsaw market showcase a variety of handheld chainsaws for you to choose from.
Pole Saws
These saws can be attached with a tree pole, which helps cut limbs at a higher position. Unless you want to cut a lot of limbs from standing trees, these are not for everyone.
2-in-1 Chainsaws
If you want a hybrid form of handheld and pole saw, this type of saw is perfect for you. You can use this tool for serious woodworking both on the ground and above.
Bar length is an important factor for choosing the best chainsaw that goes with the size of your project. Mini chainsaws generally have smaller bar lengths between 4 to 12 inches. They are mainly used for domestic purposes and have a little kickback. This magic tool is very easy to use and perfect for beginners. 
Starting from 16 inches, you are getting heavy-duty chainsaws. They have strong kickbacks and are recommended for professional users only. 
From 20 inches and above, you are getting a professional tool that can cut anything. Nowadays, they are only used by industrial users who are very experienced in using a chainsaw.  
Things to consider
Before jumping onto our recommended mini chainsaws, many things to look at while choosing the best saw in the market. Let's find out the important factors before selecting a perfect chainsaw.
Type of Project
The first thing to consider when buying a chainsaw is that it meets your work purpose. If you are doing a large project, selecting a larger one is a must for you. If you intend to clean bushes around your house or trim those small branches of your garden trees, then go for a mini chainsaw. Though many professional woodworkers use mini chainsaws, they are mostly for beginners. An electric technician will be comfortable with an electric chainsaw. If you are good at handling chainsaws, then both gas and battery-powered chainsaws are good for you.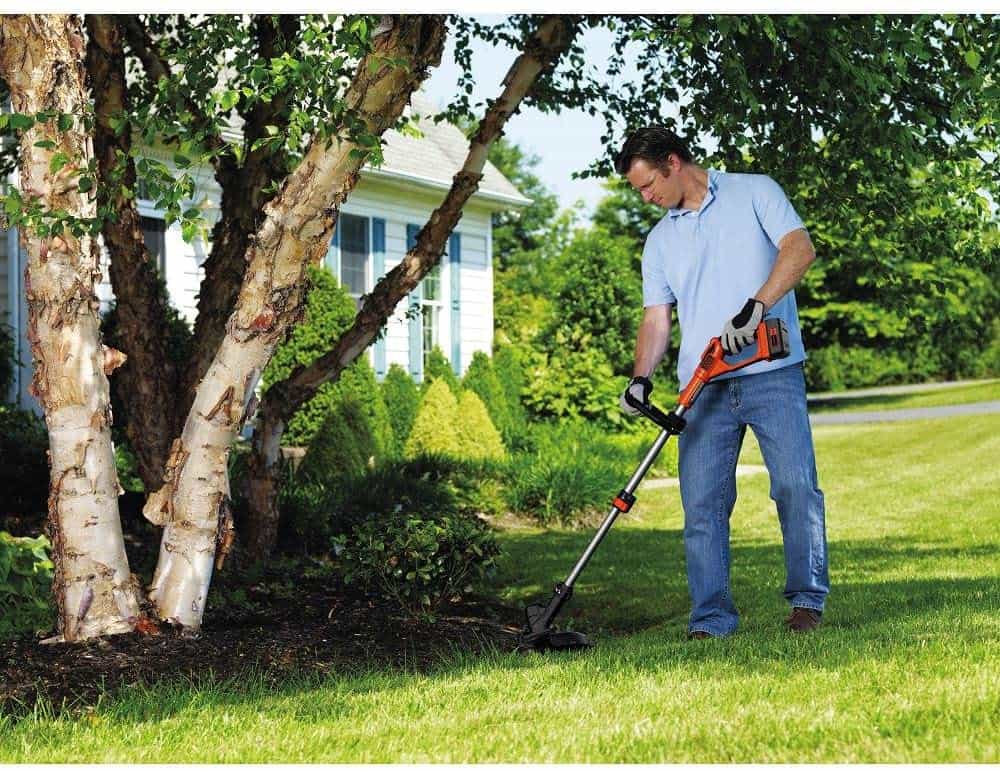 Size
When considering the size of your chainsaw, you have to keep two things in mind. One is the size of the motor you are using. Depending on your project type, you have to match the best engine for you. Generally, mini chainsaws start from 30cc and increase with the increase of bar length.
As for the size of the motor, the second thing to look at is the length of the bar. For a small project, less than 14-inch bar saws are best fitted. Remember to match your workload with the bar length, as a large chainsaw might bring more hassle than charm if not choose correctly.
Warranty
Every piece of machine is bound to face problems while using after a certain period. It is always good to check the warranty cards before making heavy expenses. If any parts fail, you can call for professional maintenance services or replacement by the manufacture. The standard warranty period for any chainsaw is two to three years.
Cost
We know that spending more isn't always better in case of buying any forestry tools. But in the case of a chainsaw, a little extra buck can bring you a better one. The cost of mini or small-sized chainsaws varies with different manufacturers, sizes, and effectiveness. The standard price starts from $80 to $250 for the best options in the market for any lightweight chainsaw.  
Noise
If you have used any chainsaws before, you will know that they tend to be very noisy. Generally, the electric ones are the quietest among all saws; still, they do noise pollution. Professional woodworkers always use ear protection while using one chainsaw. 
Weight
If you can't bear the weight of your chainsaw, then it is meaningless to buy one. The weight of any chainsaw depends on its bar length and the size of the motor being used. Gas-powered chainsaws have powerful engines; that's why they are a bit heavier in weight. If you are not used to cutting logs by a heavy chainsaw, it would be wise to select an electric or battery-powered chainsaw instead. They have a smaller motor and are very easy to use for beginners. But keep in mind that lighter chainsaw does have surprise kickbacks. So, selecting the right weight for your chainsaw is very important.
List of reviews
You are already well aware of the different types of chainsaws used for small projects. This review will recommend you the best possible choice for each department, starting from mini to small-sized chainsaw. This will include one-handed, two-handed, Loopers; Pole saw, Jawsaw even heavy-duty Chainsaw. We tried to cover all bar lengths in this segment to help everyone make a better buying decision. These tools are very handy, and each one of them will fit into your house very easily if they meet all of your requirements. If you are a novice on the small-sized chainsaw and looking for your options, then start with our recommended chainsaws below:
There are very few mini chainsaws in the market that can match both power and budget at the same time. Black+Decker 6-inch bar chainsaw is one of them. With a 4.5-amp motor, it is almost like a beast while cutting small branches and bushes. This electric machine can easily cut 4-inch diameter shrubs with a single motion. It's now available on Amazon at only $78.82 with a discount. For its friendly price and heavy-duty, buyers are more than satisfied with the product.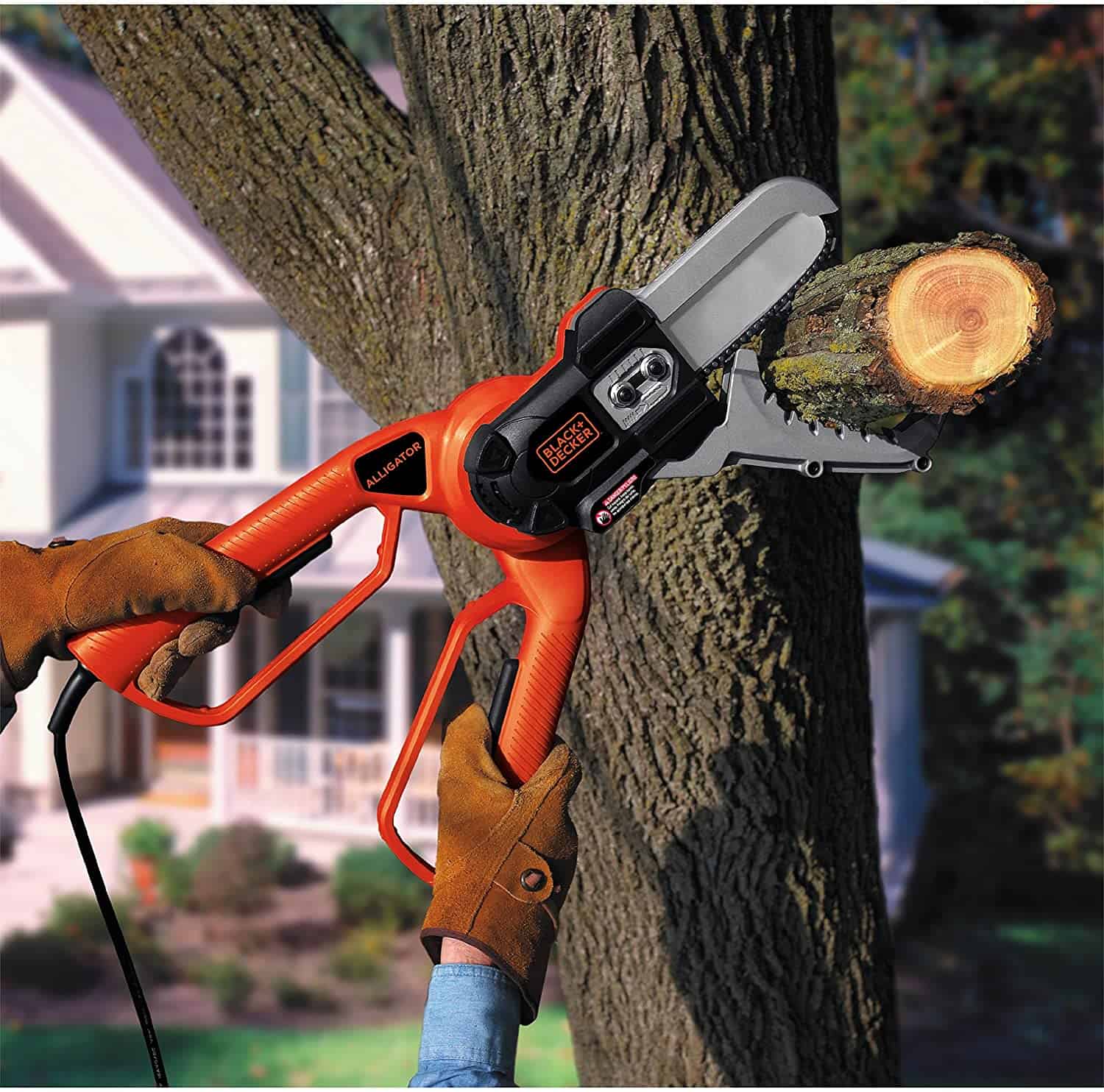 Pros:
Easy pruning and cutting bushes

It comes with an oil bottle

Very light and comfortable to handle
Cons:
Makita chainsaws are great for their torque and rpm, which make them unique from other brands. This small chainsaw comes with an 18V battery that is the source of greater performance. There are a lot of impressive features that make this Chainsaw one of the best contenders out there.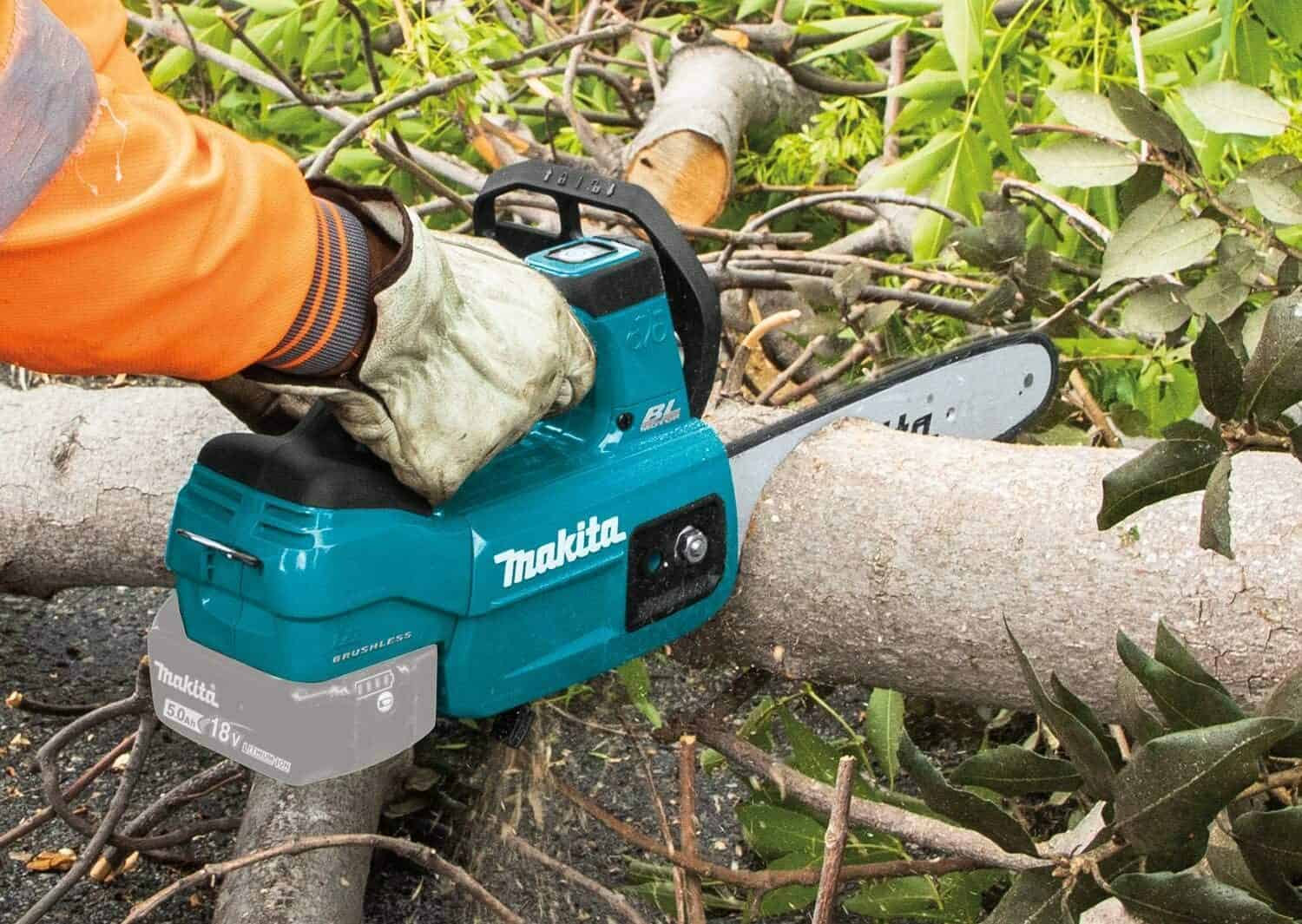 Pros:
Excellent brushless motor

Good for dense wood
Cons:
Battery not included with purchase 
If you are not comfortable with a traditional chainsaw and want a safer option, this beauty is perfect for you. This model has a jaw-style saw that rip through branches with ease. The long neck gives you enough distance to keep you safe from the blade and avoid any injuries. All these safety features and their very lightweight making it one of the best mini chainsaws in the market.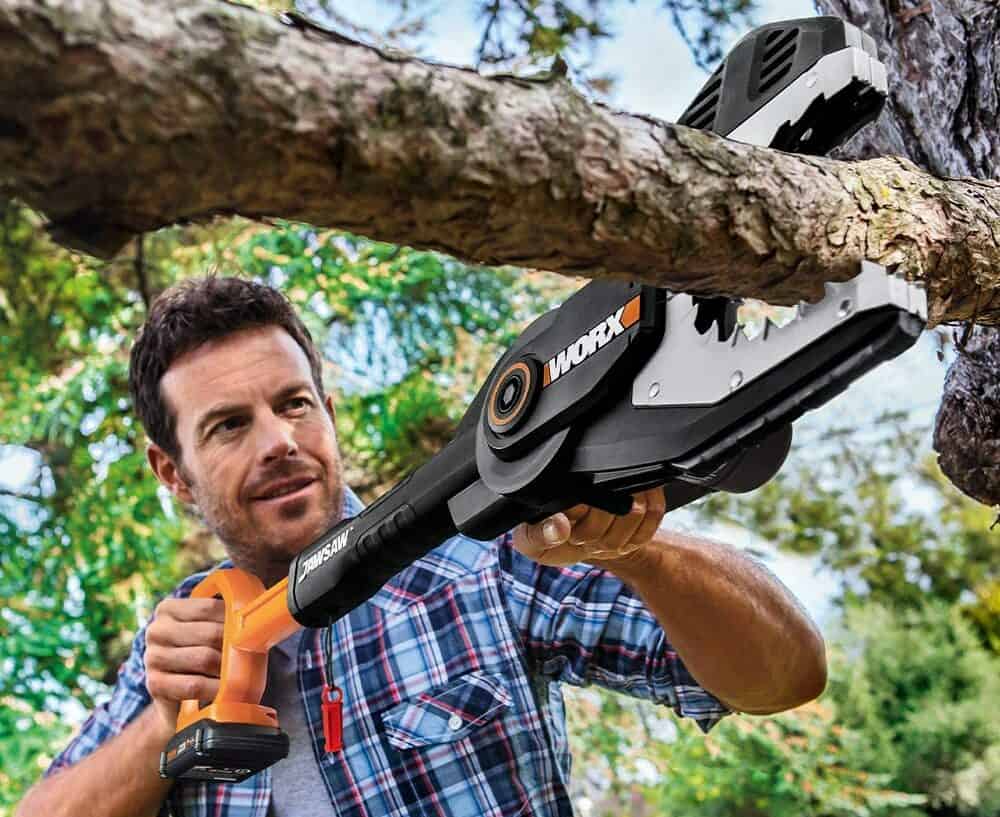 Pros:
Automatic tension capacity

Very high speed
Cons: 
Greenworks have established their name as one of the best manufacturers of woodworking tools. Their cordless mini chainsaw having a 10-inch bar is great for all classes of people out there. With a comprehensive user guide and user-friendly design, this tool is great for every small project. If you want a safe and easy to control chainsaw, don't look elsewhere but this beauty.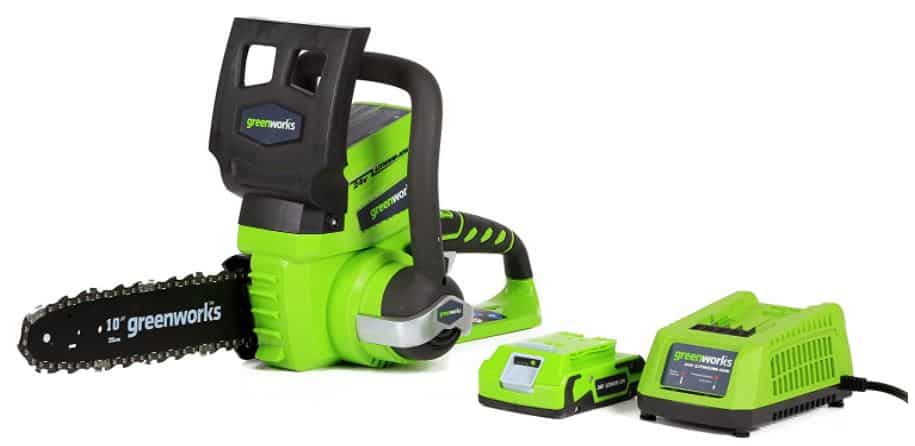 Pros:
Smooth and low noise work
Cons:
Quite large for short space
The main feature that most of the mini chainsaw lacks is that heavy-duty performance. This telescopic model will handle your projects with ease. Converting a pole saw from a traditional chainsaw is very easy without the help of any tools. The comfortable grip makes it even better to control while cutting large bushes out of your reach.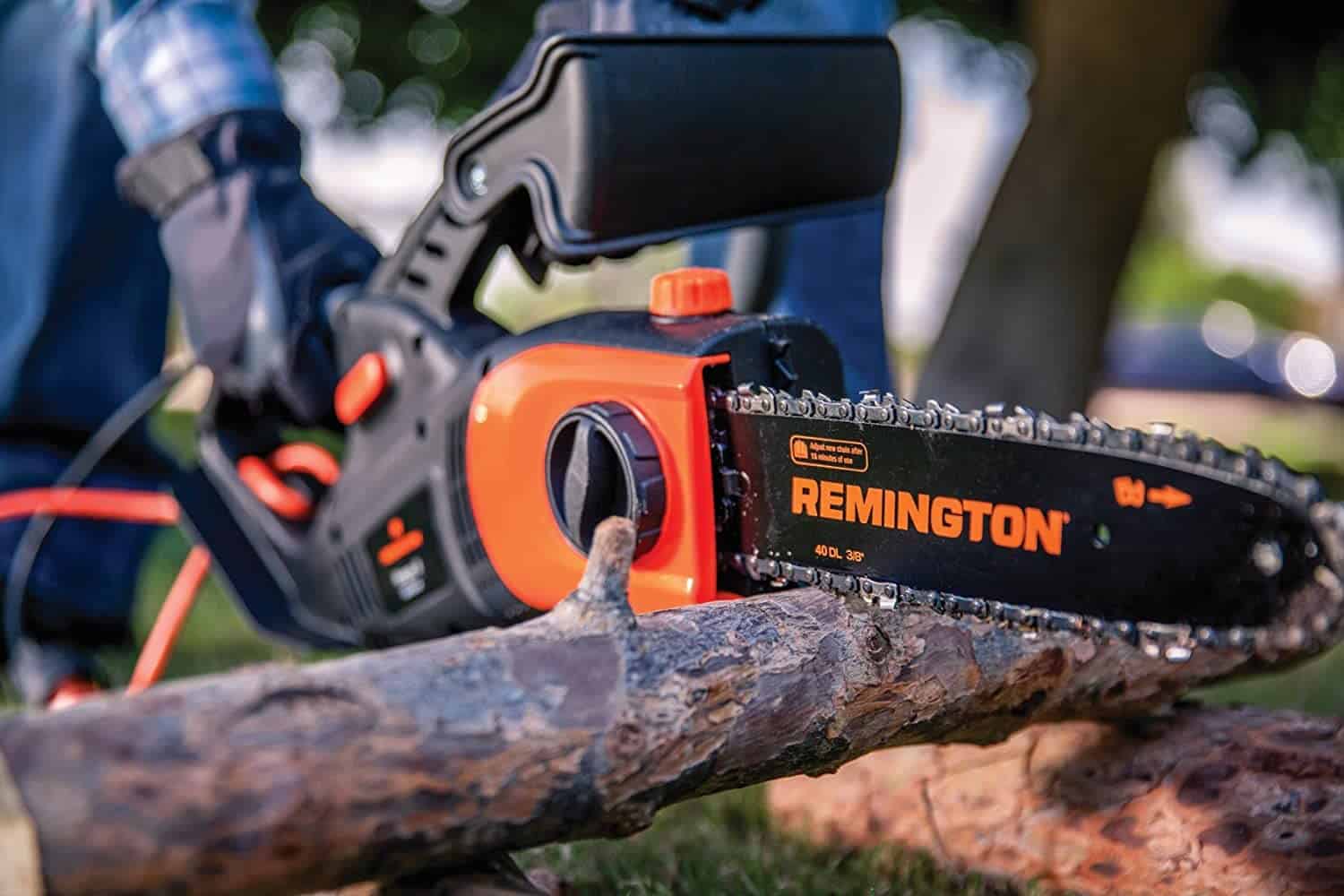 Pros:
Automatic oiler included

Good grip for control 
Cons: 
If you are still not okay with the safety features and want something more, this great tool won't disappoint you. The scissor-like handle will give you enough control over the saw to cut small to medium branches and bushes easily. The blade guard will protect you from any type of injury. If handled with care, this tool will be your best friend without any doubt.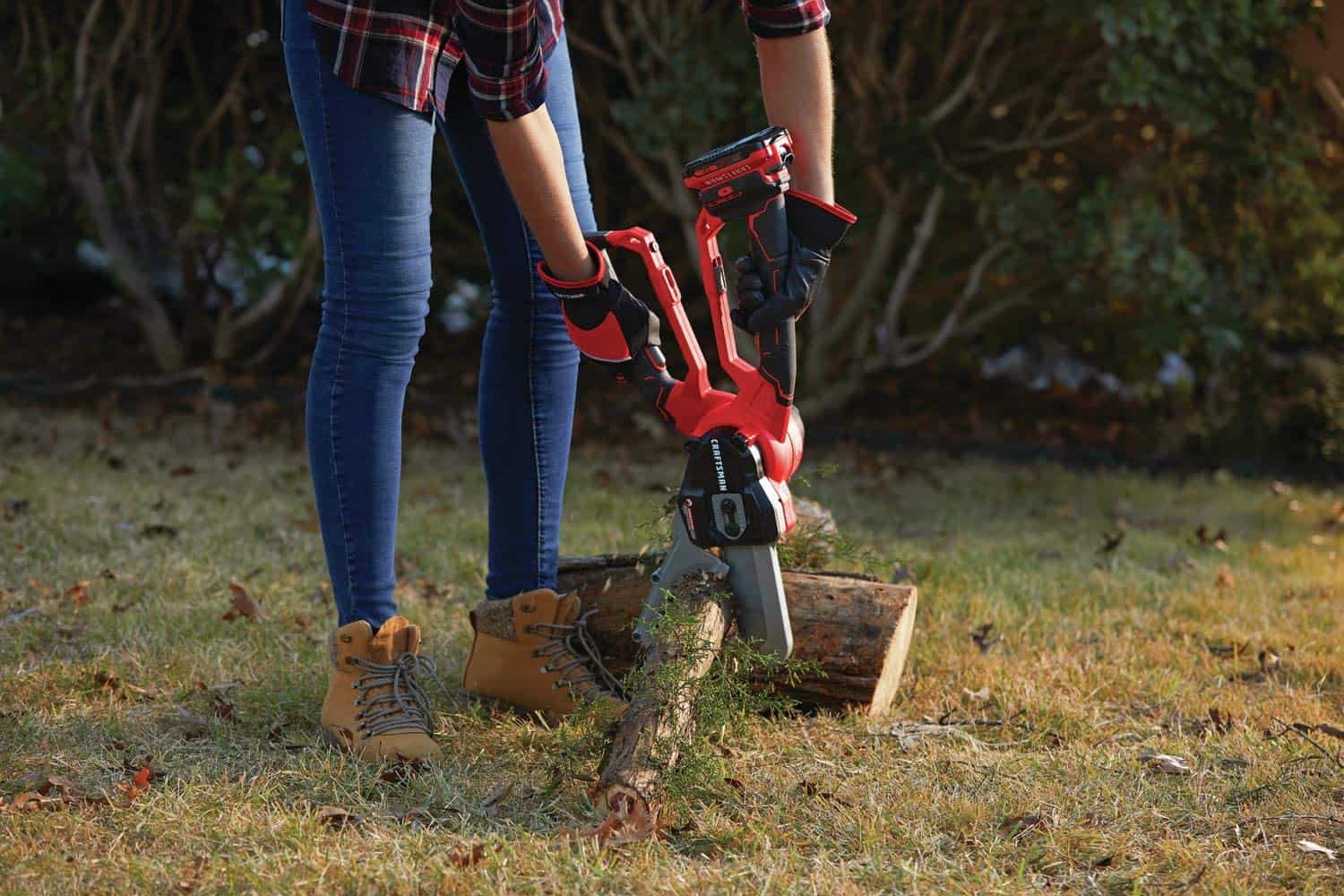 Pros: 
Easy to handle

Safest option
Cons:
This is one of the bestselling chainsaws in the market. It's amazing to see such a well-constructed chainsaw being so light in weight. The chainsaw is portable and very easy to use for every homeowner. Those 40V lithium-ion batteries will give you enough backup to clean small bushes around your home for a long time. If you have a good primary chainsaw and are looking for a secondary one, this might be your best choice.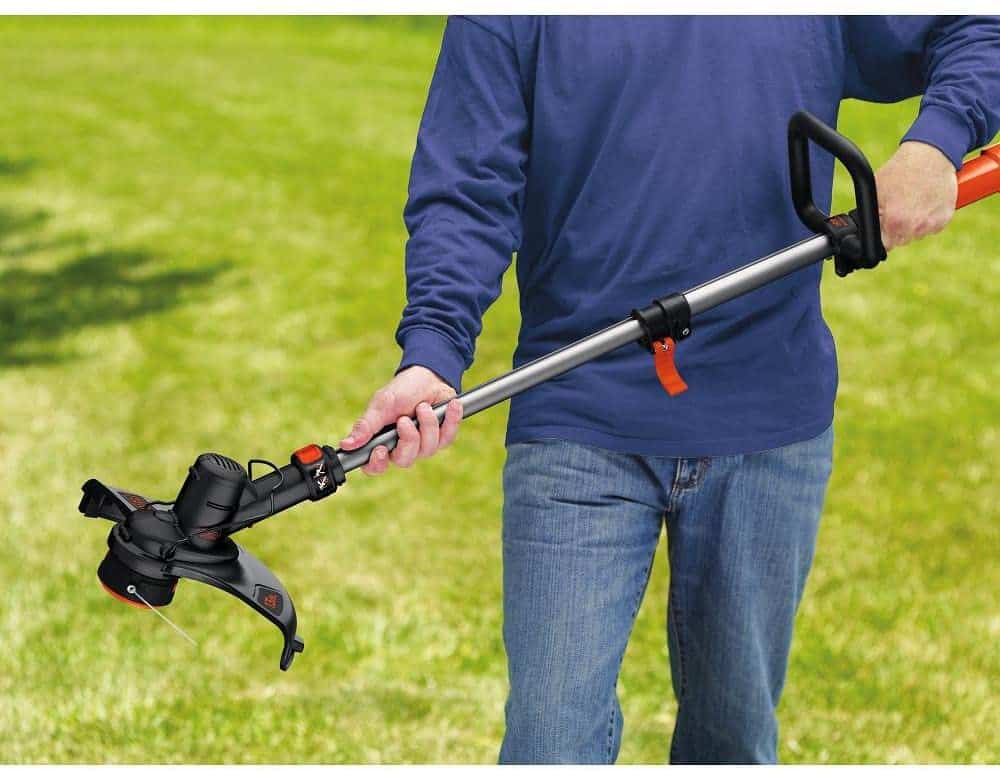 Pros:
Powerful battery

Easy to handle
Cons: 
Pole saws are great for pruning branches that are out of reach. Sun Joe SWJ800E beats everyone pole saw option on this list that can also be used as groundworks so easily. The adjustable bar can reach up to 15-foot height.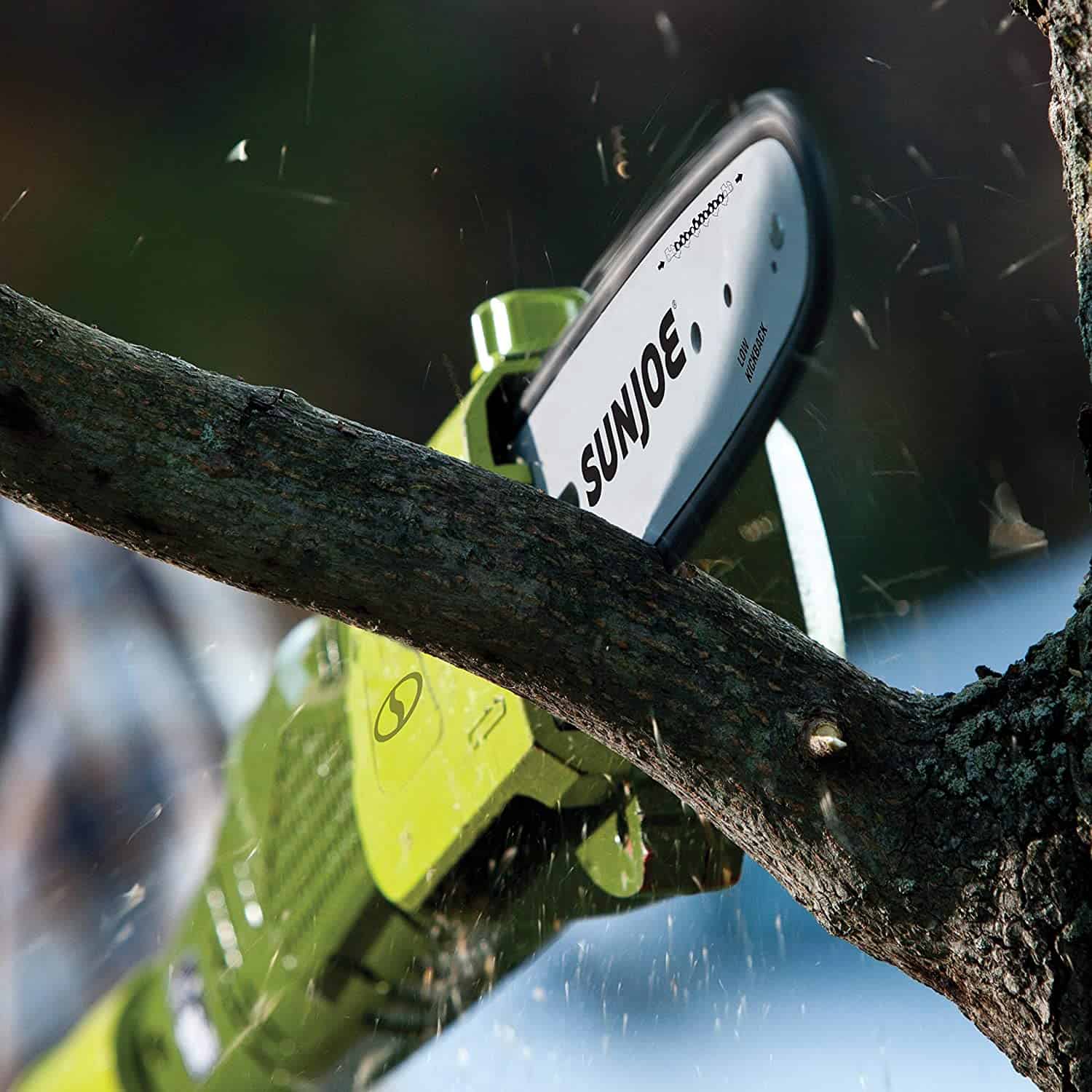 Pros: 
Easy pole adjustment

Automatic oiler
Cons:
Possible leak for oil container.
Professional chainsaw users choose a powerful yet versatile tool for their work. Dewalt 12″ chainsaw is the biggest chainsaw on this list and is perfect for people searching for long-term solutions. Safety measures are the top priority for a bigger chainsaw, and this chainsaw does everything perfectly in this department. So, you don't worry about chain break or oiler in this case.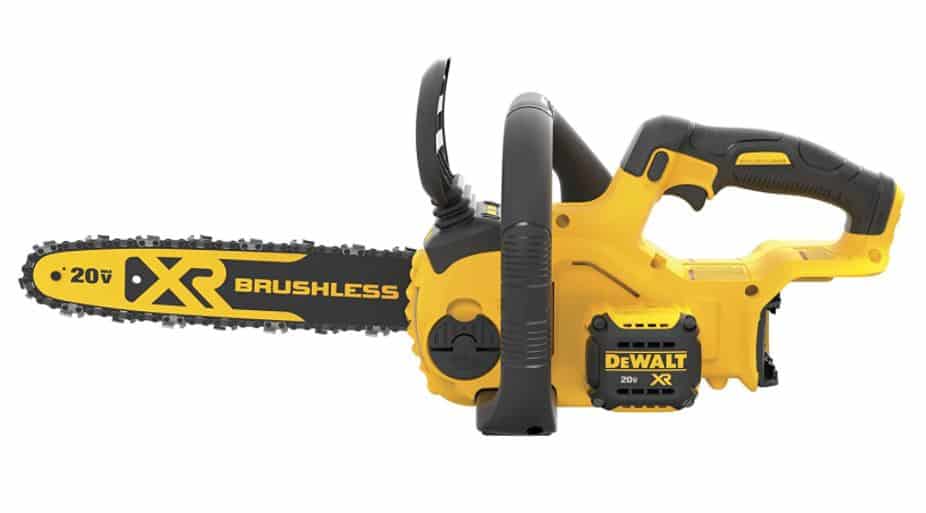 Pros:
Great power at an affordable price
Cons:
One-handed chainsaws are great for all sorts of users, starting from beginners to experts. Their mini size and very lightweight making them very portable and easy to use. If you have any doubt about their performance, then think twice as this 4-inch chainsaw can cut branches like a knife through butter.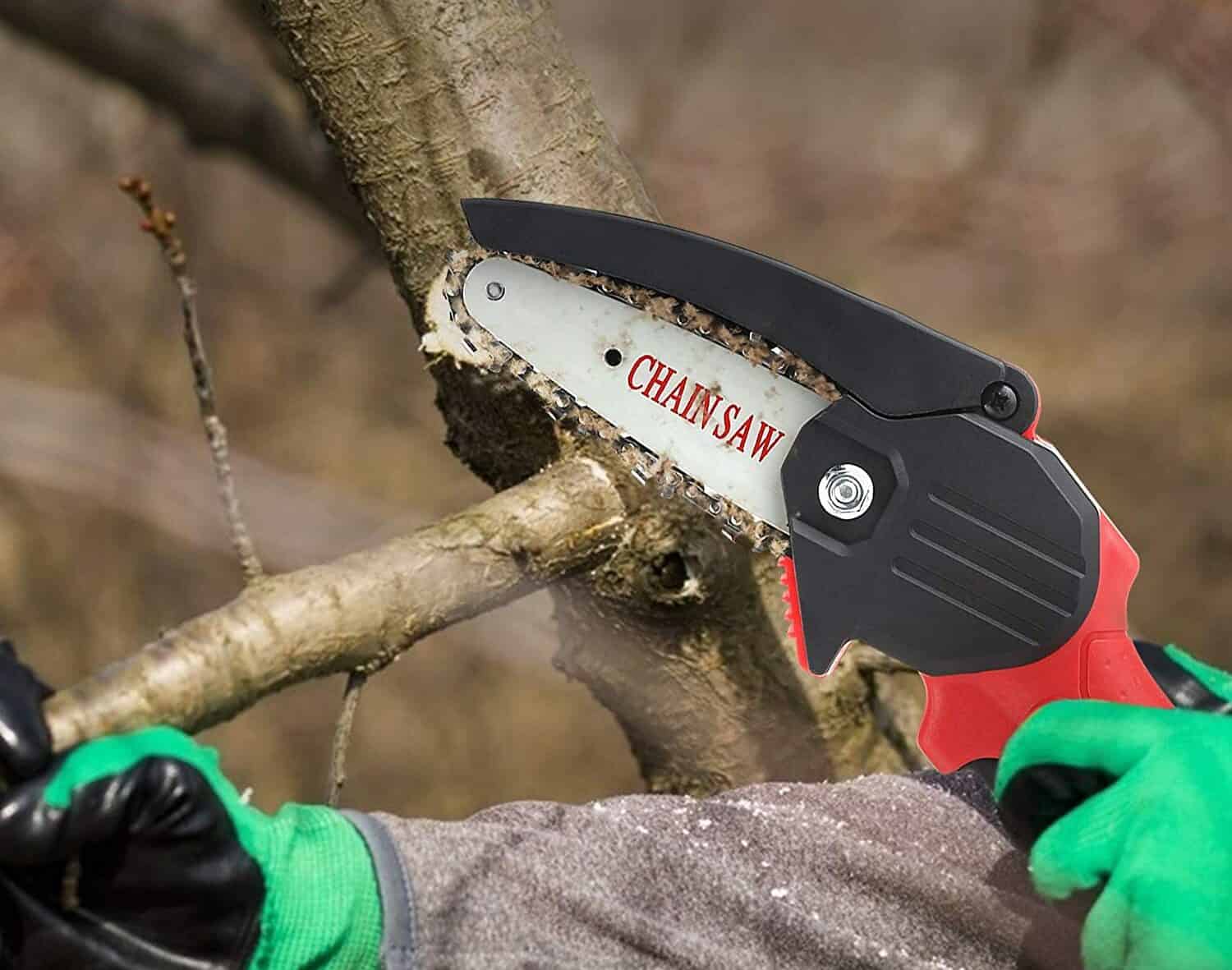 Pros:
Very light

Good one-handed grip
Cons:
Not good for long time use
Maintenance
Whatever chainsaw you buy, if not maintained properly, won't last long. To keep your tool performing for a long time, you have to take care of few things now and then. They are:
After using, clean the chain properly and keep it apart from the bar. You can use v to clean the dirt.

 After colling down, wipe the body to clean the leftover dust on the engine.

Always keep your oil reservoir fill and battery fully charged.

Keep the blade covered to avoid any accidental injuries.
Safety Concern and Tips
Chainsaws are a very powerful tool that can outstand anything beneath their blade. That's why it is a very dangerous tool without any doubt. Domestic users should be careful while using this machine in their homestead. For beginners, a basic easy to use chainsaw is preferable. A small mistake can cause permanent damage to your body or even death. Let's find out some safety measures while using a chainsaw below:
For the novice, never use a chainsaw without any training. Contact your seniors who have experience using one, and your seller can also help you out with a small guide.

You should know how to use a chainsaw properly so that you are well known to all parts of the saw you are using.

Wear protective equipment like gloves, face-shield, steel toe boots to protect yourself from any kind of injuries.

It would be wise to use a chainsaw away from flammable objects to ignite with a little spark.

For an electric chainsaw, always keep the cord extension on your back away from the blade.

Start your work by cutting a small log to test the chainsaw.

Always keep the chainsaw below your chest, as sudden kickbacks cannot be controlled.

For felling large trees, everyone should take special caution to avoid any damage. Professional help is needed in this aspect.
FAQ section
Final thoughts
Choosing the right tool is not that hard if you know your requirements properly. Sorting out your needs and budget will finish half of your work for buying. That's why it is always wise to research thoroughly before going to make a purchase. 
We hope that our best mini chainsaw guide was helpful and answered all of your doubts about buying a chainsaw for your home. Keep cutting those branches with safety gears on and bring out the real joy of woodworking. 
*Photo Courtesy Amazon