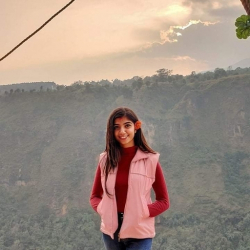 Latest posts by Rukmita Ghimire
(see all)
Husqvarna is no new brand in the world of chainsaws. Over the past few years, they have set their name on market for the best power tools. Among such a plethora of power tools, we'll today be discussing another premium model, Husqvarna 440e.
A little upgraded version of the 440, Husqvarna 440e sits on the list of chainsaw that performs all the mid-range works. By this, we mean it is suited to different users and uses like cleaning, tree felling, and firewood cutting.
In this article, we'll be including all of its core features, its pros, and cons, along with the alternatives to consider. Plus, we'll add some of the frequently asked questions before ending with our final word.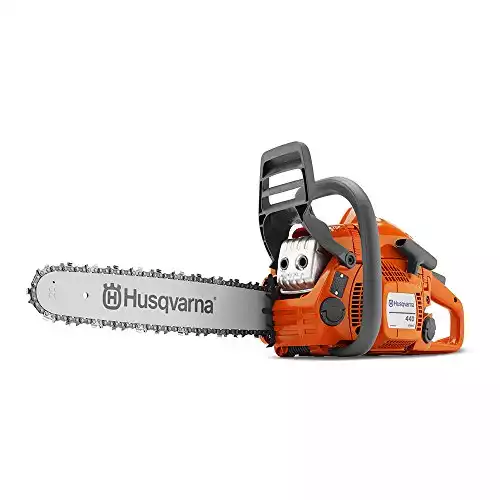 Husqvarna 16 Inch 440e II Gas Chainsaw | Amazon
440E II chainsaw with the new x-cut chain and x-force chainsaw Bar is a lightweight and efficient all-round chainsaw, ideal for the homeowner who wants a reliable workhorse that's simple to use.
Buy at Amazon
We earn a commission if you make a purchase, at no additional cost to you.
But before getting into the details, let's take a look at the product specifications.
| | |
| --- | --- |
| Power Displacement | 40.9cc |
| Power Output | 2.4hp/1.8kW |
| Maximum Power Speed | 9000rpm |
| Cutting Arm Length | 18 inches |
| Weight | 9.8 pounds |
| Power Source | Gas Powered |
| Latest Price | Check here for the latest price |
Core Features of Husqvarna 440e
Husqvarna 440e is an upgraded version of the 440. As a part of the 400 series of Husqvarna chainsaws, this model has fewer improvements than the 440. We'll talk about the differences later. But first, let's take a look at the features Husqvarna 440e has to offer.
1. X-Torq Engine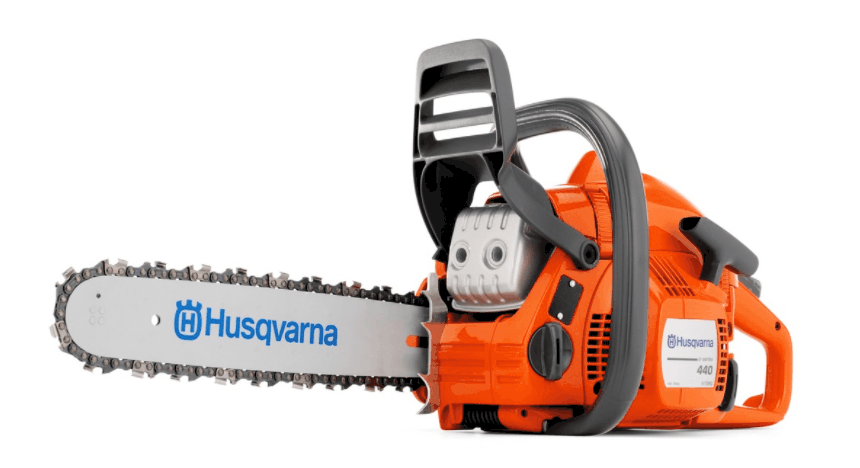 Husqvarna has designed its chainsaw with precision-engineered petrol-driven products that provide high torq. All thanks to X-Torq engine technology. These engines are designed to produce maximum power even at lower rpm's. They claim that x-torq products give up to 20% less fuel consumption and up to 75% less emission. Plus, the technology uses pure air to flush out exhaust air.
So if you're using Husqvarna 440e, you don't need to think much about environmental regulations. On top of that, you can experience an impressively wide range of RPMs and an increase in work efficiency.
2. Centrifugal Air Cleaning System
When it comes to chainsaws, the air filter will inevitably fill up with dust and debris. Cleaning and removal of sawdust can be difficult and time-consuming.  But with a centrifugal air cleaning system, the air filter in Husqvarna 440e is safe.
The system removes dust and debris before it reaches the air filter. This results in fewer chances for engine wear, ultimately increasing the product life. In addition to sustaining use, the product requires low maintenance.
3. Inertia- Activated Chain Brakes
One of the safety standards the brand never forgets to include is the inertia-activated chain brakes. Because you'll work in tough environments, chances are you may encounter sudden kickbacks. The brakes of the 440e are designed in such a way that they automatically engage through the force of inertia.
4. Automatic Chain Oiler
Lubrication is a key in any chainsaw. Either it is automatic/fixed or adjustable, the chainsaw is oil-thirsty. One downside of the adjustable chainsaw is that you need to adjust/fill in the oil each time it starts.
That's what Husqvarna understands and brings an automatic chain oiling feature in the 440e. The oiler delivers a continuous supply of bar and chain oil for safe and effective use. Another positive side to this feature is less chance of heating the machine due to friction.
5. Side-Mounted Tensioning
Side-mounted tensioning is another safety feature you'll receive in the 440e. Provided that the product comes with the bar and chain options, you'll require to change them accordingly.
Side-mounted chain tensioning makes the tightening/changing process easier. It reduces the need for exposure to sharp chains but allows quick chain adjustments.
6. Low-Vibration Technology
If you've owned and used the Husqvarna chainsaw model, you have an understanding of the anti-vibration dampeners. Most of the Husqvarna model comes with low-vibration technology. Adding one more to the list of safety features, it absorbs the vibration to users' arms and hands.
You can go on and on with Husqvarna 440e because of its low-vibration feature. We ensure you less fatigue and more urge to chainsaw-ing.
7. SmartStart Technology
Husqvarna has smart start technology on this model with the motive of getting to work faster. They claim this feature ensures users start the machine quickly. All because it reduces the recoil cord resistance by up to 40%. Besides the quick start, it becomes another factor for reducing fatigue.
8. Cutting Equipment
Chain and bar are the two business products of the Husqvarna 440e chainsaw. Designed and ideal for homeowners, the 440e is equipped with an x-cut chain and x-force bar.
Husqvarna 440e powered with a 40.9cc engine can run a bar length of 16-18 inches. However, product reviews suggest 18 inches bar as a perfect spot.
How Good is The Performance Of The Husqvarna 440?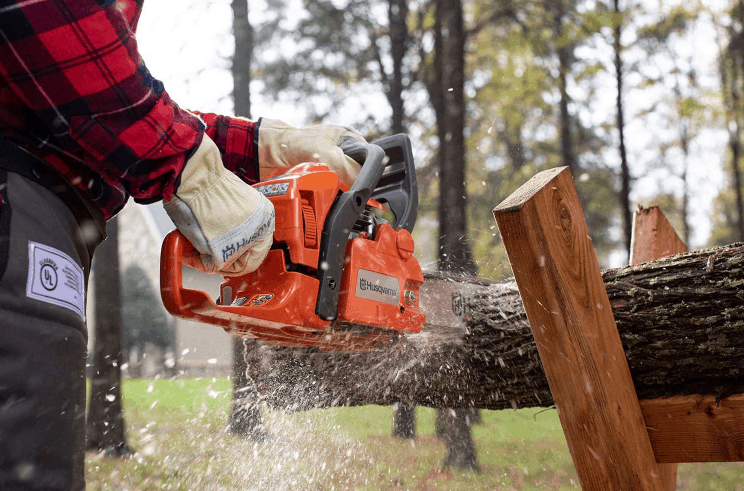 When it comes to the performance of the Husqvarna 440e, power and versatility will, for sure, amaze you. And by looking at this performance we will say this chainsaw is a perfect workhorse to anyone looking for domestic works.
Having said that, the professional workers may find the product a bit slow. This is because of the power it delivers and its capability to handle the bar length of lower measurement. But for the small-scale job or light duty works, this is capable of tackling them with ease.
The e-series of Husqvarna is for better safety and precision. That opens the floor for felling precision feature. You'll notice a dark line on the body of Husqvarna 440e, just to make sure the tree falls in the right direction and you are safe from any injuries.
The great level of grip in the front and rear handle makes the ergonomics stand out. The product is comfortable to work with because of its low-vibration technology. All that it does is reduce the potentially harmful oscillations generated when the motor runs.
Now, coming to the power and cutting capability. Husqvarna 440e is hands down the best one to tackle any job a mid-sized chainsaw would complete.  The lightweight and efficient all-around Husqvarna 440e generates 1.8kW from its 40.9cc engine.
The x-cut chain and x-force bar are true to their work. These areas are sharp and thirsty as Husqvarna claims. The coupling of power and cutting equipment is what makes the 440e a bad beast. Although, you must be very careful while using it.
That brings us to the safety features it holds. The inertia-activated chain brakes, combined choke/stop control, and side-mounted chain tensioner were all effective. We think this will give you the confidence to work without any second thoughts.
Another feature we must not forget to disclose is the x-torq engine. Every premium Husqvarna model excels in this feature, since its invention. As Husqvarna ensures and as per our findings, we noticed fewer emissions and low fuel emissions.
Last but not the least, it's easy to use mechanism. It's impressive that the 440e has smart start technology which reduces the recoil cord resistance by 40%. You'll not have trouble starting the engines and get your things done in less of a time.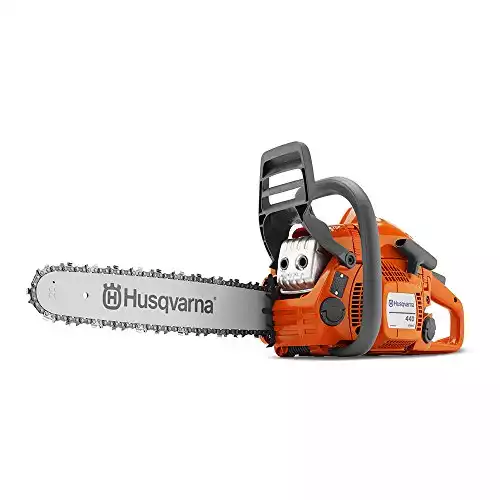 Husqvarna 16 Inch 440e II Gas Chainsaw | Amazon
440E II chainsaw with the new x-cut chain and x-force chainsaw Bar is a lightweight and efficient all-round chainsaw, ideal for the homeowner who wants a reliable workhorse that's simple to use.
Buy at Amazon
We earn a commission if you make a purchase, at no additional cost to you.
Pros of Husqvarna 440e Chainsaw
What attracts the potential user is the features that are most likely to ease them. The positive side can be as simple as – less fatigue or a little more to that – quick finish. It's always the pros we buyers look after. Moving on, next, here are the advantages of using the 440e.
Powerful 2.4hp Motor
Husqvarna 440e chainsaw is a reliable workhorse that's easy to use for homeowners. The pros of this chainsaw start with its powerful 2.4hp/1.8kW motor with a power displacement of 40.9cc.
The 440e is powerful enough to handle the bar length of 16 inches that is sufficient for small-scale works. With a cutting speed of 9000 rpm, this chainsaw becomes valuable among the arsenal of light-duty chainsaws.
Durability
You don't want those power tools that are prone to fading. Make sure the product you're buying is durable and worth every penny. Husqvarna understands this and brings us the three-piece crankshaft that is responsible for maximum durability in the 440e.
Ergonomics
Imagine the trouble you go through while lifting the chainsaw. The impressive power coupled with comfortable ergonomics is what makes the 440e ideal for homeowners.
The 440e chainsaw designed with front and rear handles increase comfort with soft inlay and an ergonomic trigger.
Maintenance Friendly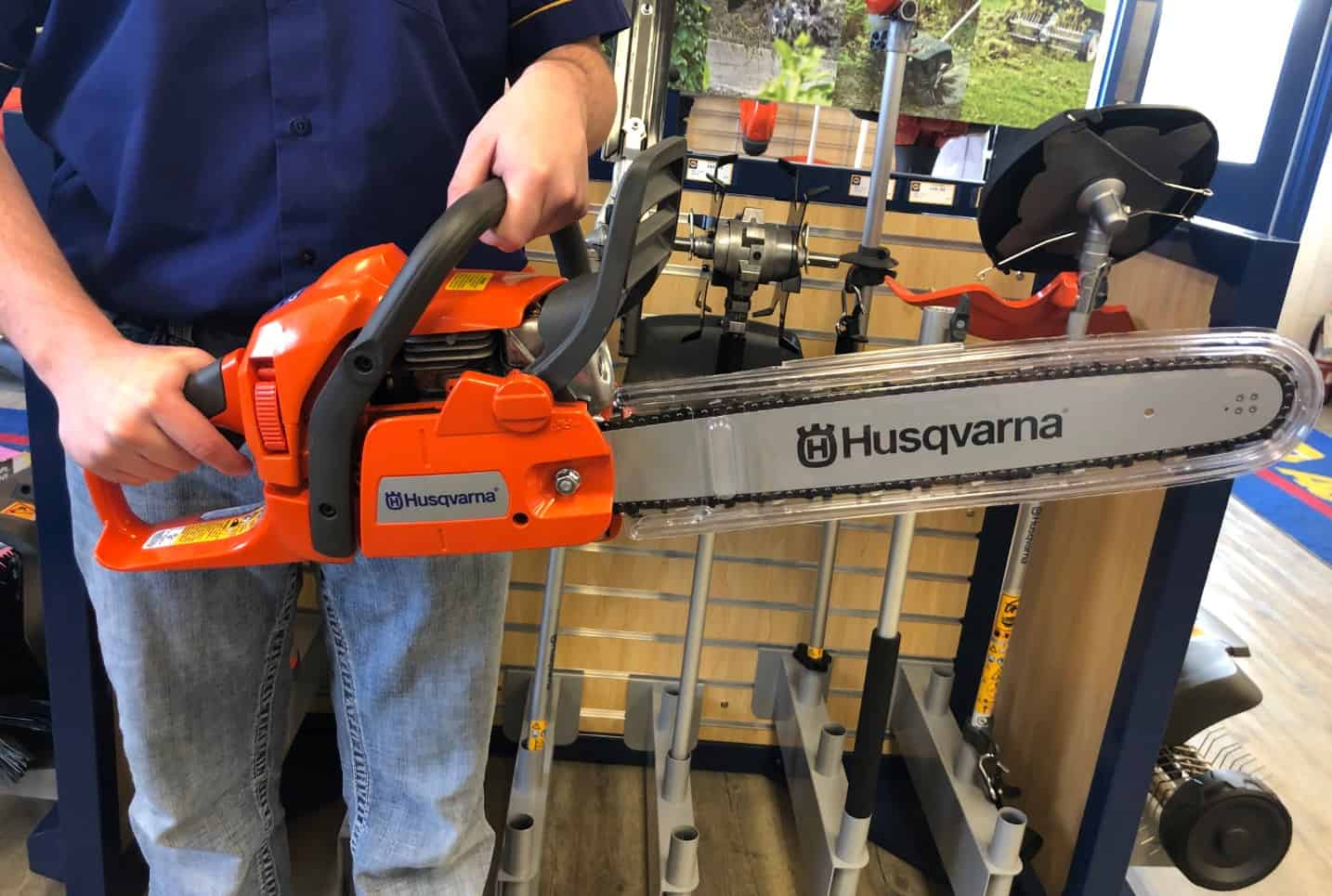 Do you know the first thing you look after in any troubleshooting? – Is there any clogging? – Right. You are well known for the fact that any power tool should be in top-notch condition. Be that for durability, or work efficiency, or optimum results.
Husqvarna 440e chainsaw features a quick-release top cover for easy access to the air filter. This allows for the quick change and replacement of the air filters. Another is the centrifugal air cleaning system for reducing the risk of debris clogging on the air filter.
User Friendly
Besides quality, Husqvarna focuses on product reliability and consumer needs. The reason it is reliable even after these many years is it values the consumer needs.
There are several user-friendly features Husqvarna added to the 440e model. There's a Combined choke/stop control for easier starting that eliminates the risk of engine flooding. Low-Vibration technology reduces operator fatigue. It also features a snap-lock cylinder cover for easy cleaning.
Not to forget the felling marks for more felling precision, tool-less side-mounted chain tensioner for replacing/tightening the chain without any tool.
Cons of Husqvarna 440e Chainsaw
Despite these positive sides, there are downsides to the 440e any potential user needs to be aware of before the purchase.
Limited to Small-scale Jobs
Of many positive sides, one major downside to Husqvarna 440e is its power to handle just small-scale jobs. As we mentioned above, its 40.9cc power displacement is sufficient enough to handle the operation of just 16″ bar length.
Are There Any Alternatives?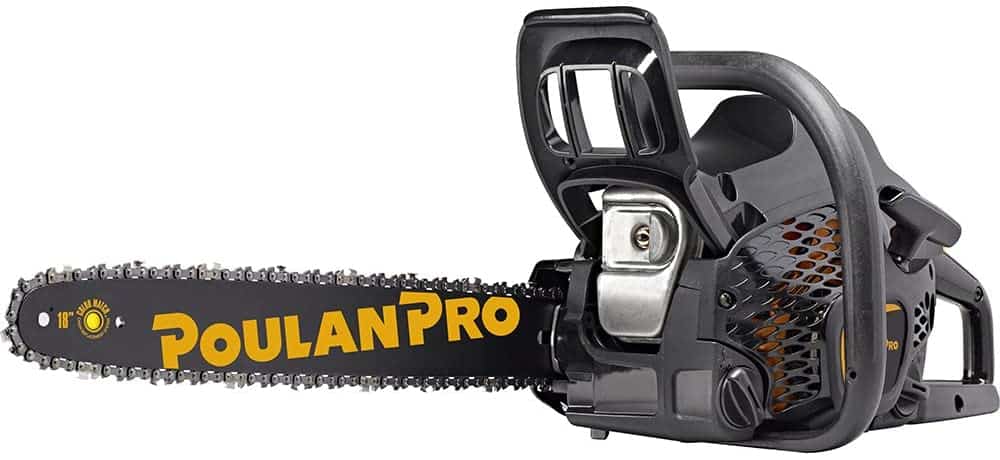 Only if you're looking for some other brands with more power than the 440e, you have Poulan Pro PR4218 as an alternative. This gas-powered chainsaw is equipped with 42cc, 2-stroke engine that can handle a bar of 18 inches – perfect for medium-duty works, tree felling, and firewood cuttings.
The Poulan chainsaw brand claims the engineering with patented OxyPower technology for more power, 70% fewer emissions, and 20% lower fuel consumption.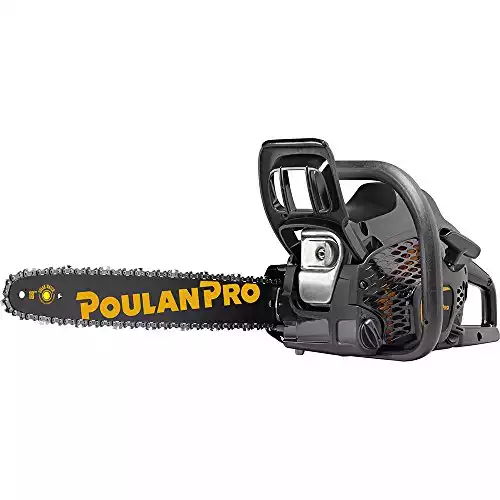 Poulan Pro PR4218 Gas Chainsaw | Amazon
The PR4218 is a 42cc 2-cycle chainsaw that is ideal for medium-duty storm clean-up, tree felling and firewood cutting. The OxyPower engine Provides more power, lower emission levels and lower fuel consumption. Fully featured with Super Clean Air Filter System, Automatic Oiler and Reduced Vibration Handles.
Buy at Amazon
We earn a commission if you make a purchase, at no additional cost to you.
12/07/2023 09:01 pm GMT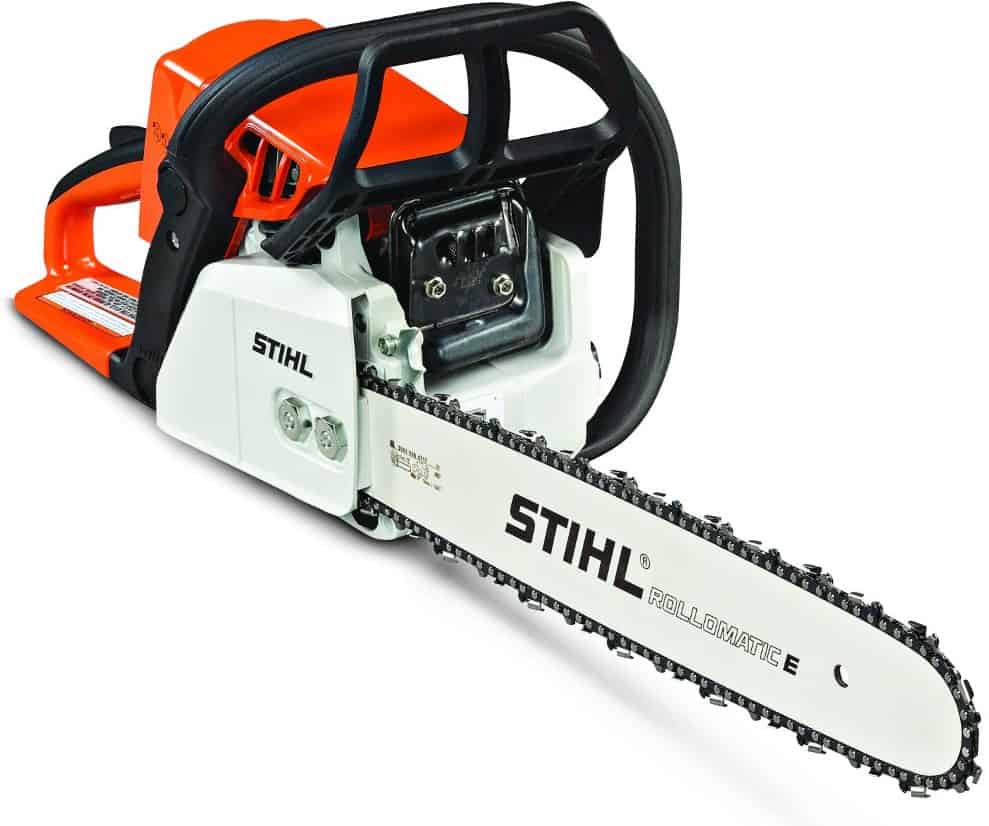 Stihl MS 250 is one of the top premium chainsaws available. With a slightly tough power than the 440e, Stihl MS 250 is capable of completing all your clean-up tasks. So if you don't like the idea of the Husqvarna brand or the power it delivers, this chainsaw can be the perfect pick for you.
Stihl MS 250 comes with a 45.4cc, 2-stroke engine with a power of 3bhp. Stihl claims it as a robust mid-range chainsaw with an excellent power-to-weight ratio. The workhorse of this engine is its 18′ long guide bar.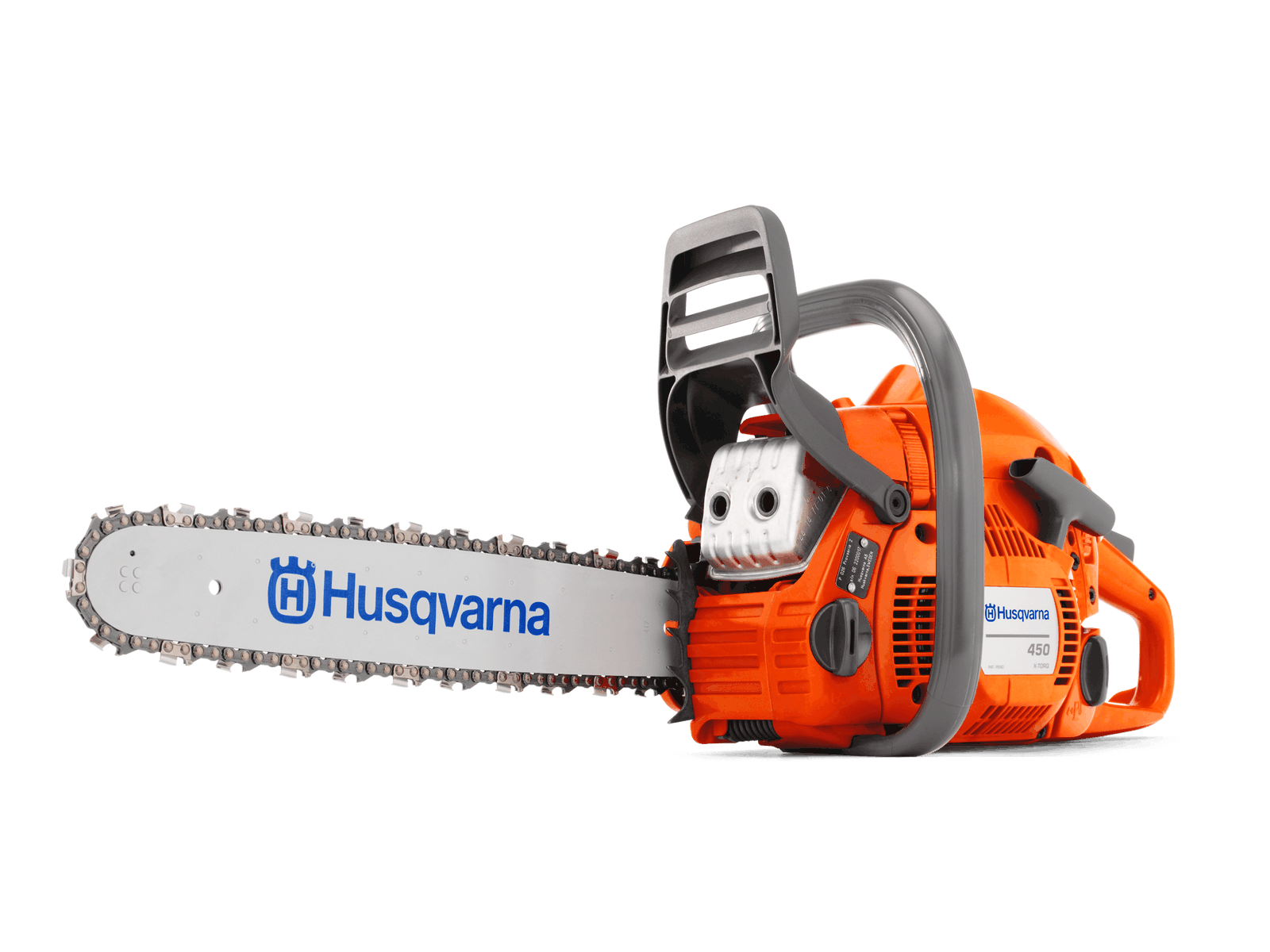 Husqvarna 450 is, what we like to call, a big brother to the 440e Husqvarna. It's got a little more power handling capacity, a little more features, and a little more advanced features. With 20 inches of cutting length, Husqvarna 450 is another most preferred chainsaw here at The Forestry Pros as well.
So, if you're willing to get a little more than the 440e, make sure to study it in detail in our Husqvarna 450 Review and Guide.

Husqvarna 450R 450 Rancher Gas Chainsaw | Amazon
The Husqvarna 450 Rancher is a superior all-round chainsaw with heavy-duty power and impressive performance. Features LowVib® anti-vibration technology for safe, comfortable control. Powered by an X-Torq® engine for reduced fumes and fuel consumption.
Buy at Amazon.com
We earn a commission if you make a purchase, at no additional cost to you.
12/07/2023 06:26 pm GMT
FAQs
Question: What is the difference between the 440 and 440e chainsaw?
Answer: As per the specification and features, both of the chainsaws have almost identical ones. However, there are few shortcomings in the 440 that Husqvarna decided to upgrade in the 440e model.
Starting with the tool-less system in the 440e model. on contrary, the 440 chainsaw requires the T-wrench for adjusting to a chainsaw. That means with the 440e model, you don't need to keep an eye on the nuts or tools.
Another difference these two holds is the price. The increase in price to the 440e model may be because of its tool-less adjustments. Including that, this is the upgraded version of the 440, and the new model may indeed be costly than the old one.
Question: Is the bar interchangeable in the 440e?
Answer: Husqvarna 440e comes with a detachable bar feature. The options for the bar length ranges from 16 inches to 18 inches. However, with customer feedback and our test, 18 inches bar length is the perfect one.
Question: What chain size does the Husqvarna 440e have?
Answer: Husqvarna 440e is equipped with an x-cut chain and x-force bar. The bar length of the 440e is 18 inches and so is the chain size. The chain runs at a speed of 23.1m/s.
Husqvarna 440e Review: The Final Word
It is of no doubt that the brand, Husqvarna, offers a quality product to their potential users. So is the case with the 440e Husqvarna. The lightweight, efficient, and all-around 440e is like a perfect piece of cake for all homeowners. Husqvarna claims it as their premium product and we couldn't deny that fact.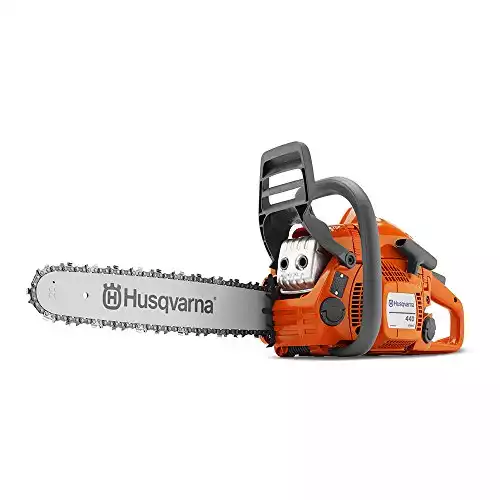 Husqvarna 16 Inch 440e II Gas Chainsaw | Amazon
440E II chainsaw with the new x-cut chain and x-force chainsaw Bar is a lightweight and efficient all-round chainsaw, ideal for the homeowner who wants a reliable workhorse that's simple to use.
Buy at Amazon
We earn a commission if you make a purchase, at no additional cost to you.
Its sturdy design and high durability make it well suited to most light-duty tasks. Some special features like the X-torq engine, easy-to-use features, and low-vibration technology will charm you.
That being said, if you are looking for other options with more power and cutting ability there are plenty of other models. Among the selected options, Husqvarna 450 is worth checking. Apart from the Husqvarna brand, Stihl, too, is a premium brand with high-quality chainsaws. That's why we included Stihl MS 250 as an alternative.