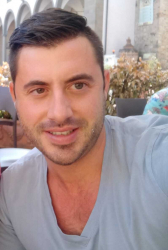 Latest posts by David Borgogni
(see all)
In this Husqvarna 450 review, we're going to take a close look at this chainsaw, examining the pros and cons associated with it, suggesting a few alternatives that may be worth considering, and finally giving our thoughts on who the 450 may suit.
Searching for a new tool can often be a long and arduous task, thanks to the sheer amount of options available. Thankfully, you can trust some brands to produce the goods, thanks to their preexisting reputation.
This allows you to build up an idea of how the product may perform without getting your hands on one.
One such brand is Husqvarna. They specialize in outdoor power tools, motorcycles, and other machinery. Having been an industry leader for many years now, they cater to all manner of users, but their professional standard equipment is excellent.
Husqvarna 20 Inch 450 Rancher II Gas Chainsaw | Amazon
The new lightweight & efficient 450E series chainsaw is an all-round saw, ideal for those looking for a chainsaw that is exceptionally easy to start & maneuver. Featuring X-Torq engine for lower fuel consumption & reduced emission levels.
Buy at Amazon.com
We earn a commission if you make a purchase, at no additional cost to you.
09/20/2023 11:36 pm GMT
But before we dive into the details, let's take a look at a product overview.
| | |
| --- | --- |
| Power | 3.2 horsepower |
| Dimensions | 38 x 9 x 12.5 inches |
| Weight | 11.3 lbs |
| Power Source | Gas |
| Max Speed | 9000 rpm |
| Noise Output | 113db |
| Chain Length | 20-inch |
| Latest Price | Check here for the latest price |
Core Features of the Husqvarna 450 Chainsaw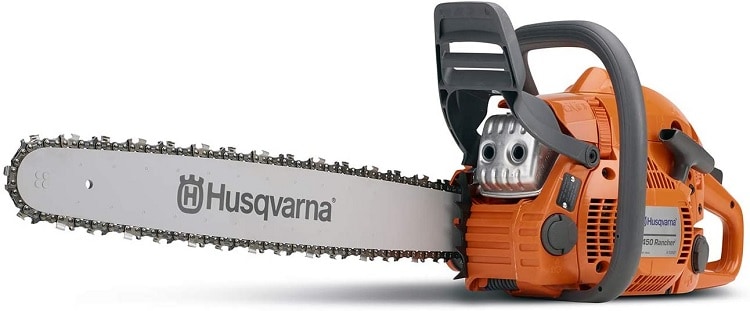 The 450 comes from Husqvarna's premium range aimed at professional landscapers or those with large foliage that needs cutting back. It comes packed with plenty of cutting power and is suitable for use with all different types of debris, from smaller shrubs to large trees that need felling.
The 450 is a great option for those that need a powerful chainsaw. We've tested many professional-grade chainsaws here at The Forestry Pros, and the 450 is right up there with the best of them.
Here, we'll outline what you can expect in terms of its key features. From its power to its size and sound, understanding the core features helps you decide when looking to buy one.
Powerful Engine
A chainsaw's power is one of the first things any potential buyer will look at. It gives a clear indication of how well the tool will cut through branches and how quickly it will get the job done.
The 450 ships with an engine that produces 3.2 horsepower and reaches a maximum of 9000rpm. These are some pretty strong numbers that set it up to be able to deal with pretty much anything you can throw at it, although, of course, the engine alone isn't enough to get any cutting done.
The engine is also fitted with X-Torq technology. This allows it to operate much more efficiently than previous generations, reducing fuel consumption and emission levels. The X-Torq feature makes the 450 a solid choice for those looking for high levels of efficiency.
There is also Husqvarna's 'smart start' feature, a fuel pump, and auto return switch, all of which allow for easier starting, handling, and less tool tension.
Gas Powered
The 450 is powered by gas. This means you'll never be limited by a power cord or battery dying when working. Gas-powered chainsaws also produce higher power outputs than their electric counterparts, meaning if you need the biggest and best, then gas is the way to go.
Its 50.2cc engine is 2-stroke, meaning it's plenty powerful and generates a high amount of torque. Just bear in mind that you'll need to mix fuel and oil together before refilling the tank.
Air Injection
Air Injection technology has been included in the production of the 450. What this means is that larger dust and debris particles are removed before they reach the air filter.
By removing these larger particles, the 450 requires less filter maintenance. This is one of the most common elements of gas-powered tools that need to be changed and cleaned regularly. By filtering out the worst offending particles, you save time and money on maintenance costs, and the engine runs smoother and more efficiently for longer.
Reduced Vibration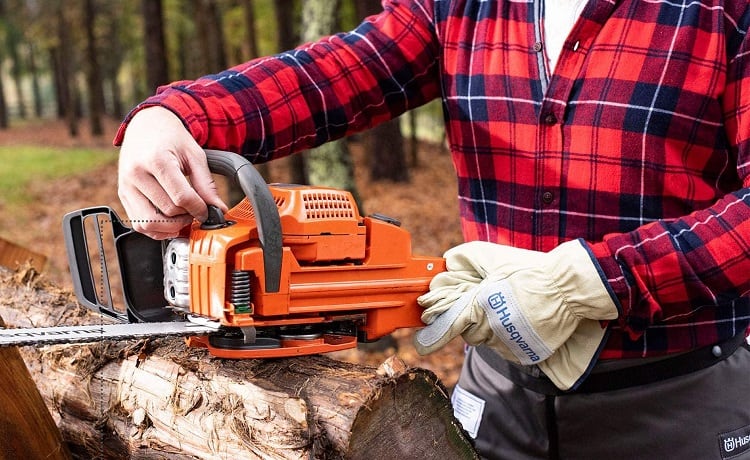 The amount of vibration that a tool or machine generates is an important but often overlooked piece of information when looking for a new product. Vibration is the number one cause of fatigue when working with gas-powered tools and, if exposed to it for long enough, can cause physical damage to the user.
Husqvarna's 'LowVib' technology reduces the overall vibration level dramatically. This, in turn, leads to a safer operation that can be carried out over a longer amount of time.
Easy Maintenance (When Required)
Despite clever innovations like the LowVib technology that the 450 has built-in, as with any tool, there is a certain level of maintenance required.
Thankfully, Husqvarna has included some useful features to help keep the 450 up and running.
The air filter includes a quick-release cap. This means that gaining access to the air filter to clean or replace it is straightforward. Simply use a screwdriver or other tool to flick the quick release cap to gain access. No messing around with screws or tricky release systems.
A srench tool is included. This combination of a screwdriver and wrench allows users to adjust the bar and chain when needed quickly. This means you have total control over chain tension and can make changes based on the job at hand.
Flip-up caps on the bottom of the chainsaw means gaining access to the chain itself is easy. It is here that the chain can be lubricated when needed as well as filling up with fuel.
X-Cut Chain
A good chainsaw wouldn't be complete without an effective chain. The X-Cut chain is a 20-inch forged cutting chain that retains its strength and sharpness well.
At 20 inches, the chain sits in the category of one of the longest on the market. This makes it ideal for even the toughest of jobs, and thanks to Husqvarna's engineering, it retains tension and doesn't stretch as much as some of the other premium chainsaws on the market.
How Does the Husqvarna 450 Chainsaw Perform?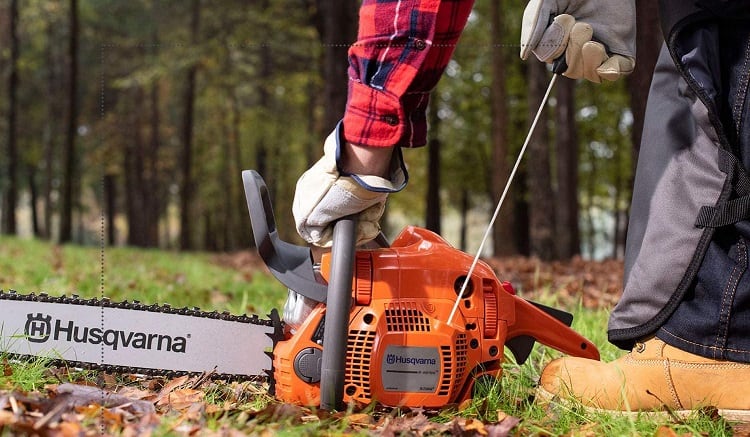 This is a tough piece of kit aimed at those who need to get the toughest jobs done. But, thanks to its power and build quality, it manages to do those well, living up to the brand name and reputation.
The technology that the manufacturers have included seems to work well. In addition, the easy access for maintenance is handy as they allow you to carry on with work even if you run into mechanical problems.
In terms of cutting power, the 450 can pretty much cut through anything within reason. The largest trees and the thickest debris are no match if you know what you're doing.
The X-Cut chain works well and is as sharp and reliable as Husqvarna claims it to be – just make sure you remember this and use all of the necessary safety equipment!
This chainsaw does ship with some great safety features, though. For example, the chain brake is a welcome inclusion. Although there is no substitute for using the 450 carefully, the inertia-activated brake on the chain mains potentially lethal safety issues can be avoided.
When the chain comes into contact with something in an unusually forceful way, like if you fell onto something whilst operating it, then the engine cuts off, and so does the chain. This is particularly useful if you intend to be working alone, at height, or in remote locations.
Another key thing to note about the Husqvarna is how easy it is to start. Many older gas-powered chainsaws were notoriously tricky to get going, with several strong yanks on the starter cord required. With the 450, however, it starts first or second time and with much less force needed.
The ergonomics and overall feel of the tool are of the highest quality. It's clear that this is designed for professional use thanks to its excellent handling and comfortable auxiliary handle.
This extra handle made cutting up into branches just as easy as cutting down into them. The metal bucking spikes included on the chain grip into wood well with the LowVib technology combining to create an incredibly smooth cutting experience.
Other impressive performance areas include the X-Torq engine's efficiency, allowing you to cut for a substantial amount of time before refueling is required.
When the time comes to refuel, one side of the 450 is flat, allowing you to lay the chainsaw on its side whilst filling the 0.95-pint tank. The oil reserve is also located on this side for a convenient refill.
Pros of the Husqvarna 450

This cleverly designed and well-built chainsaw has plenty of positives to look at. Here, we'll take a closer look at each of them and outline how they may influence your buying decision.
The X-Torq Engine
One of the real stand-out features of the 450 is its engine. The X-Torq is billed as being highly efficient as well as easy to start and use. It certainly lives up to that with the capacity to cut through multiple large trees as well as plenty of thick foliage before needing refueling.
Professional Grade Ergonomics
Both the main and auxiliary handle feels solid and makes maneuvering the 450 a simple enough task. Cutting up into wood and down is manageable, while accessing the fuel and oil reserves easily adds to the overall feel and ease of use you come to expect from the 450.
X-Cut Chain
The chain that the 450 ships with is another massive positive. It feels tough and sharp enough to handle almost anything you could throw at it. The metal bucking spikes work well and help dig into the branch or tree you're working on, making the process that bit easier.
The access to the chain is also straightforward. You can adjust the tension with a single bolt on the right-hand side of the unit – perfect for making quick changes on the go.
Low Vibration
Husqvarna's LowVib technology works well as cutting through even the biggest trees results in a relatively smooth cut. In addition, the front handle's vibration levels are measured at 3.1m/s2, and the rear handle's 4.9m/s2, significantly lower than many previous generations and helping to ensure a smooth cut.
Air Injected Cleaning
Reducing the amount of maintenance needed is always a positive thing. The 450 uses air injection to automatically remove the largest dust and debris particles from the air filter, meaning less cleaning and few replacements are needed.
The access to the air filter is also a pro; simply pop a cap off to get to it without the need for a screwdriver or any small catches. It can even be done whilst wearing work gloves.
Operator Safety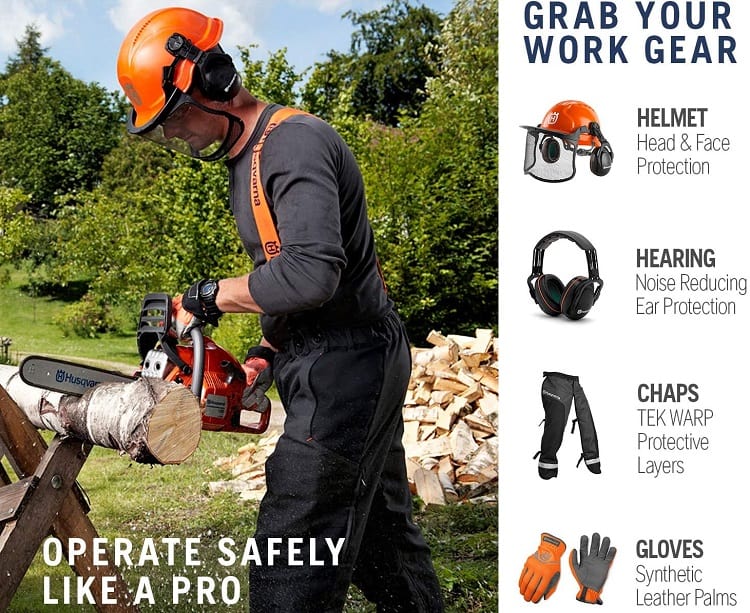 Safety when using any power tool is of paramount importance, particularly when using professional-grade chainsaws. The Husqvarna 450's inertia-activated chain brake is an excellent feature that gives you confidence that should anything go drastically wrong, severe injury will be avoided.
Cons of the Husqvarna 450
Usually, there are plenty of downsides to going with the good. However, we struggled to pick anything out with this particular chainsaw that would potentially stop you from purchasing one. So here are the limited cons of the 450:
Price
The major reason your average yard worker wouldn't want to get one of these is the cost. As a professional piece of equipment made by a reputable manufacturer, you can expect to pay a premium.
That being said, if you are looking to purchase one for work and are already committed to a significant budget, then the 450 represents pretty good value when you compare it with other similar tools on the market.
Husqvarna 20 Inch 450 Rancher II Gas Chainsaw | Amazon
The new lightweight & efficient 450E series chainsaw is an all-round saw, ideal for those looking for a chainsaw that is exceptionally easy to start & maneuver. Featuring X-Torq engine for lower fuel consumption & reduced emission levels.
Buy at Amazon.com
We earn a commission if you make a purchase, at no additional cost to you.
09/20/2023 11:36 pm GMT
What Are the Best Alternatives?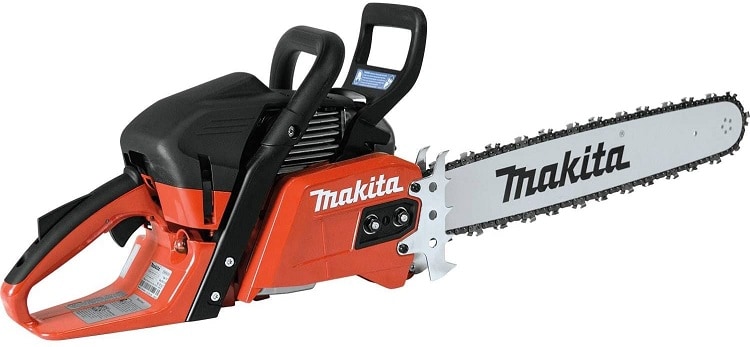 Makita is a brand that always springs to mind when looking for quality tools. The Makita EA5600 sits in their upper range of chainsaws, and although the blade length is only 18-inch as opposed to the 450's 20-inch, the Makita reaches a whopping 13800 rpm from its 4.1 horsepower engine.
This means that despite its lesser reach, it produces slightly more power than the Husqvarna. But, of course, you have to pay for that, and the EA5600 is a few bucks more in price but one worth considering.
Makita EA5600FREG 18" 56 cc RIDGELINE Chain Saw | Amazon
The Makita 18 In. 56cc chain saw combines a high power-to-weight ratio with easier starts and lower vibration for a full range of applications. The 56cc engine delivers 4. 1 HP and an engine speed of 13, 800 RPM, with an easy start spring-assisted starter. A heavy-duty cartridge filter system increases durability while reducing the frequency of maintenance.
Buy at Amazon
We earn a commission if you make a purchase, at no additional cost to you.
09/21/2023 04:25 pm GMT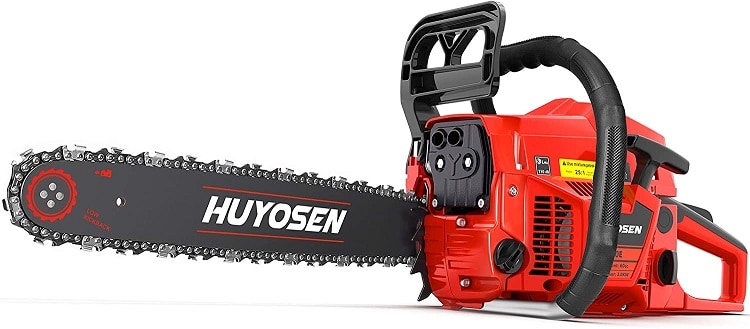 Huyosen has produced somewhat of a surprise package with an excellent alternative to the bigger boys on the market. The HUYOSEN 5520E comes with a 54.6cc engine and spins at up to 8500rpm.
The only downside is that the chainsaw itself is slightly heavier than both the Makita and Husqvarna but offers an excellent option at a slightly lower price point.
HUYOSEN 5520E | Amazon
HUYOSEM 20-inch chainsaw for homeowner use is ideal for everyday tasks such as tree pruning, hobby work or firewood cutting.
Buy at Amazon
We earn a commission if you make a purchase, at no additional cost to you.
Frequently Asked Questions About the Husqvarna 450
Question: Can You Swap the 20-inch Bar for an 18-inch One?
Answer: Yes, you can. The bar is interchangeable, meaning you can swap it out for the length of your choice. Just be sure to consult with your manual to ensure you purchase the correct one.
Question: Does the 450 Chainsaw Come with a Carry Case?
Answer: The chainsaw does not come with a case as standard, but there are multiple options available to you. For example, you can purchase Husqvarna-specific carry cases or get generic ones that will also work. Just be sure to bear the dimensions outlined above in mind with buying one.
Question: Do the Bar and Chain Come as Part of the Package?
Answer: Yes, when buying one of these, you can expect to receive the engine in its casing with the necessary handles, the bar that the chain fits on to, and the chain itself. However, you will not receive a carry case or any fuel.
Final Thoughts on the Husqvarna 450 Chainsaw
Those that are thinking of getting one of these will already be familiar with the merits of using a Husqy. It's a great chainsaw that has been developed and built by a reputable brand and one that will help lumberjacks and landscapers alike cut through pretty much anything.
Whilst there are many other alternatives on the market, the 450 is a strong candidate for best in class, especially since it costs less than some of the other competing models from well-known brands.
We would definitely recommend the Husqvarna 450 chainsaw to anyone who may be considering buying one.
Husqvarna 20 Inch 450 Rancher II Gas Chainsaw | Amazon
The new lightweight & efficient 450E series chainsaw is an all-round saw, ideal for those looking for a chainsaw that is exceptionally easy to start & maneuver. Featuring X-Torq engine for lower fuel consumption & reduced emission levels.
Buy at Amazon.com
We earn a commission if you make a purchase, at no additional cost to you.
09/20/2023 11:36 pm GMT