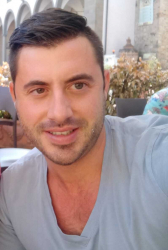 Latest posts by David Borgogni
(see all)
My bad back prevents me from chopping wood the old-fashioned way, an ax in one hand and a cup of hot cocoa in the other. Instead, I equip my power tools with the best firewood drill bits that enable me to split logs from different types of firewood without putting too much strain on my lower back.
In addition, these drill bits are excellent for making tinder and kindling wood as they allow me to shave lumber without using a hatchet. Figuring out which firewood drill bits are compatible with my tools took me a while since their shank shapes and sizes aren't suitable for all electric hammer and power drill types.
I'll use my experience to help you avoid the same challenges I faced when I started using them and help you choose the correct model for your power tool.
Bottom Line Up Front
I recommend getting a kit with multiple handles you can mount on different types of corded and cordless tools.
I think the Mudder Firewood Drill Bit Kit is a premier option because it contains carbon steel bits with hex, round and square handles. The Aceart Firewood Log Drill Bit and Gotida Firewood Drill Bit have wear-resistant designs, which makes them an excellent addition to any toolkit.
Further reading: A guide to firewood mastery
My Top Picks at a Glance
What's a Firewood Drill Bit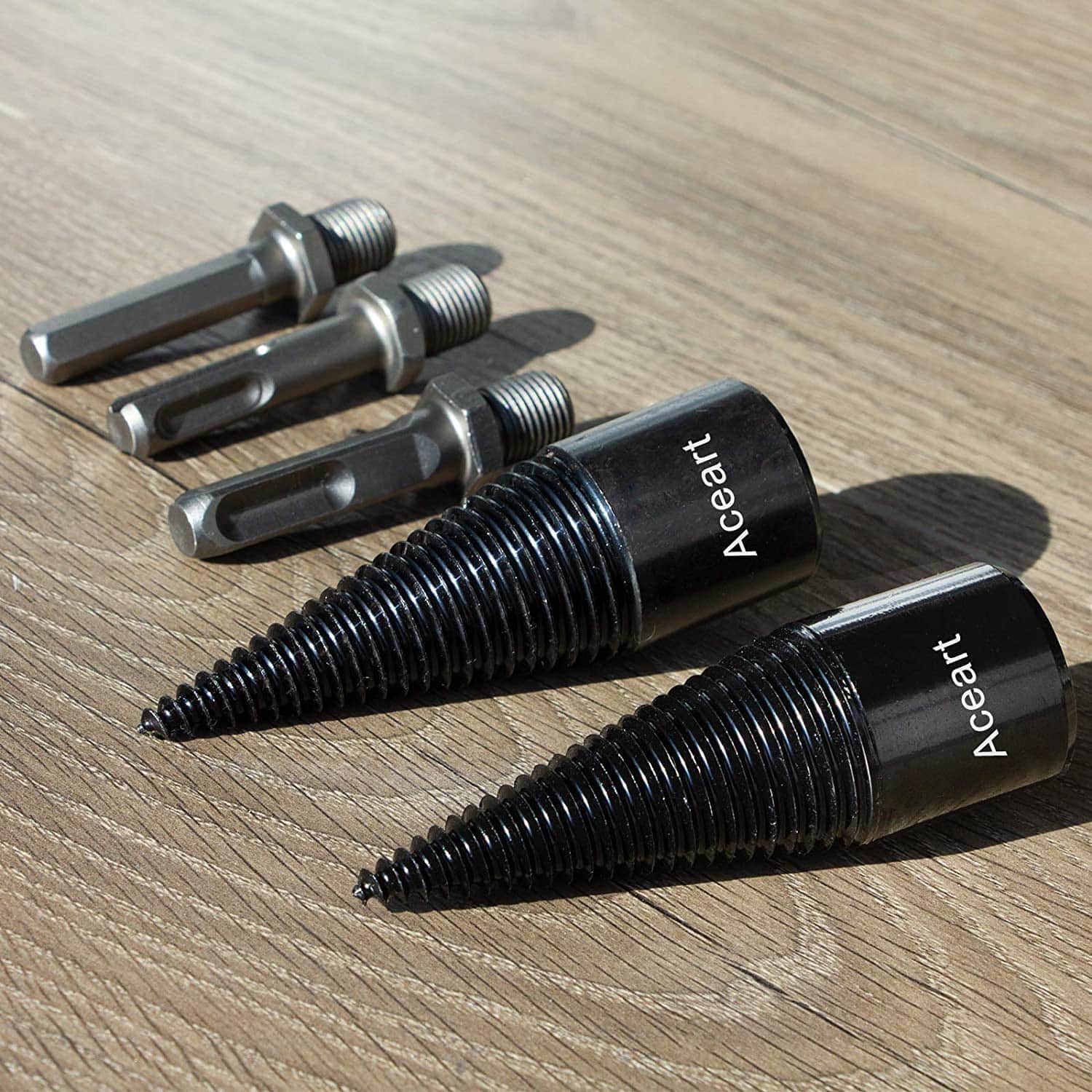 Their distinctive look makes them easily recognizable since firewood drill bits have a conical shape. These bits are designed to penetrate a log and split it into smaller pieces.
However, the bit will get stuck if you attempt to drill at the log's center, so you must position it towards the edge to separate a piece of firewood successfully. Also, the bit needs to be at a right angle to the wood fiber at all times, and positioning it at an acute angle can potentially be dangerous.
It's important to note that these bits aren't universal, so you must ensure that the model you choose fits your tool. Filing the bit's handle isn't advisable because it won't fit the drill's or hammer's chuck and might fall out while you're splitting the firewood.
Although they can drill through hickory, sycamore, oak, and other types of firewood, these bits commonly struggle to split knotty logs.
Please check: Is oak good firewood?
Compatible Tools and Handle Types
Most models come with several removable shanks that enable you to install them on different types of tools. Firewood dill bits can be utilized with electric hammers, impact drills, or electric drills, which is why most models are bundled with square, hex, and round handles.
Also, some handles have anti-slip properties that keep the bit firmly in place even while rotating at high speeds. The size of logs you can split with firewood drill bits depends on the tool's power output. So, I suggest using a corded electric hammer if you'd like to work with large thick logs.
Cordless power tools are suitable for lightweight applications and can be useful for preparing firewood for a campfire or making kindling wood quickly.
Firewood Drill Bit Materials and Sizes
All the best firewood drill bits in my toolkit are made of heat-treated high carbon steel and have a titanium coating.
I advise against even considering models made from a different material, even if it is considerably cheaper than high carbon steel options. You'll likely get a bit that dulls quickly and can't drill through hardwoods.
The sizes of these bits depend on the model and vary from 3 to 5 inches tall and 1 to 1.5 inches wide. The bit's handle length is usually 1 to 3 inches, and its width is around 0.3 to 0.5 inches depending on the model.
So, the firewood drill bit's handle width needs to match the power tool chuck's size options. Using these bits with drills that have plastic chucks can shorten the drill's lifespan.
Applications and Longevity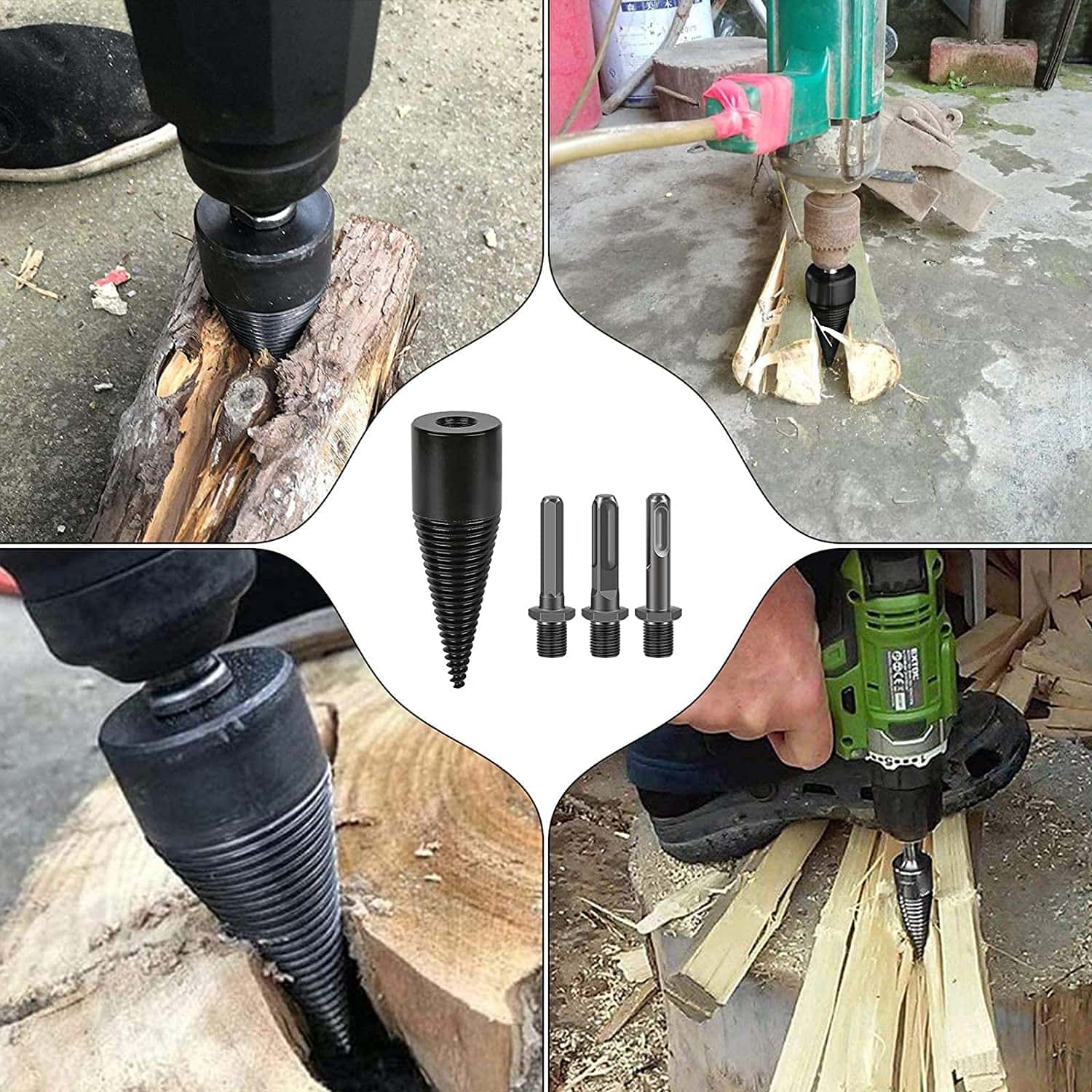 Even the sturdiest firewood bits can't drill through green lumber, and you can only use them to split dried lumber and prepare it for stacking. However, these bits get stuck and cause the piece of firewood to rotate with the power tool.
This can potentially be dangerous since the rotational force might make an electric drill hard to control. Ideally, you should always use firewood drill bits with power tools that can generate enough torque to allow the bit to split the wood. I use these bits with a cordless drill only when I'm making kindling wood.
Firewood drill bits aren't expensive, and their price ranges from $10 to $30. Their lifespan is directly related to the usage frequency, as the high-friction levels wear them out eventually. So, you'll have to replace your bit after a month or a year, depending on how often you use it.
Selection Criteria
My primary concern during the selection process was to create an overview of firewood drilling bits compatible with a broad spectrum of electric drills, impact drills, and electric hammers. Also, I only considered models made from high carbon steel because they were tougher than other options.
Here are a few key parameters I utilized to pick the best firewood drill bits:
The number of handles – The models I selected have between one and three handles so that you can choose an option for a specific tool or a bit you can install on different power tools.
Price range – My final selection of firewood drill bits includes models from all price tiers.
Top 9 Firewood Drill Bits
Mudder Firewood Drill Bit Kit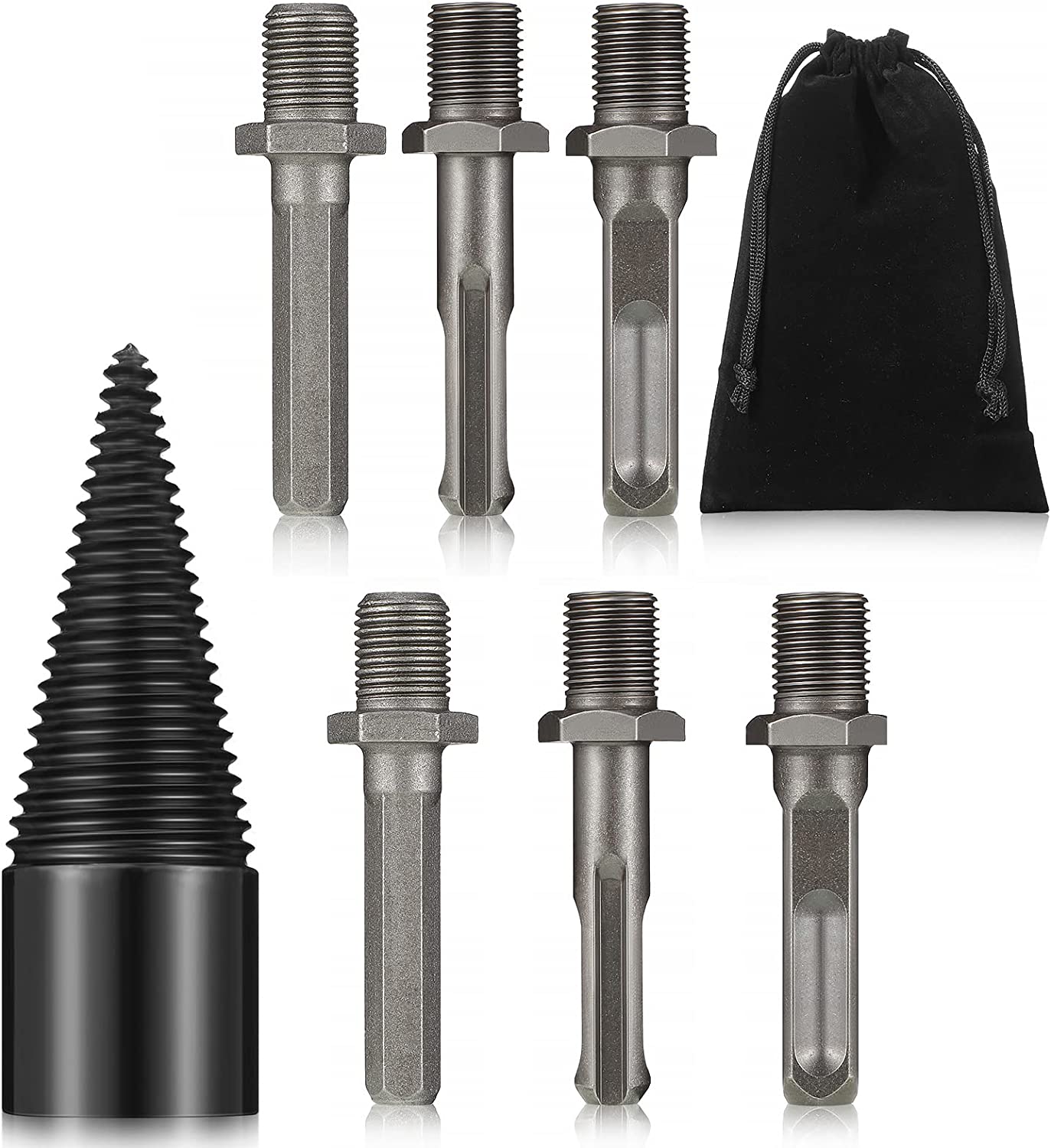 I like the Mudder Firewood Drill Bit Kit because it allows me to split wood with different power tools. The kit contains two sets of hex, round, and hex handles that can be 1.25-inch and 1.65-inch long and are suitable for half-inch chucks.
The bit is produced from high carbon steel that can withstand high vibration levels. The bit has a titanium coating that reduces friction and makes it more durable. Besides the handles and the drilling bit the kit includes a multi-purpose snowflake wrench and a storage bag.
Pros
The handles have the anti-slip design.
The heat-treated bit cuts through most types of firewood
It's compatible with a wide range of power tools
Cons
The bit can get stuck easily
Aceart Firewood Log Drill Bit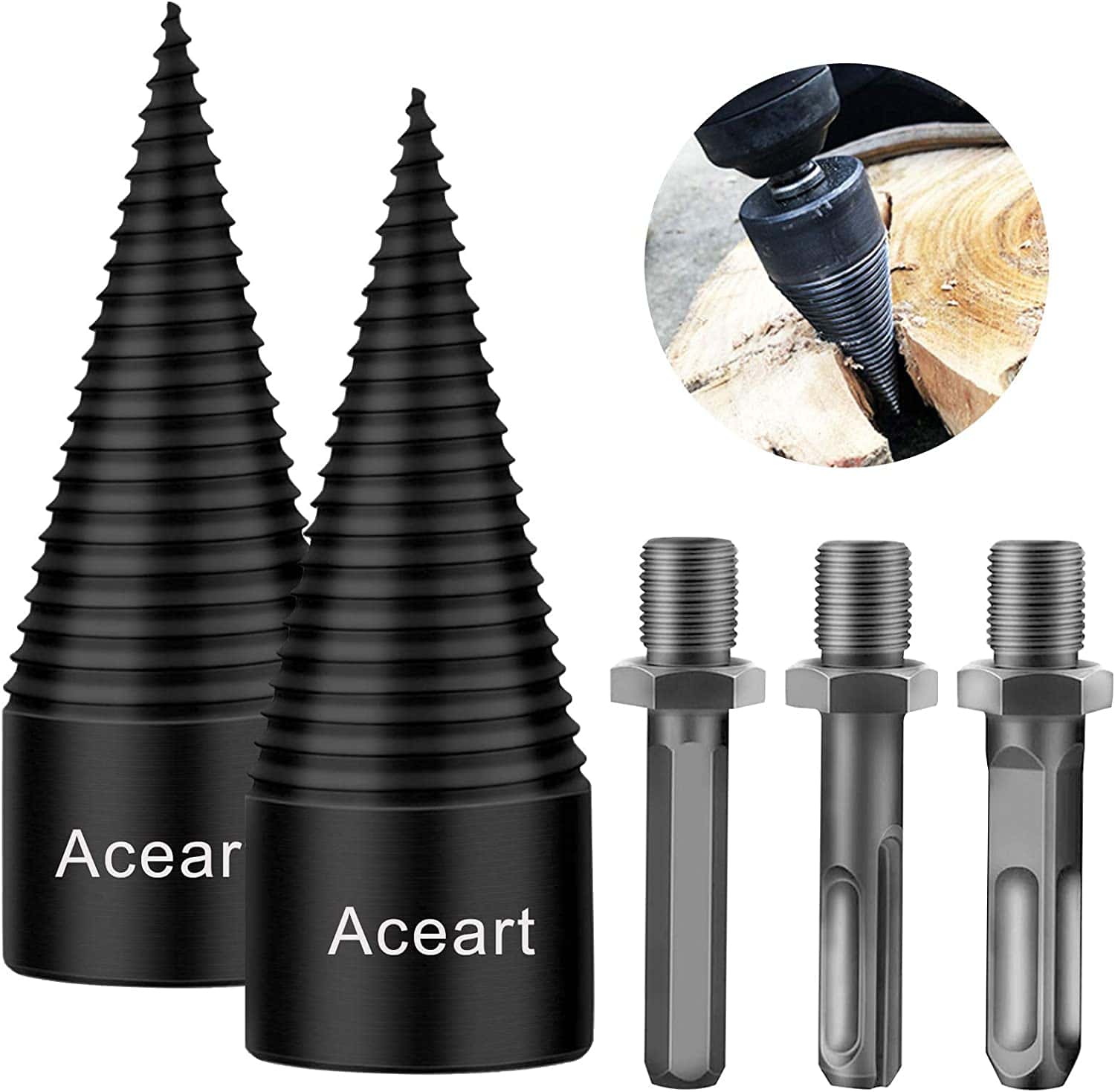 Oak, hickory, or sycamore are some of the lumber types you can cut with the Aceart Firewood Log Drill Bit. The square, hex, and round handles with anti-slip grooves enable you to use the bit with impact drills, electric hammers, or electric drills.
The high carbon steel bit is heat-treated and titanium coated, but I don't recommend using it to open knotty or wide diameter logs. Also, you must check if the model's handles are suitable for your tool.
Pros
The bit has a sharp top
It can split firewood quickly
Great for camping and similar outdoor activities
Cons
It's only suitable for softwood
This bit isn't budget-friendly
Sywan Firewood Log Splitter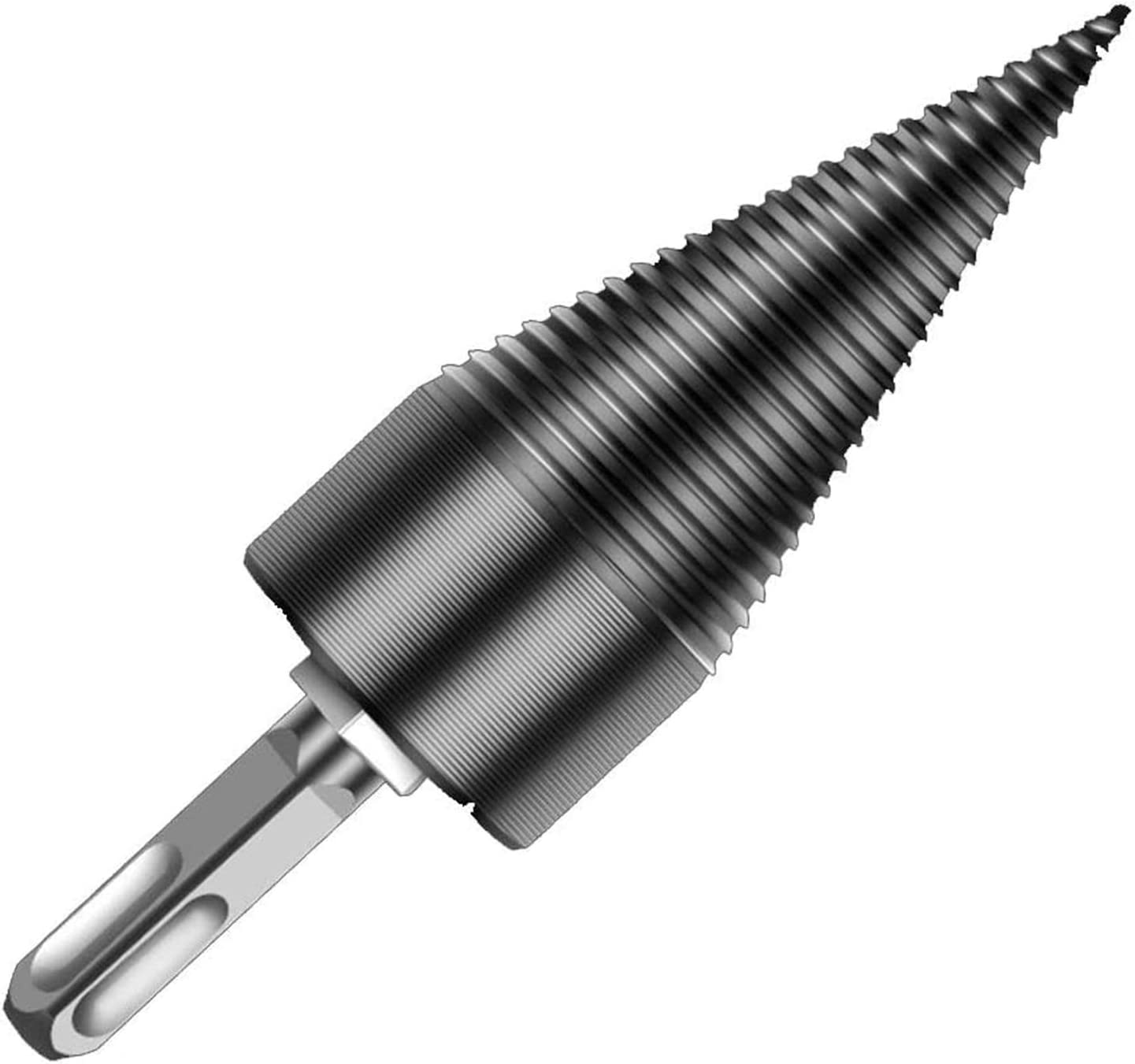 I only recommend using the Sywan Firewood Log Splitter with a corded drill because battery-powered models can't generate sufficient torque to split wood. Also, using the drill's side handle while working with this bit is necessary since you might hurt your hand if you're using the pistol grip handle.
The bit comes with a square-shaped handle that fits 0.3-inch chucks, but you can also get hex or round handle versions if you'd like to use the bit with different power tools.
Pros
It's manufactured from carbon steel
The bit can last for years
Quick installation
Cons
It isn't a perfect option for splitting hardwoods
XCVXCV Firewood Log Splitter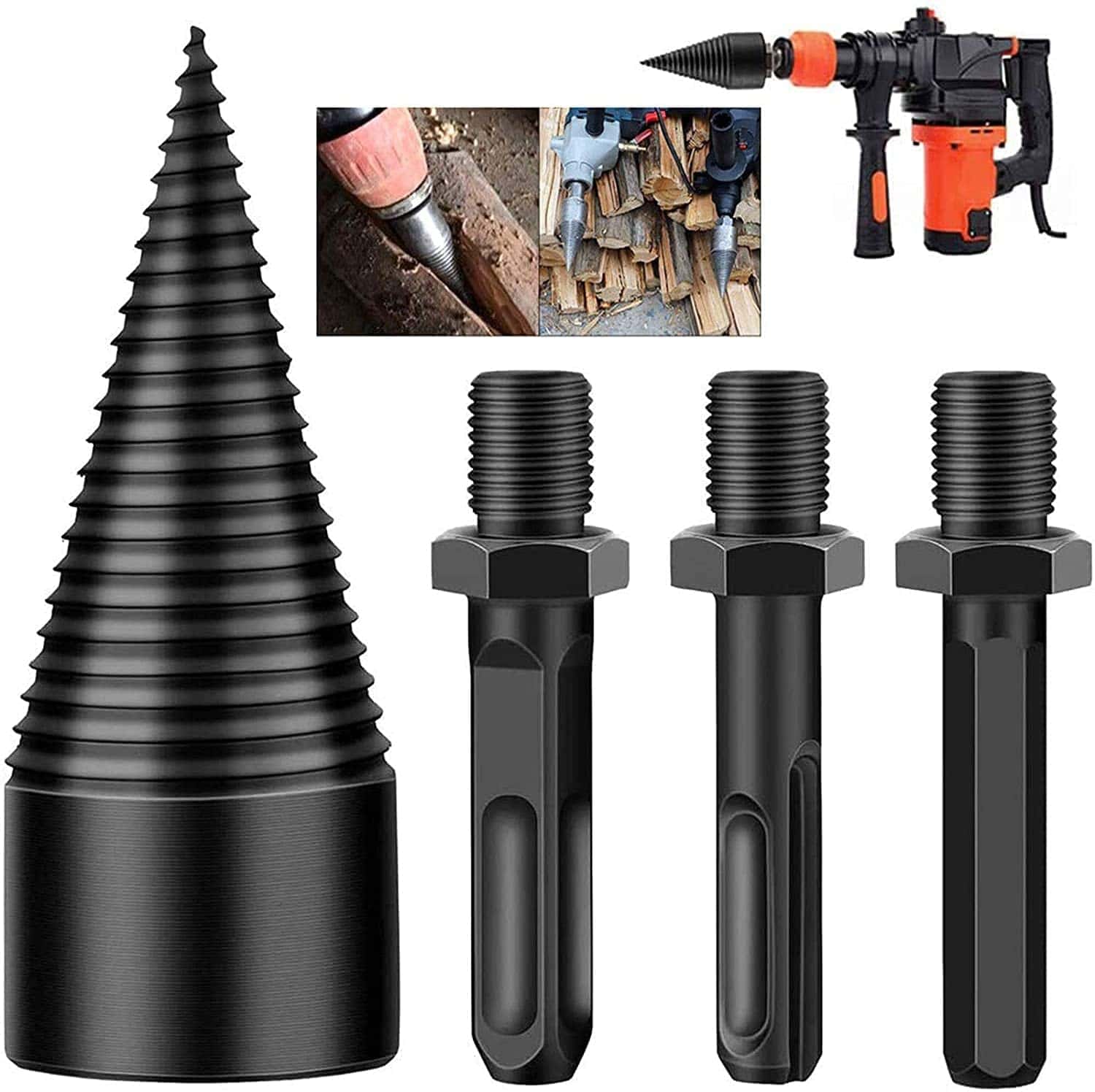 Like most of its competitors, the XCVXCV Firewood Log Splitter is designed for lightweight applications. Despite being heat-treated and having a titanium coating, this carbon steel bit cannot drill through wide-diameter timber.
What's more, the bit can get trapped in the log when used with low-power cordless drills, so you should only use it with corded drills. This model arrives with 0.4-inches wide round and triangular handles, and you can't use it with tools that have hexagonal or square chucks.
Pros
It retains sharpness despite heavy usage
It fits tightly into the tool's chuck
Cons
Rectangular and circular handles aren't available
PirateAnt Firewood Drill Bit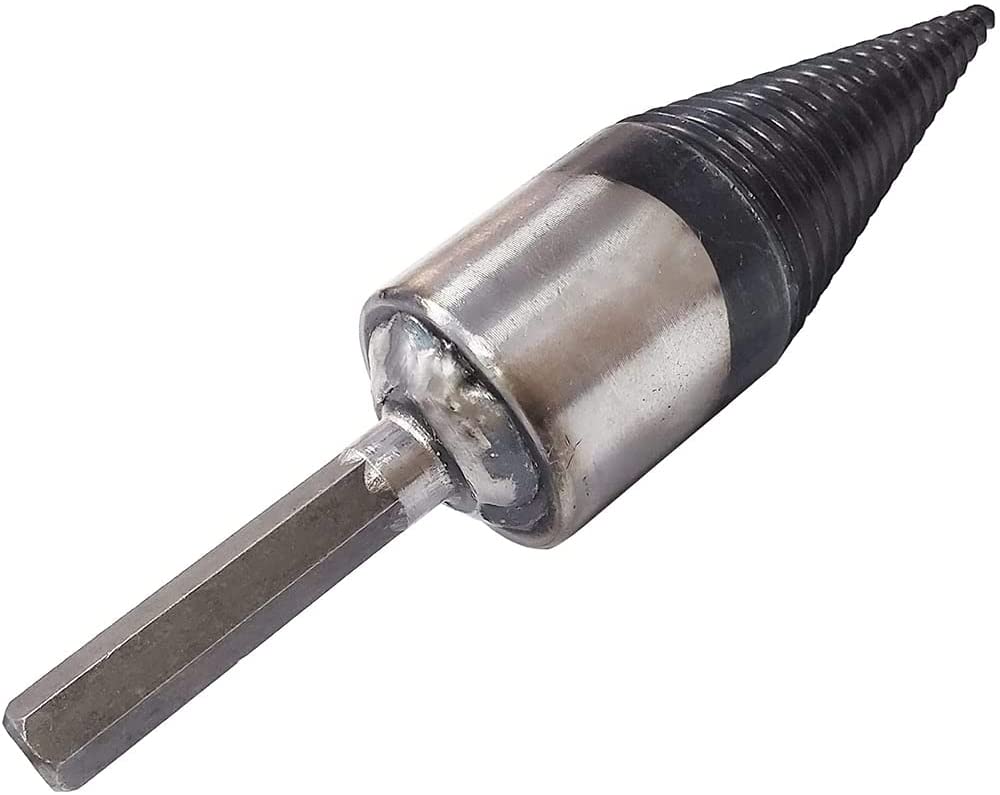 I was skeptical when I first stumbled upon the PirateAnt Firewood Drill Bit because it comes with a single hex shank. However, I changed my mind quickly after testing the bit. The handle and the bit are welded, so they can't get separated even when you're drilling through hardwood.
The bit utilizes a titanium finish that reduces friction and protects it from daily wear and tear. However, this PirateAnt model is only compatible with drills that have hexagonal chucks.
Pros
Excellent anti-vibration properties
It's compatible with all 0.4-inch hex chucks
The bit can drill through most firewood
Cons
The handle's not interchangeable
The bit can get jammed in the log
Gotida Firewood Drill Bit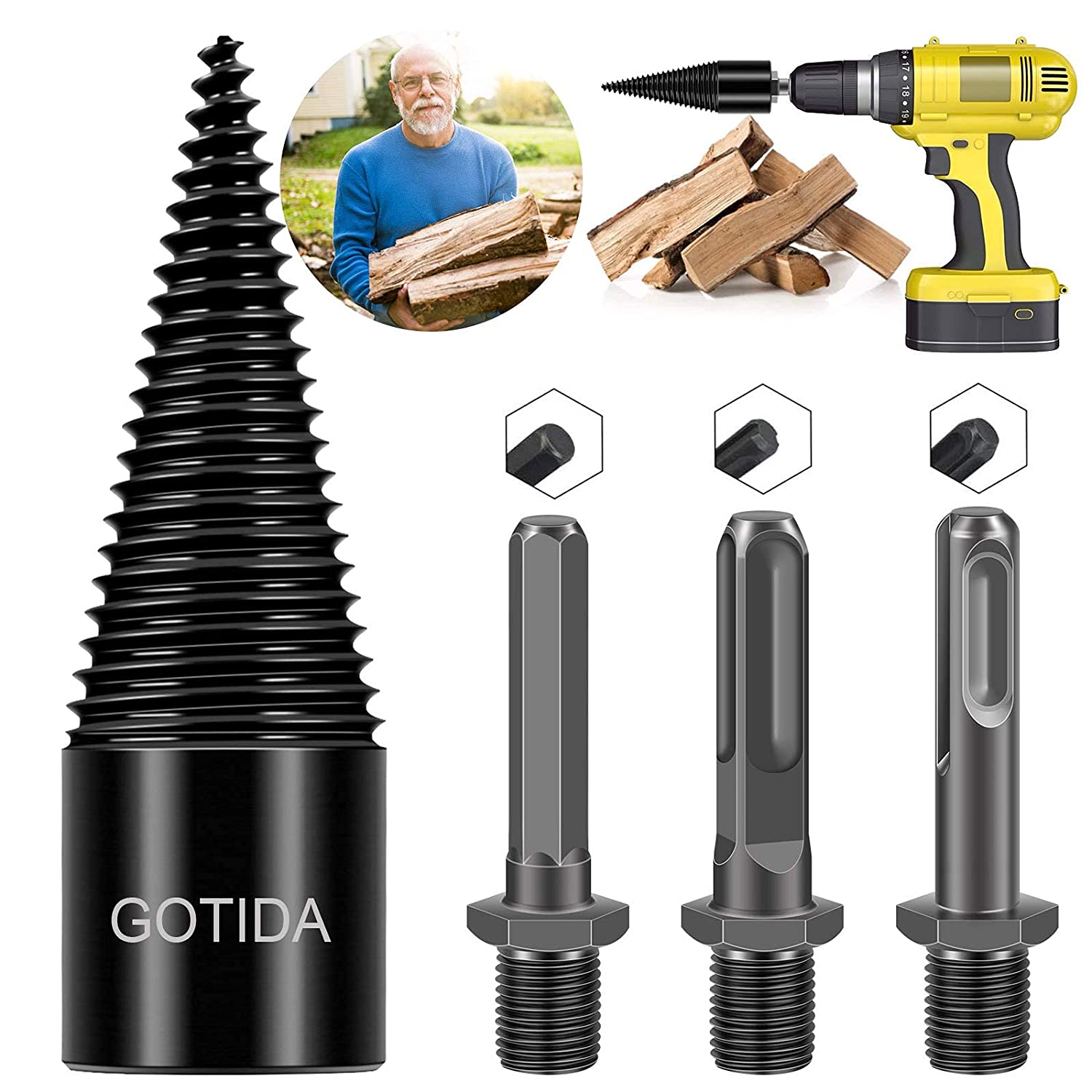 You can expect a standard set of features from the Gotida Firewood Drill Bit. It comes with three 0.47-inches handles that enable you to employ it with hand drills, electric hammers, and impact drills with hex, square, or round chucks.
The round shank has a two-pit and two-slot structure, while the square handle has a four-pit structure. All handles for the Gotida Firewood Drill Bit have an anti-skid groove design that ensures the bit stays in place during heavy-duty applications.
Pros
It's best suited for high-power drills
It offers good value for the money
The bit maintains its properties for months
Cons
This bit is in high demand and hard to find
Xinde Firewood Drill Bit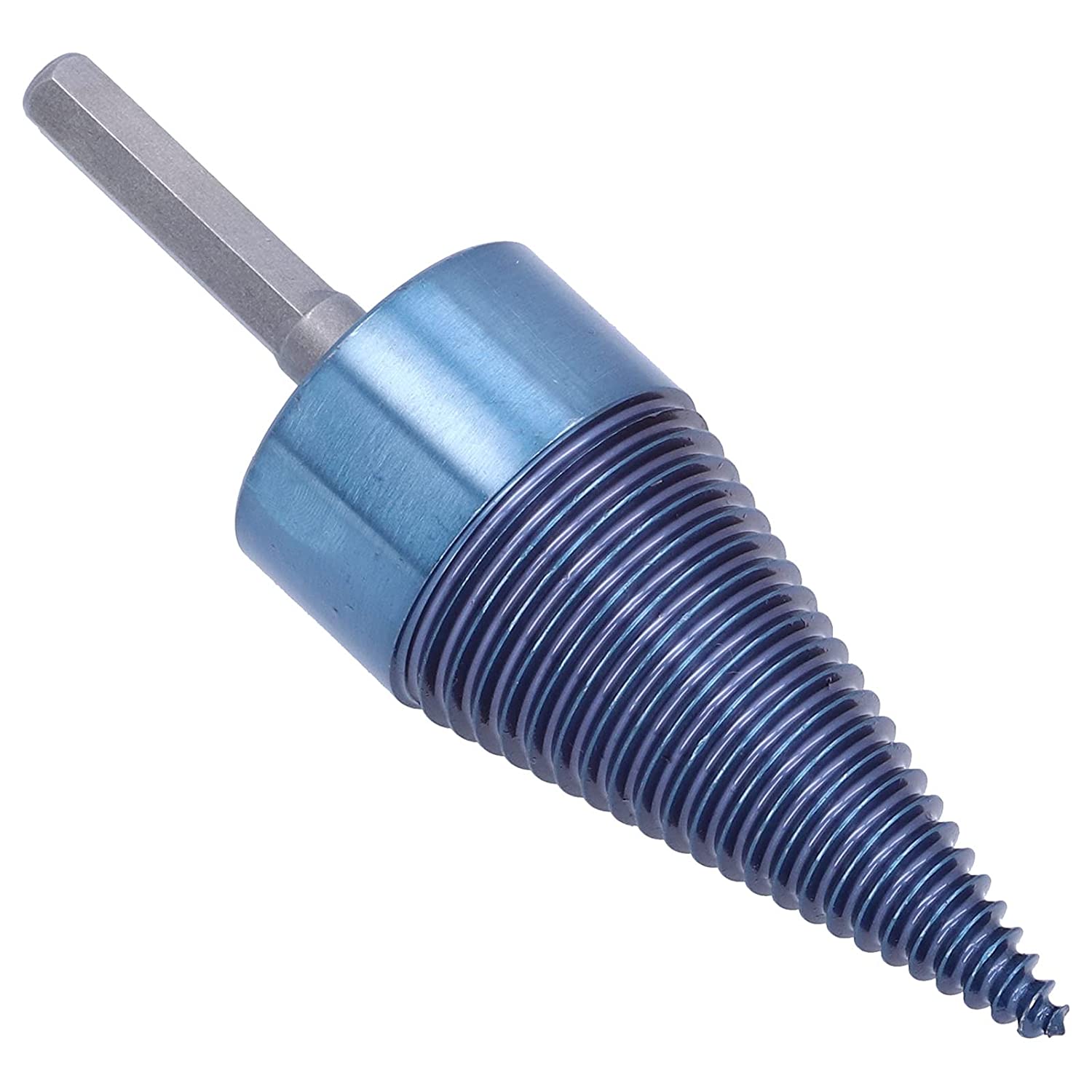 Although it is more expensive than most drill bits, I think adding the Xinde Firewood Drill Bit to my toolkit was worth the cost. The bit comes with a single 0.4-inch wide hex handle, which limits it range of compatible tools.
The steel bit was hardened at high temperatures, so it's unlikely to break or dull quickly. Despite its rugged design, this firewood drill bit works best on logs with six to ten-inch diameters.
Pros
The manufacturer has a 30-day free return policy
It performs well in cold weather conditions
The bit opens logs effortlessly
Cons
Its compatibility is limited
Xali Firewood Drill Bit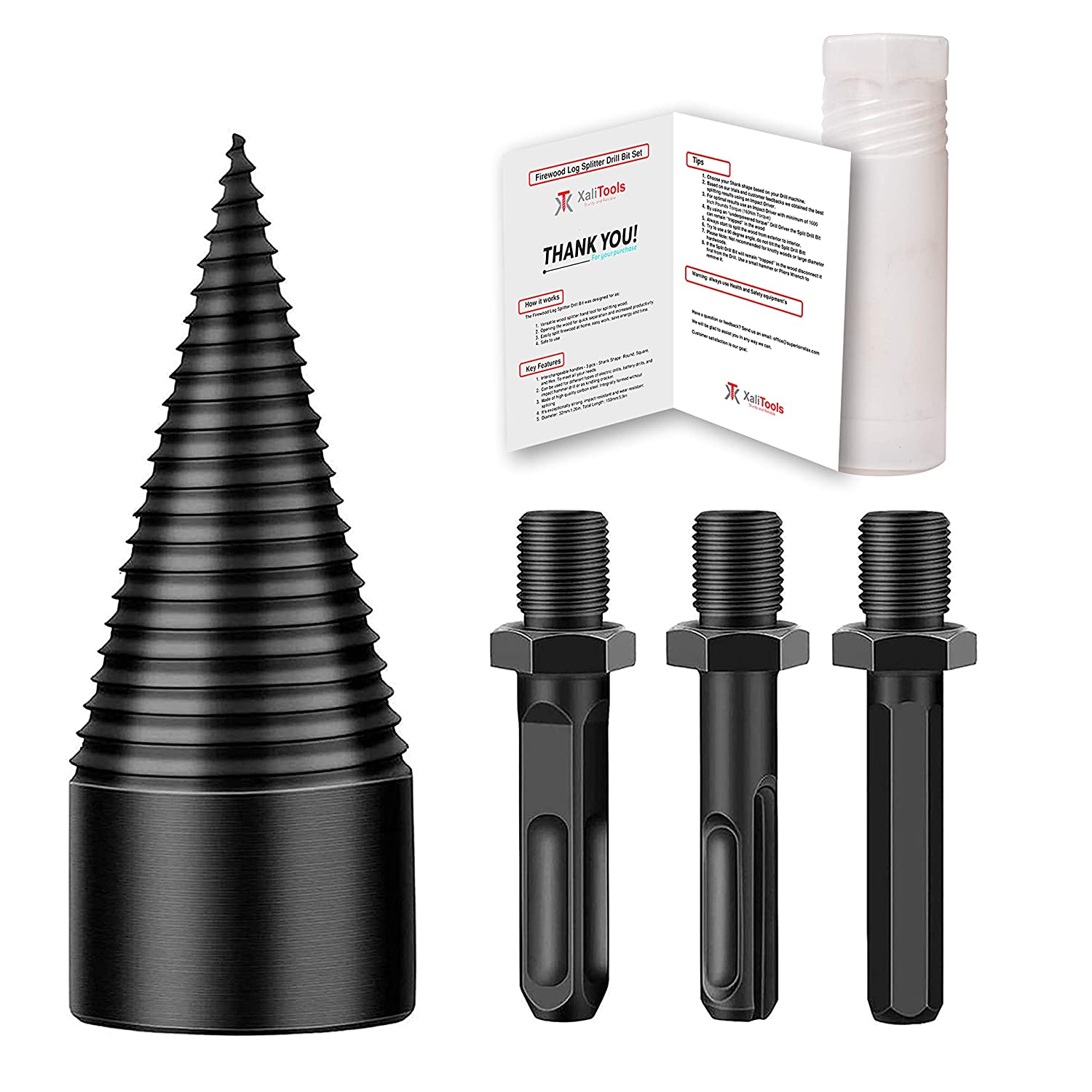 The attractive price point is, in my opinion, the Xali Firewood Drill Bit's most attractive feature. The 1.26-inch bit arrives with 0.4-inch hex and round handles, while the square handle is 0.47-inches wide.
The cone bit has standard features as it's made from high carbon steel. Heat treatment improves its durability and enables it to withstand high vibration levels. This model performs best when used with electric hammers or impact drills.
Pros
It makes kindling wood quickly
The bits and handles arrive in a plastic storage box
Handles don't separate from the bit easily
Cons
It can't split thick logs
Jerax Tools Firewood Bit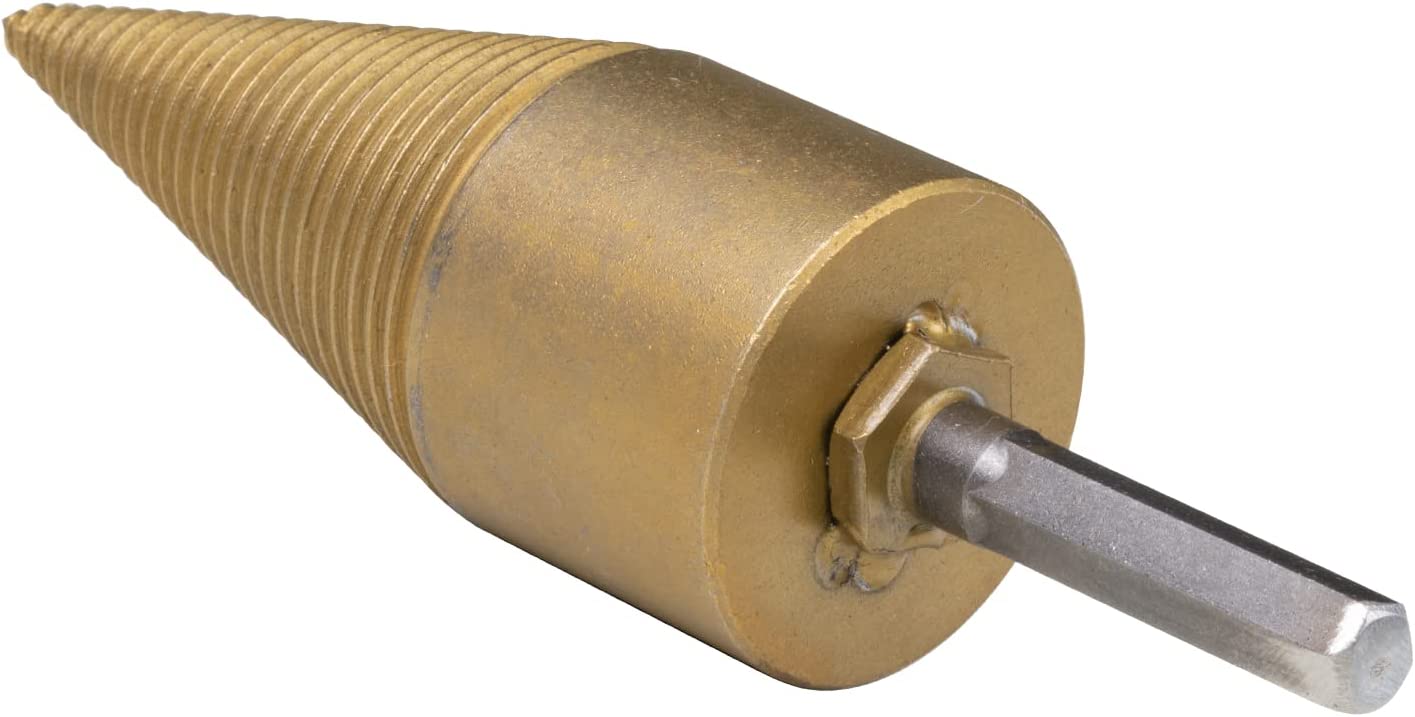 You can choose between 1.65-inch and 1.25-inch versions of the Jerax Tools Firewood Bit. The hexagonal handle and the conical bit are welded, so the parts can't separate while in operation. Bit's rugged design can be misleading since it is only designed to produce kindling wood from well-dried firewood.
Attempting to drill through green lumber can damage the bit and the power tool. Also, the model's hex handle is 0.35-inch wide, and you must check if it's compatible with your impact drill.
Pros
It lasts long
Titanium coating protects the bit from damage
It works well with different types of firewood
Cons
Frequently Asked Questions about Firewood Drill Bits
Question: Are firewood drill bits prone to corrosion?
Answer: Yes, most models are made from high carbon steel that doesn't corrode easily.
Question: Can I sharpen a firewood drill bit?
Answer: These bits are pre-sharpened, and you can't sharpen them after they get dull.
Question: What to do if a firewood drill bit gets stuck?
Answer: Use the drill's reverse switch to change the direction of the bit's rotation. However, if the handle separates from the bit, you may have to use the pliers to solve the problem.
Please check our firewood delivery guide to find out where you can purchase firewood online.
My Verdict: How to Pick the Best Firewood Drill Bit?
Testing different firewood drill bits is, in my experience, the best way to find the model that works well with my power tools. I recommend getting a kit like the Mudder Firewood Drill Bit Kit or Gotida Firewood Drill Bit that allows you to use the bit with an electric hammer or a cordless drill.
Although it's only compatible with hex chucks, the PirateAnt Firewood Drill Bit is a reliable option since its handle can't get separated from the bit.