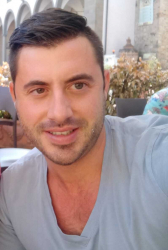 Latest posts by David Borgogni
(see all)
Husqvarna is one of our favorite brands here at the Forestry Pros. They are known for designing and producing quality power tools used in a commercial and residential capacity. Today, we will be looking at and reviewing one of their smaller chainsaws, the Husqvarna 240.
Making sure you get the most bang for your buck when looking for a new power tool is no mean feat. It takes time and energy to do enough research into the subject, given how many products are available at any one time. Thankfully, if you're looking for a new top-notch chainsaw that is mid-sized, then you've come to the right place.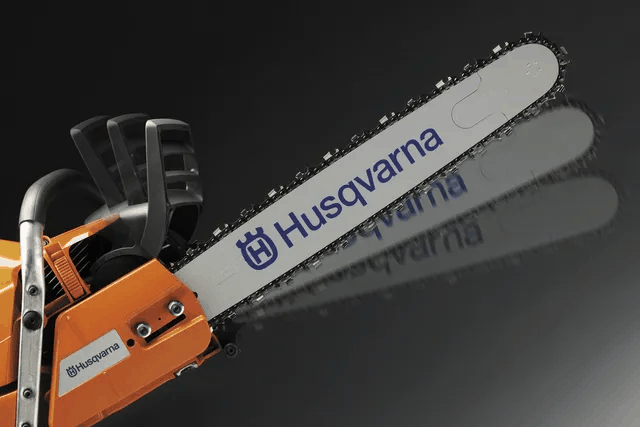 In this Husqvarna 240 review, we'll be guiding you through its main features, assessing its pros and cons, providing some of our own thoughts and insights, as well as suggesting a couple of alternatives that may be worth considering.
But before we get down to it, let's familiarize ourselves with an overview of the Husqvarna 240 chainsaw.
Key Specifications of the Husqvarna 240
| | |
| --- | --- |
| Engine Size | 38.2cc |
| Dimensions | 19 x 10 x 13.3 inches |
| Weight | 10.3lbs |
| Power Source | Gas |
| Cutting Arm Length | 14 inches |
| Latest Price | Check here for the latest price |
Core Features of the Husqvarna 240 Chainsaw
The 240 comes from Husqvarna's lower to mid-range of chainsaws and provides less power and cutting ability than some more expensive models. However, if you're after something with a little more power, then check out our review and guide of the Husqvarna 450, the 240's bigger brother.
While the 240 is smaller, it is also more lightweight and easier to maneuver. This makes it ideal for many consumers who value ease of use just as highly as raw power. This particular chainsaw is ideal for felling smaller trees as well as pruning larger ones.
In this section, we'll outline some of the best features you can expect to enjoy when using one of these tools. From its agility to its cutting power and everything in between, the Husqvarna 240 has a lot to offer.
Air Injection
Air Injection technology has been included with the 240. This means that the larger dust and debris particles that tend to clog the air filter are removed before reaching it.
It's a clever design feature that many Husqvarna products include. By removing these larger particles, the 240 requires much less filter maintenance. This is one of the most common parts of a gas-powered tool that needs regular maintenance. By filtering out the worst offending particles, you save time and money on repair costs, and the engine runs smoother and more efficiently for longer.
Smart Start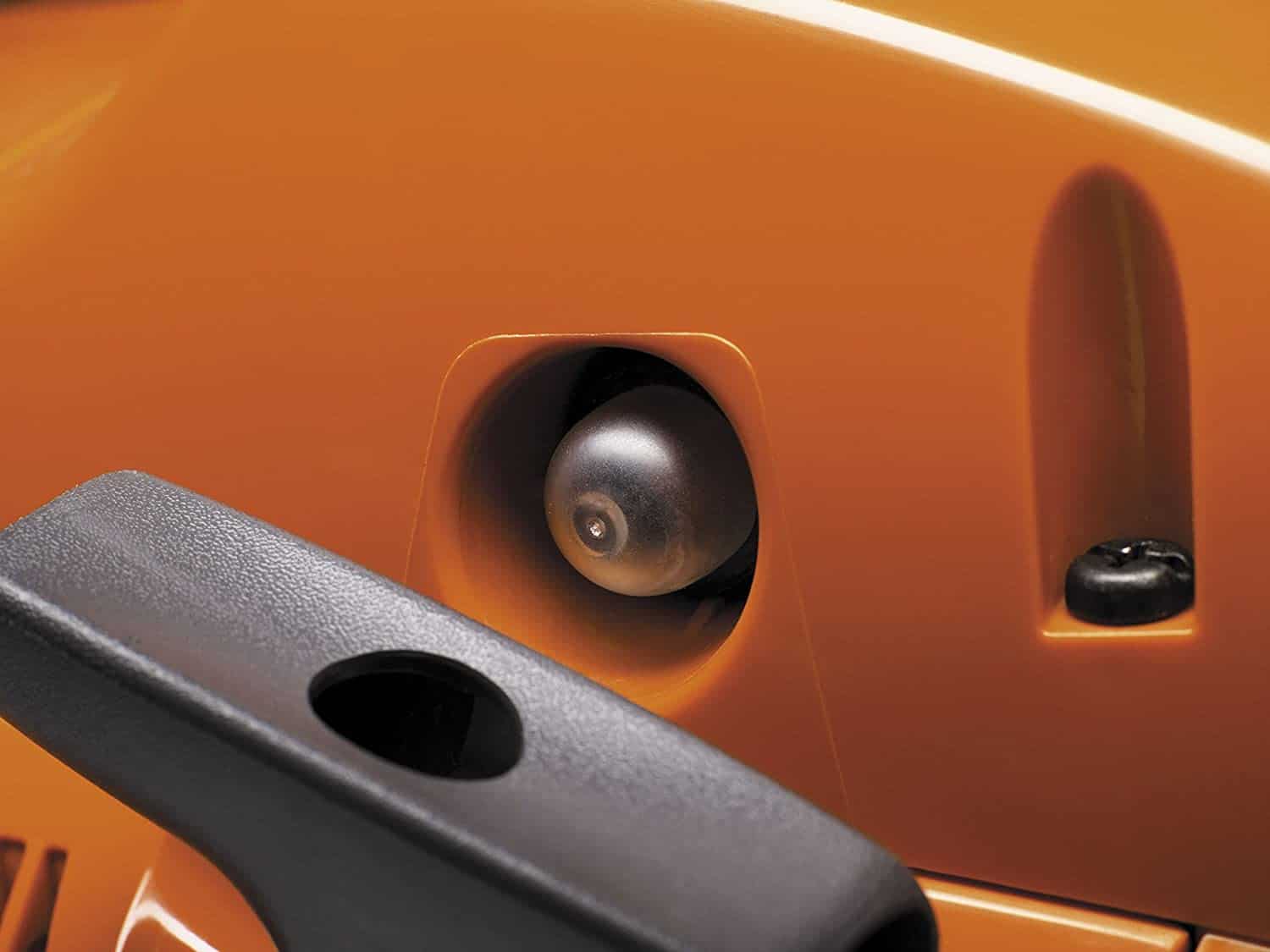 Another core feature of the 240 is the smart start ignition. This technology has been designed to make the chainsaw incredibly easy to get going, with resistance on the pull cord reduced by up to 40%. This is particularly useful if you struggle to get pull-start engines going and helps the chainsaw warm up on a cold morning.
X-Torq Engine
In a world of environmentally conscious consumers, companies that produce gas-powered products have to make sure they are as eco-friendly as possible. The X-Torq engine from Husqvarna is their response to that and sees the chainsaw engine running super efficiently and in accordance with even the tightest of environmental regulations found anywhere in the world.
Side Accesbile Chain Tensioning
When working out in the yard or further afield, tuning and tweaking your tools easily is a must. With the 240, Husqvarna has made it so that chain tension can be altered easily from the side. All you need is a flat-head screwdriver, and you're good to go. No messing around trying to take the casing off to get at it.
Reduced Vibration
When power tools vibrate, those vibrations are passed through the handle and into the user's arm. These can cause serious physical problems if exposed for long enough periods and are the number one cause of fatigue while working.
Husqvarna's 'LowVib' technology dramatically reduces the overall vibration level by isolating both the engine and the handle. This, in turn, leads to safer usage that can be carried out over a more extended amount of time.
Good Safety Features
Chainsaws are dangerous pieces of equipment that should only be used by trained professionals or those with plenty of experience. That being said, accidents can and do happen often. Thankfully, Husqvarna has included some safety features that minimize the risk posed to operators.
Their inertia-activated brake immediately stops the chain from rotating when exposed to a sudden impact. This means that if the chainsaw is dropped or the user falls, the chain cuts out instantly and dramatically reduces the risk of injury.
How Does the Husqvarna 240 Chainsaw Perform?
While the 240 is not one of the most powerful chainsaws on the market, it is one of the most popular. Its size and arm length mean that it can be used by non-professionals with ease and is ideal for felling smaller trees and pruning larger ones.
If you need to cut down the largest trees out there, we recommend looking at a more powerful model that includes a longer arm. The Husqvarna 450 is a good choice if this is what you're after.
The 240, on the other hand, is lightweight and compact. This means it is the ideal chainsaw for general yard work, farm work and is also useful for commercial use when a larger chainsaw is not required.
Husqvarna's well-known X-Torq technology comes as standard with the 240, ensuring the chainsaw is efficient, practical, and eco-friendly. It does this by increasing fuel efficiency, reducing toxic fumes emitted, and helping to start the motor first time.
The LowVib system also works well to isolate vibrations generated by the engine and protect the user against long-term physical effects. This means that when you're using the 240 over extended periods, you'll be able to work longer without getting fatigued.
The ergonomics and overall feel of the chainsaw are solid while still retaining its agility. This is designed for professional and non-professional use thanks to its excellent handling, comfortable auxiliary handle, weight, and smaller blade length. This extra handle made cutting up into small branches just as easy as cutting down into them. In addition, Husqvarna has included the metal bucking spikes seen on their larger models on the chain. They grip into wood well and, when combined with the LowVib technology, produce a smooth handling experience.
The 240 does feature a smaller fuel tank than some of the larger models. Although this means you will inevitably need to fill up more often, doing so is simple. One side of the chainsaw is specially designed to lie flat, allowing you to refill and perform maintenance efficiently. In addition, the fuel tank features a translucent section that allows you to monitor fuel levels as you work.
As a chainsaw aimed at lighter work on smaller jobs, the Husqvarna 240 performs well. It has many of the features you would come to expect from a big name brand, such as the X-Torq engine and inertia-activated chain brake while remaining light enough to use easily. There are, of course, performance sacrifices – this would not be the ideal tool for commercial operations to be cutting down large trees – but if you are looking for a chainsaw for smaller tasks, the 240 is a great option.
Pros of the Husqvarna 240
This mid-sized chainsaw comes with plenty of pros. We'll take a close look at how they can benefit the user here.
Lightweight
A compact chainsaw sacrifices power and strength for speed and agility. As a result, they are perfect for tackling slightly smaller jobs where the largest cutting arm or most powerful engine isn't needed. That being said, it can be a fine balance between sacrificing too much and getting it just right.
With the 240, Husqvarna seems to have got this balance pretty spot on. The engine provides enough power to cut through smaller trees and the branches of larger ones, the X-Torq build certainly helps to deliver power efficiently, and the chassis is constructed with weight-saving measures in mind. These combined with a strong ergonomic handle means the 240 provides plenty of cutting power while remaining easy to use.
Air Injection System Helps Reduce Maintenance Levels
The addition of design features aimed at reducing maintenance costs was always a winner in our eyes. By removing large dust and debris particles from the filter, the build-up of harmful blockages is dramatically reduced. this, in turn, reduces the amount of maintenance required to keep the chainsaw running and helps to save you money in the long run.
On any engine, the air filter is one of those areas that require constant monitoring. If it becomes blocked due to wood chips or other debris getting in there, it can cause problems with the motor. Starving the motor of air prevents it from running properly and can cause major damage if left unchecked.
Manufacturer's Warranty
As standard, Husqvarna offers a 2-year warranty. This covers all areas of mechanical failure on their part, or in other words, if the chainsaw breaks through no fault of your own, they'll sort it. There is also the option to extend the warranty period should you want the cover to last a bit longer.
This is a great pro as it provides an element of peace of mind for anyone who purchases one. When buying an expensive bit of a new kit, the last thing you want to have to deal with is breaking!
LowVib Technology
Husqvarna now includes their low vibration technology on most of their products, including on chainsaws like the 240. This means that users are protected from the dangers of working with vibrating tools over extended periods. It's well documented that griping power tools that vibrate significantly can cause physical damage if regular breaks are not taken. The lowVib technology in the 240 isolated the vibrations that are generated by the engine, resulting in a much smoother and ultimately safer cutting experience.
Safety Features
Another feature that Husqvarna has rolled out across its line of chainsaws is the inertia-activated chain brake. This break acts as a safety guard against any accidents causing serious injury. It works by immediately stopping the chain from rotating if a sudden impact is detected. This is particularly effective if the person operating the tool falls while using it or the chainsaw is dropped.
Ideal For Beginners
If you're looking for a first chainsaw, then the 240 is a good option. Whereas it is recommended that those with significant experience operate the larger and more powerful models, the 240 can be handled safely by those without any. In addition, its size and cutting capacity mean it is an effective chainsaw without being overly powerful and ultimately dangerous to chainsaw novices.
Ergonomic Design
The handle has been built with maximum maneuverability in mind. There is one that wraps around the unit and another that sits on top, allowing the chainsaw to be moved and used from various angles. These useful handles combined with the reduced overall weight of the unit make this one of Husqvarna's most useable chainsaws.
Cons of the Husqvarna 240 Chainsaw
Despite the many positives aspects of this tool, there are some things that potential buyers should be aware of before purchase.
Unsuitable For Larger Jobs
Although the 240 is a more than capable chainsaw, it is not the right one to use if you have big jobs that need completing. For example, large trees with diameters of more than 2 feet should not be felled using one of these. That being said, this is a good chainsaw to support larger jobs as it is perfect for cutting back smaller debris and pruning the branches on large trees.
Starting the Motor Can be Tricky
Occasionally the motor can take more than a couple of pulls to get going. The motor is a standard 2-stroke design, and this is a common feature amongst them. However, if you are a novice and don't like the idea of having to battle to get your new chainsaw started, then there are other, easier-to-start models on the market.
Are There Any Alternatives?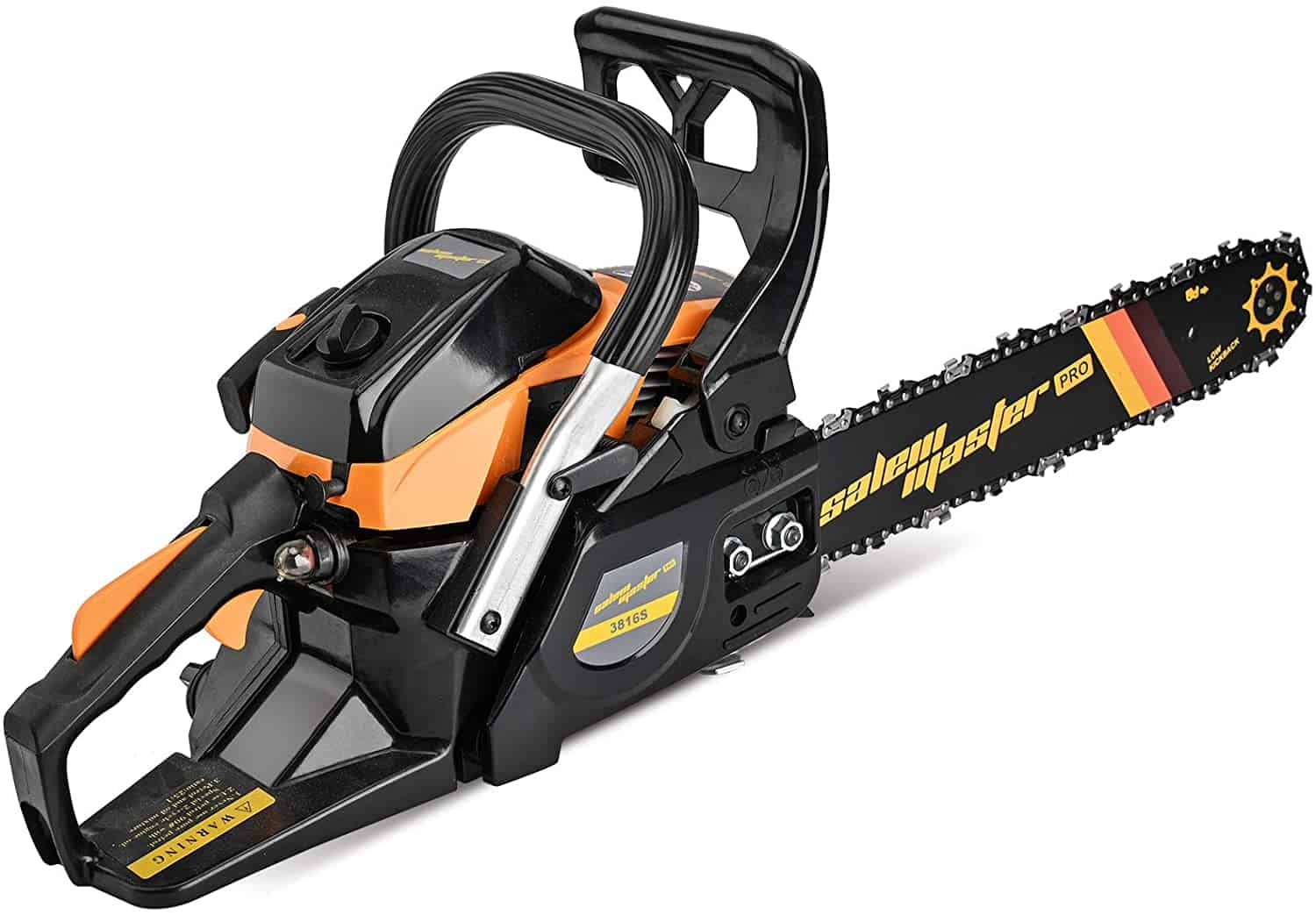 The Salem Master 38cc chainsaw is a great alternative to the 240. It offers much of the same functionality, similar power, and the same lightweight design as the Husqvarna at a much lower price point. It doesn't come with the same amount of technology as LowVib built-in, but for a much more competitive price, that's what you would expect.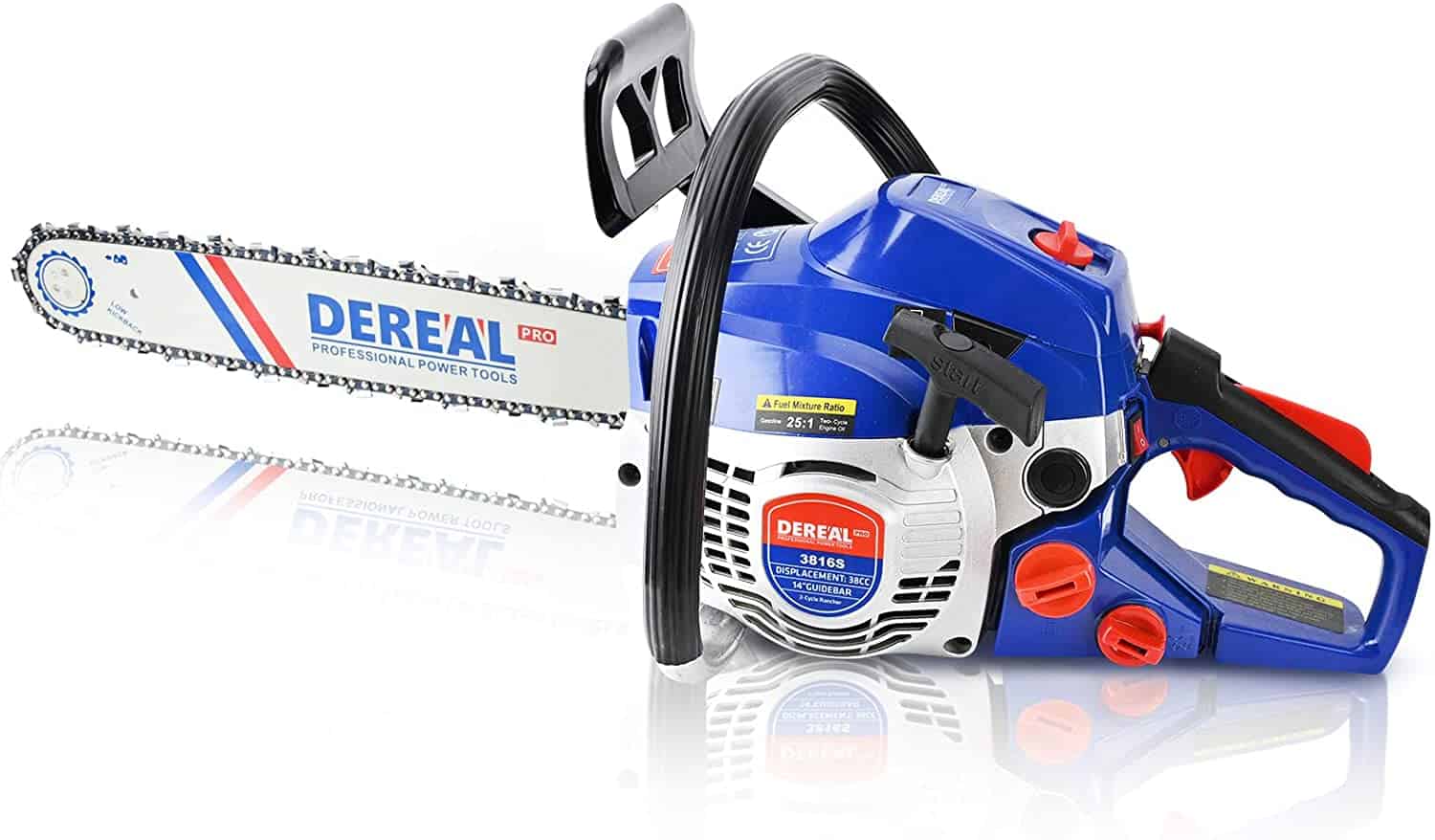 Another budget-friendly option is the DEREAL Pro. This is a great option if you're looking to pick up a solid chainsaw but don't want to splash out on a big name brand. The saw features a 38cc engine like the others, an air filter cleaning system similar to the 240, a lightweight chassis, and ergonomic handles.
Frequently Asked Questions
Question: Does the Husqvarna 240 come with a case?
Answer: No, this model does not ship with a case. They can, however, be bought separately. Husqvarna make cases specifically for this model, but there are also generic ones available.
Question: What is the maximum size of a piece of wood that can be cut with the 240?
Answer:  This chainsaw comes with a 16-inch guide. However, we would estimate that the engine produces enough power to cut through a roughly 20 inches thick piece of wood. Just be sure to be careful when doing so.
Question: What is the oil-to-gas ratio recommended for use with the 240?
Answer: As a 2-stroke engine, the gas must be mixed with 2-stroke oil before filling the tank. The ratio for this should be 50:1 (gas: oil).
The Final Word – Is The Husqvarna 240 a Good Choice For You?
In summary, yes, the Husqvarna 240 is a good chainsaw, so long as you only intend to use it for light or medium work. If you need a chainsaw that can cut through larger trees, we recommend a more powerful model such as the 450 rancher.
The alternatives on the market do provide some food for thought, though. Both Salem and Dereal offer great alternatives at a more attractive price. Ultimately, it comes down to the user and how much they intend to use their new chainsaw. If you're looking for a reputable brand that builds reliable products, then it may be worth paying slightly more for the 240. If, however, you're only looking to complete the odd bit of yard work, it may be worth exploring the cheaper alternatives.