Latest posts by The Forestry Pros Team
(see all)
It's not easy for any homeowner to maintain their homes and the surrounding areas. Depending on the size, there is a series of ongoing projects to ensure you maintain your home's surrounding areas. This requires the purchase or use of tools such as the Homelite chainsaw.
If you need to use a chainsaw on your property or for any other purpose, you need to know how to get the best in the market. Homelite is one of the good brands for chainsaws you can purchase. We looked at the reviews and testimonials of people who have bought the chainsaw.
From the information we got, we were able to ascertain that Homelite is a good choice. However, not all their chainsaws are better than the competition. Further research led us to discover the five best Homelite chainsaws you can use that compete well with similar or superior brands. They are:
Our Top 5 Homelite Chainsaws
Homelite manufacture and produce several chainsaws. They offer these products in both corded electric and gas models. Of these products, you find there are five that are the best in their category.
Choose one depending on your needs. Usually, the gas/petrol-powered version is great for heavy jobs. The cordless electric counterpart is designed for smaller jobs like pruning small trees and bushes around your farm or yard. Check out our top five picks to get information on these gadgets. take
Best 14-inch Electric Chainsaw – Homelite 9amp
Apart from being one of the popular Homelite chainsaws, the 14-inch model has enough size and power to handle serious projects. This is because they are not large or small. Therefore, beginners can easily handle these gadgets.
One of the things you notice with the chainsaw is it comes with a Saf-T-Tip. It's a feature designed to ensure you don't harm yourself when you use the device. Unfortunately, these products are known to give off some kickback. The kickback causes the user to experience some loss of control.
Losing control when handling a chainsaw is a dangerous thing. It may cause you to harm yourself, others or cause fatalities. Saf-T-Tip reduces the probability of such situations arising.
The 9-ampere motor is also another plus. It packs a punch that surprised users who tried it for the first time. Homelite 14-inch 9-amp chainsaw is great for several jobs. For example, you can use it to cut off small branches and twigs on the trees surrounding your property.
The product also comes with a long electrical cord. In addition, it has a cord retention hook. It's used to ensure un-intentional power disconnection from the mains. Unfortunately, this means you have to stay connected to a mains outlet when you work. This may not work if you don't have an outdoor mains outlet.
Pros
Cord retention hook prevents accidental disconnection
9-amp powerful motor
User-friendly
Compact size
Saf-T-Tip to prevent kickback
Cons
Needs full-time connection to an electric outlet
Not as powerful as the gas-powered version
Best 16-inch Electric Chainsaw – Homelite 12amp
You may assume this is just a bigger version of the 14-inch electric chainsaw. That is not the case. For starters, it has a long blade, greater reach, and more power. The Homelite 16-inch 12-amp is better for larger tasks or a combination of small and large tasks. Saf-T-Tip is a safety measure common on Homelite products. The 16-inch chainsaw is not different.

A common problem with these gadgets is they need adjustment of the tension on the chain. This can be difficult if you don't have the right tools. This Homelite product doesn't have this problem. Instead, it comes with a tool-less tensioner to allow you to adjust the tension on the device's chain easily.
Another great feature you don't get on the 14-inch is the soft comfort handle. It's designed to reduce fatigue. At the same time, it improves handling. This makes it easier to do jobs and increases the time you can work continuously.
Pros
Tool-less tensioner for easy chain adjustment
Powerful 12-amp electric motor
Automatic oiler
Soft grip for fatigue reduction
Improved handling
Cons
Restricted to a specific distance from a power outlet
Less powerful than gas-powered counterpart
Best 18-inch Gas Chainsaw – Homelite 18-inch Bar and Saw
This is the best Homelite chainsaw you can get on the market. Apart from coming with a large number of accessories, it packs a real punch in power. Additionally, it's not as high priced as other brands.
The package comes with a 2-cycle engine lubricant. A scabbard and deluxe case are also included. A 32 oz. chain and bar lubricant is part of the package. A 2-year warranty is another feature you will like about this product.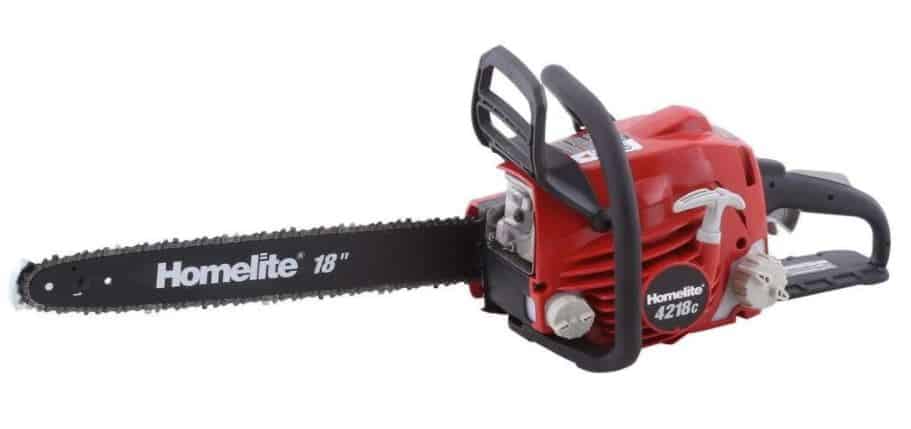 Gas chainsaws are known to cause fatigue when used for prolonged periods. This model isolates vibration to increase the hours of operation by the user. The design has been done with a homeowner or landscaper in mind. Unfortunately, it isn't designed for professionals, and it's not a commercial-grade saw.
Pros
Isolates vibration to reduce fatigue
2-year warranty
32 0z. bar and chain lubricant
2-cycle engine lubricant
Comes with a deluxe case and scabbard
Cons
Leaking auto-oiler
Struggles to start
Best 16-inch Gas Chainsaw – Homelite 16-inch Bar and Chain
Do you have felled trees, and you need to create firewood? The 16-inch gas-powered chainsaw from Homelite may be a good option for such a task. It may be the reason why it's the most popular product for landscapers.
The fact that it's petrol-powered means you can use it on the move. For example, if you have to work on small trees and branches around your farm, this is the best bet. It's also a great asset for large backyards.
The package comes with a 2-cycle engine lubricant just like its 18-inch counterpart. A deluxe case and scabbard are also included as part of the package. The bar and chain are 16-inch. Apart from cutting well, this device is easy to store and is durable. People who have used it for some time stated it is user-friendly and easy to maintain.
For landscapers who have long hours, this is their go-to Homelite chainsaw. It's light compared to others in the same category. This is one of the factors that make it perfect for around the house. The price is fair compared to others with similar specifications. An operator's manual is also included, something that is not common with chainsaws in this category.
Pros
Automatic oiler
Plenty of extra features
Added safety through an inertia chain brake
Comes with a case and scabbard
Powerful gas motor
Cons
May leak oil
The chain may be delivered "dull"
Best 14-inch Gas Chainsaw – Homelite 14-inch Bar and Chain
Are you a homeowner who loves pruning and maintaining the area outside your home? If your answer is yes, then the Homelite 14-inch Bar and Chain is a product you should consider. The first thing you notice is advanced features at a lower price tag. However, some people said it looked cheap. If aesthetics don't concern you, then take a look at the features.
Just as the name suggests, the bar and chain are at 14 inches. The package includes a 2-cycle engine lubricant. An operator's manual and scabbard are part of the package. Unfortunately, this model doesn't come with a case.
One of the things that interest potential buyers are the vibration isolation feature. It helps reduce fatigue, especially if used by senior homeowners. Added safety is present thanks to the inertia chain brake. Levels for oil and fuel are very clear. It ensures you don't guess how much gas or oil you have.
Pros
Above-average features
Affordable
Clear oil and fuel levels
Inertia brake chain
Vibration isolation
Cons
Instructions aren't detailed
Isn't stylish
Homelite Chainsaw Alternatives
Now that you have a list of the best Homelite chainsaws, it's time to look at other options. If you decide you haven't been impressed by the above saw, look at the alternatives below. They will help you compare the different types of chainsaws and their features.
Makita 16-inch Electric Saw – Best Homelite Electric Alternative
This is a corded electric appliance that is powerful considering it doesn't use gas. The first thing you notice is the 16-inch bar. The design is robust enough to cut through large limbs and logs easily. At 2,900 feet-per-minute on the chain speed, it's quite an impressive alternative to the Homelite 16-inch electric saw.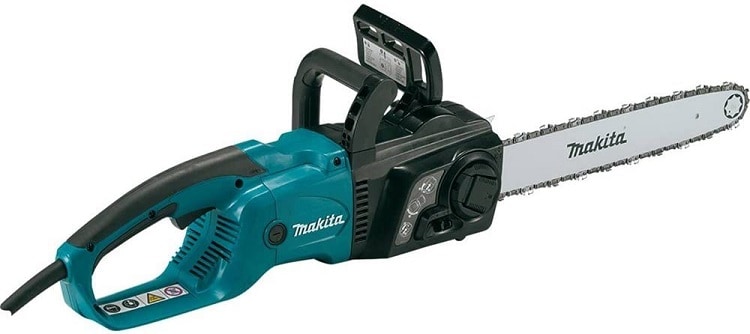 Makita, the manufacturer, ensured the product came with various features. They include an electric chain brake, automatic chain oiler, soft-start trigger switch, and a rubberized, ergonomic handle. A built-in current limited is included to prevent motor burnout. Additionally, you don't need any tools to replace or adjust the chain and blade.
On the downside, it weighs upwards of 15.5 pounds. This is heavier than the majority of comparable models. Lastly, you need an outdoor-rate extension cord. On the upside, a 30-day satisfaction guarantee and one-year warranty are something to look forward to.
Pros
Powerful performance
High-speed
Rubberized ergonomic handle
Soft-start trigger switch
Electric chain brake
Cons
Initial assembly may be a challenge
Heavier than other brands
Echo 18-inch Gas 2-stroke Cycle – Best Homelite Gas Alternative
Are you looking for the highest amount of power? If so, then the Echo CS-400-18 is a chainsaw you should consider. For starters, it has a 40.2 cc, 2-stroke engine, and an 18-inch bar. With such specifications, it's clear you can use it comfortably when you cut through pieces of wood. It works confidently and quickly while remaining easy to handle and use.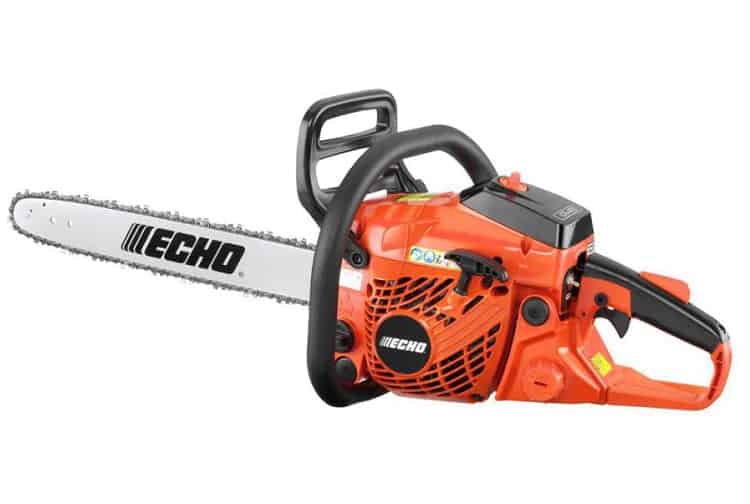 One good feature of this professional Echo saw is digital ignition. It offers a reduced-effort starting system. Other great features include:
An air pre-cleaner.
Side-access chain tensioner.
Heavy-duty air filter.
Automatic oiler.
It's a known fact gas-powered chainsaws are usually hard to start. This model has reduced this issue substantially. It's easy to fire up. Although the Echo CS-400-18 weighs 10 pounds on an empty tank, it can handle heavy-duty home projects. The fuel tank holds approximately 14 ounces. The product is covered by a 5-year warranty, the highest on our list.
Pros
Easy to start
2-stroke 40 cc engine
Automatic oiler
Side-access chain tensioner
Heavy-duty air filter
Cons
Noisier than its counterparts
It may be light for some users
WORX WG303.1 16-inch Electric Saw – Best Homelite Budget Alternative
If you don't mind using a power cord, the WORX WG303.1 may be a good choice. To begin with, it costs less than the majority of chainsaws in this category. Its features include a 14.5-amp motor and 16.5-inch bar. People who have used it state it excels in handling, ease of use, and cutting speed.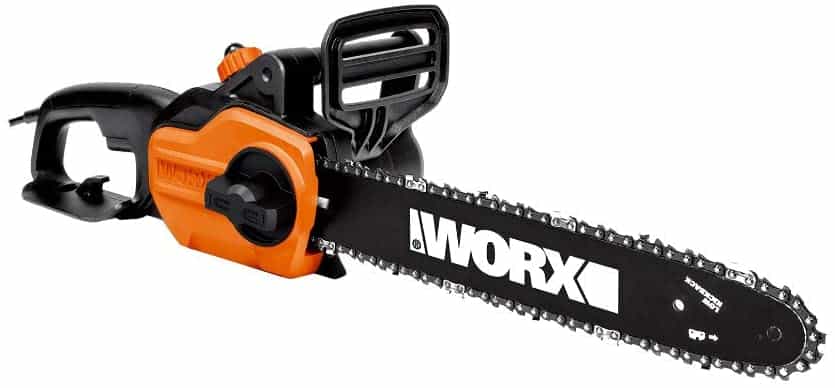 You may assume the low cost means it has limited features. You find features you see in other costlier products, such as automatic chain tensioner, automatic chain oiler, ergonomic handle, and chain brake. You find it's balanced, fast, and easily handles lightweight duties around the house. At 11 pounds, it's not that heavy.
Some users have stated they experienced some shaking when using it. This may be due to the lack of vibration isolation features. The gadget comes with a 3-year warranty.
Pros
Costs marginally less
Automatic chain tensioner
Powerful 14.5-amp motor
3-year warranty
Chain brake
Cons
Large chain adjuster knob
Possible shaking when in use
Homelite Chainsaw Buying Guide
When you are looking for a chainsaw, there are factors you need to consider. Unfortunately, the number of brands and models available can give you a headache just by looking at them. Use our buying guide below to know the features, factors to consider, and how to choose the right chainsaw.
Gas vs. Electric
Mobility and power are combined in gas chainsaws. They range from professional-grade to light-duty models. The former can fell large trees, with the latter designed for small duties. Normally, a gasoline-powered engine cranks with a pull-start. It usually comes with a 2-cycle engine operating a mixture of gasoline and oil. You can purchase mixed fuel or mix the oil and gas yourself.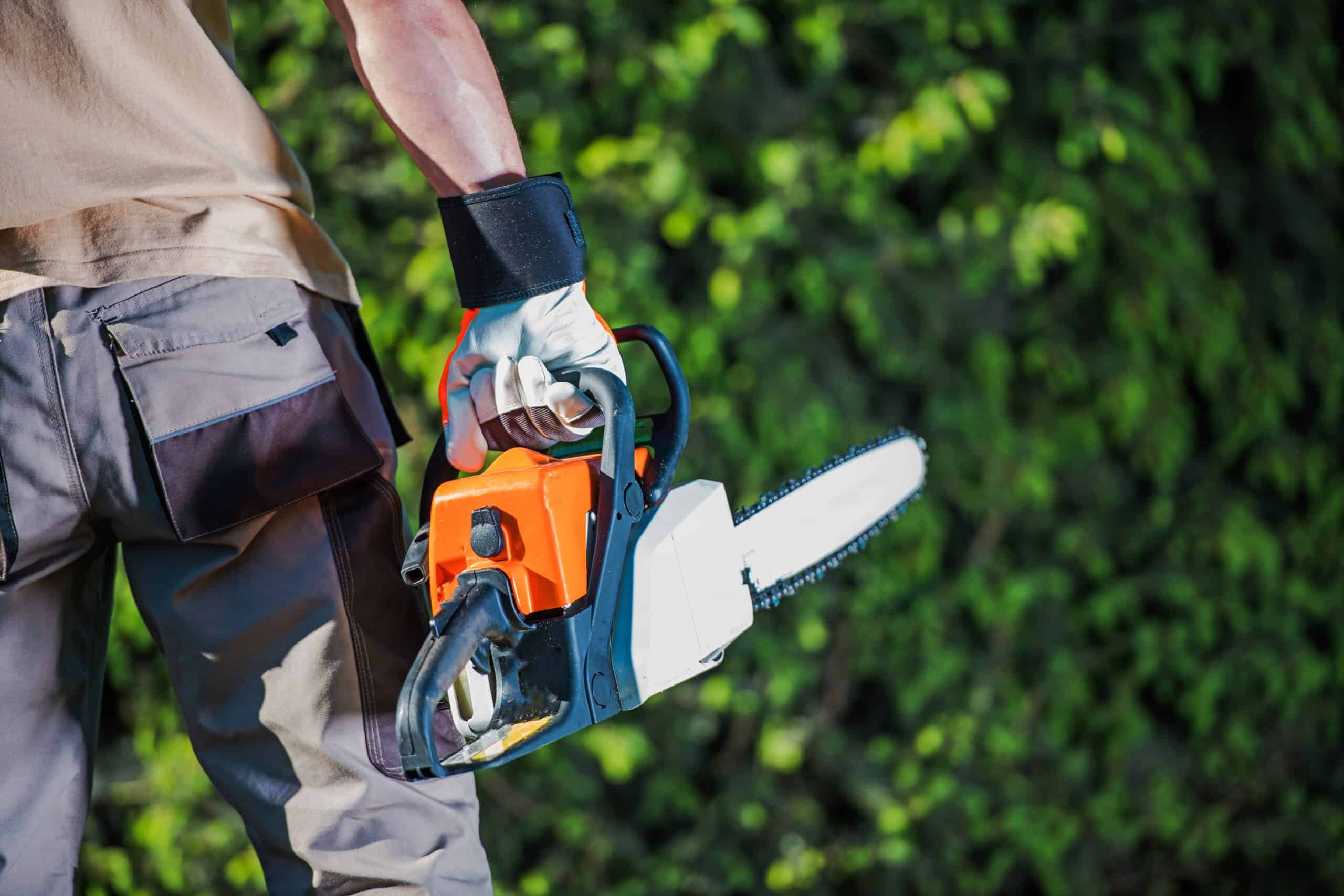 On the other hand, their electric counterparts are designed for small jobs such as pruning and trimming. These are jobs that require less power. Electric chainsaws are easier to start and quieter than gas products. They also require less maintenance. These saws come in cordless and corded varieties.
Corded vs. Cordless
A battery chainsaw is the other name used for a cordless chainsaw. They provide less vibration and better mobility than corded versions. Electric motors also don't produce emissions you find in gasoline engines. High-quality gadgets come with higher-voltage batteries and brushless motors. The result is longer-lasting power. Apart from trimming small tree branches, they can undertake large tasks like cutting tree trunks and logs.
Corded electric saws don't require you to recharge or refuel. They are lighter, although they require a suitable extension cord. You need to ensure the extension is long enough to reach your work area.
The cord's length limits the work area. You need to ensure the cord is out of the way as you work. Use your device's manual to find a compatible extension cord. Make sure you also implement power cord safety tips provided by the manufacturer.
Standard Chainsaws
A standard saw design has rear and front handles. These are on a motor or engine housing coupled with a bar extending from the housing. Take note variations are depending on the manufacturer and model. Traditional chainsaws are best suited for heavier work, such as cutting thick limbs or entire trees.
Pole Saws
These are described as small saws mounted on extension poles. Such a saw increases your reach for removing small branches and pruning. You can get a corded, cordless, or gasoline-powered model.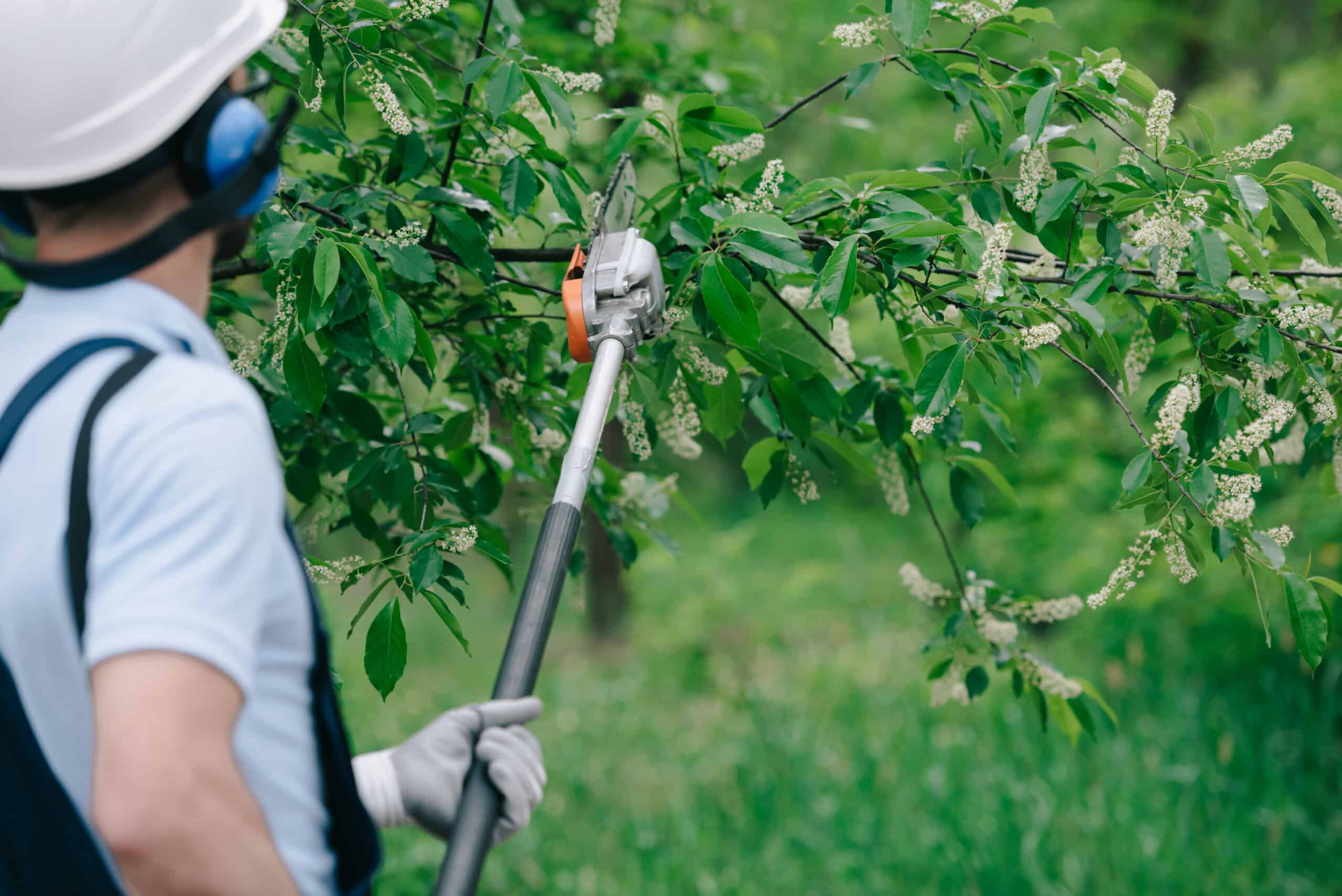 Some pole saws can use a solid extender piece to increase their length. Some come with telescopic poles. These allow you to select your desired length to give you maximum versatility.
Other pole saws can convert to standard chainsaws. You can get string trimmers with the option of attaching pole saw attachments.
Read Also:
Other Designs
There are designs developed with a jaw set or enclosure around the cutting bar. Additional protection from the chain is offered by the enclosure. The material you're cutting is gripped by the teeth on the enclosure. Some models clamp the material as you cut by using a scissor-like action. Such products are good for light cutting and pruning.
Finding the Right Chainsaw
Think about the work you want to do before you look for a chainsaw. Things to consider include your experience using a chainsaw and the type of wood you plan to cut. These are paramount if you are to get the right saw. Different brands offer a variety of options to meet specific tasks and their requirements.
You can judge a saw's length by looking at its bar size. The length also determines the type of work the product can handle. For example, a bar with a longer bar cuts larger diameter woods with a single pass.
If you are looking for one for home use, go for bar length ranging from 6 inches to 20 inches. Consider smaller electric models for the shorter bars and larger gas-powered models for larger bars. Anything above 20 inches is left for professional-grade saws.
Small gas saws and electric variations are designed for trimming, pruning, and cutting small trees. Larger saws with long bars are good for large and medium trees. They can also be used for cutting firewood and storm cleanup.
Power and capability are also measured in horsepower, amperage (corded models), voltage (cordless models), and engine displacement (gas models). You get more power as the number goes higher. Cutting hardwood, like maple or oak, or large branches and trees requires more power.
Take note increased weight is the result of a bigger motor or engine and a longer bar. Consider this if you plan on using the device for long periods. More vibration is present on large saws. They also increase safety concerns and take more effort to handle. If you don't have a lot of experience, go for less powerful and smaller options. Always read and follow the product's instructions for safety, maintenance, and use.
Features of Chainsaws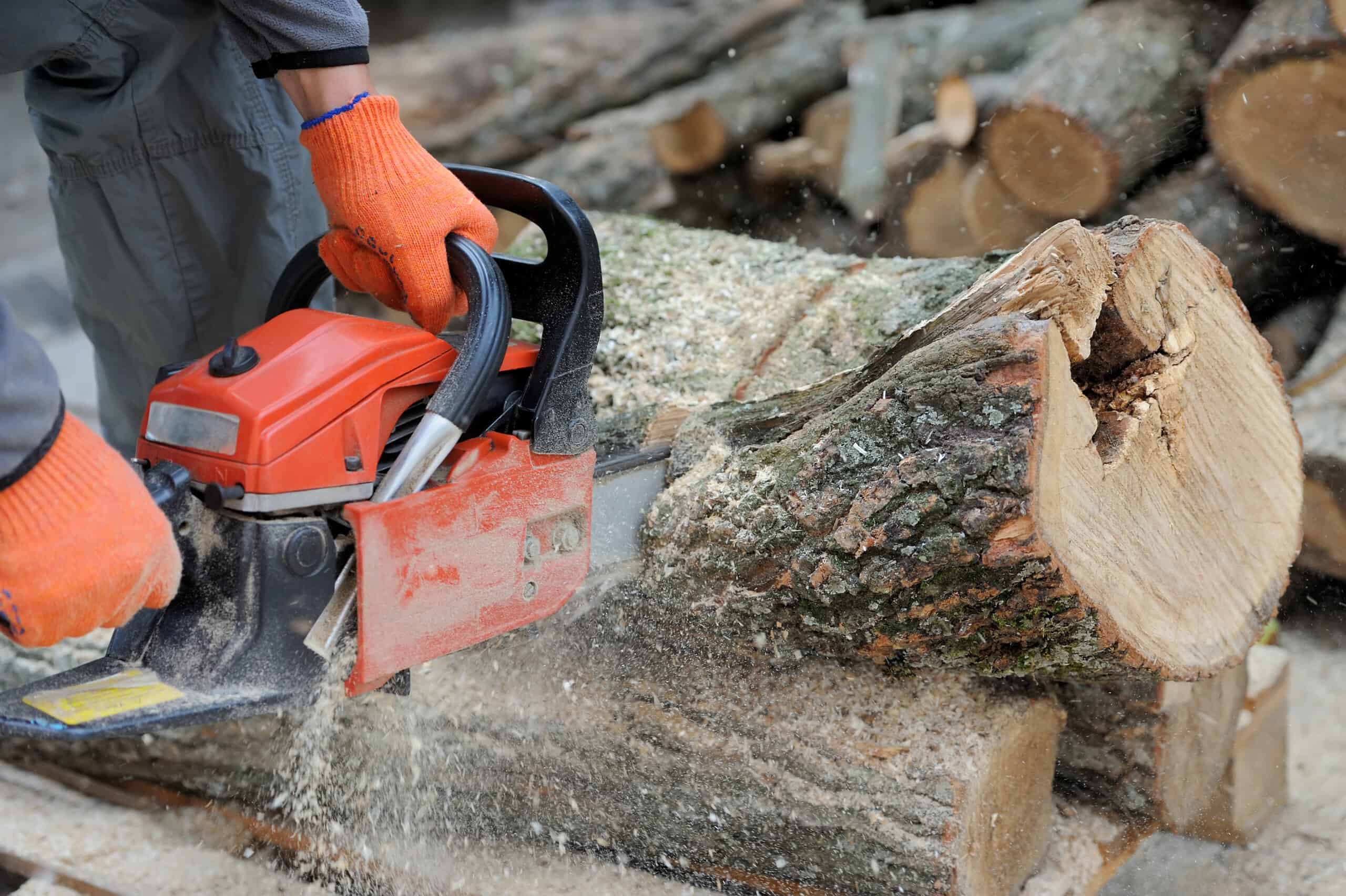 We have seen power and size affect the best gas or electric model for the work you intend to do. Features of the product are responsible for efficiency, safety, and comfort. Some of the features you should consider include:
Carrying case
Air-cleaning
Toolless chain adjustment
Low-kickback
Chain brake
Automatic oiler
Spring-assist
Anti-vibration
Tip
Some models come with gauge and chain pitch specifications. The latter is the spacing of rivets on the chain. The pitch needs to correspond with the spacing on the sprocket's teeth at the bar's end. The thickness of the chain is the gauge.
It needs to fit the groove in the bar. These measurements are useful if you plan on purchasing a new chainsaw bar or spare chainsaw chain. The measurements guarantee you get the chainsaw bar or chain that fits your model. There is the option of purchasing bars and chainsets.
Homelite Chainsaw FAQs
Question: How do I Maintain My Homelite Chainsaw?
Answer: Start by sharpening the chain. Sharp chain cutters help avoid accidents caused by kickbacks when you cut through logs. Next, check the guide bar before you start using the gadget. Make sure it doesn't have any wear and tear. Lastly, keep the product clean and always adjust the chain tension. For gas models, check engine components to ensure it is running smoothly. Consult a professional in case you are in doubt.
Question: Is there a Recommended Oil for My Homelite Chainsaw?
Answer: A clean SAE 30 oil from any manufacturer is a great choice for your saw. The same oil can be used to lubricate the chain. If you stay in areas with less than 4- degrees Fahrenheit, dilute the oil with kerosene. Otherwise, you can use Super 2.
Question: Where Can I Find My Serial Number?
Answer: The model information is printed on the label. You can also find it on the company's official website. The "UT No." is the model number. The number below the UT No. is your serial number.
Question: How do I know When My Homelite Chainsaw was Manufactured?
Answer: Turn your saw upside down. Look for a metal identification tag. It's a metal plate with a series of letters and numbers ingrained in it. Get the model number from the tag and note it down.
Bottom Line
Choosing a gas or electric chainsaw from Homelite is a daunting task. There are several options to choose from. Finding out the best without trying each is virtually impossible. We researched reviews, testimonials, and complaints concerning Homelite chainsaws. The ratings and reviews from previous users led us to find the 5 products above as being the best in each category.
For Homelite electric chainsaws, we recommend the 16-inch 12-amp option. You can use it to tackle larger projects due to its power and size. It can also be used to handle smaller woodcutting or tree trimming projects. The electric motor works quietly, reducing the amount of noise emitted.
Go for one of the three alternatives if you are looking for something different. For example, the WORX WG303.1 is great for people who are working on a budget or need a saw for occasional use. Lastly, use the buying guide to help you find a chainsaw that meets all your needs.