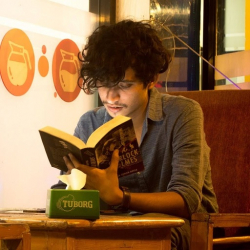 Latest posts by Sandesh Kc
(see all)
Forestry is the practice of planting, managing, and caring for forests. Historically, timber production has been the primary objective of forestry and stills remains the major reason behind managing forests. As a result, most of the tools used in forestry are for logging purposes.
However, in recent years, the ecological importance of forests is increasingly being recognized with the adaptation of multi-functional forestry. This has increased the intensity of forestry operations like forest measurement, a forest plantation, forest protection, and management. Consequently, tools used for these practices are also necessary for forestry professionals as well as woodland owners and workers.
Tools And Gears In Forestry
It is a well-known fact that forestry is a labor-intensive job. The idea of dealing with huge trees spread across massive areas of land in rugged and remote topography gives the impression that forestry works are challenging and demanding on the workers.
However, a wide range of tools and gears have been developed over the years to equip forestry workers with the power to carry out any forestry task effectively and with reduced efforts.
Many of the tools and gears used today are in fact, being used for hundreds and thousands of years. But, like every other area, technological advancement has largely mechanized several forestry operations. Largemachineries are being produced and used today that require virtually no human labor at all. But the majority of the forestry operations are still being carried out by forestry technicians and workers using forestry tools and equipment.
The tools and gear you will need to perform any forestry operation as a landowner or a forestry professional will be discussed in this article. So, sit back and have a good read as this article guides you to understanding and choosing the right tools and gears you will need for your next forestry operation out on the field.
Essential Tools And Gears For Forestry
It is most likely that the forestry operation you will be dealing with is related to the harvesting or logging of trees in your woodlot. Logging requires the most manpower and consequently, there are large numbers of tools and gears that are used for logging operations. The following are the indispensable forestry tools that are employed in most logging operations:
Axe
Wedge
Power Chainsaw
Hand Saws
Cant Hook
Peavey
Picaroon and Hookaroon
Tongs
Hooks
Logger's Tape
Some other tools and gears used for other forestry operations are:
Firefighting tools: Drip torch, Fire Rake, Fire Swatter, Back-pack fire pump
Plantation tools: Dibble, Planting shovel, Hoedad
Forest Mensuration tools: Diameter Tape, Calipers, Clinometer, Compass, GPS device, Increment Borer
Let's get into more detail on the uses of these tools and gears.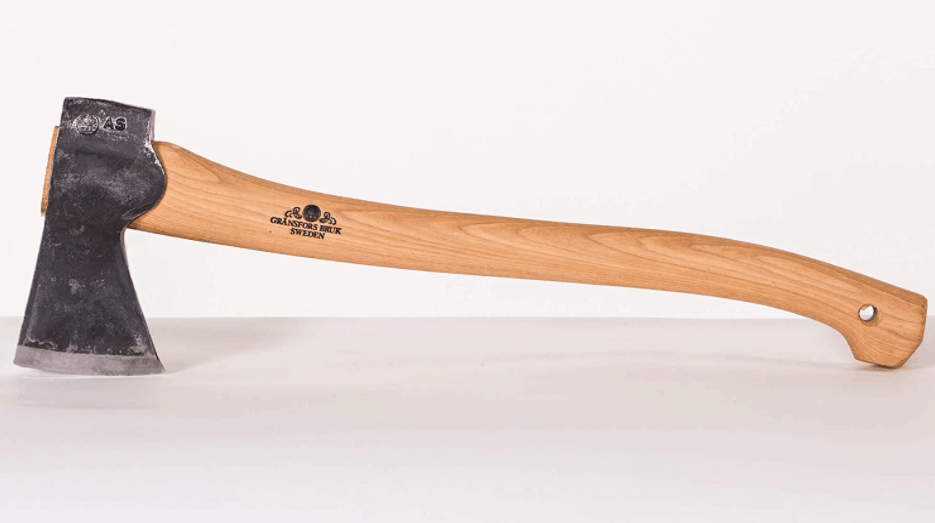 The number one tool that you absolutely need to have in your arsenal of forestry equipment is a forest axe, or maybe even multiple axes. The multiple axes are categorized based on their uses, as axes are used for felling, trimming, splitting, and grubbing purposes.
The first thing you have to do for a harvest is to chop down a tree, for which, you will be using a felling axe. They're built to cut across the grain of the tree you are swinging at. After the tree is felled, a hand axe or a hatchet will let you trim the limbs of the trunks and branches, a process known as delimbing. Finally, splitting axes are used for splitting the wood in half to be used as your firewood.
Read also: What's the Difference Between Hatchet and an Axe?
Guide To Choosing An Axe
Besides choosing the type of axe that fits your specific purpose, there are other important things to consider while choosing an axe:
Handle
Wooden-handled axes are mostly the best ones. Rubber and composite materials are also used to make axe handles, but a downside to those materials is that you cannot easily replace them and they are also less ergonomic. Hickory and ash handles are used in the best quality axes.
Weight
Choosing the rightly weighted axe can be a tricky job. A light axe is easy to handle but has less force and a heavy one cuts deep, but losses accuracy. Due to safety considerations, it is always a good idea to start with a light to medium weight axe as a beginner and move your way up to heavier ones as you gain experience.
Size
The size of the axe will vary greatly on its intended use and your body size. It is a matter of personal comfort and effectiveness.
Quality and Price
While buying an axe, the quality and price of the axe must dictate your choice. Surely, a better quality axe will last longer and work better. But, an important thing to consider will also be the likeliness of losing an axe. It is easy to lose an axe, especially a small hatchet in a large and dense woodlot.
You might want to think twice before buying an expensive axe if a more economic choice does the job done for you. However, if you choose to invest in a good quality axe, it is always a good idea to mark it with bright colors.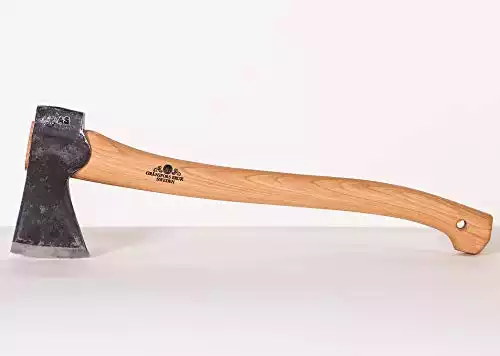 Felling a tree is a dangerous job if correct tools and procedures are not employed.
Wedges are small triangular-shaped tools that are used to control the direction of the fall of the tree and to keep your bar and chain of the saw from getting pinched when you make a felling cut. Wedges are inserted in notches and initial felling cuts made using axes or chainsaws.
A single wedge may suffice for smaller trees but bigger trees may need three or four wedges placed carefully.
The application of a wedge is always recommended in any tree-felling task. However, they become indispensable while felling leaning trees or felling during the wind.
Guide To Choosing Wedges
Material: Plastic wedges are the most preferred ones because they are inexpensive, light, and cause no harm to your saw teeth if they accidentally come in contact with the wedge. Other materials used are steel, aluminum, and wood.
Size of the wedge: An obvious piece of advice would be the choice of bigger wedges for larger trees. Wedges are generally found in lengths of 5.5, 8, 10, 12, 15, and 20 inches.
A better factor to consider would be the ratio of length to the slope since this is what determines the effectiveness of the wedge. Also, its portability should be regarded since wedges are mainly kept on pouches in your belt which makes smaller ones easier to carry.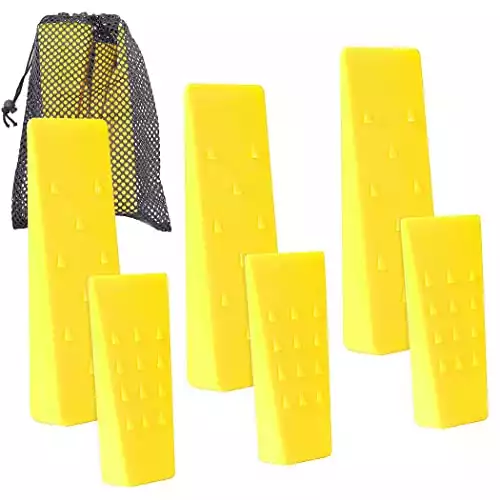 6 Pack Tree Felling Wedges with Spikes for Safe Tree Cutting | Amazon
Safety is everything in the tree cutting business, so protect yourself and your employees with a high-quality set of tree-felling wedges designed with raised spikes to carefully lift and direct the tree to the safest direction of your choosing.
Buy at Amazon
We earn a commission if you make a purchase, at no additional cost to you.
12/08/2023 02:04 am GMT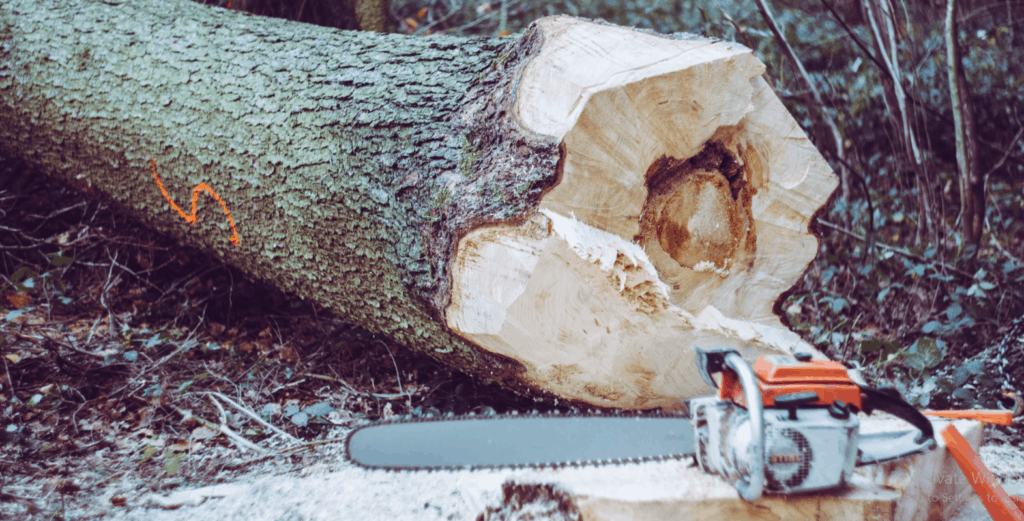 Chainsaws are easily the greatest technological advancement in all forestry tools and gears. These are portable devices where a set of teeth attached to a rotating chain is powered by gasoline or electricity to cut through the wood.
Like axes, chainsaws have found their way into barns and trucks of almost everyone working in forestry operations. They are used for virtually everything, from felling all sizes of trees, delimbing, bucking, salvage cutting, and pruning to cutting firebreaks in wildland fire suppression.
Because of the wide range of options available on the market and the importance of choosing the best chainsaw, the guide to chainsaws asks for a separate article. However, in summary, some important things to consider will be the power of the engine, the intended use of the chainsaw, fuel consumption, weight, size, and other features like cooling, vibration, and noise levels.
Best Gas Powered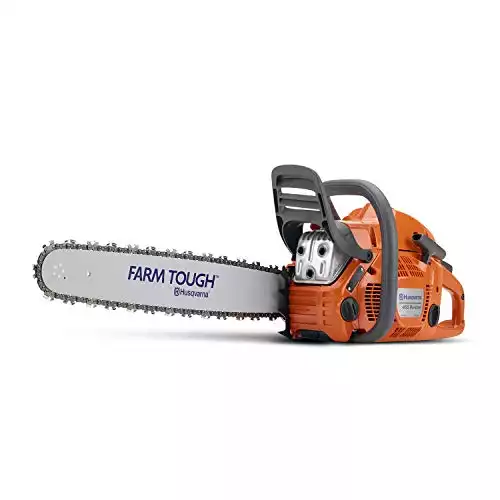 Husqvarna 20 Inch 455 Rancher Gas Chainsaw | Amazon
This gas powered chainsaw is ready to cut trees, whether you need to prune, limb or cut firewood. The ergonomic design of The Husqvarna 20" 455 Rancher gas chainsaw allows the homeowner to handle the power of the saw with ease.
Buy at Amazon
We earn a commission if you make a purchase, at no additional cost to you.
12/07/2023 12:41 pm GMT
Best Electric Powered

WEN 4017 Electric Chainsaw, 16" | Amazon
The WEN 16-Inch Electric Chainsaw provides over 12 amps of sawing power, making easy work out of any tree, bush or branch that gets between you and that perfect lawn.
Buy at Amazon
We earn a commission if you make a purchase, at no additional cost to you.
12/07/2023 08:13 pm GMT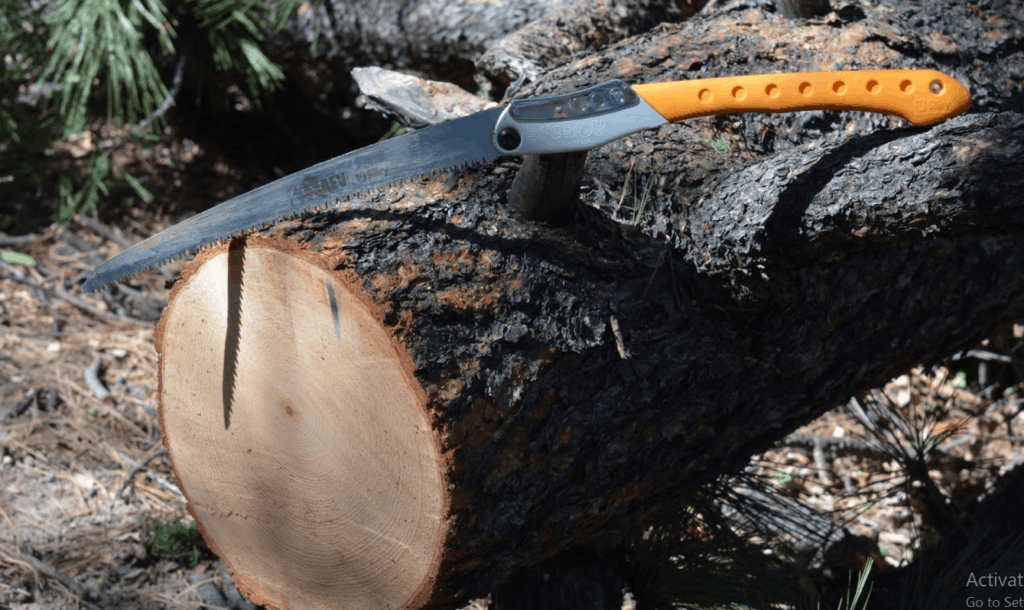 The widespread use of power chainsaws has largely reduced the usage of saws operated by human labor. Handsaws consist of a thin, comparatively broad blade or plate of steel with its one edge toothed. 1 or 2 handles are attached to the end of the blade and operated by one and two workers respectively.
There are different types of handsaws based on their uses:
Crosscut saws are usually two-handed in forestry and used for felling or conversion to logs.
Bow saws are operated by a single hand and used to cut small trees, poles, and branches. It resembles a small archery bow with a narrow blade in place of a bowstring.
Pruning saws are still used extensively to prune branches as they are very easy to operate and get the job done efficiently.
Guide to Choosing Handsaws
Handsaws, mainly bow saws and pruning saws come in different shapes and sizes.
Some pruning saws are attached at the top of long poles to prune standing trees. There are also easily portable foldable pruning saws where the blade folds into the handle and longer non-foldable pruning saws with a fixed straight blade.
These saws come in all sizes and the decision of choosing the right saw comes down to the diameter of the tree or wood you will be working on.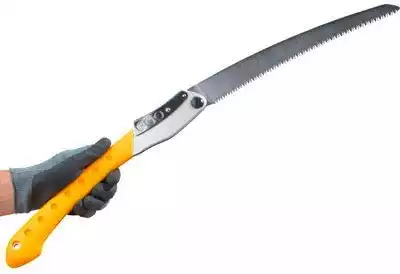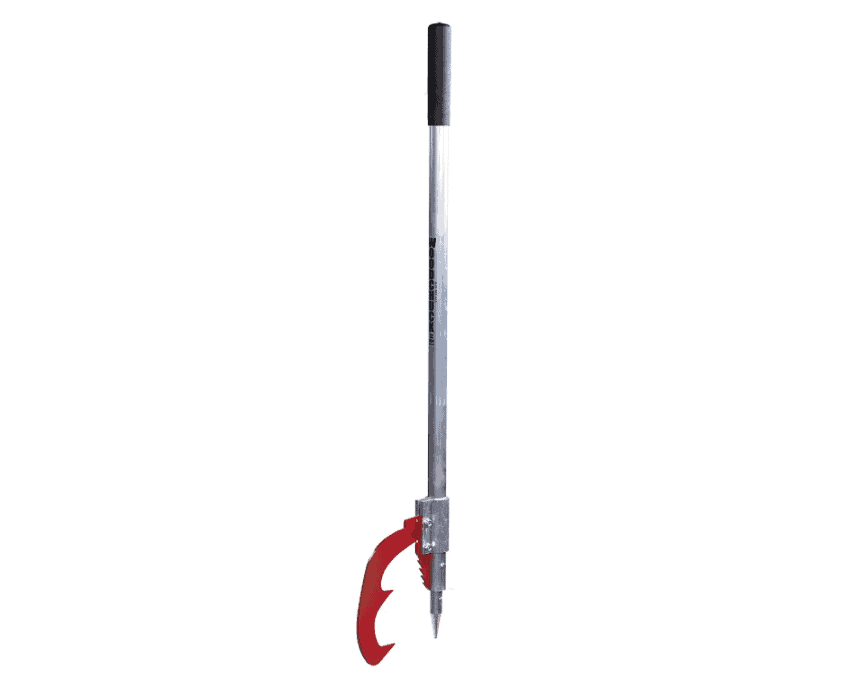 Your forestry operations will surely include moving, turning, and rolling heavy logs. To perform these demanding tasks effortlessly and ergonomically, a cant hook and a peavey hook become indispensable tools in woodlots and sawmills.
Both these tools consist of a lever handle with a movable metal hook at one end. The hook is fixed onto the logs to lift and roll them into position.
The difference between cant hook and peavey hook is that cant hook has a small curved hook on the bottom end of the handle to allow for a better grip, whereas peavey has a sharp spike on that end to separate logs.
Guide To Choosing Cant Hook And Peaveys
Choosing the right cant hook for your job is as important as the use of cant hook itself. Some of the vital things to consider while choosing the right cant hook are:
Material: The choice here is between wood, aluminum, and steel. Wooden handles are lightweight and suited for low weight logging operations while the sturdy and durable aluminum handles are necessary for large logs.
An extra piece of important advice would be to opt for handles with rubber holdings for a more comfortable experience.
Length: If you are aware of the working mechanism of a lever, you must know that a longer lever on the fulcrum will need lesser force to move the load. Not only a long handle reduces the force necessary to move and lift logs, it also removes the strain of bending over to operate.
Having said that, you must consider your height and choose the length that best fits your needs.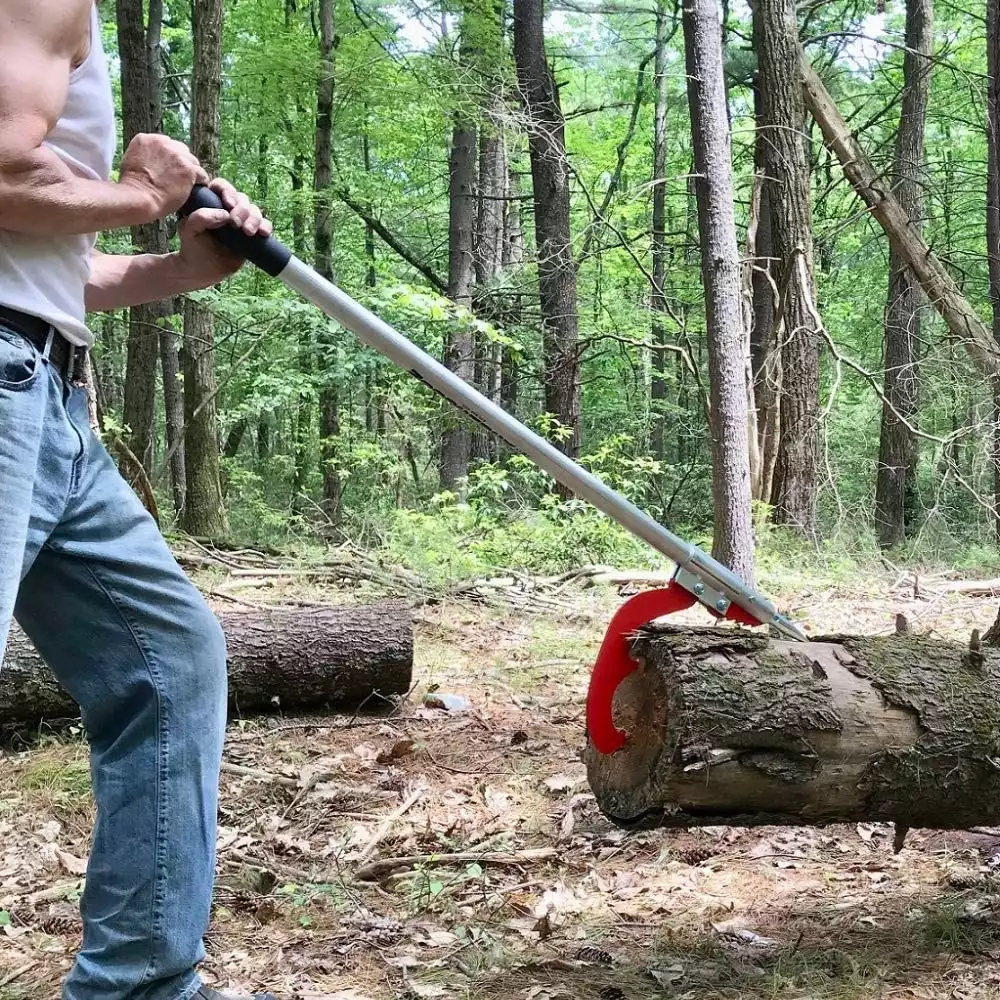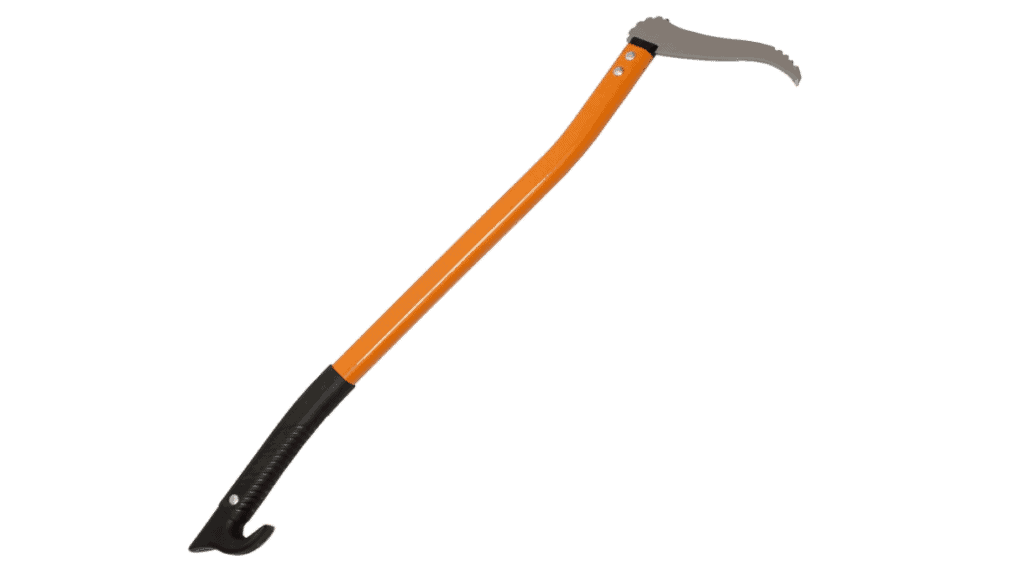 Having a pickaroon with you while dealing with logs, can feel like having a best friend to help you out on the job. It saves you precious time and more importantly, avoids back strains.
Pickaroon is dropped below at the logs like an ax or can be swung upwards from alongside your leg. The head of this tool has a pointed end called a spike that pierces into the wood that you can now move or lift easily without bending.
A hookaroon is considered a type of pickaroon with the spike turning downwards forming a hook-like shape. This allows the hookaroon to have a better grip on the logs.
Guide To Choosing Pickaroon And Hookaroon
Length: Like all other tools with handles, the length of the handles should be fitted to your height. A short handle will cause you to bend and a longer handle will be difficult to maneuver.
Material: Most handles are made of wood and woodworks are great as well. However, you should store the tool properly since wood can be damaged by the weather.
The head should be made with durable material so that the spike doesn't break. You will also want to opt for rust-less material.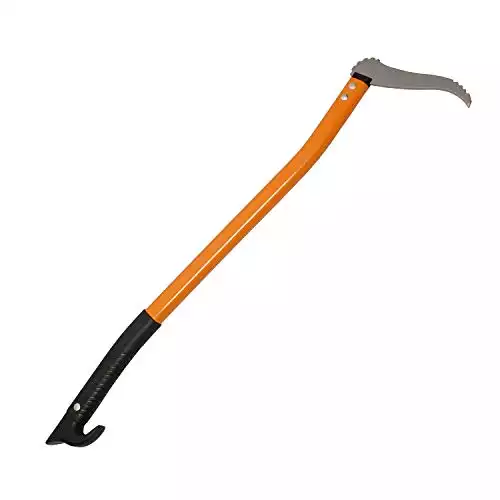 Felled Hookaroon Pickaroon | Amazon
The Felled Logging Pickaroon Hookaroon Tool is designed to assist you in lifting, dragging, and carrying logs without straining your back; The lightweight pickeroon is simple to use and makes logging easier.
Buy at Amazon
We earn a commission if you make a purchase, at no additional cost to you.
12/08/2023 02:33 am GMT
Read our full guide to finding the best Hookaroon.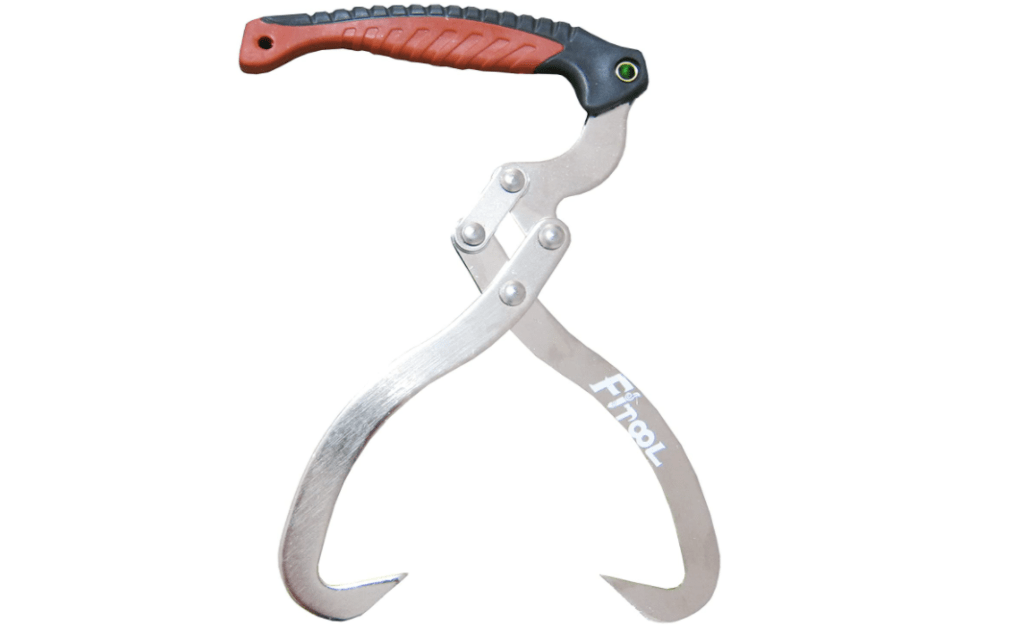 Logging hooks and Logging Tongs are a bit more manual and handier tools for the handling of logs which you must have in your tools collection.
Both these tools have a handle that immediately extends into a hook to form the logging hook or is made into a tong to form the logging tong.
To use them, all you have to do is to place the hook or the expanded tong on the wood and lift or roll the wood. The logging tong is mainly used to lift and stack logs or firewood while the logging hook can be used for lifting, stacking as well as rolling logs after felling.
You will likely find yourself using them both in unison as this is a great way to maximize their efficiency.
Guide to choosing logging hooks and tongs
Although these two tools are seemingly simple and easy to use, selecting the ones that work the best can be challenging. The following tips will help:
Some hooks are mainly designed for rolling while others for lifting. This depends on the level of the arc given to the hooks and the teeth provided on the blade. Select the one that best fits your purpose.
Comfortable handles are available that are easier on the hands.
The size of the hook or the tong should be chosen based on the size of the logs or wood you will be working with.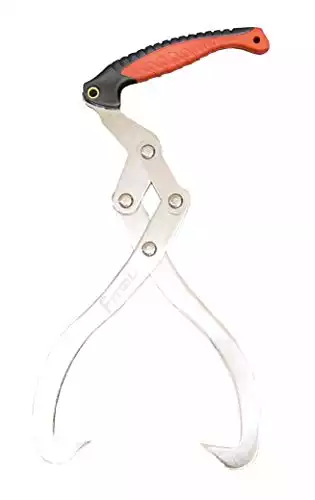 FITOOL 12 Inches (300MM) Log Carrier | Amazon
Pick up the wood or flip them with one hand, need not to bend over anymore. Ergonomic design ABS handle with soft TPR grip for comfort. Compact and convenient design for easy gripping, quickly grasp or release the log.
Buy at Amazon
We earn a commission if you make a purchase, at no additional cost to you.
12/08/2023 05:19 am GMT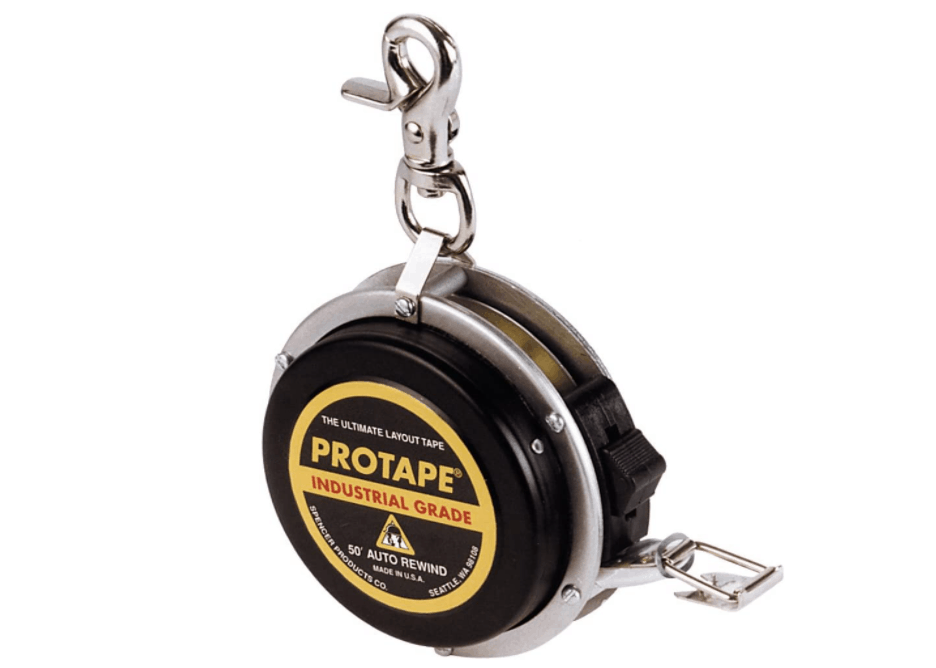 Your forestry gear will always be incomplete without a logger's tape with you, or better yet, hanging on your waist. In any forestry operation, you will find yourself having to frequently measure lengths of fallen trees and logs, lengths on grounds, or the diameter of standing trees.
Logger's tape like every other tape is used to measure length. Now you might be wondering what a logger's tape does differently. Well, having a logger's tape with you makes measuring a one-person job! A logger's tape is provided with a hook-shaped nail at the top which you can poke into the butt of the log and walk off to the distance without having to worry about having a second person to hold it in place.
Moreover, a simple and gentle tug will make the tape recoil back to you. This simple idea can make your job so much easier and saves a lot of time.
Guide to choosing loggers tape
Although pretty much all loggers tape gets the job done, you might want to consider the following points to choose the right one for you.
Like mentioned earlier, you will surely have to measure the diameters of standing trees as well as felled logs. To save yourself from carrying an extra diameter tape for measuring the diameter, you should look for loggers tape that serves as a diameter tape on the reverse side.
Since a logger's tape is almost an everyday carry in your forestry operation, you might want to invest in a good quality logger's tape that will save you from frequent repairs and replacements.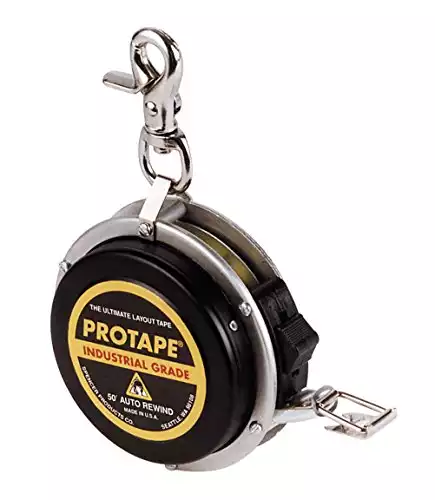 ProTape 3/8" x 50' Auto-Rewind Tape Measure | Amazon
The protape auto rewind is a heavy duty tape measure constructed for professional use. It features an aircraft aluminum case with handy brake, and swivel belt clip for convenience and ease of use.
Buy at Amazon
We earn a commission if you make a purchase, at no additional cost to you.
12/07/2023 04:56 pm GMT
As initially mentioned, forestry works extend beyond the harvest and logging of timber and wood. There are other forestry tasks like forest firefighting, forest measurements, and forest plantations. You might perform these tasks as your major forestry operation or might have to perform them when needed.
Let's discuss the tools and gears used for these operations in more detail:
Forest Firefighting tools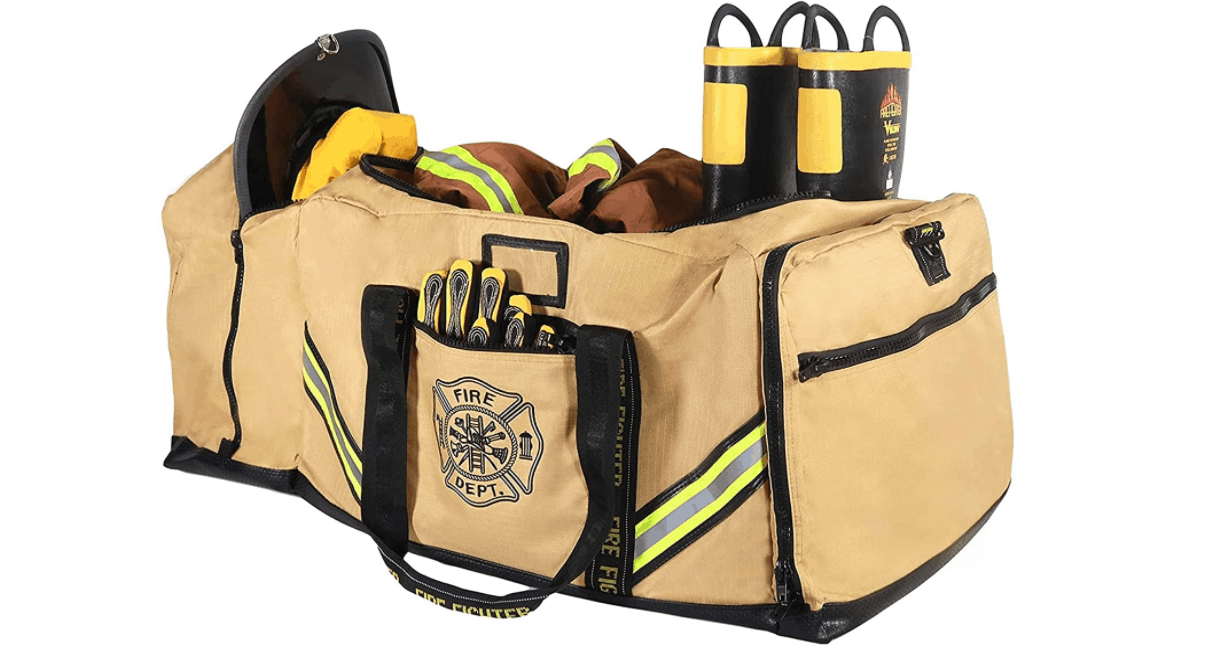 With the ever-increasing cases of wild forest fires across the globe, it has been more necessary than ever to have firefighting knowledge as well as information about firefighting tools and gears. The following are the tools mainly used by both professional and amateur forest firefighters on the field: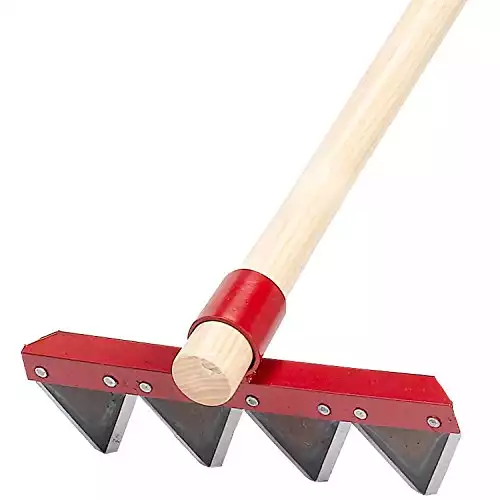 A triangularly serrated steel blade, fixed onto a long wooden or fiberglass handle makes up a fire rake. It is a handy tool used to remove fuel from the fire line and to accumulate fuel to form a spot fire.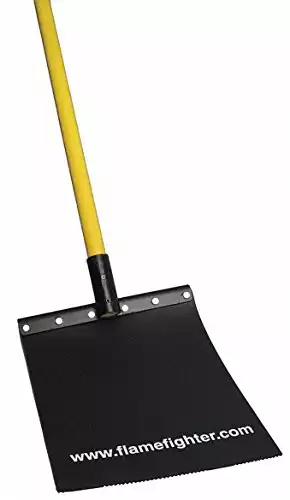 Flamefighter Fire Flapper | Amazon
Best tool to use in case of brush fire - they are sturdy and do the job of beating out fires. Great in areas where there is no water available.
Buy at Amazon
We earn a commission if you make a purchase, at no additional cost to you.
12/07/2023 06:41 pm GMT
Fire swatter is a firefighting tool in which a thick and flat piece of rubber is attached to the bottom end of a long handle. The flat rubber is used to put out and smother flames from a safe distance because of the long handle.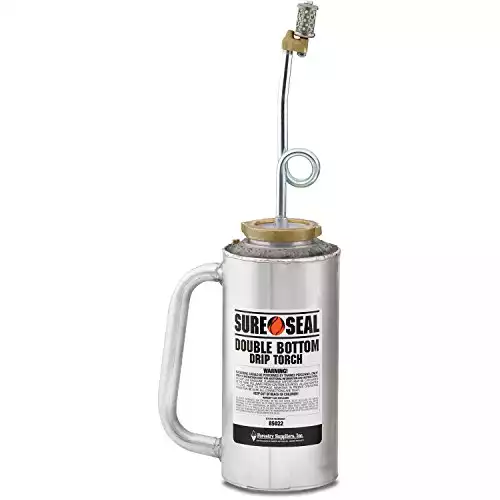 Forestry Suppliers Sure-Seal Double-Bottom Drip Torch | Amazon
Safety features include a "Big Mouth" design for easier filling. A fuel trap on the spout prevents flashback into tank. A check valve in the cover provides a second level of protection against flashback.
Buy at Amazon
We earn a commission if you make a purchase, at no additional cost to you.
12/08/2023 04:46 am GMT
A drip torch is a canister that holds a mixture of gasoline and diesel which is used to set backfires as a preventive measure for extreme forest fires.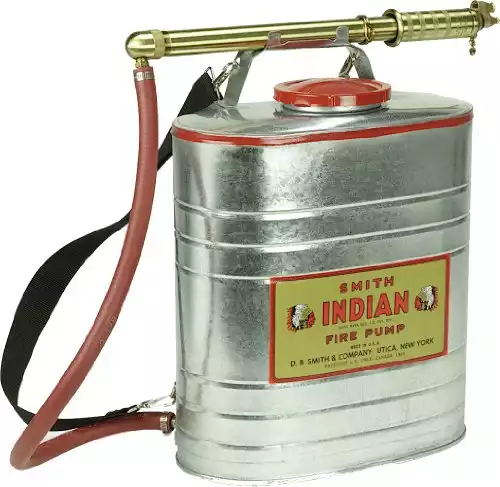 Indian 179014-1 Galvanized Fire Pump | Amazon
The Indian 90G Galvanized Fire Pump features a 5 gallon galvanized tank outfitted with a premium Smith all-brass pump. You can count on it in an emergency. Lumbar support built into back, with air holes for comfort.
Buy at Amazon
We earn a commission if you make a purchase, at no additional cost to you.
12/08/2023 12:26 am GMT
This is a wearable gear that consists of a bag or a vessel to carry water or other fire suppressing liquids to make them accessible and portable to areas where they might not be available. It is equipped with a pipe and nozzle to pump and spray water.
Forest Plantation Tools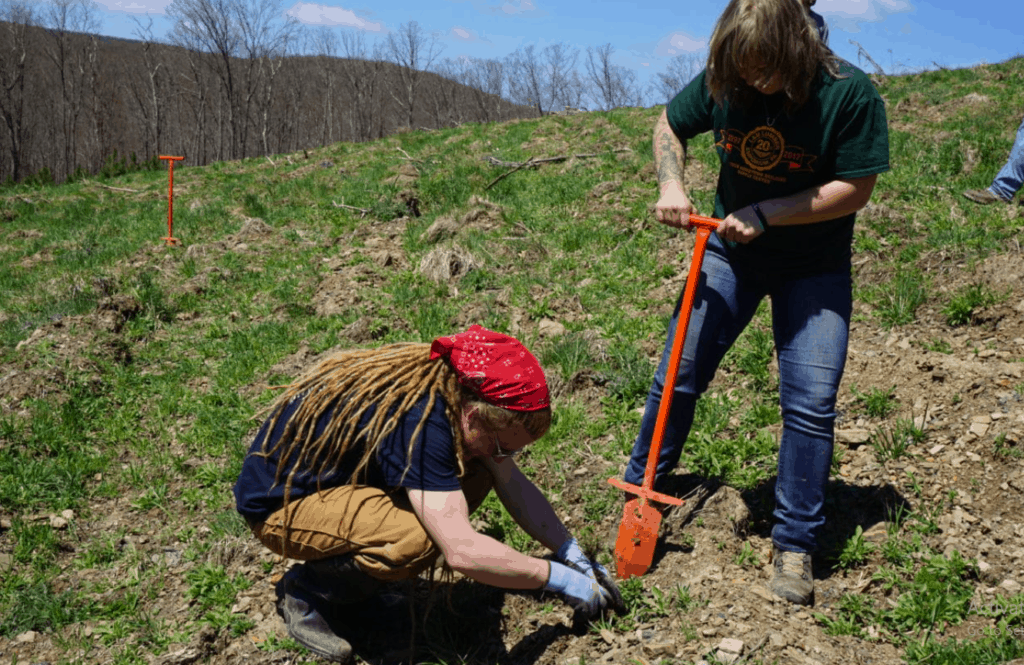 Planting forests is one of the noblest things to do. However, it also requires knowledge of proper techniques and the use of tools to perform forest plantation properly. The basic hand tools used in planting forests are:
JIM-GEM Dibble | Amazon
Works best in rocky soil that is difficult to penetrate. The KBC bar will penetrate soil cleanly and easily allowing less dirt to fall in the planting hole.
Buy at Amazon
We earn a commission if you make a purchase, at no additional cost to you.
12/07/2023 11:45 pm GMT
Dibbles are tools that are used to make a hole in the ground to place the seeds or young plants for plantation. Dibbles come in various types, shapes, and sizes. A small pointed wooden stick or a peg is a traditional dibble while steel and plastics are also used in similar sizes.
A dibble bar or a dibble with a longer handle allows you to make holes on the ground while standing. The shape and thickness of the dibble should be chosen according to the preferred hole on the ground.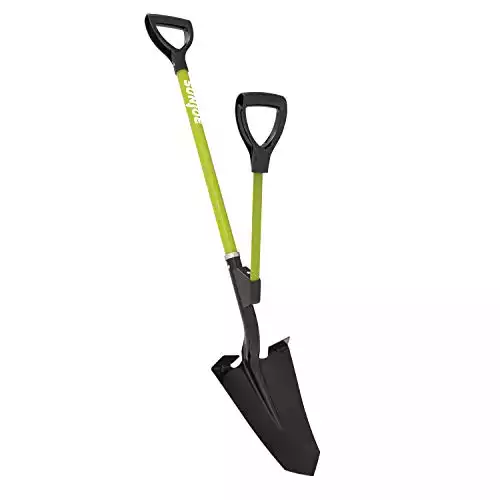 Snow Joe SJ-SHLV07 Strain-Reducing Spear Digging Garden Shovel | Amazon
This is ideal for digging sod and soil, planting trees and cutting trenches. The rugged, forged steel point 9-inch blade easily pierces sod and soil, while the ergonomically-designed spring-assist handle sends lifting leverage to the lower hand.
Buy at Amazon
We earn a commission if you make a purchase, at no additional cost to you.
12/07/2023 12:43 pm GMT
It looks like a normal shovel but is made to pierce the ground easily and to loosen up the soil around the cut to make a planting hole.
Hoedad
Hoedad is an effective plantation tool designed to use in more mountainous areas. An angle is provided to the blade at the end of the handle to allow the planter to swing the tool at an angle on sloppy areas.
Forest Measuring Tools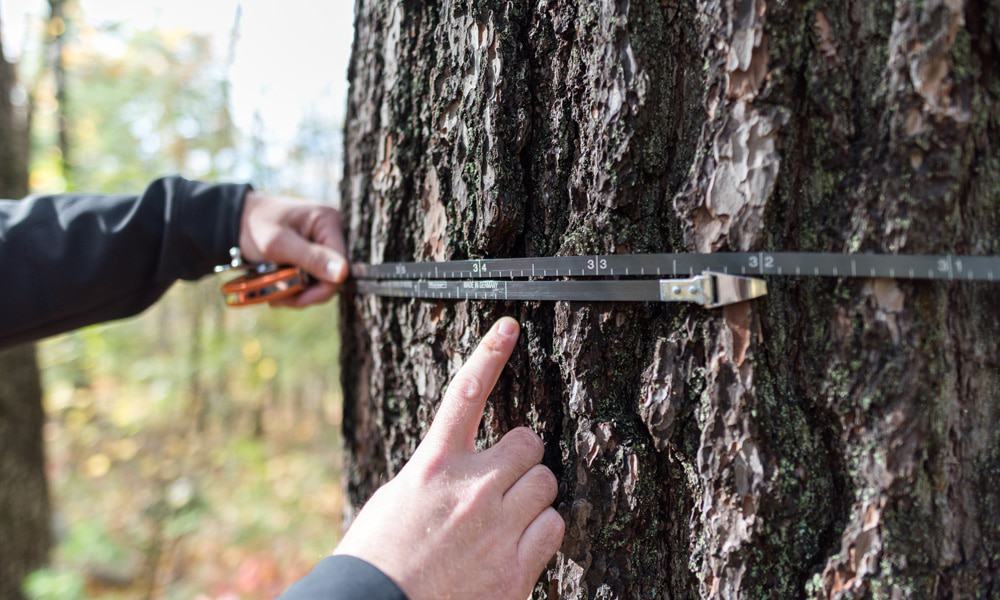 You can't have proper management of forest without effective measurement of forest. Although making measurements mainly deals come under the job description of a forest manager or a researcher, having a clear idea of measurement techniques and ideas will surely come in handy for anyone on the field. The measurement tools mainly used in measuring forests are: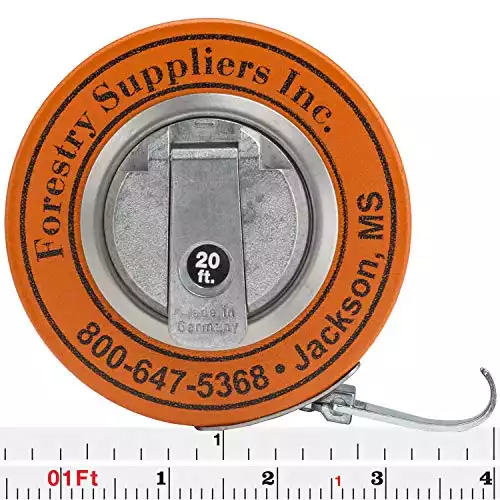 You cannot directly measure the diameter of a tree or a log using normal tape. A diameter tape is calibrated to directly measure the diameter by using the geometrical equation of the girth of a circle. The measurement is usually made at the breast height for standing trees and called diameter at breast height (DBH).
GPS Device
The application of a GPS device in forest mensuration is related to the recording of the geographic X and Y coordinates or longitude and latitude of the location of interest, usually the location of the tree.
However, a GPS device is indispensable gear for you if your job requires navigation. Forestry operations are usually pre-planned spatially. So ideally, you must have a GPS device handy with you at all times and should possess the skills to operate it.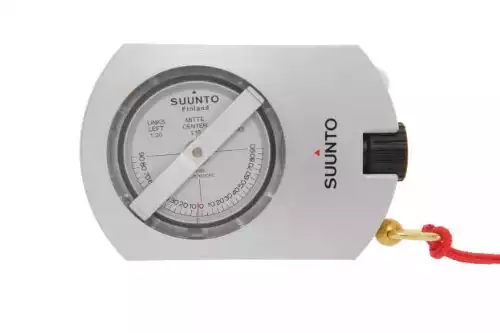 SUUNTO PM-5 Clinometer | Amazon
The SUUNTO PM-5 Cinometer provides accurate measurement of heights and slopes; Scales for slope in degrees and %; Optical reading of card for higher accuracy.
Buy at Amazon
We earn a commission if you make a purchase, at no additional cost to you.
12/07/2023 11:07 pm GMT
You can measure the diameter of the tree accurately using tape, but measuring height requires a specialized tool. A clinometer is a hand-held instrument that measures tree height as well as ground slopes.
Compasses used in forestry are hand-held and are used for establishing plots and demarcating boundaries.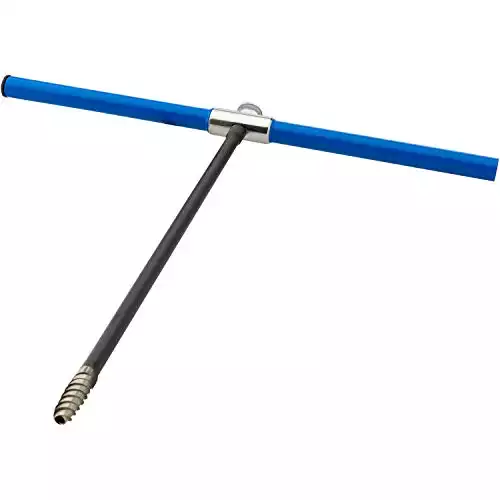 Haglöf 2-Thread Increment Borers | Amazon
Use to extract cores of wood from trees or freshly treated poles, piling, lumber, or timbers to determine growth rate, age, tree soundness, and chemical penetration. Teflon coating protects bit against rust and resin build-up and reduces friction.
Buy at Amazon
We earn a commission if you make a purchase, at no additional cost to you.
12/07/2023 11:25 pm GMT
Increment borer is a drill operated by hand that extracts wood core from trees using a hollow tube and core extractor. It is a unique tool as unlike others, it allows to observe the insides of a tree. This allows you to assess the tree growth, age as well as overall health of the tree. This information is crucial in better forest management and production.
Forestry tools safety tips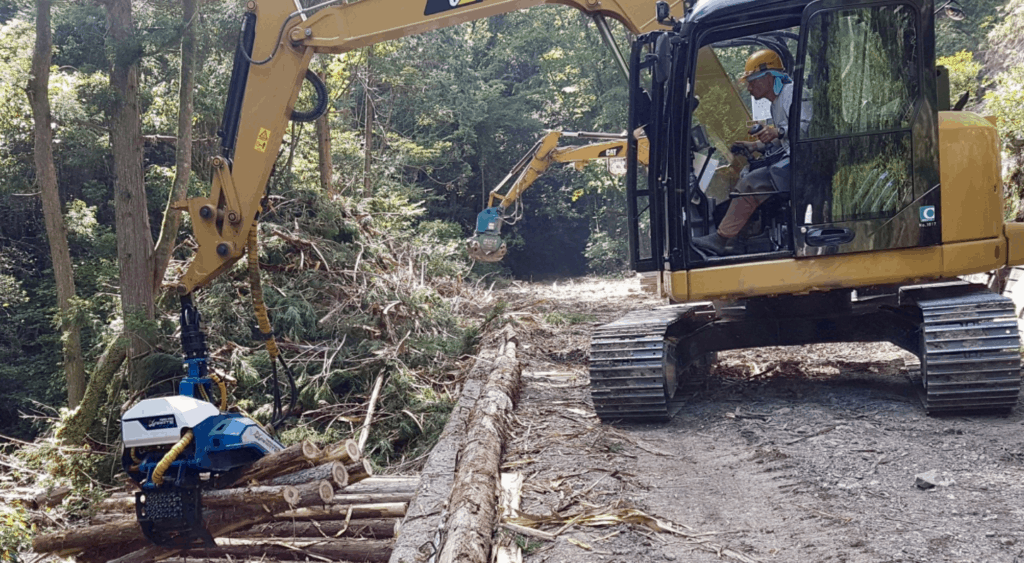 If you are using appropriate forestry tools for your forestry operations, you are safe from a lot of serious issues of health issues and occupational hazards. Tools and gears used in forestry are made to minimize the negative health and safety impacts on the forestry workers by minimizing labor and maximizing efficiency.
However, sometimes the same tools can be a cause of a safety hazard if not used properly. Some safety measures you should always follow are:
Use of Personal Protective Equipment
You should never undermine the importance and effectiveness of PPEs as they can even be a deciding factor between life and death. The following are the most important PPEs in forestry works you must have according to your work:
Chainsaw chaps or pants are quite literally life-savers for many chainsaw operators. They prevent severe injuries resulting from accidents or improper handling of chainsaws.
Noise is a serious concern leading to hearing loss while using powered tools in forestry. Earmuffs of earplugs should be used while working in noisy environments.
Helmets protect your head from falling objects as well as dangerous tools like chainsaws. Helmets should have proper headbands and ideally be fitted with earmuffs and visors.
Other protective equipment includes safety boots, goggles, and groin protection.
Dressing for the job
If you are in proper work attire suited for the job, you will feel much more comfortable and productive. Although the attire for forestry depends according to your job in hand, certain basic rules apply to every forest works like never wearing shaggy clothes as they are easily stuck in tools and branches.
The forestry tool belt is a gear that everyone working in forests, especially in logging and felling, needs to wear. Having almost all the tools you will need, arranged around your waist will save so much time and decrease the chances of health hazards resulting from the misplacement of sharp-edged and pointed tools.
Always read the Instruction Manual
Most forestry tools, especially power tools come with detailed instructions manual to safely operate the tools. So look out for the manual of all the tools you purchase and also try to include safety accessories like covers and plugs in your tool collection.
The manuals will also guide you to working the tool most effectively and inform you on the additional protective equipment you may need.
Regularly Inspect and Maintain your Tools
Some tools require more maintenance than others. Always make a habit to look for any deformities in your tools before and after using them. Keep the tools in the area as specified in the product and make regular replacements of parts that are easily damaged.
FAQs
Question: What are the best brands for forestry tools and gears?
Answer: The best sources to get your forestry tools and gears are the following brands or suppliers based on the specific tool you want:
Forestry Suppliers
LogOx
Stihl
Husqvarna
Oregon
Poulan Pro
Wood-mizer
Fiskars etc.
Question: How much should I spend on Forestry tools?
Answer: The amount of money you should spend on adding new forestry tools to your collection or repairing existing ones vary drastically.
Financially, the most important thing to consider will be the return on investment you will be gaining out of purchasing the tool. It will depend on the type of business and your revenues.
Since forestry is a labor-intensive process, the tools will be bearing continuous wear and tear. Investing a good amount initially on the best quality tools will save you from recurring maintenance costs.
However, depending upon the level of expected usage of a tool, you may opt for a lower-budget product.
For example, you will need to spend from $400-$2000+ on chainsaws if you are a professional logger and intend to use the chainsaw for large trees and extended periods. On the other hand, if you own a small woodlot and need a chainsaw for firewood and occasional purposes, you can get a good one for you under $400.
Question: What hand tools will I need to fell a tree?
Answer: The different tools used in felling a tree are chainsaw, handsaw, axe, hammer, wedge, ropes, cable tensioner, breaking bar, etc. The choice among these tools depends on the size of the tree and the felling site and conditions.
Small pole-sized trees can be easily felled using only chainsaws, wedges, and hammers. Axes, handsaws, or breaking bar can be used depending upon the availability of tools.
If you want to feel a larger tree, better chainsaws and multiple wedges are necessary along with felling axes. Ropes and cable tensioners might be necessary to better direct the direction of fall under difficult topography and weather conditions.
Conclusion
Forestry can be a very challenging job, but it is equally rewarding and satisfying work. So, having the right tools to back you up when you head into your woodlot will make it less challenging and a whole lot safer. Make use of this complete guide to help you make better choices on the ones to add to your arsenal.
Don't forget to use them properly and with all the safety precautions mentioned above to increase your effectiveness and your skills in any of the forestry operations you may need to do.
Read More Tool Reviews:
Read More Best of/ Guides: