Trying to find the best beam saw to use in your home workshop is rarely the easiest of tasks, even if you're a seasoned pro.
Though they undoubtedly prove as an essential forestry tool for anyone who needs an efficient and effective way to make precise cuts in logs of different sizes, the sheer volume of options on the market makes picking the right one something of a challenge.
What makes things trickier is that a large number of beam saws are designed only for commercial workshops and often run into the thousands, often making them unsuitable for those who need the power and accuracy of a top saw, albeit for smaller, more manageable projects.
If this is a dilemma that sounds familiar to you, the following guide is written just for you.
Below, I've picked out what I believe to be the top five very best beam saws on the market today, with in-depth reviews on everything from those top-of-the-range models to more budget-friendly saws.
If you don't have time to read those reviews right now, don't worry; here's a quick look at those top 5 picks:
Top 5 Best Beam Saws 2021
What is a Beam Saw?
A beam saw is a powerful piece of equipment found in many commercial woodworking settings, but it can prove just as valuable in a home workshop.
Saws such as the ones I'll introduce you to in this guide utilize a large, circular blade so that you can cut multiple logs of different sizes into equally-sized beams with expert precision.
Do You Need a Beam Saw?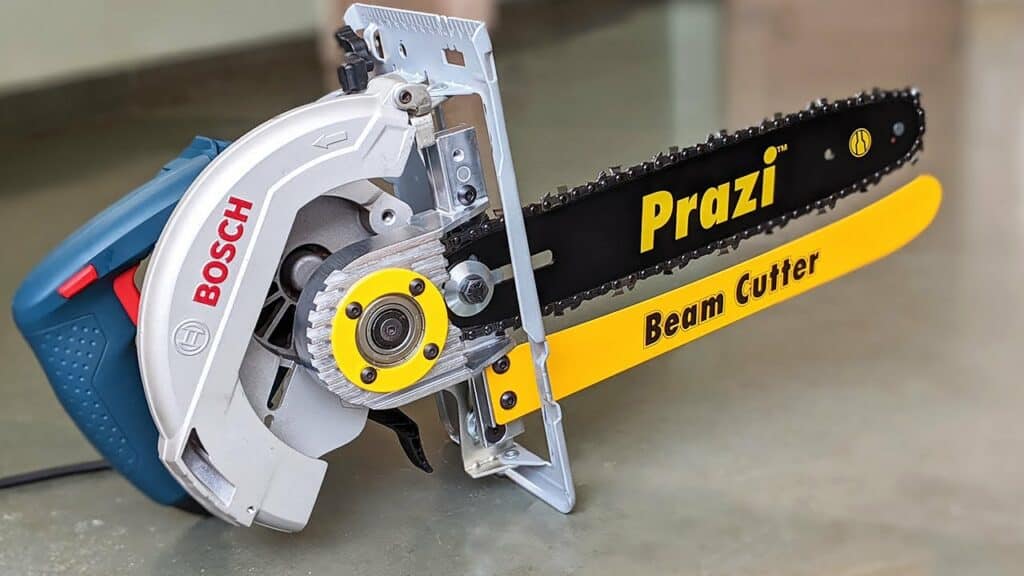 As with most tools and gear, deciding whether or not to buy a beam saw ultimately comes down to the kind of projects you're likely to be working on.
For some smaller projects, particularly the type of artisan projects which are as much -if not more- about aesthetic appeal than practical functionality, they may not be entirely necessary.
If, on the other hand, you're working on a project designed for practical use that requires pinpoint accuracy with your cutting, then yes, a beam saw may well be one of the most essential tools you can own.
They can prove invaluable for a variety of jobs, including:
Creating a framework for a new building
Building kitchen cabinets
Furniture making
Roofing projects.
And much more.
This is because such projects usually require a large amount of lumber, all cut to the exact same size, and, let's face it:
Cutting each one manually can not only be very time-consuming but also runs the risk of error.
With a beam saw, there's no such problem. They're designed to make life easier and improve the efficiency and productivity of your next big job.
Why Choose a Beam Saw versus a Table Saw?
If you're reading this, then the chances are that you at least considered opting for a table saw rather than splashing out on top of the range beam saw.
To be fair, both can be handy tools, but there are some noticeable differences.
These include:
Flexibility
Table saws tend to be well suited for cutting edges and angled corners and cutting excessively sized sliders. Beam saws can still cut angles but tend not to do the job as well, and you may find that you're limited in terms of how big a sheet of wood you can cut.
Cutting Multiple Sheets
If your main priority is speeding up your work process by cutting multiple sheets at once, then a beam saw is the way to go, as they can typically handle much more wood in one cut than your average table saw.
Safety
Beam saws are considered safer than table saws as the circular blade is often at least partially concealed, whereas a table saw blade is much more exposed, which poses a risk of injury.
Costs and Complexity
Beam saws use far more parts than a table saw. Unfortunately, this can make them a little too complex to use and maintain for some people's liking.
What's more, many of those parts may eventually need to be replaced or repaired, which can significantly drive up your operating costs.
There's much less to look after with a table saw, which ultimately saves you both time and money.
Best Beam Saw Buyer's Guide 2021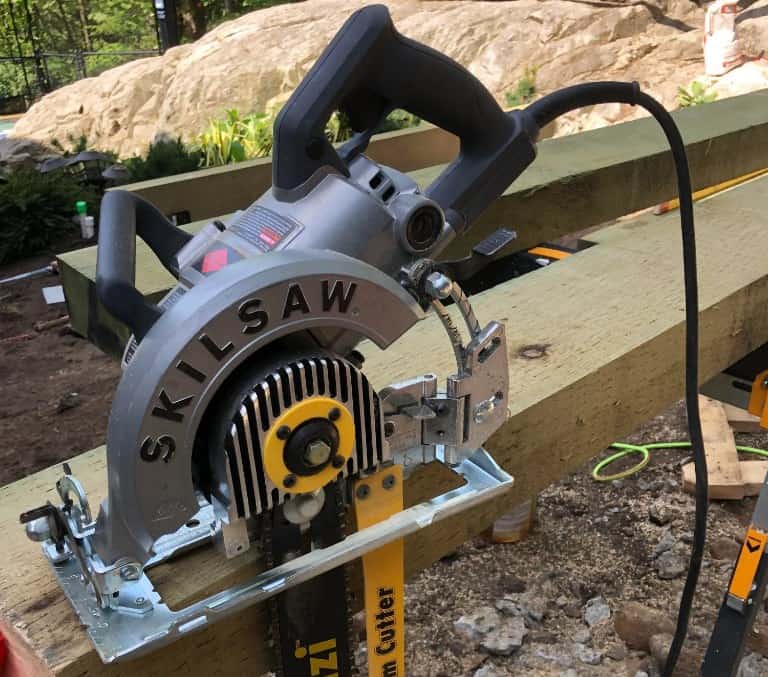 Before we dive into my top five picks, I thought it would be useful to explain exactly what factors I looked at when making my decisions and how each one of these factors can influence your own final purchasing decision.
Power and Performance
Hands down, the most essential factor for me when choosing a good beam saw is how powerful it is and how well it actually does the job it's designed to do.
Most beam saws tend to be powered by the mains and come with a 15 amp motor as standard. While there is one in my top 5 that only offers a 14 amp option, I really wouldn't advise on going any lower than that.
Sure, 10 and 12 amp saws have their place, but that place is usually for small DIY projects, meaning they're really not suitable for the kind of heavy-duty work that would normally have you searching out a beam saw.
Blade Size
After power, blade size makes a big difference as it determines the depth of your cut.
For effective use on most projects around the home, a 7-1/4" or 6-1/2" blade is more than sufficient, and that's why you'll find many of my top five picks in this range, though you will be able to find both smaller blades for lightweight projects and bigger ones for those super-sized projects.
Worm-Drive vs Sidewinder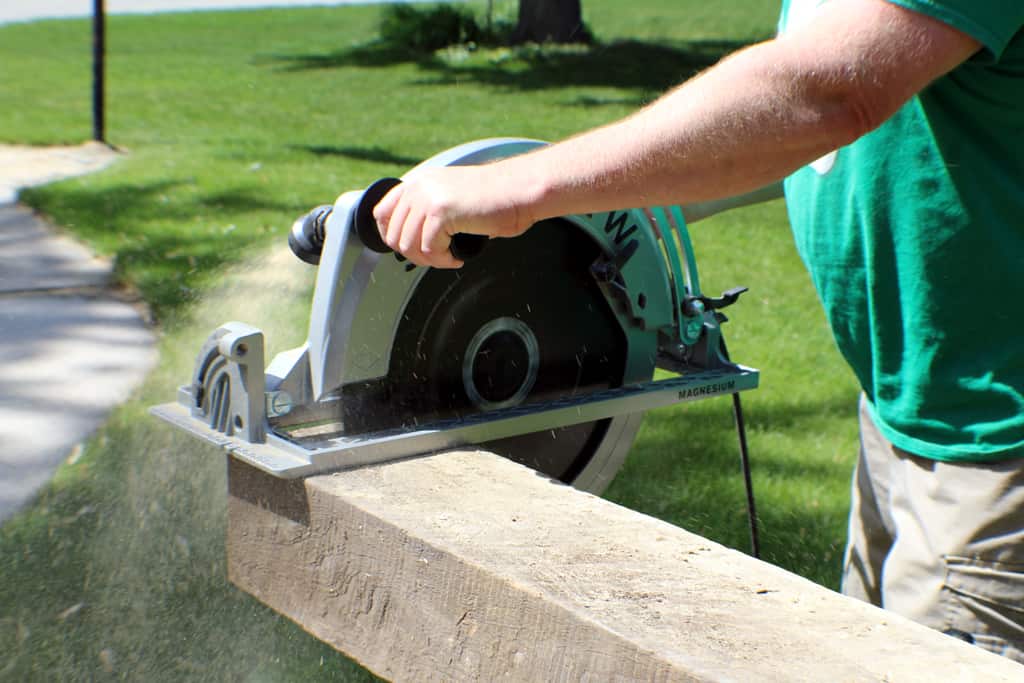 As you go through my top five reviews, you'll notice the term "worm-drive" coming up a lot.
Worm-drive saws place the motor at the back of the blade, which significantly improves visibility for most users.
There is another type of saw called a sidewinder in which the motor is positioned to the side of the blade. There is an advantage to this in that it can provide you with greater control, but this sometimes comes at the expense of visibility and may result in your saw being off balance.
It's for this reason that I went almost -but not exclusively- for worm-drive saws as sufficient visibility is essential to successful cutting.
Comfort
Using any machine can be hard work. Use it for long enough, and fatigue can soon set in. That's bad enough on the body, but it also means that the more tired you get, the less control you have over the saw.
That's why it pays to look for models with comfortable, well-placed, and well-sized handles that keep vibrations to a minimum and are lightweight enough to use without wearing you out.
Durability
Although I've left the subject of durability till last, you may decide it's the most important factor of all when choosing the best saw to buy.
After all, even the budget-friendly models still cost a pretty penny. As such, it's very important that the saw you eventually buy is built to last and continues to deliver optimum performance for years to come.
Otherwise, you may end up spending a small fortune on repairs, replacement parts, or even a brand new saw.
Five Best Beam Saws – My Top Picks
DEWALT 7-1/4″ Saw – Best Overall saw

Lightweight design
Unmatched quality
Best for complex jobs

Find Here
SKIL 5280-01 Saw – Top Budget Pick

Powerful 5,300-RPM saw
 7.25″ carbide-tipped blade
Spindle lock for easy blade changing

Find Here
SKIL 16-5/16 In. Magnesium Worm Drive Skilsaw

Largest capacity orm drive saw on the market
Cuts up to 6 1/4″ wood
56-degree bevel capacity

Find Here
Makita 5104 14 Amp 10-1/4″ Saw

Premium quality brand
Used by the professionals
Designed for comfort and support.

Find Here
Prazi USA PR2700 Beam Cutter

Cutting range between 2.5″ – 12″
Advanced safety features
Beginner-friendly.

Find Here
1. DEWALT 7-1/4″ Saw – Best Overall saw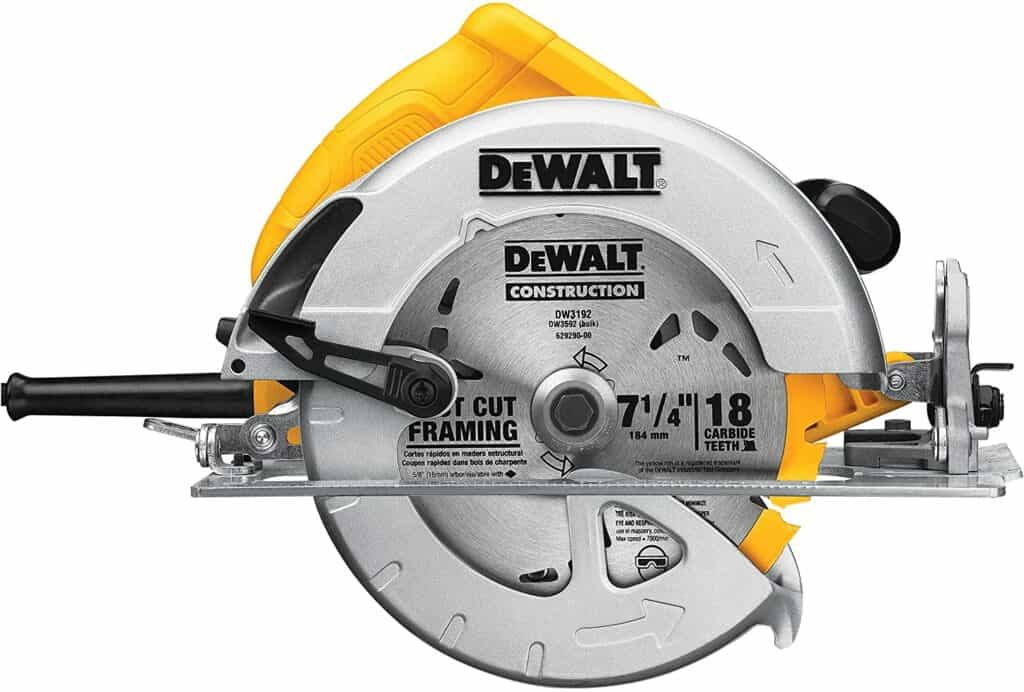 Anyone familiar with the Dewalt brand is unlikely to be surprised to find their DEWALT 7-1/4″ Beam Saw at the top of this list.
The company enjoys an enviable reputation in the industry for creating some of the best power tools money can buy. In fact, they also featured at the top of my guide to the top five chainsaws, thanks to their unmatched commitment to quality.
That same quality is very much evident here in this 7-1/4″ saw.
What I like best about it is the magnesium and aluminum construction which makes it both lightweight (and therefore easy to move around) and extremely durable, a winning combination in anyone's book.
Elsewhere, the 15 amp motor provides up to 4,800 rpm, meaning it's got plenty of power for even the toughest of jobs.
Pros:
53 Degree Bevel is useful for advanced jobs
Tough cord system improves cord jerk protection
It also comes in a 6 1/2″ version.
Cons:
It lacks a wrench holder
Some users report that there's too much vibration during use.
2. SKIL 5280-01 Saw – Top Budget Pick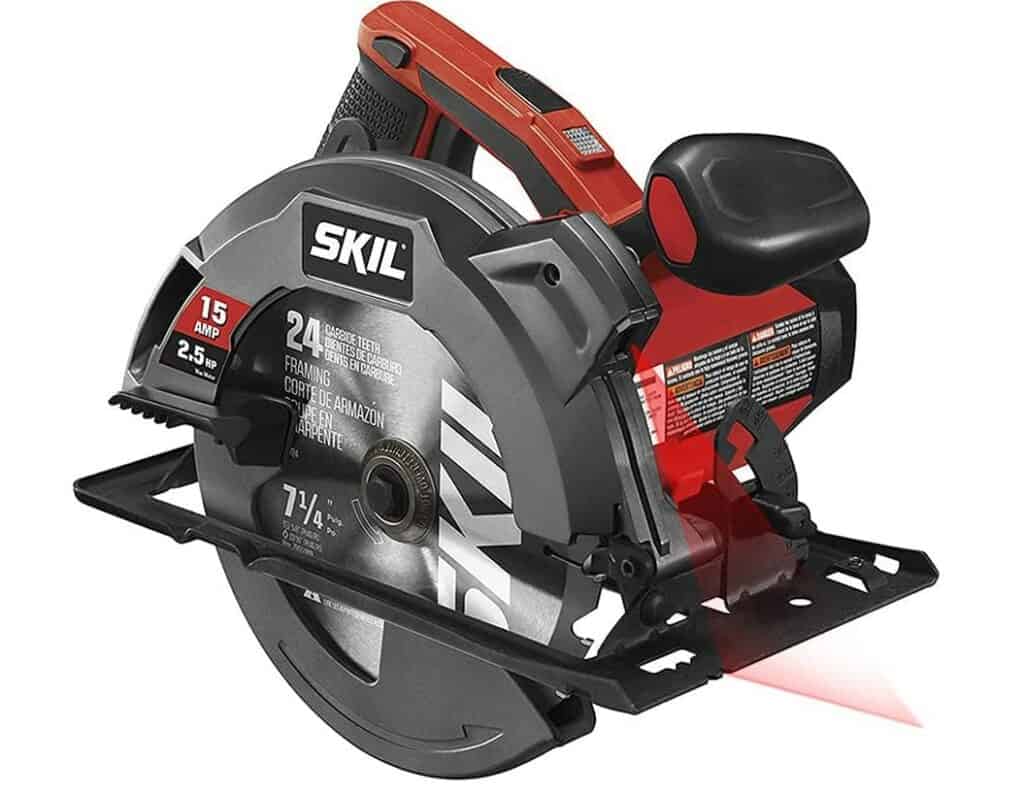 While Dewalt does a great job providing a tool for every occasion, the SKIL brand has earned its reputation for excellence by focusing simply on making the best saws possible.
To that end, they've very much succeeded.
The first two of the brand's products to feature in this guide, the SKIL 5280-01 Beam Saw, comes with a very attractive price tag and is almost half the cost of some of the others we'll look at.
Still, low cost certainly doesn't mean low quality.
The 15 amp version (13amp and 20V options are also available) packs an impressive 5,300-RPM to ensure that you get super-fast cuts without compromising on quality.
At just 6.95 lbs, it's also incredibly light, meaning you can continue to use it for long periods without worrying about fatigue setting in.
Pros:
A substantial 7.25″ carbide-tipped blade provides smooth, precise cuts
Includes spindle lock to make changing blades easy
Includes a dust blower to stop rogue dust from ruining your project.
Cons:
Not as durable as other beam saws
Depth adjustment could definitely be improved.
3. SKIL 16-5/16 In. Magnesium Worm Drive Skilsaw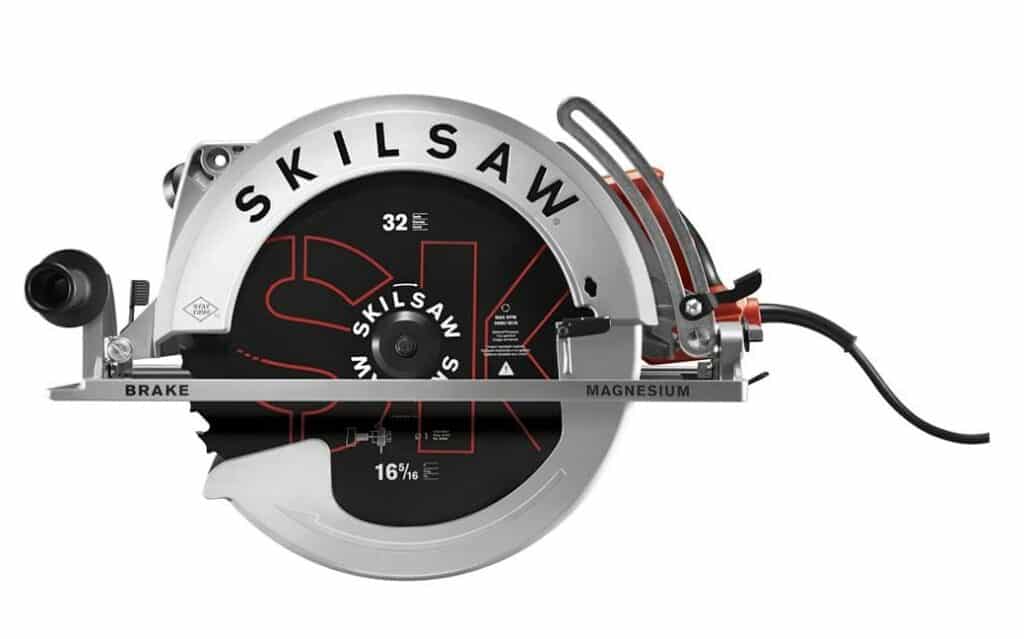 If you like the idea of using a SKIL brand saw, but that last model didn't quite do it for you, maybe the SKIL 16-5/16 In. Magnesium Worm Drive Skilsaw.
Situated right at the very opposite end of the pricing scale from the 5280-01, this premium-level product is powered by a 15-amp dual-field motor, giving it enough capacity to make clean, neat cuts through wood of up to 6 1/4″ in thickness.
The real highlight with this one is that it's the highest capacity worm drive saw on the market, making it the perfect choice for those seriously heavy-duty jobs.
Pros:
56-degree bevel capacity with bevel stops at 0, and 45 degrees improves performance
Magnesium construction provides a good combination of lightweight design and durability.
Electric brakes improve productivity and safety.
Cons:
Very expensive
The blade may need replacing sooner than with other models.
4. Makita 5104 14 Amp 10-1/4″ Saw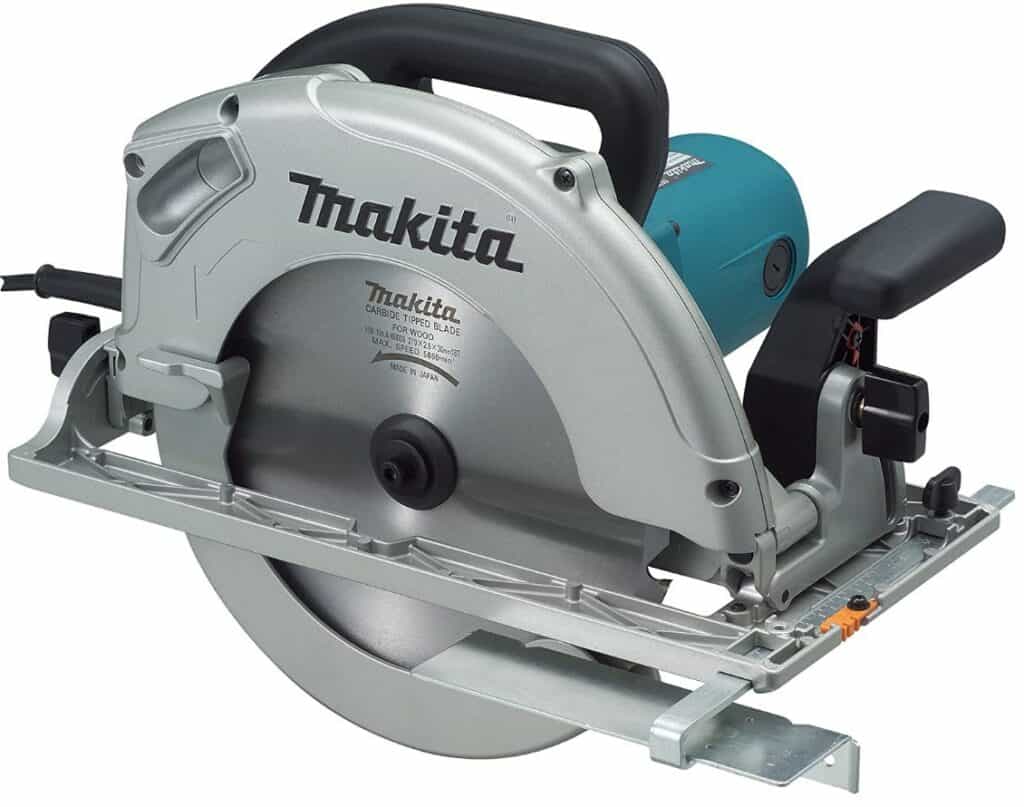 Talk to any professional woodworker about finding the best beam saw around, and it won't be long before the name Makita gets thrown into the conversation.
The Makita 5104 14 Amp 10-1/4″ Saw is the perfect example of the brand's enduring ability to deliver saws that provides the ultimate combination of power, precision, and overall performance.
The 14 amp motor may not be as powerful as some of the others we've looked at so far. However, it still very much gets the job done.
The high cutting and bevel capacity makes it easy to get through 3-3/4″ wood at 90° or 2-3/4" at 45°
Elsewhere, I'm a very big fan of the adjustable top guide, making it easy to align notches with your line of cut, ensuring perfectly accurate cuts every time.
Pros:
It comes with a large ejection port to keep your work free from sawdust
Flat motor housing design makes changing the blade a breeze
Ergonomically designed for added comfort and support.
Cons:
One of the heaviest saws around
The footplate is a little on the thin side, which may mean it soon needs replacing.
5. Prazi USA PR2700 Beam Cutter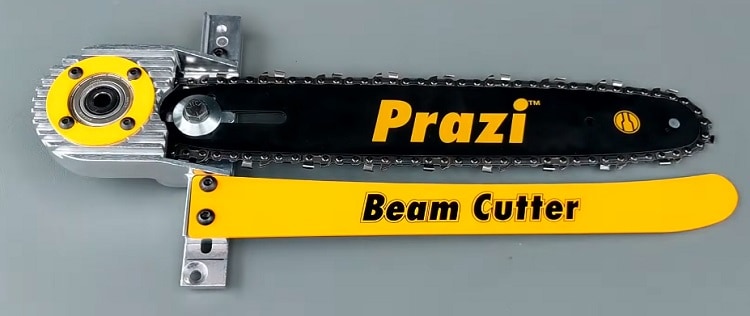 Last but not least, I'd be remiss if I didn't offer you something a little different in the form of the Prazi USA PR2700 Beam Cutter.
While the other top four are driven by a worm drive, the Prazi isn't, but when used in conjunction with an existing saw, it still does an exceptional job at creating clean, one-pass cuts with an impressive cutting range of between 2.5″ – 12″.
The saw packs in a wealth of safety features, including an anti-kickback chain, chain guard, dust deflector, and more, all of which makes it my top choice for those new to woodworking projects which may need the added safety and protection.
Fully compatible with the most popular circular saws, the Prazi USA PR2700 delivers optimum accuracy and is built to last for years to come, making it a worthwhile addition to your tool kit.
Continue reading our full Prazi Beam Cutter review.
Pros:
Very easy to use – Another reason why it's so good for newcomers
Affordable price tag
It takes less than a minute to set up.
Cons:
It may not be compatible with older saws
Cuts may need to be redone with a finishing saw to ensure smoothness.
Frequently Asked Questions About Beam Saws
Question: What is the best all-around beam saw?
Answer: Of all the options I considered, the DEWALT 7-1/4″ Beam Saw proved to be the best all-around beam saw of 2021, thanks to its high performance and exceptional power.
Question:  How deep can a beam saw cut?
Answer: That depends on the individual saw, but a really good beam cutter should be able to cut through at least 6.25″ thickness, though some can cut through 4.5″ or more.
Question: Can a 7 1/4″ beam saw cut through a 4×4?
Answer: Absolutely, using a beam saw is one of the most effective ways of getting clean, precise cuts through 4x4s.
What is the Best Beam Saw to Buy?
Whether it's chainsaws or beam saws or just about any other power tool, you can think of, choosing which one to actually invest in all comes down to what matters most to you.
If you're keen to keep one eye firmly on your wallet, then my budget pick, the SKIL 5280-01 Saw, is definitely one to look at. It takes all of the premium-brand quality and high-powered cutting action that the SKIL brand is renowned for and delivers it all in one very affordable package.
If money is no object, you might want to go to the top end of the scale with the SKIL 16-5/16 In. Magnesium Worm Drive Skilsaw.
Although it's certainly more expensive, it's also the largest capacity worm drive saw on the market, making it the perfect choice for large-scale jobs or anything that requires a little extra muscle.
However, if you want my recommendation of the very best beam saw around right now, it absolutely has to be the DEWALT 7-1/4″ Beam Saw simply because it offers everything you could want in one package. It's lightweight and comfortable enough to prevent fatigue and ensure you maintain full control, but that doesn't mean that it scrimps on power, ensuring that the Dewalt is up to the task no matter how tough the job.