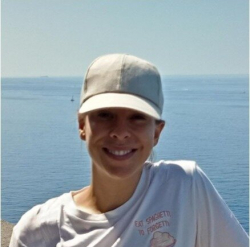 Latest posts by Maddy Chiffey
(see all)
As a country girl, I do most of the work on our proprety with a tractor. The tractor (a Kubota LX 3310 to be precise) is adjusted for forest use, and I often transport and split logs with it.
Carrying a conventional log splitter into the forest is inconvenient, which is why I prefer to use a 3-point hitch log splitter that can run on my tractor's hydraulics system. The features of these machines aren't much different from those on kinetic or electric log splitters.
They eliminate the need to spend fuel on another engine and enable you to deal with large piles of logs relatively quickly.
In this article, I'll introduce you to some of the best 3-point hitch log splitters and take you through their essential characteristics.
Bottom Line Up Front
Most 3-point hitch log splitters aren't universal because they're designed for specific hitch categories. In addition, your tractor's hydraulic fluid flow and pressure rate must meet the tool's minimum requirements.
So, which 3-point hitch log splitter is the best match for your tractor? Well, that depends on the properties of your tractor's hydraulic system.
The Boss Industrial 3-Point Log Splitter is compatible with all hitch categories, and it is an excellent option if you don't know which hitch type your tractor has. Split-Fire Log Splitter 4203 is a powerful tool for category I tractors.
My Top Picks at a Glance
What's a 3-Point Hitch Log Splitter?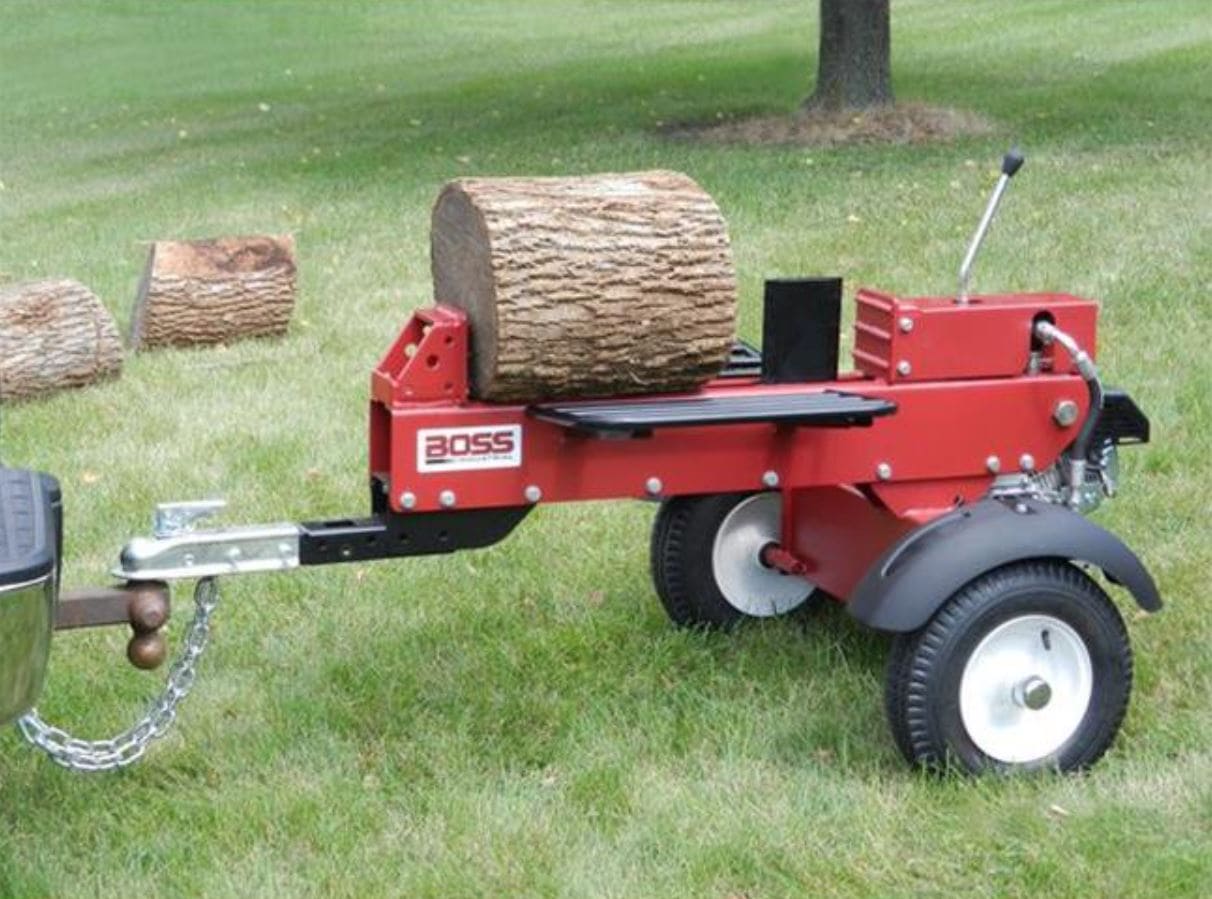 Like all other log splitters, 3-point hitch models are machines that reduce the amount of time you need to turn logs into firewood. All models have log size limits, and you can use them to split logs between 24 and 48 inches long.
Their force is measured in tons, and it varies from 15 and 35 tons. However, most options you'll find on the market have between 20 and 25 tons, and they're powerful enough to split seasoned and green logs. Although rare, 40-ton options are also available.
The stroke length is also among the factors you'll have to pay attention to if you want to use these tools to split logs longer than 24 inches. Remember that stroke length extensions can add more than $500 to the 3-point hitch log splitter's base price.
Some models can only split lumber horizontally or vertically, while just a few 3-point hitch log splitters let users choose the log orientation.
Tractor Compatibility
Choosing a log splitter you can power with a tractor will be much easier if you already have a good understanding of 3-point hitch categories. These categories indicate the size of attachments suitable for a tractor.
Log splitters are compatible with 1, 2, and 3 hitch categories, which means you can use them with tractors that have between 20 and 225 HP. Also, the lift arm pin diameter can help you determine your tractor's 3-point hitch category.
Besides the hitch, you'll also have to check the tractor's hydraulic system parameters to know if you can pair it with a specific 3-point hitch log splitter model.
Total flow refers to the tractor's hydraulic fluid flow. Its value is measured in gallons per minute (GPM). Most log splitters need at least 4 GPM to function normally.
Some models draw power through the Power Take-Off in addition to the hydraulics system, and they require special conversion kits that are usually sold separately.
Cycle and Splitting Time
A 22-ton log splitter needs around ten seconds to cut a 24-inch long log while operating at the tractor's maximum GPM. Its cycle shortens at lower GPM values, so a machine could need up to thirty seconds to split a tree trunk at 4 GPM.
However, the hydraulic fluid's flow rate isn't the only parameter that affects the machine's performance, as the force it can apply to a log and the amount of time it needs to split a log also depend on the hydraulic fluid pressure while the tractor is running.
Hence, a 20-ton or a 32-ton model will need close to 3,000PSI of hydraulic fluid pressure to operate at its maximum capacity. Exceeding the log splitter's upper PSI limit can damage it. That's why measuring your tractor's hydraulic fluid pressure is necessary before buying a log splitter.
Accessories
Although they cannot enhance the machine's performance capabilities, accessories can make using a tractor log-splitter easier.
Three-point leg kits, hydraulic log lifters, log tables, log catchers, and stroke length extenders are some of the accessories that can help you chop wood faster. All models have rams or cylinders that split logs in half, but you can purchase a 4-way add-on to maximize the efficiency.
Pin options that enable you to use a log splitter with different categories of tractor hitches are available for some models. However, the range of accessories you'll have at your disposal will depend on the brand, and some manufacturers don't offer accessories for these products.
Moreover, popular brands like Craftsman or Kohler don't include 3-point hatch log splitters in their product lineups.
Prices and Warranties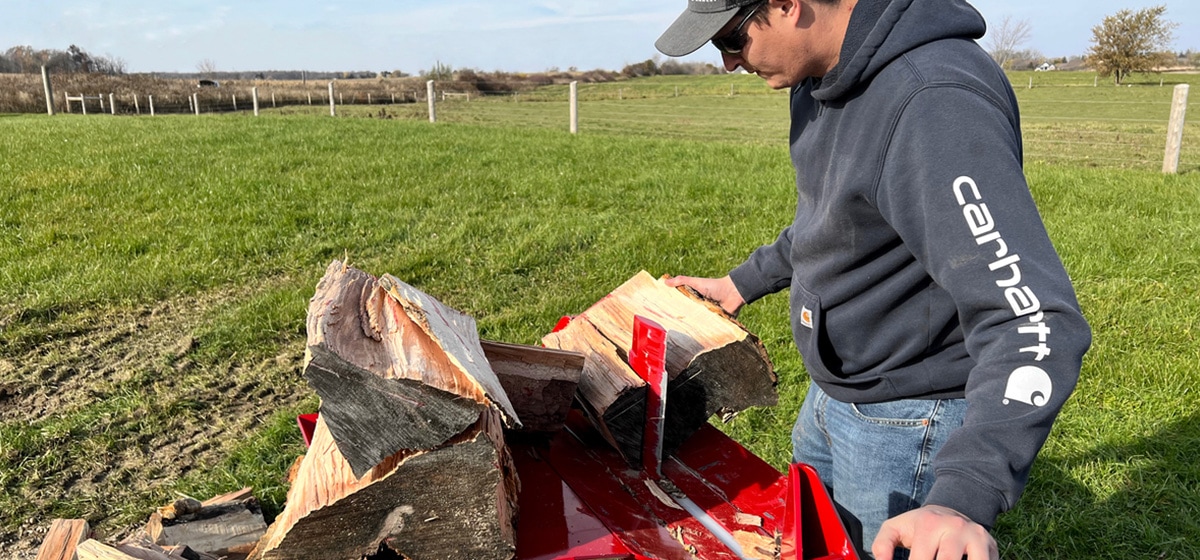 A 3-point hatch log splitter is an expensive piece of equipment. Their prices range from $800 to more than $3,000 and depend on the model's tonnage, ram diameter, cycle time, and overall quality.
An accessory like a storage stand costs around $350, while you may have to spend close to $900 on a 24-inch log lifter. Hence, the overall cost will depend on the model, maximum stroke length, and accessories you choose.
The warranty period ranges from one to five years, and it isn't extendable. I suggest opting for a model with at least a two-year warranty to avoid covering unexpected repair costs out of your pocket.
Also, checking the warranty details is advisable when buying a log splitter at Lowe's or similar home improvement stores. I'd like to add that log splitters are high-maintenance machines because failing to lubricate the ram or remove wood splinters regularly will cause them to deteriorate quickly.
Product Selection Criteria
I didn't have a broad spectrum of options when selecting the best 3-point hitch log splitters, and neither will you because a small number of companies manufacture these machines.
The first criterion on my list was the brand's reliability, as my goal was only to include domestically made models. Tonnage, cycle time, and stroke length were factors I used to eliminate 3-point hitch log splitters with low performance capabilities.
Hence, the machines I featured in this article have the power and speed to split all types of lumber quickly and efficiently. The price also played a role in the selection process because I considered both entry-level and high-end models.
The 9 Best 3-Point Hitch Log Splitters
Powerhorse 3-Point Log Splitter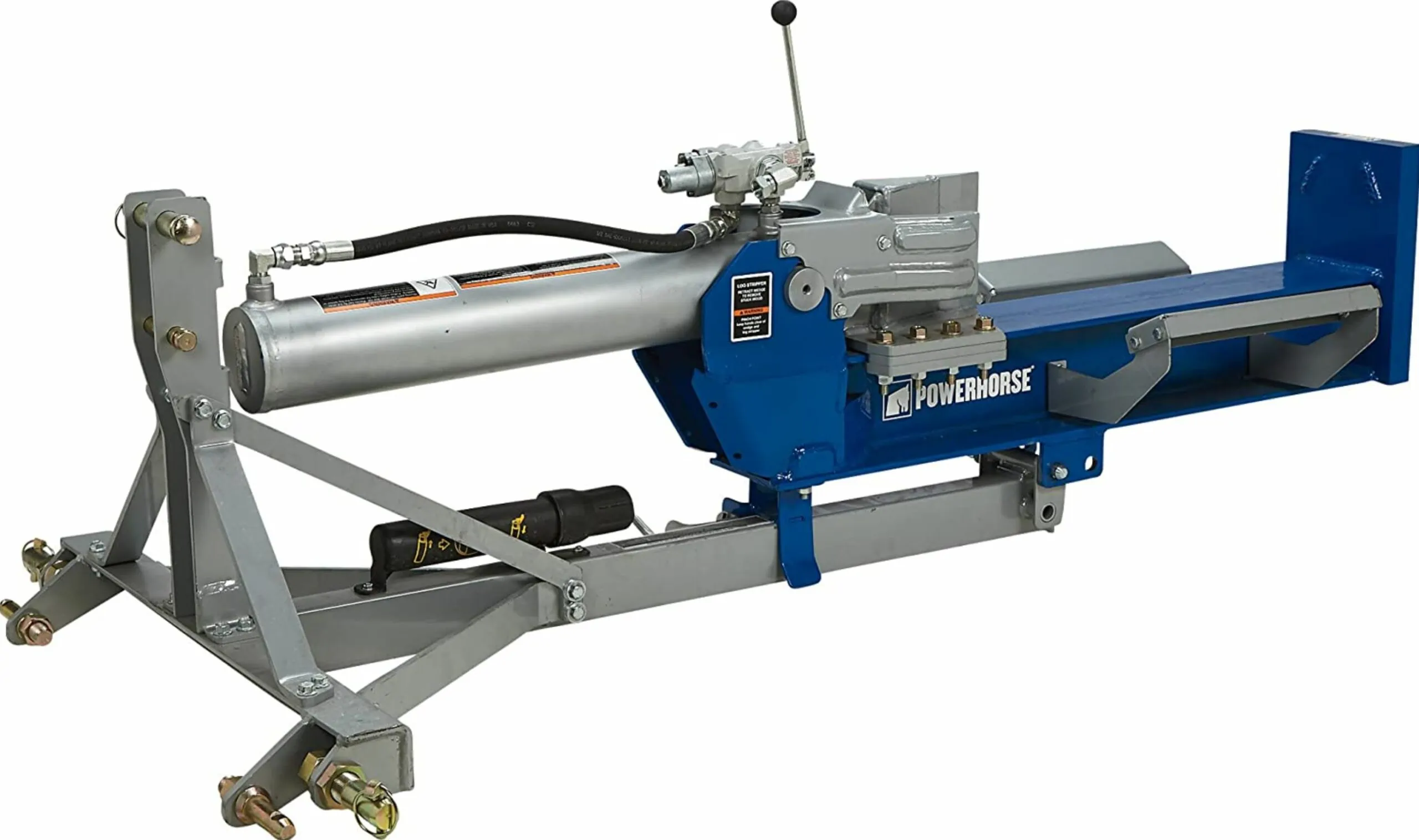 You can only chop lumber with the Powerhorse 3-point log splitter if you have a category 1 or 2 tractor. This model isn't compatible with Category 3 tractors that have more than 100HP, but it allows its users to split thick logs into horizontal or vertical positions in less than ten seconds.
The machine's I-beam construction ensures the lumber cannot bend or twist even when a high amount of force is applied. Despite weighing over 400lbs, the Powerhorse 3-point log splitter is portable.
Pros
Rugged design
The machine has cradles that prevent logs from falling on the ground
The 3-point log splitter can apply up to 22 tons of force to a log
Low upkeep requirements
Cons
This model doesn't ship assembled
Cycle time isn't the same for all tractors
Boss Industrial 3-Point Log Splitter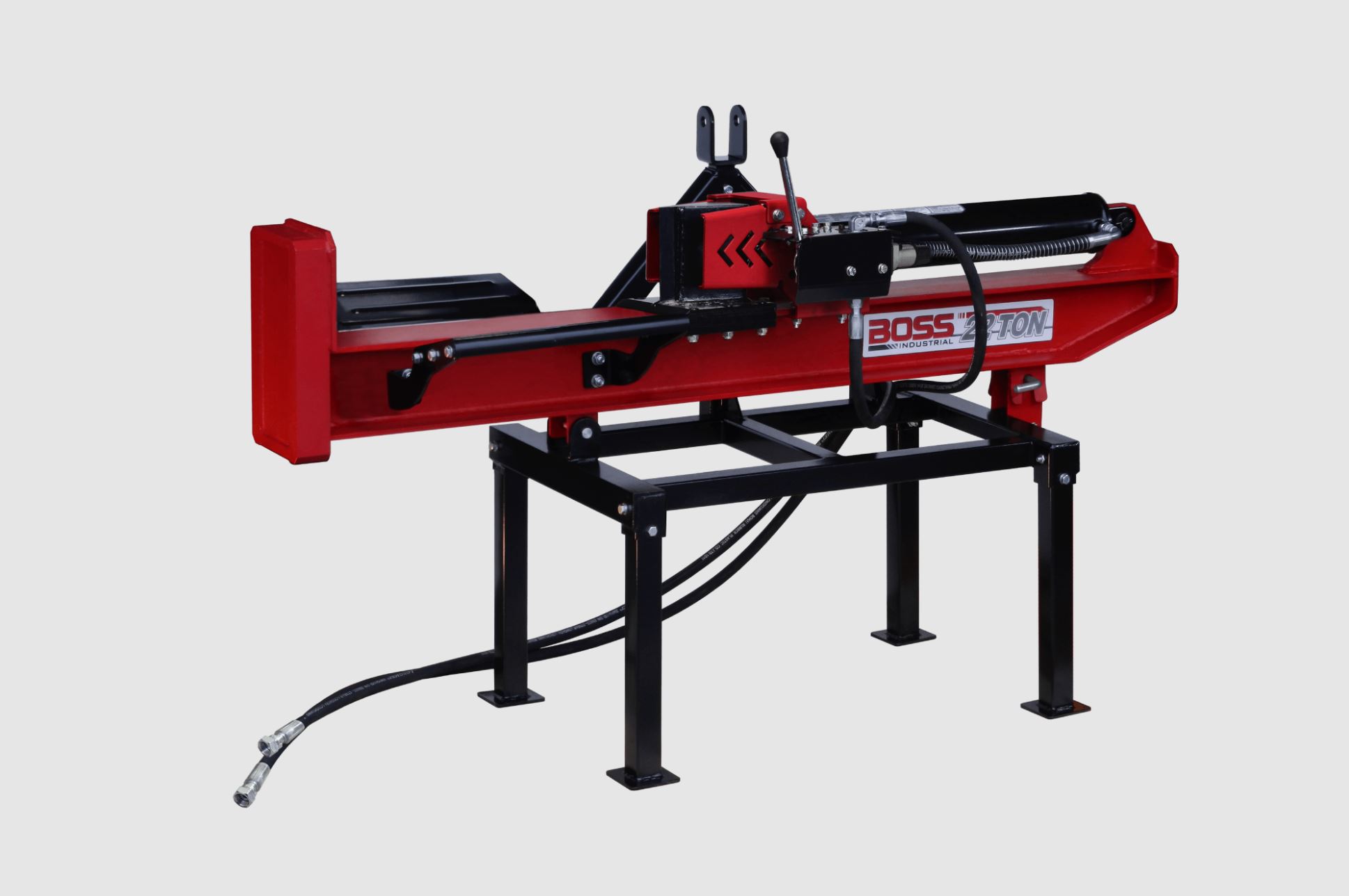 In my opinion, flexibility, power, and affordability are the biggest advantages the Boss Industrial 3-Point Log Splitter offers. The machine is compatible with 1, 2, and 3 hitch categories, but you shouldn't use it with tractors that have hydraulic fluid pressure under 8GPM.
The model's cycle time is between 6 and 11 seconds, while its maximum tonnage is 22 tons. Still, its performance capacities depend on the tractor, so you may be unable to utilize its full force if your tractor's hydraulic fluid pressure is under 3,000PSI.
Pros
The manufacturer offers a two-year warranty for this product
Horizontal and vertical splitting positions
The machine's height is adjustable
This model is inexpensive
Cons
It doesn't have a 4-way wedge
This 3-point hitch log splitter is hard to find
Dirty Hand Tools Log 3-Point Splitter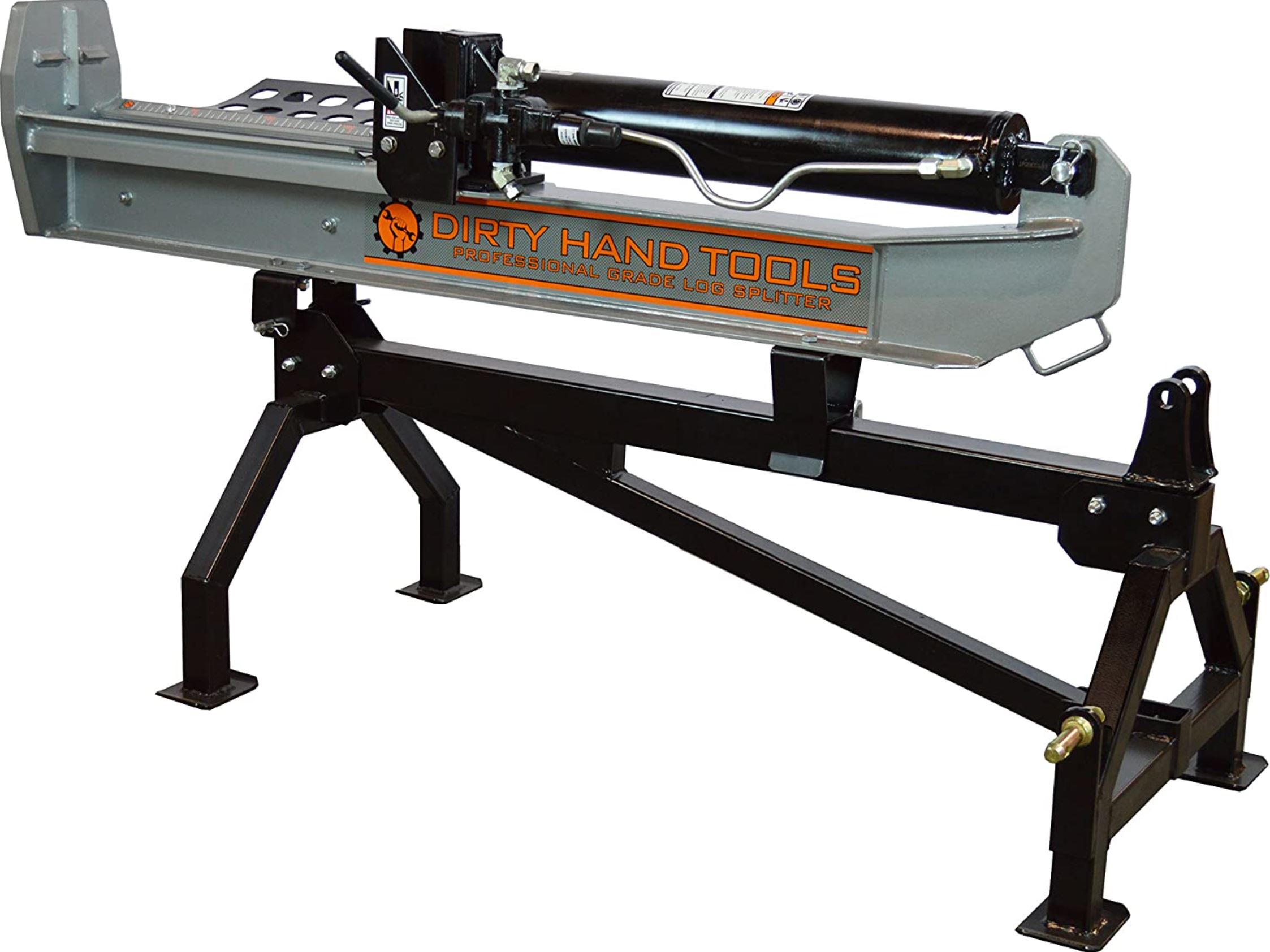 I like the Dirty Hand Tools Log 3-Point Splitter because it has everything most people need to prepare firewood for winter. Its tonnage isn't impressive, as the maximum force the machine can apply to a log varies between 15 and 22 tons.
Its steel 2-way wedge can split all types of lumber with ease, and you'll need up to 15 seconds to split a log with a 25-inch diameter. What's more, the machine has an auto-return valve, so you don't have to wait until it completes its cycle to prepare a new log.
Pros
The machine arrives with a ground stand
The manufacturer offers multiple accessories for this model
The cylinder is four inches wide
Three-year warranty
Cons
It's not suitable for tractors with category 3 hitches
The steel base is too small for big logs
Titan Hydraulic 3-Point Log Splitter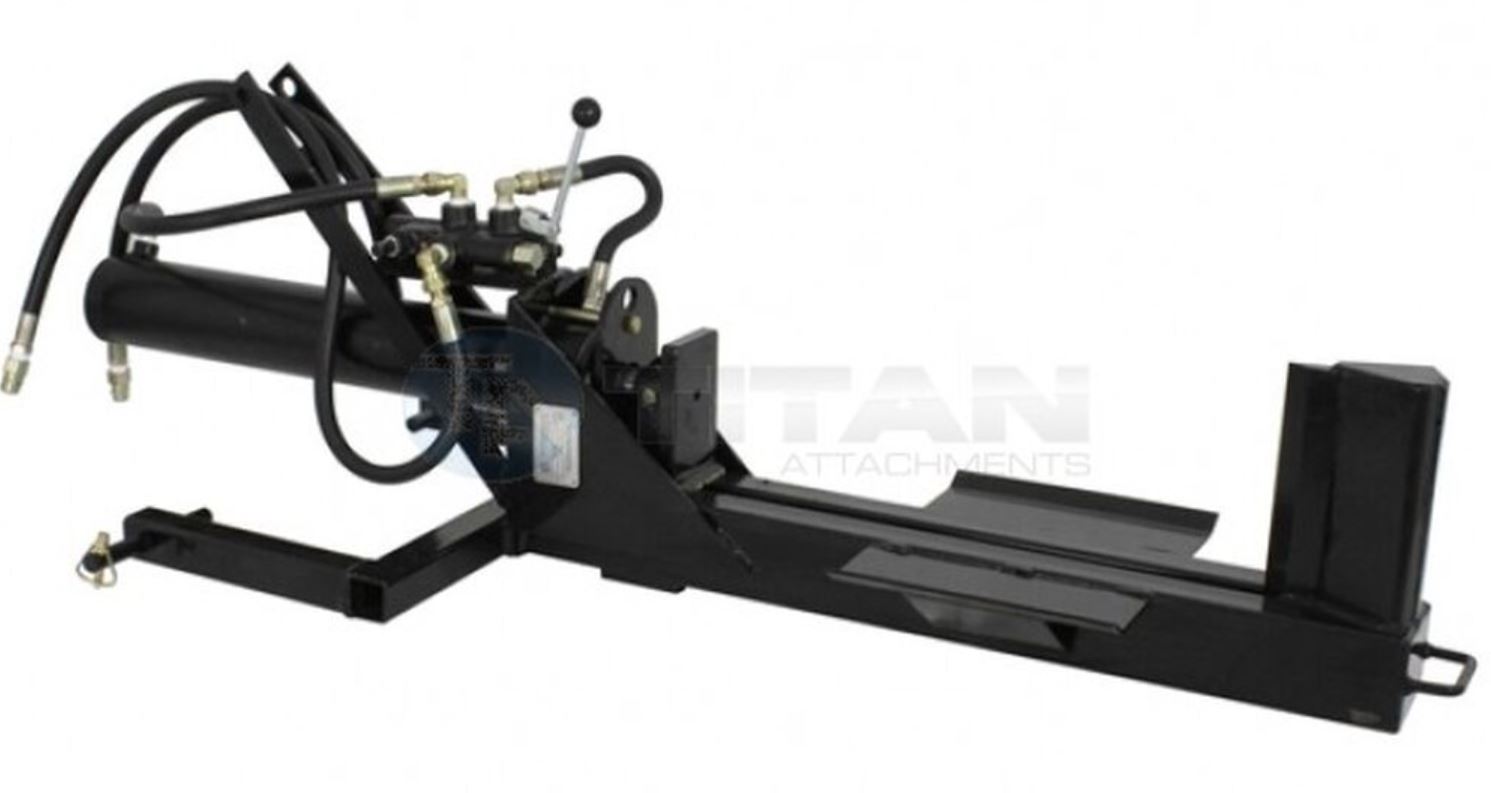 I consider the Titan Hydraulic 3-Point Log Splitter a reliable option for farmers in need of a tool they can use to prepare firewood for winter. Its 20-ton force output is sufficient to cut through most firewood varieties.
I advise going through the model's manual and finding out its upper PSI and GPM limits to determine its compatibility with your tractor. Also, you should consider other models if you have a category two or three tractor.
Pros
The log splitter is easy to operate
Attaching the machine to a tractor is simple
Steel construction
This product is durable
Cons
Unfavorable warranty conditions
This log splitter doesn't have a stand
Split-Fire Log Splitter 3203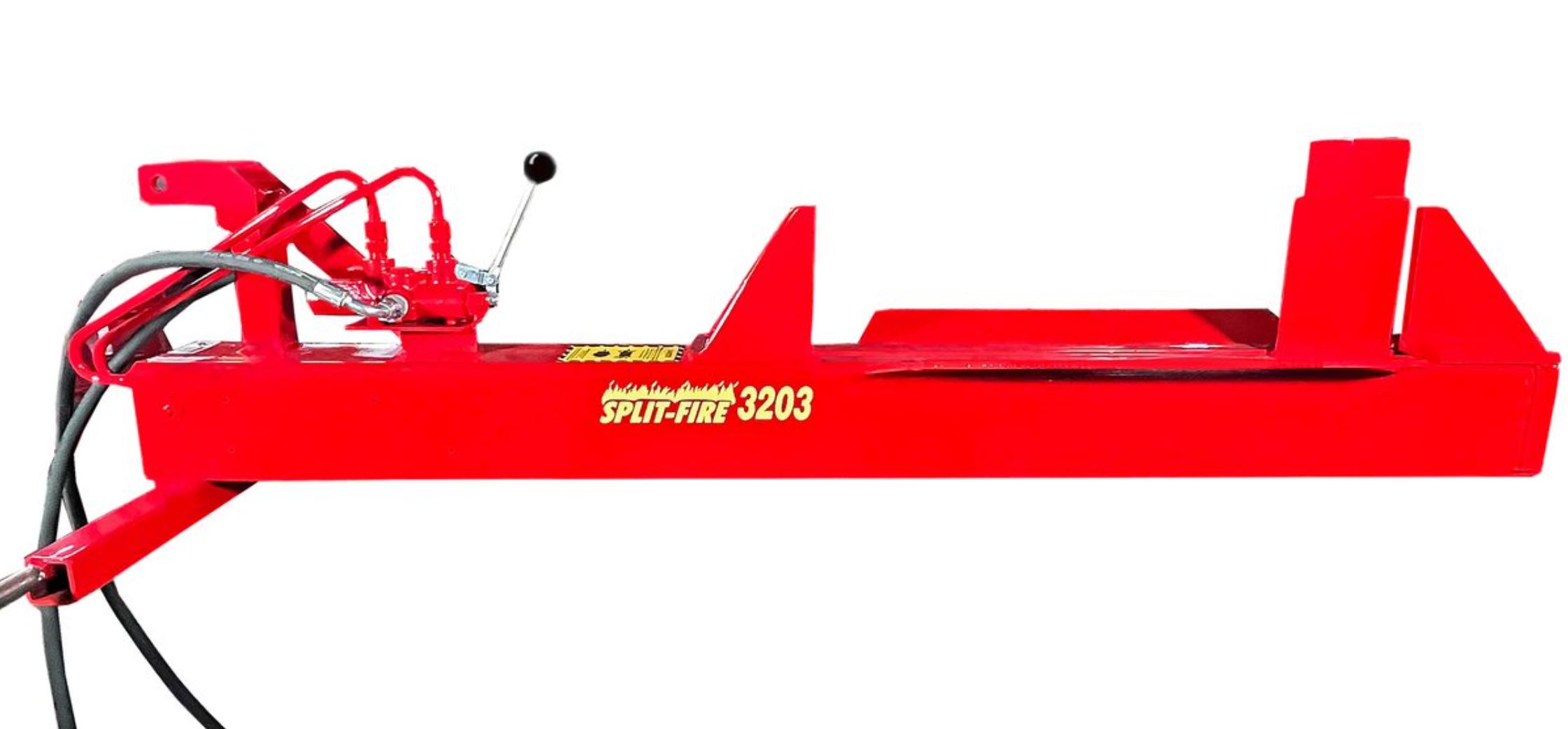 Adjustable cycle speed, rugged 6×6-inch steel frame, and excellent safety features are among the Split-Fire Log Splitter 3203's features that make it one of the industry's best models. The tool can apply 20 tons of force when operating at maximum capacity.
Coupling this log splitter with a tractor that has 4GPM hydraulic fluid flow will limit its cycle time to 28 seconds. However, the machine is much more efficient when used at 12GPM, as it needs just nine seconds to split the log.
Pros
This Split-Fire model lasts for several decades
Optional log lifter and table accessories
All components are manufactured in the United States
This log splitter comes with the PTO kit
Cons
No four-way wedge
Quick Connects aren't included in the package
Lumberjack LTS25 3-Point Splitter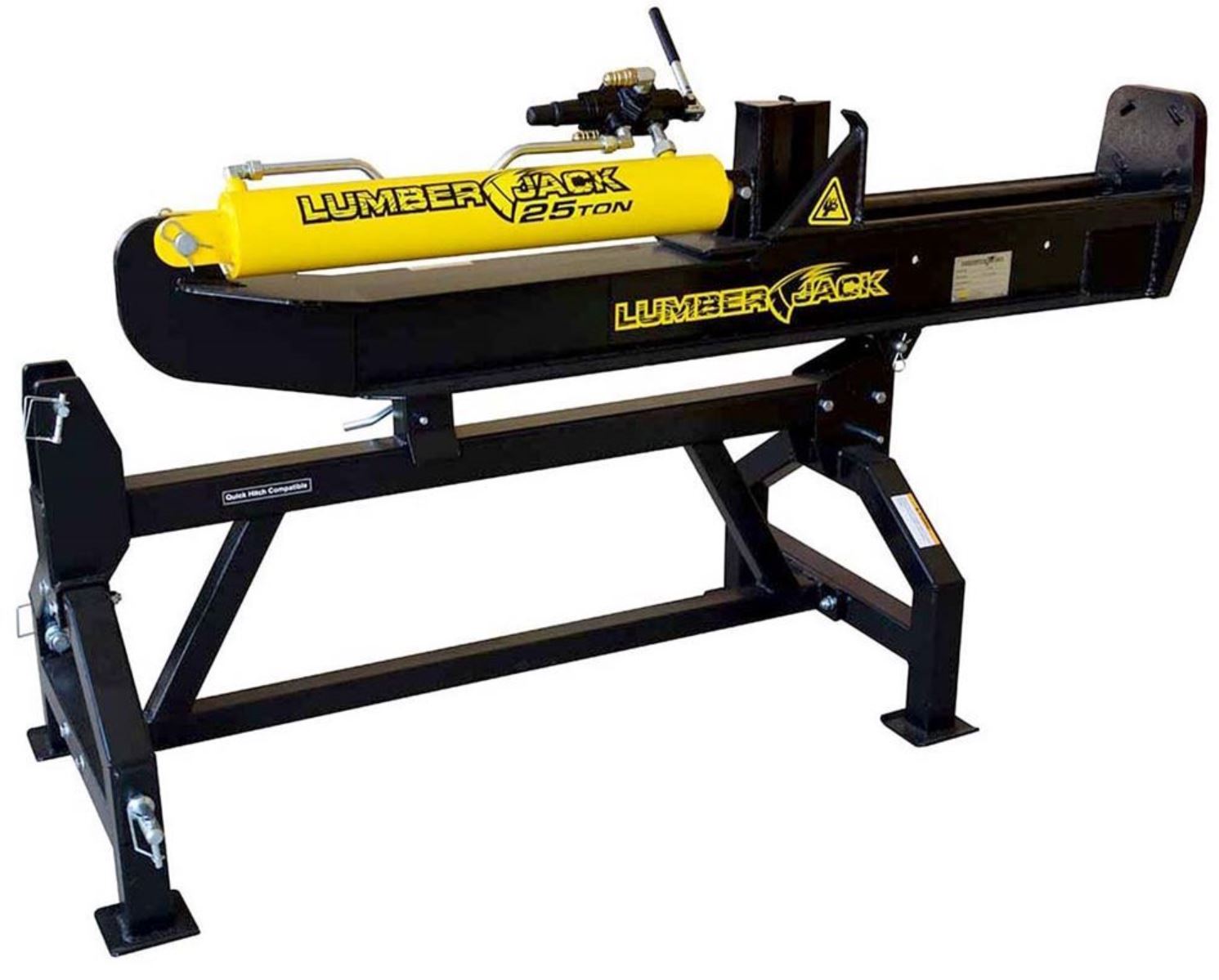 Assembling the Lumberjack LTS25 3-Point Splitter is straightforward, as you just have to complete two quick steps before you can start using the machine. Its maximum splitting force is 25 tons at 3,200 PSI, while its cylinder needs 15 seconds to divide a log when working at 5GPM.
You can use the LTS25 model to split logs into horizontal and vertical positions, but adjusting its height isn't possible. Also, the manufacturer doesn't offer stands or other accessories for the log splitter.
Pros
The cylinder is 24.5-inches long
It is compatible with quick hitch adapters
A three-year limited warranty
It's suitable for CAT1 and CAT2 tractors
Cons
Hoses are sold separately
Some parts are prone to corrosion
Wallenstein WX330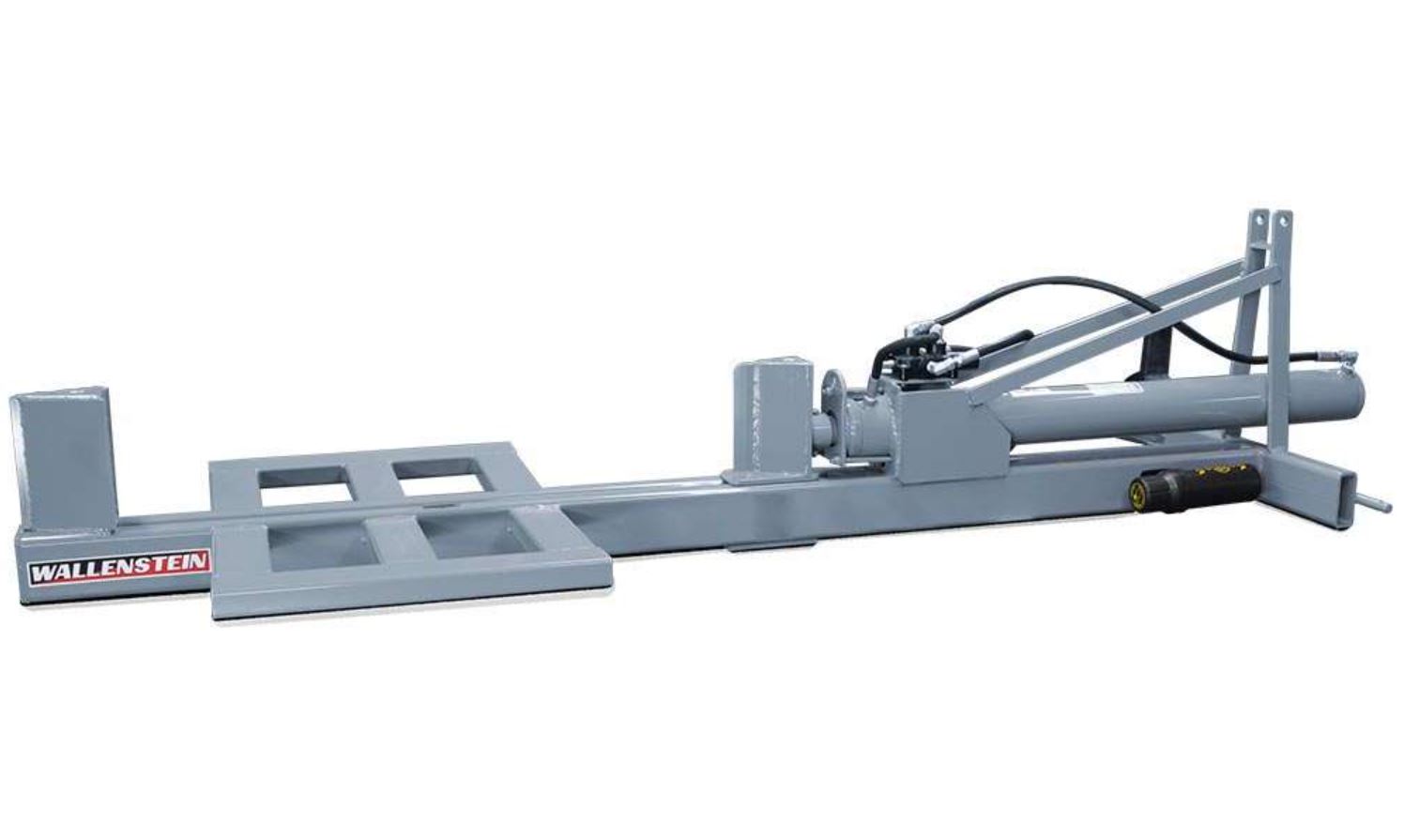 A professional piece of equipment like the Wallenstein WX330 will ensure you can split all lumber types without difficulty. Its cycle time isn't the fastest, as the machine needs around 30 seconds to complete a cycle.
Its cylinder automatically returns to the starting position, while its shelves prevent the logs from falling. The XC330 model offers several tractor mount options, including the iMatch and Quick Hitch. Still, you must check if you can use this log splitter with CAT2 and CAT3 tractors.
Pros
The stroke limiter accessory shortens the log splitters cycle time
The machine delivers 25 tons of splitting force
The manufacturer offers this model in seven colors
Industry-leading 5-year warranty
Cons
The log splitter requires a minimum of 13GPM of hydraulic flow
High cost
RuggedSplit 322-24-TR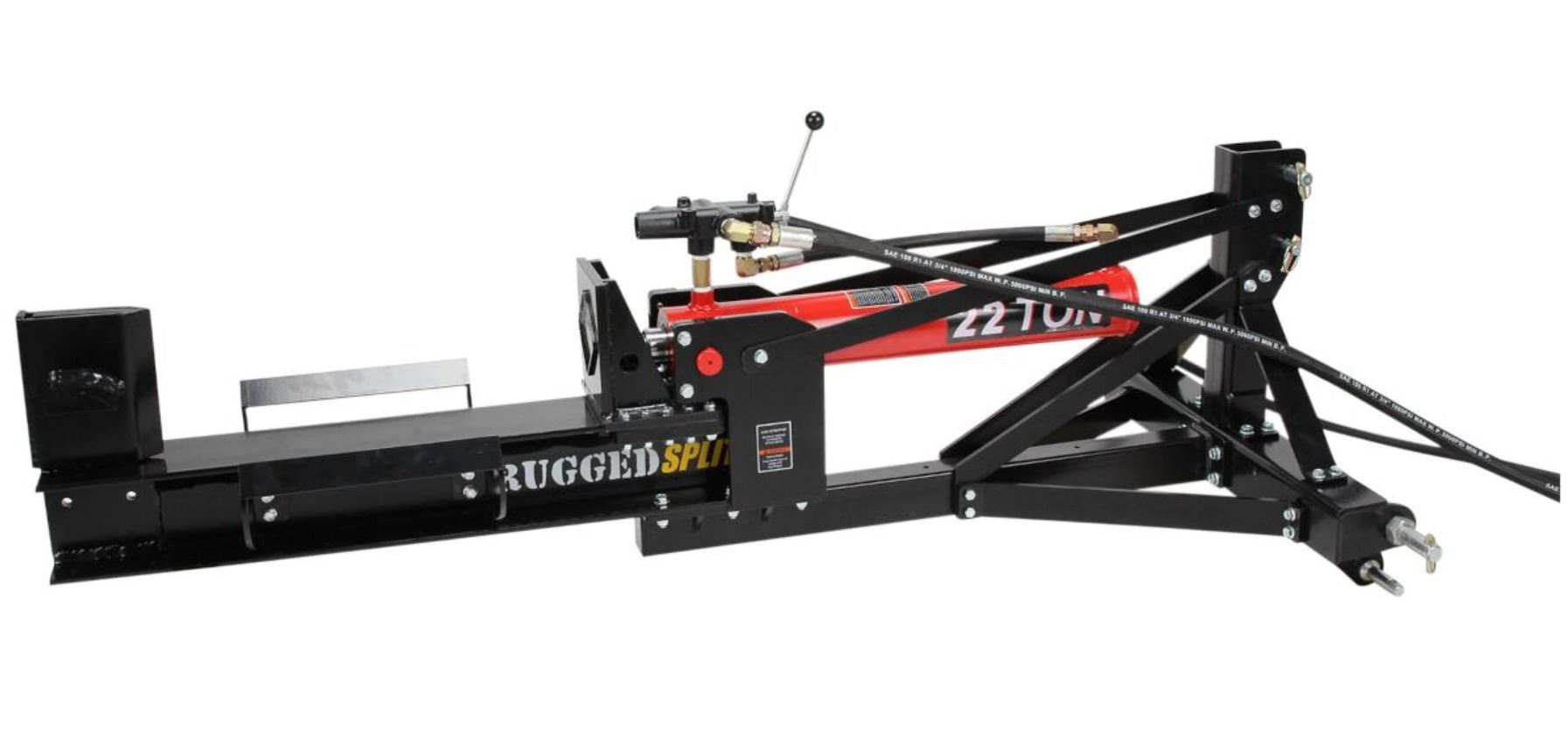 Although its cycle time depends on the tractor, the RuggedSplit 322-24-TR is a fast and powerful 3-point hitch log splitter. You'll need at least 2,500 PSI of hydraulic pressure to start the machine, which is why you need to check if your CAT1 or CAT2 tractor can work with this log splitter.
This RuggedMade model cannot split logs wider than 18 inches in diameter, and its maximum stroke length is 24 inches. Limiting the strong length to 20-inches and shortening its cycle time can help you work faster when splitting large piles of firewood.
Pros
It arrives with a four-way blade slip-on
It can generate 22 tons of force
The log splitter's height is adjustable
Mounting the log splitter on a tractor takes a few seconds
Cons
Moving the log splitter to the vertical position isn't possible
It weighs 400lbs
Split-Fire Log Splitter 4203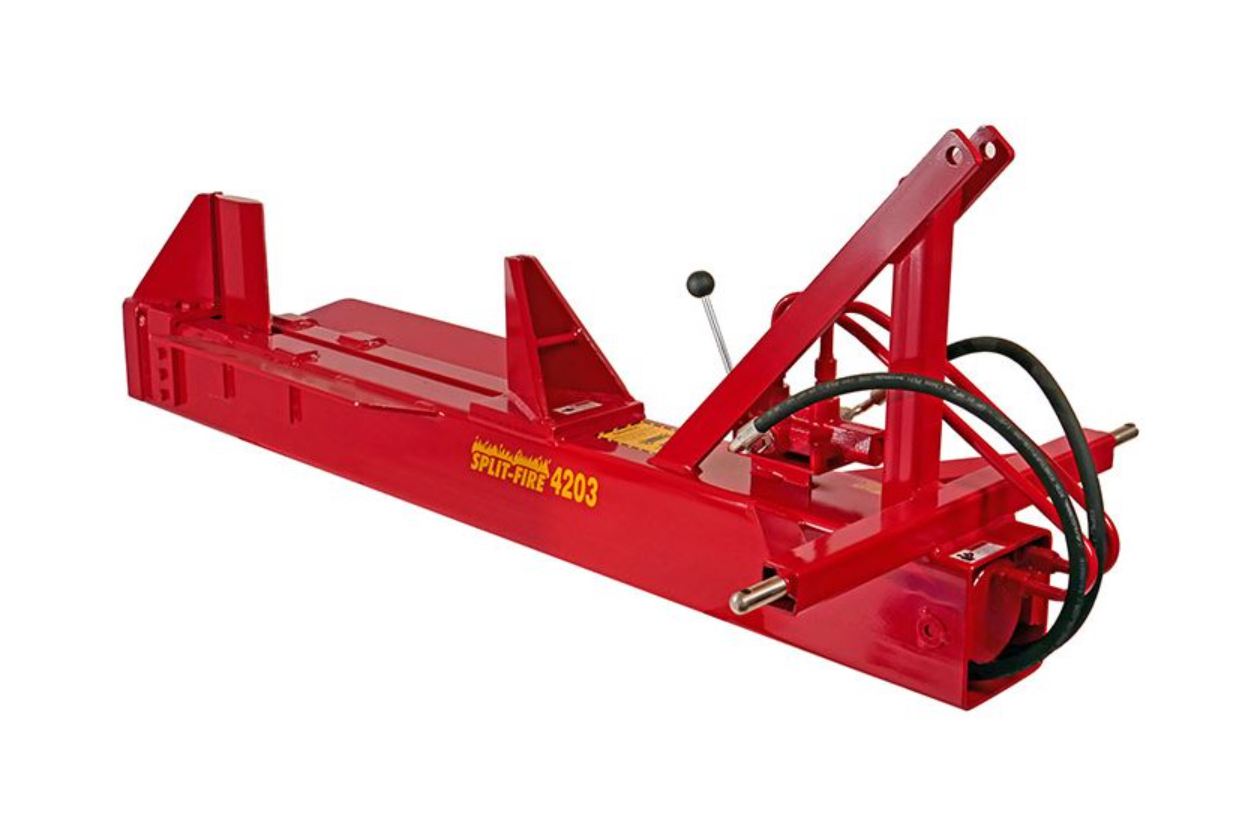 You won't find many better options than the Split-Fire Log Splitter 4203 if you need a heavy-duty log splitter with short cycle times. On average, its 24-inch long and 4.5-inch cylinder needs ten seconds to cut through a log if the machine is connected to a hydraulic system with 2,900 PSI of pressure.
Also, this log splitter needs at least 8GPM of hydraulic flow to function, and you can maximize its speed by connecting it to a tractor whose hydraulic system can supply 20GPM.
Pros
This model is compatible with log lifter accessories
The log splitter's stroke length is extendable to 48 inches
Optional CAT2 hitch connector
The machine can operate at three cycle speeds
Cons
Users cannot adjust the log splitter's working height
Shipping isn't included in the model's price
Frequently Asked Questions about 3-Point Hitch Log Splitters
Question: How Long Do 3-Point Hitch Log Splitters Last?
Answer: A 3-point hitch log splitter can last for more than thirty years if it is frequently maintained and properly stored when it isn't in use.
Question: Do I Have to Cover a 3-Point Hitch Log Splitter When I Put it in Storage?
Answer: Covering a log splitter will protect it against accidental scratches, dust accumulation, and other environmental factors that can damage one of its parts.
My Verdict: How to Pick the Best 3-Point Hitch Log Splitter for Your Tractor?
The first 3-point log splitter I bought is still running, even though I had to change some of its parts.
These machines are durable, and the model you choose should last at least ten years, if not much longer.
The model's compatibility with your tractor should be your primary search criteria because its performance will depend on the characteristics of the tractor's hydraulic system.
Hence, spending vast amounts of money on models like the Split-Fire Log Splitter 4203 or Wallenstein WX330 is only justifiable if you already own the equipment that can unleash their power.
I suggest considering the Boss Industrial 3-Point Log Splitter if you need a model compatible with all hitch categories.