Latest posts by Samantha Biggers
(see all)
A 22-ton log splitter packs plenty of power for splitting tough-to-bust wood rounds. If you have been considering a log splitter but are unsure what size to get, 22 tons is undoubtedly one you should consider.
For a decade, my husband and I split our firewood using just a splitting maul, splitting wedge, and a small axe. While you get better at splitting wood faster and more accurately, as we got older and gained responsibilities, we decided a log splitter was just what we needed to save some backbreaking labor and have more time for the other things we needed to be done.
With 5 acres of forest to manage, we find that our smaller log splitter will take care of our needs, but it would be nice to have a larger splitter to get the job done faster. Therefore, I anticipate that we will have to upgrade from our 5-ton electric log splitter to a splitter in the 22-ton range.
That being said, when I was in college working on my degree in forestry, I worked on the Natural Resources Crew, helping manage 700 acres of forest and trails. We had a big crew, but to be honest, we wasted a lot of time splitting firewood by hand. We could have accomplished more of the college's forest management plan if we had a log splitter to free up crew members for other tasks. A log splitter is a fantastic time saver for professionals and crews.
If you burn fires regularly for heat, then a 22-ton log splitter is a perfect size for the average person. While it is not the biggest splitter, it offers a good combination of power and value.
Best 22 Ton Log Splitter: The Bottom Line
The best 22-ton log splitter for those that want a lot of speed is a kinetic log splitter like the one from Power King. On the other hand, the best value is a traditional horizontal/vertical log splitter. Not only are the conventional log splitters less expensive, but they also offer the option of vertical splitting.
How I Chose My Top Picks
Availability
I have included 22-ton log splitters currently available with no significant wait time. I tried to choose splitters that could be easily ordered online or picked up at common national store chains.
Exactly 22 tons of splitting force
I did not include log splitters that are just close to 22 tons. All the splitters in this post are rated to exactly 22 tons.
Variety
It is essential for those considering purchasing a 22-ton log splitter to understand that they can choose between kinetic log splitters and traditional horizontal and vertical log splitters.
Read also: How to Use a Log Splitter the Right Way?
My Top Picks
My Bottom Line Up Front: A 22-ton log splitter is an excellent idea for those who want to split all their own firewood yearly. This size of splitter packs plenty of power at an affordable cost.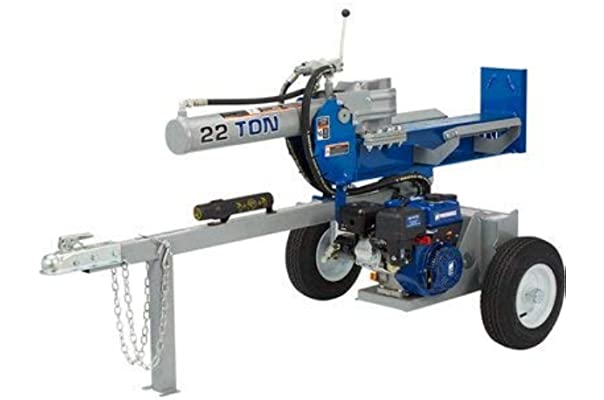 Pros
Specially tapered wedge is designed to split very knotty wood
DOT-approved tires for traveling at speeds up to 45 mph
Reinforced stripper design keeps logs from jamming
Cons
The Power Horse is an excellent affordable gasoline-powered log splitter. One of the standout features is the oil filtration system. The 10-micron Zinga-made Power Horse filter removes any contaminants that may be introduced when performing oil changes or topping off the oil reservoir. A strainer acts as a pre-filter and helps extend the life of the valve, pump, cylinder, and line filter.
The built-in log cradles eliminate wood from falling to the ground after splitting and reduce the amount of time you spend bending and picking up wood.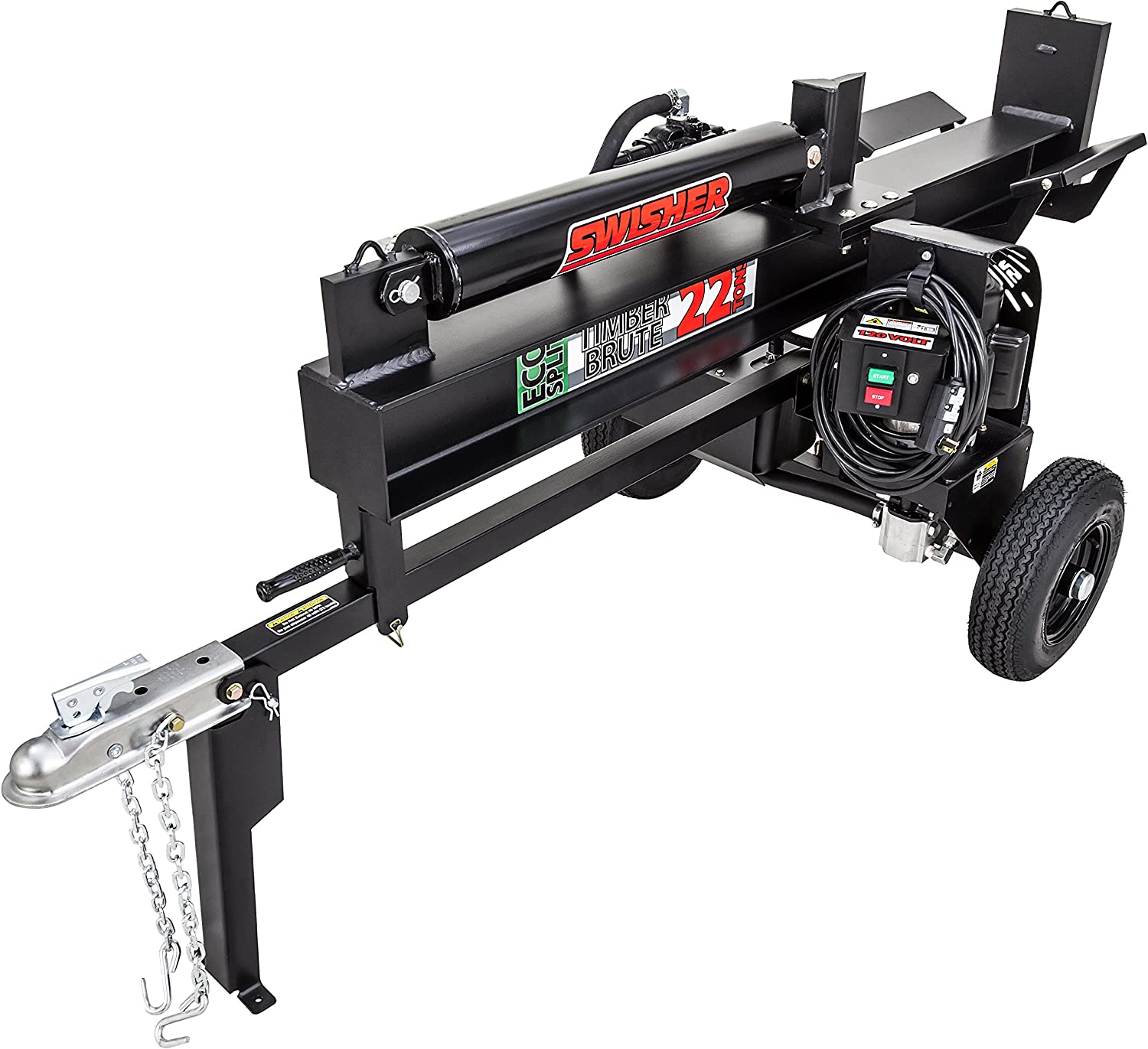 Pros
One of the most powerful electric log splitters available
Very quiet when in operation
No fumes mean you can use this splitter in an enclosed space
Cons
Very expensive for a log splitter regardless of size
Requires a non-standard household outlet to operate
13-second cycle time is somewhat slow compared to gasoline-powered splitters of similar size
The Swisher is a unique find in the world of log splitters because it is electric and has 22 tons of splitting force. Typically, electric log splitters are much more limited in power. The downside to this is all that engine technology adds a lot of money to the price of this splitter compared to its gasoline counterparts. On the other hand, you get a splitter that doesn't require gasoline, is quieter when in operation, and can be used indoors since there are no fumes.
I recommend this splitter to those that are determined to use an electric wood splitter but want one that has plenty of power. The cost is quite prohibitive, so if you want to go with electric and can get away with a log splitter with less tonnage of splitting power, you will save thousands.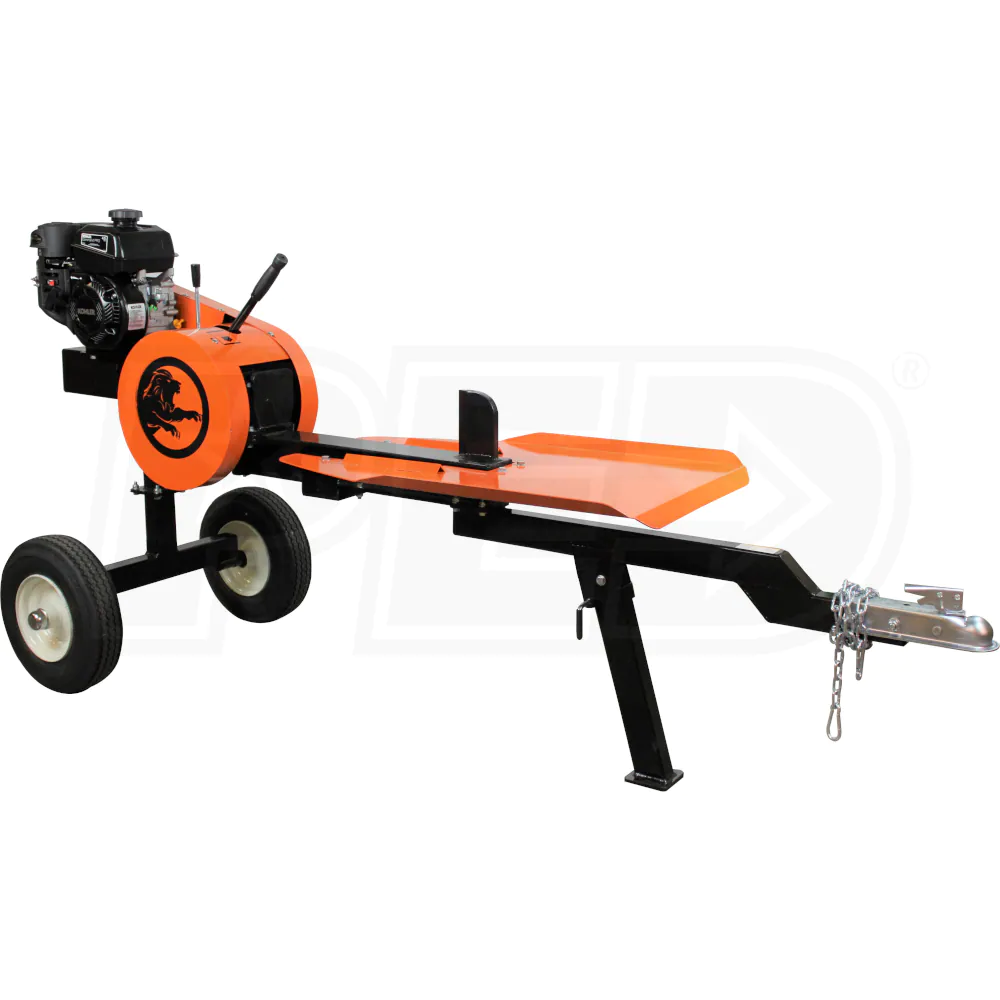 Pros
Fast 3-second cycle time
Low maintenance
Large work table
Cons
Super fast ram speed means you really need to be careful when operating
Cannot split logs in a vertical position
The Power King Kinetic Log Splitter is a truly amazing machine with a super fast 3-second cycle time. At around $1,700, this is a good deal for a kinetic log splitter and a far better choice for the average person than a larger kinetic splitter.
The large work table means you have plenty of room to work without wood falling to the ground and causing unnecessary bending and lifting.
The only major disadvantage I can see with this splitter is that the super fast ram speed does make it slightly more dangerous than a standard log splitter that moves slower and allows more reaction time. There is also the limitation of only being able to split logs in the horizontal position, which limits the size you can split to around 20.5″ long and 15.7″ in diameter.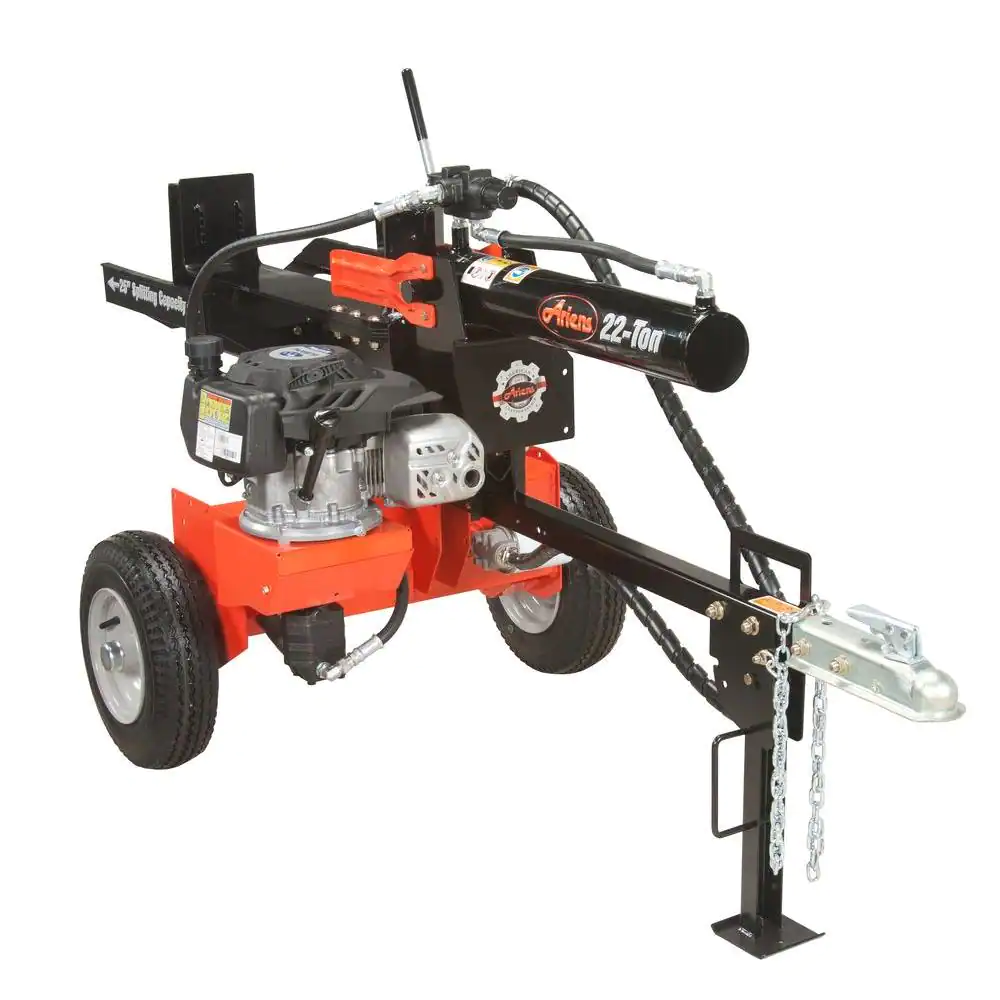 Pros
Affordable
Uses a Subaru engine
Splits logs up to 25″ in diameter and 25″ long
12-second cycle time
Cons
Can be a bit difficult to work on
The Ariens 22- ton log splitter is available at Home Depot stores and online. It is impressive because it can split such large-diameter logs with a 12-second cycle time. The Subaru engine is reliable and packs plenty of power for all your log-splitting needs.
This splitter has a lot of satisfied customers. The only problems tend to be that some of the hose placements and parts can make it a bit hard to work on if a repair is needed. Also, I have noticed that most issues that others have experienced with this splitter is due to them pushing their luck by trying to split ridiculously large logs.
This is a 22-ton splitter, not a 40-ton. Although this splitter has more than enough power to split firewood for the average household or from a small woodlot, it is not designed for heavy commercial use and logs that are so heavy that the average person cannot lift them.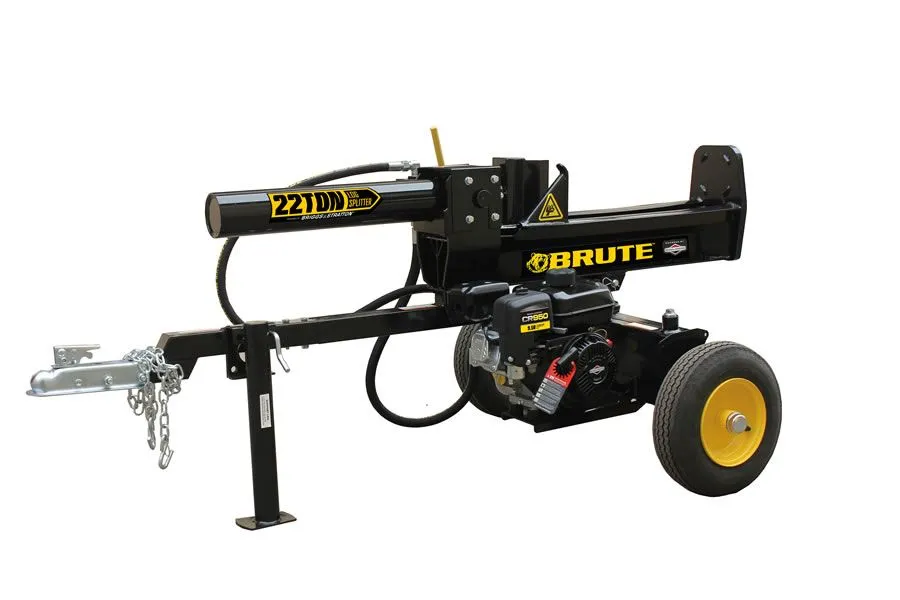 Pros
Briggs & Stratton CR Series Engine
DOT-approved tires up to 45 mph
Heavy-duty steel construction
Cons
13-second cycle time
Only sold at Menard's stores
This log splitter is rumored to be available for a very cheap price at Menard's stores. In fact, I have seen reports of people catching a Black Friday sale and taking advantage of mail-in rebates and only paying around $500 final price.
If you can catch this splitter at Menard's, then it is probably the best deal out there for a 22-ton log splitter. While the price may make you think it is too good to be true, this splitter actually has a good reputation for splitting wood rounds up to 18″ in diameter with no problems.
If you are on a budget and live close enough to a Menard's store to purchase this splitter, you should consider it. I would say that this splitter is really only for those that want to split enough wood for their household and maybe one other. It is not a splitter for professional use.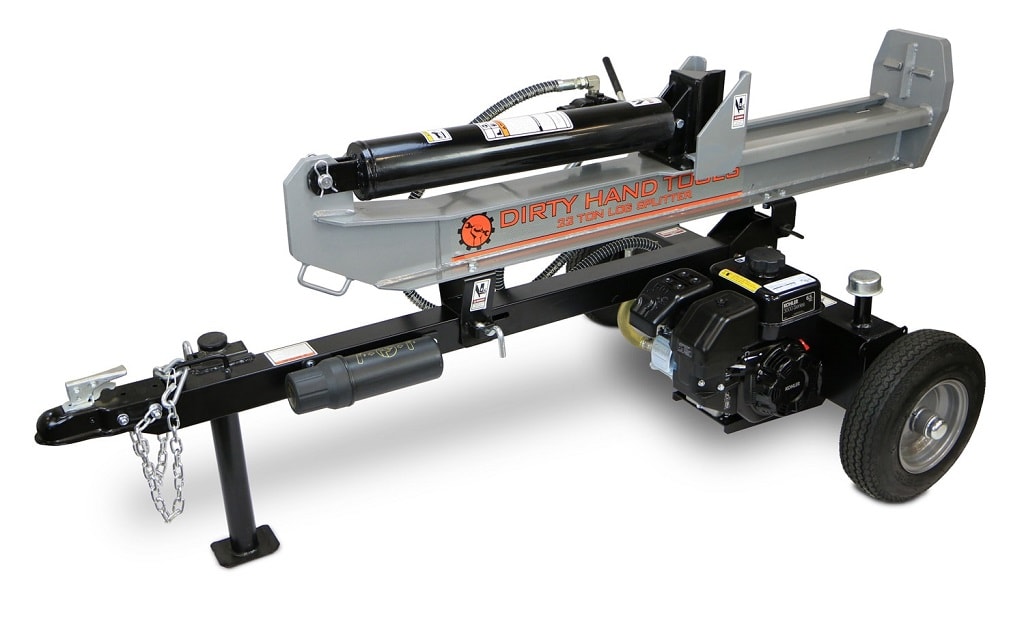 Pros
10.9 second cycle time
Very affordable
Built-in log cradle
6.5 HP 196cc Kohler SH265 engine
Cons
Availability may be an issue in the near future
I am including the Dirty Hands Log Splitter because, at the moment, it is an amazing deal at around $1,000. The 6.5 HP Kohler engine has a reputation for starting easy with a single pull of the start. Dirty Hand Tools claims this is a professional-grade splitter. The 10.9-second cycle time makes this splitter a few seconds faster on average than a typical vertical and horizontal splitter.
This is the splitter for you if you want a powerful log splitter at a great price. Dirty Hand Tools are often sold at Lowes home improvement stores, so that is a great place to look if you are near one.
I like that this log splitter has a built-in log cradle and will split logs up to 25″ long in the horizontal position. The sturdy tires and frame make it easy to move by hand, lawn tractor, or another vehicle.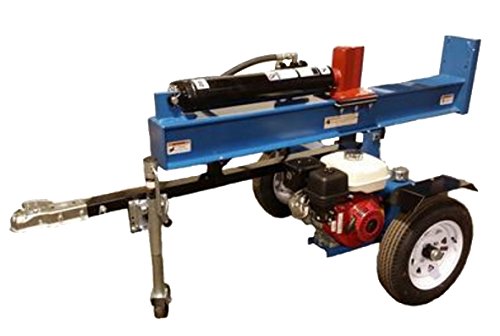 Pros
Optional 4-way splitting wedge and log cradle available
Honda GX 5 HP Engine
10-12 second cycle time
Cons
More expensive than the typical 22-ton log splitter
Extra delivery cost for residential addresses and lift gate service
This rugged log splitter is made in the USA and includes a high-quality Honda GX 5.5 HP engine with a 3-year warranty. The 10-12 second cycle time is slightly faster on average than many commonly available 22-ton log splitters.
I like that you can order a heavy-duty 4-way splitter to save time when you want to split larger rounds into smaller sections for easier burning. My husband and I have a moderately sized wood stove that performs better if we use smaller rounds of wood. Larger rounds take longer to catch and do not release heat as consistently we find. Sometimes when using larger rounds, we tend to get the house too hot, which is a waste.
An optional log cradle is nice to have if you want to reduce bending and lifting wood.
FAQs
Question: Why are there so few 22-ton log splitters to choose from?
Answer: Like any product, supply and demand dictate how many manufacturers will choose to continue to make a specific product. There are a lot of log splitters produced in a variety of sizes; however, many manufacturers have decided that some sizes are not selling as well as others or even that it is not profitable for them to continue making log splitters. Market saturation means that consumers are left with just a few to choose from. Those that are left are typically top quality since they are still selling enough to be profitable for the manufacturer.
Question: Is it easy to sell a 22-ton log splitter if I decide I no longer need it or want a different size?
Answer: Log splitters have good resell value, especially if you take steps to maintain yours. A 22-ton log splitter is a nice size to resell because it is not too small or too large, so it is appealing to homeowners and some professional users too. Craigslist is an excellent place to sell log splitters. Some farm and feed stores have notice boards where you can advertise splitters you have for sale.
Question: What is the fastest 22-ton log splitter?
Answer: A kinetic log splitter such as the Power King is faster than a traditional log splitter. Kinetic log splitters tend to be slightly more expensive, and they cannot split in a vertical position, so you may be more limited in the length of logs you can split. You can expect a kinetic log splitter in the 22-ton range to split logs with a 3-second cycle time compared to the 12-13 second cycle time of regular log splitters.
Conclusion
A 22-ton log splitter is an excellent size for those that want a little more power than the smaller electric splitters offer but do not need a huge splitter that costs a lot of money. With a 22-ton log splitter, you can easily split all the firewood needed for multiple households and even make some money providing firewood for other households.
Professionals may find that a 22-ton log splitter is a little slower and lacks the power to get through some gnarlier woods as fast as they would like. If you are a pro that has a little patience, though, and doesn't regularly have to take on the worst of the worst in terms of logs, then a 22-ton log splitter is an affordable option to value add when taking on jobs.
Read also: