Latest posts by Samantha Biggers
(see all)
Starting a fire is easier when you have some smaller pieces of wood on hand. A kindling splitter is a safer and less frustrating way to split wood into smaller pieces by hand.
Over the years, my husband and I have spent much time splitting firewood. Kindling is one of the more dangerous aspects of splitting because it is done with a small and sharp ax. As a result, there is always the temptation to steady your wood with your other hand. Of course, if you do, then your fingers are close to a sharp blade. Just one mistake, and you can be seriously injured.
A kindling splitter keeps your fingers well out of the way. To use a kindling splitter, place a piece of firewood inside the splitter ring and use a sledgehammer or the back of a splitting maul to pound the blade or wedge downward. The result is usually at least four pieces of split wood.
My Bottom Line Up Front: A kindling splitter is a safer and easier way to split logs into smaller pieces. To find the best firewood kindling splitters we considered various sizes and prices, but most are made of cast iron and are sometimes painted. It is essential to choose a size that you are comfortable using. Too small of a kindling splitter can be frustrating to use because you will have to reduce the size of your log a lot before it will even fit in the kindling splitter.
I recommend the Kindling Cracker Firewood Splitter due to how ruggedly built it is and the heavy grooving of the splitting head.
How I Chose My Top Picks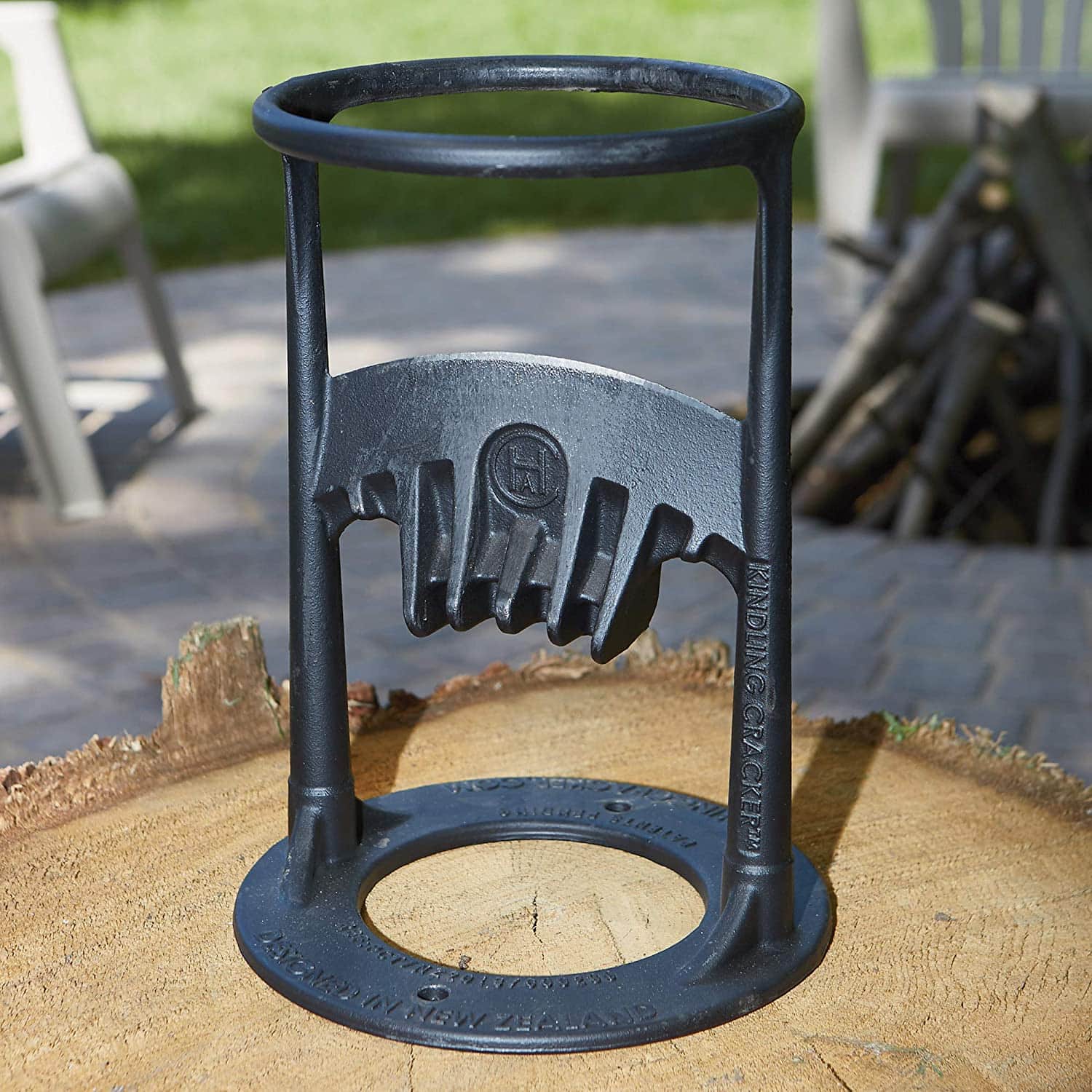 Size
I tried to find kindling splitters of various sizes to accommodate all needs. While I prefer a larger splitter, someone else may want one that is slightly smaller or even two different splitters. Overall I think that a larger splitter is going to be better for use at home because even a smaller wood stove like the one my husband and I have
Sturdiness
All the kindling splitters in this post are made with heavy-duty materials like cast iron. I chose kindling splitters with a very robust splitting wedge for tough wood. Living in the mountains of North Carolina, we have a lot of hard to split hickory and locust to deal with. While it makes great kindling, it can be challenging to split in a timely manner.
Price
Like so many tools, kindling splitters can vary a lot in price. In this post, you will find kindling splitters to fit various budgets. Some splitters come with a sledgehammer which is important to note when determining which splitters are the best value.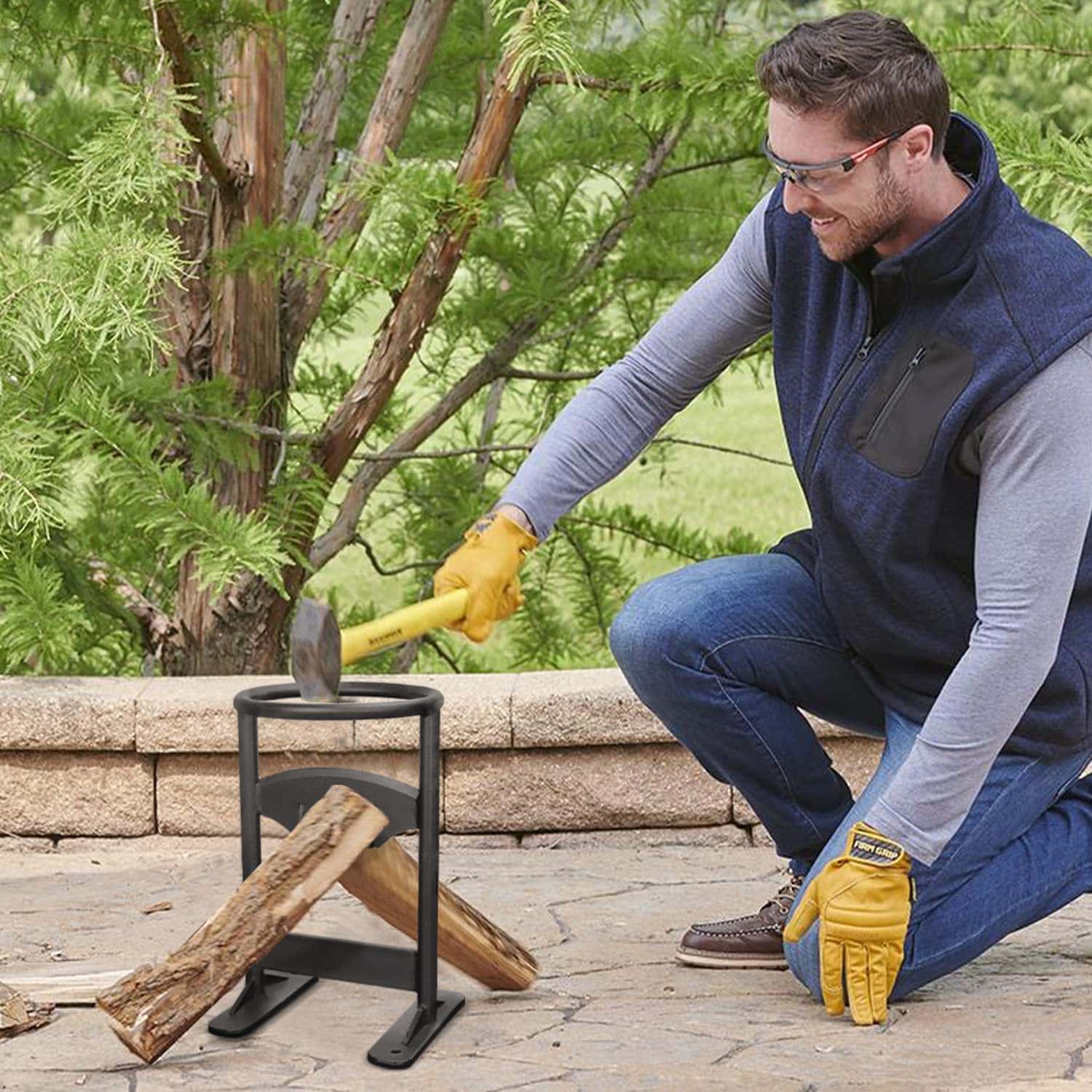 My Top Picks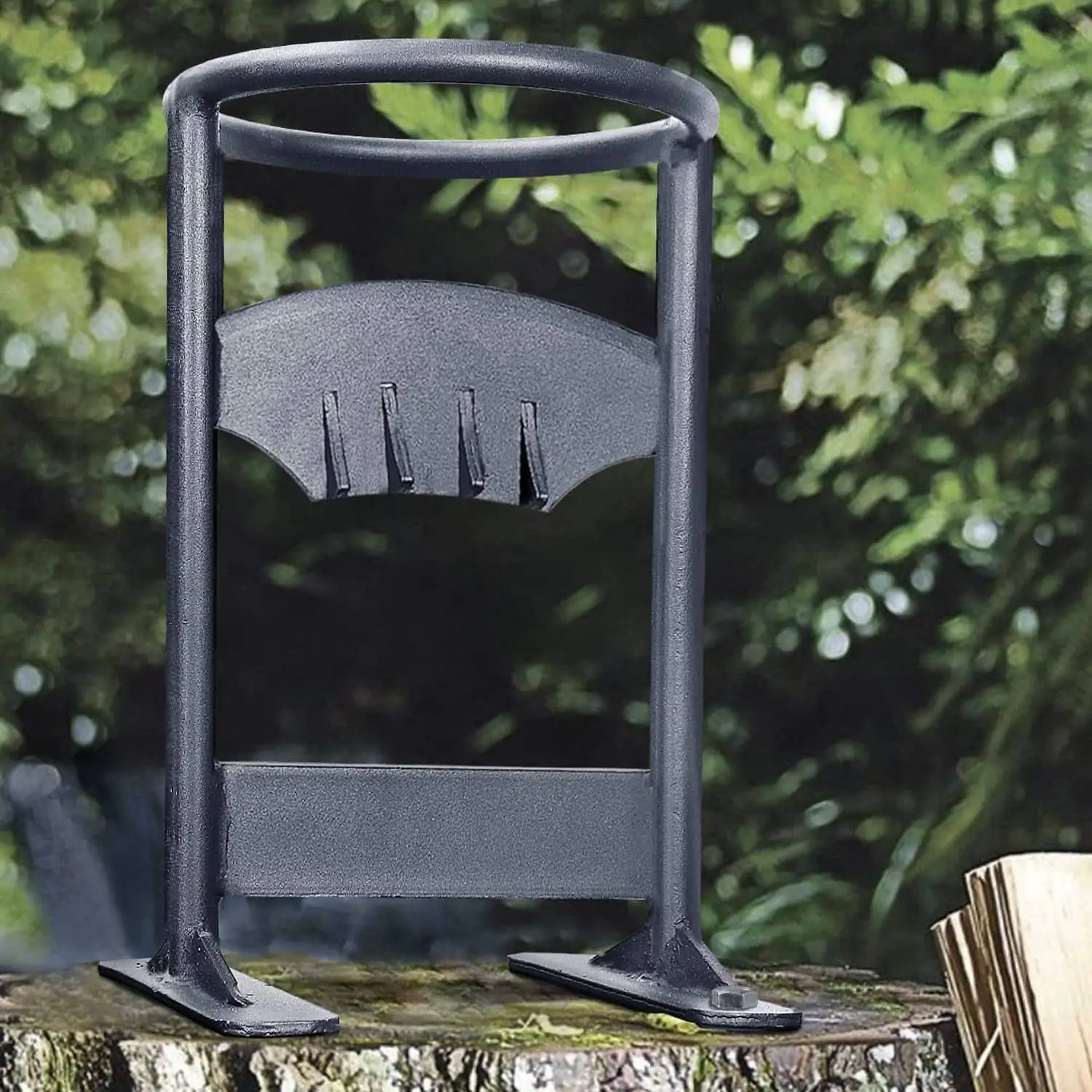 Pros
A very affordable option
Solid cast iron construction
The treated coating protects cast iron from rust when left outside
Cons
Diameter is only suitable for rounds 6″ or less
Legs rather than a round base offer less stability
This kindling splitter is an excellent choice if you are on a budget and want a smaller kindling splitter. Cast iron construction ensures that this is a splitter that will stand the test of time. It's a major bonus that the cast iron is treated, so you don't have to worry about leaving your kindling splitter outside.
My biggest problem is the lack of a rounded base. The legs make this kindling splitter less stable and not as strong as a single circle of cast iron would be. Kindling is more likely to fly out everywhere when you split versus using a splitter with a rounded base.
This splitter does not come with a sledgehammer.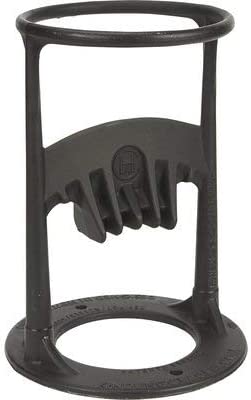 Pros
Very thick cast iron construction
One solid piece of iron for maximum strength
Cons
This is the kindling splitter I want for my wood pile. The two solid rings keep wood from flying everywhere. If you have the budget, I recommend this kindling splitter for use at home and out in the woods. I could see myself using this splitter at a remote cabin to make firewood tasks easier and safer.
The Kindling Cracker was designed and is still manufactured in Australia of exceptionally high-quality cast iron. The blade features aggressive grooves that allow you to get a lot of splits in record time. The pieces you get are a very nice size for getting a fire going on cold winter nights.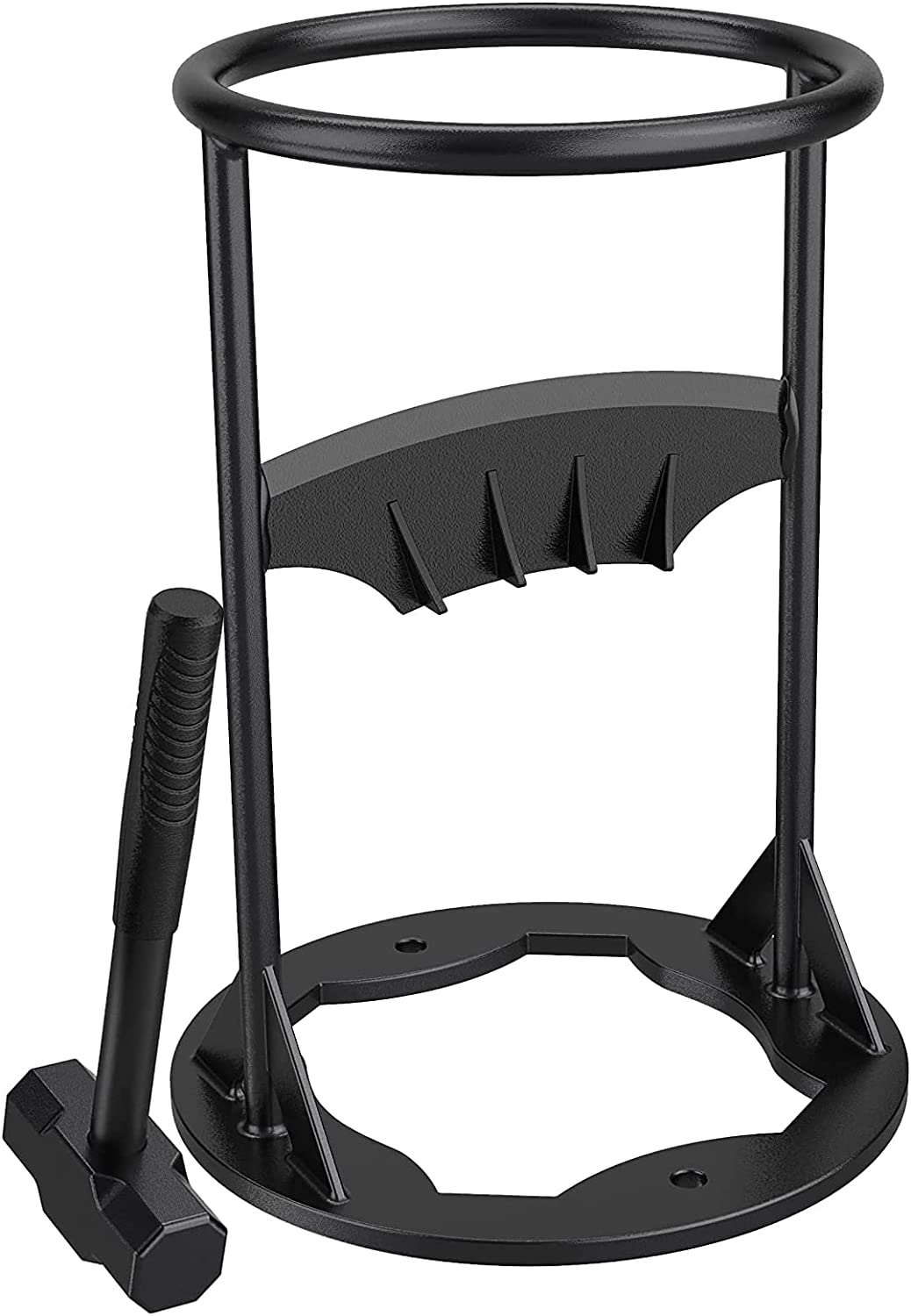 Pros
Comes in two sizes
Sledgehammer included
Sturdy cast iron
Cons
The Blue Home Kindling Splitter comes in two sizes to meet your kindling needs. The regular size has an 8″ diameter, while the XL is 9″. I like that Blue Home includes a suitably sized sledgehammer with purchase. Be prepared if you get the XL because it comes with a 5.5 lb sledgehammer for taking on larger logs that you want to split into valuable kindling.
I think these are good splitters to give as a gift or for someone that wants to buy a splitter and sledgehammer together in one convenient package. I think the smaller splitter would be good to have on hand near a large fireplace.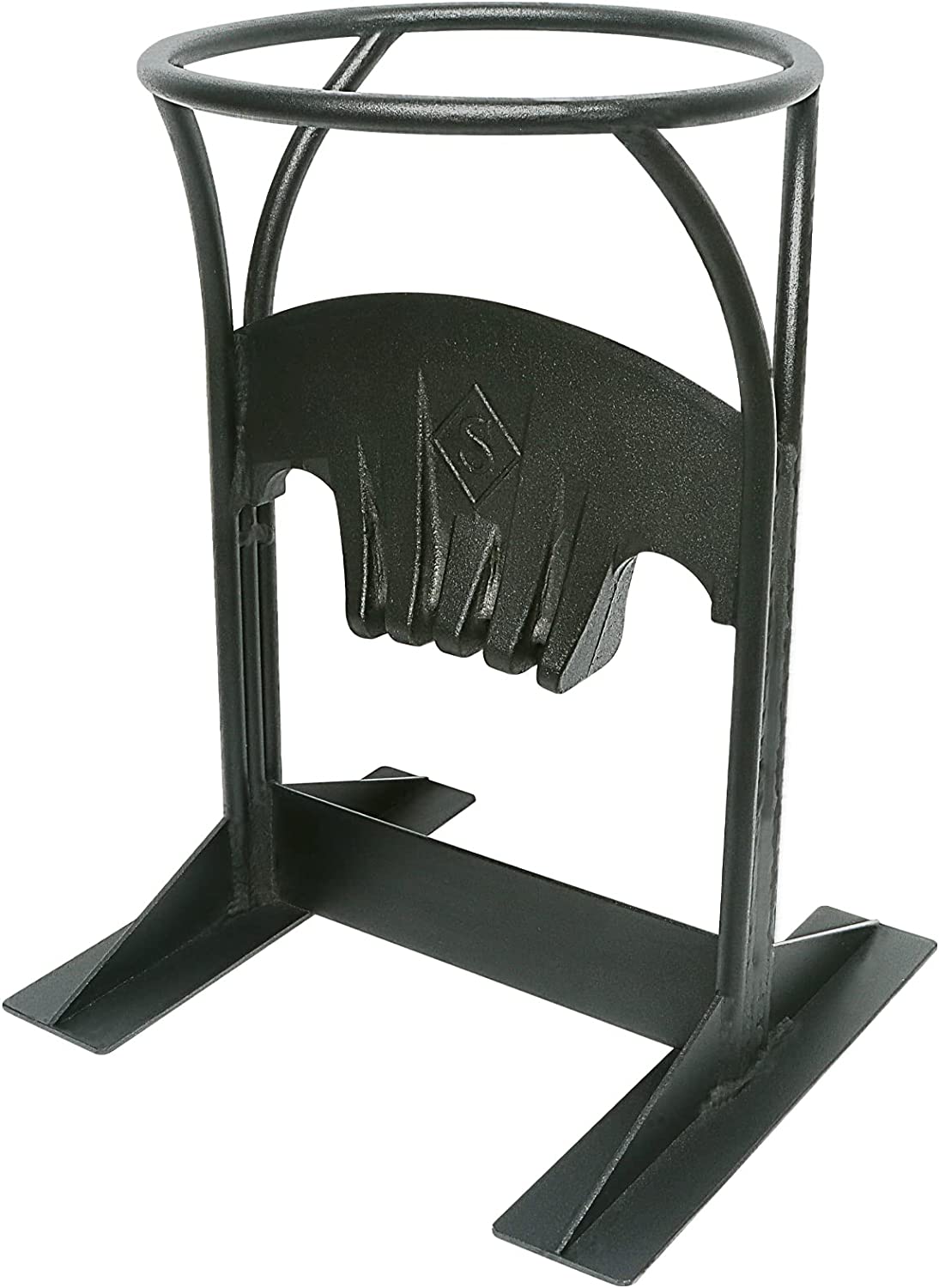 Pros
Fast and easy to use
5 grooves for extra splitting action
Cast iron construction
Cover included
Cons
Cost
No sledgehammer included
The SnugNiture is a solid choice for those that want to split a lot of kindling in a short period of time. Happy customers report being able to split enough wood and kindling in 10 minutes for a 4-day camping adventure. I like the heavy grooving that ensures a lot of splits when a round of wood passes through.
This is one of the few kindling splitters I found that included a cover that doubles as a carry bag for taking on camping adventures or storing during the warmer months of the year.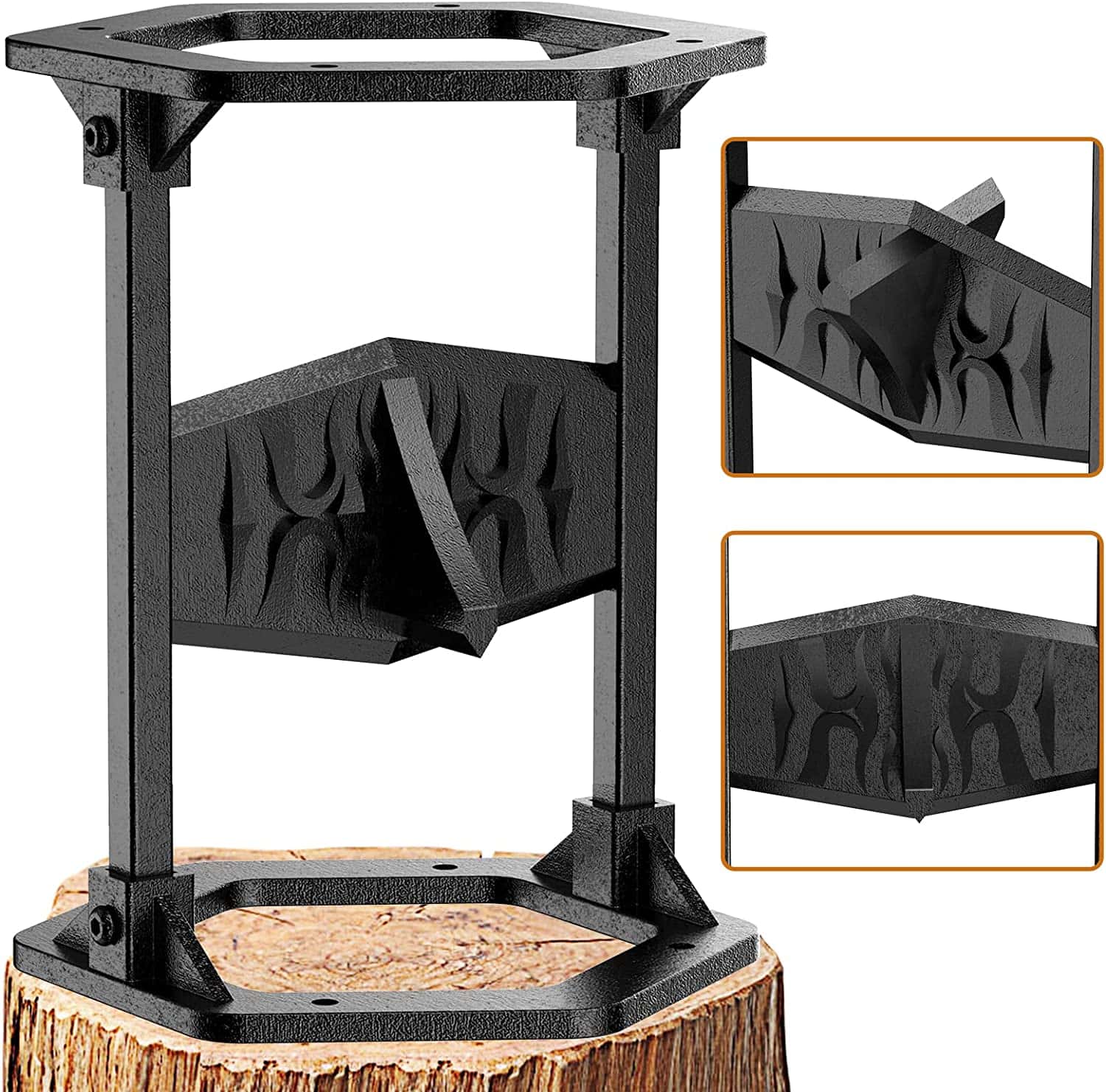 Pros
Hexagon shape is extremely stable
4-way wedge easily splits rounds into 4 pieces
V-shaped wedge makes it easier to split wood
Long 15.75″ length for splitting longer rounds
Cons
The 4-way splitting wedge design makes this kindling splitter stand out. This is a great splitter for people that want to easily split logs into four smaller pieces. I can imagine using this splitter a lot for smaller woodstoves and fireplaces. It would make excellent sized pieces for campfires.
This splitter has a different design and shape than what you might be used to seeing. The hexagonal shape is very strong and sturdy. This kindling splitter offers fantastic performance when attached to a surface using four bolt holes. The 11 mm thick blade is V-shaped to make splitting fast. I like that this splitter is more than 3″ longer than others, allowing for longer kindling.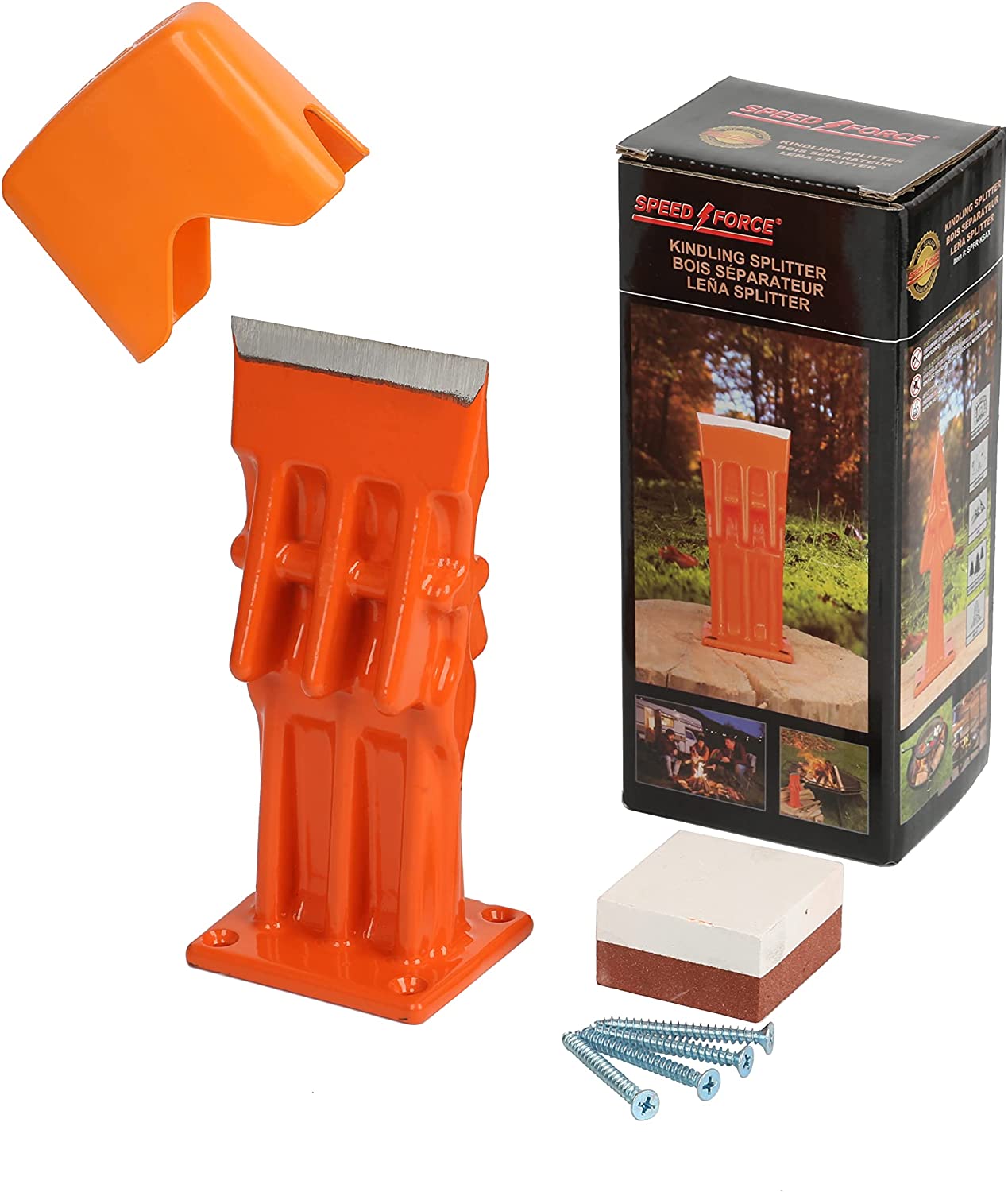 Pros
Most affordable kindling splitter option
No ring that limits the size of log you can split
Solid cast iron construction with a weatherproof coating
Highly visible
Cons
Lack of ring means you have to position the log and tap it in a little to create stability for harder hits with your sledgehammer
Not quite as safe as a kindling splitter with a ring
If you are not thrilled at spending a lot on a kindling splitter, then this is an option to consider. This wedge-style splitter offers a lot of versatility because you can choose exactly how big of a piece you want to split off from your starting round of wood.
These styles of splitters are not as safe as one that uses a ring because there is nothing to prevent someone or a pet from falling onto the wedge. If I chose this type of splitter I would be sure to keep something over it when it was not in use to prevent accidental injuries.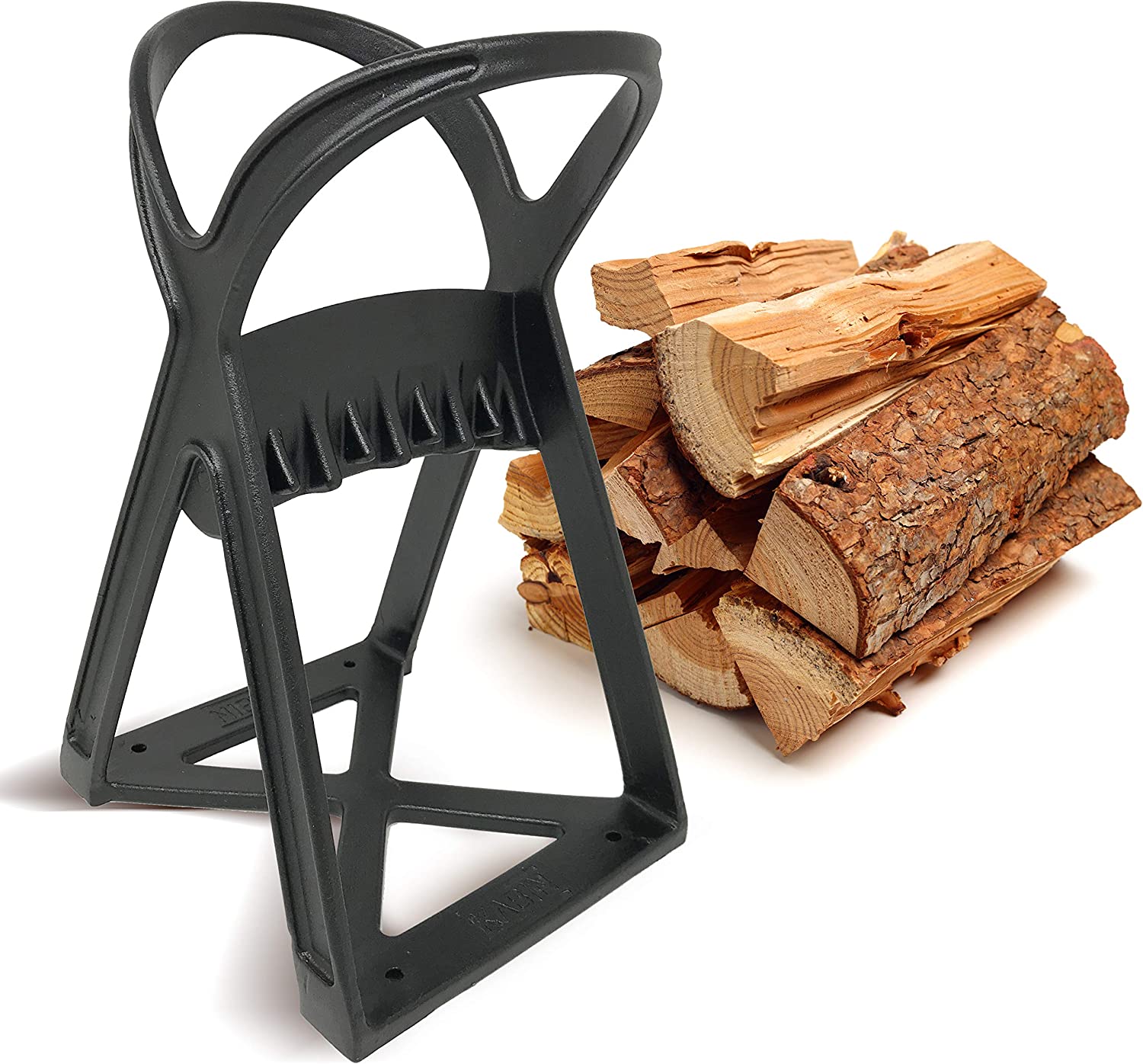 Pros
Extremely sturdy X-style base
The design makes the kindling splitter functional as a carrier too.
Wide mouth design accommodates larger rounds of wood
Made of cast steel, not cast iron
Cons
I like this kindling splitter's design because it tries to be versatile. While this design weighs about 20% more than comparable kindling splitters, it will accommodate larger logs and double as a firewood carrier when needed. Unlike other splitters featured in this article, this kindling splitter is made from cast steel rather than cast iron. The black all-weather coating protects your splitter from wet weather throughout the year.
Some users recommend sharpening the blade before using it on hardwoods.
I highly recommend this kindling splitter for people who regularly split larger wood pieces for medium to large stoves. The cast steel construction is a bonus if you are the type of person that tends to be hard on tools.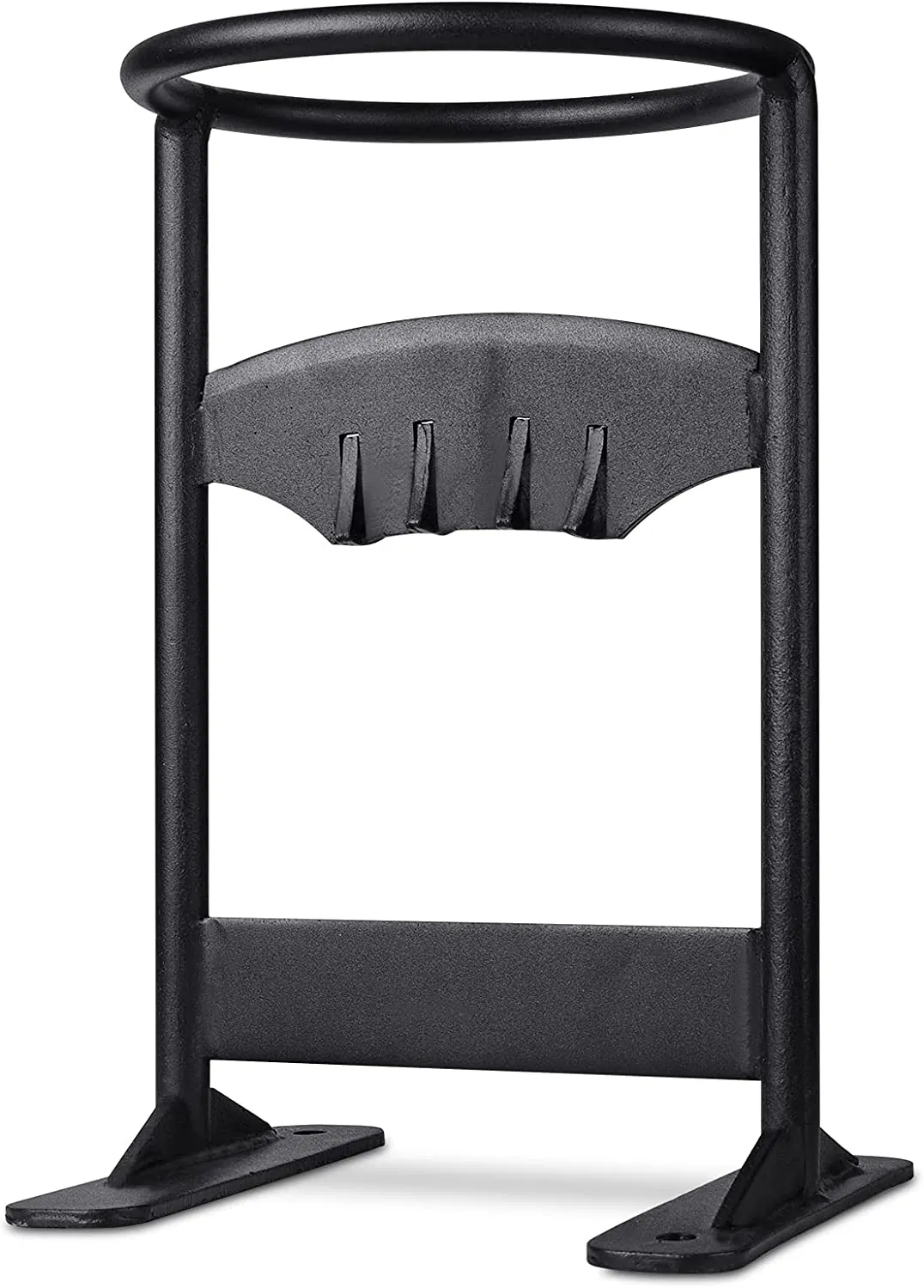 Pros
Inexpensive
Durable cast iron construction
Cons
Not a single piece of iron
No sledgehammer included
The lightweight design makes this splitter great for taking on car camping trips.
This splitter may be just what you want if you are on a budget. The kindling splitter features a 6.3″ diameter opening so that you can use medium-sized rounds of wood. This splitter is slightly lighter than some at just 9 lbs rather than the typical ten or more. Despite the low price, this splitter has a full 12-month warranty.
I recommend this splitter for car camping and for use around fire pits. I find it to be a little on the small side for regular indoor heating use.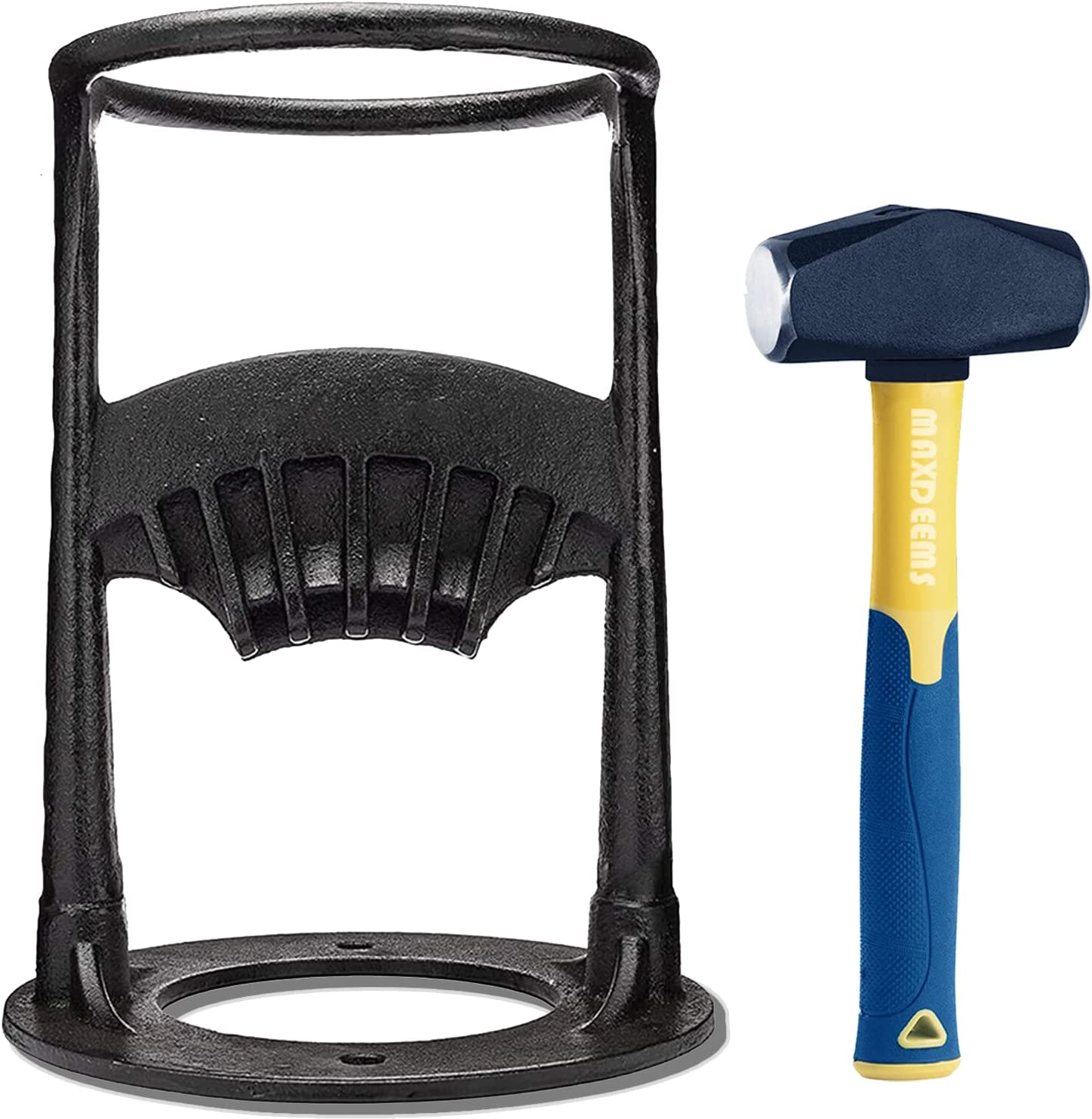 Pros
Stong design
Comes with a nice sledgehammer
6.5″ ring
Cons
Despite the cost, it is just 12″ tall
This kindling splitter and 3 lb sledgehammer combo will have you blazing through your stack of firewood in no time. The many grooves and sharp cast iron blade easily slice through whatever wood you can put through it. The entire splitter is made of a single piece of cast iron it will last for generations with a little care.
This is a great combination for use at remote locations due to its smaller size. I could see taking this splitter on longer camping trips.
Best Firewood Kindling Splitter: The Bottom Line
A kindling splitter makes cutting small pieces of wood for your stove a lot easier and safer. If you buy kindling or expensive firestarters because you don't like using an axe, then a kindling splitter could save you a lot of money over the years.
FAQ
Question: Are kindling splitters easy to use?
Answer: Kindling splitters are very easy to use and safer than just an axe. It does take some physical strength and ability to use a firewood splitter since you need to swing a sledgehammer to force the wood into the wedge. Most people find this much easier than using an axe and trying to aim precisely. A kindling splitter also gives you more split pieces of wood at once.
Question: What size sledgehammer should I use with my kindling splitter?
Answer: A 4 lb sledgehammer seems to be pretty standard for use with a kindling splitter. Of course, you can use a heavier sledgehammer if you are up for it, and you will get more force behind each hit, leading to faster splitting. Kindling splitters sometimes come with a 4 lb sledgehammer with a short handle.
Question: Can I use a maul instead of a sledgehammer?
Answer: If you do not want to buy a sledgehammer but own a splitting maul, then you can use the blunt head to force wood through a kindling splitter. Some people may prefer to use a maul due to the long handle. Many mauls are heavier than the small sledgehammers that sometimes come with kindling splitters. I advise trying to use a sledgehammer and a maul if you have one and then deciding what you prefer the most.
Question: Do I need to attach my kindling splitter to a large wood round?
Answer: For stability, a lot of people use a large wood round and screw down their kindling splitter. It is possible to anchor it in other ways. You could even anchor it into concrete with the right screws. The easiest and least expensive way is just to use a wood round. You really will get better results if your kindling splitter is anchored to something. They tend to fall over when a piece of wood is placed on top of them if they are not properly stabilized.
Question: Can I use a log splitter to make kindling if I have a 4-way wedge?
Answer: If you are careful, you can use a log splitter to make kindling. A 4-way splitting wedge can help, but you must carefully place wood on your splitter. The amount of placement you have to do and watch is a bit slow. A lot of people choose to use a log splitter to make the bigger splits and then a kindling splitter to make firestarters as needed.
Conclusion
A kindling splitter is a nice tool to have on hand if you tend to split a lot of firewood by hand. Even if you use a log splitter to split larger logs into burnable size pieces, you might need to split some logs down further throughout the firewood burning season. A kindling splitter is safer than a sharp ax, and you don't have to be nearly as accurate in your swings to get good results.
The Kindling Cracker stands out to me as the best kindling splitter, no matter how much kindling you need to split. The superior craftsmanship and great warranty make it easy for me to recommend.