Latest posts by Samantha Biggers
(see all)
With so many axe designs out there, it is essential to distinguish them so you get the axe that best suits your needs.
A hewing axe is designed for carving out logs into pieces of wood that are usable for a specific application. If you have ever seen an old-fashioned log cabin made by hand, then you have seen a fine example of the work a hewing axe can do when in skilled hands.
Criteria for Selecting The Best Hewing Axes
It is important to look carefully at all design aspects of a hewing axe. After all, this is a tool you will use with your hands, which means comfort and efficiency are the goals. Buying the most expensive name-brand hewing axe is not the best approach. There are lots of things to consider. Here is a list of what you need to look for when buying.
Hewing Axe Handle
The importance of a comfortable handle cannot be stressed enough. A handle made from Hickory is desirable if you like the feel of wood. A strong fiberglass handle can help absorb shock when making big hits with your axe. Just remember that wood handles need to be cared for more than fiberglass handles, and they are more prone to damage and breakage no matter how high the quality.
Hewing Axe Blade Features
High-quality metal and forging techniques are two factors influencing the quality of any axe head. Many axes are made of high-carbon steel so they can be easily sharpened with a standard sharpening stone. However, high carbon steel will deteriorate faster in wet conditions than stainless or steels with a greater hardness.
If you plan on using your hewing axe a lot near salt water, more rigid steel may be best for the longevity of your blade. Harder steels require diamond sharpening stones. While these are not as expensive as the name makes them sound, using a diamond sharpening stone means you will need more time to sharpen a blade. The trade-off is that harder steel retains an edge for longer than carbon.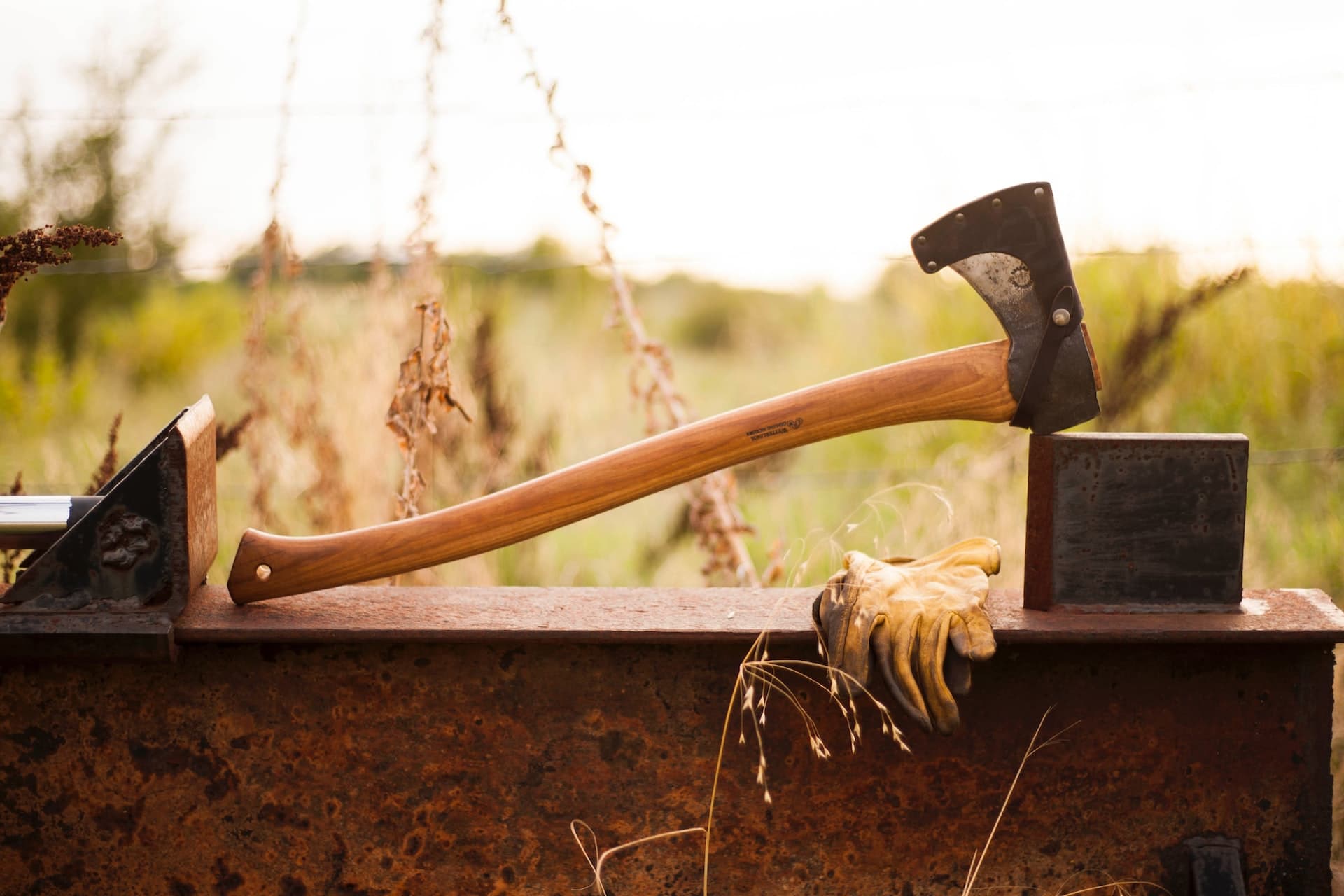 Hewing Axe Balance
An axe should feel well-balanced in your hand. If the axe head feels too heavy for the handle, the hewing axe will be cumbersome to use effectively. Many people have to play around with a few axes to find out what suits them the best.
There is a rough formula for calculating the ideal handle length for smaller hewing axes. The formula is to take the weight of the axe head and multiply it by 10 to get inches. So if you have a 2.5 lb axe head, a 25-inch handle would make for a well-balanced hewing axe. The formula doesn't work with heads beyond 3.5 lbs in weight. No handle is typically more than 36″.
Top Hewing Axes: Recommendations
There are a lot of hewing axes to choose from. This section will show you some of my favorites from across the price spectrum so maybe you can get a better idea of what type of hewing axe you want to try out first.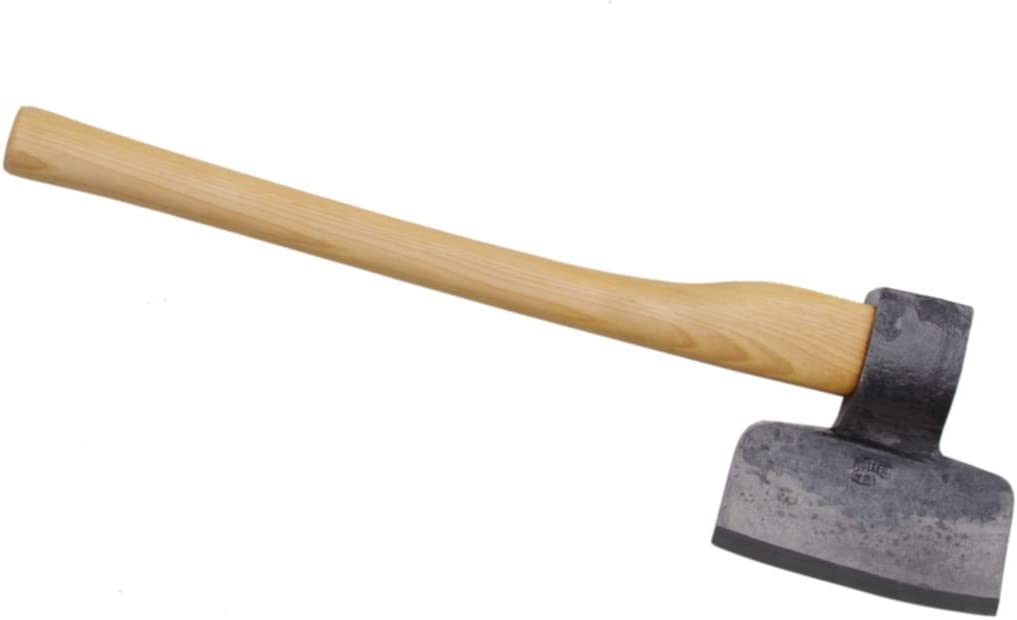 Pros
Head is hand forged in Austria
The company has been making axes since the 1600s
3.1 lb head for maximum impact
Cons
This uniquely shaped hewing axe is excellent for shaping logs for cabin building. The blade is an impressive 7 3/8″ wide, so you get a lot of cutting surface when shaping a log into usable timber. The handle is Hickory.
The head has a beveled side on the right and a flat side for shaping on the left, making it a very versatile tool for shaping wood.
I recommend this hewing axe for those serious about shaping logs and beams to build structures. However, if you are going to do something as serious as shape logs by hand for a structure, I strongly advise spending the money on a high-quality hewing axe like this one.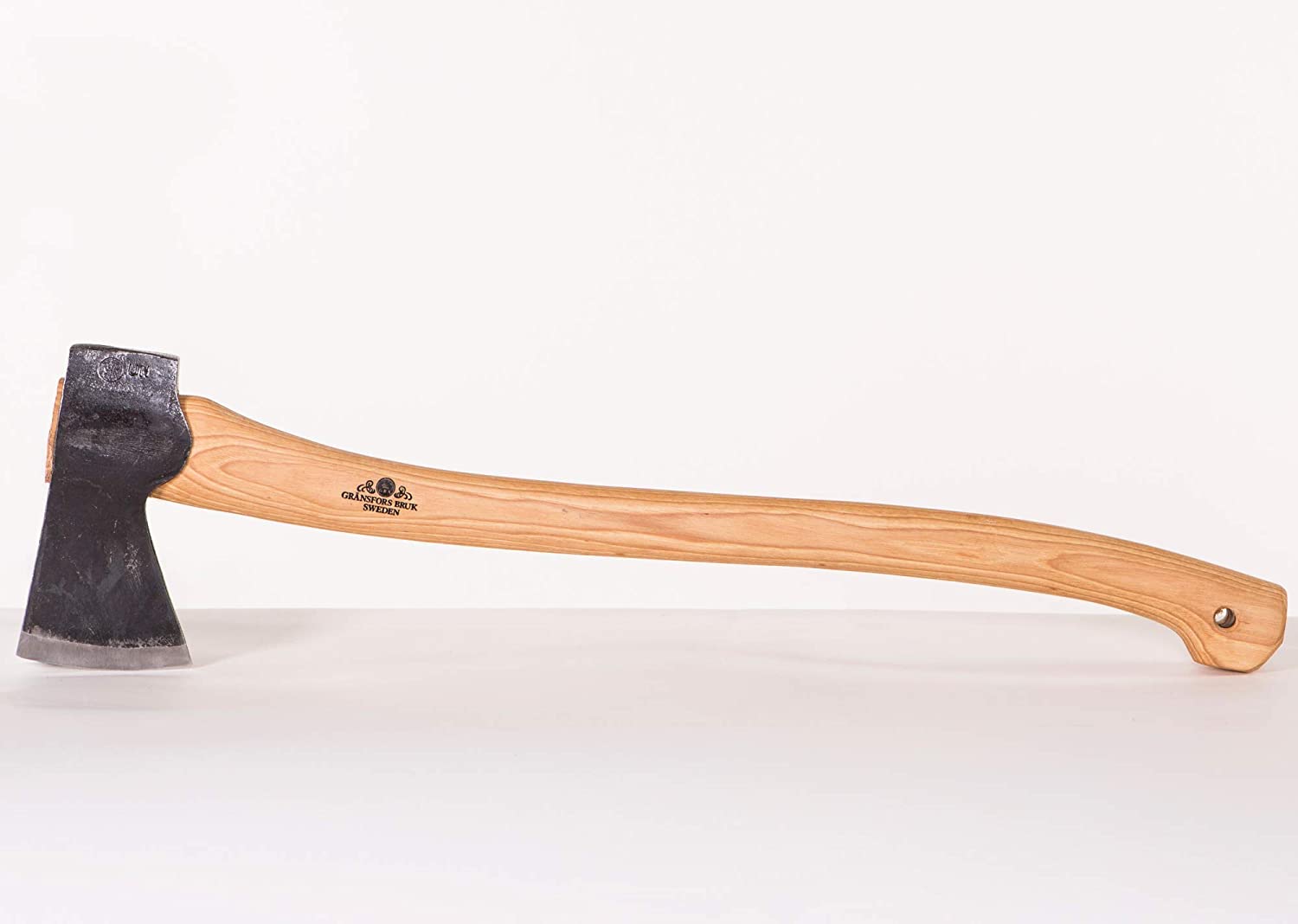 Pros
2.6 lbs
25″ overall length
Hand forged and assembled in Sweden
Cons
Gransfors Bruks is a top-quality axe maker based in Sweden. This well-balanced professional-grade axe is designed for exceptional performance when cutting down trees or hewing wood. At 2.6 lbs, the axe is heavy enough to bite into wood well without tiring you out too quickly.
The curved bit of the head is incredibly well-designed for biting into resinous woods such as pine, spruce, and hemlock.
I like that each Gransfors Bruks axe comes with a book that gives the history of the brand and how your axe is made. In addition, the company stands behind its brand and offers an industry-leading 20-year warranty.
This is a serious axe for those who use a hewing axe a lot and are willing to pay for top quality. If you are going out in the woods to do a little bushcraft, this is more than you need to pay, but I have to say that it will likely be a joy to work with if you have the budget. Axes in this range have excellent resell value and can sometimes even increase in value over time if you do not use them a lot.

Pros
Affordable entry-level hewing axe
Hefty 3.5 lb head for lots of bite into wood
Well known brand
34″ Hickory handle for safety and extra leverage
Cons
5 lb overall weight and long handle may not be suitable for some delicate carpentry tasks
For an overall everyday axe, the Truper Michigan Axe is a bargain. It is not only helpful in hewing tasks, but it is also excellent for splitting kindling. I like that you get a 34″ Hickory handle because I do not like using an axe with a short handle due to the risk of it bouncing and hitting me. I am just not that confident with an axe because my use of them has been limited to kindling splitting for the most part.
The 3.5 lb head maximizes the work you can get done with a single blow.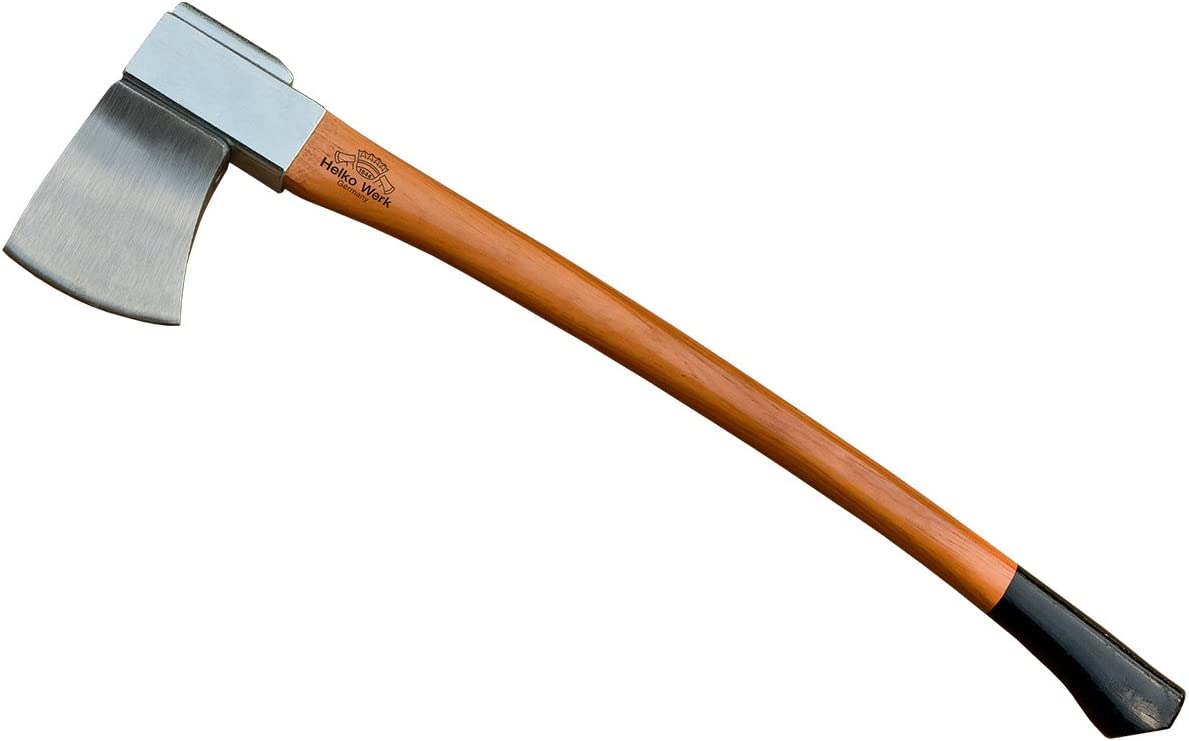 Pros
Robust 4.5 lb head
30″ handle
Cons
A bit large for finer wood shaping tasks
Cost
This is an excellent mid-size axe for larger hewing tasks like felling and doing major splits. Helko Werk makes all their axes by hand in Germany. The Vario 2000 head is made of high-carbon steel, so it is strong yet easy to sharpen. The Vario 2000 is part of a whole lineup of axes with interchangeable heads and handles for maximum versatility.
The Vario handle is curved for superior ergonomics. This axe is an absolute joy to use due to the level of comfort provided by the attention to detail and craftsmanship. The handle is grade A American Hickory that has been well sanded and lacquered, while the end of the handle is dipped for an excellent grip.
I recommend the Vario 2000 for cutting down small to medium trees and hewing larger logs to size. However, if you need to do finer tasks, then check out Helko Werks Vario Universal Hatchet.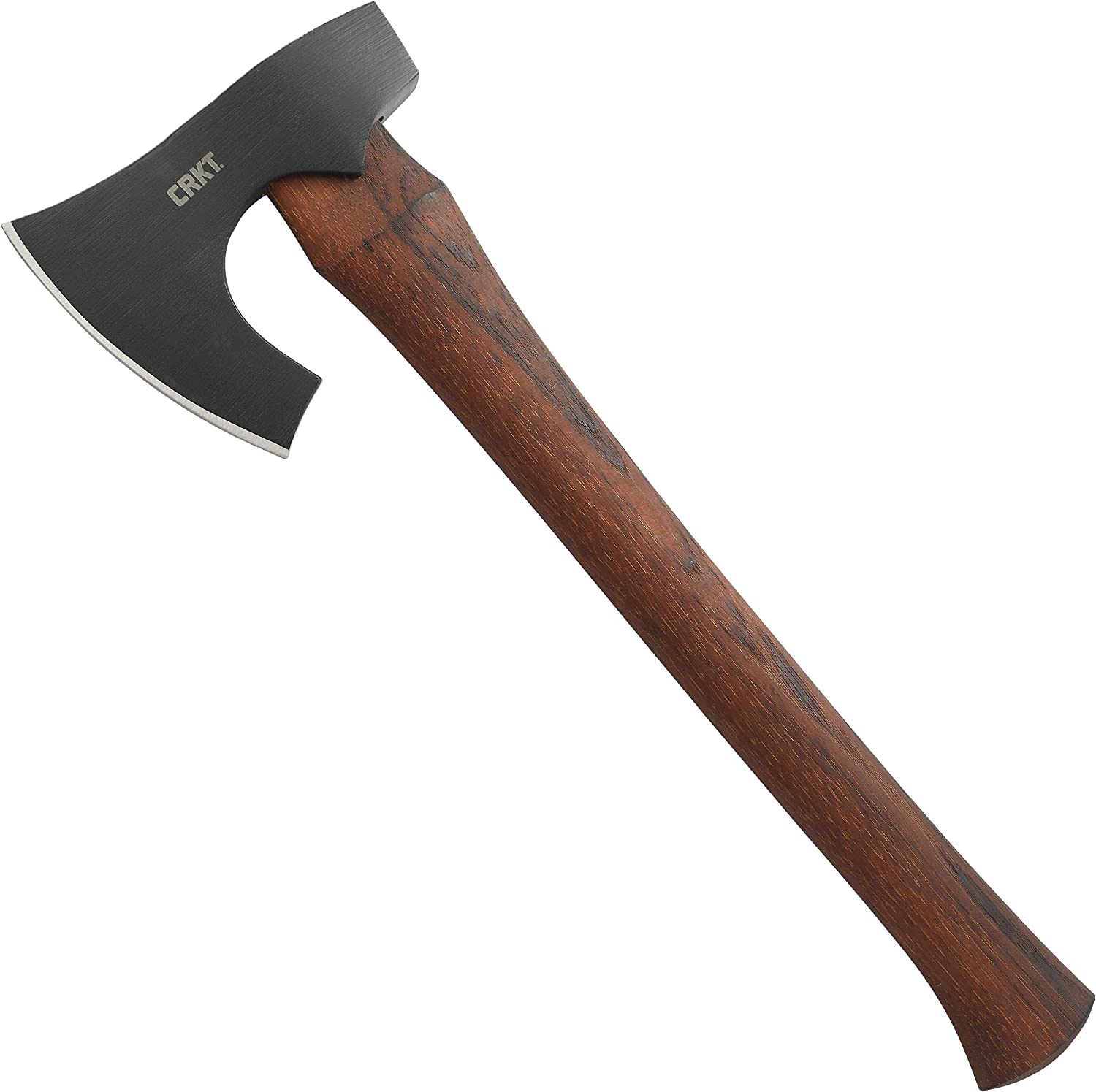 Pros
Head made from 1095 Carbon Steel for superior edge retention and easy sharpening.
Limited Lifetime Warranty against defects in materials and craftsmanship
Great price point
Cons
With an overall length of just 16″, this axe may feel a little short for some users.
The Freyr is inspired by classic Norse designs. The wide curved blade is excellent for digging deep into wood. Although the blade is made of carbon steel, it is treated with a magnesium phosphate coating to prevent rust and pitting while still offering the ultimate sharpening you get with carbon steel. The Hickory handle will hold up to a lot of stress over the years.
This axe is great for those that don't mind using a shorter tool for hewing and woodworking.

Pros
Budget priced
Highly rated
Compact size for portability
Cons
A shorter length and a wider head may make this axe feel unbalanced to some users.
If you are on a budget and want a smaller hewing axe, then Marbles is a great company to look towards. This Camp Axe is small enough to take on your next excursion into the woods but strong enough to take on some bigger tasks. The head is made from 1095 carbon steel, while the handle is strong American Hickory.
While the overall length of the axe is just 15 3/4″ it boasts a 6″ wide head capable of taking some big bites out of wood with each swing.
I recommend this hewing hatchet for those on a budget or that just want an inexpensive axe to take on the occasional excursion.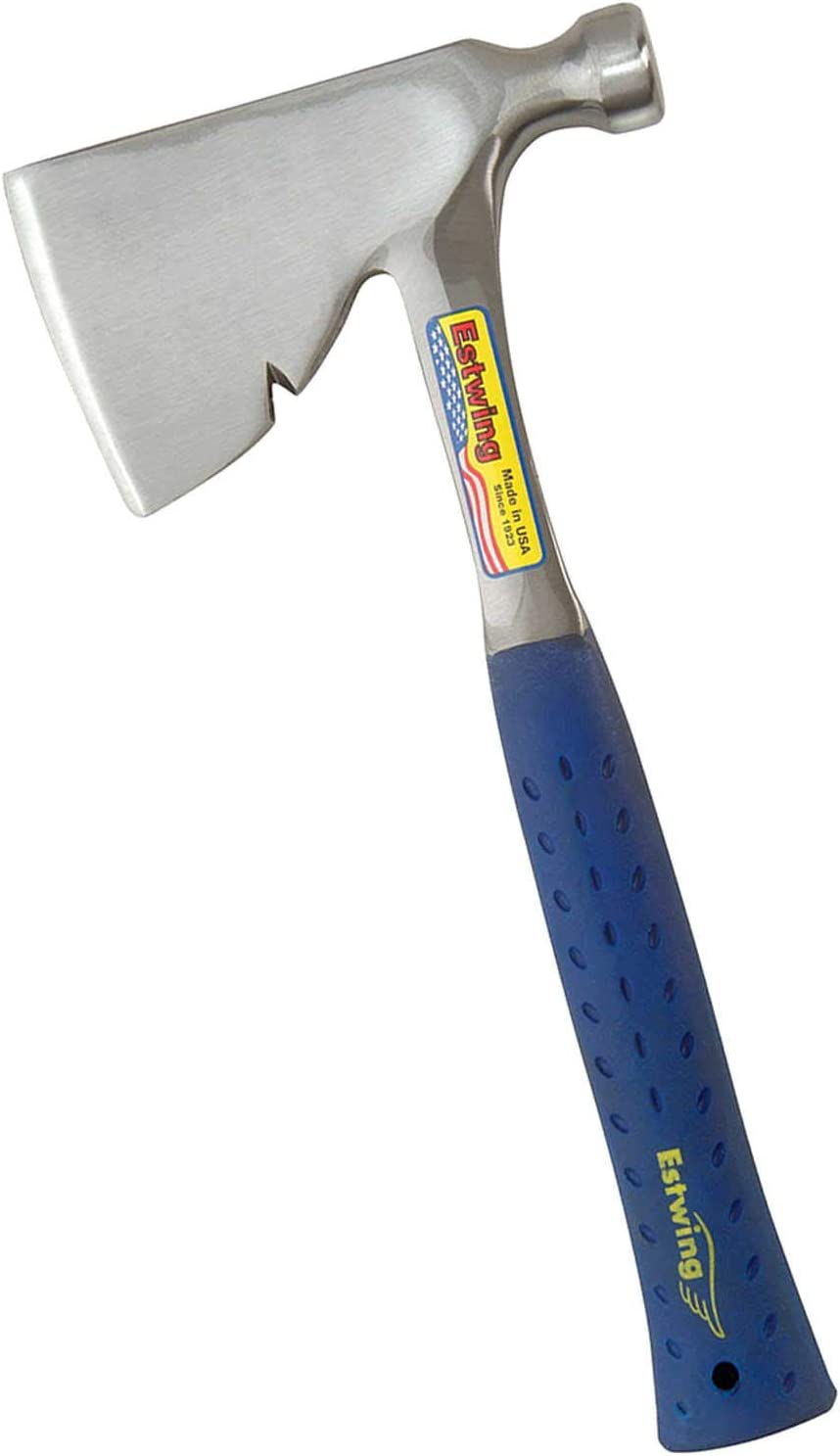 Pros
Full tang construction with a shock-absorbing handle
Alloy steel blade
Made in the USA
Affordable
Cons
The shorter length and light overall weight make it most suitable for finer wood shaping tasks.
When using the hammer side, care must be taken to avoid hitting yourself with the blade.
If you like real versatility, then the Estwing Carpenters Hatchet is great for fine hewing tasks. I like that there is a solid hammer on the opposite side of the axe head. My husband and I have owned quite a few Estwing tools over the years, and we have found that they are outstanding for the price you pay. The shock-absorbing handle means you can keep at tasks without ruining your hands and wrists for several days afterward.
This hatchet is made of alloy steel which is stronger than most stainless. It will hold an edge well.
I recommend the Estwing to those who want a small hewing axe for carpentry and fine hewing tasks or a versatile hatchet for backwoods camping.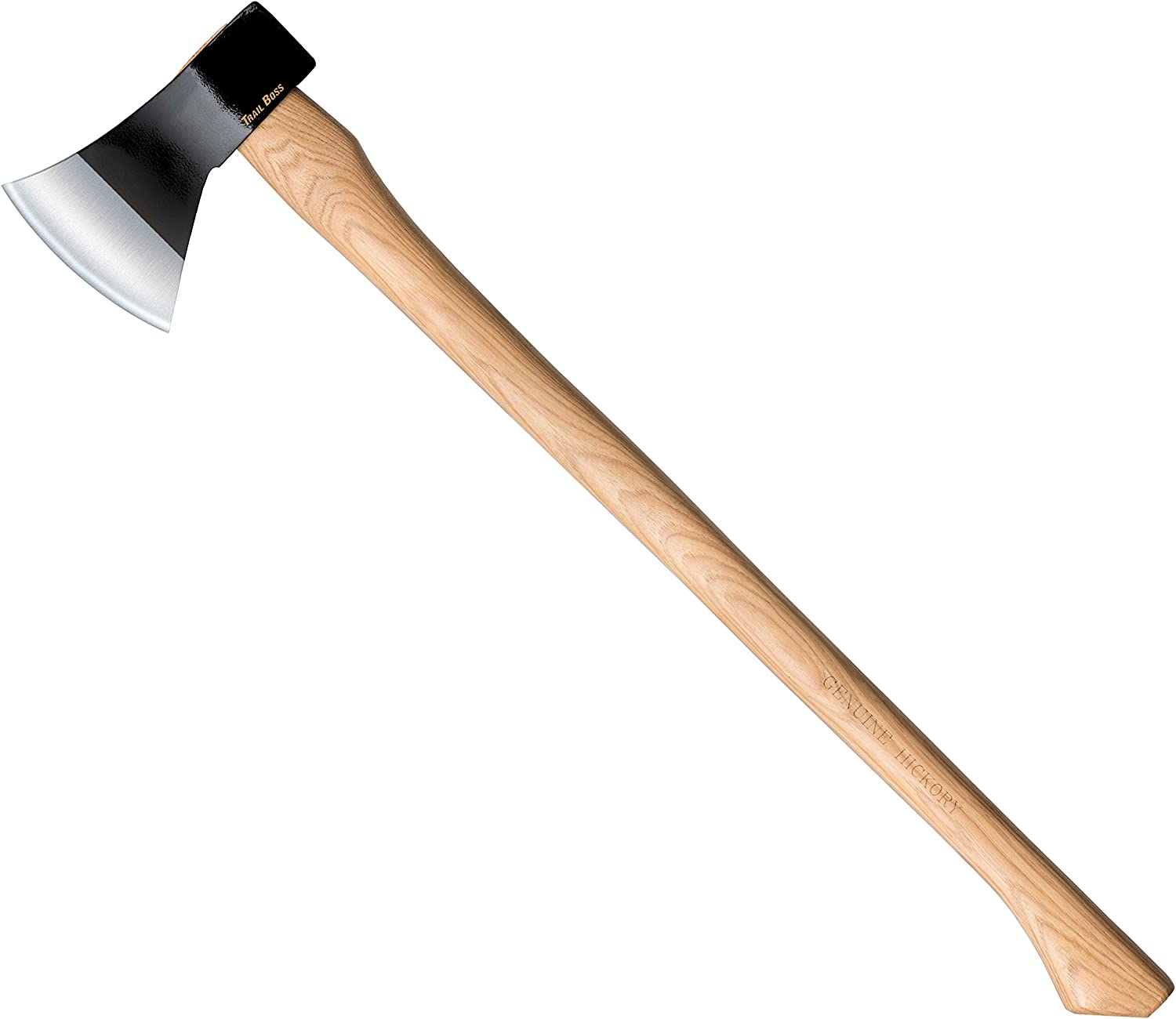 Pros
Affordable all-purpose hewing axe
Cold Steel's legendary quality and craftsmanship
27″ overall length offers more reach than many hewing axes
Cons
Only suitable for larger hewing tasks like cutting down trees, limbing, or shaping logs for buildings
The Trail Boss is an excellent longer-handled hewing axe for felling medium-sized trees. It can be used to clear trails of smaller trees and build rugged shelters. Cold Steel is a well-known name it the world of quality blades.
With each swing, the 4.5″ cutting blade takes a big bite out of wood. The Trail Boss is a great larger hewing axe for those on a budget. Although it is longer than some, it is still lightweight and small enough to be packed into a location. The hefty axe head will make splitting firewood easier too.
FAQs
Question: How often do I need to sharpen my hewing axe?
Answer: How often you need to sharpen your hewing axe depends on how often you use your axe, the type of wood you are working with, and the metal composition of your axe head. High-carbon steel heads need to be sharpened more often because the metal is softer and it dulls more quickly, but it also sharpens most easily. Stainless steel holds an edge the longest, so you should be able to go longer between sharpening. Remember to use a diamond sharpening puck or stone for stainless steel.
In my experience, tools like axes are often shipped or sold in stores in a fairly dull state. This is for safety reasons. You don't want someone to immediately cut themselves when they are looking at their new axe. I recommend testing your axe for sharpness before first use and sharpening it for best results.
Question: What weight axe head should I get?
Answer: The axe head is where most of the weight is on any axe. The more weight, the more force is applied with each chop. At the same time, there is some physical ability involved. If you cannot accurately swing an axe because it feels too heavy, then your cuts will be imprecise. If you are unsure that you can handle a heavier head, it is best to go with a moderate weight range.
Also, remember that the longer the handle, the heavier the head you can likely handle. Swinging an axe with a 3.5 lb head that has a 34″ handle is easier than using one that has a much shorter handle and the same size head.
Question: Why do hewing axes vary so much in price?
Answer: Like so many tools, what looks similar on the surface is not when you start analyzing manufacturing methods and the quality of the materials. Less expensive hewing axes are made in factories using machines and mass production techniques. The type of metal and other materials used influence the price even further. More expensive hewing axes may be a unique design from a knifemaker, use very high-quality materials, or even be forged and assembled entirely by hand.
The good news is that you can get a reliable hewing axe that is mass manufactured if you shop carefully, so if you are on a budget or unsure just how much you will use your axe, there is no need to feel that you have to spend top dollar to get something that will perform well for you. At the same time, do not expect to get a hewing axe for next to nothing. $50 at the time of writing for a small hewing axe or hatchet is about the least you can pay.
Question: How do I maintain my hewing axe?
Answer: Hewing axes should always be stored in a dry and secure location. A sheath or blade guard for the head is highly recommended for safety when your axe is not in use or being transported. High-carbon steels are prone to rust, so oiling your blade before storing is recommended.
If your handle is made of wood and lacquered then it should be resistant to water and moisture. Some Hickory handles are treated with oil and may need to be retreated occasionally to keep the wood protected and sealed.
Conclusion: Finding the Right Hewing Axe
A hewing axe is a great tool to have if you want to carve wood. Choosing a quality hewing axe now and taking good care of it will likely mean that your axe will last a lifetime. If you really find that you are doing a lot of wood shaping, you might find that you like to have hewing axes in various handle lengths and blade shapes.
Experimenting with different shapes may make you change your mind about what shape you prefer for general use. No matter what axe you choose, always make sure to care for it well.