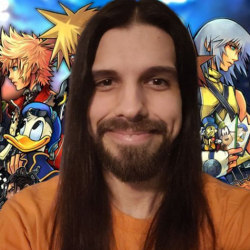 Latest posts by Trevor Abbott
(see all)
Elmwood is widely available in the current market, and you will be content with a modest price for this aesthetically pleasing and popular option. It's softer for hardwood but still gets the job done in many woodworking contexts.
However, you must know where to buy elm lumber to start working with it. There are some suitable options that I will be discussing with you here!

There are many species of elms around the world, and they have been threatened by disease with no defenses against it. There is still a sufficient amount of elms, and each piece of lumber will be different, having lived a remarkable life to develop grain patterns that make each cut an individual.
Obtaining elm wood lumber is not tricky, and you won't have to break the bank to buy in bulk. Elm wood can be used for mass production in business or as a crafting material individual shops. It's not a dream come true in woodworking or considered a high-end material, but it has many practical and creative uses. 
Elm is a workable hardwood species that is suitable for most indoor applications, but there are certainly some weaknesses you need to be aware of before buying. I'm here to simplify the shopping process by giving you reliable online and offline options to consider as a novice or expert crafter!
Think of these as resources for your future woodworking endeavors! Delivery will come in handy if you're a woodshop hermit, but you can also enjoy browsing selections at various physical locations.
Bottom Line Up Front
There are many excellent places to purchase elmwood online and in person. Either way, you'll obtain a versatile and beautiful species to enjoy. It is widely available and stands out with a mesmerizing grain pattern.
Elmwood contains solid yet lightweight properties suitable for woodworking or purchasing products like boxes, crates, firewood, or pulp for paper. The wood is moderately priced, and you can usually get discounts in bulk. It's accessible for purchase in the current market and has many exciting uses!
The Perks Of Purchasing Elm Wood Online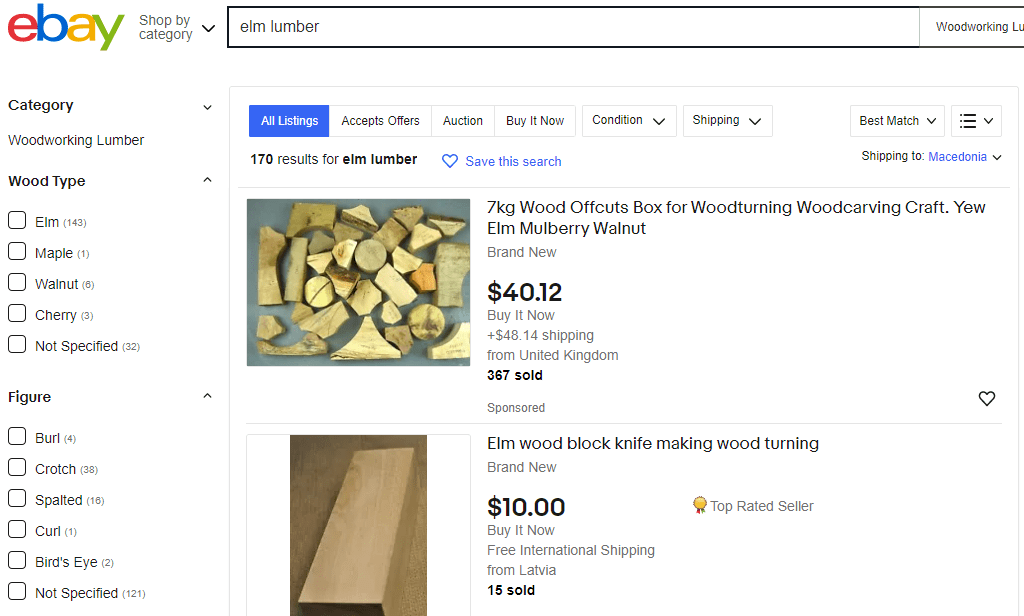 It's Convenient & Easy To Surf through Sites
There was a time when you had to chop down a tree to salvage your wood, cutting it into lumber. Let's be thankful those days are over, but it's still fun to get that experience to appreciate the perks of our modern time.
There is a higher enthusiasm for woodworking today with more precise creative possibilities. The best part is you can get all the equipment and materials from the comfort of your home.
The sheer amount of sites to obtain vast quantities of common or rare lumber is highly encouraging for the novice. You won't be stuck with a wood that's difficult to work with because anything is within your grasp for practice or the real deal.
The convenience of shopping online is often taken for granted, and it might be daunting not knowing where to look at first.

I'm looking forward to showing you some great sites with elm wood lumber available for purchase. There are always new places to discover when buying lumber, some of which are unexpected.
Efficiency is the key when surfing the web for some stellar lumber deals, and buying in bulk usually gets you a hefty discount. Most prefer to buy lumber online because you don't have to carry it, but elm wood is lightweight.
There is a Wide Variety of Lumber Online
With over thirty species of elm wood, it helps to have more variety when hunting for excellent materials online. Elmwood shines in this area, and you will be more likely to discover some unique types of elmwood that can make your project stand out.
Elms can be found around North America and Western Europe, though they have drastically declined because of the aggressive dutch elm disease. Their numbers are still healthy, and lumber prices are still moderate.

You will most likely have access to a wider variety of elm species if you try the internet first. Online you can purchase wood from another country, and it's more reliable in some cases.
Working with elm wood lumber is more rewarding when you have more options. There is usually more to choose from when you do an internet search. Still, it's vital to assess their business practices and look for an emphasis on sustainability and lumber quality.
Saves Time & Energy
Shopping online is probably your best solution if you're not a fan of standing or walking while carrying heavy wood. You might have an impossible schedule that won't allow for a lengthy browsing session at your local hardware store.
Purchasing wood from a store might end up with you spending more time than anticipated and even more money with the threat of impulsive buying.
You indeed have more control over the shopping experience when behind a computer screen. The atmosphere is more organized, and you're more likely to be relaxed when shopping instead of dealing with unnecessary distractions and obstacles.
If you're taking on a project with elm wood, you probably have enough labor cut out for you already. It's easier to have the elmwood lumber delivered to your door in a convenient package.

Online vendors can help lessen the preparatory burdens of obtaining materials and tools. Sometimes you might visit a shop to discover they don't have the suitable wood in stock.
Then you must go to other stores until it's available, which can waste gas and time. Shopping online will immediately inform you if lumber is available for purchase. Time & energy add up to significant savings over time.

The Perks Of Purchasing Elm Wood In Person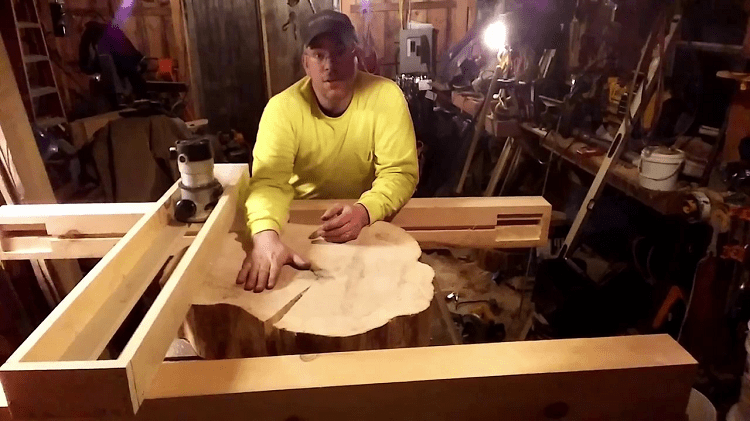 Get the First-hand Impression Of Any Elmwood
Many traditionalists in woodworking believe in seeing the lumber before purchasing. You also might find this the ideal route because it has some benefits.
To professional woodworkers, the final product should be crafted with wood material grown and harvested with integrity. Regarding online purchases, there is a specific element of risk that you shouldn't ignore.
Buying a particular cut of elm wood is similar to picking out a pet with an individual personality. You might immediately connect with a grain pattern that appears bolder and more intricate than the rest. Appreciating the selection is easier when it's more tangible and inviting.
In the words of Bob Ross, "Talk to the tree, make friends with it." This could be the same when selecting in person. It's much more special to meet your elmwood lumber face to face and deliberate between options.
You can invest in something tangible for your senses, which is advantageous. For some, it's more satisfying to take the traditional route, but you should clear a good chunk of time before choosing this option and consider the scope of your project.
Shopping in person can help to reduce anxiety and risk factors because the quality is easily observable and reassuring. 
Enjoy In-Store Discounts & Membership Options
If you're a loyal customer of an establishment, then they might have a rewards program that can get you some immense savings for future woodworking needs.
The cost of materials will depend on how far you wish to take your hobby. Or if you're a professional, then having a discount for your shop is always ideal. Remember that most in-person shops also have an online presence, and you can often find more items to be shipped alternatively.

Some companies are exclusively online lumber shops, and they may be entirely necessary when searching for rarer and exotic woods. The general rule of thumb is that the more you buy, the more you save, which is valid for online and offline shopping.
A unique way to capitalize is through shop closures. It's a solemn topic when a store closes, but they will most likely have higher discounts for lumber and other wooden products.
Being a member can give you more exclusive offers, so take advantage of any available programs if you plan on doing long-term business there.
You can shift your lumber shopping strategy anytime, and much of it boils down to preference. Sometimes you can find online coupons to use at the store as a dual approach.
May Discover Other Woods To Compare
The fun part about visiting a physical location to buy lumber is that you can witness the features of other hardwoods that can potentially serve as an alternative to elmwood. It's like a field trip each time you visit the store because there are countless options to weigh.
Most places have an organized section where you can examine the wood and get details about its properties. It's like a more proactive internet with a classic value that the web can't replace.
The smell of the lumber section is revitalizing and inspiring to get off to a productive start! It puts you in the mood to do woodwork and is educational. Before purchasing anything, you can see how elm wood looks and feels compared to other hardwoods.
One of the things you will notice immediately is that elm wood isn't that heavy compared to others in its category. Distinguishing the differences between elm woods and other species will help you gain perspective and inspire you to try different options when you finally finish that project!
Common Alternatives To Elmwood
Oak

Walnut

Rosewood

Maple

Ash

Hickory
Sites To Buy Elm Wood Online
Grimes Hardwoods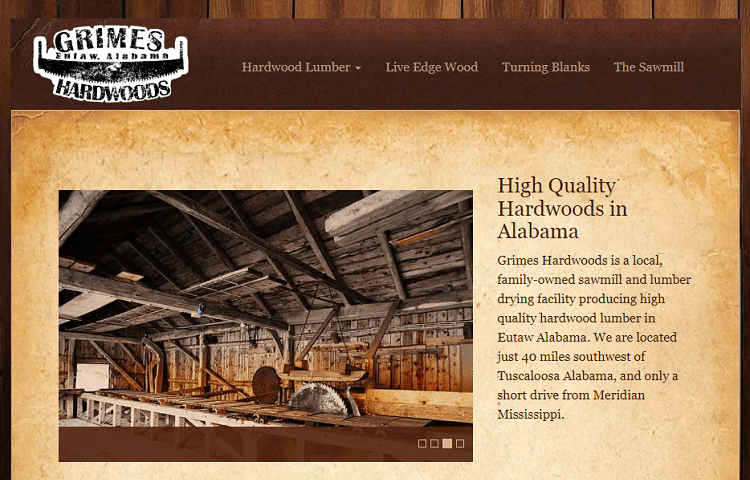 Grimes Hardwoods is an online company where you can get elm wood lumber cuts to meet your needs. They provide information about the properties of elm wood and help you make the right decision. They currently offer the six species that are found in the United States.
You can place a custom order through their website, and it's a simplistic process. Sound lumber is sold here, and it's encouraging they have elm wood.
It's easy to obtain elm wood here, and they have an impressive selection of other species to browse through. This is a dependable site with other options like live edge boards and turning blanks.
The sawmill they implement is legendary and uncompromising, with impeccable precision for each cut. They take pride in continuity across all lumber, and you will benefit from finding some distinguished elm wood here.
The quality can be felt because they have considered the finer details, like cutting larger boards to compensate for drying, so you get the full size.
This is something that some lower-grade lumber shops could overlook. Grimes Hardwoods operates under a sophisticated sawing process that fine-tunes everything perfectly. They professionally dry each piece with a dehumidification kiln, and conveniently offer surfaced materials.
West Wind Hardwood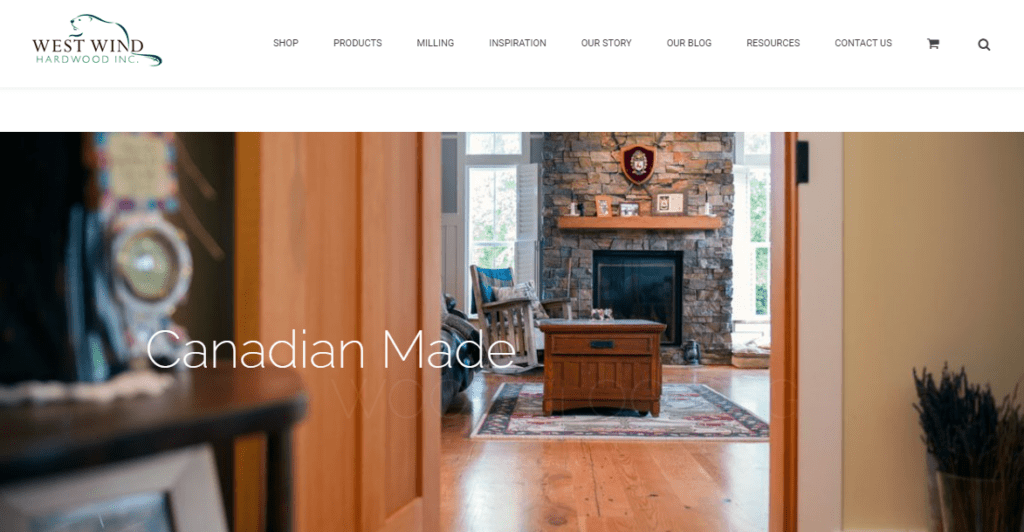 West Wind Hardwood is a company that injects value into each woodcut and gives you the materials needed to thrive. They carry raw lumber and other products on their website, and the various options entice all levels of skill.
Here you can find live edge elm slabs that can be used for multiple projects. This shop encompasses more than just Elm lumber with an incredible selection of standard and exotic woods.
It's an excellent shop for serious woodworkers looking for a more comprehensive selection with dependable quality. They have red and grey elm slabs for sale that are top-notch and worth your time. Don't forget to check out everything else they offer because it's an enriching selection.
We previously discussed memberships in an offline context, but West Wind Hardwood has an online membership program that can give you even more savings.
Choose between live edge or rough slabs with varying degrees of thickness. Elm can be found here, and it gives a distinct quality among other hardwoods with noticeably distinct grain features.
The site provides you with accurate scientific information about the elm species and gives the exact product weight, so you aren't surprised.
Cook Lumber Company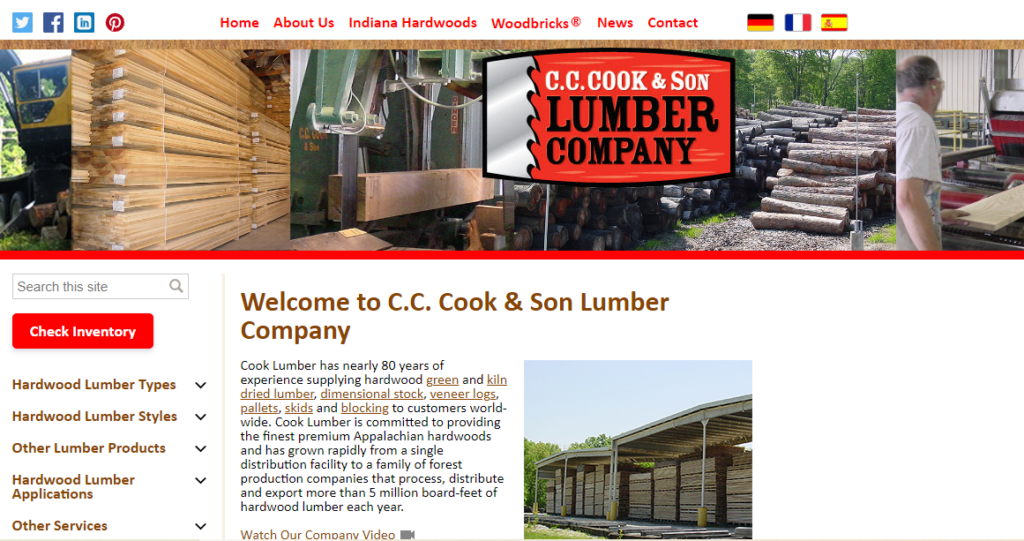 Cook Lumber Company has many hardwood lumber types that keep you satiated when searching. Of course, they have elm wood in stock with two species available, grey and red elm. Red elm is a great sturdy option and has a beautiful reddish-brown color with the heartwood.
Sapwood is lighter brown or white. Cook Lumber caters to minor or moderate red elm lumber needs. If you're looking for more significant quantities, then they might not be able to accommodate you.
This company has experience providing elm wood to other companies that need it for different purposes. However, you can quickly contact them and get some for personal use. Another species of elm wood lumber they have is the grey type.
The grey elm is much softer and lighter than the red elm, with different properties that affect how it behaves in the shop. For instance, it might wool up if you aren't using incredibly sharp and reliable tools.
They are highly informative on their website and affordable when purchasing red or grey elm wood lumber. Another notable feature of this site is you can get a multitude of lumber styles that have been specially treated according to your needs.
Enjoy features like expert finishing, kiln-dried, rough, and surfaced lumber options available with your taste in mind.
Rex Lumber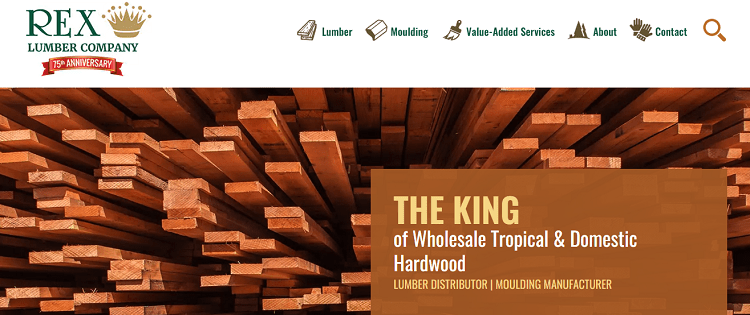 Rex Lumber is an excellent place to buy wholesale lumber for a discounted price. This is incredibly useful if you're a business seeking to tackle a large project like getting new elmwood cabinets in multiple office spaces.
Rex Lumber has red and grey elm species that make suitable materials for your projects. They provide all the details about any piece of lumber, so you know what to expect.
You will learn about this wood's distribution and different uses when shopping along with its specific properties. This is relevant information that can help you gain a better understanding of elm. Red Elm is another viable species with a heavier quality than grey and can yield some sturdy results.
They're constantly switching stock, and currently, this one is out, but you can expect them to restock on elmwood in the future.
These viable domestic hardwoods will work well for you, but sharper tools are stressed to prevent complications.
In some cases with online shops, you might find that commercial quantities are limited. If this happens, it's not the end of the world, but you will need to expand your search. That's why you must have some backup sites, and elm wood will always be accessible to purchase with the click of a mouse.
Woodworkers Source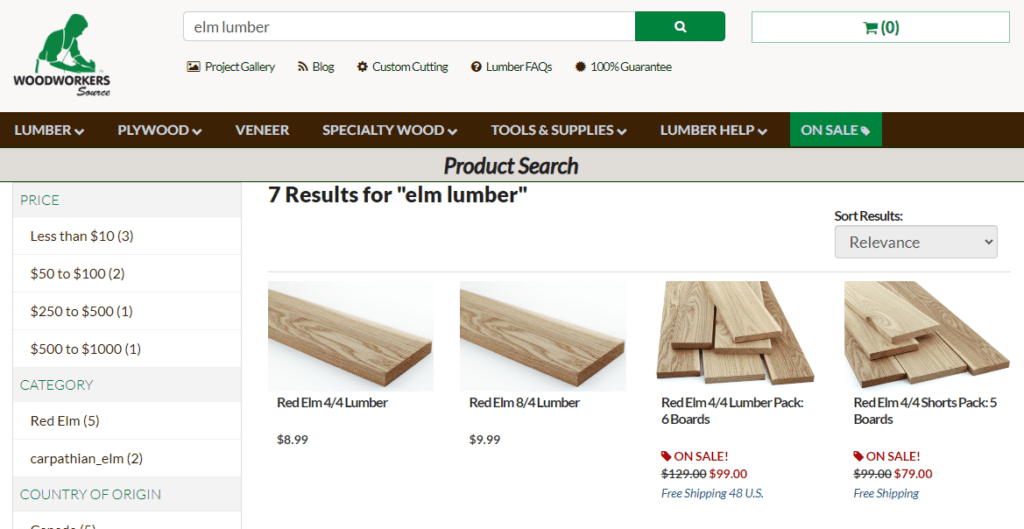 This is one of the most reliable hot spots to obtain some elm wood lumber and many other species. They carry both red and Carpathian elm types.
I observed they are currently running a sale, so that demonstrates they care about giving you increased savings. They offer you the opportunity to purchase a red elm hardwood sample so you can see if buying in bulk is desirable.
This gives you a chance to work with the wood they offer without committing to a significant investment. Wood sampling is highly suggested when working with online vendors if available. If they don't have the option online, then it's worth it to inquire and obtain a sample for reference.
Etsy, Amazon, & eBay Are Viable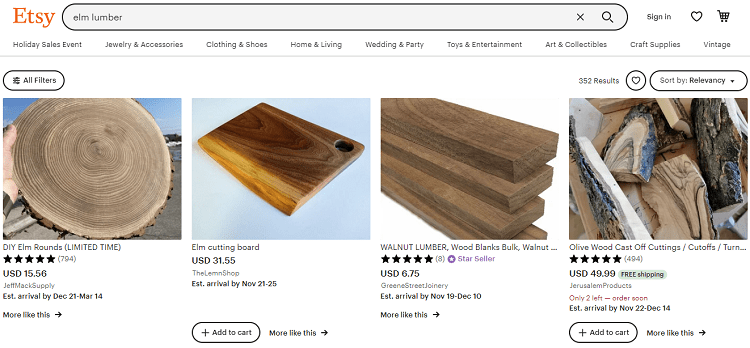 If all else fails, you can search Etsy to discover a surprisingly satisfying selection of elm lumber that will work well with your projects.
It's relatively affordable, and you can find some combo packs to get more for your money. Etsy has a variety of lumber to search for if you're curious while shopping. You'll find there is always more to discover in hardwoods.
You can find live edge elm slabs on Etsy and unique cuts that will give you artistic options for getting creative. Additionally, there are many products to buy made of elm wood that are worth checking out. Amazon also has an affordable selection of elm wood lumber, and it's easy to find an assortment pack for trying various types.
There are different-sized cuts on Amazon, and it might be slightly challenging to search here compared to an online lumber shop, especially if you need customization.
You can find both heartwood and sapwood on Amazon; the quality is good. Not only that, but you can determine the integrity of a product through videos, pictures, and customer reviews.
eBay is another place to find potentially cheaper used pieces of elm wood lumber, but it would probably be my last-ditch effort.
You will surely find some elm wood from these alternative shops. Even if they don't specialize in wood, they have some convenient options that could save you money. Sometimes you can get lumber for free online and that's a benefit the shops will never have.

Best Places To Buy Elm In Person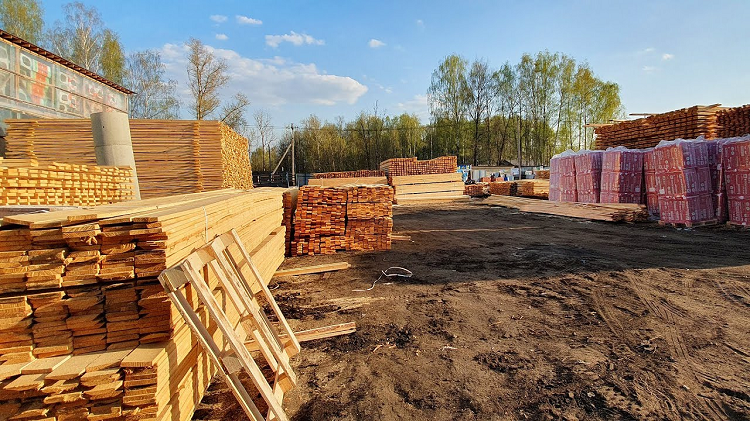 Observe Your Local Lumberyard Or Sawmill
If you have a local lumberyard or sawmill, I suggest you check it out and see what they offer. Some may not have elm wood, but they likely will. You can get some fresh lumber from them without waiting a week to be delivered.
This is a no-nonsense way of shopping where you can get professionally crafted lumber that will suit your needs. Elmwood is tough but must be handled indoors because it lacks durability and cannot resist the elements. These are the types of details you'll learn when visiting the lumberyard.
You can discover them online, but with woodworking, I believe it's better to be proactive and get the experience of watching the process. You can see the wood being cut first-hand; they might even let you practice and give some valuable insight into working with it.
Their saws are incredibly sharp and efficient so that each cut will be precise and meticulously prepared for you. If you're always in the shop, it's good to get some fresh air in the yard and enjoy the outdoors.
A Hardware Or Home Improvement Store
Places like Home Depot, Lowes, Ace Hardware, and True Value can give you great results when searching for elm lumber.
They operate with consideration and organization, so you can have a better selection with great bargains. Menards is another example of a store that will help you with home improvement when looking for a specific material.
It's an excellent place to start if you want to replace your cabinets or craft some elm wood furniture from scratch.
They have many other enhancing products to get a good finish and even repair existing wooden structures that need extra help. These stores are reliable for finding high-quality elm wood that will keep you coming back for more.
You can sometimes make this shopping experience more manageable by searching on their website and having them prepare an order for pickup. If you're feeling confused online, you're not alone, and looking in person might be easier for some.
They can also elucidate subtleties behind the installation, preservation, and repair of specific species like elm wood and many more!
Woodcraft Specialty Stores
You can find elmwood lumber and many intricate items in woodcraft specialty stores. They usually offer specialty options if you need a custom cut or other work done. These are shops that operate with a high level of precision and provide a wide array of products.
They know the complex needs of their customers and each project requires something different. It's a good option if you want to discuss the fine-tuning of furniture or exquisitely designed cabinetry forged from elm wood.

These are a great hotspot to pick up some quick materials, and you're bound to discover some elm wood lumber.
Another benefit to shopping here is finding much-needed tools to get the job done. When you shop with a company that emphasizes and prioritizes woodworking, the process tends to sand smoother. They understand the importance of your craft, and you can learn new details about elm wood and its properties.
Reclamation Yards
Reclamation yards are a source of lumber that is sometimes overlooked. However, now you are informed and can look into it! Here you will discover many used items for sale, and it's a safe bet they will have some lumber.
This is a chance to score some cheaper wood if you're on a budget and searching for an opportunity to save. Reclamation yards are seen as a gamble because you never know what will be in stock that day.
That being said, it's possible to find some elm wood lumber in the mix if you're fortunate. Think of it like a treasure yard full of possibilities that can encourage project spontaneity. If you are in desperate need of elm lumber in large quantities with continuity, then you should search elsewhere.
This is a fun option that can yield fruitful results with a diligent search. You can find unique items and lumber that add extra character to your project.
Pros Of Buying Elm Wood 
It's moderately priced

It's widely available

Elmwood is fantastic for absorbing shock

An extremely versatile material

Lightweight and soft

It has a pleasant appearance
Cons Of Buying Elm Wood
It doesn't have insect resistance

susceptible to rot

Interlocking grains can be difficult

It would help if you had very sharp tools

It isn't easy to split

It has an odor that can make it hard to work with
Frequently Asked Questions
Question: Is Elm Wood Better to Obtain Online or in Person?
Answer: This answer depends on your preference. If you enjoy the feeling of not lifting a finger to get your materials over certainty they'll be adequate, then ordering online is the right way.
However, if you enjoy actively examining wood and want more confidence in the final purchase, consider shopping in person at any of the resources. It can be rewarding to get out of the house and explore the wood section overall.
Question: Is Elm Wood Resistant to Rot and Insect Attack?
Answer: Elmwood is particularly vulnerable to insect attacks and wood rot. It isn't very durable when handling wet climates and can easily be damaged over time.
Because of this, it's used a lot for indoor furniture and other objects. Elm is unreliable for building piers or fences but lasts in dryer conditions. The key to using elm wood is to craft the appropriate product.
Question: Does Elmwood have Enduring Shock Resistance?
Answer: Elmwood is known for having immense resistance to shock with higher absorption than other species. It is commonly used in items like hockey sticks or bats because they're always in contact with something.
One of the most common items forged with elm wood is hilts because you need something to absorb the shock and provide excellent stability. This is also the case for elmwood tool hilts, not just bladed weapons.
Question: Is Elm Wood Easy to Work With?
Answer: Elmwood is decent to work with, but the occasional interlocking grain patterns can be challenging for even experienced woodworkers. This isn't always the case; the wood behaves when working with hand or machine tools.
The lower density of elm wood makes it workable but beware of the interlocking grains because they are sometimes problematic. This density can vary between elmwood species.
Conclusion: Elm Wood Is Easy To Obtain, Affordable & Worth Trying Out!
Elmwood took a big hit due to disease, so it might not be available in all stores, even though it's generally accessible. You shouldn't have any problem obtaining some elm wood lumber at an affordable price, but it won't be dirt cheap.
This highly versatile wood can craft all sorts of things like hilts, furniture, hockey sticks, and cabinets. Because of their exceptional lightweight properties, they are used to craft industrial crates and boxes for storage.
It is a popular choice because it will save money and get the job done in dry conditions. However, it's not the right type if you plan on using outdoor furniture. Ignoring the specific properties of elm wood will result in rot and insect infestation over time because it's not durable against those threats.
Elmwood is great when you buy it in person because you can study it more closely and make a more accurate decision. Always search for the best deals no matter where you decide to look!