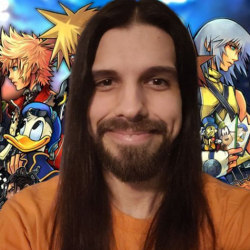 Latest posts by Trevor Abbott
(see all)
Owning a chainsaw involves specific responsibilities to ensure that it works properly and safely for your woodworking projects. One of the essential replacements you'll need as a chainsaw owner includes a replacement chain. Just like a car's tires, a chainsaw needs upkeep, and there are many products to choose from.
You'll notice that the chain will naturally lose its sharpness over time, resulting in more pressure on the lumber you are cutting. If your chainsaw starts to smoke despite being fully lubricated, it's most likely the chain that needs replacing.
I have researched to bring you some of the best 18-inch chains that will help you get the job done with more efficiency. It's never good to let it wear into oblivion, and diligence comes with the territory when buying a chainsaw. A dull chain naturally results from cutting through resistant wood all day.
Buying higher quality chains will give you maximum longevity for your model and increase performance. It can sharpen a dull chain if you're on a budget, but replacing it is more favorable to many.
Thankfully, there are many viable options. No chain will ever fit on every chainsaw, so it's essential to know your current model and what it requires. I'm excited to share a list of what I believe to be the best 18 inch chainsaw chains that are worth your time and money!
Bottom Line Up Front
Replacing the chain on a chainsaw is highly important for maintaining the longevity of your tool. If you choose a reputable brand, then the results will be better.
The brands listed here are worth exploring in more depth and include Oregon, O-Conn, KAKEI, SUNGATOR, WORKPRO, and Husqvarna. They all have options for 18-inch chains that work better than the rest and are crafted to last. These chains are some of the best on the market, and experienced professionals confidently back them up.
Selection Criteria
Durability & longevity for demanding projects

Budget-friendly options that won't saw through your wallet

Brand reliability & dependability

Versatile for professional or personal use

Received excellent reviews from professionals
My Best 18 Inch Chainsaw Chains Picks
Oregon 3-Pack S62 AdvanceCut Chainsaw Chains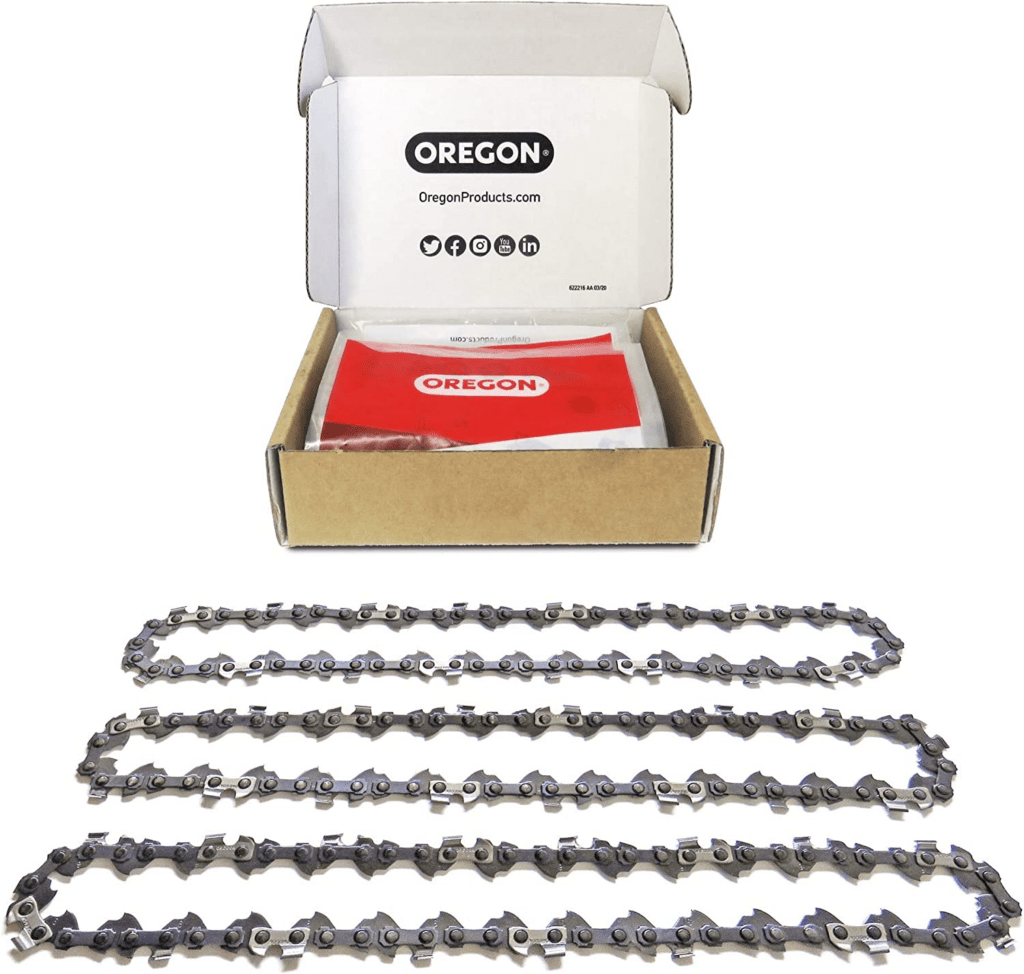 Oregon is a reputable brand, and the S62 AdvanceCut Chainsaw Chains are proof of their reliability in the field. One of the difficulties behind operating a chainsaw is user fatigue. The type of chain you use impacts how often you take breaks between cuts. For large-scale operations, efficiency is essential, and these chains feature reduced vibration to enable prolonged work sessions.
This chain has low kickback and is durable for sawing through the toughest challenges. It can fit a variety of models that have an 18-inch bar. The Oregon AdvanceCut chain is heat-treated with semi-chisel cuts that give you a smoother result with less resistance. It has a chrome layer with hardened rivets that allow for more precise cutting and increased resistance to wear and tear.
The need for adjustment is significantly reduced with this particular chain, and that's good news if you operate a chainsaw regularly.
One feature that stands out with this specific chain is the Lubri-tec automatic oiling mechanism that continually lubricates the chainsaw's critical components to ensure the greatest longevity, consistency, and overall performance. It's a more innovative option resulting in less downtime and pesky maintenance associated with lower-grade chains.
Pros
It's compatible with many chainsaws

It has an automatic lubrication system

The heat-tempered chain allows for increased longevity

Low kickback and reduced vibration to address operation fatigue
Cons
You may notice a difference in handling

It takes knowledge to install it properly

It can vary in price, depending on the vendor

Only fits specific chainsaw models
O-CONN 4 Pack 18 Inch Chainsaw Chain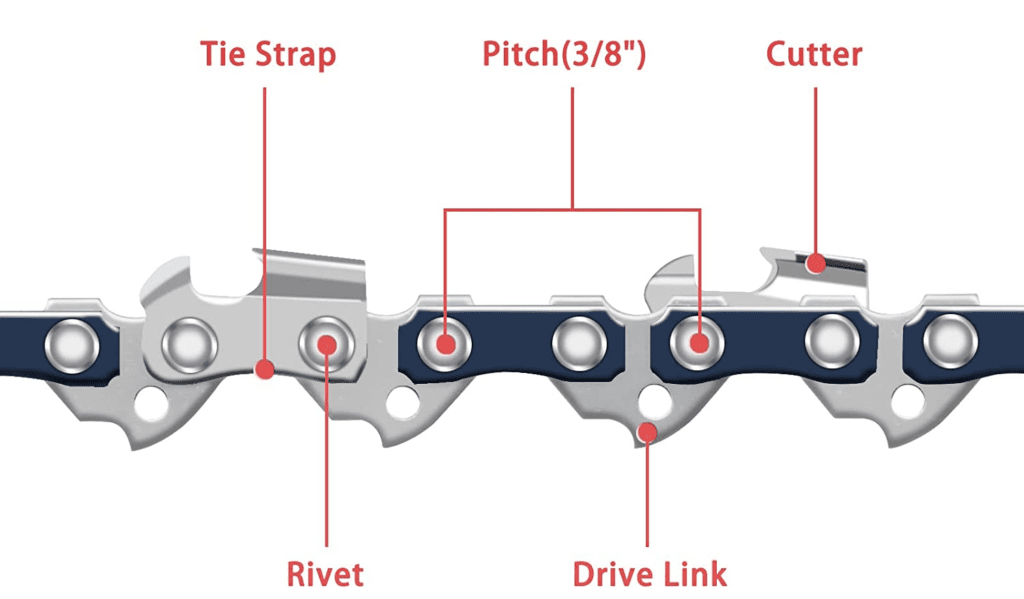 O-CONN is another chain brand compatible with most other brands with the proper specifications. The first feature worth noting is the increased durability required for lengthy projects requiring more out of your machine. The semi-chisel chain is made with extreme toughness to combat the hardened forces of nature.
Anti-fracture steel is incorporated to make it safer and more efficient while consistently attaining smooth cuts. It also has a hard chrome outer layer and hardened rivets to increase longevity. It's suitable for a long workday with a more reliable chain that resists natural degradation.
The hardened rivets are also advantageous because they strengthen the bond between chain links and increase strength. The O-CONN 18-inch chainsaw chain also has exceptional cutting performance with reduced vibration, so you can cut through logs without stopping for continual breaks. It allows you to be more consistent and reduce the chances of sloppy cutting.
Pros
It can fit most chainsaws like Craftsman & Remington, among others

Ergonomic and intuitive design for increased efficiency

It is very durable with a chrome outer layer

Hardened rivets for exceptional cutting performance
Cons
The chain will still become dull with harder wood

It doesn't fit every single chainsaw brand

A cheaper option compared to better chains

Depending on the job, it may become dull quicker than expected
KAKEI 18 Inch Chainsaw Chain 3 Pack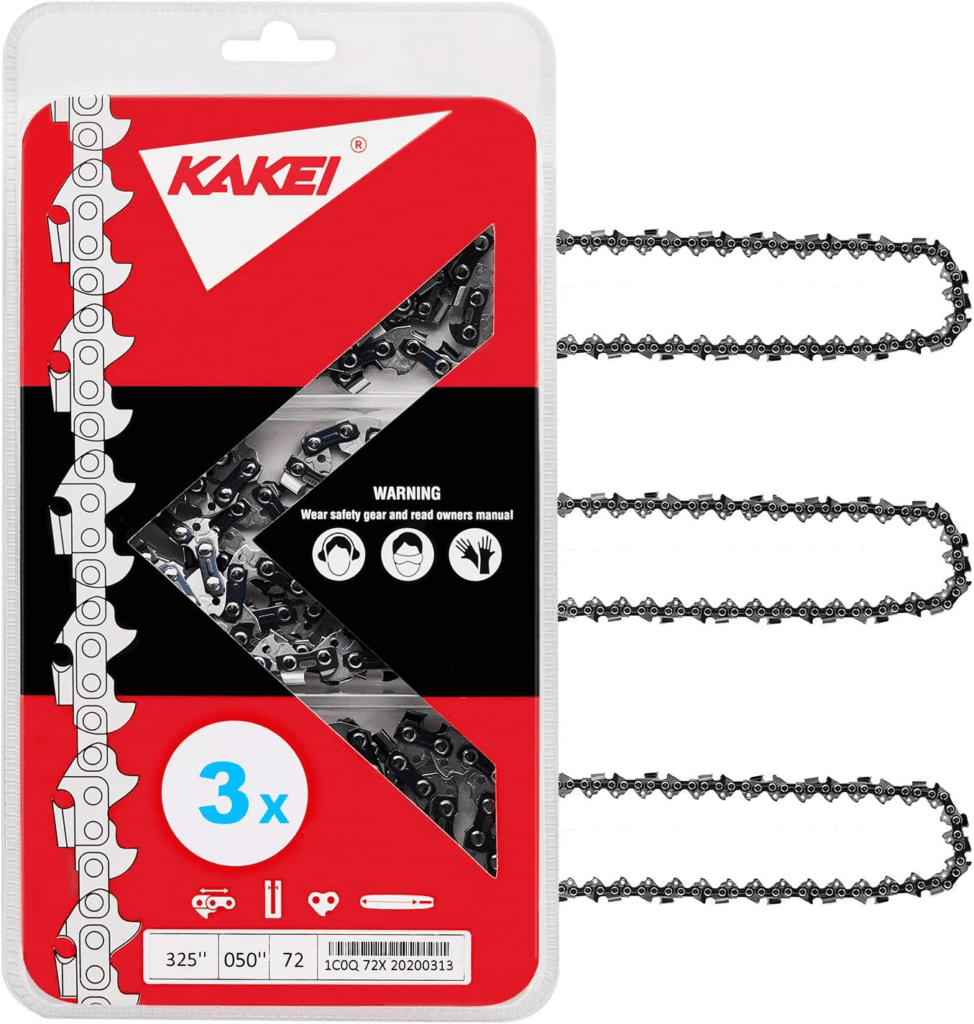 KAKEI is another brand that sells a reliable 18-inch chain with lower kickback and a semi-chisel design. It can fit various standard chainsaw brands and boasts high performance. This chain is forged with German steel and has been heated to increase strength.
There's a lot of friction when using a chainsaw, which naturally heats the chain, but this one has temperature control properties. It has a punching system to increase the toughness and has resistance to long woodcutting sessions.
The rivets are effectively hardened and quenched, which improves strength and gives you your money's worth. KAKEI crafts its chains with an intelligent design, making them more resistant to chain tension changes.
Chrome-plated innovations make this a better option than many others, making the chain more durable. They utilize advanced rotary machines to make them highly resistant and sharper than average. It has a protective oil that aids corrosion resistance throughout a long workday.
Pros
It fits multiple standard chainsaw brands

Heating temperature control

Addresses chain tension fluctuation

Protective oil to resist natural corrosion
Cons
It may not fit with every chainsaw

It might seize the motor on some models

Short-cutting teeth limits resharpening potential

It doesn't cut as fast as other higher-quality brands
SUNGATOR 3-Pack 18 Inch Chainsaw Chain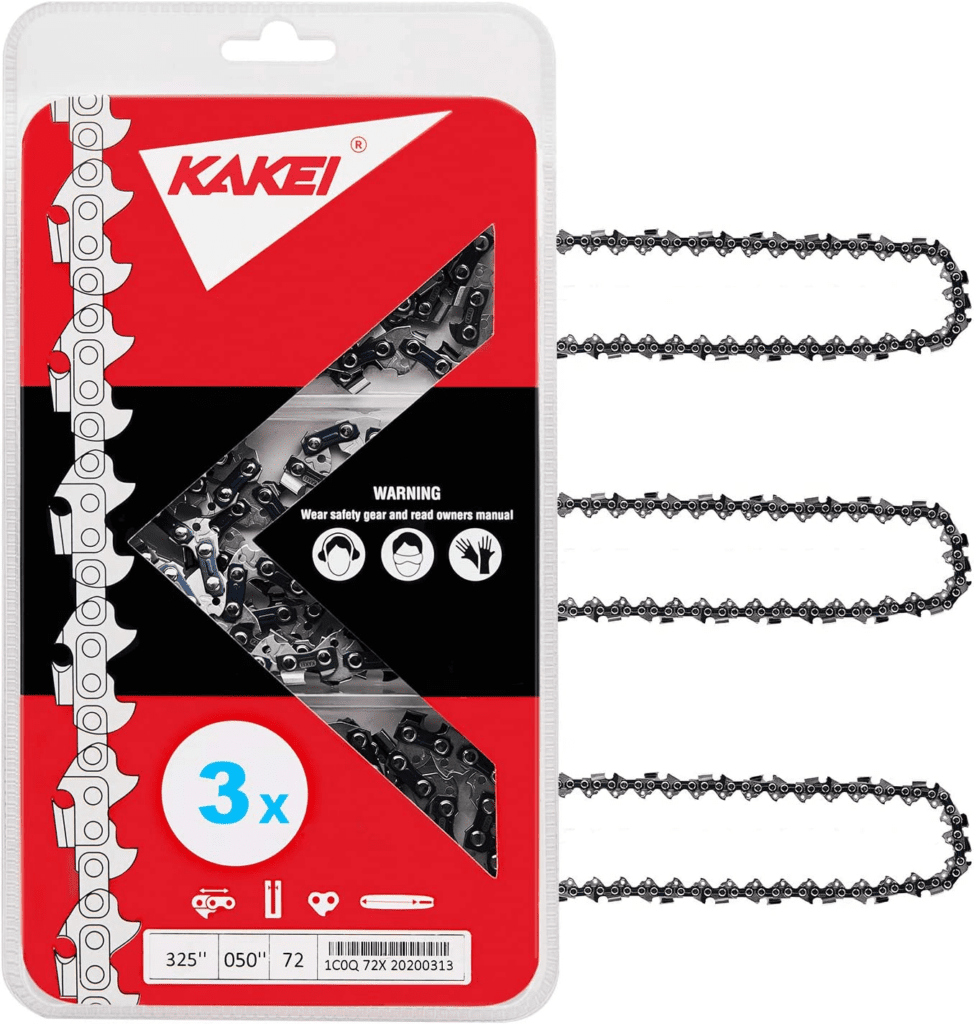 The SUNGATOR 18-inch chainsaw chain is an adequate replacement for many models on the market. It has been safety approved and lives up to the standards of the ANSI. This chain features a semi-chisel with exceptionally low kickback for a more straightforward job. It is made of high-quality materials, such as German steel, with a higher level of toughness.
The anti-fracture quality of this chain makes it ideal for extensive work needs, and you get more than one chain in a three-pack. There is a strong connection between the chain rivets with reinforced rivets that are heat-treated and quenched.
The surface of the chain is coated with a robust industrial chrome coating of the highest industry quality. This makes it highly resistant to the most demanding work conditions and gives you peace of mind.
Pros
Sturdy and reliable chain

Versatile replacement for most chainsaws

Made of high-quality materials

Heat-treated and quenched with a chrome coating
Cons
It might have some excessive vibration

It may not fit as advertised on some models

It could dull quicker under dry wood
WORKPRO 2-Pack 18 Inch Chainsaw Chain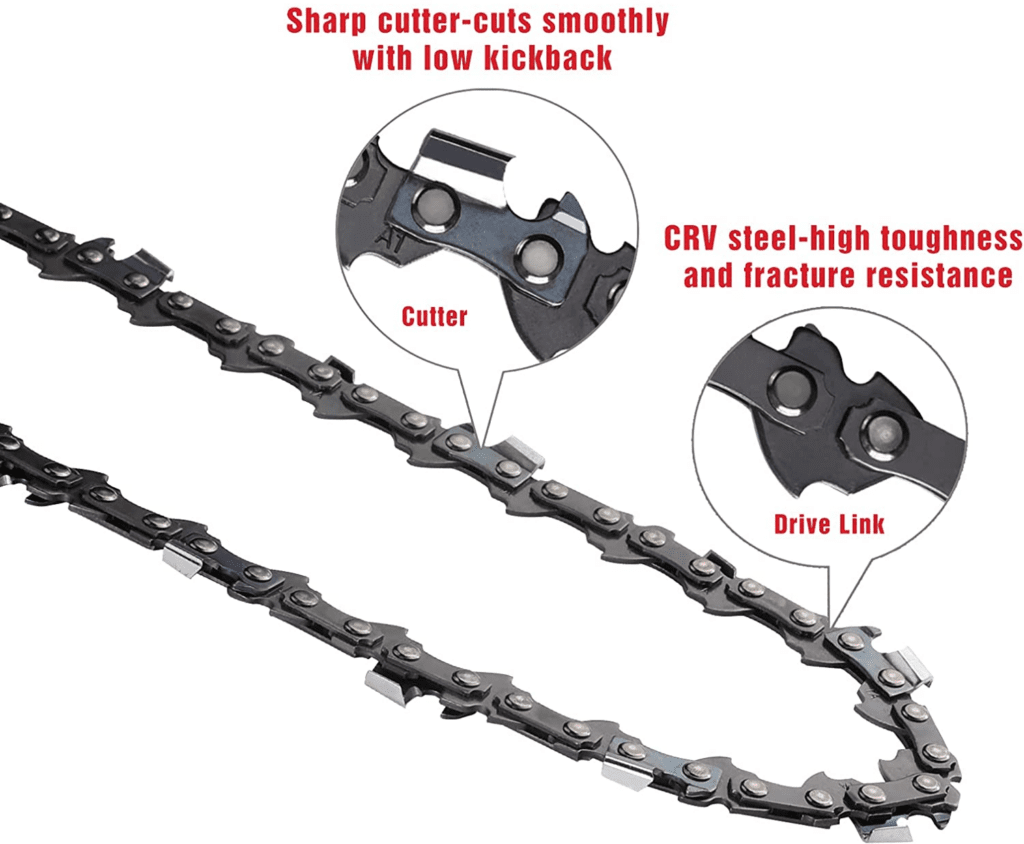 The WORKPRO 18-inch chainsaw chain is another option worth your investment in the current market. It has superb adaptability and can accommodate the most popular brands. No chain lasts forever, but this one has encouraging durability, high toughness, and fracture resistance, making it ideal for demanding situations involving drier or harder wood.
It is made of a unique material known as 68CRNIMO33 and also features chrome plating to complete the work efficiently. One of the more notable features of this chain is that it is a notably sharp cutter that makes it feel like you're cutting through butter.
It cuts incredibly smoothly with a low kickback, which is ideal for continuity. It's a good chain if you need to conduct light yardwork like felling damaged trees or garden needs.
Pros
Accessible to chainsaw novices

Highly adaptable and suits most chainsaw brands

Exceptional toughness and fracture resistant

It cuts sharp and is practical
Cons
It may not be suitable for extensive professional use

It might make the saw chatter when not cutting perpendicular to the grain

Lifespan is shorter than more prestigious brands
Oregon M72 SpeedCut Chainsaw Chain for 18-Inch Bar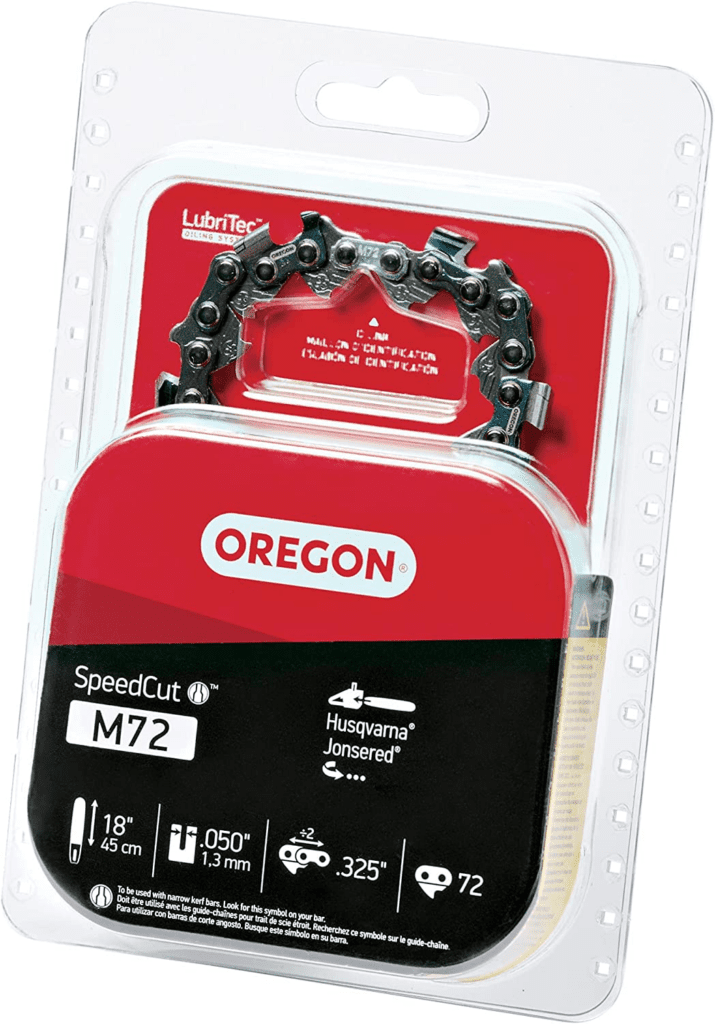 The Oregon M72 is a model that caters to arborists and property owners who need a reliable replacement across multiple chainsaw models. It will do the job with sharp efficiency and is professional-grade, so you know you're getting a good product. The first feature worth mentioning is the low vibration when operating with micro chisel cutters, which makes the job much easier.
This also makes maintenance more manageable, so you can spend more time working and less time repairing. The narrow kerf uses less power without sacrificing efficiency, and the final cut is smooth and precise. It also features an automatic oiling system that keeps the chain healthy for long periods. Low kickback is another perk of using this chain to cut through without hindrance.
Pros
Designed with professionals in mind

Gives outstanding performance with low kickback

Automatic oiling system to crucial components of the chainsaw

A limited lifetime warranty & made in the USA
Cons
It will not work correctly on specific models

It isn't very resilient against knotty wood

Not the best durability for harder woods, but it's efficient
Husqvarna 581643603 X-Cut SP33G 18″ Chainsaw Chain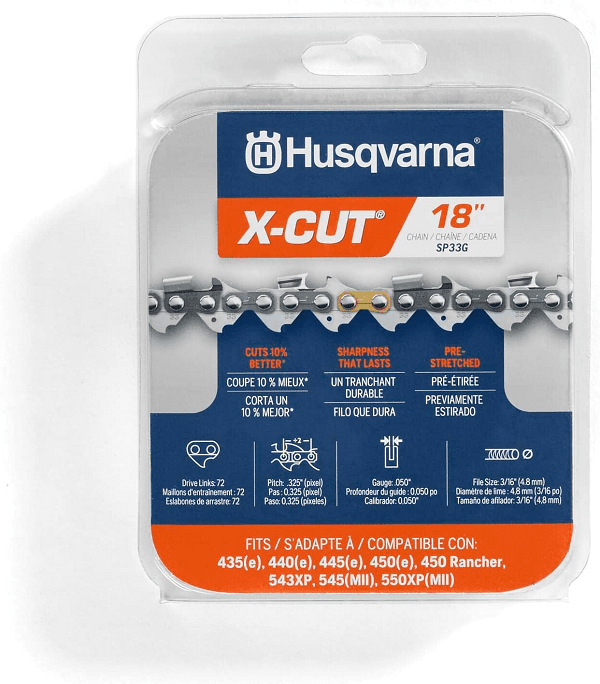 If you already own a Husqvarna chainsaw, the replacement 18-inch chains they offer are the wisest option. You can feel the difference when replacing it with a brand-new chain, and it's essential to know when it's time to change. The X-Cut chain is designed with both homeowners and professionals in mind, with outstanding quality and a design built with integrity.
The sharpness of this chain will last longer than you expect, so you don't have to sharpen it religiously to attain satisfactory results. This is a load off your shoulders because some chains might require sharpening after work.
With a balanced blend of high-quality materials, the X-Cut from Husqvarna is manufactured to meet your needs for the long term. They actively prestretch each chain at the factory, so you aren't plagued with making micro-adjustments.

Pros
Excellent for the Husqvarna chainsaw

Appropriate for light or heavy jobs

Affordable and reliable
Cons
It is restricted to one chainsaw and is risky to use on others

The chain is sharper than usual, so exercise caution

It could be difficult to install for some
Why A Chain Dulls Quickly
The reality is that no matter how good a chain is, it will grow dull over time. Certain factors will come into play regarding how fast this happens. Constant repetitive usage of a chain will inevitably cause it to become worn, and that's when you need to either sharpen or replace it with a brand-new chain.
I suggest you optimize your sharpening angles to get the most out of each round before it starts getting worn out. Another reason that might cause issues is cutting through dirty wood. If you need to cut through muddy wood, then expect your blades to suffer and need sharpening more often. Always ensure you're sharpening the chain correctly and not accidentally using dull files. 
Another variable is the type of wood you're sawing through because harder wood will be more stress on the chain. Finally, try to avoid touching the ground with the tip of the chainsaw. This happens by accident when cutting lumber closer to the soil, accelerating the wear and tear of any quality chain.
Frequently Asked Questions
Question: How do you Tell when a Chain Needs Replacing?
Answer: There are a few ways to tell when your chain needs to be replaced. First, the chainsaw might start to rattle when you are trying to make more precise cuts. Next, you'll notice that it takes more pressure as your chain ages.
Pay attention to the nature of the debris given off by your chainsaw. A new chain will create rough threads, but an aged chain will produce finer sawdust, similar to sanding.
Question: Why is the Chainsaw Pulling to One Side?
Answer: When the chainsaw pulls to one side, it indicates a dull chain. From here, you can sharpen it a few times before replacing it entirely. Sharpening the chain will remedy the problem, or you can buy a new one to solve the issue quickly.
Upon inspection of the chain, it needs to be replaced if you notice any missing teeth. Otherwise, you can sharpen dull teeth to increase longevity and save money.
Question: What are the Consequences of a Dull Chain?
Answer: The performance of your chainsaw will diminish with age, and it will get worse if you neglect to sharpen or replace it. One of the consequences includes increased power consumption and poor results.
Chainsaws are among the most dangerous tools, and a dull chain will increase the risks. Certain harder woods can dull the chain much faster than others, so it's good to know your materials and inspect the chain regularly.
Conclusion: Oregon S62 Chains Stand out!
There are many replacement chains to consider, and it's wise to test different options to get a feel for the significant differences. The Oregon S62 stands out as the most viable option with some shining features, including its impressive compatibility and automatic lubrication system.
It gives you increased longevity and control over the cutting procedure and less fatigue across hours of labor. This is my top pick and is worth checking out for your projects. This chain is a safe investment if you're serious about reducing maintenance and enjoying a more seamless experience.
These are some of the top-rated and best chainsaw chains on the market and will serve you well with a reinforced quality that will last. They all have a reinforced coating and sharp teeth to cut through any problems mother nature presents. No piece of wood is the same, but you have the power to slice through the obstacles with the right chain.
Each chain listed here is a viable option to ensure you're prepared for future lumber challenges! Now that we have sliced through the options, it's time to make that final decision and elevate your chainsaw to maximum efficiency after a hard day's work!