Latest posts by The Forestry Pros Team
(see all)
Poulan produces a variety of great chainsaws, which are perfect for homeowners and domestic DIY jobs. In our best Poulan chainsaw models guide, we will outline the top chainsaws from this trusted brand.
Poulan has gas and battery-powered chainsaws that are equipped to deal with all kinds of work in your yard, and they are available at a budget-friendly cost.
We'll look at some things to consider before buying a Poulan chainsaw, some essential safety tips, and we will also review the top Poulan chainsaws on the market.
Who is Poulan?
Poulan is an American company that was established in Louisiana as an independent manufacturer in the 1940s. However, Poulan has since been taken over by a Swedish brand, Husqvarna.
Even though both manufacturers sell chainsaws, Poulan's chainsaws are aimed at domestic users, and their models are in the low to mid-range pricing categories.
Poulan produce a variety of power tools and outdoor equipment such as:
An interesting fact about Poulan chainsaws is that the 306a model was used in the movie, The Texas Chainsaw massacre.
What are the Different Types of Chainsaws?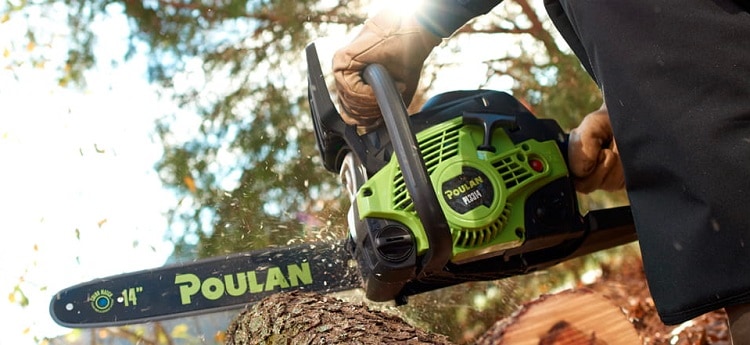 You can find two types of chainsaws from Poulan, gas and battery-powered.
Gas Chainsaws
One of the main chainsaw types that Poulan sells is gas chainsaws.
These chainsaws are very powerful and are ideal for cutting down large trees or chopping up big pieces of timber to make firewood. While many of Poulan's products are aimed at domestic users, their varied selection of gas chainsaws is also perfect for commercial purposes.
A significant advantage of using this type of chainsaw is that you can use it anywhere, and it doesn't need to be charged up or plugged into a power source. If you have a can of petrol with you, you can use a Poulan gas chainsaw wherever you like, including remote areas.
However, a gas chainsaw does have some downsides. One is that they make much more noise and can be harder to control, given the increased vibrations.
What's the difference between Gas and Electric Chainsaws? Read here to find out here.
Battery Chainsaws
Battery chainsaws are the other chainsaw type that Poulan is well-known to produce. These chainsaws have some advantages over their gas counterparts; however, they generally don't provide the same power level.
Battery-powered models need to be charged up before use, and while they aren't hampered by range like a corded electric model, the battery can run out quickly. Unlike a gas model where you can simply top up the fuel, a battery chainsaw will need to plug into a power source before you can use it again.
However, battery chainsaws produce less noise and emissions than a gas model, and Poulan's battery chainsaws do have decent battery length. While they might not be ideal for professional use, they provide more than enough power and features for DIY jobs.
Professional vs Domestic Poulan Chainsaws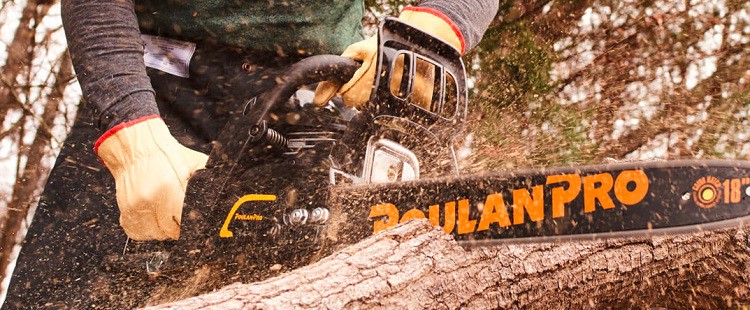 Poulan offers a varied selection of chainsaws, but they are often associated with the domestic DIY market instead of those who require a chainsaw for professional services.
This is why the competition between Poulan and Husqvarna isn't that fierce, even though Poulan is under the Husqvarna brand. The two manufacturers provide chainsaws to different markets.
Nevertheless, some Poulan chainsaws are ideal for professional use as they offer enough power to tackle large trees, thick branches, and other forestry materials. As we will find out later on, Poulan produces chainsaws that can be bought both for domestic DIY jobs in your yard and for professionals who need a durable and heavy-duty model.
Things to Consider When Buying a Chainsaw
We will explore the different Poulan chainsaw models in a minute, but first, let's look at some things to think about before you dive in and purchase a new chainsaw.
Power Source
The two main types of chainsaw that Poulan produces are gas and battery-powered models.
What one you decide to buy will depend largely on where you plan on using the chainsaw. A battery model will probably suit you best if it is mainly used in your backyard, where you have easy access to a power outlet. This means you can quickly charge it up if the battery runs out halfway through a job.
However, if you intend on operating the chainsaw in a remote location to cut down trees, you would be better served to opt for a gas model. These chainsaws can be used anywhere and don't rely on being charged up or plugged in but make sure you have some petrol to top up the chainsaw as you go along.
Cost
The good thing about a Poulan chainsaw is that they are priced very competitively in the market, and you can pick one up relatively cheaply. While there are cheaper brands out there, Poulan doesn't provide high-end chainsaw models as this isn't the market they are aiming towards.
When buying a chainsaw, think about what you can afford and stick to your budget as much as possible. We have listed many Poulan chainsaw models below, so you will be able to find one that suits your budget and your specifications.
Experience
Another thing to consider is how experienced you are with using a chainsaw.
They are dangerous power tools, and one mistake can cause severe or even fatal injury. Luckily, we have listed some essential safety tips in this guide to help you use a chainsaw safely and efficiently. However, your experience will determine the type of chainsaw you buy.
Many gas-powered models are suited to experienced users as they are more powerful and give off more vibrations. For chainsaw novices, a gas model can be too strong and harder to control. Many beginners choose a battery chainsaw that still offers decent power but is easier to manage and use.
Maintenance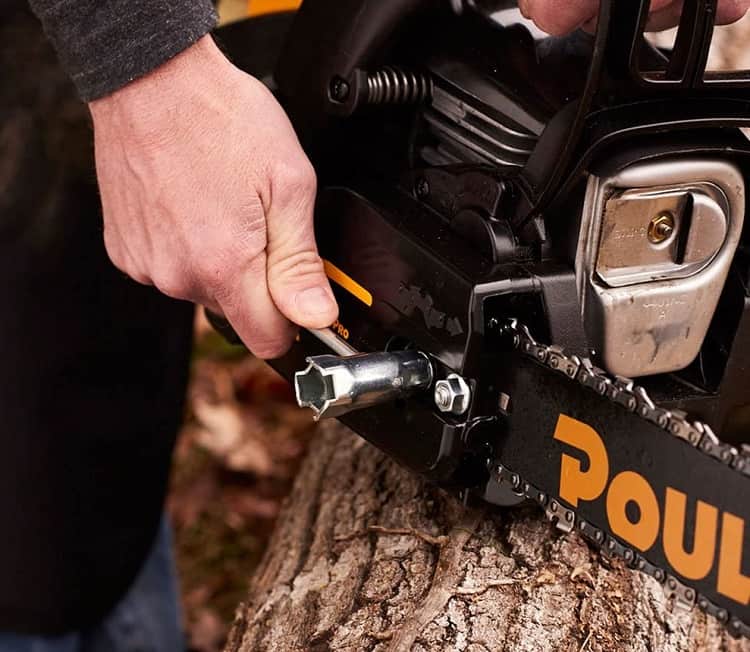 Finally, how much maintenance are you prepared to put in to ensure that your chainsaw stays in top condition.
Every chainsaw on the market does require a certain level of maintenance, but some will come with additional features to make this job a lot more straightforward. For example, automatic oiler systems can help keep the chainsaw in good condition, and easy chain tensioning is an important safety feature.
If you need a chainsaw for occasional DIY jobs in your garden, you probably don't want to spend a lot of time maintaining the upkeep of the power tool. In this case, it is best to look for an easy-to-maintain chainsaw, and battery-powered chainsaws usually require less maintenance than gas models.
The Major Differences Between Poulan and other brands
One of the big differences between Poulan and other brands is that their chainsaws are aimed at the domestic DIY market. They don't produce many chainsaws suitable for professional use and instead focus on homeowners and those who need a chainsaw for small jobs in their yard.
Poulan also offers a wide range of chainsaw models. While this is similar to other brands such as Ryobi and Homelite, they offer much more variety than other chainsaw manufacturers like Oregon.
While starting off as a purely American manufacturer, Poulan now has its chainsaws made in manufacturing plants worldwide, so they differ from brands like Craftsman who's chainsaws are solely produced in the USA.
Advantages of Using a Poulan Chainsaw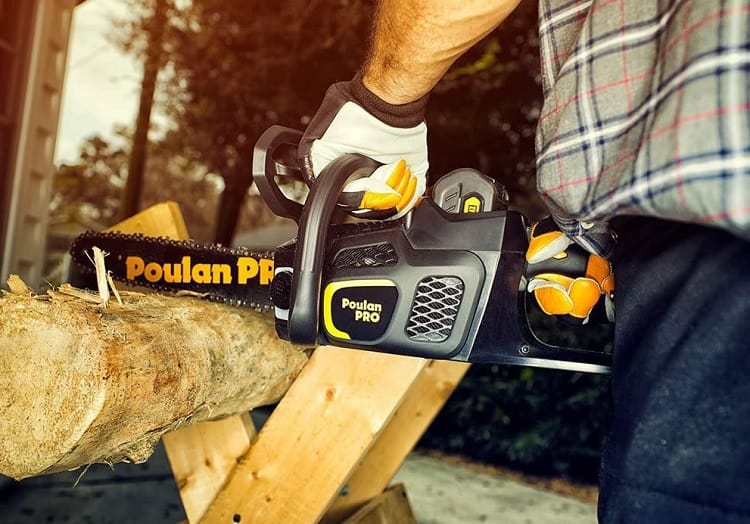 Some of the advantages of using a Poulan chainsaw include:
DIY focused – Their chainsaws are aimed at the domestic DIY market, and if you need a chainsaw to carry out jobs in your garden, they are a fantastic brand to choose from.
Chainsaw variety – Compared to many other chainsaw manufacturers, Poulan has a wide selection of different chainsaws on offer. This gives you much more choice as a customer and gives you a better chance of getting the exact model you want.
Cost-effective – Most Poulan chainsaws are in the budget category, perfect for homeowners and domestic users. Their power tools are in the low to mid-range, and this means you can pick up a powerful chainsaw for a bargain price.
Good warranty – You will find that Poulan chainsaws come with a one-year or a two-year warranty. This is good for a power tool and is better than some other brands out there.
The Disadvantages of Using a Poulan Chainsaw
If you are thinking of buying a Poulan chainsaw, there are some downsides to think about.
Not many professional options – As Poulan mainly aims their power tools at DIY enthusiasts, you don't have many chainsaw options if you need one for professional services. Some Poulan chainsaws can work for gardeners and forestry workers, but generally, they aren't robust or durable enough for continuous work.
Durability – A Poulan chainsaw isn't going to die on you after a few uses, but they aren't the most durable compared to some other brands. This lack of durability is why professionals who need a heavy-duty model often opt for different chainsaw manufacturers.
Safety Tips for Using a Chainsaw
Before you decide to give your new chainsaw a run-out, safety is one of the most important things to consider. Chainsaws can be very dangerous if you use them incorrectly.
Use Both Hands
One of the big mistakes people make when operating a chainsaw is failing to grip the tool with both hands. Using one hand when operating a chainsaw increases the chances of it slipping and causing severe injury.
This is especially true if it is a gas model as they give off increased vibration, so always ensure you use both hands when using any chainsaw.
Have Both Feet Planted on a Firm Surface
Another mistake people make when cutting trees or pruning bushes with a chainsaw is being imbalanced. Ensure that both your feet are planted on a firm surface, and don't use the chainsaw when balancing on one leg or standing in your toes. This can cause your to slip or the chainsaw to move unexpectedly.
Check the Chain Tension
The chain needs to be tight before you fire up a chainsaw, which is a mistake that many people make. If the chain isn't tight, it can fly off and cause serious injury. Many chainsaws have an inbuilt chain tensioning system that you can use to check the chain's tightness and adjust if necessary.
Read the Poulan Instructions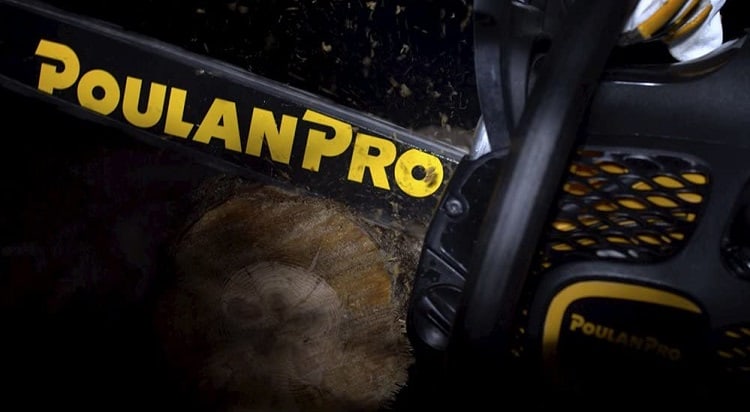 The best way to ensure that you are using a chainsaw correctly is to check the documentation that comes with it.
This will be specific to your chainsaw model, and it means you can get all the information and advice to use your Poulan chainsaw properly. Even though it might seem boring, don't skimp on this as it can help avoid any nasty accidents.
Have the Proper Safety Equipment
When using a chainsaw, ensure that you have the proper safety equipment. This includes:
Eye protection such as goggles
Ear protection
Sturdy boots
Gloves
These are the basic things you should own and wear before you start using your Poulan chainsaw.
Selection Criteria
As Poulan offers many chainsaw models, we have to whittle the list to a manageable level. This means we have omitted some Poulan chainsaws. The selection criteria we used for our picks of the best Poulan chainsaw include:
Gas and battery models – We have included both gas-powered and battery-powered chainsaws on our list, so you have the option of both fuel types.
Bar length – The Poulan chainsaws below have different bar lengths, giving you plenty of choices if you need a larger or more compact model.
Weight – We have included lightweight chainsaws that are better for beginners and heavier chainsaws that are more suited to experienced users.
Cost – You will also find different chainsaws are different prices, so if you need a cheap chainsaw or a pricey model with more features, they are both on our list below.
My Top Recommendations for Poulan Chainsaw Models in 2021
Poulan sells a varied range of chainsaws, but we have whittled the list down to the top chainsaws from this well-known brand.
Poulan Pro 20 in. 50cc 2-Cycle Gas Chainsaw, PR5020 – Best Overall Poulan Chainsaw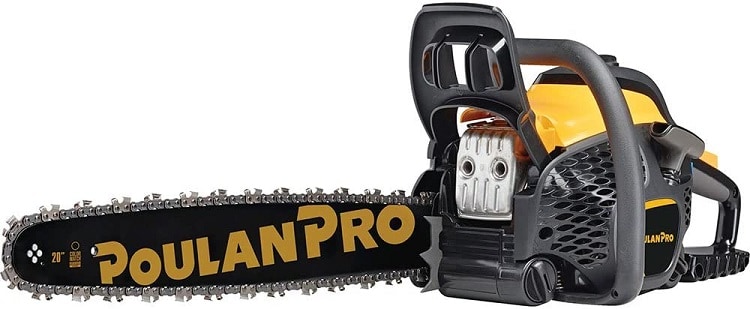 Our number one choice for a Poulan chainsaw is the Poulan Pro 20 inch 50cc 2-Cycle Gas.
This chainsaw gives you everything you need to carry out DIY jobs with ease, and it is ideal for use in your garden. This includes a robust OxyPower engine that provides this chainsaw with extra power but helps with the overall efficiency of the power tool.
The technology reduced emissions by around 70% while also lower fuel consumption by approximately 20%.
You can quickly start up this chainsaw, too, as it has a straightforward pull starting system that requires less effort to get it going. Given all this chainsaw offers, you would think that it would cost a ton of money, but that isn't the case – the PR5020 is available at a very affordable price.
A downside to this model is that, while it is robust and durable for DIY jobs, it probably won't cut it for heavy-duty professional work. Although, this is an issue for Poulan chainsaws in general and not just the PR5020.
Overall, this chainsaw provides enough power, additional features, and reliability to come out at the top of your list.
Pros
Powerful gas-chainsaw available at an affordable price
It comes with additional features such as an easy start system
OxyPower engine for better fuel efficiency and lower emissions
It is ideal for DIY jobs in your yard
Cons
It isn't suited to heavy-duty and continuous use
Some chainsaw parts are not covered in the warranty
Poulan P4018WT 18-Inch 40cc 2-Cycle Gas Powered Chainsaw – Best for Light Jobs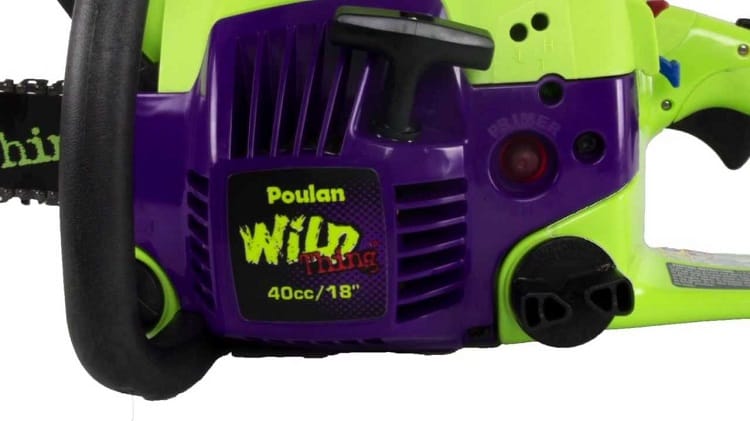 The unique look of the Poulan P4018WT 18-Inch 40cc 2-Cycle Gas Powered Chainsaw isn't the only reason we have included it on our list. OK, the purple and green finish is different from most chainsaws on the market, and it will cause people to look and take notice.
However, if you need a chainsaw for lighter jobs in your garden, this is an ideal choice. It has enough power to cope with reasonably sized trees and branches, and the 18-inch bar can tackle various jobs. We like the addition of the clean air filter system as well as the automatic chain oiler.
This chainsaw is designed for occasional work, and if this is what you need it for, you won't want to spend a long time trying to start the tool when you go to use it. This is why the P4018WT has an easy start-up system with the primer bulb.
If you want a cheap chainsaw that looks unique but still has enough power and features to be very usable and efficient in your yard, you can do a lot worse than the P4018WT.
Pros
This chainsaw has a unique look
Easy start-up system and clean air filter
Powerful enough to complete small jobs
Cheap but still very effective
Cons
This chainsaw will struggle with bigger jobs
Not the most durable model
Poulan Pro PR4218, 18 in. 42cc 2-Cycle Gas Chainsaw – Best Poulan Chainsaw With a Case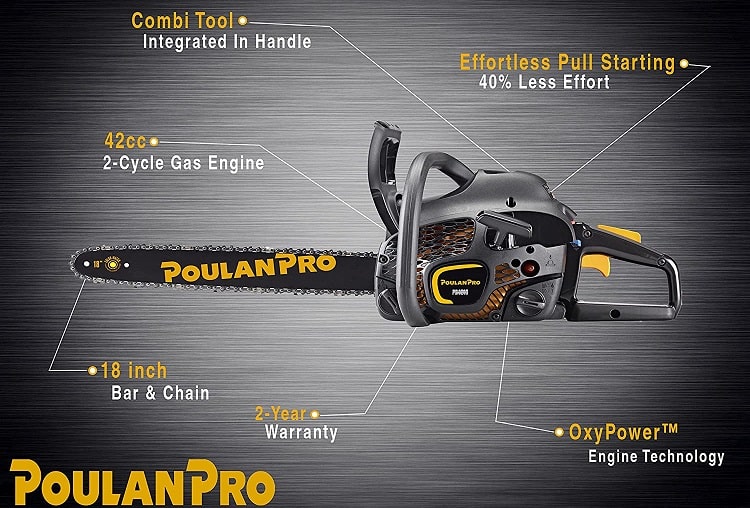 Storing your chainsaw can prove a problem if you don't have a dedicated space in your garage for power tools. Also, it is the type of tool that you don't want to leave lying around, especially if you have children.
The Poulan Pro PR4218, 18 in. 42cc 2-Cycle Gas Chainsaw is an excellent choice in this scenario as it comes with a case as standard. In fact, if anyone wants an easy storage solution alongside a good-quality chainsaw, the PR4218 is perfect.
The chainsaw case is a great addition, but we also like a lot more about this powerful tool. The 42cc, 2-stroke engine has enough power to deal with fallen trees and thick branches, while it is perfect for chopping up timber into firewood.
The gas power means you can use this chainsaw anywhere you like without worrying that it will run out of battery and need to be plugged in.
We don't particularly enjoy the heaviness of this chainsaw as it is pretty heavy and can cause fatigue. Also, some people have found issues with the chain as it is a small skip tooth chain.
Continue reading our full Poulan Pro 18 Inch Review here.
Pros
Perfect if you want a case with your chainsaw
It is powerful enough to handle branches and some trees
It can be used in remote areas
Budget-friendly and easy to start
Cons
It has a small skip tooth chain
Heavy, so will cause fatigue after prolonged use
Poulan Pro PPB4014, 14 in. 40-Volt Cordless Chainsaw – Best Battery-Powered Poulan Chainsaw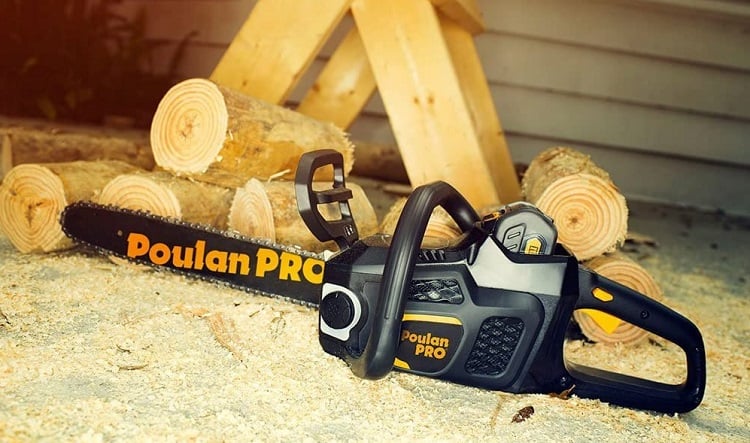 All the Poulan chainsaws that we have included so far have been gas-powered, so step forward the Poulan Pro PPB4014, 14 in. 40-Volt Cordless Chainsaw.
This battery-powered chainsaw is brilliant if you don't want to have a gas model. It would suit beginners and those who aren't that confident using a petrol chainsaw, and this chainsaw offers great control and overall stability.
Another feature that makes this chainsaw suited to novices is the electronic chain break, an added safety feature.
The 14-inch bar is excellent for cutting up pieces of wood 6 inches in diameter, while the brushless motor increases efficiency and runtime. Also, the chainsaw weighs just under 10 lbs, which offers a significant increase in control.
For small jobs and to carry out minor work in your yard, the PPB4104 is a fantastic option from Poulan. However, it does come with some drawbacks.
This includes struggling with larger logs and tree trunks, but it is a battery-powered chainsaw. If you need to cut through thick tree's you should consider a gas model.
Overall, this chainsaw is suited to beginners who need a chainsaw for their yard and don't mind charging it up for use.
Read also: How to Find the Best 14-Inch Chainsaws
Pros
Easy to use battery-powered chainsaw
A 14-inch bar that can cut wood 6 inches in diameter
Lightweight and offers good control
Lower noise than a gas model
Cons
This chainsaw won't compete with gas-powered models
Poulan Pro PP4218AVX 18-Inch 42cc 2-Cycle Gas-Powered Anti-Vibration Chainsaw – Best for Low Vibrations
For anyone who wants a gas chainsaw but doesn't want to deal with excessive vibrations, the Poulan Pro PP4218AVX 18-Inch 42cc 2-Cycle Gas-Powered Anti-Vibration Chainsaw is what you need.
This chainsaw has a powerful 42cc motor, and the 18-inch bar can cut through large branches and trunks.
The anti-vibration handle is the defining feature of this chainsaw as it provides a significant boost to comfort and reduces fatigue. If you need to replace the chain, the reverse sprocket is an ideal feature as it means you can do this without any special tools.
Also, this chainsaw comes with a case with is an added bonus.
A big downside to this chainsaw is that it isn't CARB Compliant. This means that you can't use this chainsaw in the state of California. Furthermore, it is pretty heavy as it weighs just over 23 lbs.
Even though the anti-vibration technology does help with control, some people will struggle to use this chainsaw comfortably due to the weight.
Pros
Great for comfort with anti-vibration technology
It comes with a chainsaw case
Powerful motor and 18-inch bar
You can replace the chain with special tools
Cons
This chainsaw isn't CARB Compliant
It is heavy and weighs over 23 lbs
Frequently Asked Questions
Question: Who is Poulan?
Answer: Poulan is a brand that was originally established in Louisiana in the 1940s./ They are currently owned by Swedish manufacturer Husqvarna.
Question: Are Poulan Chainsaws American-made?
Answer: Some of their chainsaws are American-made. The parts for Poulan chainsaws come from China, but the chainsaws are manufactured worldwide.
Question: Does Poulan Produce Chainsaws for Professional Use?
Answer: Not really. While some of their chainsaw models can be used for professional services, they mainly aim for the DIY market. If you need a heavy-duty chainsaw, perhaps look elsewhere.
Question: Do Poulan Chainsaws Come with a Warranty?
Answer: Yes. All Poulan's chainsaws have a warranty included in the price. This is usually either one or two years, depending on the specific model that you purchase. Always check the warranty period before you buy.
Question: Do Poulan Chainsaws Require a Lot of Maintenance?
Answer: Poulan chainsaws don't require maintenance above and beyond most other brands; however, many of their chainsaws lack the additional features you find with other chainsaw manufacturers. This can mean that a Poulan chainsaw does require more manual care.
Conclusion: The Best Poulan Chainsaws
Poulan is a great brand if you need a decently quality chainsaw for DIY jobs in your yard. Their chainsaws also come reasonably priced while they sell a varied range, so you can find the features you need.
Our top picks for the best Poulan chainsaws are: