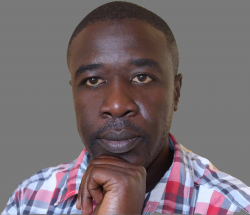 Latest posts by Barry Juma
(see all)
Chainsaws with 14-inch guide bars are best for general yard work, but they struggle in performing heavy logging tasks. If you're looking for this kind of chainsaw, then you probably want one for domestic tasks but are uncertain about the right model to choose. I get it, there are lots of things to consider, like the chainsaw brand, the amount of power, and the ideal price. But, worry not! 
I've put together a list of my top recommendations and, for good measure, a few alternatives that you may consider if you're willing to try out chainsaws with slightly different bar sizes. Go ahead and dive in to find out all you need to know about finding the best 14-inch Chainsaws.
Bottom Line Up Front
I recommend the ECHO CS-310 gas chainsaw if you're looking for a 14-inch chainsaw that's affordable and powerful enough to handle general cutting tasks. It can also use a 16-inch guide bar, making it the most versatile on the list. 
If you prefer an electric 14-inch chainsaw, I recommend the Homelite UT43103. This is a very affordable chainsaw but it offers enough power to cut small trees and branches.
My Top Picks at a Glance
| | | |
| --- | --- | --- |
| Model | Features | Price Range |
| Troy-Bilt TB4214 Gas Chainsaw | 42 cc engine, anti-vibration system, automatic oiler. | $150 – $180 |
| ECHO CS-310 Gas Chainsaw | 30.5cc engine, vibration reduction system, digital ignition system. | $200 – $250 |
| Ryobi RY3714 Chainsaw | 37cc engine, automatic oiler, anti-vibration handle. | $140 – $160 |
| Homelite UT43103 Electric Chainsaw | 7.8lb weight, 9A motor. | $70 – $80 |
| Makita UC3551A 14" Electric Chainsaw | 14.5 amp motor, automatic oiler, 12.1 lb weight. | $200 – $250 |
| Milwaukee M18 Fuel Chainsaw | Cordless chainsaw, variable speed trigger, brushless motor. | $300 – $350 |
Who Needs a 14-inch Chainsaw?
A general rule of thumb when choosing an appropriate chainsaw size is to look for one that's at least 2 inches longer than the diameter of the biggest log or tree you'll want to cut. Therefore, 14-inch chainsaws are able to cut a tree that's up to 12 inches in diameter.
So, a 14-inch chainsaw is ideal for cutting firewood, small trees, and pruning branches among other light tasks. Since you're reading this article then I assume you have such tasks to perform so a 14-inch chainsaw would be perfect for you. 
Still, there are other important things to consider so read below to find out what to look out for.
What to Consider When Choosing a 14-Inch Chainsaw
Gas vs Electric
Do you want a chainsaw that's powered by gas or an electric one? The good thing about 14-inch chainsaws is that they offer buyers the option of choosing their preferred fuel type. Both gas and electric chainsaws have advantages and disadvantages, which you can take a deeper look at in our gas vs electric chainsaws article.
Gas chainsaws are regarded as workhorses that can handle heavier tasks. However, battery technology has advanced so much that electric chainsaws match their gas counterparts in power.
On the other hand, gas chainsaws require more maintenance than electric ones. In fact, electric chainsaws can be used with very little maintenance at all. Plus, electric models are more silent and have no emissions than gas chainsaws. 
However, if you'll be using your chainsaw for a prolonged period then gas would be better, especially if you'll be working far from a power source.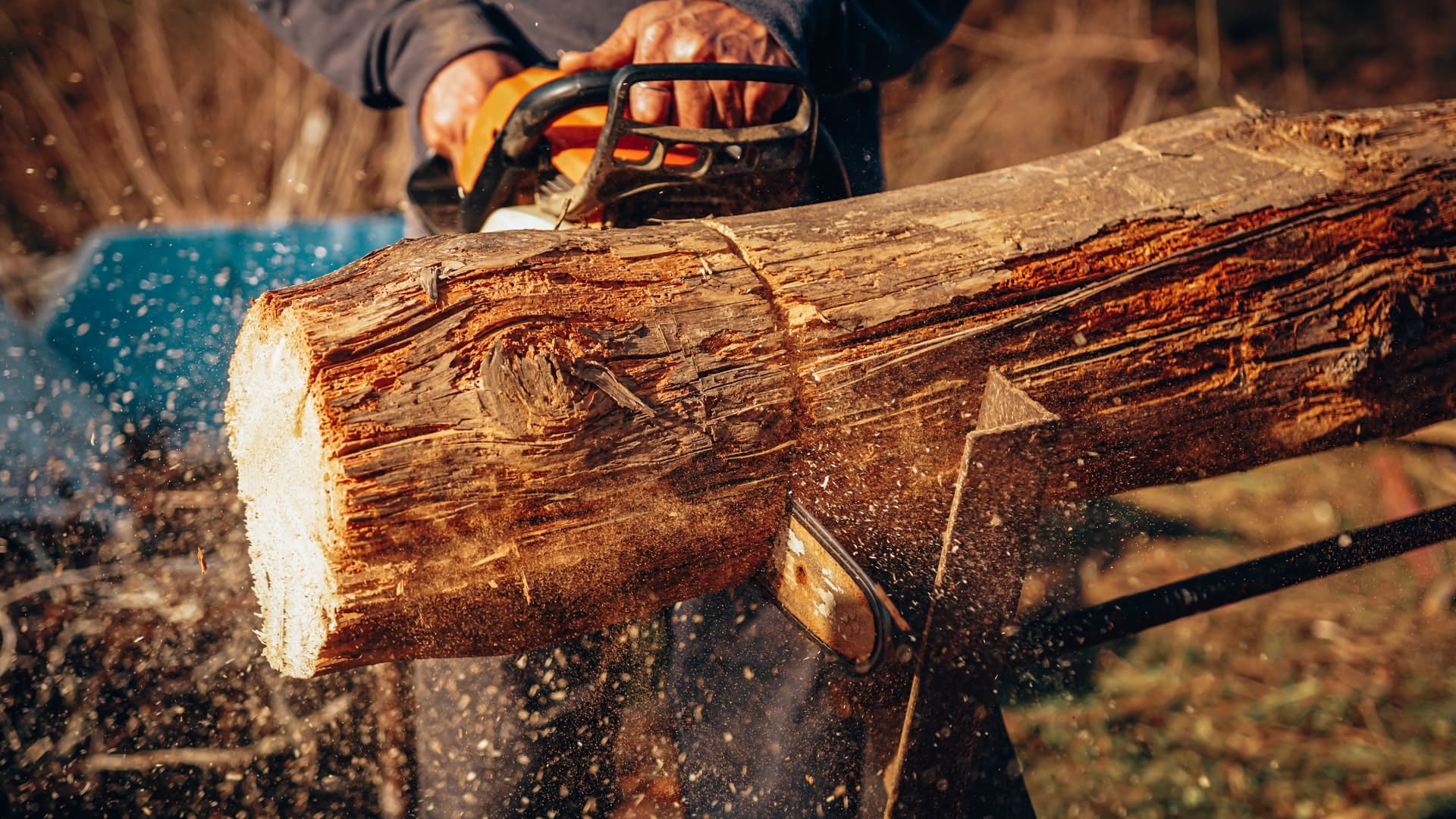 Which one should you choose?
I recommend an electric chainsaw if you'll be working at short intervals. Also, consider an electric model if you'll be using it near a power source (for plug-in models).
For those who'll be working continuously for long periods and away from any power source – like in the middle of a field – consider a gas chainsaw. 
Corded vs Cordless
So you've decided to buy a 14-inch electric chainsaw (those who've chosen gas just skip this part). Now you need to figure out whether you should buy a cordless battery-powered chainsaw or a corded plug-in one. 
Both offer a similar amount of power and functionality with the main differences in flexibility of movement. As I mentioned above, if you'll only be working near a power source, perhaps in your backyard near your shed, then a corded 14-inch chainsaw will do just fine. 
Cordless chainsaws can only run for so long before they require recharging. Depending on the model, their runtime can be as little as 20 minutes or as much as 30 minutes. Choose a cordless chainsaw if you'll have short work intervals. You could also get multiple batteries so that you don't have to stop when recharging one battery.
The good news is that companies try to make power tools that use similar batteries. So, if you already have tools from a particular brand, consider getting a chainsaw from the same company so that you have multiple interchangeable batteries at your disposal.
Battery Voltage
If you're leaning towards a cordless 14-inch electric chainsaw, remember to also consider the battery power, which is measured in volts. Simply put, the higher the voltage the longer it can hold a charge and vice versa.  
Some brands sell cordless chainsaws that are powered by two 18V batteries, like this Makita chainsaw that I've featured on the list of recommendations later in this article. Other models have a single high-powered battery, for instance, this Dewalt chainsaw can be powered by a 60V battery.
Consider higher battery voltages if you foresee using the chainsaw for prolonged periods.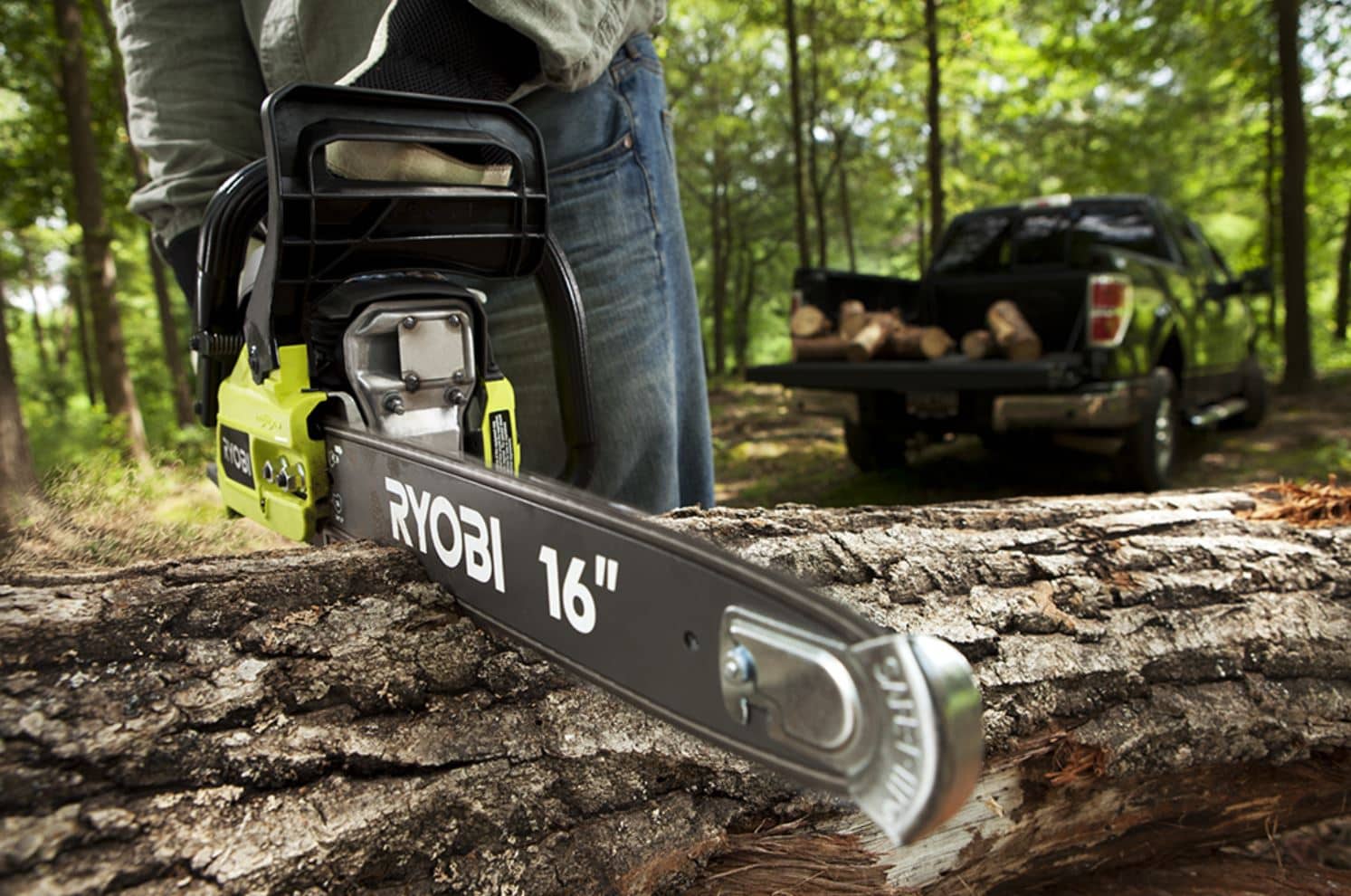 Engine Displacement
Measured in cubic centimeters (cc) or cubic inches, the displacement determines the power of the engine. The higher the cc count the more powerful the engine. Generally, chainsaws with a large engine capacity will have more horsepower.
You can get 14-inch chainsaws with displacements from 30cc to about 40cc with horsepower ratings from about 1.5hp to 2.0hp.
Motor Power
Electric chainsaws have motors in place of the engine and their power is determined by the battery voltage (in the case of cordless models) or the motor's amperage in the case of corded chainsaws.
Consider a higher voltage if you need a cordless chainsaw that can handle hours of continuous use. Remember, though, that as the battery runs out, the chainsaw's power will continue to dwindle. 
For corded chainsaws, motors start from about 9 amps to about 15 amps. For slightly heavier tasks, consider a chainsaw with a more powerful motor. If you only intend to perform yard tasks then the 9amp motors are fine.
Weight
For a 14-inch gas chainsaw, consider one that's no more than 15 lbs. It's even better if you can find one that's 10 lbs or slightly heavier than this. It might be hard to find a gas chainsaw that's lighter than 10 lb (I couldn't find any in my research). 
However, electric chainsaws can weigh as little as 7 lbs but there are those that weigh as much as 12 lbs. 
Obviously, the lighter the better, but sometimes you might have to get a slightly heavier chainsaw to get more power. However, I wouldn't recommend a 14-inch chainsaw that's more than 15 lbs.
14-Inch Chainsaw Recommendations
Selection Criteria
Power

– The recommended 14-inch chainsaws have enough power to make them versatile enough to handle both light and medium tasks. I considered battery-powered chainsaws with at least 18 volts, corded chainsaws with at least 9 amps, and gas chainsaws with at least 30cc engines.

Weight

– This list has chainsaw recommendations of no more than 14 lbs. I mainly considered models with a high power-to-weight ratio: these have high power and low weight.

Chainsaw type

– I considered different chainsaw types (gas, cordless and corded) to share varied recommendations for people with different preferences. 

Value for money

– I looked at the 14-inch chainsaws that offer the most value for their price.
Gas Chainsaw Recommendations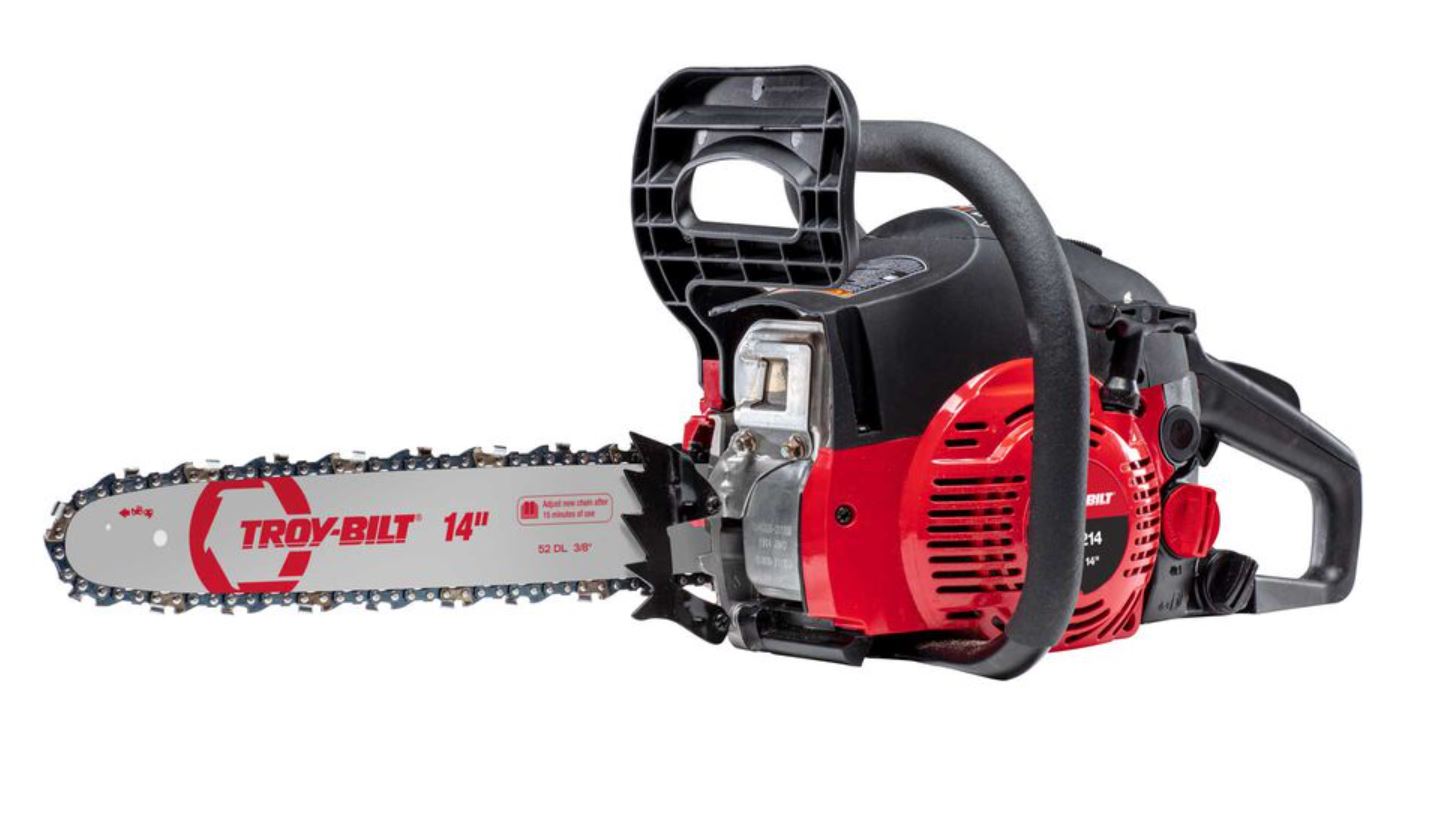 Troy-Bilt may not be as popular a brand as, say, Stihl or Poulan, but the company seeks to rise to the top of the chainsaw game with value products such as the TB4214. This 14-inch chainsaw is quite affordable, costing about $170 at various retailers, including HomeDepot.
At this price, you're getting a muscular 42 cc chainsaw that should be able to handle most tasks you throw at it. 
This model weighs 12 lbs (5 kgs), which is quite light for a gas chainsaw. Plus, it has an anti-vibration feature that reduces the vibrations that reach the handles. As a result, you should be able to use the Troy-Bilt TB4214 for a prolonged period without feeling shoulder or wrist strain.
Main Features
It has a two-cycle 42 cc engine.

There's an automatic chain oiler.

It has a 9 oz fuel tank.

The handle is made of aluminum.

This model has pull-start ignition.

Its fuel-to-oil ratio is 40:1.
Pros
It's an affordable chainsaw.

It's powerful enough to handle heavy tasks.

It's ideal for beginners.
Cons
Parts for Troy-Bilt chainsaws are hard to find.

No electronic ignition system.
The ECHO CS-310 retails at a slightly higher price than the Troy-Bilt model above, and it also offers a lower engine displacement. However, I recommend this model because of the company's track record of building hardy chainsaws such as the CS-310. And an average price of $230 isn't bad.
This model has a 30.5 cc engine that is more than enough for a 14-inch chainsaw. In fact, a smaller engine means higher fuel efficiency. 
It's also a lightweight chainsaw, weighing just 10 lbs (4.5 kgs) meaning almost anyone can easily handle this power tool. Complementing its low weight is a vibration-reduction system that makes it comfortable to use for an extended period. 
Main Features
The ECHO CS-310 has a 30.5 cc engine.

It has an electronic ignition system.

There's a clutch-driven automatic oiler.

It uses 14 and 16-inch bars.

Its fuel capacity is 8.5 oz.
Pros
This chainsaw is light.

Its air filter is easy to access.

It has an air pre-cleaning system.

You get a 5-year warranty.

It's easy to start.
Cons
The plastic parts don't feel sturdy.

Its blade gets dull quickly.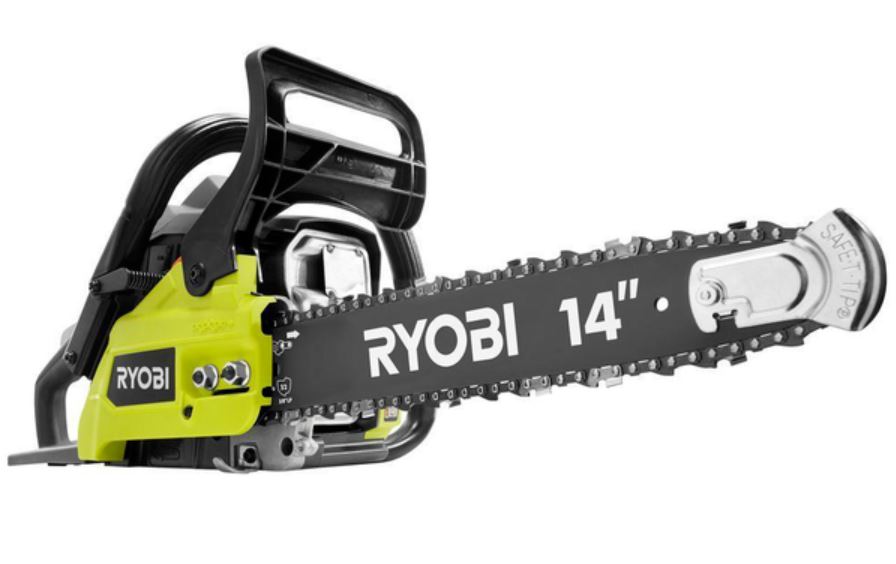 Spoiler alert: this is my favorite 14-inch gas chainsaw. At a price of about $160, it offers great value for what you pay. Plus, it's a RYOBI tool so you know that you're getting top-notch quality.
This chainsaw has a 37cc engine, which is more powerful than the more expensive ECHO model above. The company doesn't specify how much horsepower this engine is rated at but, according to users, it effortlessly cuts down medium-sized trees and is versatile enough to handle loads of yard work.
The RY3714 is also easy to handle, with a weight of just 10 lb. Plus, its handle has anti-vibration, which I think is a necessity for any gas chainsaw.
Main Features
It has a 37cc engine.

The chainsaw has a two-stroke engine.

It has tool-free air filter access.

There's an anti-vibration handle.

It has an automatic oiler.
Pros
RYOBI gives a three-year warranty.

It's light.

The chainsaw can handle a number of cutting tasks.
Cons
Electric Chainsaw Recommendations

With a weight of just 7.8 lbs, this is the lightest 14-inch chainsaw on this list, and perhaps one of the lightest in the market. This is one of the main reasons I recommend it, and of course, its affordable price of just $70. Granted, its 9amp motor may struggle when faced with heavy tasks, but if you only need it for some pruning and cutting down small trees, this is the perfect chainsaw for you.
And if you're worried about its durability, don't be! Homelite built a sturdy tool in the UT43103. In fact, some users have had this for almost a decade and it's still going strong. 
Main Features
It has a 9amp motor.

This is a corded chainsaw model.

It weighs 7.8 lbs (3.5 kgs).

There's a tool-free tensioner.

It has a one-foot cord.
Pros
It is affordable

It's light.
Cons
The chainsaw has a short cord.
Find out about other Homelite chainsaw models.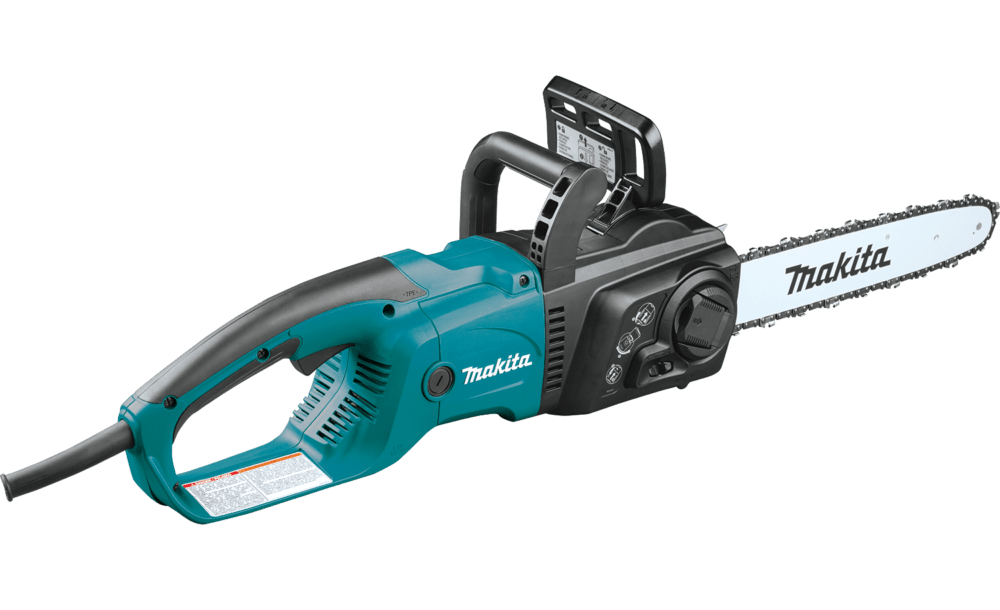 If the power of the Homelite chainsaw above isn't sufficient, consider the Makita UC3551A, another corded 14-inch chainsaw. This model has a 14.5 amp motor, but it sells at a price of over $200, more than twice the cost of the Homelite model. 
Still, this Makita chainsaw is perfect for you if you intend to do more than cut off a few branches. In fact, it rivals the power of some 14-inch gas chainsaws, but without the noise and emissions. 
It comes with the usual bells and whistles like an automatic chain oiler and a current limiter to prevent it from overheating. Sadly, its power cord is too short, measuring just one foot. However, you can always get an extension cord.
Main Features
It has a 14.5 amp motor.

The chainsaw weighs 12.1 lbs.

It has an automatic oiler.

There's an in-built current limiter.

The handle is rubberized.

There's tool-free chain tensioning.
Pros
It has a powerful motor.

It's easy to use.
Cons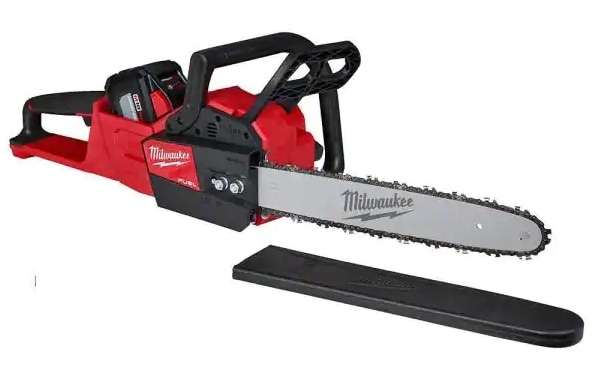 This cordless chainsaw is designed to offer as much power as a 40cc gas chainsaw, without the noise and smell of burning gas. This is made possible by the M18 batteries, which are 18-volt batteries. 
According to Milwaukee, the batteries can offer enough juice for up to 150 cuts on a single charge and owners confirm this claim. However, this 14-inch chainsaw doesn't come cheap as it costs over $300. Still, at this price, you can get a similarly specced gas chainsaw but I would still recommend the Milwaukee because of the benefits of an electric chainsaw. 
Sadly, the M18 batteries are sold separately and they cost a whopping $250 meaning the total cost of this Milwaukee chainsaw comes to over $500. Thankfully, the company has made the batteries compatible with other Milwaukee power tools so you need not buy multiple batteries.
Main Features
The chainsaw has a brushless motor that reduces friction.

It has a cordless design.

It weighs 10.4 lbs.

It's compatible with the Milwaukee M18 Redlithium batteries.

The chain has a variable speed.

It has an automatic chain oiler.
Pros
It's a powerful cordless chainsaw.

The battery lasts for a long time on a single charge.
Cons
14-inch Chainsaw Alternatives
Dewalt DCCS620P1 20V MAX XR® Compact Cordless Chainsaw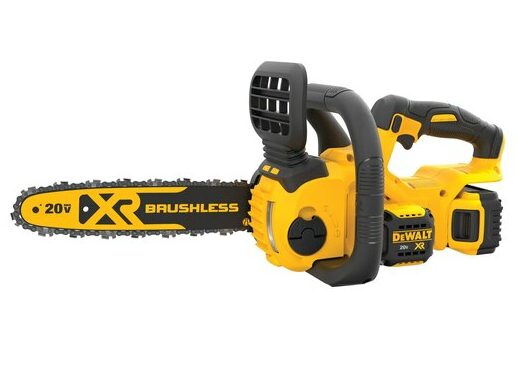 Perhaps you're looking for a chainsaw for basic yard work. If so, a 12-inch chainsaw may be a good alternative to the 14-inch models that you're considering. Granted, if you opt for a 12-inch chainsaw, you'll limit the size of trees and branches that you'll be able to cut. However, if you don't really have large tree limbs to cut, then the Dewalt DCCS620P1 will do just fine. 
Main Features
This is a cordless electric chainsaw.

It has a brushless motor.

This is a 20V chainsaw.

It weighs 9lbs.

It comes with a 5Ah battery.

There's a tool-free chain tensioning mechanism.

It costs about $250.
Pros
It's a lightweight chainsaw.

It has a powerful motor.
Cons
It's rather costly for a 12-inch chainsaw.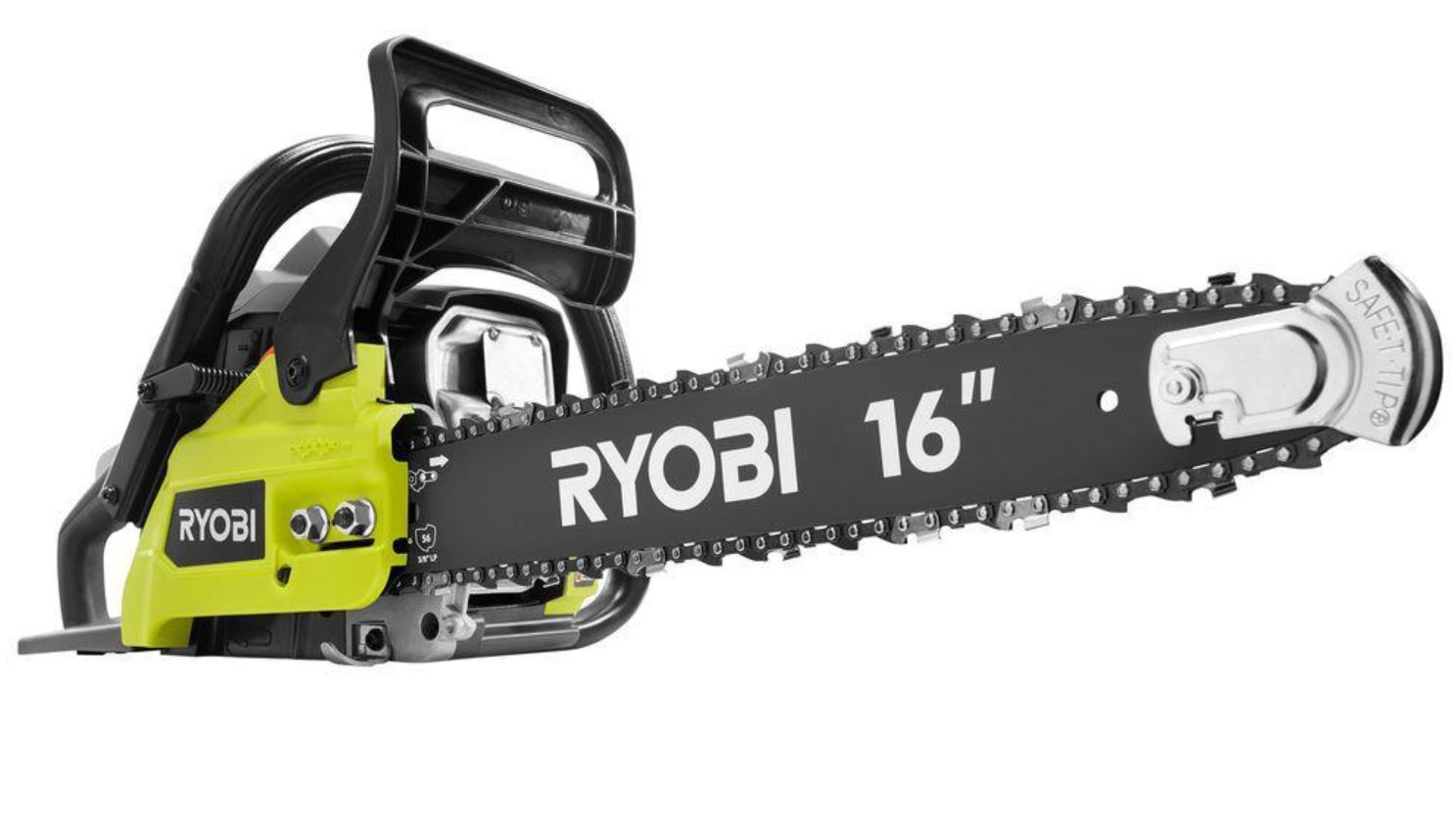 This Ryobi 16-inch chainsaw is a great alternative to a 14-inch model, offering a bit more versatility than the smaller chainsaw bar. So, it can do everything a 14-inch chainsaw can do and a little bit more, at a reasonable price of about $180.
This gas chainsaw has a 37 cc engine that's capable of most (if not all) cutting jobs you throw at it.
Main Features
This is a gas chainsaw with a 2-cycle engine.

The engine has a displacement of 37cc.

It weighs 10 lbs.

There's an automatic chain oiler.

It has an anti-vibration handle.
Pros
It's an affordable 16-inch chainsaw.

It has a three-year warranty.
Cons
Struggles when faced with larger tasks.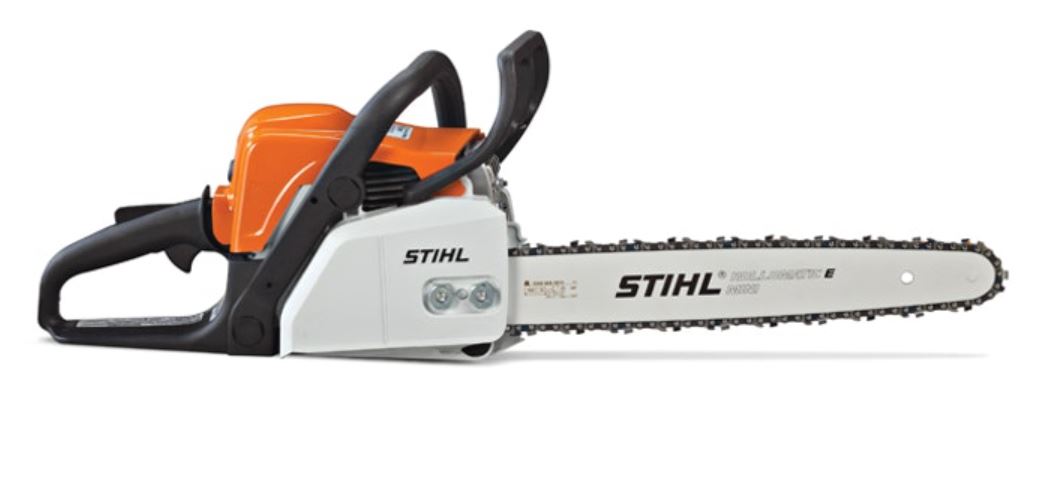 This gas chainsaw has a 16-inch bar that will give you a bit more cutting diameter than the 14-inch models. It's a worthy alternative if you're not set on a 14-inch chainsaw. With a 30cc gas engine, it's not the most powerful chainsaw but it's just right for basic logging and pruning. Plus, it's a light chainsaw, weighing just 8.6 lbs without the bar installed.
Main Features
Its engine has a displacement of 30cc and 1.7hp.

Its oil capacity is 4.9 oz.

There's an anti-vibration system.

It has the company's Ematic Lubrication System.
Pros
It's a lightweight chainsaw.

It's good for beginners.
Cons
Sometimes its engine can flood with fuel, making it difficult to start.
Find out about other STIHL chainsaws in our STIHL chainsaw models guide.
Frequently Asked Questions
Question: What size tree can a 14-inch chainsaw cut?
Answer: A 14-inch chainsaw can cut a tree with a thickness of 12 inches or less.
Question: What is the smallest chainsaw size?
Answer: The smallest gas chainsaw size is 12 inches while the smallest electric (corded/cordless) chainsaw size is 6 inches.
Question: Can I put a 16-inch bar on a 14-inch chainsaw?
Answer: This depends on the chainsaw model. Some chainsaws are compatible with more than one bar size while others can only use a single guide bar size. For instance, this ECHO chainsaw is compatible with both 14, and 16-inch guide bars. Check the chainsaw's user guide to know whether your preferred 14-inch chainsaw model is compatible with a 16-inch guide bar.
Bottom Line
14-inch chainsaws are ideal for cutting down small trees, pruning, or cutting firewood. If you're interested in this type of chainsaw then perhaps you don't need the power of larger chainsaws. If you can find a model that can use more than one bar size then consider it for its versatility. I recommend the ECHO CS-310, which can use 14 and 16-inch guide bars. 
If you're looking for an electric chainsaw, I recommend the Homelite UT43103 because it offers the most value for money.