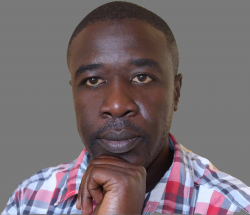 Latest posts by Barry Juma
(see all)
Before learning that a chainsaw should be about 2 inches thicker than the log or branch it's cutting, I used chainsaws that were overkill for my applications. For a long time, I thought "the bigger, the better," but because I only needed to cut small to medium-sized trees and branches, the 24-inch chainsaw I almost bought was like attacking a fly with a sledgehammer. 
I'm sure you've gotten this realization as well; that's why you're looking for the best 16-inch chainsaw options. In this article, I'll help you figure out whether a 16-inch chainsaw is truly right for you, and you'll find out about my favorite chainsaw models. I've also shared some of the things I usually consider when choosing a chainsaw to help you find the ideal model for your needs. 
Bottom Line Up Front
16-inch chainsaws are meant for moderate work, so I would recommend getting an electric model instead of a gas model. This is because they're kinder to the environment, are silent, and don't cost as much to maintain. My favorite model is the Greenworks 2009702 because it's powerful and reliable.
My Recommendations at a Glance
| | | |
| --- | --- | --- |
| Model | Features | Price Range |
| Husqvarna 120 | 16-inch bar length, X-Torq engine, 1.88 horsepower. | $200 – $250 |
| PoulanPro PR4016 | 40CC gas engine, 16-inch bar, automatic oiler. | $180 – $200 |
| ECHO CS-310 | Easy start, 30.5 cc engine, vibration-reduction system. | $200 – $250 |
| Greenworks 2009702 Cordless Chainsaw | 40V battery power, automatic oiler, cordless design. | $250 – $300 |
| OREGON® CS1400 Corded Electric Chainsaw | 15amp power, Lubri-Tec oiling system, tool-less chain tensioning. | $90 – $100 |
Who Needs a 16-Inch Chainsaw?
16-inch chainsaws are mainly for moderate use. Medium to small-sized trees will have 16-inch trunks or less, making a 16-inch chainsaw ideal for these applications. However, it's recommended that the chainsaw you get be at least 2 inches longer than the diameter of the tree or log that you want to cut.
So, if you have 14-inch-thick trees and logs, a 16-inch chainsaw will be perfect for you. Still, if you only need to prune branches and cut small trees, then a 16-inch chainsaw might be too big for your needs. Take a few minutes to determine the size of the largest trees you might need to cut to figure out whether a smaller or larger chainsaw might be ideal for you.
What to Consider When Choosing a 16-Inch Chainsaw

Gas or Electric
The first consideration, I think, should be whether you prefer a gas or an electric chainsaw. Both have their pros and cons, so it boils down to your preference. I wrote an in-depth gas vs. electric chainsaws article, so do check it out to get an idea of which one is right for you.
Mainly, gas chainsaws are meant for heavier tasks since they can work for a longer period on a full tank of gas. However, they're noisier and require more maintenance. 
Electric models can either be plug-in or battery-powered. Plug-in chainsaws are restricted by the length of the cord, so they're best for work around the yard, near a power outlet. 
Battery-powered chainsaws offer the benefit of portability, but they may not be best for prolonged use since the battery is likely to drain after 30 to 40 minutes, depending on its strength.
I would still prefer an electric chainsaw because of one reason; they're quiet. Also, they require little to no maintenance, making them ideal for beginners. 
Chainsaw Power
Consider how powerful the engine or motor of the chainsaw is to get an idea of how much work the chainsaw can handle. 
Gas chainsaws are rated according to the engine's horsepower, with good 16-inch chainsaws having about 1.5 to 2 horsepower. Manufacturers also rate the displacement of the engine in cubic centimeters (cc). You'll notice a lot of 16-inch chainsaws with between 30 to 40cc; the higher the displacement, the more powerful the engine.
The strength of battery-powered chainsaws is determined by the battery, which is rated in amp-hours (Ah). Corded chainsaws are rated according to the amperage of the motor, which is measured in Amps. 
A 16-inch ch
Weight
ainsaw with at least 4 Ah (cordless) or 12 Amps (corded) is ideal. 
On average, a 16-inch chainsaw weighs about 10 to 15 lbs. Gas chainsaws are heavier than their electric counterparts because of the fuel and oil tanks. Some electric models weigh less than 10 lbs, so consider these if you want a chainsaw that's easy to handle.
When checking the weight, make sure you factor in the weight of a full tank of gas plus the weight of the bar and chain. Most manufacturers only give the weight of the chainsaw's main body.
Budget
Finally, your budget will determine the 16-inch chainsaw you choose. Thankfully, you can get a chainsaw for as little as $100 or as high as $400. This price depends on the brand, the chainsaw's power, and its durability.
My 16-Inch Chainsaw Model Recommendations
Selection Criteria
Power source:

 My recommendations include both gas and electric chainsaws for those with a preferred power source.

Performance:

 I considered models that are ranked among the top performers based on horsepower or motor/battery strength. 

Budget:

 These recommendations are found at different price points to share options for buyers with different budgets.
The Husqvarna brand is well-known in the outdoor DIY world and their chainsaws rank among the best in the market. The Husqvarna 120 is one of my favorite gas chainsaws not because it's affordable – and it is – but because it's powerful and reliable. 
Yes, it's a 16-inch model, just the size you're looking for. It also enjoys some of the company's proprietary features, like the X-Torq engine that the company claims consumes less fuel than standard chainsaw engines. Sadly, users can't attest to this claim as the gas tank is small, and you'll have to constantly refill it in heavy use. Granted, this chainsaw isn't meant for heavy use so let's be fair to it.
Under the hood is a 1.9 horsepower engine with a 37 cc displacement. This is adequate for all the functions that a 16-inch chainsaw can carry out. It's also a 2-cycle chainsaw, so you'll need to mix the recommended fuel to oil ratio 50:1 in order to get the best performance out of it. 
I would suggest buying pre-mixed fuel if you're hopeless at getting this ratio right (like me) but do remember that this will cost you more. 
What I Like
It has a fuel-efficient engine.

There's an advanced air-cleaning system that reduces the debris that reaches the air filter.

The LowVib feature reduces that amount of vibration.

It's easy to start.
What I Don't Like
Its fuel tank is rather small.

It is loud, with a noise level of 113 dB.
Gas chainsaws are best for prolonged use and the 40cc Poulan PR4016 is powerful enough to handle the work of larger chainsaws. However, you will notice it struggling if you overwork it, so try to limit your use to what it's made for – moderate tasks. 
Still, this 16-inch chainsaw can easily take care of all light to medium tasks it was built for, thanks to its OxyPower engine that Poulan assures us uses less fuel and has lower emissions than regular gas chainsaws. 
Just like the Husqvarna model above, this one is also a 2-cycle chainsaw – most models of this size are 2-cycle anyway. But this isn't a drawback as 2-cycle chainsaws are lighter and easier to maintain than their 4-cycle counterparts (find out more here).
This model has a pull-start mechanism that is designed to make starting easier. And sure enough, users confirm that the PR4016 is easy to get going once fuel and oil are added. 
If you're interested in Poulan chainsaws, check out our Poulan model guide.
What I Like
It costs less than $200.

This chainsaw doesn't use a lot of fuel.

It's easy to start.

The engine is powerful.

It has an advanced air filtration system.
What I Don't Like
Some of its plastic parts feel cheap.

It's rather heavy.
The ECHO CS-310 comes with either a 14-inch or a 16-inch bar. Interestingly, you'll spend more on the 14-inch model at Home Depot than you will on the 16-inch model. At a price of about $200, this 16-inch chainsaw is cost-effective and offers value for its price.
It has a 30.5 cc engine that makes light work of moderate lumbering tasks. Granted, it's not a 40 cc like the Poulan model above, but it performs just as well. I also love how light this chainsaw is, weighing less than 10 lbs before the gas tank is filled. Even with a full tank of gas, it's still easy to handle.
Speaking of handling, ECHO's vibration-reduction system is found in the CS-310, limiting the intensity of vibrations that reach the handle. This makes it easy to use the chainsaw for a prolonged period. It's also easy to start, making this one of the most user-friendly gas chainsaws on this list.
What I Like
You can easily access the air filter without tools.

It can use both a 14-inch and a 16-inch bar.

This chainsaw is light.

The ECHO CS-310 easily starts up.

It's powerful enough for moderate cutting jobs.

It's reasonably priced.
What I Don't Like
The plastic body feels a bit cheap.
I must admit that I'm partial to electric chainsaws – environmental issues and all! And Greenworks is one of my favorite electric-chainsaw brands. This 16-inch model is a part of the Greenworks 40V family in which the 40V lithium-ion batteries are interchangeable. So, if you already have other Greenworks 40V power tools, you won't need to buy extra batteries for this chainsaw. 
With the included 6.0 Ah batteries, this chainsaw is able to perform tasks that the gas-powered models above can, but with the added benefit of silence and no emissions. If you're a light- to medium-user, the battery will last throughout your project. If you're a heavy user, just get an extra battery. 
I also love how light this chainsaw is, with a weight of about 9lbs. This, coupled with the comfortable handle, makes it easy to use without feeling shoulder and arm strain.
What I Like
It's a quiet chainsaw.

It's light.

The chainsaw is easy to operate.

The battery doesn't run out quickly.
What I Don't Like
It costs $300, more than the gas chainsaws above.
If you're on a tight budget, the Oregon CS1400 is the perfect chainsaw for you. Costing just $100, this is the most affordable 16-inch chainsaw on this list. It's also one of the lowest-priced chainsaws in the market.
I recommend this model if you're a beginner or you want a simple chainsaw for yard work. But, don't get me wrong, this is no slouch when it comes to logging. Its 15 amp motor powers through every task that the gas chainsaws above can handle. Plus, since it's a corded model, you won't have to worry about running out of battery juice. 
Granted, you're limited to just 15 feet from the power outlet, but you can always get an extension cord if you need to go farther.
Unfortunately, this chainsaw is on the heavier side, weighing about 14.5 lbs, within the same range as the gas-powered models on this list. Still, for the price, the weight is a trade-off that I can live with. 
Find out more about Oregon chainsaws in our Oregon model guide.
What I Like
It's powerful enough for the price.

It is highly affordable.

The chainsaw is silent.

It's easy to use and maintain.
What I Don't Like
Frequently Asked Questions
Question: How thick can a 16-inch chainsaw cut?
Answer: A chainsaw should be at least 2 inches longer than the diameter of the tree or log it's supposed to cut. Therefore, a 16-inch chainsaw can cut a tree that's up to 14 inches thick.
Question: Are all 16-inch chainsaw chains the same?
Answer: No, not all 16-inch chainsaw chains are similar. The chains can have different pitches and gauges, so these chains will only be compatible with specific chainsaw models. Before buying a 16-inch chain, make sure that it has the same pitch and gauge measurements as your chainsaw. You can find these specifications in the chainsaw's user manual.
Question: What is the best size chainsaw for cutting firewood?
Answer: The best chainsaw size depends on the thickness of the logs you want to cut. Generally, 16- to 18-inch chainsaws are able to cut most logs and are ideal sizes for cutting firewood for a majority of people.
Question: Is it better to sharpen or replace a chainsaw chain?
Answer: It is better to sharpen a chainsaw chain unless you've sharpened it so many times that the tip has gone below the guide marks or the chain is significantly damaged. Ideally, a chainsaw chain should last at least five years, if well maintained, before it needs to be replaced. 
Finally
For a 16-inch chainsaw, I would recommend electric models because they're more environmentally friendly, are easier to use, and are quiet. Granted, they're not meant for heavy use but a 16-inch chainsaw isn't meant for heavy use anyway, whether gas or electric.
My top chainsaw recommendation is the Greenworks 2009702 because it performs as well as its gas counterparts, is reliable and easy to use.
However, you'll have to spend about $50 more than you would on one of the gas models on my list of recommendations. Still, with the savings on gas and maintenance, I still think the higher purchase price is worth it.