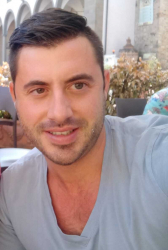 Latest posts by David Borgogni
(see all)
I love shopping at Walmart for just about anything from groceries to furniture and kitchen appliances. Unsurprisingly, the local Walmart store is one of the first places I check whenever I'm in the market for a new chainsaw.
Over the years, I've purchased a few of my chainsaws at this supermarket, and I never regretted the decision, as each model still works. I also like the versatility of their chainsaw selection since I can choose from Oregon, Husqvarna, or Black & Decker models.
In this guide, I'll discuss some of the best Walmart chainsaw options and walk you through the key points you need to consider to choose the right model for you.
Bottom Line Up Front
I never pick a chainsaw solely based on its performance capabilities because the purpose for which I intend to use it also plays an essential role in my selection process.
So, before you start exploring different chainsaw bar lengths or engine types, you must decide if you need to fell trees or prune branches in your backyard. I recommend getting the Husqvarna 450 Rancher if you need a powerful chainsaw that cuts through thick logs.
The Sun Joe iON100V is a great option for homeowners searching for a handsaw they can use for tree trimming or gardening.
My Top At a Glance
Types of Walmart Chainsaws
Navigating through thousands of chainsaw models at Walmart takes hours, sometimes even days, so I do everything in my power to make the selection process as short as possible. Considering just one chainsaw type narrows my options and allows me to find the model I like faster.
Walmart offers all chainsaw types, and you can choose from the following options:
Cordless or battery-powered – Portability and low upkeep requirements are the main advantages of cordless chainsaws. However, their batteries can't provide more than an hour of continuous cutting time.
Corded – These chainsaws are equipped with electrical motors, which means that you can only use them if you have access to electricity.
Gas – This is the most common chainsaw type. All models have powerful engines that allow them to cut through thin and thick logs. However, gas chainsaws are loud, and they require frequent maintenance.
Engine Properties and Tensioning Systems
The power outputs of chainsaws you can find at Walmart depend on their engines. Models that run on fuel have two-cycle engines with displacements in the 30cc to 70cc range. The maximum speed of gas chainsaws depends on the model and varies from 3,000 RPM to more than 14,000 RPM.
Motors on corded and cordless models aren't as powerful as those on gas chainsaws, which makes them better suited for lightweight applications. Walmart's corded chainsaws have 8 to 18 AMP motors capable of delivering excellent chain speeds.
Battery-powered models usually have brushless motors that typically operate at speeds below 10,000 RPM. The bar length of gas, cordless and corded models span from 4-inches to more than 24 inches, and they can be equipped with low-profile, semi-chisel, or full-chisel chains.
Regardless of their type, nearly all Walmart chainsaws have built-in tensioning systems that allow you to loosen or tighten the chain without additional tools.
Chainsaw Safety Features
Thousands of chainsaw accidents occur yearly, and most of them involve novice chainsaw users. I have years of experience with these machines, and over time I started paying extra attention to safety while searching for a new chainsaw.
Here are some of the essential safety features your chainsaw should have:
Stop switch
Vibration reduction system
Chain brake
Safety throttle
Rear hand guard
Kickback reduction system
Scabbards aren't included with all Walmart chainsaw models, and you may have to purchase this accessory separately. I never operate a chainsaw without gloves as they add an extra layer of protection against unexpected tool movements.
You can find all the protective gear you need to operate a chainsaw safely at Walmart, including safety helmets, knee guards, and hearing protectors.
Despite their advantages, I don't recommend opting for chainsaw models designed for aggressive cutting styles if you don't have previous experience with them because they're difficult to control.
The Best Walmart Chainsaw Brands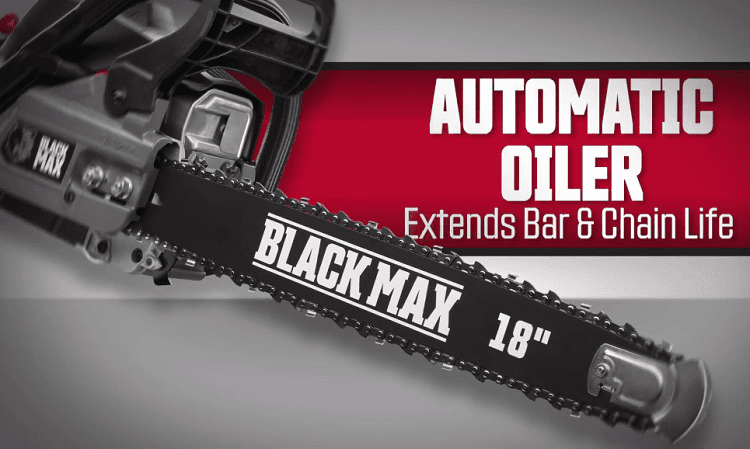 Even though it offers equipment for Stihl products, Walmart doesn't have chainsaws manufactured by this brand. Let's go through some of the top chainsaw brands you will find at Walmart though:
Oregon
Poulan Pro
Black & Decker
ECHO
Husqvarna
Homelite
Greenworks
Salem Master
Walmart also has a variety of chainsaws produced by minor brands like Mustool or Black Max that offer affordable models with moderate performance capabilities. The store has a huge selection of Husqvarna and Oregon chainsaws, but it isn't an ideal place to shop for ECHO or Black & Decker chainsaws.
Cost and Warranty Coverage
The least expensive Walmart chainsaws cost less than $100. You can choose from a wide array of Sun Joe, Hart, Greenworks, or WORX models in this price range, but keep in mind that most options have low power outputs and they lack high-end safety features.
ECHO, Husqvarna, and Oregon models are considerably more expensive as their prices range from $200 to $800. Walmart often offers chainsaws at reduced prices, and you might get a model produced by one of the top chainsaw brands at a fraction of its market value.
The warranty coverage depends on the manufacturer and the model since products offered by the same brand might come with a five-year warranty or a 30-day money-back guarantee.
Selection Criteria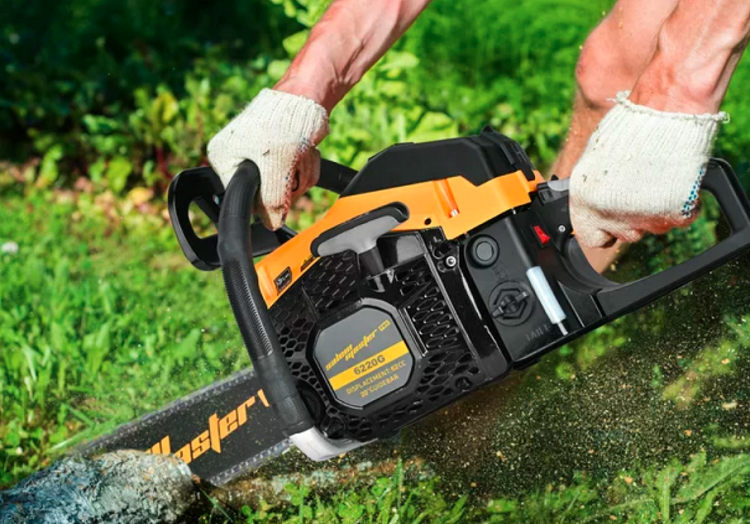 Walmart has over a thousand models in its chainsaw catalog, which means that I inevitably had to exclude some excellent products from this article. Hence, I eliminated all mini chainsaws from the selection process and focused primarily on options with 14 to 20-inch-long bars.
My goal was to identify some of the best Walmart's gas, cordless and corded models equipped with differently sized engines. Moreover, all chainsaws I featured in the final selection are produced by reliable brands.
The model's cost was also one of the vital factors I depended on while choosing the best Walmart chainsaws because my goal was to identify the best models in all price ranges.
Top 9 Walmart Chainsaws
Hart Chainsaw Kit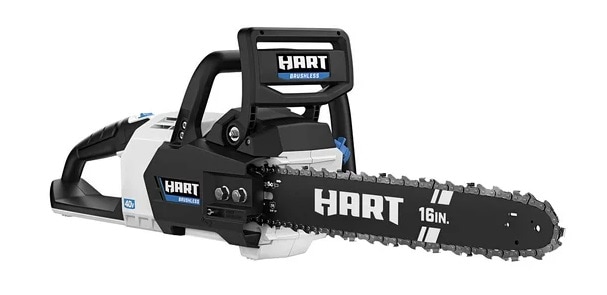 A cordless model like Hart Chainsaw Kit is an affordable solution for homeowners searching for a chainsaw they can use to cut firewood or complete woodworking DIY projects. The tool has a 40V Lithium-Ion battery that powers its brushless motor.
The 16-inch bar is compatible with 3/8-inch chains, while the automatic oil distribution system provides balanced lubrication. The tensioning system is conveniently positioned to allow the user to make chain tension adjustments quickly.
Pros
Long battery life
The chainsaw is lightweight and easily controllable
It has a tool storage compartment
The manufacturer offers a three-year warranty
Cons
Chainsaw's anti-kickback properties could be better
Worx WG384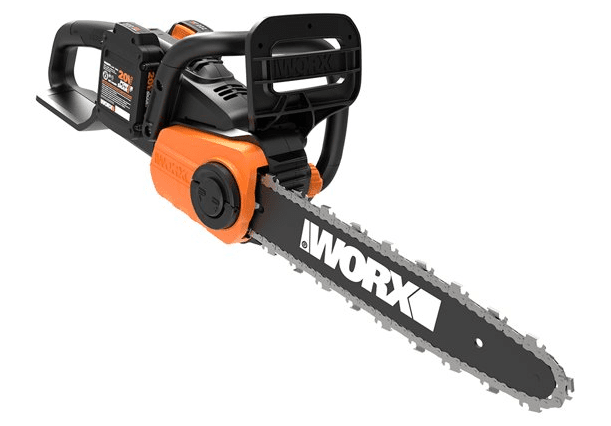 Even though it is powered by two 20V batteries, the Worx WG384 chainsaw can cut a tree with a 26-inch diameter with ease. Its 14-inch bar comes with a 3/8-inch pitch and 0.0043-inch gauge chain that rotates at the maximum speed of 26ft/s.
You don't need additional tools to adjust the chain tension, while the chain break feature prevents accidental starts. The chainsaw has a battery indicator that lets you keep track of how much power you still have left.
Pros
A dual battery charger is included in the kit
The tool lubricates the chain automatically
The chainsaw weighs just 10lbs
Cons
Echo CS2511T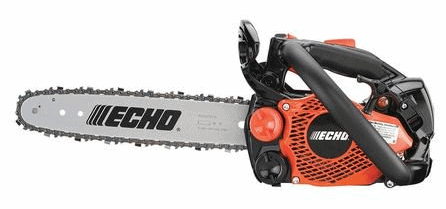 The lightweight design and impressive power output are the main reasons I love the Echo CS2511T chainsaw. The fast idle choke enables you to start the chainsaw quickly, but you must remove the dual post chain brake before you can start using it.
The 2-stroke 25cc engine utilizes a digital ignition system and can operate at speeds up to 13,500 RPM. This chainsaw is compatible with 12-inch and 14-inch bars compatible and 91PXL chains.
Pros
The top handle makes cutting overhead objects easy
The chainsaw has a 6.4fl/oz fuel tank capacity
It has a highly efficient air filter
Cons
It's more expensive than most gas 12-inch or 14-inch chainsaws
Sun Joe iON100V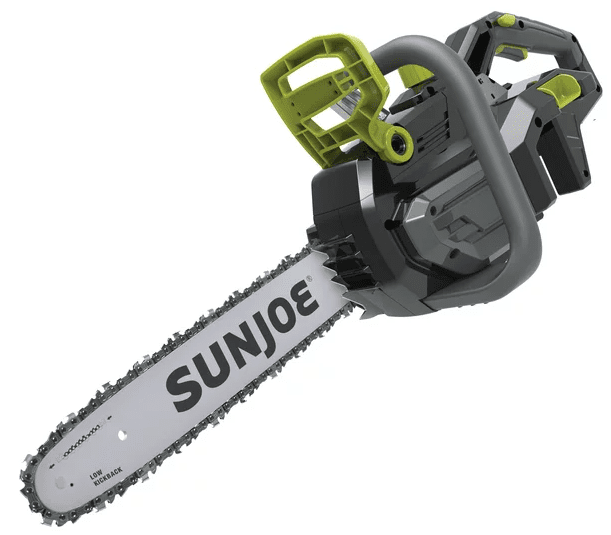 Even though it is designed for lightweight applications, the Sun Joe iON100V chainsaw can cut through firewood or a branch effortlessly. It has a 100V battery and 1.5kW motor capable of generating high chain speeds.
The automatic oiler reduces chain friction, while the handbrake function lowers the chances of a kickback. The chainsaw also has a safety switch that prevents you from starting it unintentionally. This Sun Joe's model weighs around 15lbs, so you're unlikely to experience hand fatigue while using it.
Pros
It has ergonomic front and back handles
Excellent safety features
The product has a full two-year warranty coverage
Cons
Charger and batteries are sold separately
Salem Master 6220G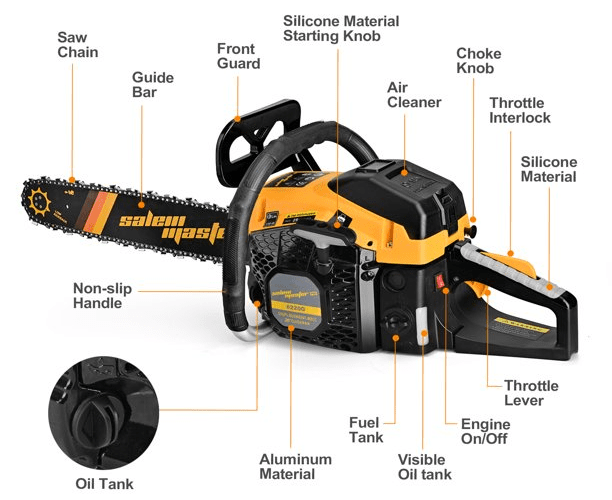 I think the Salem Master 6220G is one of Walmart's best options for homeowners searching for a chainsaw that can efficiently perform most farming or gardening tasks. The 3.4HP 62cc engine operates at speeds up to 8,500 RPM ensuring the tool can cut through softwoods or hardwoods.
Its 20-inch long bar has excellent wear resistance, and you're unlikely to scratch it even if you use the chainsaw several times per week. Chain's teeth are positioned at a 90-degree angle which shortens the cutting time and prolongs its lifespan.
Pros
The handle absorbs vibrations
Oil is distributed across the chain automatically
This chainsaw has a low-kickback function
Cons
It consumes a lot of fuel
Hyper Tough HT21-401-002-01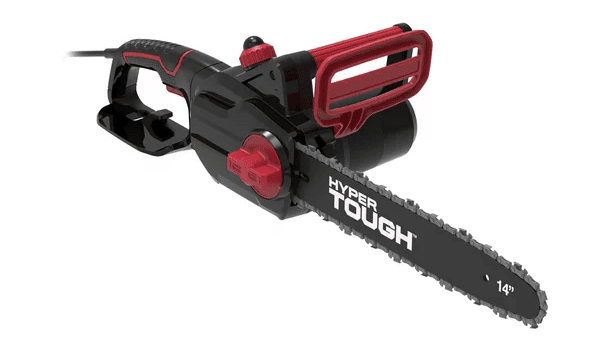 Getting a small and inexpensive chainsaw like the Hyper Tough HT21-401-002-01 could be the right decision if you need a tool you can use to cut firewood. Even though it is powerful for its size, this 14-inch electric chainsaw isn't designed for heavy-duty applications.
The chain brake is one of the chainsaw's rare safety features, as it doesn't have an anti-vibration system, kickback protection, or multiple handles for added holding stability. However, this Hyper Tough model can be useful for most DIY or backyard cleaning projects.
Pros
This chainsaw weighs 6.6lbs
Chain tension can be adjusted without additional tools
It offers good value for the price
Cons
It contains harmful chemicals
Black Max Chainsaw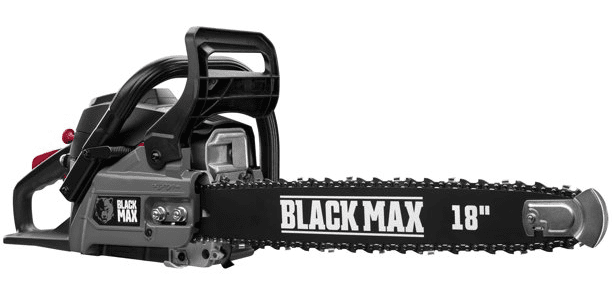 You'll get a scabbard, carry case, combination wrench, and a 2-cycle engine lubricant if you decide to invest in the Black Max Chainsaw.
The gas-powered model has a 38cc engine that generates enough power to cut through most lumber, while its lightweight design makes it easy to carry it to remote job sites. The 18-inch bar is equipped with a low-profile chain and a tip guard that prevent kickbacks.
Chainsaw's tensioning mechanism is easily accessible, but you'll have to use the combination wrench to adjust chain tension.
Pros
Handles lower the vibration level
It doesn't use a lot of fuel
The chainsaw doesn't require manual chain and bar lubrication
Cons
The engine overheats quickly
Husqvarna 450 Rancher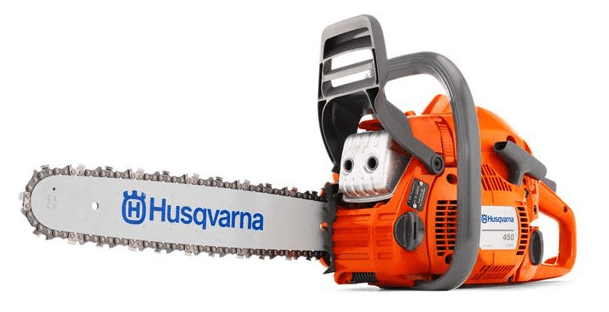 A heavy-duty model like the Husqvarna 450 Rancher is stacked with features that make working with challenging lumber easier.
The chainsaw has felling marks that assist you in increasing accuracy while felling trees, the Smart Start design that shortens the machine's start time, and it utilizes the air injection technology that disposes of debris efficiently.
The 3.2 50cc engine can operate at the maximum speed of 9,000RPM while its idling speed is 2,700 RPM. This Husqvarna model is compatible with 13 to 20 inches long bars.
Pros
Ergonomic rear handle design
LowVib system dampens vibrations
The Air Purge function pushes the air from the fuel system
It offers excellent protection against kickbacks
Cons
Oregon CS1500
Limited portability is, in my opinion, the only downside of the Oregon CS1500 chainsaw. This model has a 15 Amp motor that rotates the chain at high speed and enables you to cut through 10-inch wide logs in seconds.
The chain and bar have excellent anti-kickback properties, while the chain brake enables you to stop the chainsaw almost instantly in case of an emergency. The chainsaw has a self-sharpening mechanism that prevents the chain's teeth from becoming dull.
Pros
Effortless chain tensions adjustment
Low vibration level
All parts are durable
Cons
The chainsaw has a short power cord
Frequently Asked Questions about Walmart Chainsaws
Question: Are Walmart's Chainsaw Prices the Same at the Store and on the Website?
Answer: The store and website prices aren't always the same, and in some cases, purchasing a chainsaw you like through the Walmart website is more affordable.
Question: Does Walmart Offer Refurbished Chainsaws?
Answer: Yes, some models in Walmart's chainsaw catalog are refurbished, and they're available at reduced prices.
Question: Can I Return a Chainsaw I Purchased at Walmart?
Answer: The retailer offers a 90-day return policy for all its chainsaw models.
My Verdict: What is the Best Walmart Chainsaw?
I don't think spending more than $500 on a chainsaw at Walmart is necessary if you want to use the machine to prepare firewood for storage or prune branches.
The retailer has plenty of inexpensive options like Sun Joe iON100V or Oregon CS1500 that can perform these and many more tasks effectively. However, these models have limitations, and you'll have to consider other options if you're searching for a chainsaw for heavy-duty applications.
The Husqvarna 450 Rancher is one of my favorite Walmart chainsaws because it has a high power output, excellent safety features and it is more durable than most competitors.