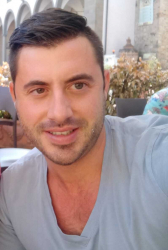 Latest posts by David Borgogni
(see all)
I work with chainsaws on a weekly basis, but carrying this tool wherever my job takes me isn't always simple. Transporting chainsaws on tractors or ATVs can also be dangerous if you don't have a way of keeping them steady while driving over rough terrain.
The best chainsaw holders provide safe storage space for my chainsaws and allow me to access them whenever I need them. These accessories are weather-resistant and durable, so I don't have to replace them often.
In this guide, I'll take you through the essential properties of chainsaw holders and suggest some of the best chainsaw holders you can install on your vehicle.
Bottom Line Up Front
Instead of focusing on the holder's vehicle compatibility, I look for models with sturdy mounting mechanisms that keep a tight grip on the chainsaw bar.
The Labfrommars Universal Chainsaw Holder is one of my favorite models because it can keep my chainsaw in a vertical position or at a 45-degree angle and grants me easy access to the tool. Kemimoto Chainsaw Holder or RJ XD ROPS Chainsaw Holder are excellent options for tractor and ATV owners.
You might also like: How to find the best chainsaw gloves
My Top Picks At a Glance
Components of Chainsaw Holders
The size and weight of your chainsaw are the key parameters you must take into account while searching for a new chainsaw holder. The length of most chainsaw bars ranges from 12 to 20 inches, so the holder you choose must be large enough to accommodate them.
The mounting racks usually have weight limits, and most models support 10lbs to 15lbs chainsaw models. So, you'll have to check the holder's weight limit if you have a chainsaw that weighs more than 20lbs.
Most models are fitted with clamping mechanisms that prevent the bar from moving and allow you to store the tool in a vertical position or at a 45-degree angle. You can use this accessory with Stihl, Craftsman, or chainsaw models produced by any other brand.
Vehicle and Tool Compatibility
Chainsaw holders are designed for ATVs, UTVs, trailers, or dirt bikes, but most models are universal, and you can install them on all types of vehicles. Most mounting brackets designed for flat surfaces are universal, and you can install them in a car, SUV, or UTV.
However, some models only fit on ROPS or tubular racks, so fitting them on a flat surface is either difficult or impossible. That's why you must pay attention to the holder's mounting mechanism during the selection process to ensure the model you choose is compatible with your vehicle.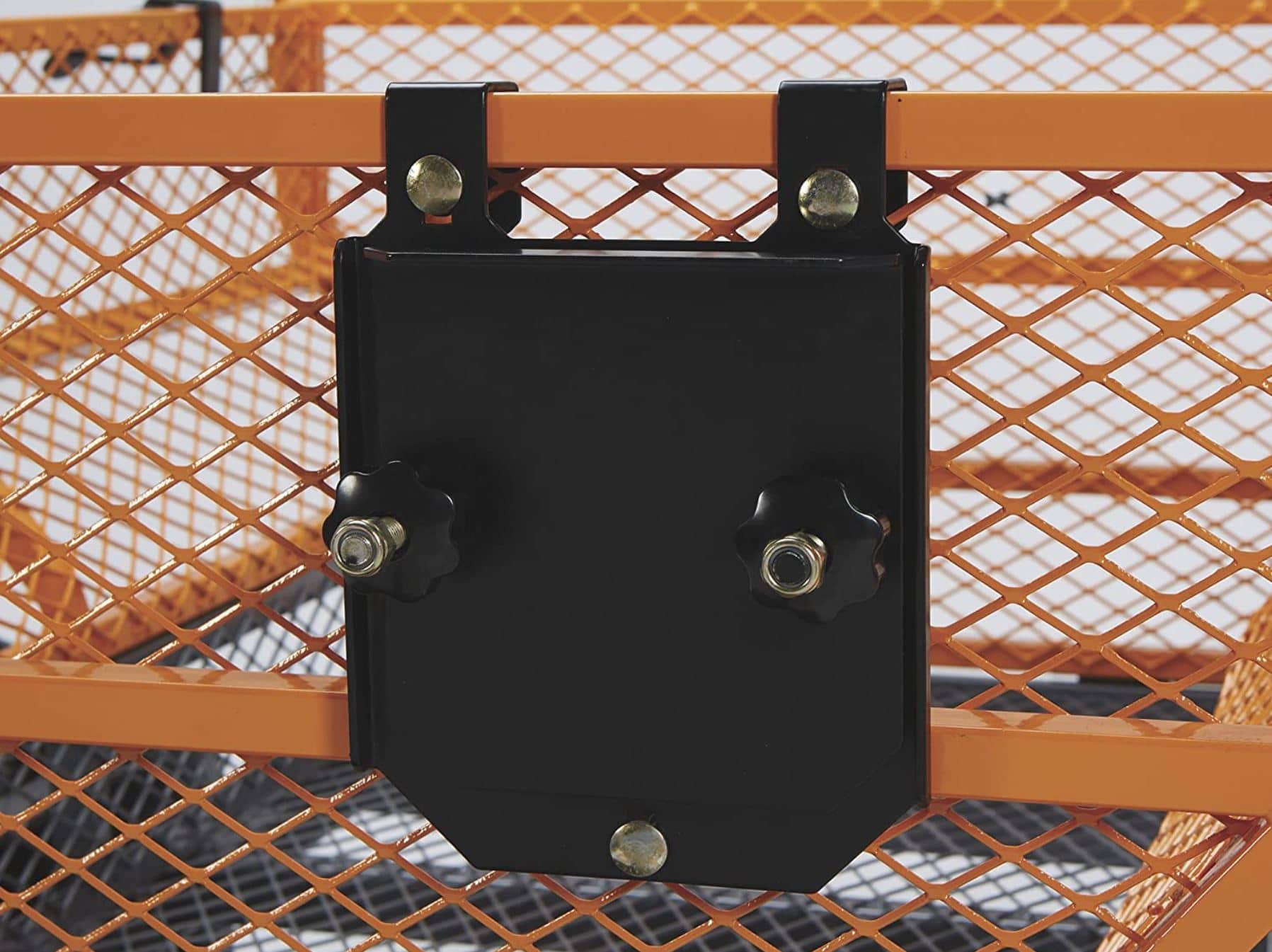 You should also keep in mind that most holders don't support bars longer than 20-inches. Also, some models are designed to hold chainsaws with bars longer than 14-inches.
Additional Safety Accessories
Although chainsaw holders reduce the chances of potential accidents, they don't eliminate them. Hence, pole covers are advisable, especially if you're transporting a chainsaw with an off-road vehicle. Here are a few scabbards you can use to protect your chainsaw's bar from damage:
Chainsaw scabbards add to the bar's width, and you need to check if you can fit your chainsaw in the holder with a protective cover.
I also recommend checking the dimensions of the holder's mounting mechanism to avoid getting a model that is too big for the section of the vehicle where you want to install the holder.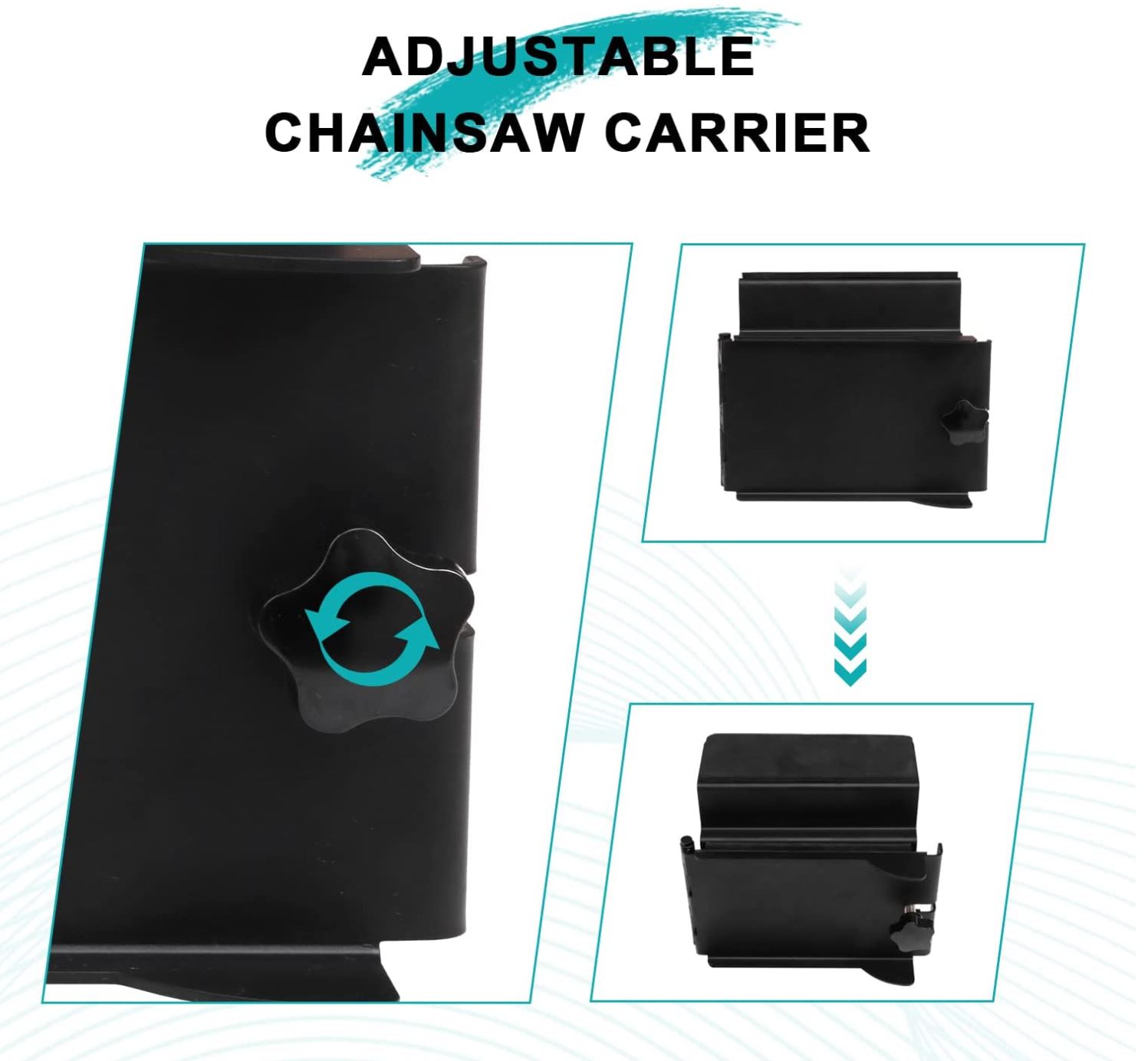 Cost and Durability
Even though they handled high vibration levels regularly, all my chainsaw holders held up for years. Most models have stainless steel mounts and plastic clamps, so exposure to the elements doesn't affect them.
Chainsaw holders aren't expensive, as even the priciest models cost less than $200. In most cases, you won't have to spend more than $100 to get a sturdy chainsaw holder that can last for years.
Selection Criteria
I relied only on a few parameters while choosing chainsaw holders for this article. The model's load carrying capacity and bar length compatibility were among the essential criteria I considered. As a result, most models in the final selection can support chainsaws with bar lengths between 12 and 20 inches.
Vehicle compatibility was another vital factor I used to select chainsaw holders suitable for ATVs, UTVs, trailers, or dirt bikes.
Top 9 Chainsaw Holders
Wisdour Universal Chainsaw Holder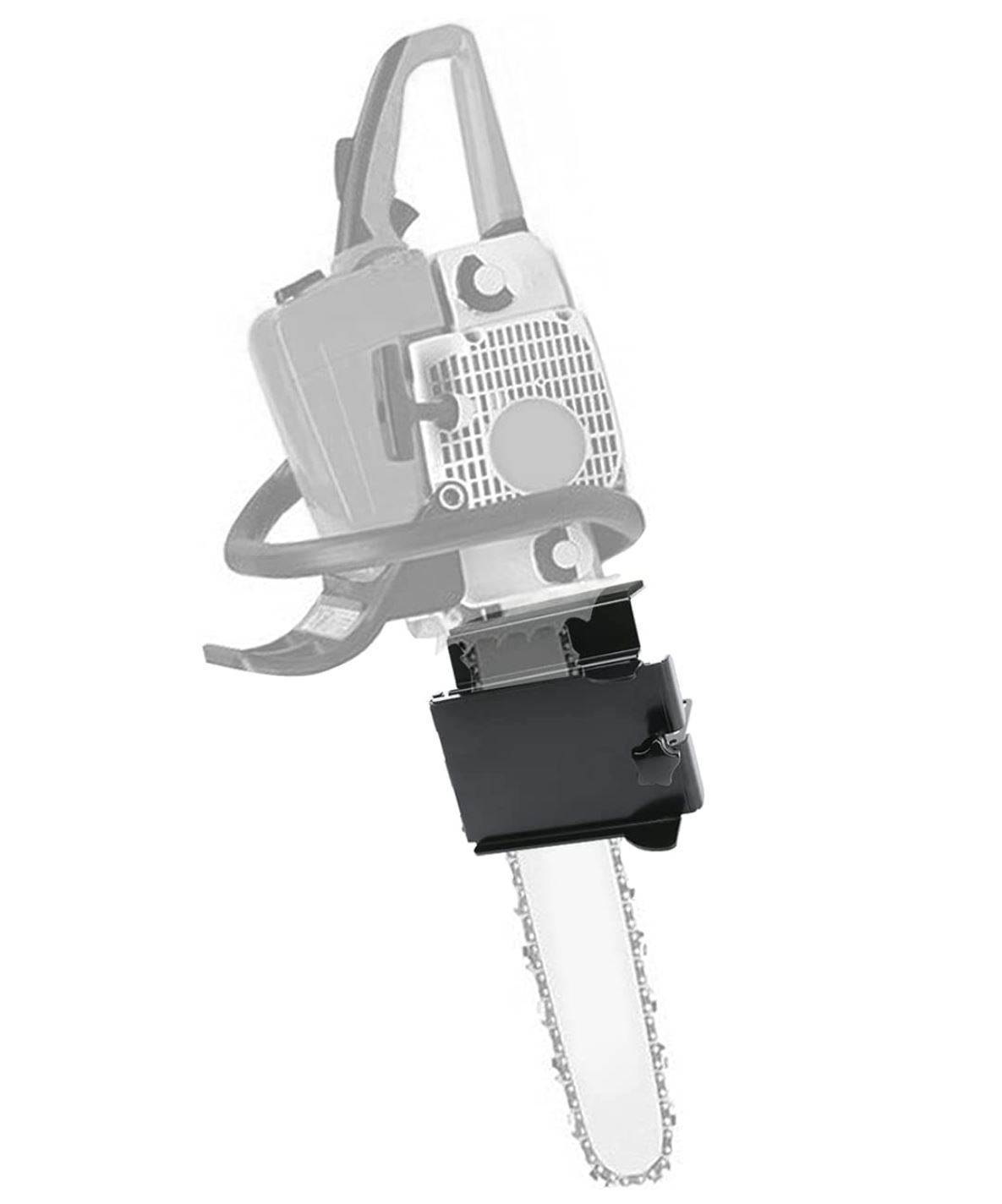 You'll never struggle to find space for your chainsaw again if you get the Wisdour Universal Chainsaw Holder. Its mounting mechanism fits on bars or flat surfaces, and you can install it on a UTV bed or an ATV with a tubular rack.
The clamping mechanism is composed of two rubber pads that hold the chainsaw's bar tightly and allow you to store the tool in the vertical position or at a 45-degree angle.
Pros
It's compatible with different types of vehicles
The holder accommodates a chainsaw with 20-inch bars
The mounting mechanism is corrosion resistant
Cons
It doesn't fit all UTV models
Kemimoto Chainsaw Holder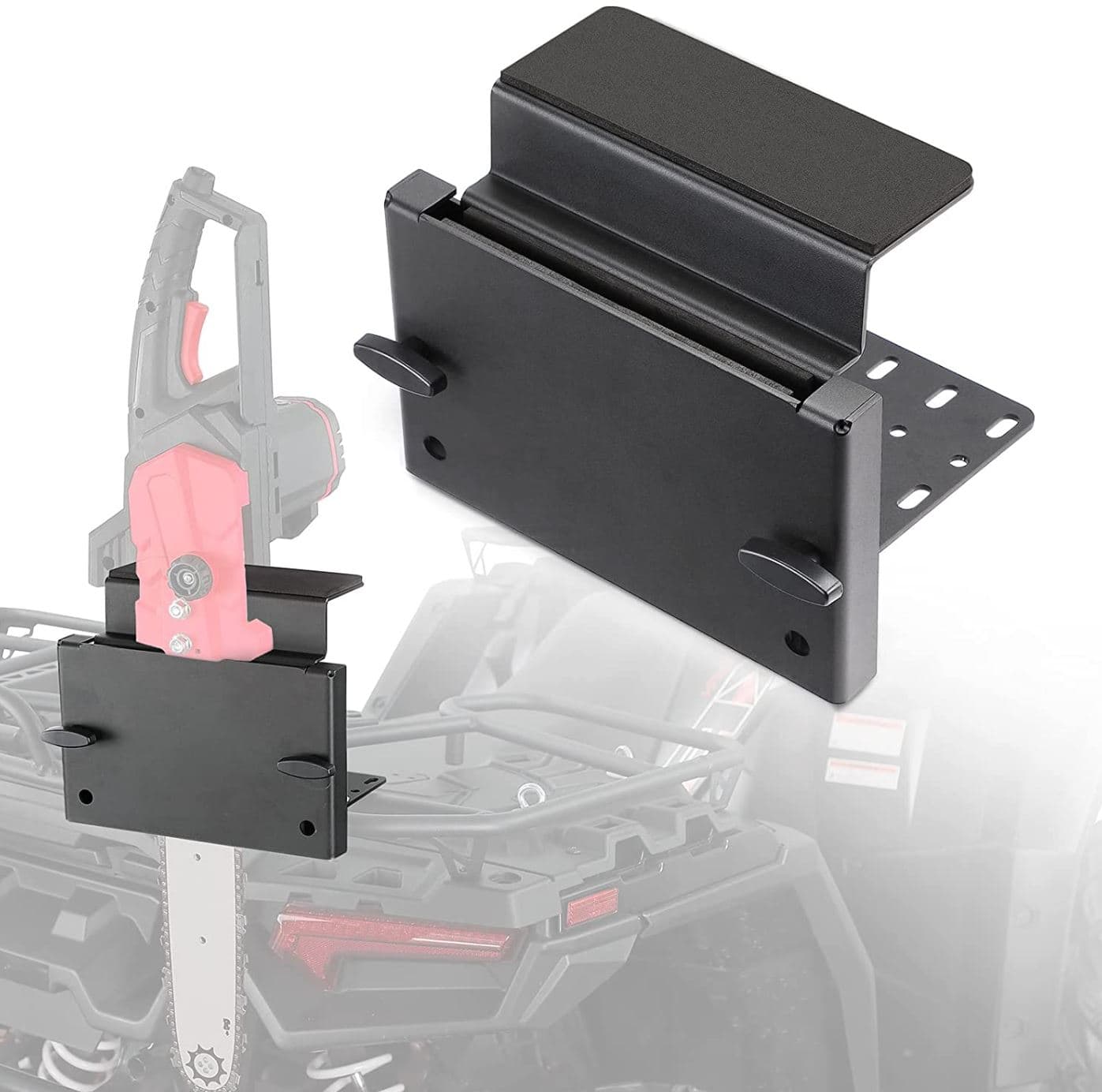 Owners of Yamaha Grizzly or Can-Am Outlander ATVs should consider getting the Kemimoto Chainsaw Holder. This model has excellent vibration absorption properties and prevents chainsaws from bouncing during off-road rides.
The steel mounting bracket has an anti-corrosion coating and fits on roll bars with diameters up to one inch. Holder's pads are adjustable, allowing you to transport chainsaws with different bar types and a maximum length of 20 inches.
Pros
The holder offers two installation methods
Pads have anti-slip properties
This model isn't expensive
Cons
It's not suitable for vehicles that don't have roll bars
SawHaul Chainsaw Carrier Kit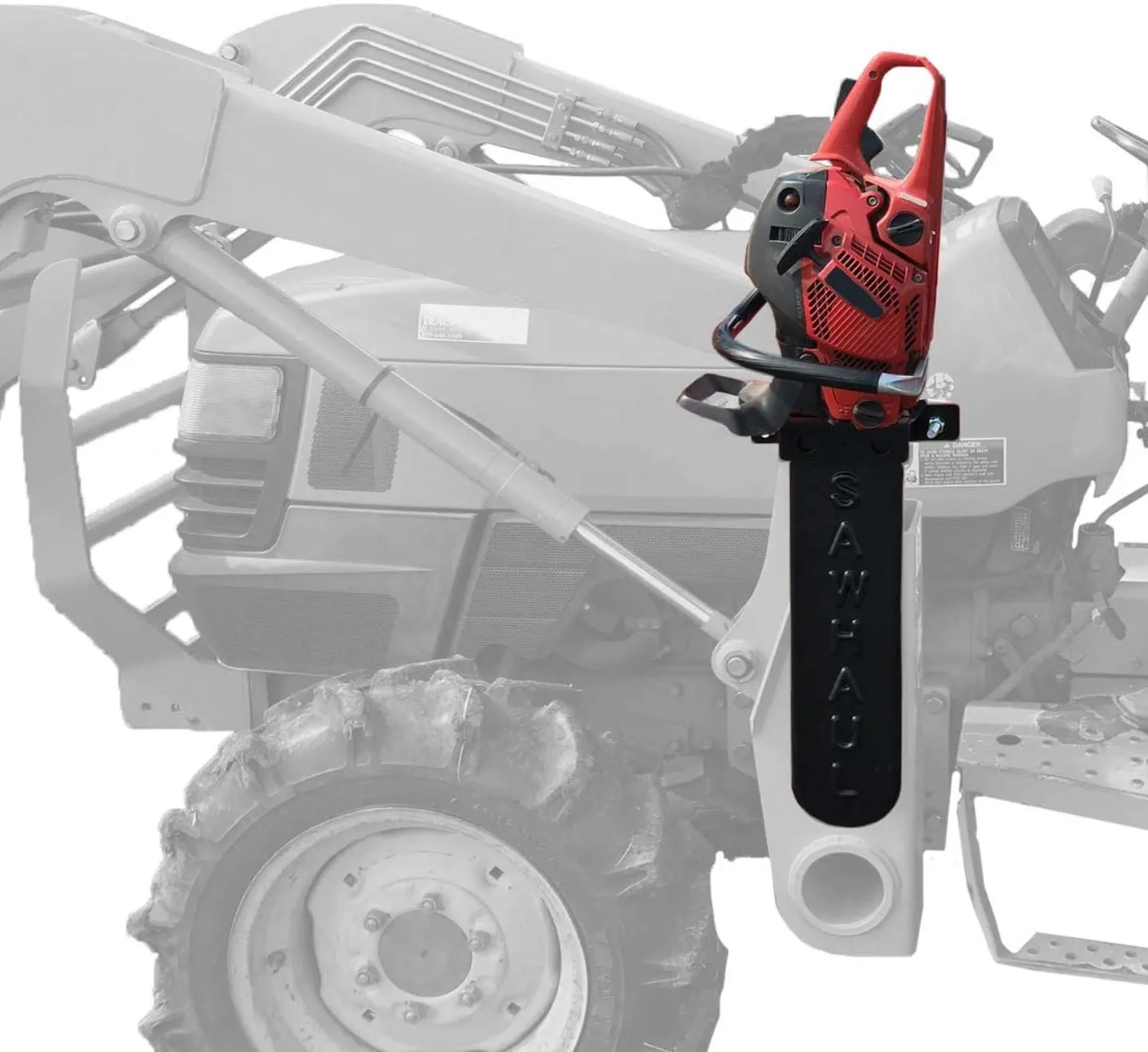 If you're looking for a holder you can install on a compact or sub-compact tractor, I suggest taking a closer look at the SawHaul Chainsaw Carrier Kit.
The kit features a mount compatible with front end loaders of most tractors, but you'll need a modification piece if you want to install the holder on a John Deer tractor. The scabbard is designed for chainsaw bars up to 20-inches long, but you can alter it to fit larger bars.
Pros
Removing the chainsaw from the holder is easy
The scabbard protects the bar from scratches
It doesn't wear out quickly
Cons
It's incompatible with ATVs and UTVs
Kolpin Off-Road Vehicle Chainsaw Mount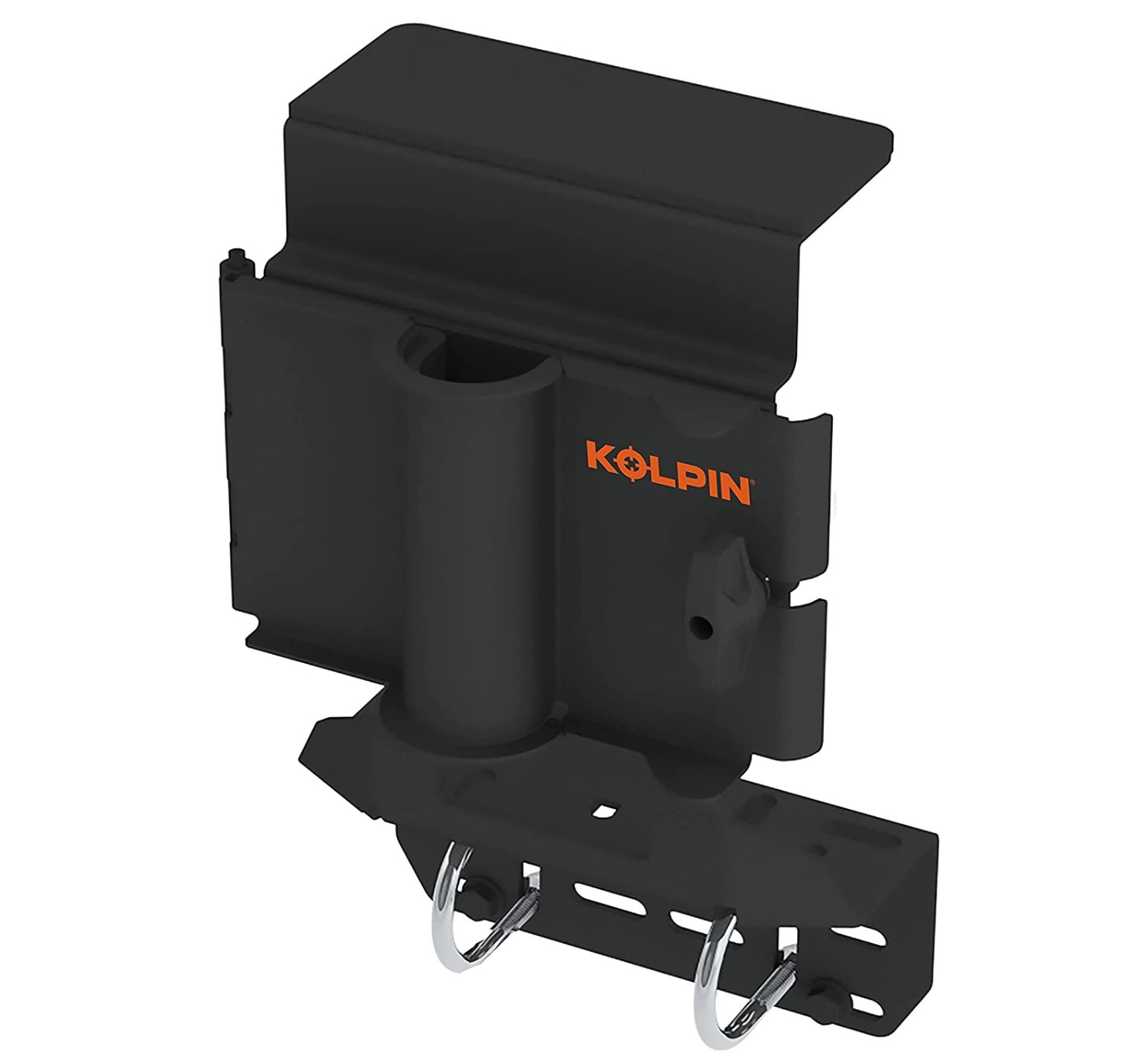 I think the Kolpin Off-Road Vehicle Chainsaw Mount is one of the most versatile chainsaw holders on the market, as its mounting mechanism enables you to install it on a roll bar, trailer, and UTV beds.
The model's metal construction has a powder coating that makes it more durable by reducing the effect of daily wear and tear. Rubber pads can be tightened by simply turning a knob, which enables you to remove the chainsaw from the holder in just a few seconds.
Pros
Adjustable chainsaw holding position
An affordable price
Rugged design
Cons
It can't carry chainsaws heavier than 15lbs
Labfrommars Universal Chainsaw Holder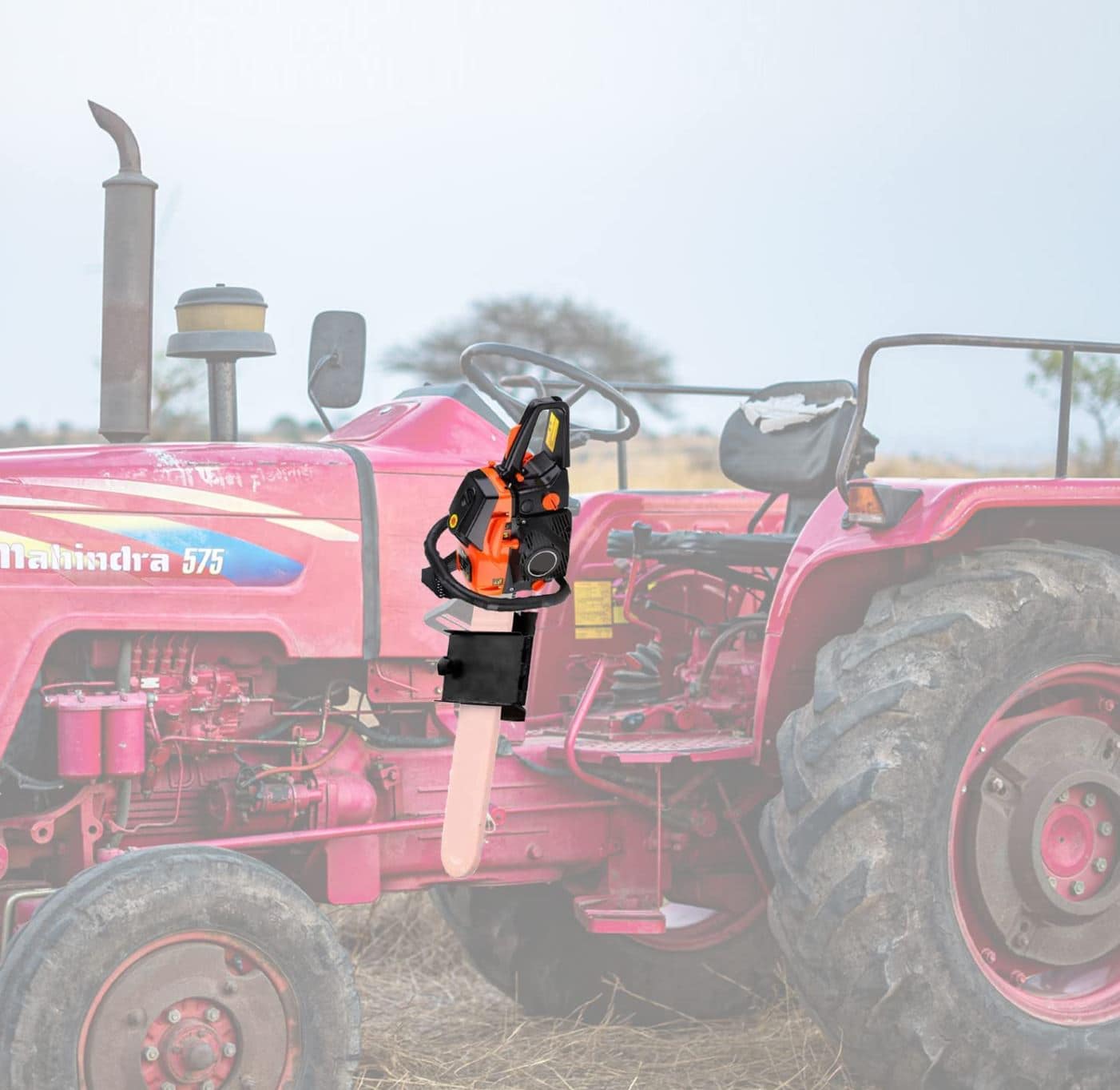 All you need to do to install the Labfrommars Universal Chainsaw Holder on a UTV, tractor, ATV, or trailer is buckle its rivets and ensure it cannot move.
Despite its sturdy construction, the holder cannot carry chainsaws heavier than 15lbs, while the maximum bar length it can accommodate is limited to 20 inches. You can switch between vertical and 45-degree carrying positions and adjust the tension of the holder's clamps.
Like most chainsaw holders, this model has a powder coating that protects it from scratches and harsh weather conditions.
Pros
It's compatible with most ATV, UTV, and tractor models
The mounting mechanism is made of refined steel
Clamps don't lose their gripping power over time
Cons
The holder doesn't come with a bar cover
Enduro Engineering Chainsaw Holder
Installing the Enduro Engineering Chainsaw Holder on your dirt bike can be useful if you often ride on trails that get blocked by trees and branches. Although it is a universal fit for all dirt bikes, you may have to modify the holder to install it on some Yamaha models.
The mounting mechanism is made of aluminum, so it won't add much weight to your bike. This holder has a built-in scabbard suitable for chainsaw bars up to 16 inches long.
Pros
It has adjustable mounts
The holder fits on most dirt bike models
It has a sturdy and lightweight construction
Cons
This chainsaw holder is expensive
Larifull Chainsaw Holder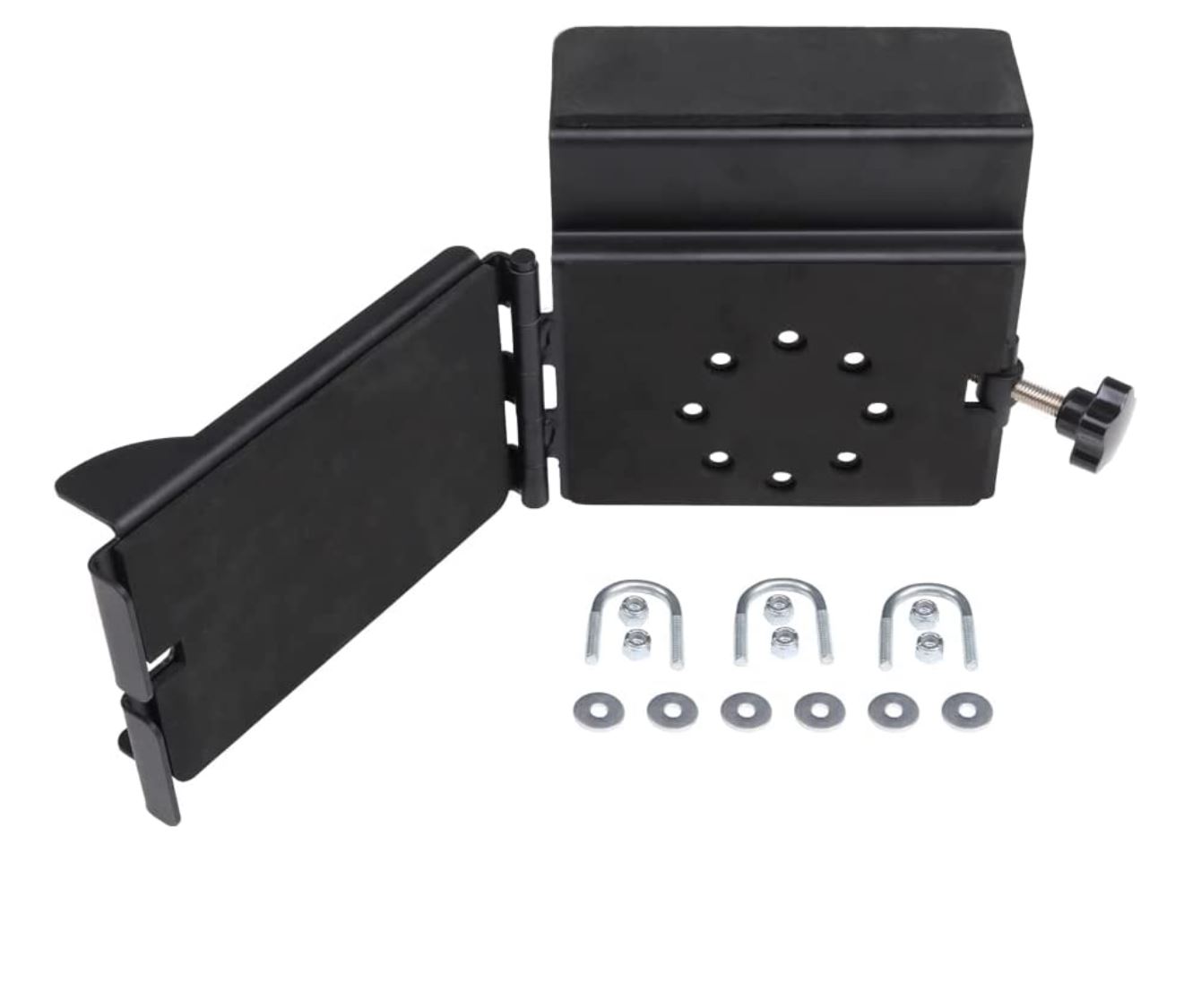 Although it is primarily designed for ATVs and UTVs, the Larifull Chainsaw Holder can also be mounted on SUVs and other types of off-road vehicles. This model is made of steel, and it has rubber pads that cushion the chainsaw bar and prevent it from moving.
Also, you can lock the chainsaw in several carrying positions by tightening a knob at the holder's back. This model can't take heavy chainsaws compatible with bars longer than twenty inches.
Pros
The chainsaw holder arrives with the installation kit
It lasts for several years
It is suitable for most off-road vehicles
Cons
The chainsaw bar cover must be purchased separately
RJ XD Chainsaw Holder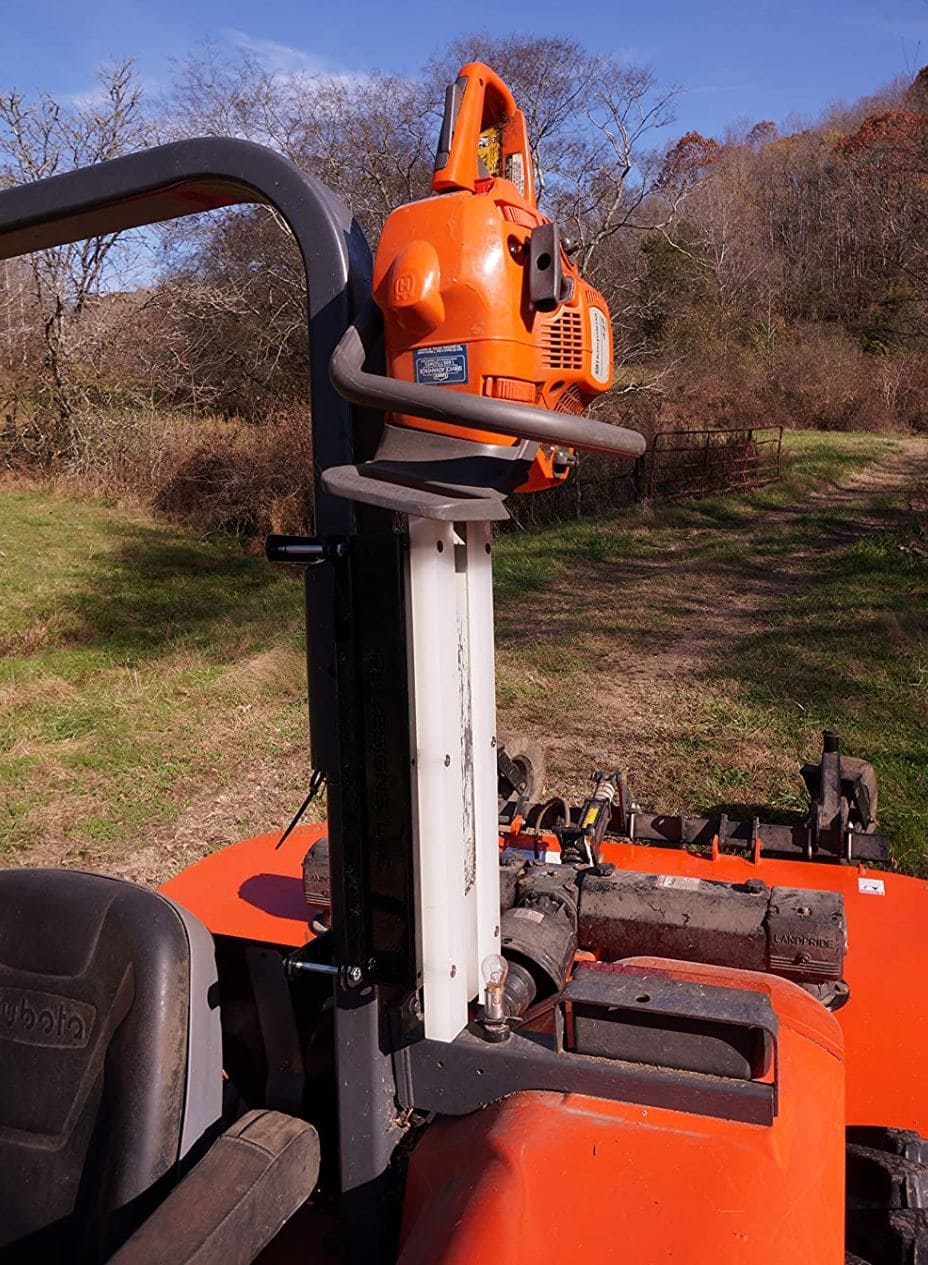 You can mount the RJ XD Chainsaw Holder on any vehicle equipped with a rollover protection system. Still, fitting this model on the front loader arms of a compact tractor can be challenging.
The holder has an adjustable bar guide system that enables you to transport chainsaws with 3.4 to 4.5-inch wide bars. This model doesn't have a close-ended guide, and you can use it to transport chainsaws with 24-inch or 28-inch long bars.
However, the length of the vehicle's ROPS can limit the maximum bar size you can fit into the chainsaw holder.
Pros
It doesn't have a weight limit
Guide bars are made of polyethylene
It weighs 5lbs
Cons
It occupies a lot of space on ROPS
Bannon Chainsaw Holder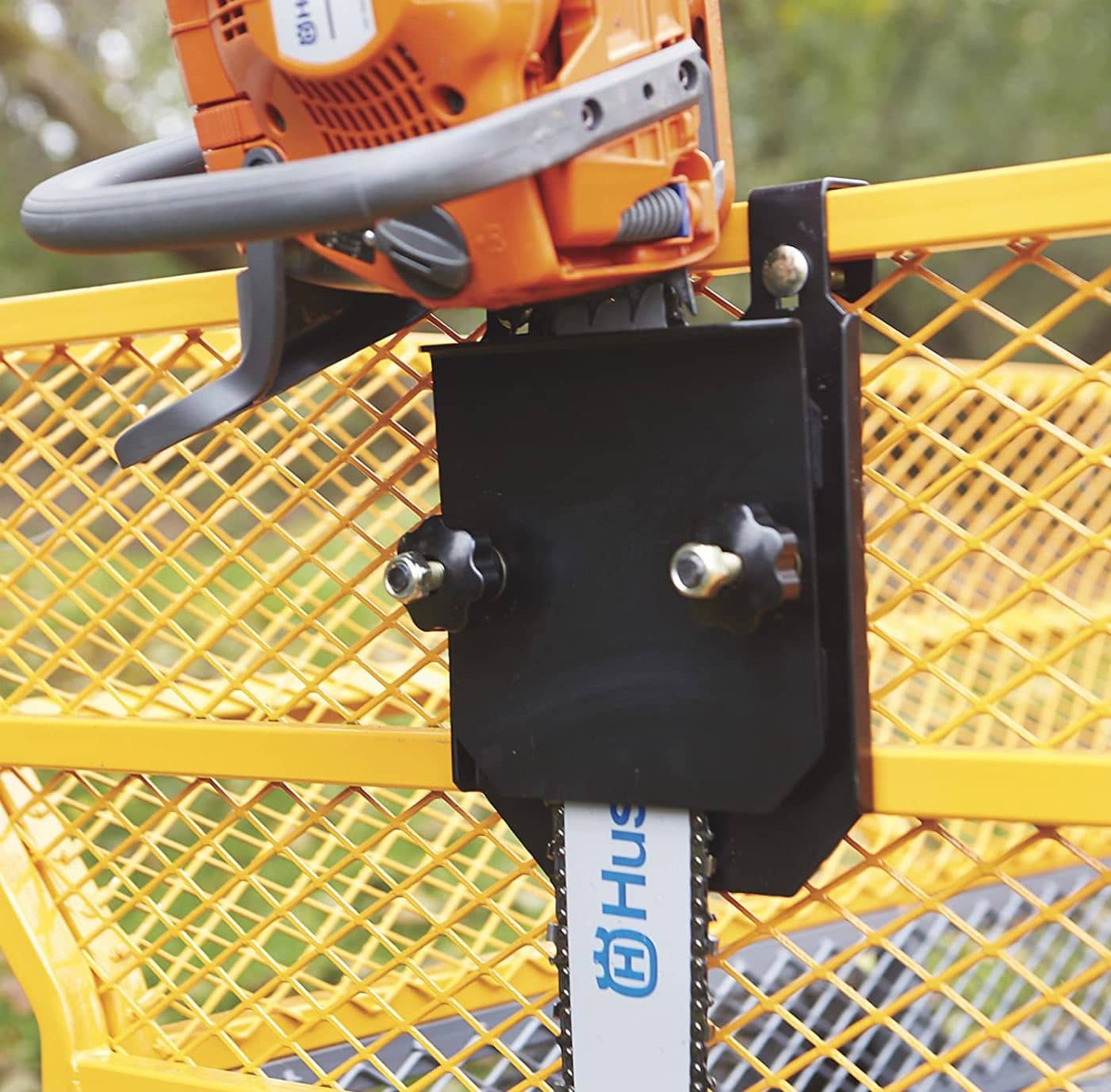 I recommend getting the Bannon Chainsaw Holder if you already own a utility trailer manufactured by the same brand. Even though its mounting mechanism supports installation on 1-inch wide ROPS, I don't think this holder is a good fit for off-road vehicles.
The model is made of durable materials that withstand frequent exposure to rain and sun. Still, the holder doesn't absorb vibrations well and can get damaged easily during bumpy off-road rides. Also, you'll have to purchase the scabbard to protect the chainsaw's bar.
Pros
It has a high load-carrying capacity
All components are made of steel
Installation takes less than ten minutes
Cons
It has only one chainsaw holding position
Frequently asked questions about chainsaw holders
Question: Do chainsaw holders provide storage room for accessories?
Answer: Chainsaw holders don't have extra storage space for spare chains or other accessories.
Question: Can a holder keep a chainsaw in a horizontal position?
Answer: Most models are designed to hold chainsaws in a vertical position, while only a few models can keep a tool in a horizontal position.
Question: Do chainsaw holders have warranties?
Answer: Manufacturers don't offer warranties for these products.
My verdict: What is the best chainsaw holder for your vehicle?
I struggled to find space for a chainsaw on my ATV for years before I realized that the solution to my problem was simple and affordable. Selecting the correct chainsaw holders for your vehicle starts with gathering basic information about the tool.
Once you know its bar's length and weight, you can shortlist the models that can carry your chainsaw safely. If you need a holder you can mount on different types of vehicles, then a model like the Labfrommars Universal Chainsaw Holder can be an excellent option
Kemimoto Chainsaw Holder or RJ XD ROPS Chainsaw Holder might be the right solution if you want to mount the holder on the vehicle's rollover protection system.