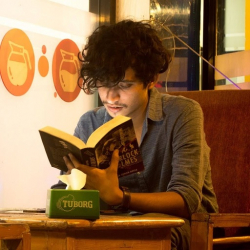 Latest posts by Sandesh Kc
(see all)
Keeping a beautiful landscape by cutting or pruning branches of trees and shrubs is as fulfilling as it is necessary. It helps remove broken and unhealthy branches, makes the trees more decorative, and even improves the timber quality in woodlots.
But using a chainsaw while on top of a ladder can be a time-consuming and dangerous task that should be avoided at all costs. Fortunately, there are a lot of power tool companies out there that have developed more compact and easy ways to get to those hard-to-reach branches. They are called pole saws.
A pole saw is essentially a chainsaw that is fixed onto a long pole which allows you to cut down branches at a height from the safety of the ground.
As a complex power tool, there are lots of things to consider to find out the best pole saw that perfectly fits your needs and your budget out of different types and models of pole saws available on the market.
To help you make this decision, we have prepared this all-inclusive guide that will walk you through everything you need to understand about a pole saw and provide you with our top picks that are chosen through on-hand experiences and intensive research.
Interesting read: How to Properly Use a Pole Saw.
Types of Pole Saws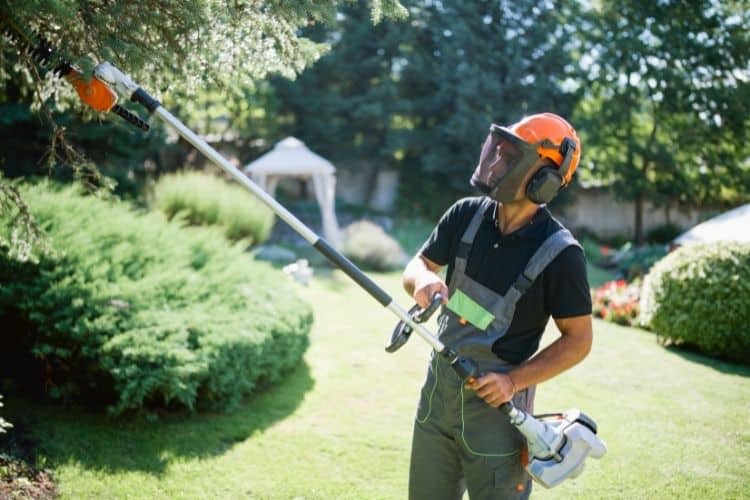 There are different types of pole saws based on their energy supply and these types affect the cost of the saw as well as its intended usage. So, it is always a good idea to familiarize yourself with the major categories of pole saw to find the one that aligns best with your needs and budget.
Manual Pole Saws
Manual pole saws are old-fashioned pole saws that are operated fully by physical force. With the popularity of electric and gas-powered pole saws, they are considered outdated and extremely inconvenient.
They are still used for small and occasional tree pruning operations if the branches are small. If you only need a pole saw for just that and want to spend the least money to get some branches trimmed from the yard, manual pole saws can be your best option.
Corded Electric Pole Saws
As the name suggests, corded electric pole saws are powered by an electric wire that needs to be plugged in at all times. Consequently, these types of pole saws are best suited for light trimming jobs around residential areas.
The presence of a cord that you need to handle while working will also limit the range of the yard you can work on. The workable distance is usually around 100 feet.
However, corded electric pole saws have some unique benefits that might be appealing for some specific needs.
First of all, having a regular power supply means that you don't need to stop to refuel or recharge, like the gas pole saws and battery-powered pole saws.
Moreover, they are the most affordable powered ones that you can buy and can even be found in convertible models that let you use them as regular chainsaws. Finally, they are commonly the most lightweight at around 15 pounds and the least noise-making models which make operations easier.
Cordless Electric Pole Saws (Battery Powered Pole Saws)
Cordless electric pole saws can be used anywhere unlike the corded ones as they are operated by rechargeable batteries.
But this benefit of portability is countered by the hassle of having to regularly charge the batteries between operations. So, it is highly recommended to regularly stock up on a few extra batteries.
Moreover, the efficiency of battery-powered pole saws is on the rise because of the ever-increasing electric battery technology. If you are someone who tends to choose eco-friendly options, you might want to choose battery-powered pole saws over gas-powered ones.
Due to the addition of batteries, they are slightly heavier than corded pole saws and might also be less powerful, but only slightly.
Finally, they are more comparable with the gas-powered pole saws, which is the next and final type of pole saw available.
Gas-Powered Pole Saw
Gas-powered pole saws are considered the best in terms of performance and power. They use gas as the powering fuel to generate enough power that is suited for trimming all sizes of branches in big trimming projects.
Gas-powered commercial grade pole saws are the most common among professional tree pruners as they can operate for long hours and cut branches up to 8 inches in diameter.
However, they come with a set of drawbacks like the increased noise levels which might be a bit too excessive in a residential setting. Also, higher performance means higher prices. Also, this is a demanding tool both while in and out of use. It requires skills as well as experience to properly operate and it also needs regular maintenance like oil changes and tank refills.
This type of pole saw is recommended if power is your main concern and you need to regularly prune trees in a large and remote area.
Things to Consider When Choosing the Best Pole Saw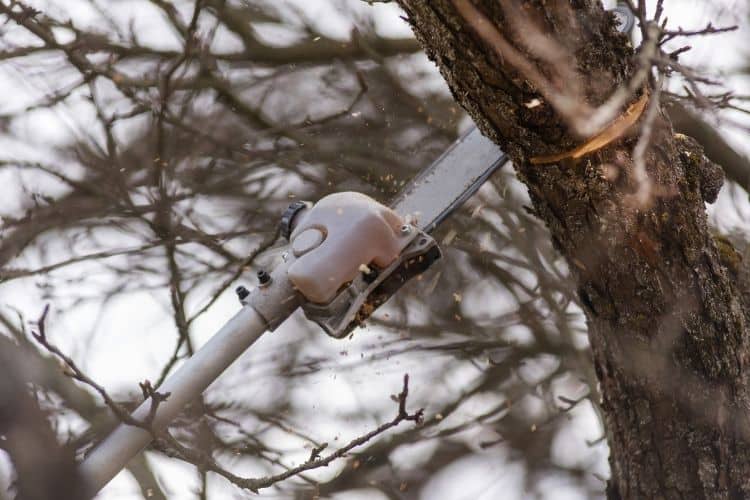 The wide variety of pole saws available on the market are suited for varied needs and occasions. There are some which are best left in the hands of professionals while some are specifically designed to be operated by anyone themselves. The following factors will determine the one for your needs.
Working Height of the Pole Saw
The working height of a pole saw essentially indicated the length of the pole. This determines the height up to which you can cut branches from the ground.
You can benefit from having a long pole by being able to cut branches and shrubs higher up. However, increased height will make it harder to control and accurately maneuver the cuttings.
Therefore, the right balance between the reachable height and your ability to control the device will result in an optimally long pole saw for you.
However, it is very important to understand the working height mentioned in the product description and the actual length of the pole saw are two very often two different things. The working height almost always adds the length of your arm, which is considered around2 to 3 feet, to the actual length of the device.
So, the actual length of the pole saw will be around 7 to 8 feet if it has a working height of 10 to 11 feet.
Finally, some models might even add the height of the operator to the working height which makes the working height even higher up to 15 feet. So, it is very important to figure out the actual length of the pole saw you intend to buy.
Cutting Bar Length
The length of the cutting bar for standard pole saws usually ranges from 6 to 12 inches. The heavier gas-powered pole saws have a cutting bar length of 10 to 12 inches while less powerful electric pole saws have smaller cutting bars.
Since it is recommended to use cutting bars that are 2 inches longer than the diameter of the branches you are cutting, you should carefully select a pole saw with appropriate cutting bar length according to the size of the branches you intend to cut.
This is also an important decision to make for safety considerations because insufficient cutting bar length may result in injuries.
Runtime
The intended frequency and duration of your usage should match the runtime of the pole saw you buy. While corded electric pole saws generally offer the best runtime, they are not always practical.
Battery-powered pole saws provide a runtime of around an hour while gas-powered pole saws might be slightly better.
For a cordless electric pole saw, you either have a NiCad or Lithium-Ion battery. Lithium-Ion batteries are better in terms of performance and battery life.
However, having spare batteries or extra gas will let you use the device for an extended time since it is fairly easy to refill the gas or replace batteries.
Weight
Like all other power tools, the weight of the device is an important factor that decides your buying choices. It is even more critical in the case of a pole saw because you will be operating this device while holding it in a raised position above your head.
For a pole saw, the material used in the pole largely contributes to the weight of the device. A lighter material like aluminum as pole material will mean that it is easier to maneuver while also being durable and strong.
The type of the pole saw also defines its weight. Gas-powered pole saws are highly powerful because of the engines and motors, which further add to the weight of the device. They typically weigh from 20 to 25 pounds. On the other hand, the lesser powerful cordless pole saws weigh about 15 to 20 pounds.
Finally, the corded electric pole saws neither have batteries nor engines are the most lightweight at below 15 pounds.
No matter the weight, it is a challenge to be holding even a 10-pound long device for a long time. So, make sure to take enough rest while using a pole saw to avoid pain.
Additional Features
Since a lot of brands and manufacturing companies are competing to provide you with the most comfortable and best pole saw, they are packed with additional features which might not be the most important but will ensure a better experience while operating.
For example, features like anti-vibration and noise reduction are always preferable and these features, even at small levels can amount to huge benefits in the long run.
Moreover, maintenance of the pole saw is made easy by providing self-oiling chains in some models.
Also, a telescopic pole saw means that it solves the problem of storing a very long device in your garage.
Finally, many models offer you the ability to detach the saw from the pole which allows you to use the saw as a normal chainsaw. However, in most cases, they are restricted to be used for cutting firewood and felling small trees.
Our Top Picks
Once you have understood the different types of pole saws available and what to look for while selecting the pole saw for your needs, we will now provide you with the reviews of the best options available on the market for each category:
Best Corded Electric Pole Saws Options
Remington RM1035P Ranger II Electric Pole Saw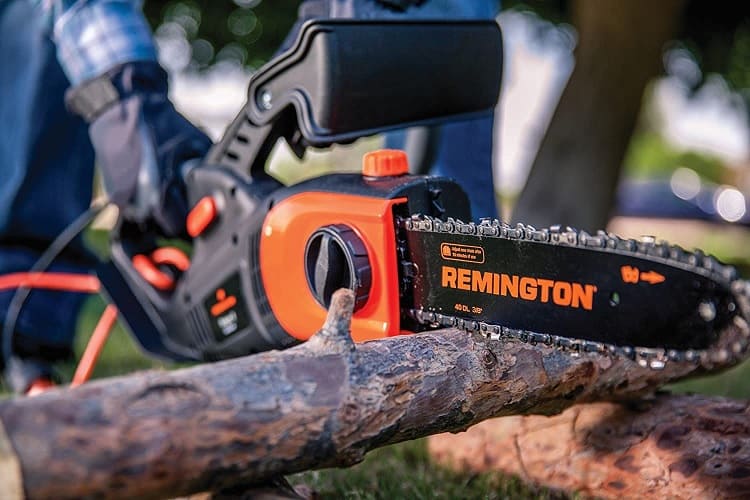 The Remington RM1035 is the best electric corded pole saw on the list because it has some impressive features like the 10 feet pole made out of aluminum. The aluminum makes the pole saw lightweight at 12.5 pounds.
The 10 feet long measurement of the pole does not include your height and your arm's length. This means that you can reach branches very high up in the tree depending upon your height.
The RM1035P is also equipped with an automatic oiler. It can instantly switch from a pole saw to a chainsaw by the push of a button. And since the cutting bar length of the saw is 10 inches, you can make good enough use of this as a chainsaw. The cord has a working radius of 10 feet.
Read our full Remington Pole Saw Review.
Specifications
Motor: 8-amps
Weight: 12.5 pounds
Length: 10 feet
Cutting Blade Length: 10 inches
Additional Features
Anti-rotation pole
Non-slip and Adjustable pole using flips and lock clamps
Auto-chain Lubrication
Worx WG309 8 Amp 10″ Electric Pole Saw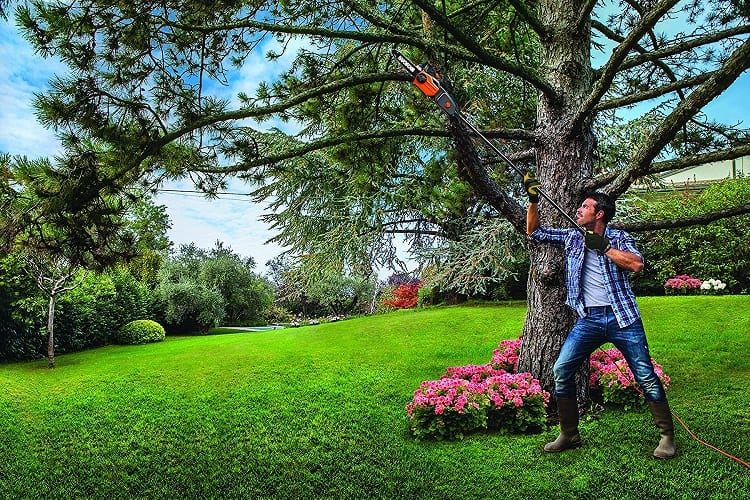 The Work WG309 has an 8-foot extension pole instead of the 10-foot pole in the Remington 1035P. Other than that, it also has an impressive 10-inch cutting bar and an equally powerful motor of 8 Amps.
It is also more lightweight at only 10 pounds and very easy to control. Worx asks you to "Do it better, Do it yourself" with its pole saws and allows you to do the same by giving you the ability to easily attach and detach the saw from the pole to be used as a regular chainsaw. Similarly, it also has an auto-lubrication feature.
Specifications
Motor: 8-amps
Weight: 10 pounds
Length: 8 feet
Cutting Blade Length: 10 inches
120 ml oil tank
Additional Features
Auto-tension chain system that prevents over-tightening and reduces motor stress.
Rotating handle to turn the saw without turning your body
Auto chain Lubrication.
Best Cordless Pole Saws Options
Greenworks 20672 40V Cordless Pole Saw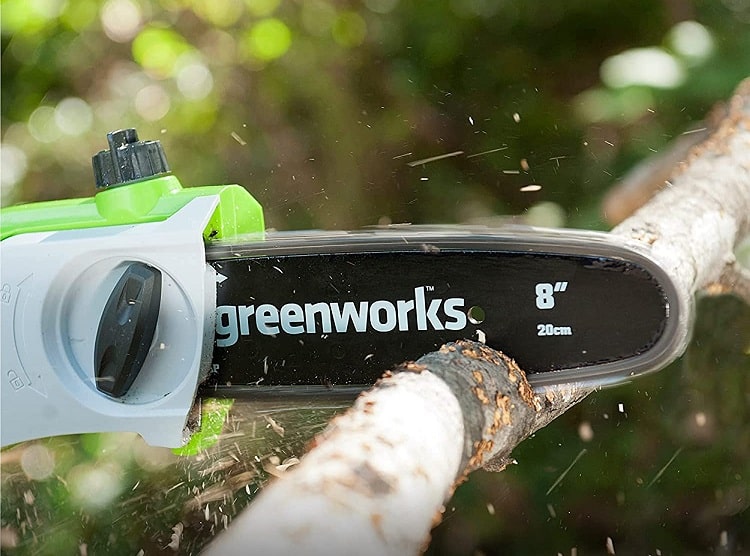 This is a cordless electric pole saw powered by a lithium-ion battery of 40 volts. This battery gets charged up fast and lasts a long time. So, the Greenworks 20672 pole saw model is ideal for someone who does a lot of pruning and limbing jobs.
The cutting bar length for this pole saw is 8 inches which makes it suitable for removing branches up to 6 inches in diameter. With a telescopic pole extendable up to 9 feet, you can reach a working height of up to 15 feet depending on your height.
It only weighs 8.36 pounds with its aluminum shaft which makes it very easy to maneuver. A chain tensioning system is provided which is easy to adjust to tighten the chain to necessary levels.
Specifications
Battery: 40-Volt 2Ah Lithium-Ion battery
Weight: 8.36 pounds
Length: Extendable up to 9 feet
Cutting Blade Length: 8 inches
Additional Features
Easy Adjust Chain Tensioning
Angles Powerhead that makes horizontal cuts easier
Automatic Chain Oiler.
BLACK+DECKER LPP120B Battery Pole Saw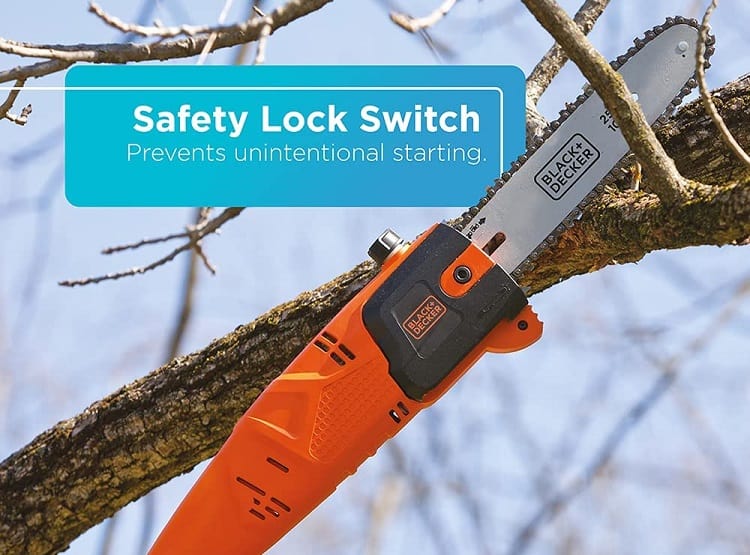 If you are someone with limited and light use for a pole saw, this inexpensive BLACK+DECKER pole saw might be the perfect pole saw for you. It features a 20V battery that powers an 8-inch cutting bar which is ideal for removing small branches.
You get a good working height with a bar that extends up to 10 feet. The bar itself is made up of fiberglass which makes the pole saw very light at only 6.3 pounds. This weight makes it a perfect pole saw to be used by beginners for simple operations.
You can make about 100 cuts on 2-inch pine branches per a single battery charge. As the sizes on the braches increase, the battery runs out faster since it takes more power.
As a homeowner who wants to spend a minimum amount of your hard-earned money and get a capable tool that gets your job done perfectly, you should consider choosing this pole saw.
Specifications
Battery: 20 Volt 2Ah Lithium-Ion battery
Weight: 6.3 pounds
Length: 10 feet
Cutting Blade Length: 8 inches
Additional Features
Can be dissembled into parts for storage
Battery compatible with other tools
Best Gas-Powered Pole Saws Options
MAXTRA Gas Pole Saw, 42.7CC 2-Cycle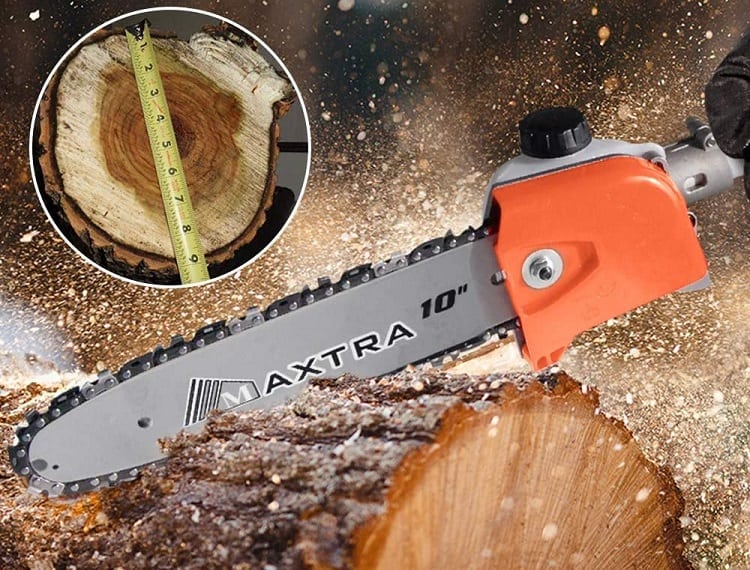 The Maxtra Gas Pole Saw is powered by a massive 42.7cc two-stroke engine which produces almost 1100 watts of energy. This allows you to easily handle heavy-duty tasks that include removing large branches, felling small trees, trimming, and cutting wood.
The cutting bar has a length of 10 inches which is supported on an adjustable pole that reaches up to 11.4 feet long. This enables you to cut branches at heights of 14-17 feet when you factor in your height as well.
For a powerful tool that handles heavy tasks, it only weighs 13 pounds. This is a tool for the professional or someone who regularly has pruning and limbing jobs to do.
Moreover, along with being the top-notch pole saw, it is a versatile tool that can be turned into a great quality string hammer, brush cutter, and hedge trimmer by buying different Pole Saw attachments.
Specifications
Engine: 42.7 ccs, Two-stroke engine
Weight: 13 pounds
Length: 8.2 – 11.4 feet
Cutting Blade Length: 10 inches
Additional Features
Muffler shield to prevent contact from a hot muffler
Air filter to reduce fumes
Centrifugal Clutch
Anti-vibration handle
Remington RM2599 Maverick 25cc 2-Cycle 8-Inch Gas Pole Saw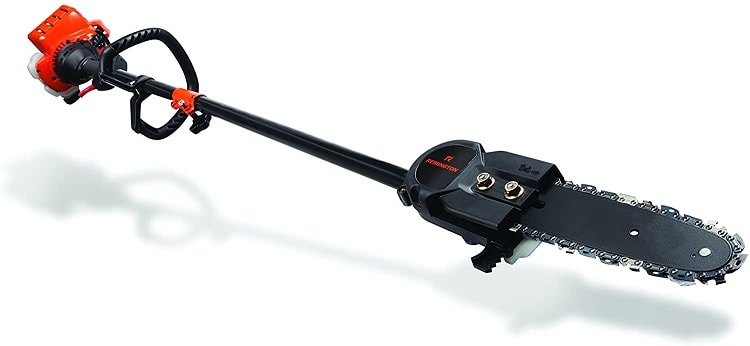 The Remington RM2599 Maverick is a powerful gas-powered pole saw with a 25cc two-cycle engine. It only has a 7-foot extension pole and an 8-inch bar length. However, you can comfortably reach up to a working height of 12 feet which is enough in most cases.
The powerful engine allows for faster cutting through regular braches and the auto-oiler always keeps the chain in perfect condition for extended usage.
It can also be used as a multipurpose tool using appropriate attachments which enables you to turn it into several yard-working tools like a blower, hedge trimmer, edger, brush-cutter, and more.
If you are looking for a powerful pole saw but don't want to spend much on those heavy-duty professional ones, this versatile tool might just be the perfect choice for you.
Specifications
Engine: 25 ccs, Two-cycle engine
Weight: 14 pounds
Length: 7 feet
Cutting Blade Length: 8 inches
Additional Features
Automatic chain lubrication system
Uses attachments to turn into other tools
Quick-start technology
How to Properly and Safely Use a Pole Saw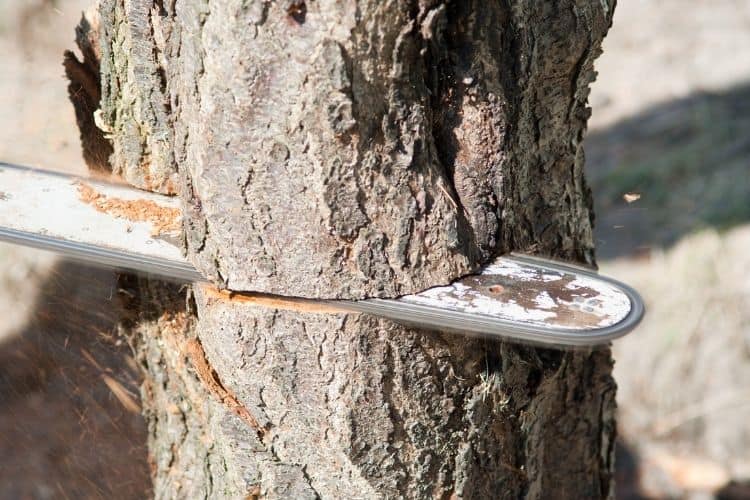 Pole saws are powered tools with fast-moving sharp chains and they come with many risks of injuries and safety issues. Therefore, some steps need to be followed to properly and safely use a pole saw.
Step 1: Wear Safety Clothing
While using a pole saw, goggles are indispensable safety gears as they prevent splinters and wood chippers from falling into your eyes.
Gloves are also recommended since they reduce vibration in your hands and keep your hands safe while handling fallen branches. Other safety gears include helmets and PPE that protect your whole body from falling branches.
Step 2: Clear your work area
Along with your safety, it is equally necessary to keep others on the field safe. So, you should communicate properly with your colleagues or anyone present nearby.
Next, you should also make sure to avoid power lines in your working area. Finally, always be aware of any tripping hazards and clear them before starting to prune your tree.
Step 3: Always make a cutting plan
Instead of diving right into cutting branches haphazardly, you need to take a moment to study the tree and make a plan on how you are going to approach each cut.
You will want to cut the lower branches and cleanly progress upwards.
Step 4: Position the Pole Saw correctly
There is a proper way to handle the pole saw you must know. First, you need to place yourself at a place where you can access the branch but it won't hit you while falling.
Then, holding the saw at your chest level, you need to adjust the length of the pole so that it reaches the part of the branch where you intend to cut. You must use both your hands to control and maneuver the pole saw.
Step 5: Make the Cut
For making the initial cuts, you should use a slow speed to make grooves on the branches. The grooves will hold your saw in place, after which, you can finally make the final cut by speeding the chain. Doing this will ensure that the saw doesn't slip and gets out of control, which is a common occurrence for beginners.
Step 6: Keep removing the branches
Finally, you should make sure to keep removing the branches that fall on the ground. While it isn't practical to remove every twig that falls on the ground, you should however make sure to remove branches that may be a tripping hazard while working further on the area.
This will also give you the time to take a break from holding the pole saw regularly.
Frequently Asked Questions
Question: How Thick of a Branch Can a Pole Saw Cut?
Answer: Pole saws can cut branches ranging from 2 to 9 inches in diameter. Pole saws come in a variety of power capacity and cutting blade sizes. Depending on the pole saw you have, it is recommended to cut branches about 2 inches less than the cutting blade length.
Keep in mind that using a less powerful pole saw regularly for cutting bigger branches should be avoided. Generally, Gas-powered pole saws are more powerful and better suited for larger braches and heavier work.
Question: Can you Trim Garden Hedges With a Pole Saw?
Answer: Yes you can. Pole saws are multifunctional tools that are used for a variety of purposes, including trimming high hedges. Pole saws are extensively used to trim and manage large and beautiful hedges by professionals.
Question: Can You Use the Pole Saw as a Chainsaw to Fell Trees?
Answer: A pole saw is a tool that lets you trim branches that are high up and out of your reach. While there are many models of pole saws that have detachable saws, they are only meant for normal cutting operations and felling trees using them should be avoided to increase their durability.
However, a small tree with a thin trunk can be felled easily using a pole saw. If you intend to fell trees more often, you should consider investing in a chainsaw or a felling axe that is better suited for the job.
Question: How high can pole saws reach?
Answer: The height you can reach using a pole saw depends on the model you have.8 to 12 feet is the standard height offered by most professional pole saws. But, with a little bit of research, you can find yourself manual pole saws that are far longer than the standard ones.
Question: Is it Safe to Use a Pole Saw While on a Ladder?
Answer: Absolutely not. Pole saws are built to let you cut branches high up, from the safety of the ground and eliminate having to use a chainsaw while on a ladder.
Using a pole saw on a ladder is even more dangerous than using a chainsaw on a ladder because pole saws are more difficult to control because of their long length and the weight of the saw at the far end.
You should only use a pole saw while being properly balanced on the ground. If you have branches that are way up and out of your reach even after using a pole saw, it is best to let the professionals do the job.
Conclusion
Pole saw is an indispensable tool necessary in the forestry tools or garden care line of tools.
Whether it is to remove dead or damaged branches, manage hedges or remove braches from a woodlot to improve timber quality, a pole saw will make a dangerous, time-consuming, and boring job more safe and efficient.
As with any power tool, it is critical to follow the proper steps to use a pole saw. It is also essential to make sure to use every safety measure to avoid injuries and accidents.
The type of pole saw that you need for your specific needs will depend on many factors like the power required, weight, working height, runtime, and so on.
In general, gas-powered pole saws are more powerful than electric ones. Having a corded pole saw will limit the area you can use it in and cordless electric and gas pole saws will require refills and recharging.
Having a pole saw that can be detached to form a chainsaw can be handy for normal yard operations.
Once you have decided on the type of pole saw, you can choose from our above categorized top picks whose specifications, features and price align with your budget and needs.
Continue reading related pole saw guides and reviews: