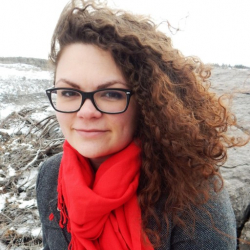 Latest posts by Candace Osmond
(see all)
Finding good gardening tools can be a nightmare, but the Greenworks G-MAX40V Lithium-Ion Cordless pole saw might solve some of your problems. Effective for cutting branches without tripping over wires and getting annoyed by loud noises, this model is considered one of the best products in its category. Is that true? We're about to find out in this Greenworks Pole Saw Review!
The Greenworks Pole Saw at a Glance
 

Running time: upwards to 65 cuts (on full charge)

 

Weight: 9.57 pounds (with battery)

 

Reach: 15 feet (with extension)

 

Price range: $150 – $200

 

Battery voltage: 40 V

 

Cutting thickness: 6 inches
About Greenworks
Founded in 2009 in the US, Greenworks is a brand that offers some of the highest-quality battery-powered outdoor tools that have become quite popular amongst both landscaping experts and average homeowners.
Their primary goal is to deliver tools with the same quality as gas-powered one but without the noise, fumes, and mess. Greenworks is quickly becoming a trusted brand for pole saws and other forestry tools, similar to that of Husqvarna.
What Does the Greenworks G-max 40v Lithium-Ion Cordless 8" Pole Saw Come With?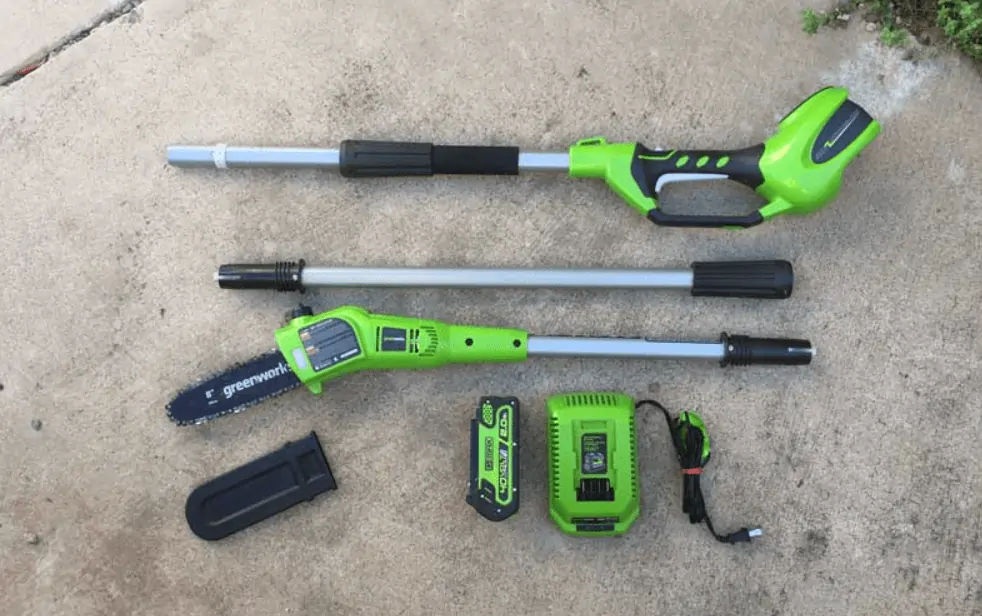 One of the best things about purchasing this particular pole saw model is that you get to choose between many different product combos and either purchase the saw alone or a pack that contains other goodies.
You can choose to purchase the bundle that comes with the battery included, but you can also make this buy without the battery. The latter option is good if you already have a compatible Greenworks battery that you can use on the G-MAX40V.
Other bundle options include:
 

The pole saw plus a carrying case is also good for storage.

 

Pole saw and chain oil.

 

Pole and the extension pole that can extend the handle to 8 feet.
Features Found with the Greenworks G-max 40v Lithium-Ion Cordless 8" Pole Saw
Battery
This G-Max 40v system of power tools includes the 20672 with a G-Max 40v battery. In other words, you can use the same battery with other Greenworks tools, including mowers, chainsaws, and hedge trimmers, all from the G-Max lineup. One battery can power 25 different tools.
While the voltage is far lower than that of a traditional mains-powered chainsaw, it still offers a significant amount of power for a pole saw. A lithium ion battery of this size (2 AH) has a capacity of 2 amps and a power output of 1 hour.
Most battery-powered pole saws have a runtime rating between 2 AH and 4 AH. The G-Max 40v 4AH battery, which is likewise compatible with this pole saw, is available as well. However, as a result of this, the saw may run for longer periods of time, but it will take longer to charge, be heavier and consequently weigh more.
Charger
Another critical factor is how long it takes to charge the battery. It can be frustrating when you need to complete some urgent cutting tasks, as some batteries take many hours to charge. It takes about an hour to fully charge the battery on this Greenworks pole saw, which is pretty decent.
Length Range
This specific model has been created to ensure that smaller branches less than 6 inches in diameter are maintained and trimmed. This pole extends to 8.5 feet, giving you a reach of upwards to 15 feet, assuming you are the same height as the pole. You should now be able to access some of those difficult-to-reach branches.
Chain Length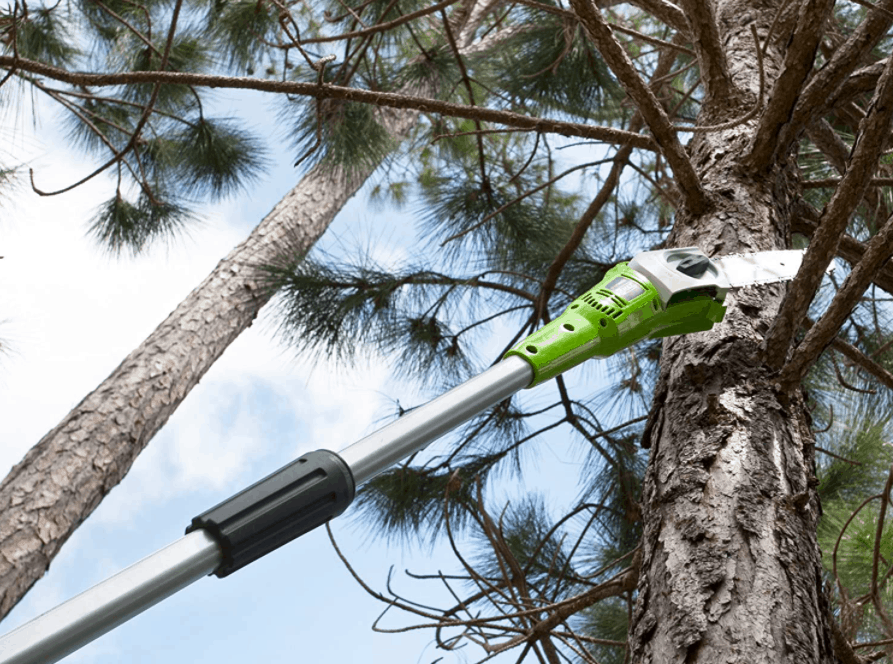 The chain on this particular Greenworks pole saw has a 0.50-inch gauge and a ⅜-inch pitch.
In order to cut the chain without it sliding on the bar, you must ensure the chain is tensioned appropriately. The Greenworks G-MAX40V saw is fitted with an automatic chain tensioning system, where the chain tension may be easily adjusted by turning a simple knob.
It is especially important to tighten the knob frequently when the chain is new. While this may feel troublesome for some users, remember that all chainsaws are this way.
Bar Chain and Oiler
This Greenworks pole saw with an 8-inch bar and chain to let you prune branches with a diameter of upwards to 6 inches. The design serves to reduce the risk of kickback, which can result in harm.
To access the oil recipient, find the cap located on the top side of the saw. The tank has a quick view glass to monitor oil levels. Because the reservoir is small, the manufacturer recommends adding roughly 2 oz. to the tank before usage and checking oil levels every 20 minutes.
It's safe to say that this pole saw uses quite a bit of oil, according to a few users, but this is normal and preferable to models that don't require enough.
Weight
In general, the weight of pole saws is higher than that of standard chainsaws. The heavier it seems the farther you extend the pole, which increases the tension. If you find it difficult to lift weights, pole saws may not be a good option for you.
However, if you look up Greenworks, you will see that their products are approximately 30% lighter than gas-powered power tools, and the manufacturer claims they produce 70% less noise and vibration. Handling is significantly easier on this particular unit than on a gas model.
This pole saw weighs 9.57 pounds with the battery attached and 8.38 pounds without the battery.
Warranty
All Greenworks goods and batteries are warranted against any and all defects in workmanship, parts, and materials under normal usage for four years, beginning with the date of shipment or purchase in-store. In spite of this claim, the battery only benefits from two-year warranty coverage.
Cutting Head Angle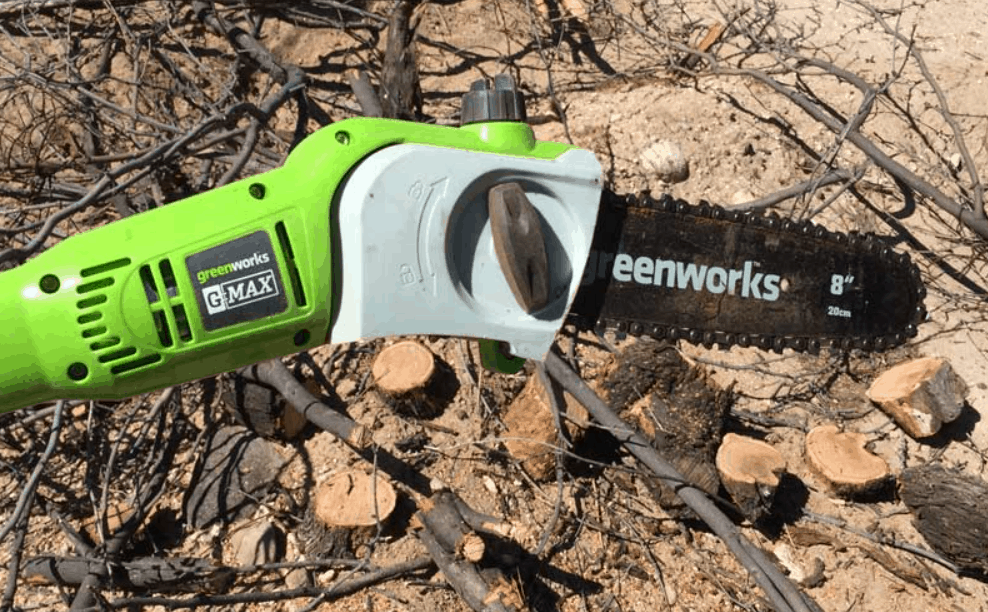 With a 20-degree cutting head positioning, it's safe to say that this Greenworks saw can be maintained at a stable angle when cutting. Sadly, you can't adjust this angle, which would have offered this product a huge advantage over other similar pole saws. But it's still better than using a chainsaw for trimming trees.
Often, a straight cutting angle will produce a straighter cut line and enable you to cut an angled branch on a perpendicular line, resulting in the branch falling away from you when the cut is complete.
Safety Features
There are two important safety features added to this cordless pole saw. The first one is reduced kickback. Kickback is a serious safety concern with engine-powered pole saws. When you mistakenly have the saw's teeth touch the branch in the wrong way, the saw kicks back in a shocking, forceful upward action.
The second safety feature that's worth mentioning is the safe starting system. This helps prevent accidental pole saw startups, which can also generate a number of potential injuries, so it's definitely a good feature to have.
You should not, as usual, rely only on the safety features. The proper use of the saw in accordance with the operating instructions, as well as the use of necessary safety equipment, can help keep you safe.
When operating a pole saw, safety glasses should always be worn, especially when cutting at a height. This will keep stray chips and sawdust out of your eyes.
Cordless Pole Saw vs Gas Pole Saw
Power
The cutting power of a gas-powered pole saw is incredible. The enormous force that a gas-powered pole saw provides when cutting through heavy limbs and tree trunks is preferred by most professionals.
A battery-powered pole saw, on the other hand, can cut tree branches that have upwards to 9 inches in thickness. It does not, however, produce the same level of power as a gas pole saw, which is definitely the winner when it comes to power.
Ease of Use
A gas-powered pole saw necessitates greater skill and expertise due to its difficult control. It has a tendency to kick back, making it difficult for novices to operate.
A battery pole saw is more portable and lighter in weight. Everyone may use it for pruning and trimming, from pros to amateurs. To control it, you don't need a lot of experience or abilities.
Cost
A gas-powered pole saw is typically less expensive than a battery-powered pole saw. However, you will have to spend money on gasoline and maintenance in the future.
A battery-powered pole saw, on the other hand, is slightly more expensive. However, because it does not require fuel, you will hang onto quite some money in the long term.
Durability
A gas-powered pole saw shakes a lot, which might cause the motor to break down. To solve the problem, you might purchase a vibration-control extension. However, if you don't want to deal with any of these issues, a battery pole saw is the ideal option.
What Can I Cut with the Greenworks Pole Saw?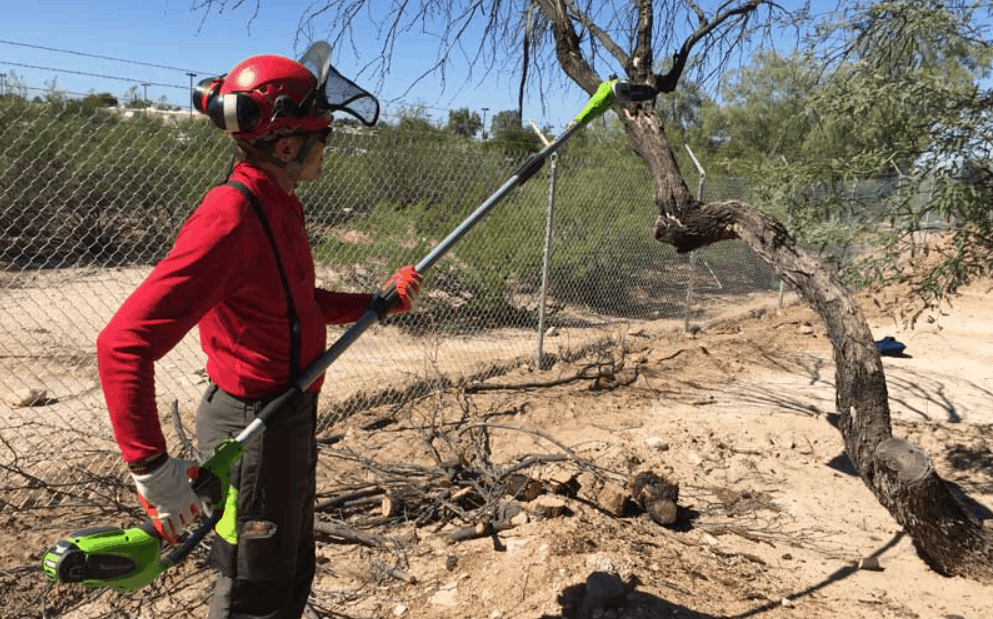 Whenever you purchase a pole saw or other tools that are designed to saw through wood, you always need to check the product's specifications to see the diameter of the pieces you can actually cut.
As far as this particular pole saw is concerned, the manufacturer claims that it can cut through wood pieces upwards to eight inches in diameter. However, testing has revealed that the easiest cuts are performed when working with branches of about four or five inches thick.
Tips for Maintaining Your Greenworks Pole Saw
Caring for a Greenworks pole saw follows pretty much the same steps as caring for similar cordless saws, so let's have a quick overview to understand what it is that you need to do.
Cleaning
You can use a moist cloth to clean your pole saw completely. While working with it, everything from oil to dirt could become lodged on the pole or other pieces. To be on the safe side, ensure you always clean it with a clean wet towel after each use to get rid of them.
Oiling
An appliance with a motor has to be frequently oiled to work smoothly. Doing so will cause the machine to jam, which will lead to unnecessary friction with the other system components.
The coating will wear off over time, and as a result, the metal components will degrade with time. The complete system will be compromised. Avoiding any of these is best accomplished by lubricating the chain. Lubrication will enhance the usability and durability of the item.
Sharpening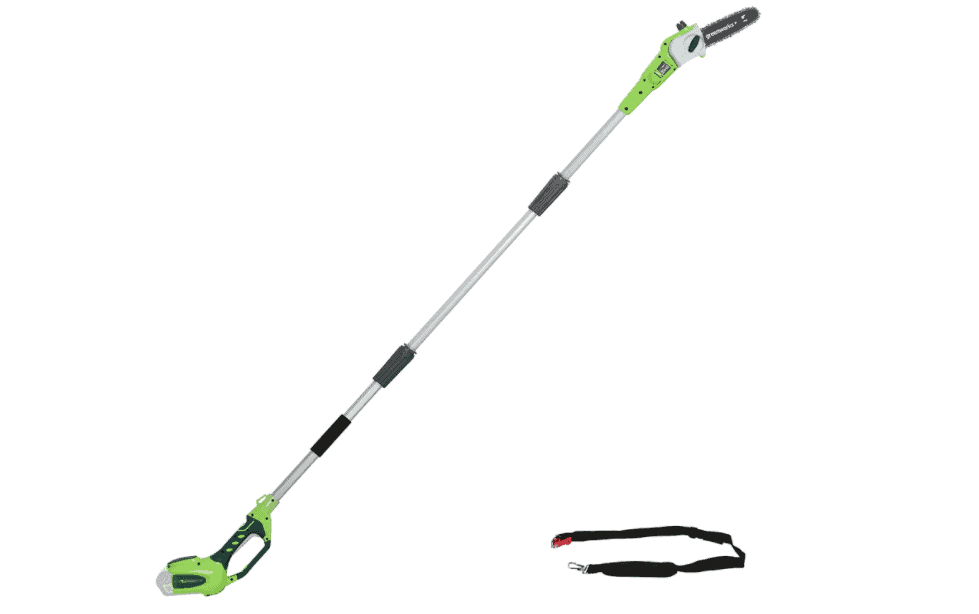 When the blade comes into contact with hard surfaces, it dulls. It is susceptible to damage if it comes into touch with other hard metals or nails. Disgorging the edginess from the blade damages it.
In order to cut effectively, you need to sharpen the blade on a regular basis. Sharpening your blade will take very little of your time, but the result will be outstanding. Even if you use your saw, you will get powerful cuts every time.
Storing
Don't let your pole saw get water-logged. You should also ensure adequate ventilation in the pole saw storage area. If you use your pole saw for only short periods of time, you may notice that rust appears on the machine, which will negatively affect the outcome. And because of this, lubrication will definitely help to fix this problem.
To keep your pole saw out of the wrong hands, secure it away from the prying eyes of others and store it where no one can get it.
FAQ
Question: What is a cordless pole saw used for?
Answer: Cordless pole saws allow to trim high tree branches of a certain diameter without having to worry about dragging a cord around the yard since the battery power offers a lot of mobility.
Question: How thick of a branch can a pole saw cut?
Answer: Depending on the blade in question, a pole saw can cut branches that measure anywhere between three and 12 inches in diameter.
Question: Can you use a pole saw without oil?
Answer: Yes, but you never should. To withstand a lot of wear and tear, the pole saw's bar and chain undergo a lot of friction when it's functioning. This wear and tear can cause the chainsaw's life to be greatly reduced. Also, lubricating the chainsaw helps alleviate the friction and increases both the performance and lifespan of the pole saw.
The Nitty on the Greenworks GMAX40V Pole Saw
The Greenworks G-MAX40V is a lightweight, sturdy, and rapid charging pole saw. The bar and chain also benefit from an oiling system that keeps it in good working order. It comes with plenty of noticeable features, such as automatic chain tensioning and a battery that can be used with multiple other Greenworks tools. 
If you need more advice on tools that could help spruce up your yard, make sure to check some of our other articles. Like our guide to other excellent cordless pole saws!
References