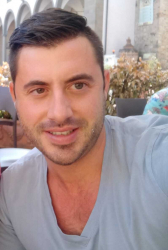 Latest posts by David Borgogni
(see all)
Keeping your yard or garden tidy is a tricky task that must be kept on top all year round. Whether it's keeping the grass cut, trimming hedges, or keeping trees pruned, having the right tools for the job makes maintenance that bit easier.
Searching for the right equipment to help keep your yard tidy is the first step to having an outdoor area you can be proud of. For this article, we'll be focussing on one of Remington's most popular electric models, the RM1035P.
This Remington pole saw review will be made up of several parts. First, we will take an in-depth look into the primary features associated with the RM1035P. Then we'll be assessing its pros and cons before offering some alternatives you may not have considered and provide a verdict. Finally, we'll also be answering some of the most frequently asked questions.
But before we get started, let's take a look at an overview of the Remington RM1035P.
Key Specifications of the Remington RM1035P
Core Features of the Remington RM1035P

When searching for your new pole saw several key factors need to be taken into account. Generally, people prioritize length, power, and price over anything else, but there are often other nuances and features that are key to deciding on your new saw.
Here, we will look at the main features of the RM1035P and outline how they could make the Remington the perfect choice for you.
Extended Reach
All good poles saws have one thing in common, great reach! The Remington is no different with a shaft that extends up to a huge 10 feet. When you consider the cutting unit on top, this results in a cutting reach of around 15 feet—more than enough for the majority of trees in and around your yard.
Powerful Electric Motor
This unit is powered via an 8-amp electric motor and battery that provides instant power exactly when you need it. The power provided gives a good level of drive to the 10-inch cutting bar and chain, allowing you to get straight to work on your lawn, pruning, and trimming. The added benefit of battery power is that, unlike corded pole saws, you have the freedom to work unrestricted.
Good Adjustability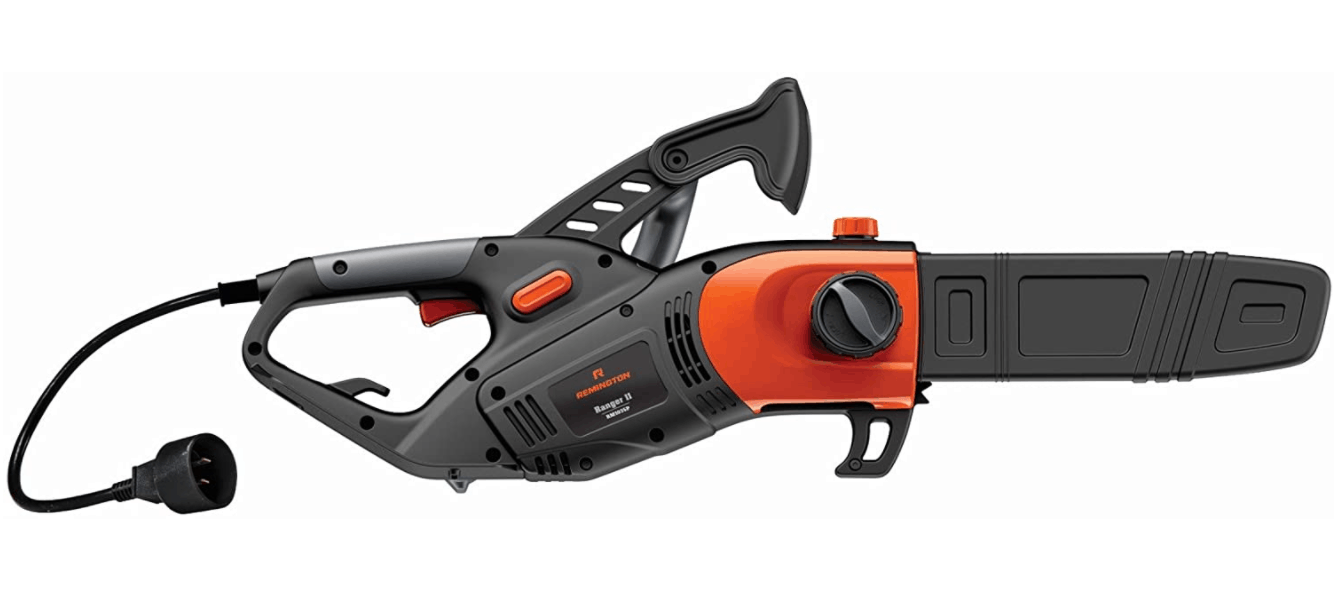 This is a highly adjustable pole saw. It features a telescopic design that also comes with flip and lock clamps, allowing users to quickly and easily change the length of the saw. Tackling different heights is no issue with the RM1035P.
Added Functionality
Ease of use is at the heart of Remington's design, so they have included the ability to detach the saw from the pole at the push of a button. This means that if you have logs or other debris that needs trimming on the ground, you can do so quickly.
Advanced Comfort
The pole saw has been built with an advanced non-slip grip that not only enhances comfort but improves usability through ergonomics. This results from the added stability the handle and anti-rotation pole provides, providing optimal comfort and precision.
Branch Hook
There is even a clever branch hook built into the design. This means that when working with the tool fully extended, you can quickly and easily clear away pruned branches and anything else in your way without having to remove the saw from use. This adds to the overall user experience and means you can work more efficiently for longer.
How Does the Remington RM1035P Perform?
Remington is a long-established brand with a solid reputation for producing quality tools and equipment for use around the home and garden. Suitable for professionals and amateurs alike, the RM1035P represents excellent value for money when looking for a new pole saw.
To understand how these tools perform, we tested one out across various scenarios the everyday user may find themselves in. We put it through its paces and found that on the whole, the RM105P stands up to Remington's reputation. The unit feels light yet responsive while you work, something that is vital when working at heights.
With a cutting range of a huge 15 feet, there is almost nothing this pole saw cannot tackle. The only areas in which it seemed to struggle were on the very tallest of trees that were so tall you could not expect a regular pole saw to reach. They need professionals to be trimmed! There are additional attachments available that can extend the unit's reach by a further 3 feet, so if the length is an issue, you should look into these.
The electric motor is another area in which the Remington excelled. Its brushless design means it is powerful and efficient while remaining simple to maintain and fix when issues occur. From one full charge of the supplied battery, we got around 2 hours of solid cutting time.
Taking the danger of balancing on a ladder out of the equation was another bonus. If you've not used a pole, saw before, then you'll like how much safer it is to use when compared with working up a ladder. Again, the is a bonus, particularly for those inexperienced with or who struggle with heights. It also leads to greater efficiency thanks to not having to move a ladder around with you as you work.
The 2 in 1 functionality is another game-changer. Being able to snap the saw off the pole at the press of a button is a convenient feature. It means that when clippings fall from the top of the trees, you can trim them down to smaller and more manageable sizes on the ground.
Maintenance is also straightforward, as you would expect with an electric-powered unit. The 8-amp inline motor is easy to use with a fully automated start and is highly reliable. The pole saw also comes with tool-free chain tensioning, so if the chain comes loose at all, you can adjust the tension with the twist of a dial. This makes it really easy to use and look after for the domestic user.
Pros of the Remington RM1035P Pole Saw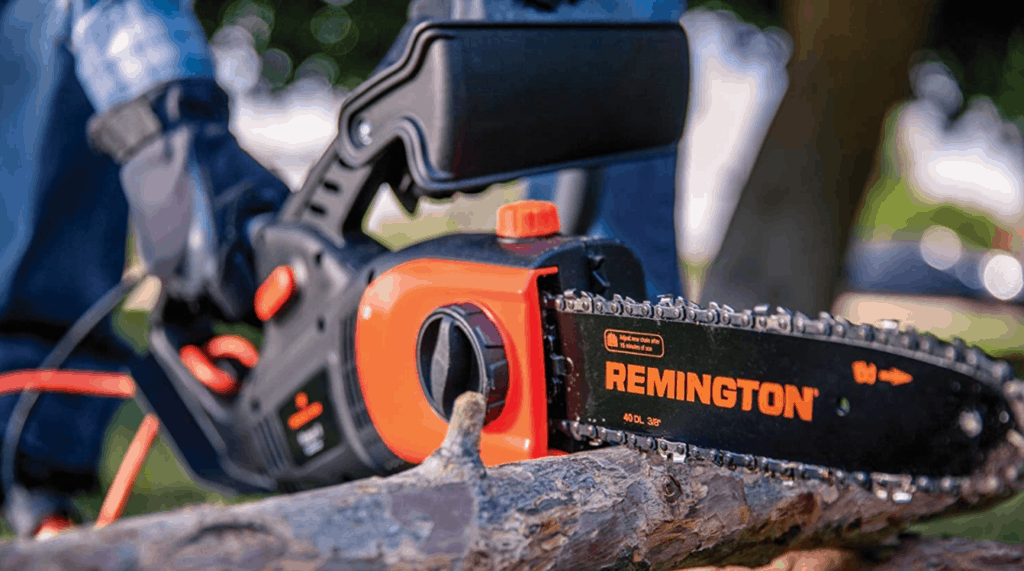 As we have established, this Remington pole saw is suitable for use around your backyard as well as in a commercial capacity. Here, we'll take a closer look at the pros of the RM1035P and dive deeper into why you may want to get yourself one.
Adjustable Upper Pole Saw
The levels of adjustability on this pole saw great and offer a real bonus for anyone considering getting one. In addition, it makes the tool suitable for use across a wide variety of jobs. This versatility will particularly appeal to domestic uses and homeowners who don't want to buy a new tool for every job that needs doing.
Anti-Rotation Pole Design
The anti-rotation design is an excellent addition. It adds a considerable amount of stability while using this pole saw and helps make jobs easier and improve overall safety. This is one of our favorite features on the RM1035P and isn't always included on other models.
Full Handle
The full-sized handle promotes control and helps precision while you work. In addition, it means you have maximum grip when the unit is fully extended, with the battery ack acting as a counterbalance, further improving performance when operating at height.
Added Branch Hook
The addition of a branch hook is a very positive one. It allows debris to be cleared quickly and efficiently while the saw is still fully extended. This means you can work hard, faster, and smarter.
Ergonomics
Well, thought-out ergonomics is a must for any successful power tool. Remington has included several clever ergonomic additions to the design of the RM103P to help the overall feel of the saw. There is an easy-grip handle, responsive trigger, and a lightweight shaft. All of which combine to make this a pole saw that is comfortable to use over extended periods.
Good Warranty Cover
Another great aspect is the warranty cover that comes as standard with all Remington products. In addition, echo offers all customers a manufacturer's warranty of two years which applies as soon as your product is registered.
Price
The price point the RM1035P sits at is undoubtedly a positive. Affordable for the vast majority of people, it represents excellent value for money.
Cons of the Remington RM1035P Pole Saw
Despite the good amount of pros, there are still several drawbacks to consider before buying one of these saws.
Weight
This unit is considerably heavier than others on the market. Not so much that it affects performance, but if you're looking for the absolute lightest tools around, better options are available. If you're someone who struggles to support tools and equipment over extended periods, then you may want to read on to discover some of our alternatives.
Are There Any Alternatives?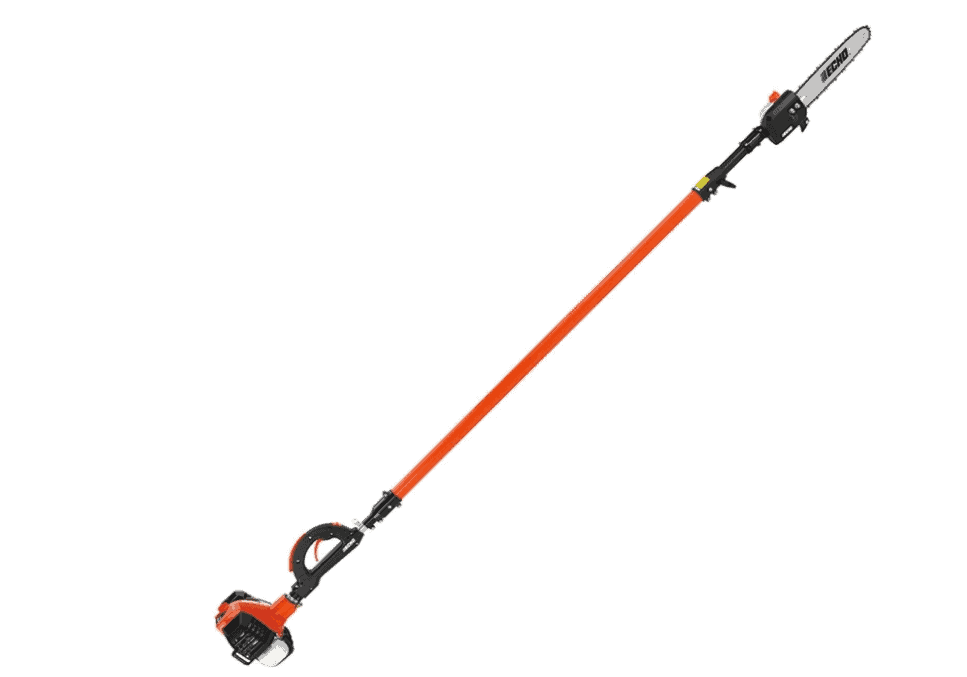 This is an excellent choice for anyone who thinks they may need slightly more power than the Remington offers. Its 25.4cc engine is gas-powered and helps generate the power needed to tackle the largest of pruning jobs. Suitable for domestic or commercial use, the Echo offers improved power and functionality at a higher price. You can check out our full review of the Echo PPT-2620 for more information.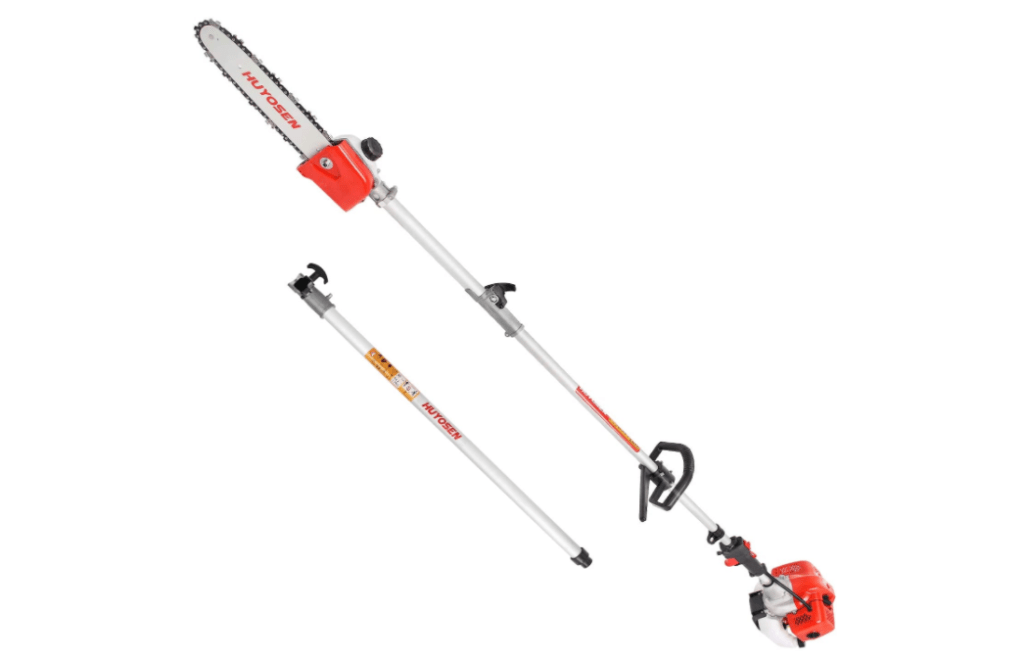 Huyosen is another well-established brand within the power tool market. Like Remington, they are best known for quality garden products, and their pole saws are no different. The one featured is a slightly more powerful version than both the Echo and RM1053P thanks to its 45cc gas engine. Another one that is suitable for both pros and amateurs alike. Check this one out if ultimate power is what you're after.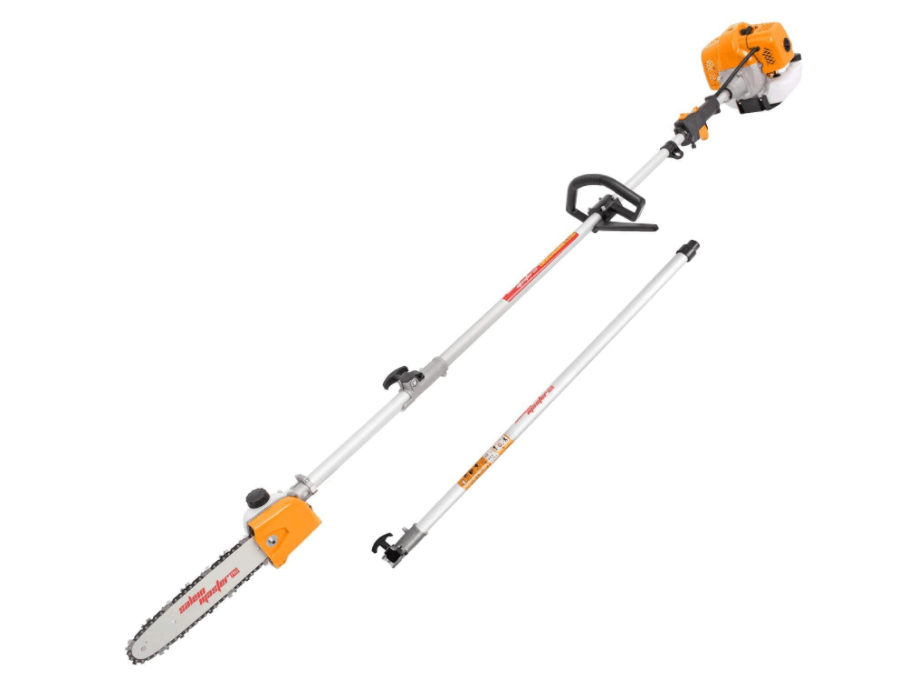 Another solid option is the Salem Master. Again, this is a gas-powered pole saw with a 42c engine providing the drive. Extendable up to 11 feet, the Salem offers great functionality without breaking the bank.
Frequently Asked Questions
Question: How do you tighten a chain on a Remington pole saw?
Answer: The RM1035P features tool-free tensioning, so tightening the chain couldn't be easier. Rotate the dial ad the base of the 10-inch cutting bar until you reach the desired tension. However, be careful not to overtighten at that could lead to mechanical issues.
Question: Where are Remington Power Tools made?
Answer: Although originally designed, developed, and built in the USA, production shifted to China and Mexico some years ago.
Question: Who makes Remington pole saws?
Answer: Remington is a brand within its own right and has a solid reputation in the power tool market. They are particularly well respected for both their gas and electric pole saws. They are unrelated to the firearm of shaver manufacturers of the same name.
Final Thoughts – Is The Remington RM1035P a Good Option For You?
This is an excellent pole saw. In fact, it is one of the best saws we have tested for domestic use.
The Remington RM1035P features a great range of functionalities that make it ideal for use around the home and yard. Its detachable saw, for example, is perfect for those who want to use their pole saw for more than just trimming the tops of their trees or bushes. In addition, the strong and sturdy build means that although the price is low, this is a product that will last.
Although this is a great option for domestic use, we would recommend looking at some of the other pole saws recommended if you work as a forester in a commercial capacity. The Echo, Huyosen, and Salem all provide powerful alternatives that benefit from gas engines.