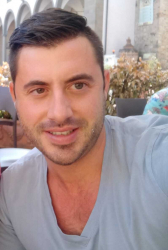 Latest posts by David Borgogni
(see all)
Pruning trees, tall bushes, and other hard-to-reach areas have been a thorn in the side of gardeners for years. Thankfully, companies like Echo have designed and released extendable pole saws specifically designed to help. We'll be looking at and guiding you through one of them today in this Echo PPT-2620 review.
Searching for your next piece of equipment, whether it's to use at home or in a commercial capacity, can be a daunting task. Maybe you've already got an idea of what you want but not sure of the exact model you need? On the other hand, maybe you've got no idea and need all the information you can find!
In this review, we'll be focussing on Echo and their PPT-2620. We'll be going in-depth and looking at the core features you can expect when buying one, the pros and cons that go with them, and offer our thoughts on who would benefit from picking one up. We'll even be recommending several alternatives that you may not have considered, so be sure to read through to the end for those.
Echo PPT-2620 Tree Pruner | Amazon
The Echo PPT-2620 power pole pruner is featured with a high-powered 25.4cc professional-grade 2 stroke engine, combined with the i-30 starting system to decrease user starting effort by 30%, delivering exceptional performance.
Buy at Amazon
We earn a commission if you make a purchase, at no additional cost to you.
09/21/2023 04:29 pm GMT
Before we dive into the ins and outs of this Echo pole saw, let's familiarize ourselves with it by looking at an overview of the product.
Core Features of the Echo PPT-2620
When looking to purchase a pole saw, there are several key areas that people tend to prioritize over any others. As you might have guessed, these are the length and reach. However, while these are undoubtedly very important features, they are not the be-all and end-all of a good pole saw.
Let's take a look at the key features that Echo brings to the table.
Length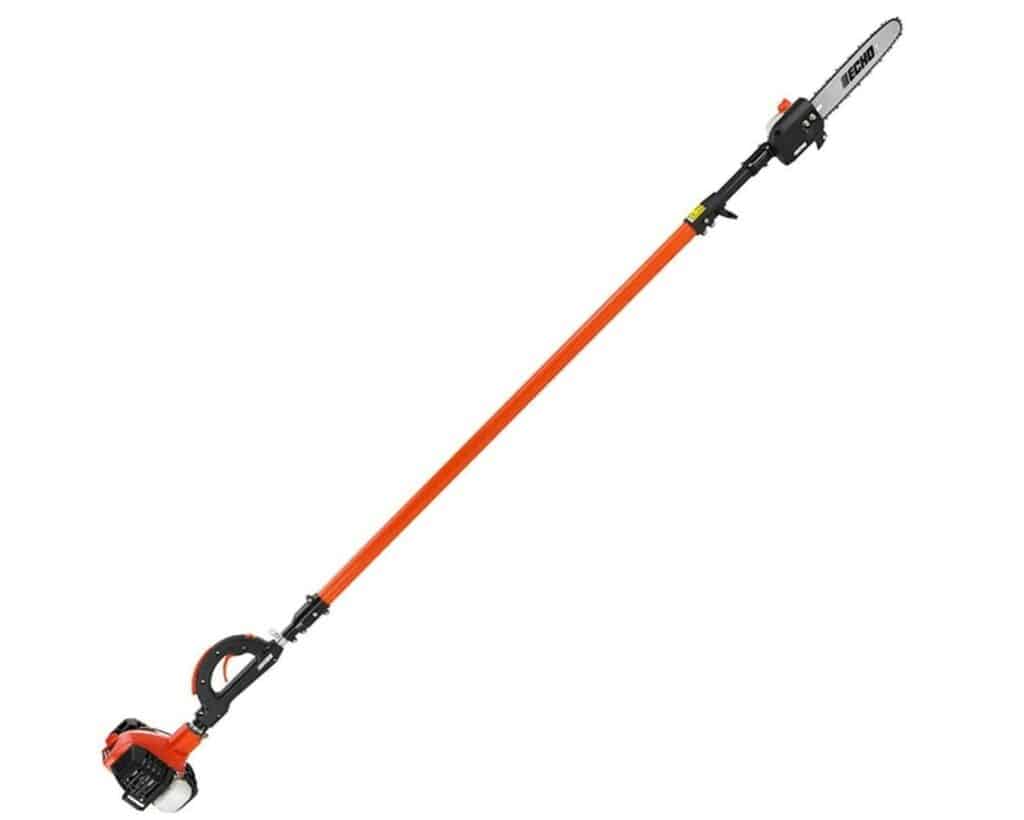 To start us off, the length of the PPT-2620 is a real selling point. As standard, this pole saw sits at just over 8 feet (that's 107 inches). This is a great starting length that allows you to tackle almost anything you'd come to expect in your average garden. However, with a simple turn of the T-nut situated on the shaft, the PPT-2620 can be extended to over 12 feet (146 inches!). So, unless you've got some monster trees growing in your backyard, the Echo will be able to tackle them.
There is even an option built by Echo that allows you to extend the PPT-2620 by 4 feet. While this isn't necessary for most users and not something to use as a novice, it's great for anyone with a particularly tricky tree that needs pruning.
Cutting Bar and Chain
At the business end of the pole saw, you'll find a 12-inch bar and chain. Thanks to the automatic oiling and lubrication system built-in, both stay sharp and lubed. Just be sure to keep the blade away from any dirt or metal shrapnel as that is bound to cause damage.
There is a standard T-wrench that can be used to make adjustments to chain tension. You'll find the socket on one end and an adjustable screw on the other; just make sure you have a flat-head screwdriver handy. Loosen them both, and you'll be able to adjust the chain tension to suit your needs. You can also play around with the auto-oiler in the same way, useful for getting it right in different weather conditions.
Build Quality
Another key feature of this Echo pole saw is the overall build quality. When operating at height with a fully extended tool, a cheap and flimsy pole simply wouldn't do. Thankfully, with a brand like Echo, this was never going to be an issue.
The shaft on the PPT-2620 comes with an aluminum inner that provides rigidity while reducing weight. On the outside sits a fiberglass covering, again adding to rigidity and reducing weight. These materials help to make a shaft that is light enough to maneuver while being strong enough to safely house the cutting bar and chain.
To add further strength to the construction, aluminum collars are placed at each end of the fiberglass. This minimizes the flex where the shaft meets the handle and cutting bar. At the base of the unit, an ergonomic D-shaped handle allows for a high level of control while allowing users to access all the necessary switches easily, even when turning the unit and using it at different angles.
A Good Engine
At the base of the pole saw sits its engine. This is an important element for any gas-powered tool as this is ultimately where the power is generated. The PPT-2620 features a 25.4cc 'Pro Xtreme Powerplant' that generates 1.4 horsepower, more than enough to make light work of any tree. Echo claims that their line of Pro Xtreme engines is their most powerful 26cc model ever built. While we cannot test those particular claims, this engine certainly packs a punch.
As we all know, pure power isn't everything, especially when it comes to power tools. However, from what we could tell, the PPT-2620 starts quickly, even when working in the cold. Simply prime the bulb, tweak the choke, and within 2 pulls on the starter cord, you're in action. While there can be a little bogging, to begin with, once the unit warms up, the throttle feels fast and responsive.
Lightweight Build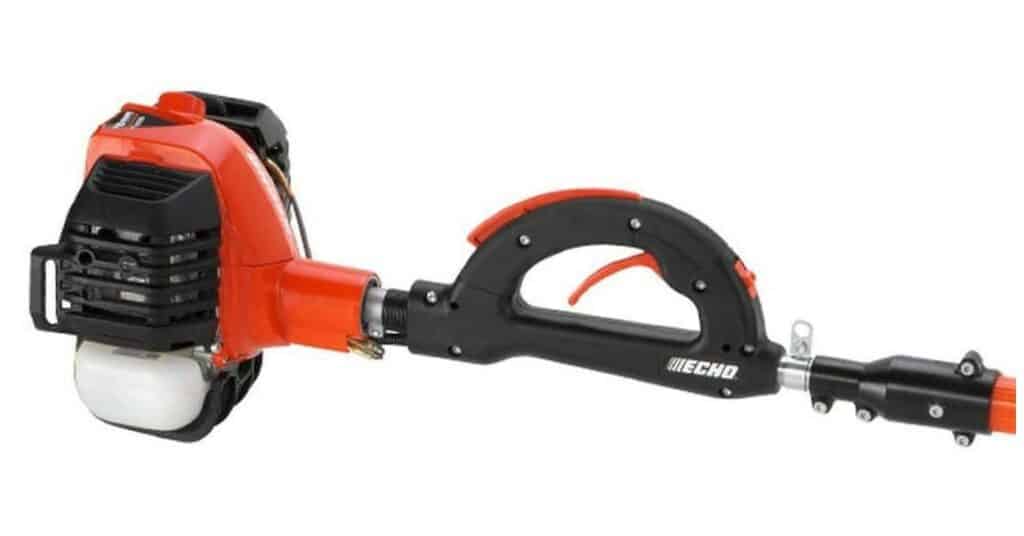 At just 7.7lbs, this is one of Echo's lightest pole saws. Everything from the chain and head unit through the shaft and into the engine has been designed to reduce weight where possible. This makes the tool incredibly easy to use and allows it to be precise, even when fully extended.
The engine has been built using light, but rigid materials and helps contribute to the overall feel of the product while still being powerful enough to deliver the required drive. Similarly, the shaft has been created with light in mind yet is still more than rigid enough to prevent any issues when working at heights.
The harness that ships with the Echo pole saw builds on the ergonomic design by allowing the user to anchor the pole saw. This means a great degree of control is achieved.
Heavy Duty Air Filter That is Easy to Access
Another useful feature of the PPT-2620 is the inclusions of a heavy-duty air filter. This multi-layered air filter is made using a 4-piece design and includes technology that stops it from clogging as regularly as a traditional one.
As many people know, the air filter is one of the most common parts of any motorized tool that requires maintenance. By working on and including a tougher version, the Echo pole saw needs less maintenance. Of course, it is still vital that you check it regularly, but there will be less need to clean it, and it will have less bearing on the overall performance.
However, when you need to get in there and clean it out, it is simple to do so. This is thanks to the easy access system that Echo has included. There is no need for any tools to gain access; the cover will simply pop off and can even be done while wearing work gloves should you need to clean the air filter out while on the go.
Ergonomic Handle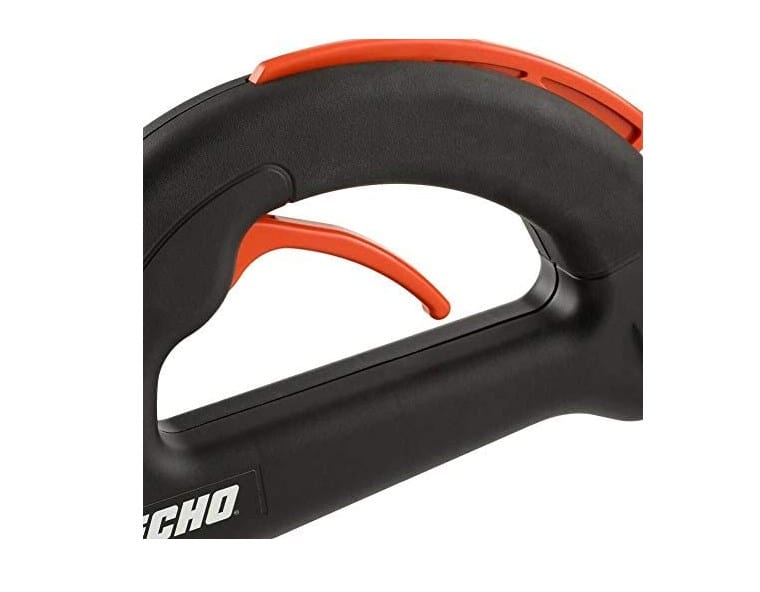 How the tool has been designed allows for maximum comfort while on the job. However, with a tool that is so extendable, all controls and handles must be well thought out so that the required level of precision can be achieved.
The base handle is ergonomically designed while the engine has been moved to the back of the unit, acting as a counterbalance. Moving the engine further away from the user also reduces the noise and pollution levels they are exposed to.
How Does the Echo PPT-2620 Perform
Echo PPT-2620 Tree Pruner | Amazon
The Echo PPT-2620 power pole pruner is featured with a high-powered 25.4cc professional-grade 2 stroke engine, combined with the i-30 starting system to decrease user starting effort by 30%, delivering exceptional performance.
Buy at Amazon
We earn a commission if you make a purchase, at no additional cost to you.
09/21/2023 04:29 pm GMT
Echo is well established within the garden tools market. They are known for designing and building quality products that can be used by professionals and amateurs alike, with quality usually assured. As the price of their pole saws reflects this, it's important to get an idea of how they perform before you purchase one.
We put one of the PPT-2620s through their paces and found that on the whole, Echo has produced a solid pole saw. In addition, the unit feels light and responsive while at work, something that is particularly important while using it with a fully extended shaft.
There is almost nothing that cannot be cut, seeing as the shaft extends to a huge 12 feet when at its limit. The only thing we struggled with was the very tallest of trees on the patch of land where testing was carried out. Echo has an extendable attachment to solve this, so if you were looking to be able to cut at even greater heights, this would be worth looking into.
The engine was also another hit. It started the first or second time each we needed it to and provided a good level of fuel consumption. We got a good 2 hours of cutting out of a full tank which is the level you would expect from an engine of that size.
If you've not used a pole, saw before but have to regularly prune trees and other tall plants, then you're in for a treat. Not having to use a ladder to climb up and reach those branches that are high up is a real game-changer. Not only is it much safer, but it will allow you to get more work done over a much shorter length of time.
The self-lubricating chain features a good amount of adjustability. We found it easy enough to change the tension and would be simple enough to perform maintenance when the time comes.
Speaking of maintenance, the heavy-duty air filter did its job. Upon inspection, you could tell what Echo meant by their 4-piece design, and during testing, there was a very little build-up of dust and debris.
The engine is also straightforward to maintain. If you are confident with gas engines, then great, you should be able to perform the vast majority of work yourself. If, however, engine maintenance is not something you'd be willing to do, then fear not as Echo has ensured all the elements used to construct the engine are easy to get hold of and simple to put together. This means just about any workshop will be able to help should you need it. No need to send it back to the manufacturer for lengthy repairs.
Pros of the Echo PPT-2620 Brush Cutter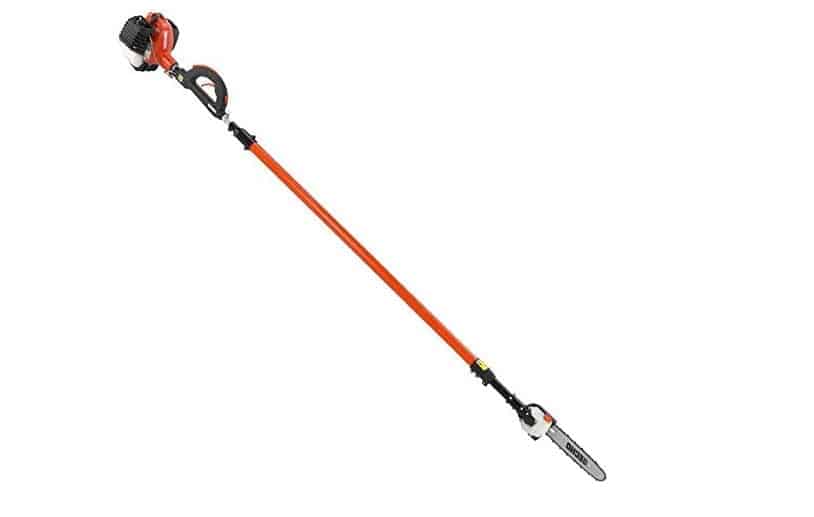 As we have established, this Echo brush cutter is suitable for use around your backyard as well as in a commercial capacity. Here, we'll take a closer look at the pros of the PPT-2620 and delve deeper into why you may want to get yourself one.
Great Extendability
The fact that this pole saw is extendable up to 12 feet is a massive pro. For those that need to access the very highest trees, this makes the Echo an attractive prospect. Add to that the fact that Echo also offers an attachable accessory that further extends the reach by 4 feet, and you've got one of the longest pole saws on the market.
Ergonomics
Well, thought-out ergonomics is a must for any successful power tool. Echo has included several clever ergonomic additions to the PPT design -2620 to help the overall feel of the pole saw. There is an easy-grip handle and trigger, a comfortable support harness, and a lightweight shaft. All of which combine to make this a pole saw that is comfortable to use over extended periods.
Easy Maintenance
As we touched on earlier, the engine has been designed with simple maintenance in mind. All of the parts used are easily accessible, meaning no shipping back to the manufacturer should you have a problem. The heavy-duty air filter has easy access that reduces common issues that occur when the filter is blocked.
Good Warranty Cover
Another great aspect is the warranty cover that comes as standard. Echo offers all customers a manufacturer's warranty of five years for consumers and two years for commercial enterprises.
Cons of the Echo PPT-2620 Brush Cutter
Tools are rarely all pros with no cons. Here are some of the negatives we found when looking at this brush cutter.
Price
Echo is a reputable brand that produces high-quality products. Their prices reflect that, which could put some off, particularly if you are a consumer looking for a pole saw to use on your property. But, of course, any commercial outfit will benefit from the quality of the Echo brush cutter.
Lack of Carbon Fibre
As we have already established, the PPT-2620 is a light tool that is easy to maneuver when working at heights. This being said, many of Echo's competitors use carbon fiber in their designs that help strength, rigidity, and weight. Although this would undoubtedly increase the cost of the product, it may be worthwhile considering the performance improvements.
Are There Any Alternatives?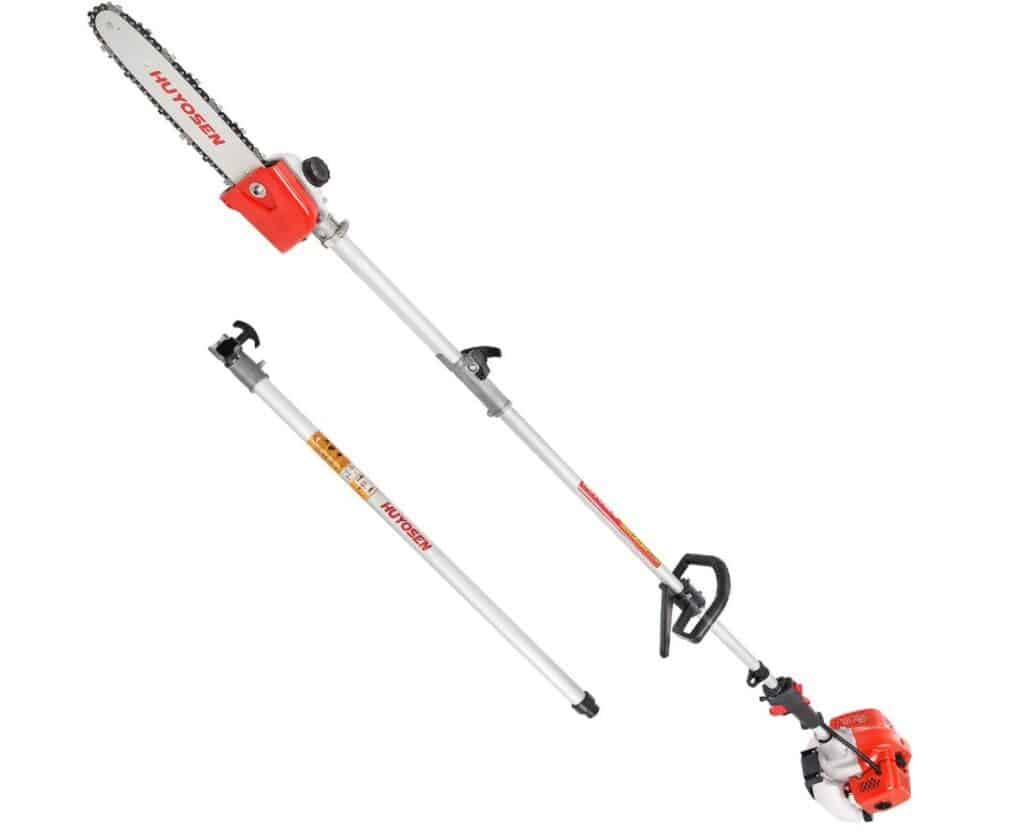 Huyosen is no stranger to the power tool market. Like Echo, they are known for producing quality products, and their pole saw is no different. If you are looking for a slightly more powerful tool than the Echo, this could be a good option. A 45cc engine provides the power, and with a larger tank capacity than the PPT-2620, the Huyosen has the greater cutting capacity.
Huyosen Gas Pole Saw | Amazon
45CC, is a 2-stroke engine that is much more powerful and steady. It can cut branches effortless and effectively, gas chainsaws also help you save time and energy.
Buy at Amazon
We earn a commission if you make a purchase, at no additional cost to you.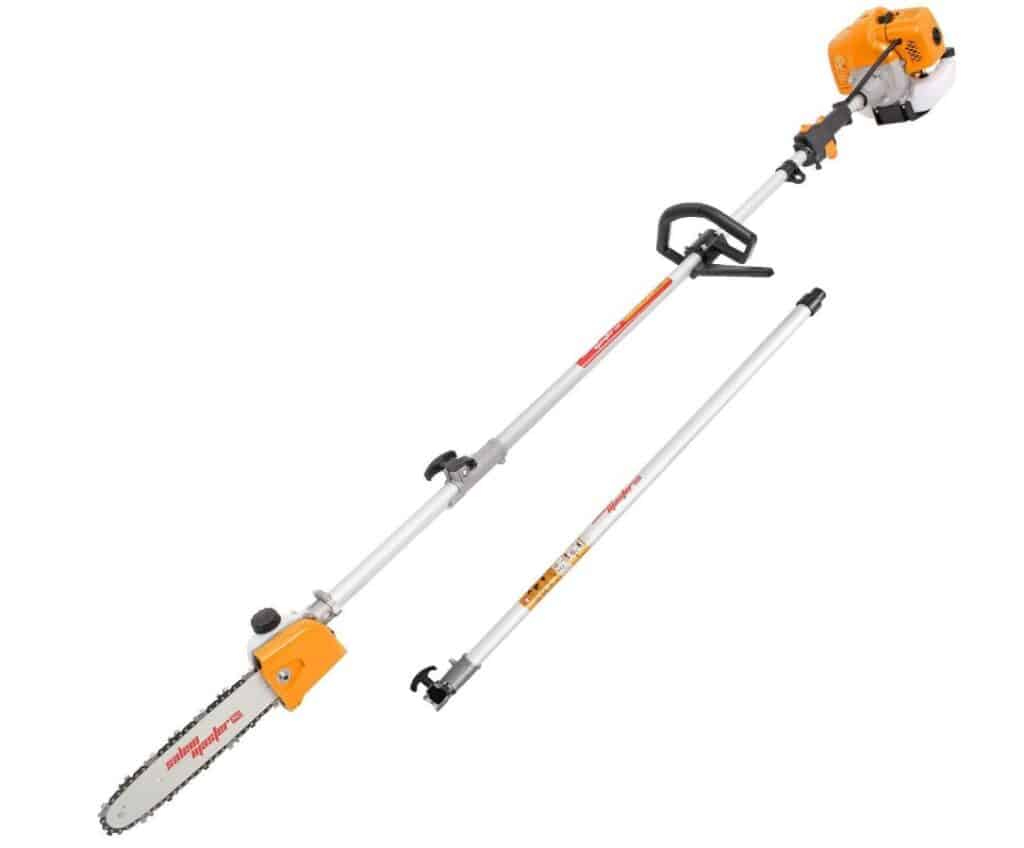 The Salem Master is another option if you're considering a gas-powered pole saw. It features a larger engine than the Echo offering at 42cc and extends to around 11 feet. Salem offers a great choice for those looking for a slightly cheaper model that does not compromise power or functionality.
Salem Master Gas Pole Saw | Amazon
Cordless telescopic pole saw: 42.7cc,1100w, 2-stroke engine which is more powerful and steady.
Buy at Amazon
We earn a commission if you make a purchase, at no additional cost to you.
09/21/2023 04:33 am GMT
Frequently Asked Questions
Question: What Support and Aftercare Services are Available With Echo?
Answer: All official retailers offer a wide range of aftercare for Echo tools. Full details are available from your point of purchase.
Question: What Are Echo X-Series Products?
Answer: The X-Series is the product line that Echo considers to be their best in class. The PPT-2620 is included in this bracket.
Question: Where Can Operator Manuals be Found?
Answer: Manuals are available on the Echo website. They are located on the individual product pages and can be downloaded directly to your computer.
Final Thoughts – Is the Echo PPT-2620 a Good Brush Cutter?
Echo has built a tool here that will appeal to a wide range of people. It is suitable for both consumers and professionals and will undoubtedly help speed pruning trees up when used. If a lightweight, well-designed tree pruner is what you're after, then there are few better than the PPT-2620. If you don't mind paying the premium price tag and a 25cc engine is big enough, then this is a great choice.
Echo PPT-2620 Tree Pruner | Amazon
The Echo PPT-2620 power pole pruner is featured with a high-powered 25.4cc professional-grade 2 stroke engine, combined with the i-30 starting system to decrease user starting effort by 30%, delivering exceptional performance.
Buy at Amazon
We earn a commission if you make a purchase, at no additional cost to you.
09/21/2023 04:29 pm GMT
If, however, you are put off by the price, then it may be worth considering one of the alternatives we suggested. Both the Huyosen and Salem offer competitive prices and increased engine size.
Read More: