Latest posts by The Forestry Pros Team
(see all)
Craftsman is a reliable brand that produces a wide range of efficient chainsaws for domestic and professional use. In our guide to the best Craftsman chainsaw models, we will explore the top chainsaws from this American manufacturer.
We will look at things you should consider before buying a Craftsman chainsaw, different safety tips, and the best chainsaws available under the Craftsman brand. You can also find answers to some frequently asked questions towards the end.
Who is Craftsman?
Craftsman is an American brand that manufactures and sells a wide range of power tools. This includes chainsaws, woodworking tools, and much more.
They have been in business since 1927 and are a popular brand to many homeowners as their tools provide a combination of cost-effectiveness and quality. Their tools are all American-made and manufactured in more than ten states.
Craftsman underwent a merger with renowned brand Black and Decker in 2017, which has allowed them to sell to a broader market and increase their overall business.
What are the different types of Craftsman Chainsaws?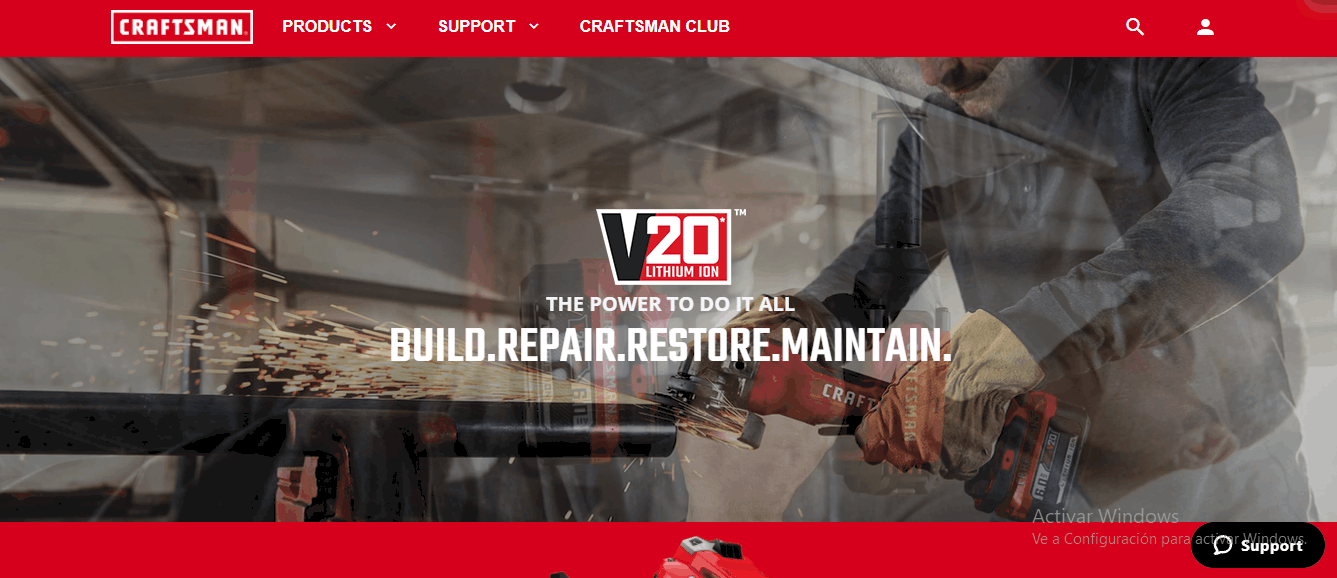 Craftsman offers an impressive range of chainsaws to suit every budget and need. They come in three main types.
2-Stroke Gas-Powered
Their range of 2-stroke gas-powered chainsaws is ideal if you don't have much experience working with this type of power tool. They are perfect for homeowners as they have enough power to carry out small to medium-sized jobs in your yard without being overpowering or too expensive. These chainsaws come in different lengths with various power options, which will help you to find what you need.
2-stroke Pro-Series Gas-Powered
If you require significantly more power and dependability, Crasftman's 2-stroke Pro-Series Gas-Powered Chainsaws are a better option.
This range is mainly aimed at professionals who require a heavy-duty chainsaw for continuous use. These chainsaws can cut into pretty much anything and offer superior comfort and low vibrations to ensure that you don't suffer from fatigue. The Pro-Series can be used by homeowners who require a chainsaw regularly; however, they are generally designed for professionals who will be using this tool day in and day out.
Electric Chainsaws
Lastly, we have Craftsman electric chainsaws, which have proved to be popular with people who don't want to spend a lot of money on a power tool and don't have a lot of experience in using one.
Electric chainsaws are often lighter than their gas-powered counterparts while providing great comfort and easy control. Another bonus of an electric model is that they don't give off as much noise either, so they are ideal for quieter residential areas.
You can find electric chainsaws both in corded and cordless models. Corded chainsaws are limited in their range as they do need to be plugged in; however, you won't need to worry about the battery running out. Cordless Craftsman electric chainsaws can be used wherever you like, but you will need to watch the battery level and be prepared to recharge it.
Related read: Gas vs Electric Chainsaws.
Professional vs Domestic Use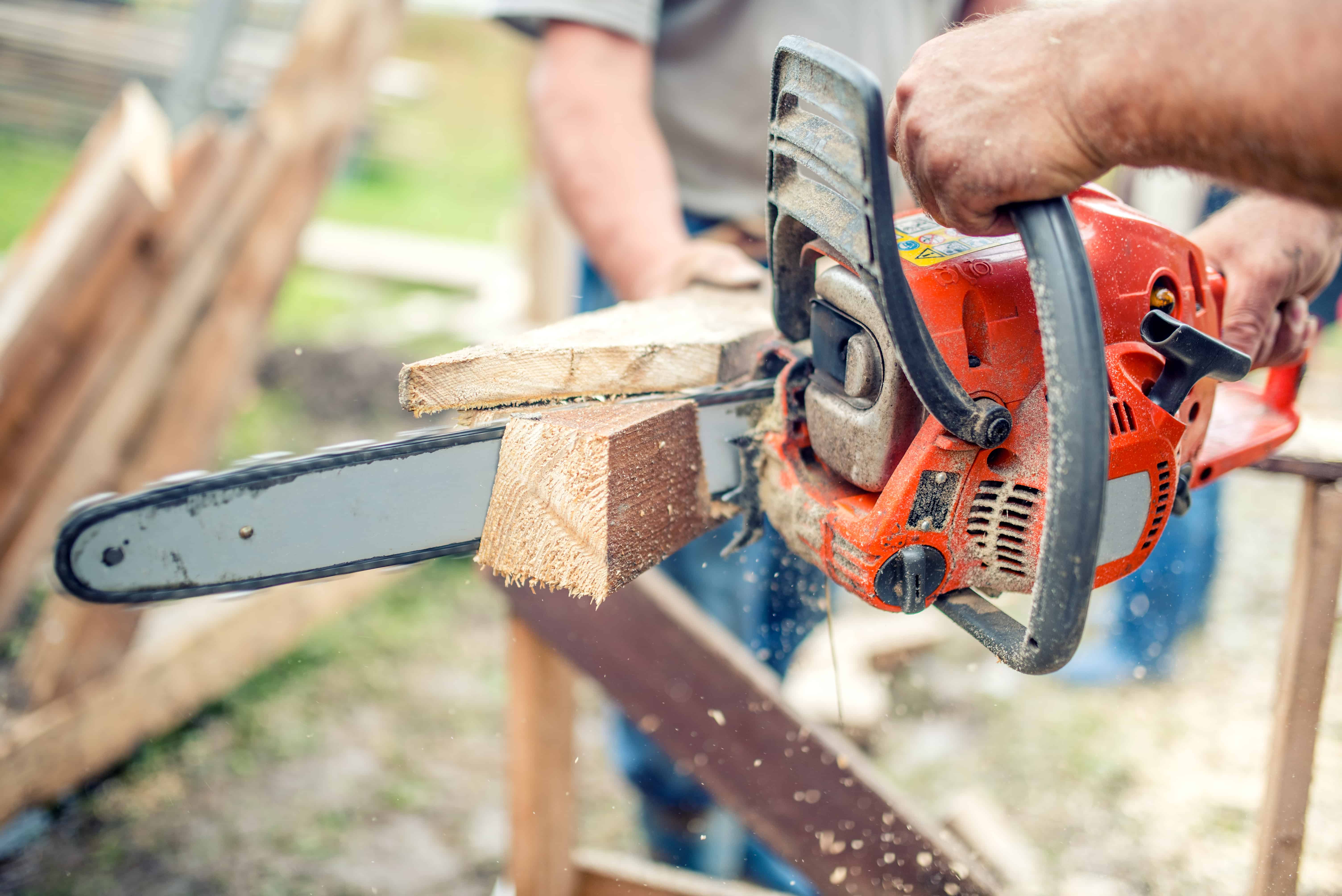 Craftsman provides a variety of different chainsaws that are aimed at different people. Their chainsaws, which have been manufactured for domestic use, often don't have the highest power ratings, but that doesn't mean they are useless. They will have enough power to cope with small jobs in your backyard, but they aren't suited to heavy-duty work continuously.
This is why many domestic users opt for an electric model, as they will likely be using it in their backyard to cut down small trees and branches.
Craftsman professional chainsaws – such as their 2-stroke Pro-Series, are designed for professional use. This means they will generally have more power, extra features, and have the durability to cope with ranch and forestry work.
Things to Consider When Buying a Chainsaw
Before you dive right into our list of the best Craftsman chainsaws on the market, we have compiled some things to consider to help you find the correct model.
Power Source
The big difference between electric and gas-powered chainsaws is how they are powered.
Electric chainsaws either need to be constantly plugged in for the tool to work, or you need to charge it up beforehand. Depending on the battery you have, a full charge can last as little as 45 minutes to as long as over two hours. Electric chainsaws are also limited by range as if it does need to be plugged in, and you can only use it as far as the cord extends.
Gas chainsaws don't suffer the same limitations as they can be used anywhere from your backyard to deep in the forest.
They will run longer than a battery-powered electric chainsaw, but you will still need to refuel it. Some of the downsides to a chainsaw that uses gas as a power source include the higher noise levels, more vibrations, and they are often heavy, which can be a burden to new users.
Cost
Craftsman are a popular brand because they offer some very affordable chainsaw models. However, a chainsaw can still be an expensive investment, especially if you don't intend on using it very often.
The best advice is to set a budget for a new chainsaw and stick to it as best you can. If you need to spend a few more dollars on a superior model that comes with more features, better comfort, and durability, that can be worth it in the long run.
Experience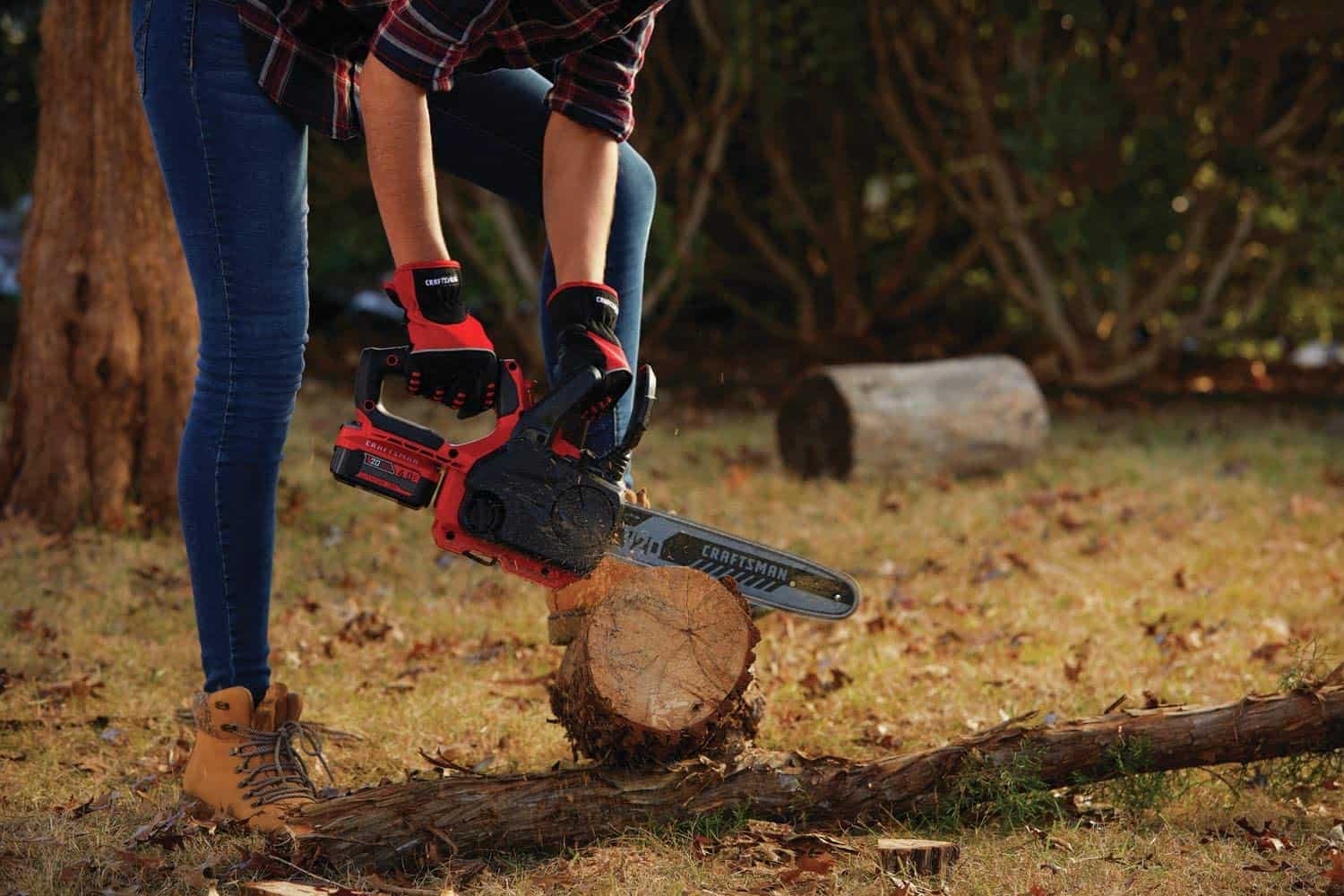 Electric models are generally better for new users who have none or minimal experience of using a chainsaw. This is because they don't offer the same power and usually have fewer vibrations, so they are easier to control. Electric chainsaws are lighter, so you won't suffer the same fatigue when using a gas model, but this might not be an alarming problem if you only use the chainsaw for short work.
If you do have significant experience using this type of power tool and you need that extra power, a gas model is probably better. These aren't suited to new users as they can be heavy, give off more vibrations, and they aren't as straightforward to control and operate.
Maintenance
Before buying a chainsaw, the final thing to think about is how much maintenance you are prepared to carry out to keep your chainsaw safe and working correctly. Electric chainsaws require less maintenance than gas-powered chainsaws. Some care is still needed, such as ensuring the chain tension is tight, but it doesn't involve as much more than a gas model.
It would be best if you read up on each chainsaw and the maintenance involved before purchasing as it can be a significant time consumer keeping your chainsaw in safe working order.
The Major Differences Between Craftsman and Other Brands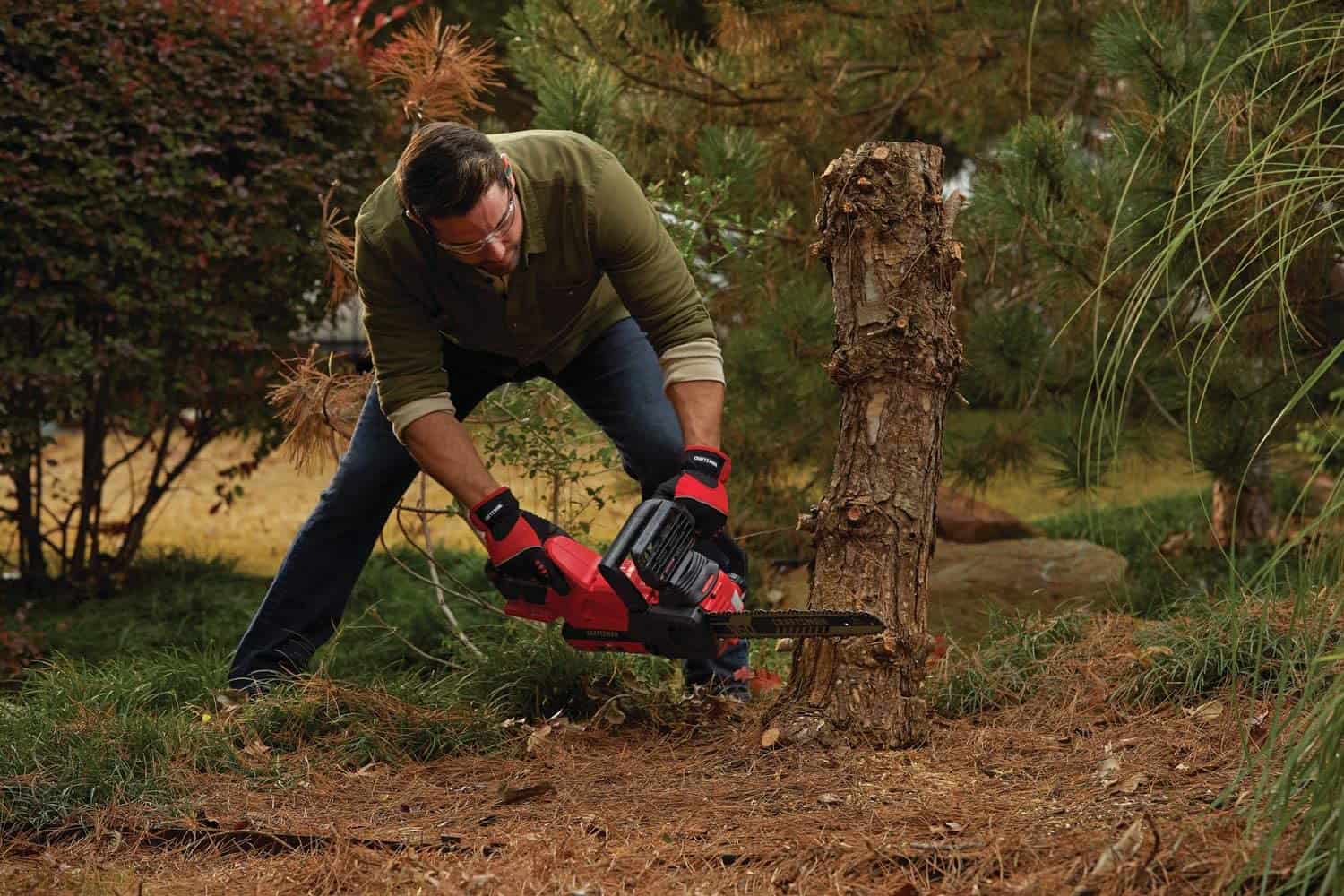 One of the significant differences between Craftsman and some other chainsaw brands that you come across is where their products are manufactured. All of Craftsman's chainsaws are manufactured in the USA, so they are American-made. If you are determined to buy a chainsaw made in America, Craftsman is an ideal brand to choose from.
Another difference is that Craftsman chainsaws are often more budget-friendly than some other higher-end brands. That isn't to say that their products are inferior or of lower quality, just that they will be easier on your wallet.
Advantages of Using a Craftsman Chainsaw
Craftsman do produce high-quality products, and these are some of the advantages of choosing this brand.
Chainsaw variety – Craftsman manufactures a varied range of chainsaws to suit all needs, from professionals who require a power tool for daily use to domestic users who might only use it a few times per year. This includes both electric and gas-powered models.
Cost-effective – Even though a chainsaw can be an expensive purchase, Craftsman offers many budget-friendly tools that can be cheaper than other brands. While they have pricey models, they provide many chainsaws the average homeowner can afford.
American-made – If you care about where your products, such as chainsaws, wood chippers, and brush cutters, are made, Craftsman is an ideal brand. Their power tools are all manufactured and made in America.
Widely available – Craftsman chainsaws are widely available, and you shouldn't have any issues finding the model you want. They are available nationwide, and Craftsman is a trusted brand stocked in many well-known online and offline outlets.
The Disadvantages of using a Craftsman Chainsaw
We like Craftsman as a brand, but there are some downsides to using a Craftsman chainsaw.
Maintenance – This isn't unique to Craftsman, as all chainsaw brands have this issue. You will need to put in some work to maintain your chainsaw and ensure that it is in safe working order and in top condition to carry out the work you need. Some chainsaw models require more care and maintenance than others.
Durability – Some people have found that Craftsman chainsaws aren't as durable as some other brands. That isn't to say they will only last a few weeks; however, they might not offer the same level of durability as other chainsaw manufacturers.
Safety Tips For Using a Chainsaw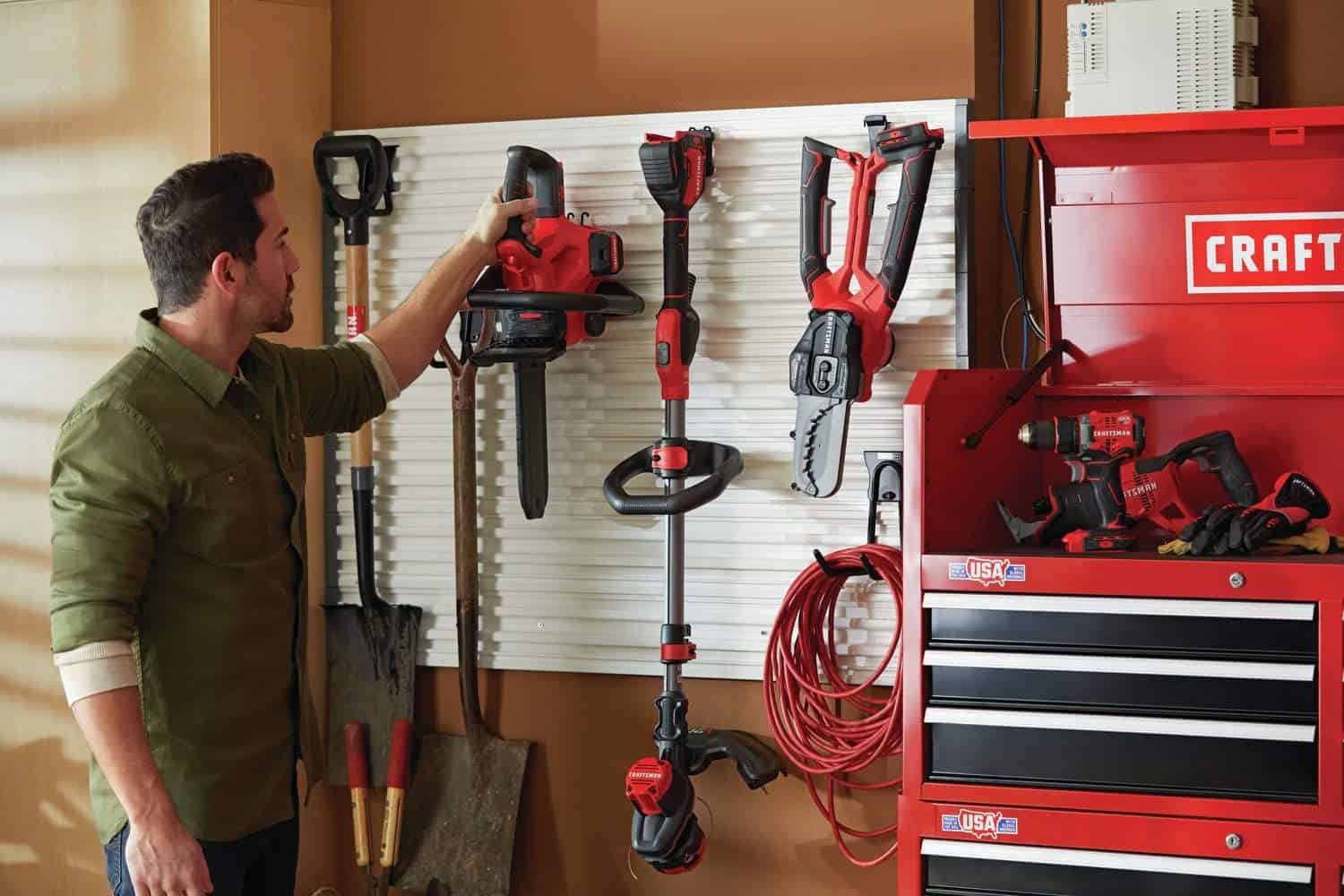 Craftsman chainsaws, like all chainsaw brands, can be dangerous if you don't use them properly. We have put together some safety advice for using a chainsaw.
Use Both Hands
You should operate a chainsaw with both hands as this gives the best control and stability. Using a chainsaw with only one hand won't give you the best grip, and it can slip and cause serious injury. This is true with any chainsaw but especially with gas-powered models that give off more vibrations.
Keep Your Feet Stable
Sometimes you need a chainsaw to reach difficult locations; however, you should always ensure that your feet are firmly on a stable surface. If you slip and fall while a chainsaw is in operation, this can cause severe injury. Also, ensure that you wear appropriate boots, giving you excellent grip and reducing the chances of slips and falls.
Check the Chain Tension Before Use
This is a vital safety step and one that can help you avoid causing injury when starting the chainsaw. Regardless if you have an electric or gas chainsaw, you need to check that the chain tension is tight before use. If you don't do this step and the chain is loose, it can fly off and result in serious harm.
Wear the Right Safety Gear
When using a chainsaw, ensure that you have the proper safety equipment. This includes:
Eye protection such as goggles
Ear protection
Sturdy boots
Gloves
Read the Instructions From Craftsman First
When buying a Craftsman chainsaw, read the operating instructions thoroughly before you start chopping down trees or cutting firewood. This will ensure that you use the chainsaw correctly and only cutting materials that the power tool can handle. Trying to cut through materials that the chainsaw isn't designed for can damage the tool and injure yourself.
My Top Recommendations for Craftsman Chainsaw Models in 2021
CRAFTSMAN (2020 Model) S185 42cc Full Crank 2-Cycle Gas Chainsaw – Best Overall Craftsman Chainsaw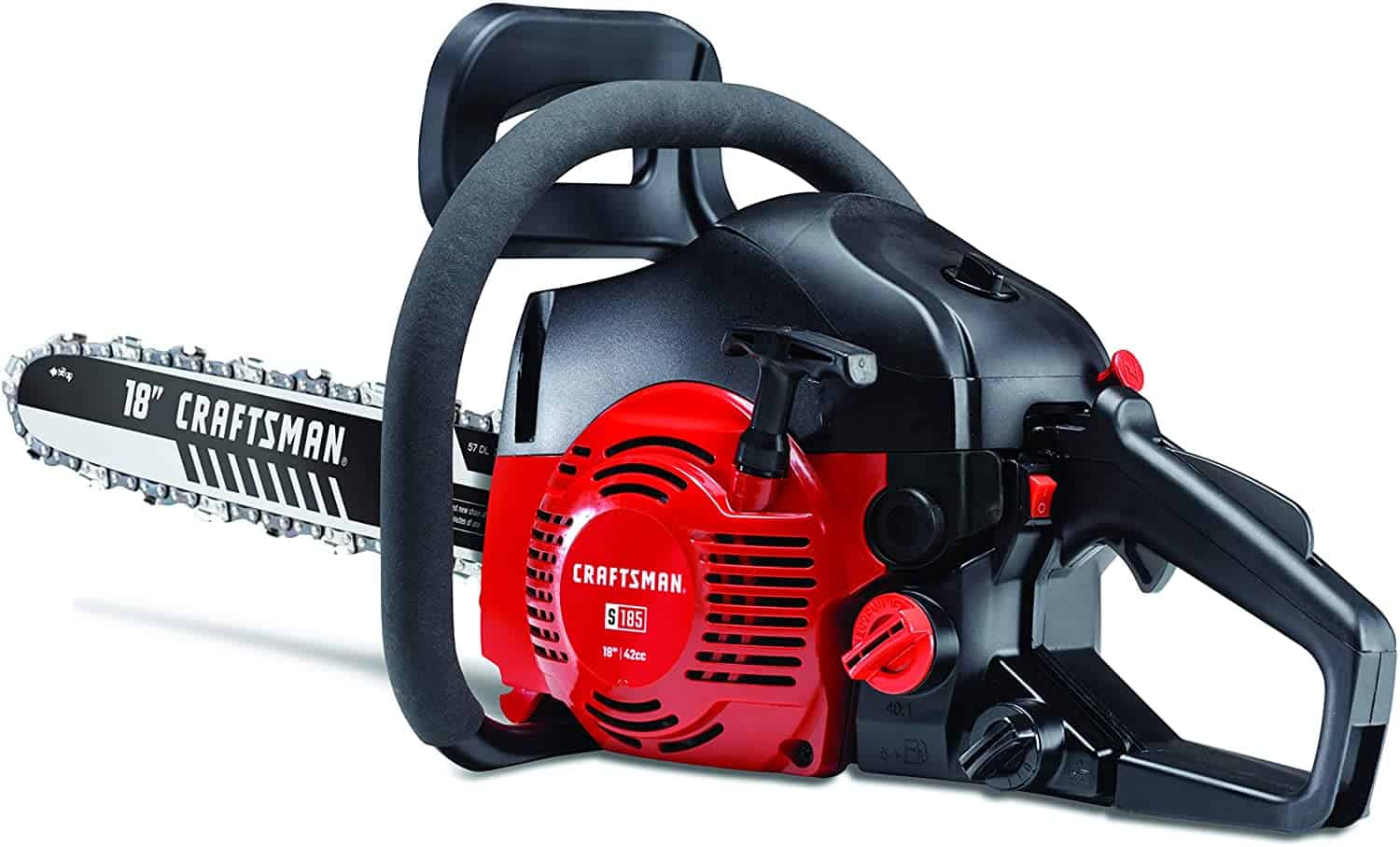 The best overall Craftsman chainsaw is the CRAFTSMAN (2020 Model) S185 42cc Full Crank 2-Cycle Gas Chainsaw. If you want as much power for your money as possible, this is the chainsaw that we recommend going for. The S185 comes with 2-cycle gas engines and an 18-inch chain, so it can handle most things that you throw at it.
One feature we love about this chainsaw is the anti-vibration technology and, even though it is gas-powered, you shouldn't suffer unnecessary fatigue when using this model. The chainsaw is a bit on the heavy side as it weighs around 15 lbs when the tank is filled, but the overall control is fantastic.
It also comes with something called the Incredi-Pull start system, making it much easier to get this chainsaw up and running. You also get a handy carry case included in the price. A couple of downsides with this model from Craftsman include the fact the chain seems to loosen relatively easily. Also, the Incredi-Pull start system will take a few goes to bed in properly, but it is a great addition when it works.
If you are after a Craftsman chainsaw that combines power, comfort, efficiency, and a reasonable price, this is the one to go for.
Pros
Overall an excellent chains
Has decent power and control
Incredi-Pull start system for easy start-up
It comes with a carry case
Cons
It can feel a bit heavy when the tank is full
The chain often comes loose
CRAFTSMAN CMCCSL621D1 V20 Cordless Lopper – Best Craftsman Chainsaw For High Branches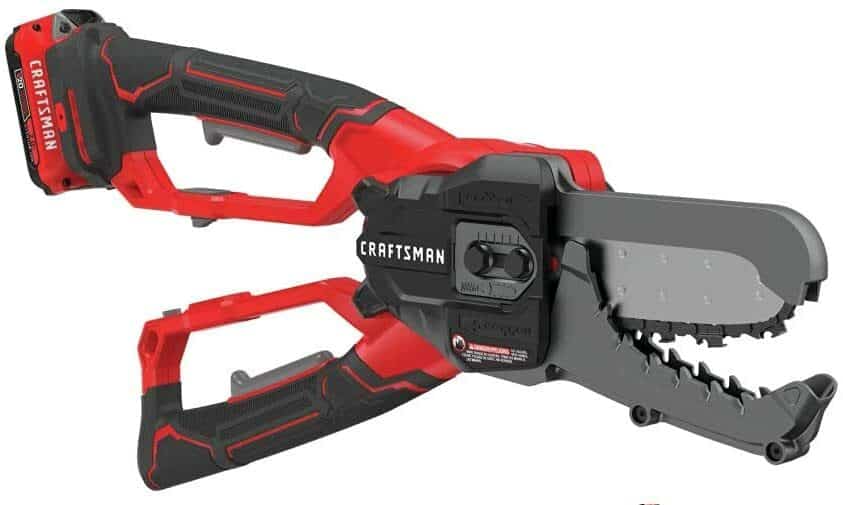 For those extra difficult-to-reach locations, the CRAFTSMAN CMCCSL621D1 V20 Cordless Lopper is a stellar option.
It looks different from a 'traditional' chainsaw; however, the whole idea is to get into challenging locations and cut down branches. It is ideal if you need to get rid of branches and other parts of a tree that aren't too thick and don't have the confidence to use a chainsaw while on a ladder.
This model comes with patented clamping jaws, so you can grip and cut down branches with ease. It can reach up to 14-feet, which is more and enough for most jobs, while the 4.0Ah Battery pack ensures a decent lifespan before it needs to be recharged.
For home maintenance, this is fine; however, it won't cope well with any big jobs, and it will struggle with any branches more than 4-inches in diameter. But, overall, this is a comfortable saw to use that is perfect for small work in your yard.
Pros
It has a reach of 14-feet which is great for difficult locations
Works well for small jobs in your yard
Easy and comfortable to use
Cons
This chainsaw isn't ideal for larger work
CRAFTSMAN Chainsaw, 8-Amp, 14-Inch – Best Budget Craftsman Chainsaw
Budget chainsaws don't have to be poor quality, and the CRAFTSMAN Chainsaw, 8-Amp, 14-Inch is evidence of that.
Even though this chainsaw comes in at a real bargain price, it offers a good amount of power. This is an electric model, and the 8amp motor can cut through a variety of wood well. Also, the compact size of the chainsaw means it is easy to control and is straightforward to store. For beginners who need a chainsaw for occasion jobs at home, it is hard to go wrong with this offering from Craftsman.
The bolt lock helps with chain tensioning, and it comes with an auto-oiling feature.
If you are looking for a powerful model to use on thick branches and will last for years, this probably isn't it. However, this budget offering will work great for occasional work and is efficient enough for most jobs in your yard.
Check out the following guide to learn How to Find the Best 14-Inch Chainsaws.
Pros
Fantastic budget option
Has auto-oil feature and bolt lock to help with chain tensioning
Easy to use and maintain
Cons
This chainsaw isn't the most powerful
It is corded, so it will limit its range
CRAFTSMAN V60 Cordless Chainsaw, 16-Inch – Best Battery Powered Craftsman Chainsaw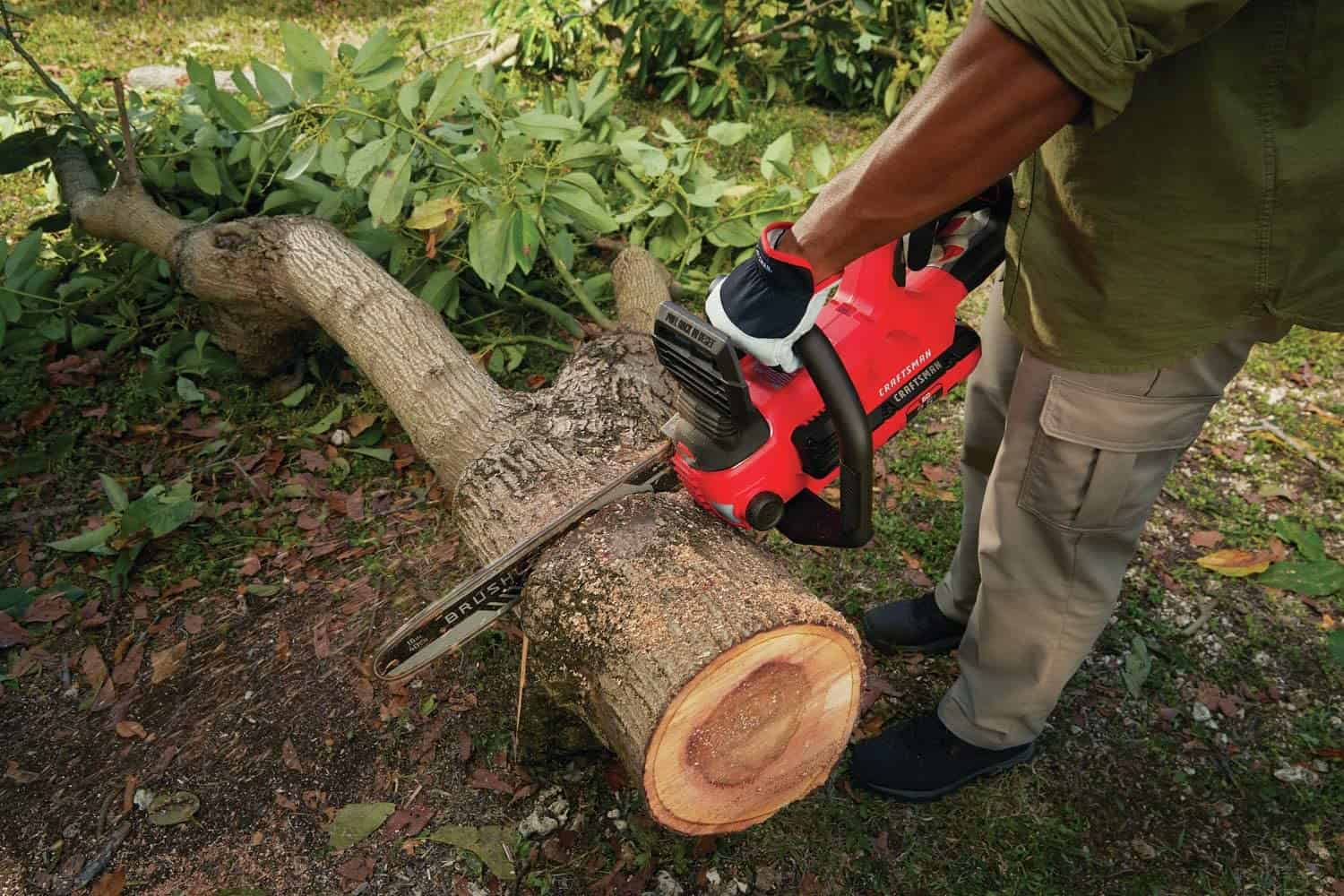 The CRAFTSMAN V60 Cordless Chainsaw, 16-Inch, works great as a battery-powered chainsaw.
The maintenance required for this chainsaw is vastly reduced as it is an electric model, which will suit many people who don't want to spend a lot of time on the upkeep of the power tool. Nevertheless, this chainsaw can easily cut through thick branches and give off a lot less noise than a petrol model.
The kickback with this chainsaw is low, and it is easy to use. This will appeal to many novices as the control is very good with the V60.
The chain on this chainsaw could be better. It is far from the worst we have come across, but it isn't as good as some others on our list. Also, the electric nature of the model means that it is going to be limited in where you can use it.
Pros
Has low kickback and can tackle various wood types
It doesn't require very much maintenance
Easy to control and use
Cons
The chain isn't of the highest quality
It is corded, so its range is limited
CRAFTSMAN V20 Cordless Chainsaw, 12-Inch – Best Craftsman Chainsaw For Small Spaces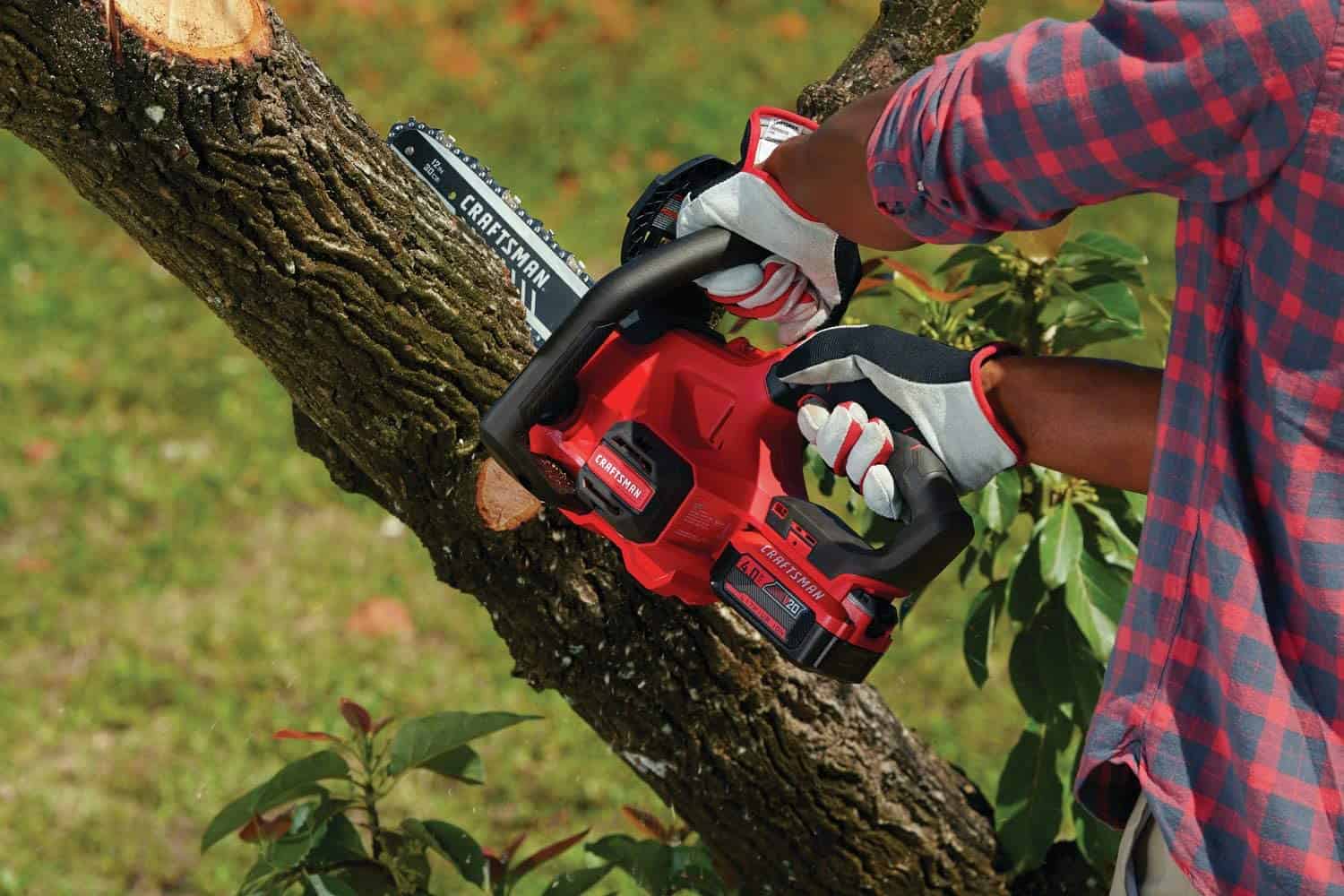 To reach into small and tight spaces, the CRAFTSMAN V20 Cordless Chainsaw, 12-Inch, is our top pick.
This chainsaw is small and compact, reaching difficult places and still performing to a high standard. The 4.0Ah battery pack will give you a decent run-time without needing to be recharged, and you can benefit from the various features it offers. This includes auto-oiling and tool-free tensioning, which significantly cuts down on the required amount of maintenance with this power tool.
There have been some reports of the oil leaking a bit with this chainsaw, and the chain itself can become loose more often than it should. However, the V20 is available at a very reasonable price and would appeal to those who want a powerful battery-powered chainsaw that is perfect for domestic use.
Pros
An electric chainsaw that is low maintenance
Can reach into small spaces while still being effective
4.0Ah battery pack that gives good run-time
Auto-oiling and tool-free tensioning
Cons
The oil can sometimes leak with this chainsaw
Some people find the chain loosens regularly
Craftsman Max Li-Ion 10″ Cordless Chainsaw – Best Lightweight Craftsman Chainsaw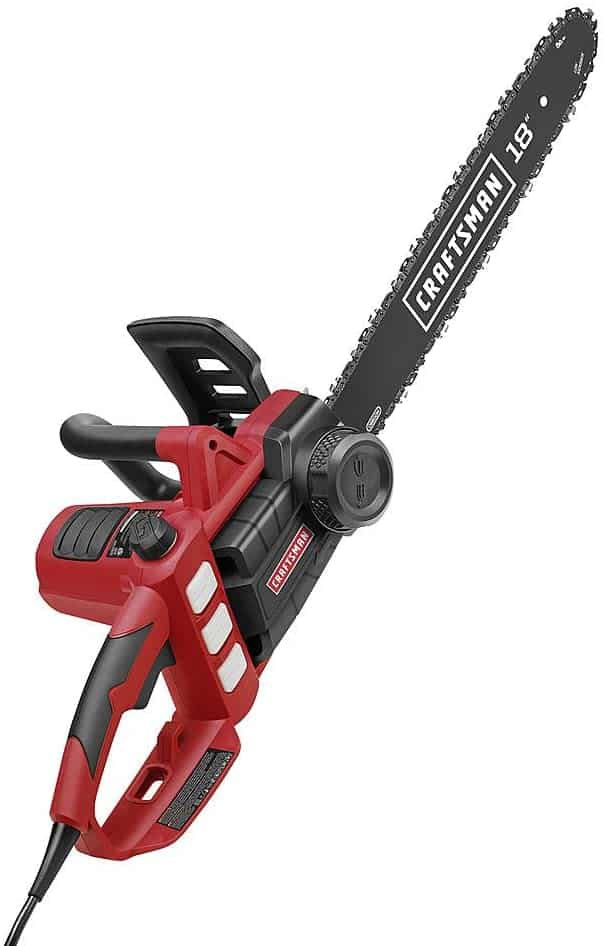 Lightweight chainsaws appeal to many people, including beginners but also those who use this type of power tool every day. The Craftsman Max Li-Ion 10″ Cordless Chainsaw is perfect if you want a light option as it weighs under 7 lbs.
The battery can recharge fully in about 70-minutes, so you won't be waiting around all day to get this chainsaw fired up and ready to go. You even benefit from having a handy battery indicator letting you know when the power is low.
This chainsaw is an excellent option for smaller jobs such as trimming hedges, cutting down smaller branches, and pruning. It can easily cut into decently sized branches and various types of wood, although it will struggle on particularly large logs and tree trunks.
If you want a chainsaw that will last all day, you are better going for a gas-powered model, but as a battery option, the run-time is quite impressive with the Max Li-Ion 10″.
Pros
Lightweight and ideal for smaller jobs around your yard
Can handle reasonably thick branches and trees
The battery recharges in just over one hour
It comes with a battery level indicator
Cons
This chainsaw isn't suited to all-day continuous use
The chain isn't the most durable
Conclusion: The Best Craftsman Chainsaws
Craftsman is known for providing good quality yet affordable chainsaw models designed for domestic and professional use. In their range, you will find gas, battery, and electric powered chainsaws that appeal to a wide variety of people.
We enjoy using chainsaws from the Craftsman brand due to their efficiency, reliability, and also cost-effectiveness when you compare them to some other companies.
In summary, the best Craftsman chainsaws on the market are: