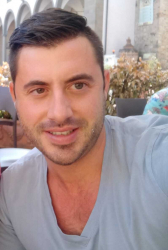 Latest posts by David Borgogni
(see all)
Ryobi is a Japanese brand that produces high-quality chainsaws at an affordable price. In this guide, we'll discover the best Ryobi chainsaw models on offer from this power tool manufacturer.
We'll explore what you should consider before purchasing a Ryobi chainsaw, some tips to keep yourself safe when operating one, and answer some frequently asked questions.
First, let's find out who Ryobi is and why it is a dependable chainsaw brand.
Who is Ryobi?
Ryobi is a well-known Japanese company that manufactures a wide range of different power tools and electronics. They have been around since 1943 and began producing power tools in the 1960s. Ryobi currently has one production site in America (in Shelbyville, Indiana).
They have built a name for themselves as a dependable, quality brand that offers various power tools at an affordable price. Ryobi tools offer commercial chainsaws designed for heavy-duty professional use and chainsaws and power tools for domestic jobs.
What Are The Different Types of Ryobi Chainsaws?
Craftsman offers an impressive range of chainsaws to suit every budget and need. They come in three main types.
Gas-Powered Chainsaws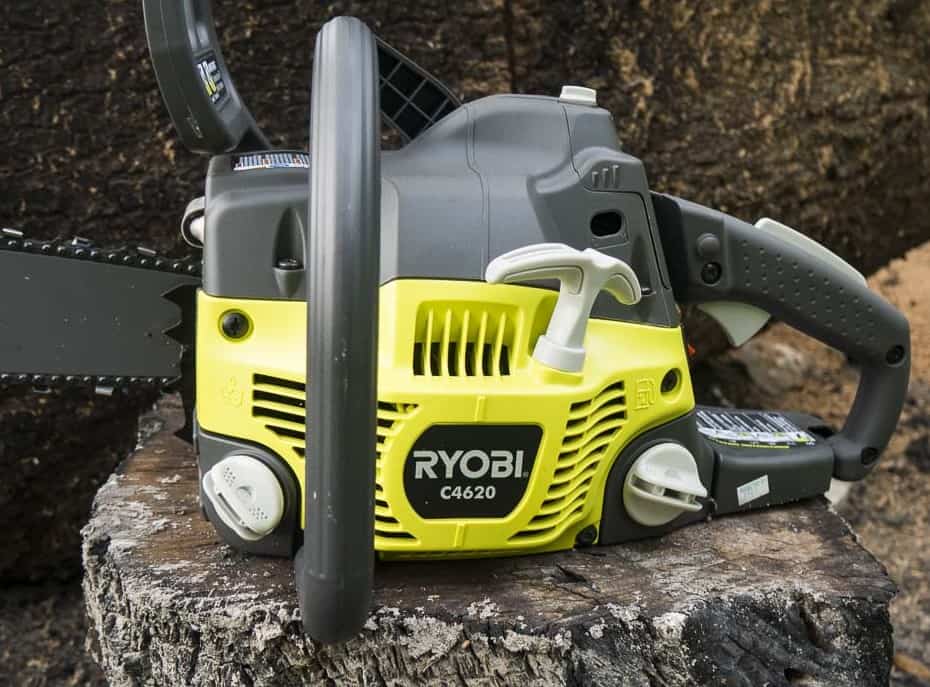 Gas-powered chainsaws have several advantages over other models. They often have more power to cut into larger tree trunks, branches, and other materials a lot easier. Most Ryobi chainsaws aimed at professionals, tend to be powered by gas as they offer the most power and can also be used anywhere without having to be plugged.
The downside to a gas-powered chainsaw is that they make a significant amount of noise. They can also be harder to control due to their power, which can make them unsuitable to first-time users and beginners.
However, if you need to cut thick pieces of wood, a gas chainsaw is usually the best option.
Read here to find out the differences between Gas vs Electric Chainsaws.
Battery Chainsaws
Battery chainsaws have a similar advantage to gas models as they can be used anywhere and don't need to be constantly plugged into a power source. However, whereas you can just refuel a gas chainsaw, a battery model will need to be charged if the battery runs out.
These chainsaws are best suited to slicing through smaller branches and trees. While they offer decent power, they usually won't be as powerful as a gas chainsaw. However, this allows for better control, and they are often quite beginner-friendly.
Electric Chainsaws
Ryobi provides a range of electric-powered chainsaws, and this type of power tool is ideal for domestic use. They are often cheaper than gas models because they don't offer the same level of power, and you will need to have the chainsaw plugged in.
This does hamper the overall functionality of the chainsaw because you won't be able to use it if you are far away from a power outlet. However, if you need a chainsaw for small domestic jobs and you have a yard where you can easily access a power source, an electric chainsaw is perfect. They don't make much noise, and you can also pick them up cheaper than gas-powered models.
Pole Chainsaws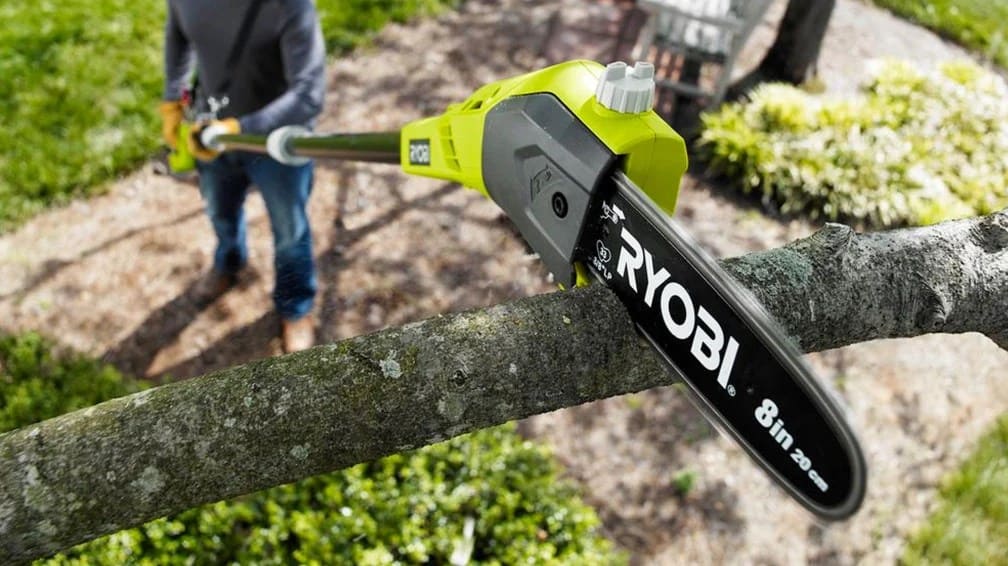 Another type of chainsaw that you can buy from Ryobi is a pole chainsaw.
These are less common, but they can be beneficial if you need to reach high branches and don't want to use a chainsaw while standing on a ladder. For cutting down branches and pruning trees and brushes, this is a great option. The downside is that a pole chainsaw isn't that powerful, and you will be very limited in the type and size of wood you can cut with it.
Professional vs Domestic Use
Before we move on to the things you should think about before you buy a Ryobi chainsaw, it is important to note that this Japanese manufacturer makes chainsaws both for domestic and professional use.
Professional Ryobi chainsaws will cost more money, but they will offer more power. These chainsaws are designed with heavy-duty and regular work in mind, and they may have additional features to help combat fatigue when using the power tool for extended periods.
Domestic Ryobi chainsaws won't cost as much, but they will come with less power. This is because they are made for smaller jobs and aren't designed to be used regularly. That isn't to say that these Ryobi power tools are of bad quality, just that they are manufactured for a different purpose.
Things to consider when buying a Chainsaw
We will list our top Ryobi chainsaw picks later on, but before you decide which chainsaw to purchase, there are a few things you need to consider.
Power source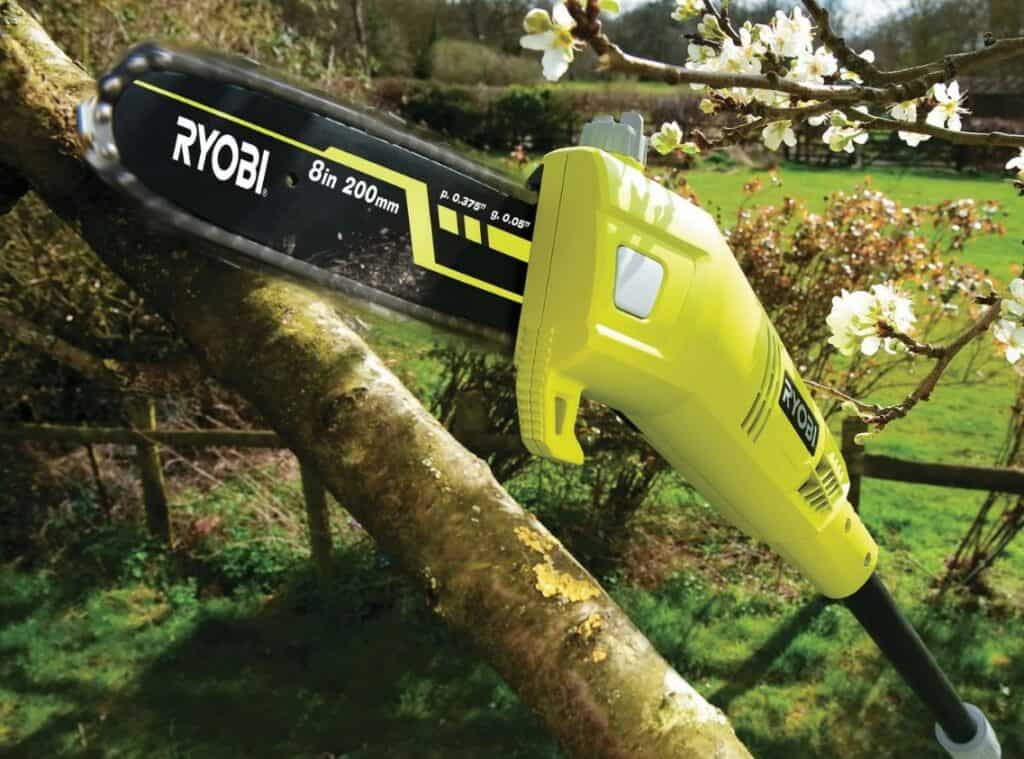 The different Ryobi chainsaws that we mentioned above are powered by different means, and this is a vital thing to consider before purchasing a chainsaw.
If you need to use a chainsaw in a remote area, it is advisable to opt for a gas-powered model. These can be used anywhere, and as long as you have some petrol, you can refuel the chainsaw and use it for extended periods. Similarly, if you need to cut down large trees or thick branches, a gas-powered chainsaw will better suit this purpose.
However, consider a battery-powered or electric model if you only need a chainsaw to use in your yard. The range is limited with an electric chainsaw, but if you can easily plug it in and use it in your garden, it should offer enough power for occasional domestic work.
Cost
Ryobi offers various chainsaws at different price points, but they are a very affordable brand. Compared to certain other chainsaw manufacturers, Ryobi is cost-effective regardless if you are purchasing a small chainsaw for domestic use or a heavy-duty model for professional work.
The best advice is to set yourself a budget and look for a Ryobi chainsaw in your price range. However, if you come across a model that is more suited to what you need and perhaps comes with additional features that will make the job a lot easier, it can be worth spending a few extra dollars.
Experience
How experienced you are with using a chainsaw should determine the type of Ryobi chainsaw you buy.
Electric models are often better suited to new users. They usually don't have the same level of power, but this makes them easier to control, and the reduced vibrations will cut down on fatigue.
A gas-powered chainsaw will be better for anyone who is experienced using a chainsaw and perhaps requires one for heavier work. While they will be heavier and more difficult to control if you are used to operating a gas chainsaw, you might find an electric or battery model insufficient for what you need.
Maintenance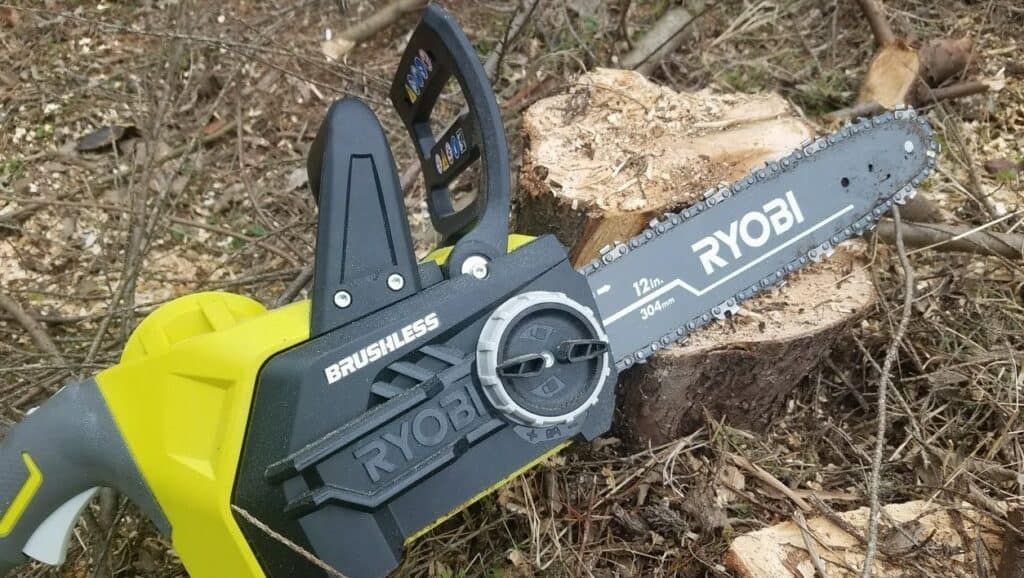 Lastly, you should think about how much maintenance you are willing to carry out on your chainsaw.
All chainsaws will require a certain amount of maintenance and safety checks, mainly to ensure the chain tension is tight. However, some models will demand more work than others.
Electric chainsaws generally don't require the same amount of maintenance as a gas-powered model. Read up on each chainsaw first before you buy it, so you know exactly how much work is involved in maintaining it in top condition.
The Major Differences Between Ryobi and Other Brands
Ryobi is a Japanese manufacturer, so they differ from many other brands, especially those predominantly set in the USA.
While Ryobi does have a manufacturing plant in Shelbyville, Indiana, the vast majority of their power tools are made abroad. If you are in the market for an American-made chainsaw, Ryobi probably isn't the brand to choose.
However, Ryobi does differ from many other chainsaw brands due to the affordability of its products. While some chainsaw producers charge a lot of money for even entry-level chainsaws, Ryobi offers cost-effective chainsaw options for domestic chainsaws and those designed for professional use.
Advantages of using a Ryobi Chainsaw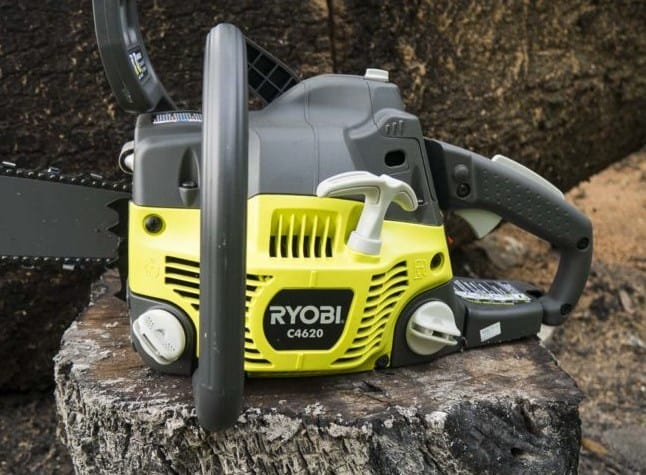 Some of the main advantages of using a Ryobi chainsaw includes:
Budget-friendly – Ryobi chainsaws are very cost-effective, so if you are in the market for a good quality chainsaw but don't want to pay top-shelf prices, Ryobi is a solid brand.
High-quality – Even though Ryobi chainsaws are at the lower end of the pricing spectrum, their chainsaws are of high quality. A Ryobi chainsaw can match even some of the most expensive brands for quality and dependability.
Variety – Ryobi Tools offers various types of a chainsaw from battery-powered to gas models. This gives you great flexibility if you need a new chainsaw and you aren't sure what kind to opt for. You can search through battery, electric, and petrol chainsaws to find the one you need.
Low Maintenance – While all Ryobi chainsaws will require maintenance to some extent, this brand often requires less maintenance than others. If you don't want to spend lots of time looking after your chainsaw, Ryobi is an ideal choice.
The Disadvantages of using a Ryobi Chainsaw
Not everything is perfect with the Ryobi brand. Here are some downsides:
Isn't made in the USA – If you care about where your chainsaw is manufactured and want to buy an American model, Ryobi isn't the brand for you. While they do have one manufacturing plant in America, most of their power tools are made overseas.
Batteries aren't durable – The batteries that some Ryobi chainsaws use only last for about a year, so they aren't the most long-lasting. However, given the affordability of the brand, replacing the battery isn't a huge expense.
Safety Tips for using a chainsaw
Before using a Ryobi chainsaw, you should be aware of some important safety information.
Use both hands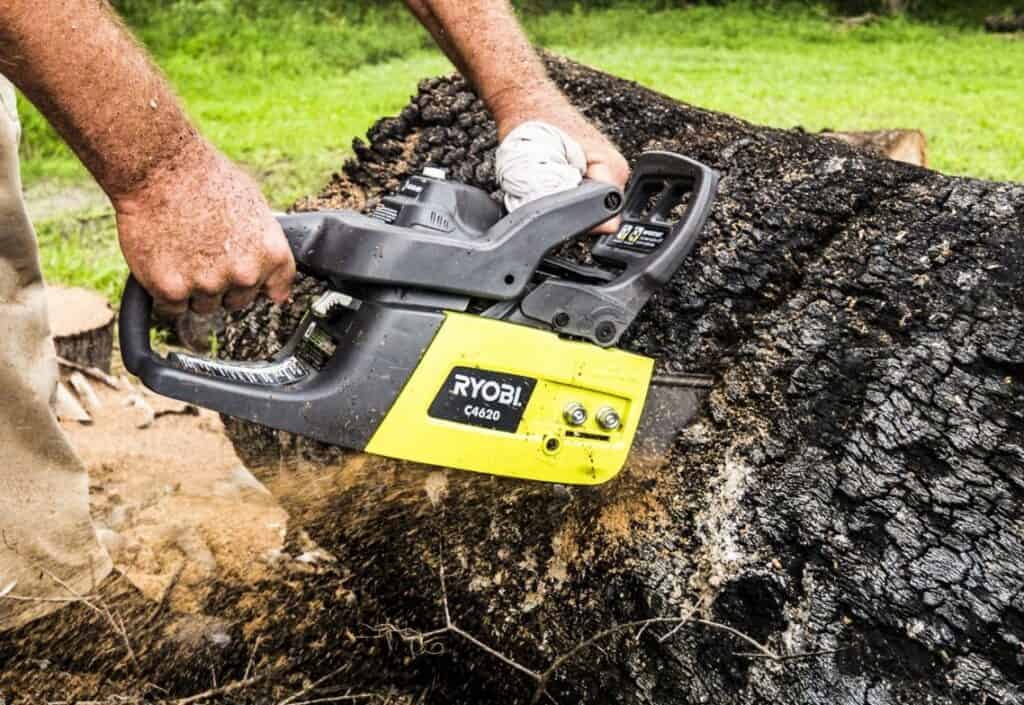 A chainsaw should always be operated with both hands. Only using one hand to use a Ryobi chainsaw can cause it to slip, resulting in serious injury. Make sure you have a firm grip with both hands on the chainsaw before you begin cutting wood. Gas-powered chainsaws can also produce a lot of vibration, which further emphasizes the need to use two hands.
Have both feet firmly planted on a firm surface
When using a chainsaw on a ladder or trying to reach a difficult location, also ensure that both your feet are firmly on the flat surface. This will give you the best stability and ensure you don't slip when the chainsaw is in operation. Refrain from using the chainsaw when balancing on one leg or standing on a very uneven surface.
Ensure the chain is tight
Checking the chain tension is something you should always carry out before firing up a chainsaw. It doesn't matter if it is a gas, electric, or battery model; the chain tension needs to be tight, which will ensure that it doesn't fly off and cause serious injury.
Go over the Ryobi instructions
You will most likely be excited to get your new Ryobi chainsaw up and running; however, you should read all the instructions and documentation first. This will ensure that you know how to use the chainsaw properly, the different safety precautions to take first, and also how to maintain the chainsaw correctly.
Have the proper safety equipment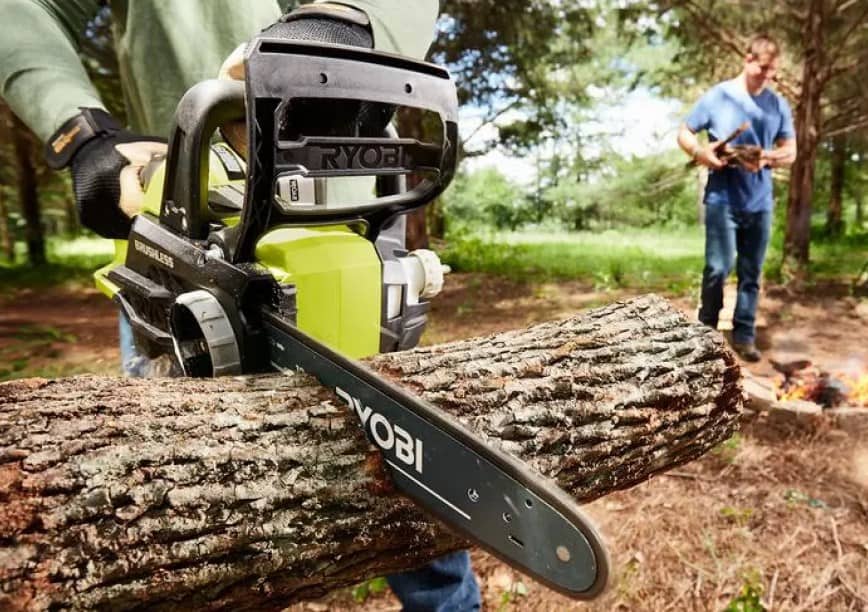 When using a chainsaw, ensure that you have the proper safety equipment. This includes:
Eye protection such as goggles
Ear protection
Sturdy boots
Gloves
Selection Criteria
Ryobi produces a varied range of chainsaws, and we had to use some strict criteria to ensure that only the best models made it onto your list. Some of the criteria we used includes:
Gas and battery chainsaws – Our list features both gas and battery chainsaws, which is important to many people. Gas chainsaws are usually more powerful, but some prefer battery-operated models for easier control.
Weight – The Ryobi chainsaws we have picked have different weights. This ensures that experienced and novice users have several choices to look at, as beginners often prefer chainsaws with lower weight for easier control.
Cost – Ryobi is a cost-effective brand; however, we have included different Ryobi chainsaws, both expensive and for those who are on a strict budget.
My Top Recommendations for Ryobi Chainsaw Models in 2021
Ryobi RY3714 37cc 2-Cycle Gas Chainsaw – Best overall Ryobi chainsaw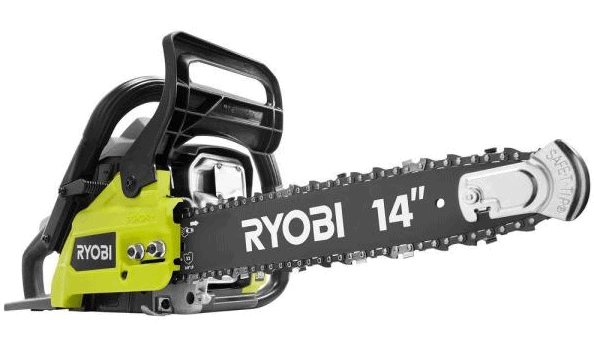 Our top pick for the best Ryobi chainsaw is the Ryobi RY3714 37cc 2-Cycle Gas Chainsaw.
We have chosen this gas model for several reasons. Firstly it offers an impressive amount of power, and the anti-vibration handle drastically cuts down on fatigue. The anti-vibration technology is also ideal for better control and grip when using this chainsaw. The weight of the RY3714 is good too, and it isn't cumbersome to lift, unlike many other gas chainsaws.
Some fantastic additional features with this chainsaw include the automatic oiler system, and you can tension the chain easily at the side of the power tool. They might not seem like massive additions to this model, but they definitely help with overall functionality and ease of use.
If you need a chainsaw to handle larger jobs, the RY3714 is a perfect choice. One thing we didn't like was the instructions as they often weren't the clearest at times. While if you are experienced using a chainsaw, this might not be a big deal, but it isn't great for novices.
However, overall the Ryobi RY3714 37cc 2-Cycle Gas Chainsaw is our top pick, and for the money, you get a fantastic all-around power tool.
Pros
Powerful gas chainsaw that can handle thick trees
Anti-vibration technology helps with fatigue and control
Automatic oiler system
You can tension the chain easily
Cons
The instructions could be more straightforward
Ryobi RY40511 40V Cordless Brushless Chainsaw – Best Battery Ryobi Chainsaw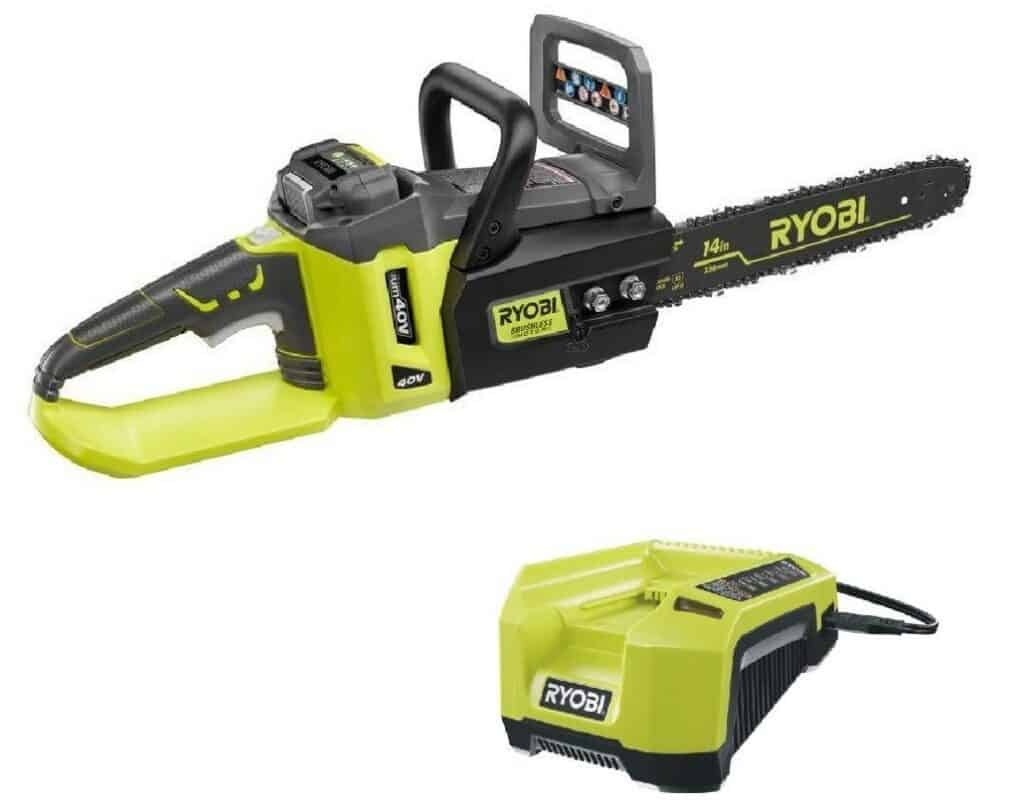 Battery chainsaws can be ideal as they often cost a bit less than a gas model while providing good power and control. You also don't need to have a battery-powered chainsaw constantly plugged in like an electric corded model.
The Ryobi RY40511 40V Cordless Brushless Chainsaw is our top battery pick, and it comes with just about everything you need. This includes a 1-hour quick charger and variable speeds, which is great for cutting into different materials, and the side-access chain tensions are a welcome addition.
As this is a battery model, you will need to charge it up to use the chainsaw, and if you don't need a power source, you are pretty stuck if it runs out of charge. However, this is an excellent chainsaw for novices and experienced users alike and offers what you need for decent-sized jobs in your yard.
Pros
Quick charge and offers variable speeds
The power can compete with some gas chainsaws
This chainsaw is easy to use and control
Cons
The battery life could be longer
Ryobi 6 Amp Pole Chainsaw – Best Ryobi Pole Chainsaw

The Ryobi 6 Amp Pole Chainsaw is our pick for cutting down small branches and pruning bushes in difficult-to-reach locations.
This isn't the most powerful Ryobi chainsaw you can buy – far from it – but it does an excellent job at what it is designed for. This chainsaw comes with an extendable arm that can reach up to 9 feet in length, so it is ideal for getting rid of branches in high-up places without having to use a ladder. For anyone that isn't confident using a chainsaw on a ladder, the Ryobi 6 Amp Pole Chainsaw is perfect, and you can cut branches six inches in diameter.
Due to the nature of this chainsaw, it isn't the most powerful out there. It won't cope with large branches or challenging jobs, but that isn't its purpose. Combine the above with an automatic oiler and angled head for greater precision; it would be a welcome addition to any collection of power tools.
Pros
Ideal for reaching difficult locations
Can cut branches 6 inches in diameter
Automatic oiler system and angled head
Cons
This chainsaw isn't suited to larger jobs
Ryobi P546 10 in. ONE+ 18-Volt Lithium+ Cordless Chainsaw – Best compact Ryobi model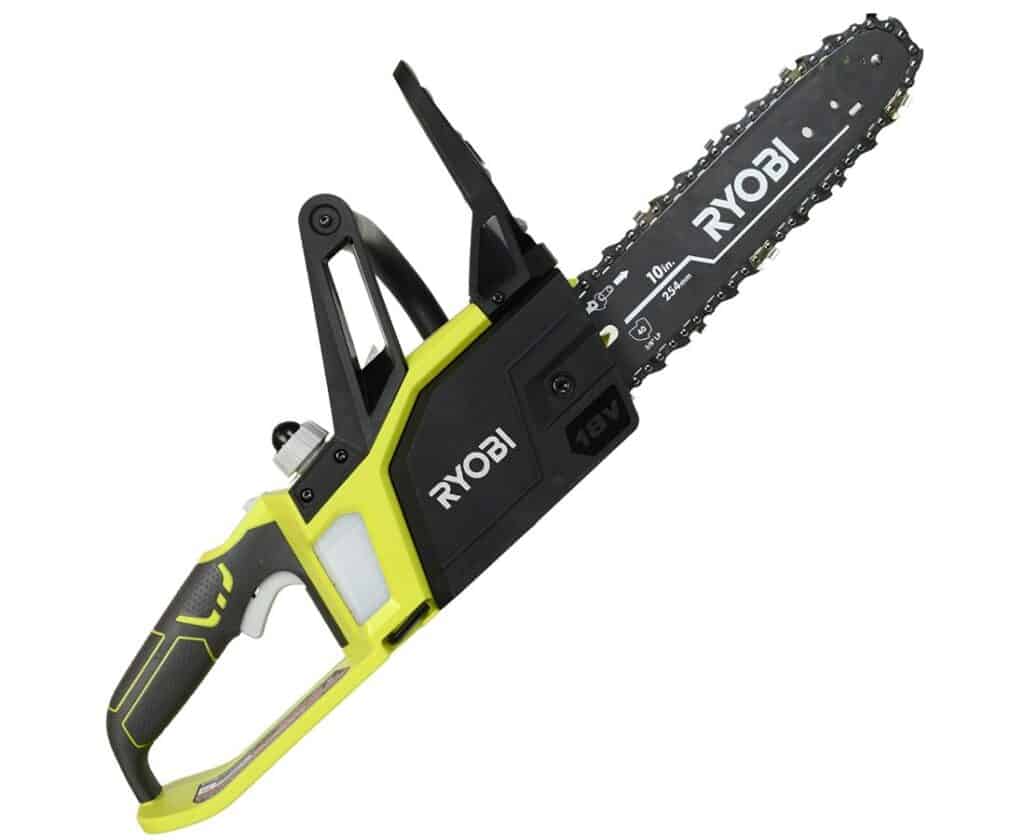 The Ryobi P546 10 in. ONE+ 18-Volt Lithium+ Cordless Chainsaw is our choice if you need a compact model that isn't going to be used for particularly tough and demanding jobs.
This chainsaw is powerful in its own way, and the fact that it only weighs 5.8 lbs is a bonus. It is difficult to find many flaws with this Ryobi power tool for its lightweight and compact design. The chain can be easily maintained and looked after through the push-button oiler system, and it is simple to check the tension of the chain.
There can be kickback with this model, which raises safety concerns. However, as long as you use the tool correctly, you shouldn't encounter any problems. Overall, an ideal Ryobi chainsaw is you don't need anything too big and want a power tool that can be easily stored away.
Pros
Compact and can be easily stored
Lightweight, which offers reasonable control
Push-button oiler system and simple chain tensioning
Cons
There is an increased chance of kickback
The chainsaw comes without battery and charger
Ryobi P547 10 in. ONE+ 18-Volt Lithium+ Cordless Chainsaw – Best Ryobi chainsaw for speed trimming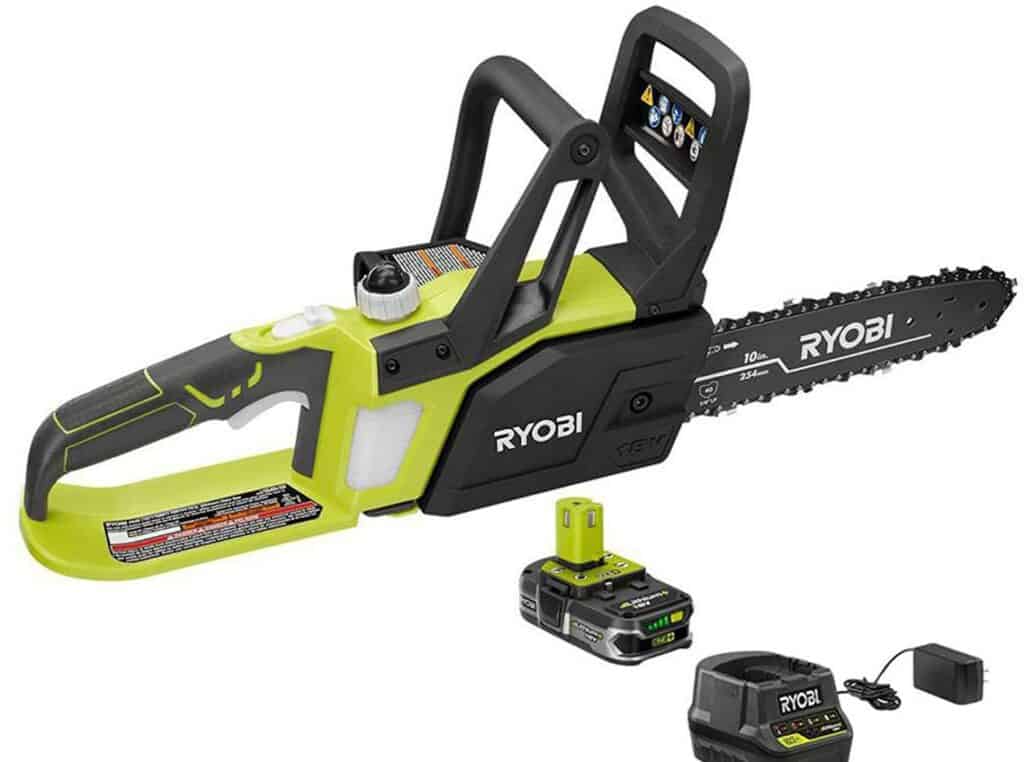 The Ryobi P547 10 in. ONE+ 18-Volt Lithium+ Cordless Chainsaw is an excellent chainsaw for quick trimming jobs. If you are after a chainsaw for domestic work, this is a good option to consider.
The chainsaw can handle branches and pieces of wood up to six inches, while it does a good job at cutting through various woods. This model won't compete with some of the more powerful chainsaws on our list, and certainly not a gas chainsaw, but it is powerful in its own way.
With increased speed to make trimming jobs much easier and quicker, it is ideal for domestic use. You can also benefit from many features that define Ryobi chainsaws, such as push-button oiling and easy chain tensioning. The battery could last a lot longer, and with continuous use, you are probably looking at around 30-minutes or slightly less. This poor battery life is the only major downside to an otherwise excellent Ryobi model.
Pros
Offers quick speeds for easy trimming and cutting
Can handle branches up to six inches
It comes with various additional features
Easy to control and store
Cons
The battery only lasts about half an hour
Ryobi 14 in. 40-Volt Baretool Brushless Lithium-Ion Cordless Chainsaw – Best second-hand Ryobi chainsaw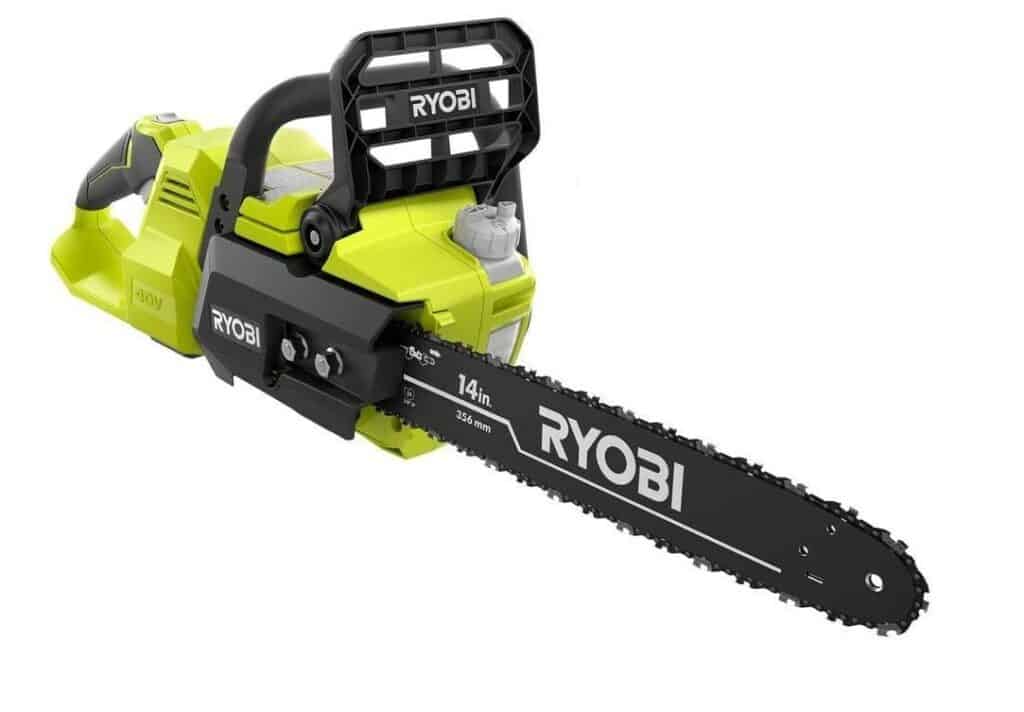 One way to cut down on the costs of buying a chainsaw is to purchase a renewed model, and this is why we have included the Ryobi 14 in. 40-Volt Baretool Brushless Lithium-Ion Cordless Chainsaw on the list.
A 90-day guarantee backs this renewed model, and it comes in at a significantly lower price than purchasing a new chainsaw. The battery life won't last as long as a new model (it will operate at around 80%), but that will still be enough to get jobs completed in your yard.
This chainsaw comes with a variable speed trigger, side access chain tensioning, and it can handle decently sized branches. If you want a completely new model for daily use, this isn't the best option. However, suppose you need a chainsaw for occasional jobs in your backyard. In that case, there isn't anything wrong with opting for this Ryobi chainsaw that offers power, precision, and many additional features for a lower price.
Pros
Has a variable speed trigger
Ideal for backyard work
Easy chain tensioning system
The battery still runs at 80% efficiency
Cons
Not ideal if you want a brand new model
It doesn't come with a battery or charger
Frequently Asked Questions
Question: Is Ryobi a good brand?
Answer: Yes. Ryobi produces high-quality power tools such as chainsaws, pole saws, and many other outdoor tools. Moreover, they offer these tools at an affordable price and combine both quality and cost-effectiveness.
Question: Are Ryobi chainsaws American-made?
Answer: No. While Ryobi does have one manufacturing plant in Indiana, the majority of their chainsaws are made overseas. They did make their chainsaws in America decades ago, but if you are looking for a purely American brand, Ryobi isn't the one for you.
Question: Is Ryobi a good brand for beginner-friendly chainsaws?
Answer Yes. Many Ryobi chainsaws are designed for novices. They make many powerful models for professional use, but you can buy electric and battery chainsaws that are perfect for small jobs in your yard.
Question: Are Ryobi and Homelite the same?
Answer: The same company owns both Ryobi and Homelite. While some of the chainsaw models may appear different, if you need a spare part for either a Ryobi or Homelite chainsaw, it will fit the power tool of both brands.
Question: Do I need to maintain a Ryobi chainsaw?
Answer: While Ryobi chainsaws often require less maintenance than other brands, they still need to be looked after. This isn't just to ensure that they continue to operate in top shape, but it is also crucial for overall safety. Gas chainsaws generally require more maintenance than battery or electric models.
Conclusion: The Best Ryobi Chainsaws
Ryobi is a fantastic brand if you want a reliable chainsaw without a considerable price. While their products aren't manufactured in the USA, they will come with durability, efficiency, and ease of use.
With a Ryobi chainsaw, you can get those pesky domestic jobs finished in no time, or with specific models, you can offer an excellent professional service.
In summary, the best Ryobi chainsaws on the market are: