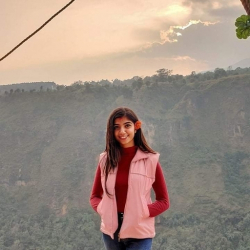 Latest posts by Rukmita Ghimire
(see all)
Designed and built exclusively for forestry and tree services pros, Stihl comes with yet another model of chainsaw, Stihl ms 500i. Stihl being one renowned brand for chainsaws has provided services with its advanced features over many years. This time it comes with the first-ever chainsaw with electronically controlled fuel. Yes, you heard it right. This is the world's first chainsaw without a carburetor.
There is more to talk about – its features, pros and cons, how the saw performs, and some alternatives to this chainsaw, in case you need one. All of these will be included in this Stihl MS500i Review, along with answering some of the most frequently asked questions.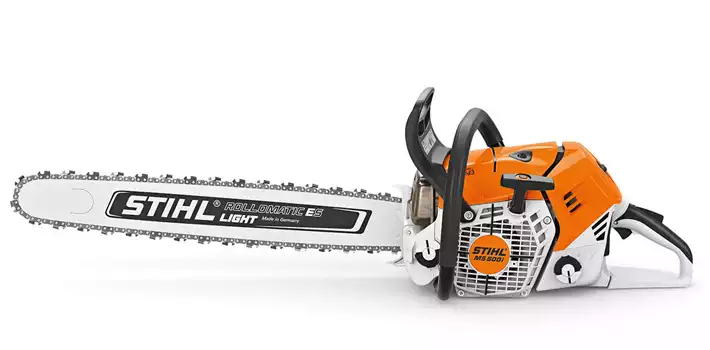 Stihl MS 500i Chainsaw | eBay
Designed and built exclusively for forestry personnel and tree service professionals, the MS 500i is the first ever chainsaw on the worldwide market with electronically controlled fuel injection.
Check Price
We earn a commission if you make a purchase, at no additional cost to you.
Let's take a look at its specifications first.
Key Specifications
Power Displacement: 79.2cc
Engine Power: 6.7 BPH/ 5kW
Powerhead weight: 13.9 lbs
Fuel Capacity: 26.05 oz.
Power Source: Gas Powered
Guide Bar Length: 16″ to 36″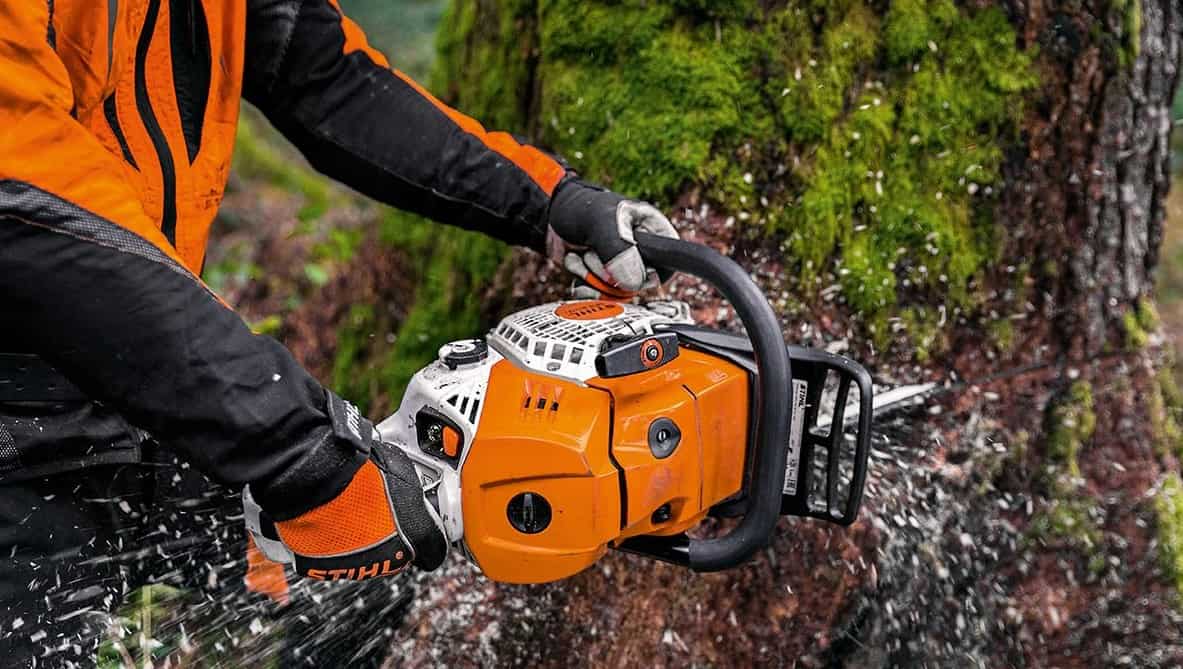 Stihl is always active in competition and rivals other brands like Husqvarna, Ryobi, and Oregon. It has served its potential users with reliable and high-performing chainsaws with low emission, more fuel-efficient technologies.
Things like rapid acceleration, excellent power-to-weight ratio, unique fuel injection system, and the durable construction give Stihl ms500i more of a bite. To dive deeper, here're some of the main features of Stihl ms500i that make it superior to other regular chainsaws.
Powerful 5kW Motor
When it comes to power tools, the Motor is one of the most important factors. Stihl ms500i comes with a motor of power 5kW. With its incredible power to weight ratio, i.e., 79.2cc power with 13.9 pounds weight, Stihl offers you another workhorse. We, along with some other reviewers, assume this as a perfect chainsaw for heavy-duty works. This brings us to the next feature of this chainsaw- the power-to-weight ratio.
Best Power-to-Weight Ratio
One of the best features compared to its other counterparts is its power-to-weight ratio. Stihl ms500i is designed with intelligent lightweight construction. The manufacturer claims it is the best in the market because of its revolutionary chainsaw engine technology.
Keeping in mind the trouble/fatigue you feel during the operation, this chainsaw is built with an optimized design – with a lightweight sprocket cover, more compact engine unit, flywheel with low design height, and a reduced-weight crankshaft adapted to low the weight of the flywheel. Every work with this bad boy, either that be timber felling or cutting into lengths or pruning, is now comfortable.
Stihl Injection (i)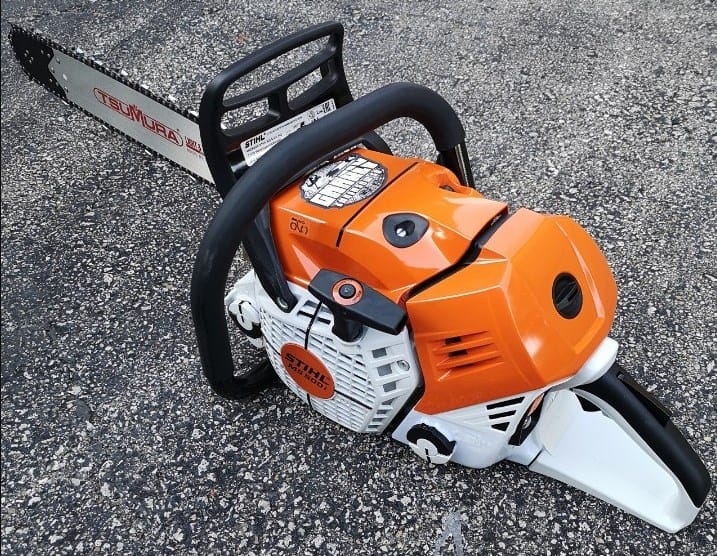 Stihl ms500i plays with this name – I for innovation and I for injection. Stihl uses innovative technology to achieve rapid acceleration from 0 to 100 kW/h that does your work in a blink of an eye. In almost a quarter seconds, it delivers its fastest acceleration, all thanks to its precise fuel delivery.
This succeeds in offering extremely high performance with extraordinarily low displacement and low weight. Another feature to praise is the sensor unit for measuring air pressure and internal and external temperature – to determine the optimum fuel quantity and ignition timing.
Sensor-Controlled Fuel Metering
Explaining its feature is quite overwhelming for us because it has so much that it is praise-worthy. Next is the sensor-controlled fuel metering. This saw say – "You focus on your work, leave the rest to me."
It's got the sensors, it checks the engine temperature and pressure, it checks the speed, and it also controls the fuel – take a moment and think about it.
The control unit, the master, processes all this information so that the fuel is dosed to an optimum level. The electrical voltage generator delivers the required information.
HD2 Filter With Radial Seal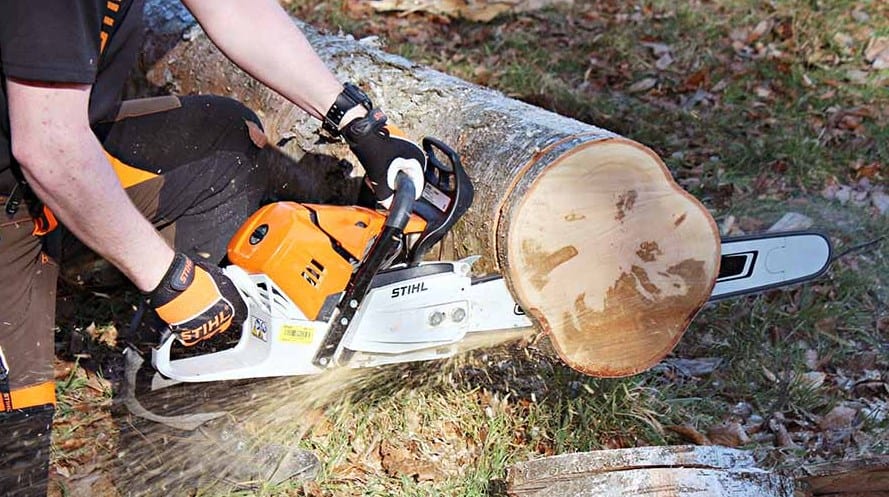 Since the saw is working on dust-prone areas, chances are to block the air filter. But with the HD2 filter, you don't need to worry much about it. The larger surface area of HD2 keeps the dust particle as far as possible. Moreover, the hermetic seal increases the longevity of the engine and also reduces wear.
Decompression Valve
We know the value of the decompression valve in any power tool. It reduces the compression pressure while starting, as well as the effort needed to pull the rope. The fact that this saw is semi-automatic, all you have to do is press the valve before starting. Once it is started, it will close automatically.
Side-Mounted Chain Tensioning
Many models in Stihl have a side-mounted chain tensioning feature. Stihl ms500i also comes with a tensioning screw located on the side of the chainsaw underneath the sprocket cover. This feature allows you to tension the chain effortlessly, avoiding exposure to a sharp chain.
Anti-Vibration System
Prolonged use of chainsaws with intense vibrations at the handles can lead to fatigue and pain in muscles. This problem is addressed by this chainsaw and brings an anti-vibration feature to you. The anti-vibration system in Stihl ms500i dampens the oscillations from the machine's engines, therefore, reduces the vibrations at the handles.
Stihl ElastoStart Starter Handle
The effects of shock caused by the compression engine during the starting are taken away by the Stihl ElastoStart starter handle. Have you had used any chainsaws, you would've experienced the pain/compression shock during the starting.
This problem has been well documented by Stihl as it puts the ElastoStarter feature on Stihl ms500i. The rubber element in the starter handle takes away compression shock from user joints and muscles.
Ematic Lubrication System
Stihl claims that the ematic lubrication system can reduce bar oil consumption by 50%. How is this possible? The Ematic bar and chain lubrication system ensures that there's pinpoint lubrication of chain links and bar rails. It's because of this reason, chain oil is delivered in measured amounts where needed, with minimal loss.
Stihl also adds that this, when used with an automatic saw chain, can maximize lubrication with low oil consumption.
Read Also: Comprehensive Guide to Stihl Chainsaw Bars.
Controlled-Delivery Oil Pump
Depending upon the bar lengths, wood types, and sawing techniques, different amounts of oil are used. The controlled-delivery oil pump allows the user to select the right amount of oil for the job.
Single Master Control Lever
Effectiveness and convenience is the key in any power tools. Stihl has kept simple yet effective controls. All the important functions of start, choke, throttle, and stop are operated with a single lever. This adds one more reason to select it as your perfect chainsaw.
Moreover, there are many other advanced features of this chainsaw that are worth mentioning. These include the Stihl 2-mix engine that saves fuel up to 20% and reduces emissions by up to 70% compared to a 2-stroke engine saw without 2-mix technology.
There's no need for additional tools to open or close the fuel caps – these are tool-free. The ms500i also comes with captive nuts – so that you won't risk losing the nuts on the sprocket. Lastly, it also features optimized bumper spikes – the saw bites the wood even better.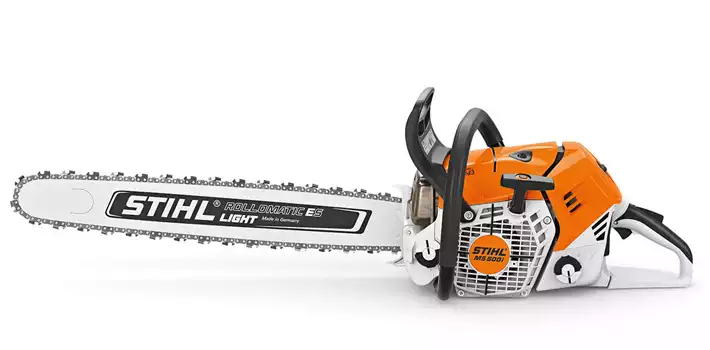 Stihl MS 500i Chainsaw | eBay
Designed and built exclusively for forestry personnel and tree service professionals, the MS 500i is the first ever chainsaw on the worldwide market with electronically controlled fuel injection.
Check Price
We earn a commission if you make a purchase, at no additional cost to you.
Stihl ms500i Performance
Coming from a very renowned brand, Stihl, users expect high in terms of efficiency, convenience, and reliability. This is what Stihl ms500i delivers to their potential users. Stihl is a perfect model for heavy-duty jobs all because of its fast acceleration and best power-to-weight ratio.
With more precise fuel delivery, it accelerates from 0 to 62mph in about 0.25 seconds. Being the first-ever chainsaw without the carburetor, it eliminates the burden of choke. All you have to do is simply press the primer bulb and pull the starter cord.
Once the chainsaw is running, Stihl ms500i uses the built-in pressure and internal temperature sensors. This measures the atmospheric pressure, external and engine temperature on startup and during operation – auto-adjust the performance.
Stihl claims this saw perfect in low fuel consumption and efficiency. Ematic lubrication system and sensor-controlled fuel metering are two major features added in this for low fuel consumption. Former works with the chain and blade and lubricate it only on the place when needed. And as for the latter, check the entire engine and supply fuel accordingly.
Its 79.2cc engine delivers the power of 5kw/6.8 BPH. The best part about using this chainsaw is its power-to-weight ratio, i.e., 1.3 Kg/kW, which is very low compared to its counterparts.
Talking about its cutting equipment, the ms500i comes with a selection option from 16 inches to 36 inches. This means you can select any detachable arm according to your project needs. Customers' feedbacks suggest this chain to be the perfect one for any hardwoods.
Pros of Stihl ms500i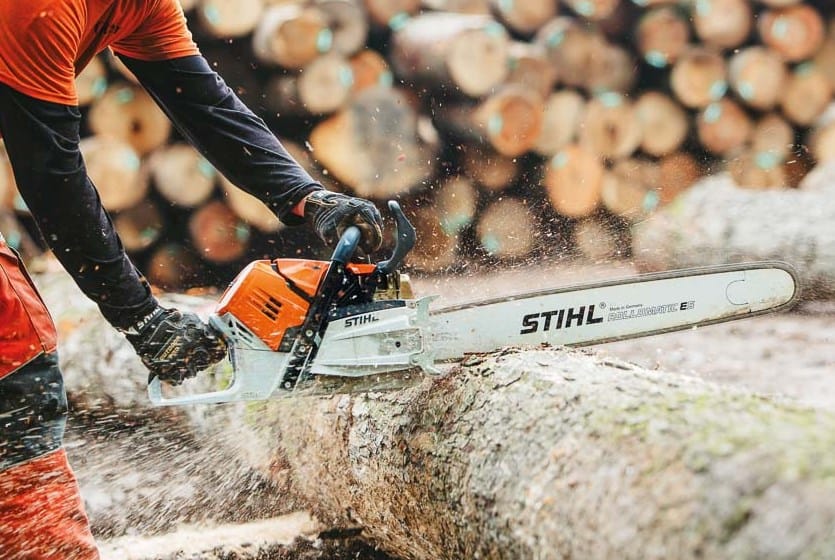 With all these advanced features, Stihl ms500i is suitable for use on the professional level. We'll now be discussing the benefits/pros of getting a ms500i.
Durable Construction and Clever Design
The ms500i is constructed keeping in mind the low maintenance and longevity of the machines. It comes with an HD2 filter, pre-separation air filter system, advanced combustion – all in all; it is perfect for increasing the productive life of the power tool.
User Friendly
One of the important aspects of a power tool to attract the potential user is its ergonomics. We must say, the ms500i has succeeded that. All the problems related to physical pain and fatigue are addressed by this chainsaw. The best one is the ElastoStart starter handle and single-lever master control. The side-mounted chain tensioner also adds one more aspect to its positive side.
Low Fuel Consumption
Even though it is a high-powered chainsaw, Stihl claims that the fuel consumption on this chainsaw is low. All thanks to its sensor-controlled fuel metering system, Ematic lubrication system, and Stihl injection system.
Low Power-to-Weight Ratio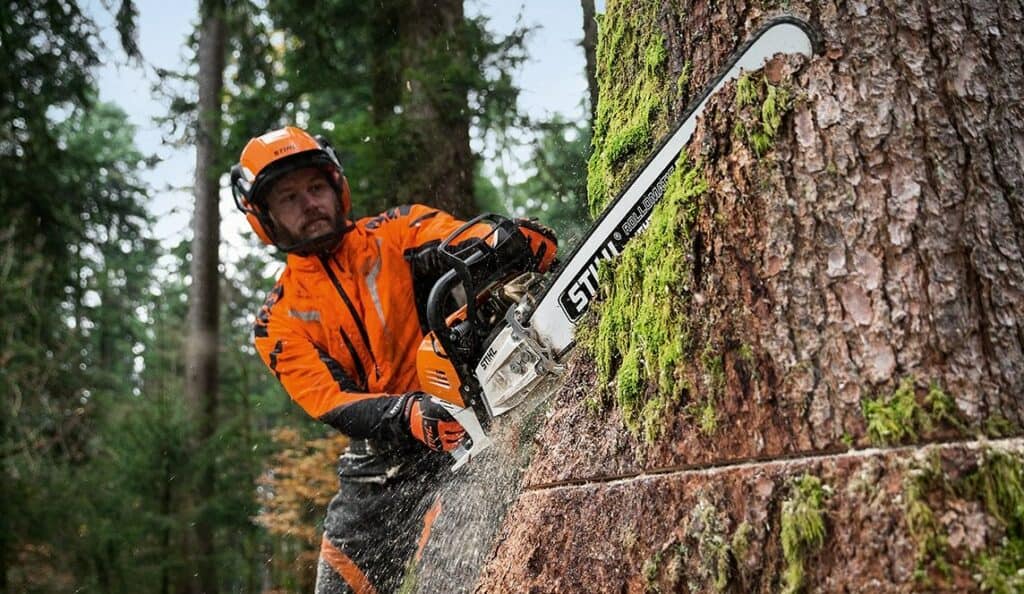 Alongside being easy to use, the ms500i has a relatively low power-to-weight ratio. We might say this again and again, but this truly amazes us. Stihl ms500i is built with intelligent lightweight construction – lightweight sprocket cover, compact engine. The weight is 6.5 kg for 79.2cc powered engine. We must say, you can complete your work with less fatigue and in less amount of time.
Detachable Long Cutting Bars
Stihl ms500i comes with detachable arm options ranging from 16 to 36 inches. This means you can easily replace the bar of your need. This blade cuts the wood of any time in next to no time – because of its quick acceleration.
Cons of Stihl ms500i
Despite these advantages, there are some downsides to this chainsaw. Let's take a look at those.
Price
The most obvious drawback to any of the products can be its price. But, since Stihl is a premium brand and Stihl ms500i is their top product, it's fair enough to keep the price point that high. In spite of the fact that it's quite expensive, most users find them cost-worthy in the long run.
Despite its price, this is a high-quality product with advanced features, and you'll get what you pay for.
Are There Any Alternatives to Stihl ms500i?
This is one of the healthy competitors to ms500i. Husqvarna claims it as one of the premium models. This is a pro saw of 70cc power displacement creating 5.8 horsepower. It weighs 14.5 lbs. It's got second-generation autotune, ensuring correctly tuned engine settings for optimized performance. The air injection system makes air filtration easy and low maintenance. It's also got an updated cooling system that keeps the heat away.
You can run up to a 32inch bar on it with an x-cut chain. The 572xp has a low power-to-weight ratio and 12% higher cutting capacity than its counterparts. The ergonomics here on this chainsaw are nice and easy with a soft rubber hand grip.
Check out this guide to find some of the best 70cc Chainsaw Models.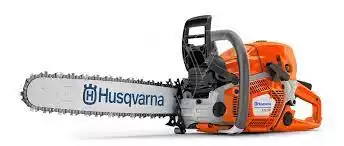 Husqvarna 572XP | eBay
Tested in the world's most rugged environments, the Husqvarna 572 XP® is ready for demanding work by forestry and tree care professionals.
Check Prices
We earn a commission if you make a purchase, at no additional cost to you.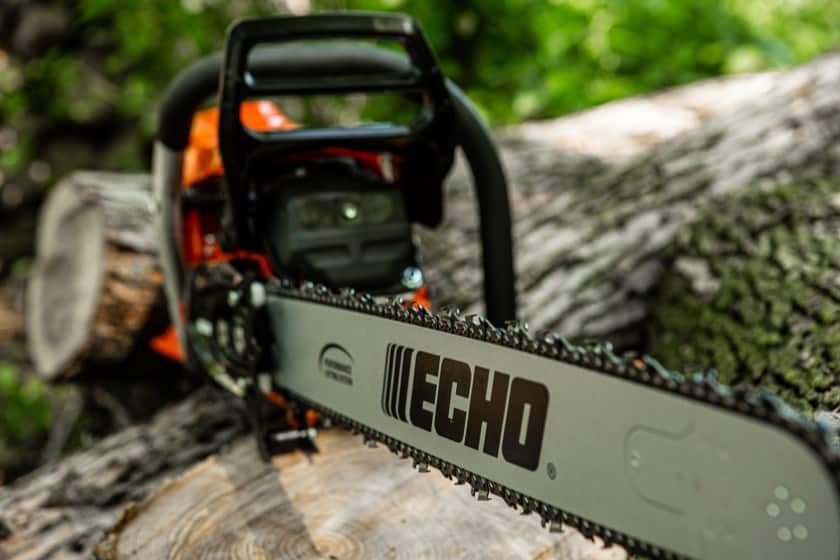 This is ECHO's most powerful chainsaw with a high-power 73.5cc professional-grade, 2-stroke engine. The profile and features are somewhat similar to the ms500i. This can also run the bar of lengths ranging from 20 to 32 inches.
It checks all boxes of centrifugal air cleaning system, anti-vibration, air pre-cleaner, translucent fuel tank, decompression valve, automatic, adjustable clutch-driven oiler, and dual bumper spikes. With a 1-year commercial/5-years consumer warranty, ECHO's this model becomes one of the best alternatives to ms500i.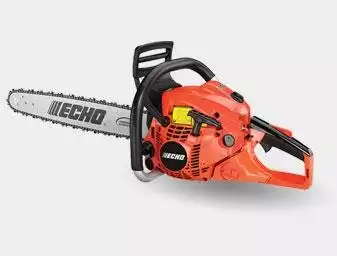 ECHO CS-7310P | eBay
Whether you're tree felling or firewood harvesting, the CS-7310P is powerful, durable, and ready to work as long as you do.
Check Prices
We earn a commission if you make a purchase, at no additional cost to you.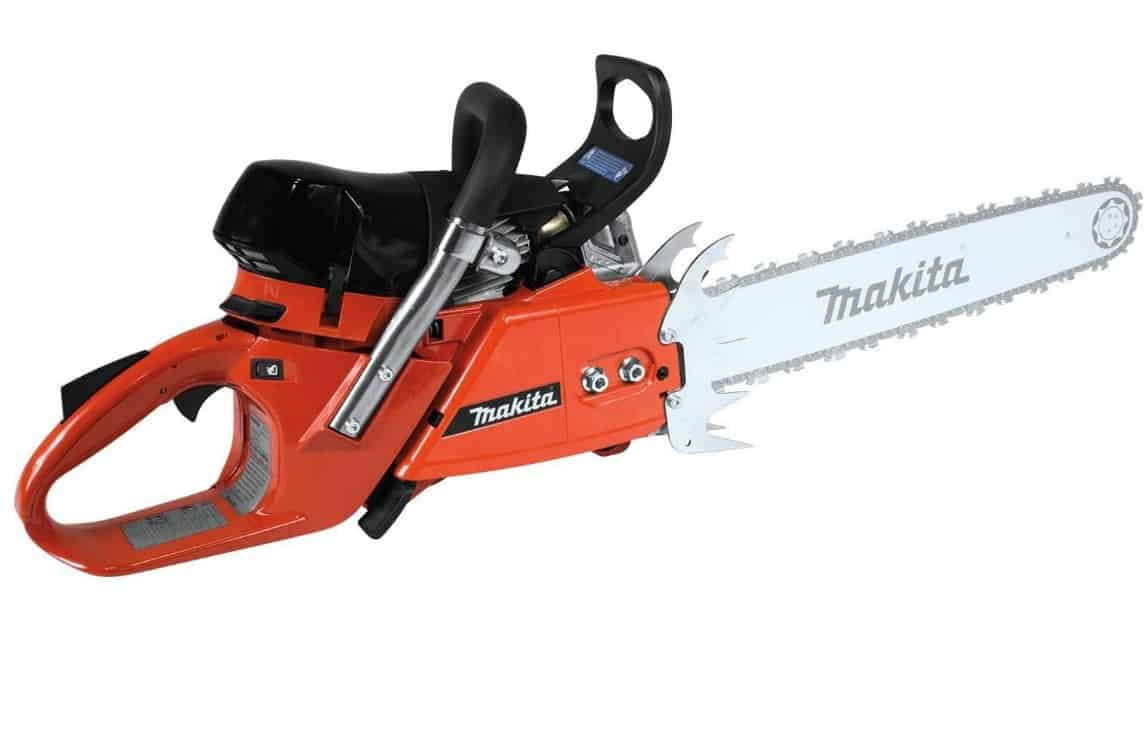 Ideal for forestry works like tree felling and stripping, Makita-EA7901PRZ1 comes with a 79cc engine (powerhead only), universal wrench, carburetor screwdriver, and Torx wrench. This is a perfect model for comfort, versatility, power, and durability.
The 79cc engine delivers 5.7hp and an engine speed of 12,800rpm. It's got its unique features like an easy-starting automatic half-throttle lock, fully electronic ignition, heated handles, side-out baffle. Additional features include an easy-to-clean chain compartment and vibration dampening system.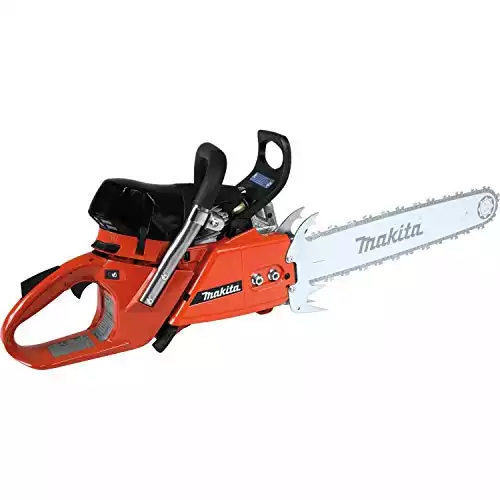 Makita EA7901PRZ1 79 cc Chain Saw | Amazon
The Makita 79cc Chain Saw combines a high power-to-weight ratio with easier starts and lower vibration for a full range of applications.
Buy at Amazon
We earn a commission if you make a purchase, at no additional cost to you.
12/08/2023 03:20 am GMT
FAQs
Question: How do I start Stihl ms500i?
Answer: This is the fuel-injected chainsaw, so you don't have to worry much about the start. All you have to do is press the primer bulb several times – for a cold start – then just pull the starter cord. Then, press the stop switch to turn it off – it's that easy.
Question: What does the Stihl 2-MIX engine mean?
Answer: A Stihl 2-MIX engine is technically a 2-stroke engine that replaces the unburned fuel. It is believed to deliver great performance with leading environmental benefits. Fuel consumption is perceptively lower, which means it's highly effective with high power and high torque.
Question: What is the Most Recommended Bar Length for Stihl ms500i?
Answer: Stihl ms500i has high power displacement and can run a longer bar length. As per the manufacturers, it can handle the bar length of 16 inches to 36 inches. But the most preferred one is 25 inches.
Stihl MS500i Review: Final Verdict 
Stihl is one of the most trusted brands of power tools – Why is that? It's, without any doubt, because of the reliable and quality products they provide over several years. People trust their quality, their construction materials, and above all, the engineering, and Stihl ms500i is no less in that category.
We explained to you all the features and positive sides of this workhorse. But if you take a look at its downside, there are no any. And the reason is there is less feedback/reviews that say – "we do not like this product."
We say Stihl ms500i is one perfect chainsaw for professionals and arborists. It's got a sturdy and compact design, powerful engine, quickly accelerated bar and chains, low fuel consumption – more than capable of being used for professionals.
Having said that, there are few other alternatives that you can consider, provided that the price of this chainsaw is fairly high.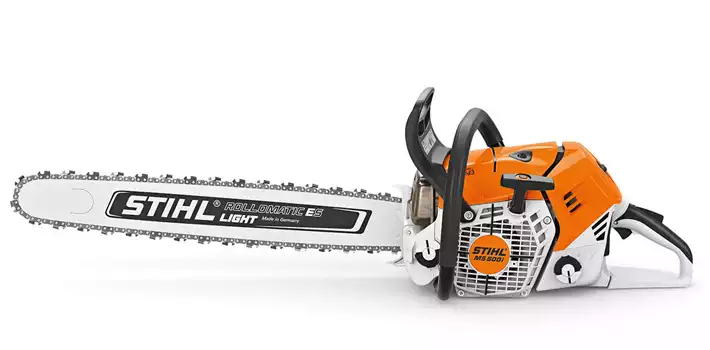 Stihl MS 500i Chainsaw | eBay
Designed and built exclusively for forestry personnel and tree service professionals, the MS 500i is the first ever chainsaw on the worldwide market with electronically controlled fuel injection.
Check Price
We earn a commission if you make a purchase, at no additional cost to you.