Latest posts by Samantha Biggers
(see all)
Stihl is one of the best brands of chainsaw available on the market today. I have over 20 years of experience with Stihl chainsaws, so I am happy to be able to share some of what I have learned over the years.
When I was a kid growing up in a small logging town in western Washington state, basically everyone used Stihl because of their outstanding reliability, even when cutting down trees with enormous diameters.
In college, I was in charge of maintaining a fleet of Stihl chainsaws for the Natural Resources Crew. Working on Stihls gave me some insight into the things that are often ignored by others as far as maintenance goes.
Trying to get as much as life as possible out of a bar and chain is standard. At the same time, there comes a point when any bar or chain will have reached the end of its usable life. In almost all cases, you will go through more than a few chains before your bar needs to be replaced. That being said, bars can get damaged and need to be replaced, no matter how new they are. I put together this guide to the best Stihl chainsaw bar options for anyone in the market for a new chainsaw bar.
A crooked or bent bar can happen if you get your bar stuck while felling a tree or bucking up a log, for example. Crooked bars will not cut straight. If the channel that holds the chain gets smashed or dinged, it can lead to your chain coming off during a cut or not holding tension properly.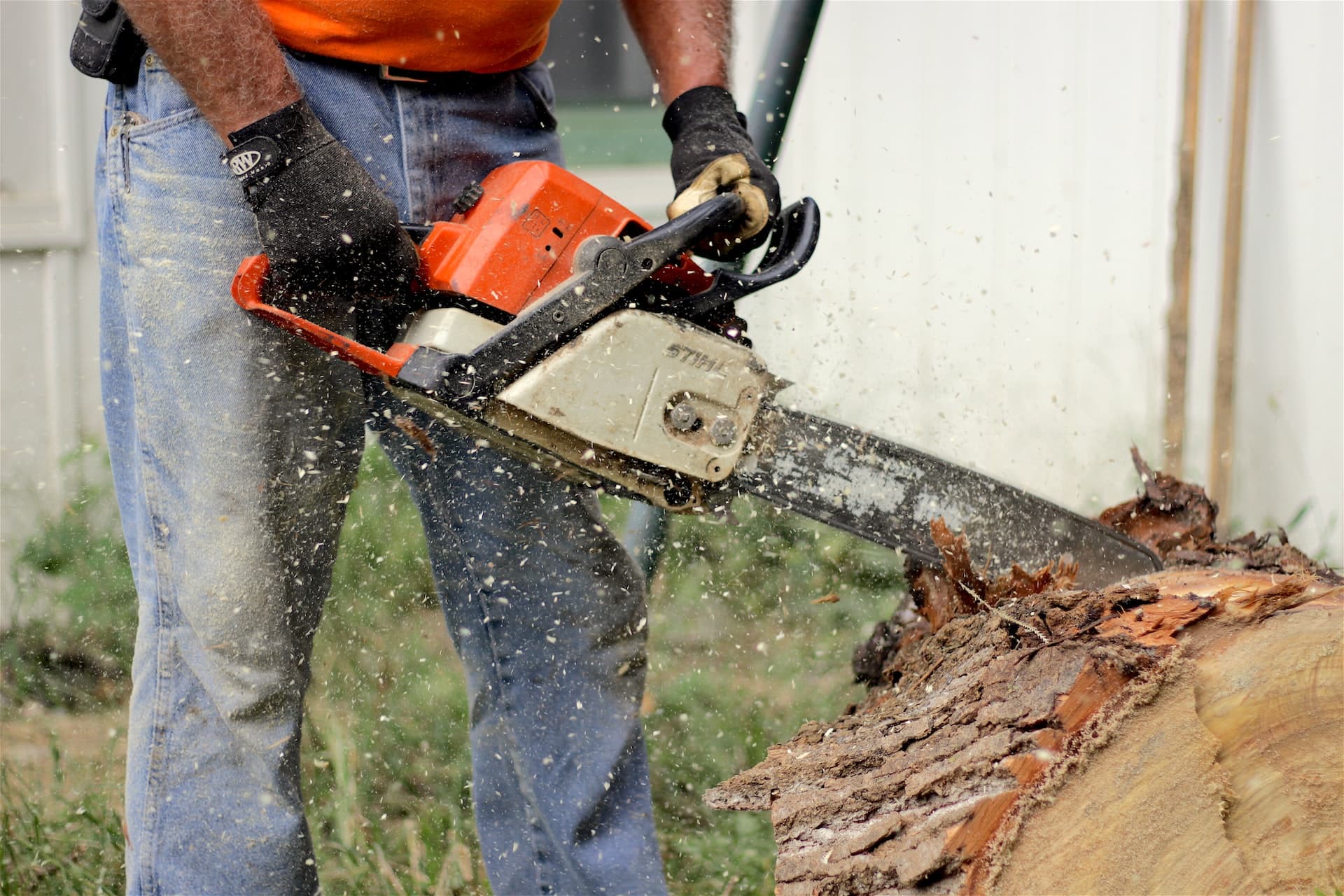 My Bottom Line Up Front: For a replacement name-brand Stihl chainsaw bar, I recommend the 16″ Stihl E Chain Saw Bar. The 16″ Stihl is a good size for most cutting jobs the average person is going to take on. If you are a professional landscaper, arborist, etc., then you may want to keep a longer bar on hand to switch out when you run into a job that requires it.
My pick for a compatible replacement from another brand is the Oregon Chainsaw Guide Bar & Chain Combo, ControlCut 18″. Oregon has proven itself to me over my 20 years working with chainsaws. They are an outstanding bargain. I really have a hard time telling any difference in quality between that and Stihl over the life of the bar. This may be one reason why so many professionals choose Oregon when it comes time to replace their bars and chains.
Many People Choose a Stihl-Compatible Chainsaw Bar Rather Than the Name Brand
This article features a lot of Stihl-compatible chainsaw bars because there is simply not very much variation beyond length when it comes to most name-brand Stihl chainsaw bars. The Stihl name brand is also considerably more expensive and usually has to be purchased at an authorized dealership. A lot of operators can tell no difference in the quality of a Stihl compatible chainsaw bar and the name brand as well.
Stihl-compatible chainsaw bars are easier to find at regular stores. Most large home improvement stores and online retailers like Amazon have a wide selection of Stihl-compatible bars. This means you don't have to drive all the way to a dealership to get a bar or bar and chain combo.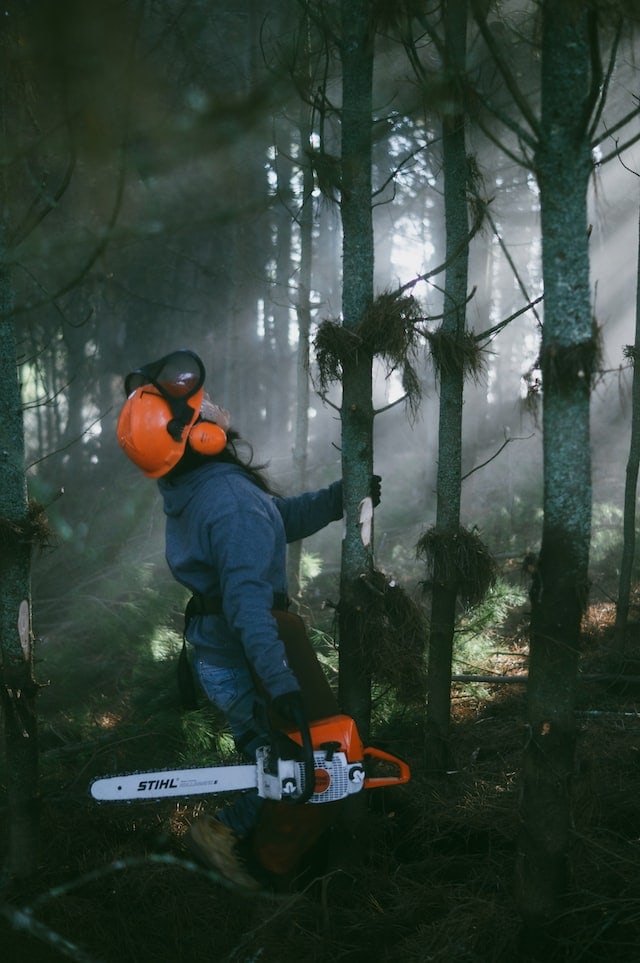 Criteria for My Top Picks
Size
It is important to have the right length of bar for the types of tasks you expect to do. I have included bars in a range of sizes. Most times, operators decide to keep several sizes on hand, so they have options for typical and atypical jobs.
Brand Compatibility
I always try to pick from brands I know make excellent quality and highly reliable products that are compatible with most Stihl chainsaw models. In this case, I have mostly included brands like Stihl and Oregon because I have personal experience with their bars and chains. However, there are a few others that I feel deserve some recognition because of their reputation in the logging and forestry world.
My Top Picks
Buying Tips
Consider what your needs really are and buy a chainsaw bar that is suitable. Most people do not need a bar over 18″ to take care of most any job.
If you use your saw a lot, keep an extra bar and chain on hand for when the one you are using becomes damaged or worn.
Check prices on name-brand Stihl bars at dealerships and compare to online prices. Name brand Stihl bars sold online may be more expensive than buying from a dealer.
Always check descriptions or packaging to make sure your Stihl chainsaw model is listed before buying. While many bars are compatible with most any model, there are exceptions.

How to Make Sure a Bar and Chain Will Fit Your Stihl
After market bar and chain combos are made to fit a wide variety of saws. If this is your first time buying a replacement, you will want to pay close attention to the model numbers listed on the packaging or description. If your chainsaw is not listed, then it is not going to fit. Returning bars and chains to retailers can be a real hassle, and it really is a pain if you think you are going to start out on a job and find out you don't have the right bar and chain to put on your chainsaw.
Make sure your chainsaw will accommodate the bar length.
Stihl saws will accommodate different lengths of bar and chain regardless of what length was on it when you purchased it. There are some limitations, though. For example, a smaller saw is not designed to handle super long bars in the 24″ and above range.
The longer the bar and chain, the more expensive it is going to be, and the saw will be heavier to use, so there is no point in buying a bigger bar and chain than you need. That being said, it's useful to have multiple sizes on hand so you can switch them out for different projects.
My Picks for the Best Stihl Chainsaw Bars

Fits most Stihl chainsaws up to the MS 251
Pros
Great size for general use
Cons
More expensive than a compatible bar and chain combo
A bit short for larger trees
The 16″ Stihl Rollomatic is a brilliant choice for an everyday bar for small to medium cutting jobs. This three-part spot welded laminated bar is made in Germany from high-grade steel for strength and durability.
The nose sprocket helps ensure smooth cuts, and it is sealed to keep out dirt and debris throughout a long workday. I recommend this bar because I have seen it perform well under tough conditions, even without the best maintenance.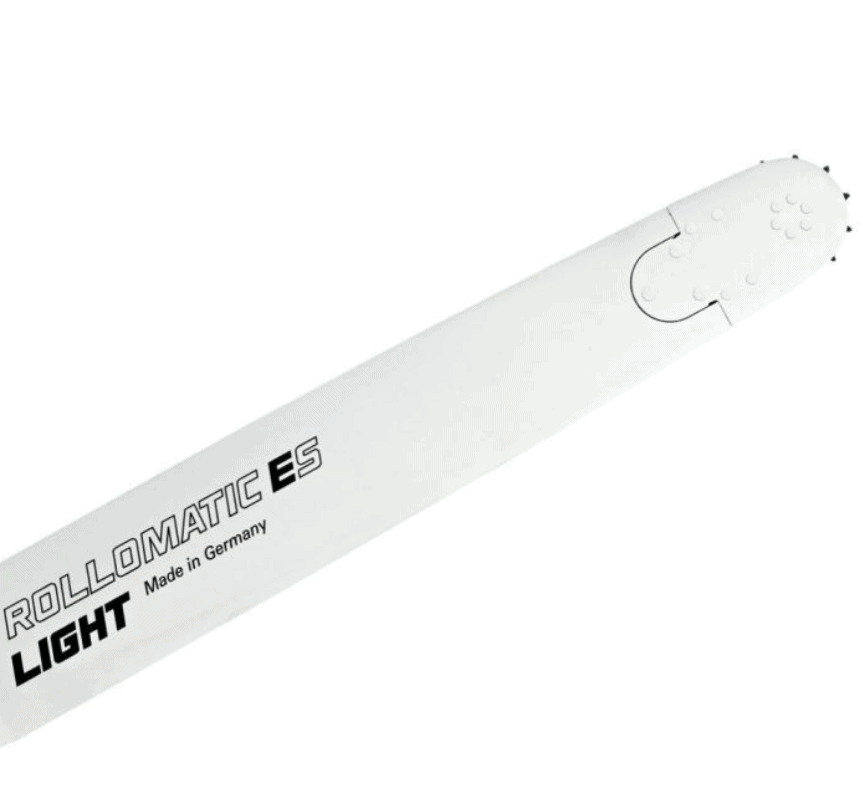 Fits most Stihl chainsaws up to the 660 and some electric models.
Pros
Allows for the use of a longer bar without adding a lot of weight
Replaceable sprocket
Cons
Only available in bar lengths over 24."
The Stihl Rollomatic ES Light bar is a professional use bar designed with weight reduction in mind when using very long bars. The sprocket is replaceable, making this a bar that will last a very long time, even under the most strenuous job requirements. I recommend this bar for those that want to keep their saw as light as possible when cutting down some of the biggest trees out there.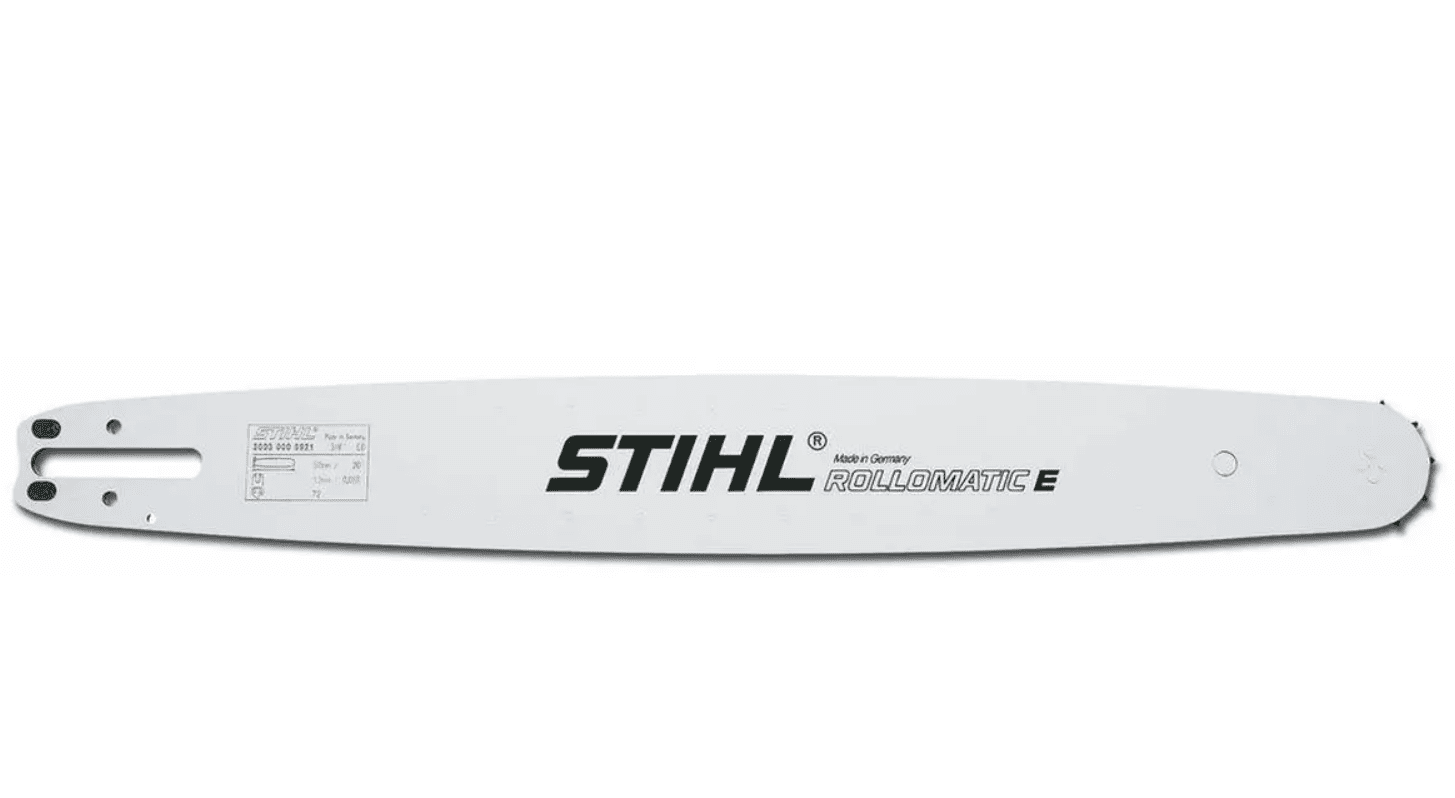 Pros
Made from a solid piece of steel for strength and durability
Replaceable nose and sprocket assembly
Long life span
Cons
Solid machining adds weight
The Stihl Rollomatic Super-E is made to be super tough and long-lasting. The bar is machined from a solid piece of high-grade steel. The groove for the chain is milled out. Perhaps one of the most unique features of this bar is the replaceable sprocket nose assembly for those that use the nose of their saw to do a lot of limbing and boring.
Since the sprocket nose assembly can be replaced at least twice before the rest of the bar needs to be replaced, the Stihl Rollomatic Super-E makes sense for those that use their chainsaw frequently.
Alternative Stihl Chainsaw Bars
If you cannot find a name-brand Stihl chainsaw bar, or you need to find a bar that is more economically priced, then you are in luck. There are actually some great alternatives out there that have a fantastic reputation for quality and performance, even in a commercial setting. Oregon replacement bar and chain combos are a real bargain, especially when you consider that when you buy a Stihl bar, you have to buy a chain separately, which increases the cost even more.
Paying $75 and up to replace a bar and chain with a name brand Stihl is not something everyone may have the budget for when their bar and chain gets so worn out that it is not safe to use.
Using a unique brand can make a lot of economic sense for those that have to maintain a fleet of chainsaws for their business as well.

Fits most Stihl Chainsaw Models from the 024 up to the MS 290.
Pros
Affordable high, quality Stihl compatible bar
Includes a ready-to-use chain
Low kickback and vibration
Cons
Can need sharpened more often than a name brand Stihl chainsaw bar
This is a solid replacement for your Stihl. Around our farm and forest, we use this combo regularly, and it never fails to perform well. At under $40 at the time of writing, it is a real bargain. In fact, we are known to keep this combo around as a spare for when we inevitably need a new bar and chain.
The low kickback chain and bar are also designed to minimize vibration when making cuts.

Fits most Stihl chainsaws from the 024 up to the MS 290.
Pros
Great size for cutting mid to large trees
Includes chain
Cons
Still a bit short for the largest trees
Chain may need sharpened more often than Stihl due to differences in metal.
An 18″ bar and chain is an excellent compromise if you don't want to go small, but you also don't want a gigantic bar and chain weighing you down. This bar and chain combo is everything you need to take on a long firewood cutting season or for major land clearing.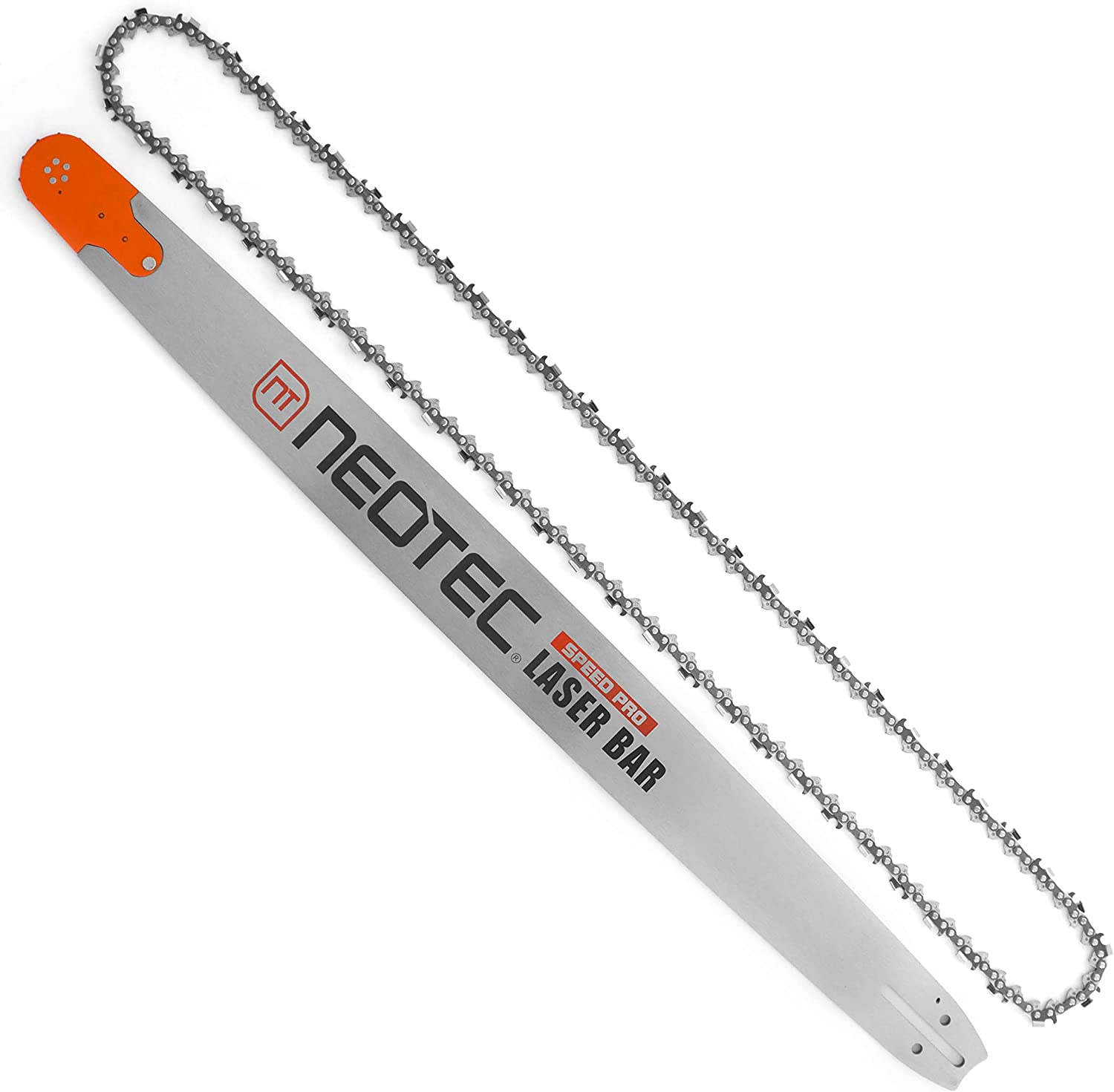 Fits most medium to large Stihl chainsaws from the 029 up to the 046 Magnum
Pros
Really long bar for cutting some of the largest trees.
Long enough for use with a chainsaw sawmill
Includes chain
Cons
Really only suitable for those that know they are going to take on very large trees.
Expensive
If you are looking for a very long bar, the NEOTEC Speed Pro Laser Bar is a high-quality option. This is a 36″ bar and thus only something people need that do a lot of felling of extremely large trees or that wants a bar for an Alaska Sawmill.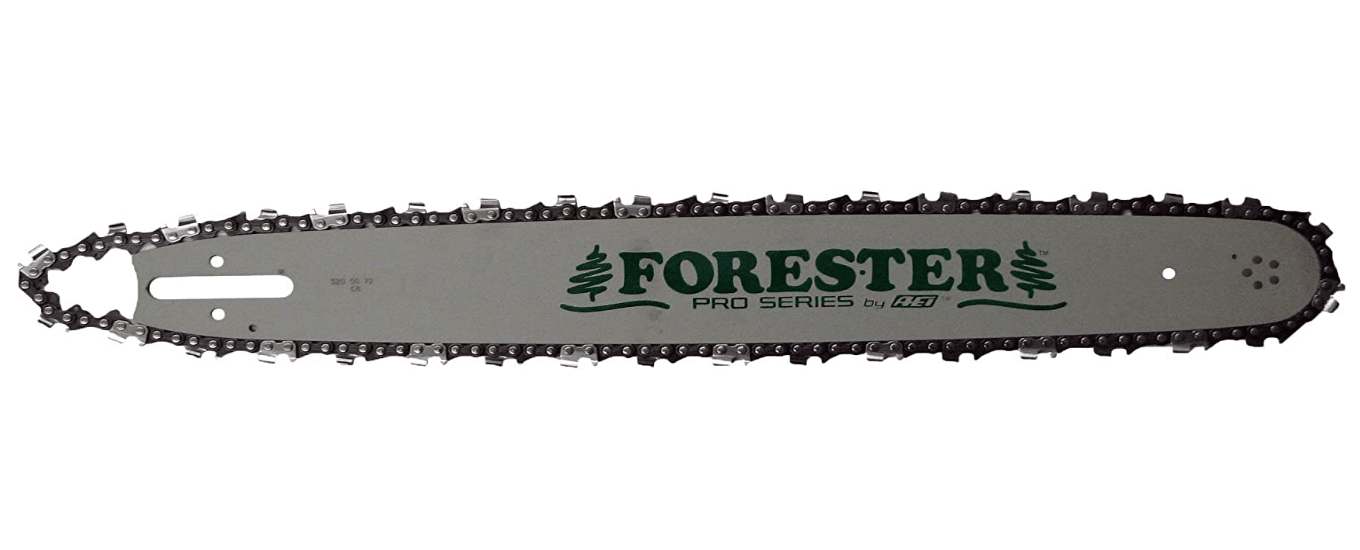 Fits most Stihl chainsaw models: from the 024 up to the MS 880.
Pros
Professional grade Stihl compatible bar and chain combo
Easy to purchase
Laminated metal construction
Cons
Not compatible on very small Stihl chainsaws
Chain may need sharpened more often than a name brand Stihl chain
Forester bar and chains are professional grade, affordable, and easy to find online. The sprocket nose and laminated bar mimic the same craftsmanship techniques offered by Stihl. Forester bar and chain combos are known for offering smooth cuts and reliability.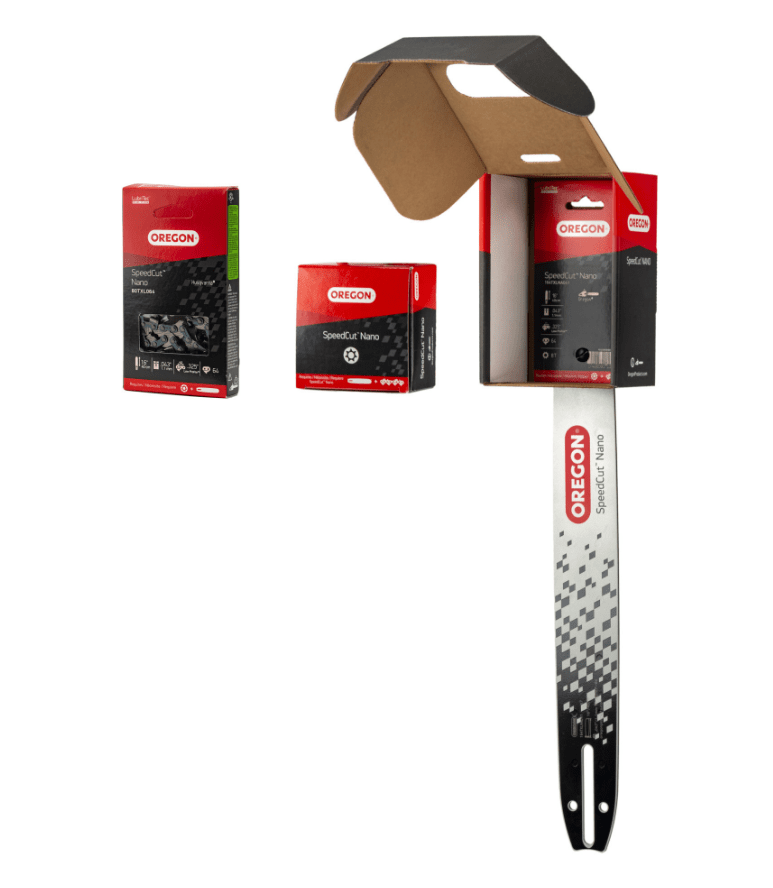 Fits the following Stihl Models: MS201T, 200, 193T and 192
Pros
High-quality short bar for limbing or trimming still standing trees
Exceptionally good oiling system keeps bar running cool
Cons
Harder to find than other Oregon bar and chain combos
This bar and chain combo is ideal for those that own smaller Stihl chainsaws but want a very high-quality bar and chain combo. The Nano series of Oregon bars costs more than their standard lineup, but it boasts some features that many feel are worth the cost.
Lubritec technology keeps your bar and chain well oiled for a smoother cutting experience and less worry about overheating. The 7-tooth spur sprocket on the end ensures fast cuts. The Nano series is often chosen by tree cutting and trimming pros for their fleet of saws.
Bar Maintenance
There are some basic things you can do to extend the life of your bar and make sure you get the best performance. Here are some tips for keeping your bar in great shape.
Never let your bar and chain get too hot.
Any signs of smoking or discoloration are bad. If your bar is steaming or smoking, stop cutting immediately and let your saw cool off and then assess what the problem might be. A hot bar can warp easily, and then it will need to be replaced because there is no way to fix that problem.
Faulty oilers not providing enough lubrication for cuts are a common problem that leads to overheating. It may be as simple as your saw needing a good cleaning before being used again. If the hole that bar oil comes out of gets clogged, it can lead to your bar and chain overheating faster than you might think. Of course, you always need to make sure that you top off your bar oil every time you refuel to ensure you don't run out and not notice it until you see smoke.
Interesting Read: Common Stihl MS 271 Problems.
Clean your bar regularly.
Sawdust and oil will accumulate in the groove that holds your bar. If you use your saw often, then you will want to clean this channel out. There is a special plastic tool sold that is designed for this.
Oil the hole at the end.
Many people forget to put a drop or two of oil at the end of their bar where there is a hole for lubricating the sprocket.
Periodically flip your bar over to ensure even wear.
If you have ever seen a chainsaw bar on a saw and the logo on the bar is upside down, this is because the owner is practicing good saw maintenance by flipping the bar. There are varying opinions on how often this should be done. Some operators like to flip the bar when it comes time to clean the chainsaw. This is a convenient time and makes it easy to remember.

FAQs
Question: Why are name-brand Stihl chainsaw bars so hard to find from an online retailer?
Answer: Technically, Stihl chainsaw bars are only supposed to be sold by an authorized dealer. That doesn't mean that some resellers don't buy up some bars and then sell them online. However, this limits what you can find online affects the cost, etc.
Question: How long can I expect a chainsaw bar to last?
Answer: Most chainsaw bars last for a long time for the average homeowner or small woodlot owner. The working life of your bar depends on how well you take care of it, how often it is used, and to some degree, the skills of the operator. If you are a new chainsaw operator, it is easier to make mistakes that lead to bars getting pinched in trees or becoming overheated. A chainsaw bar can last for years if used moderately and maintained well.
Question: Do I need to have a lot of different bar sizes?
Answer: Most people do not need more than one or two sizes of chainsaw bars. Really short bars in the 12″-14″ range are typically only used by people like landscapers or arborists that do a lot of tree trimming or limbing on live trees. Bars longer than 20″ are only necessary if you plan on cutting up very large rounds of firewood or felling large trees. A 16″ bar and a 20″ bar will take care of a wider range of tasks in the woodlot.
My Final Take
While Stihl chainsaw bars are extremely high quality, they do cost significantly more than Oregon. If you are on a budget or have a fleet of chainsaws you need to maintain for your business, it makes sense to opt for a more economical but highly reliable bar. This is why my top choice for a Stihl compatible chainsaw bar is the Oregon Chainsaw Guide Bar & Chain Combo, ControlCut 18″.
While name-brand Stihl chainsaw bars are available online, it is limited because, technically, they are only supposed to be sold through an authorized dealer. When you see a Stihl chainsaw bar sold online, it is through a reseller.
With supply chain issues showing no signs of stopping, it is good to know that you have multiple options if you need to replace a bar and chain. Even if Stihl has trouble importing bars from Germany, you can still safely rely on Oregon, Forester, or NeoTech.
Remember to be sensible when it comes to bar size. The majority of people never need a bar bigger than 18″, and in most cases, a 16″ will to the job. If you want to buy a name-brand Stihl bar for everyday use, it is hard to go wrong with the 16″STIHL Rollomatic E Chain Saw Bar. Buying a larger bar will just make your chainsaw heavier and thus more tiring to use on longer jobs. On top of that, you save money by going with a smaller bar and chain most of the time.