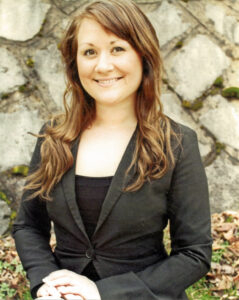 Latest posts by Lacey Jackson
(see all)
When I first got my license, I drove my new (to me) truck to see my dad. He looked at my truck and asked for the keys while I went inside to visit my grandparents. He returned a few hours later and, in his laconic way, handed the keys back with, "Your tires were bald."
That was it. That was as much explanation as one expected in an Asian household.
What I realized later was that he was trying to say that he noticed my tires were bald, this was a safety issue, so he took my truck to get the tires replaced without saying anything out of love.
Cut to years later, I am trying to be productive while my better half is working, and I use my afternoon to grind away the stump our tree guys left behind. They come home only to wave their arms frantically and ask to see the Stump Grinder.
Once more, I failed to notice a safety issue (mostly because no one told me about it in the first place). They hadn't gotten around to grinding the stump, not because of work constraints but because the teeth were worn, and they hadn't bought new ones.
So, now I know to always check my tires so they don't go bald and check my teeth before any tree work.
Bottomline Upfront: I go with the GreenTeeth line every time. Why? They have the highest quality and features. They are the only replacement teeth that you can rotate three times to maximize your usage. They might cost a bit more upfront, but I've done the math, and it's still a lot less than three rounds of cheaper replacements.
Best Stump Grinder Replacement Teeth: Features to Consider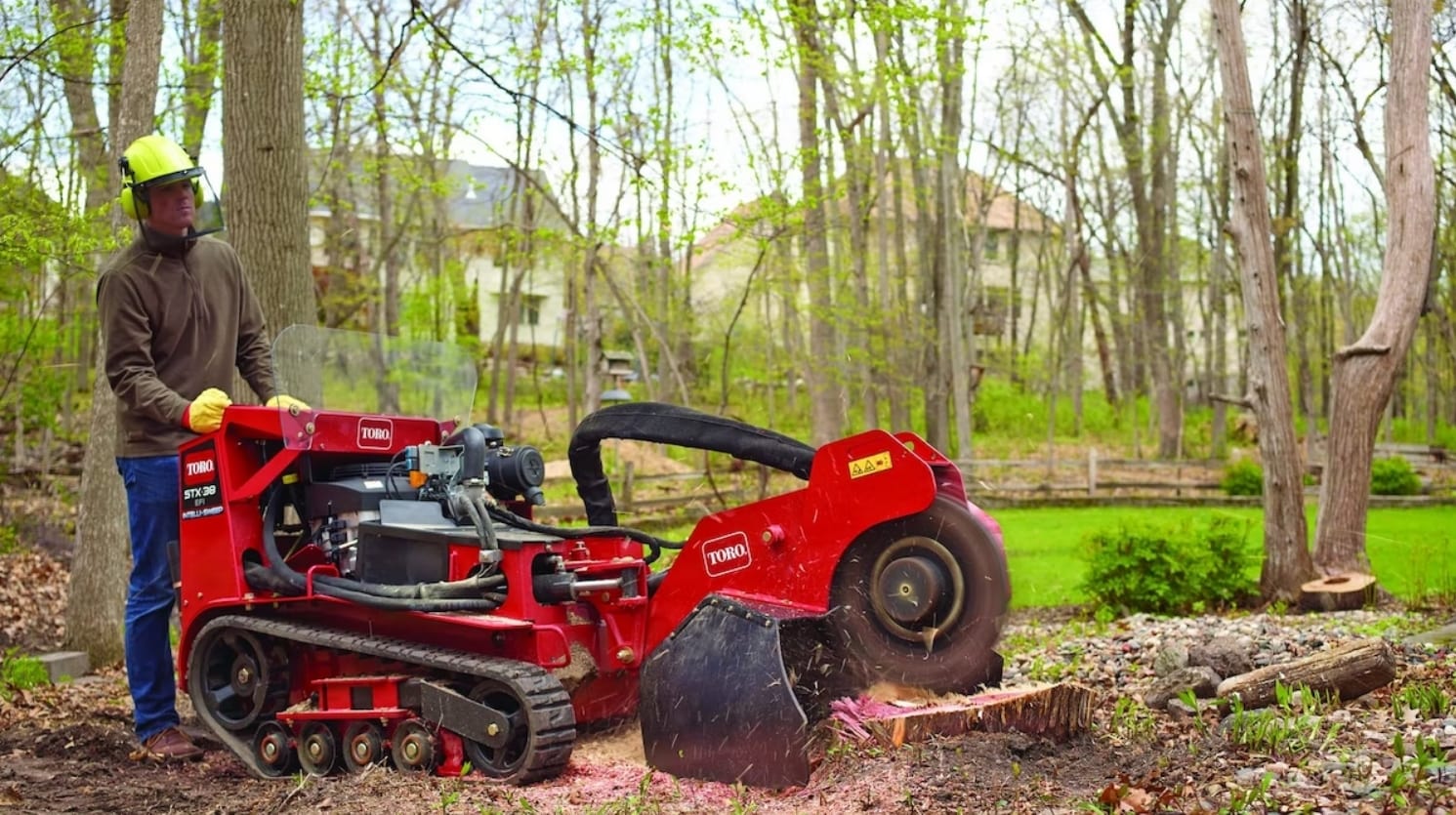 Not all stump grinder replacement teeth are the same. I would strongly advise against going with the cheapest option. To be clear, I am a very, very frugal person. I will always pick the cheapest option if I can, but with tools and equipment, you just can't. This is one of the few areas where anything less than the top of the line will:
Make it harder to use your stump grinder,
Take longer to work,
Break more easily because of cheaper materials,
Break down faster,
And cause a serious safety risk.
Safety
Safety is the most important thing. A part of that is ensuring your stump grinder doesn't have any worn-out or broken teeth. Sometimes you can get away with sharpening one or two so that they are all even, but severely dull or broken teeth can cause your stump grinder to malfunction or break.
Interesting Read: How to Properly Use Stump Grinders?
Your Stump Grinder
When you buy a stump grinder, you get details from the manufacturer on which type of replacement teeth are best. So, when you set out to find the right teeth, consider the type of work you are doing. Stump grinder teeth vary from one model to the next, so make sure you know exactly what your machine can handle and whether the teeth you are considering are a good fit.
Note: There are different recommendations for stump grinders depending on whether you are cutting dead wood or live wood, so be sure to check with your manufacturer first.
Efficiency
Next is efficiency. Your stump grinder will only work well if you have the right teeth. If you are trying to grind down a stump and notice odd marks in the wood or your cutting isn't up to snuff, it might be time to replace the teeth.
Tip: Always check the teeth first; most of the time, problems with your stump grinder aren't actually problems with the machine but with the teeth.
Features
Check the features of different models and choose the things that appeal to you the most. GreenTeeth, for example, is well known for making teeth that can be rotated three times before replacing them. If they wear out or get dull, you can just rotate them and keep cutting.
Some teeth are designed with features like high or low HP ratings. This is a very important feature to check because you want your teeth to be compatible.
Selection Criteria
I looked at stump grinder teeth replacements for commercial and residential purposes. I have a large property, half of which is wooded, so I use commercial-grade tools, but most homes can get away with smaller, residential versions.
Beyond that, I included replacements based on their reviews, price, and durability. There is no point in trying to cut costs on replacements if you have to replace your teeth more often.
GreenTeeth900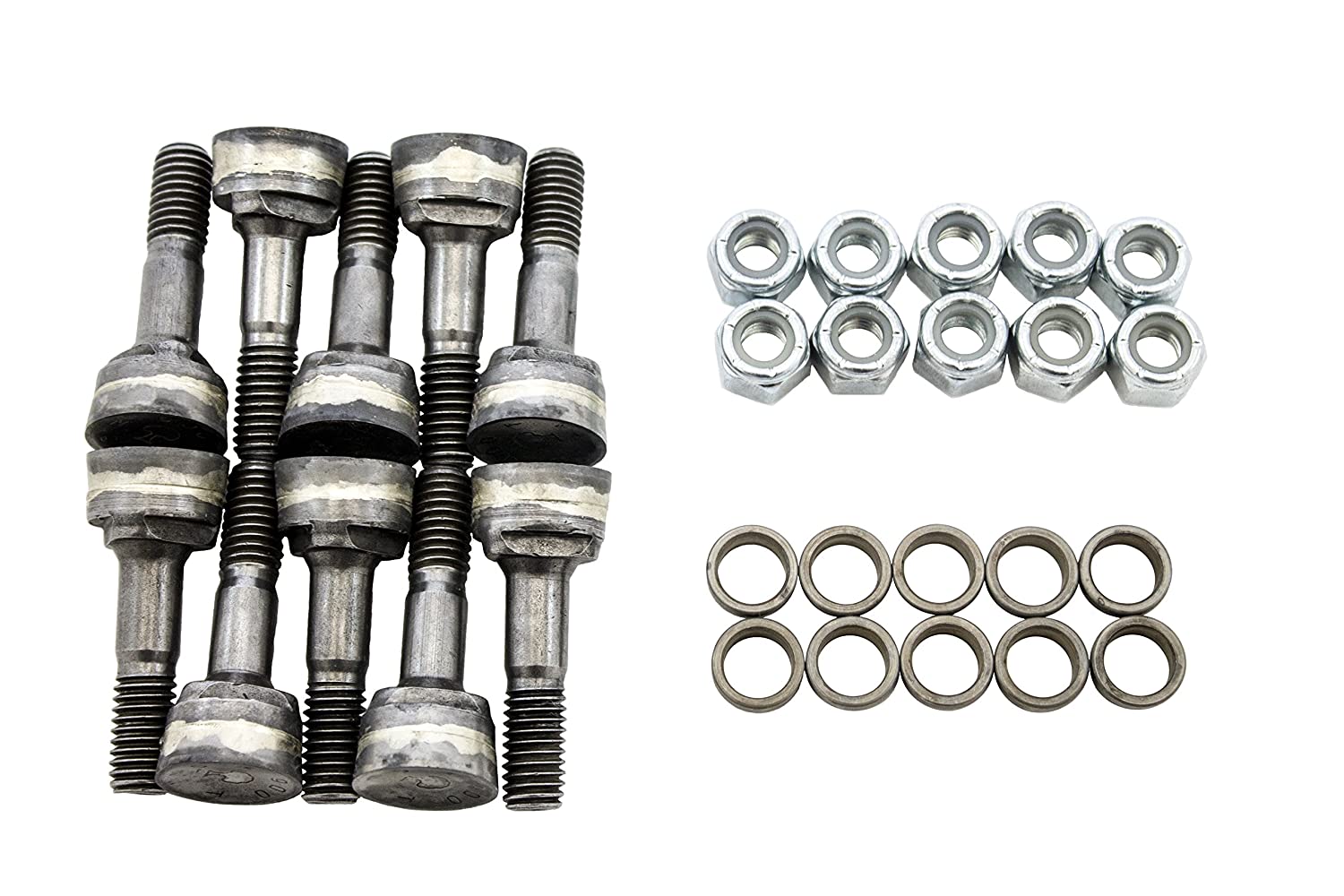 GreenTeeth900 are the best of the best, but they are really meant for commercial stump grinders. You can use them on wheel diameters of twenty-three inches or higher, using the 900 series pockets.
These come with WearSharp technology. This means they keep their cutting surface for three times longer than other brands. The teeth will round over with other brands with time, but not with these. What I love most is that you can rotate them three times. This means you can work on a longer project without having to stop and get replacements.
They come highly recommended by users across multiple platforms, particularly for their durability and their value for the money.
Pros
These teeth can be rotated three times before you have to sharpen them, so you effectively get triple the work out of them.
You can use these teeth for a lot of terrains.
Cons
You can only use these teeth on larger, commercial machines.
GreenTeeth700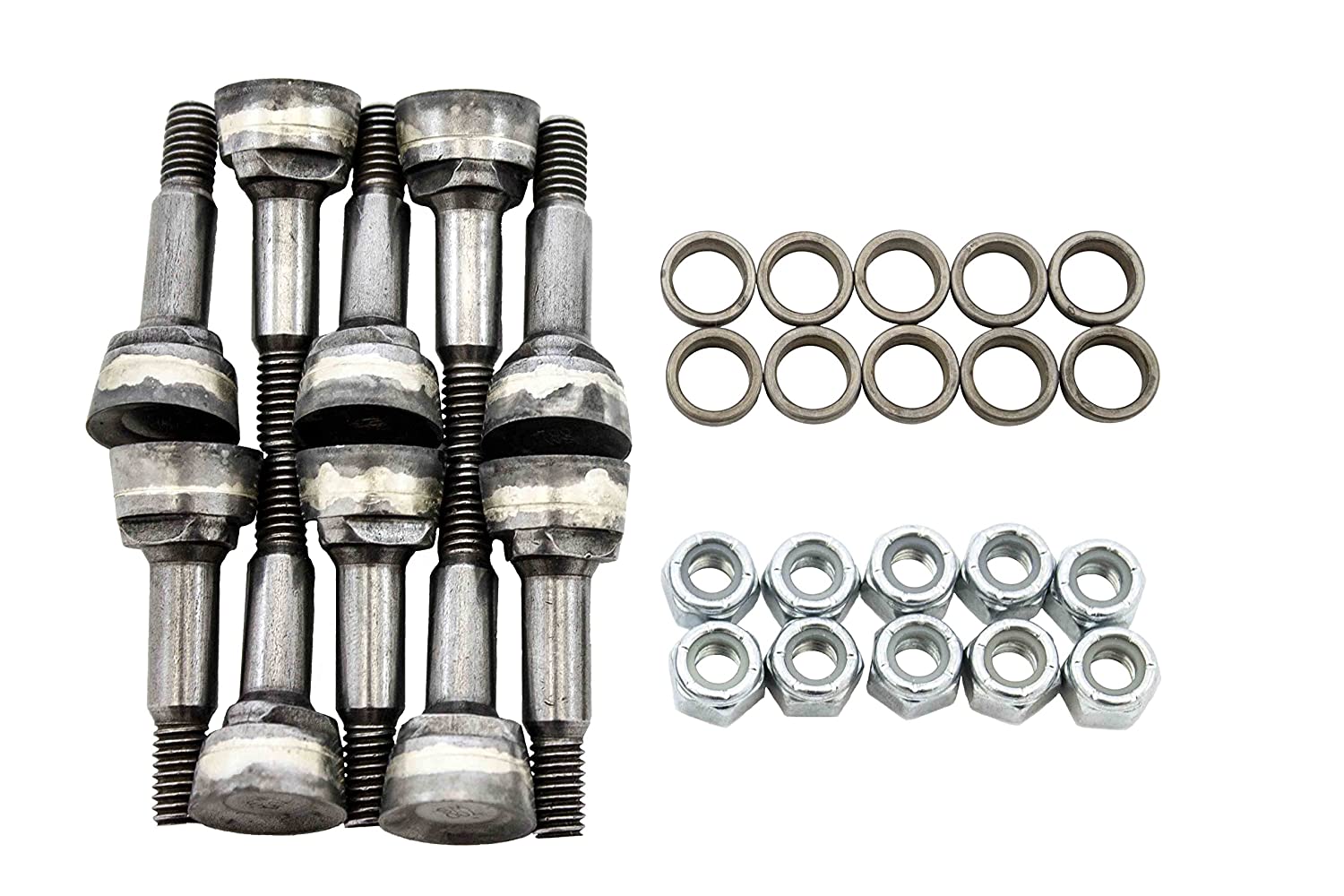 The GreenTeeth 700 series comes in a pack of ten replacement teeth. You can use these on Bandit, Vermeer, and Rayco stump grinders. The teeth are made from carbide, so they are extremely durable and will cut your grinding time down significantly, no pun intended.
A lot of customers like the fact that you can use these replacement teeth in multiple brands of stump grinders. They like the quality and the value of the WearSharp technology. Just like the 900 series, you can rotate them three times which means you effectively get three times the lifespan out of each purchase.
Pros
You can use these replacement teeth on several brands of stump grinders.
You can rotate them three times, just like the 900 series.
You get fast-cutting results, especially compared to other brands.
Cons
They aren't the best teeth the company makes.
GreenTeeth1100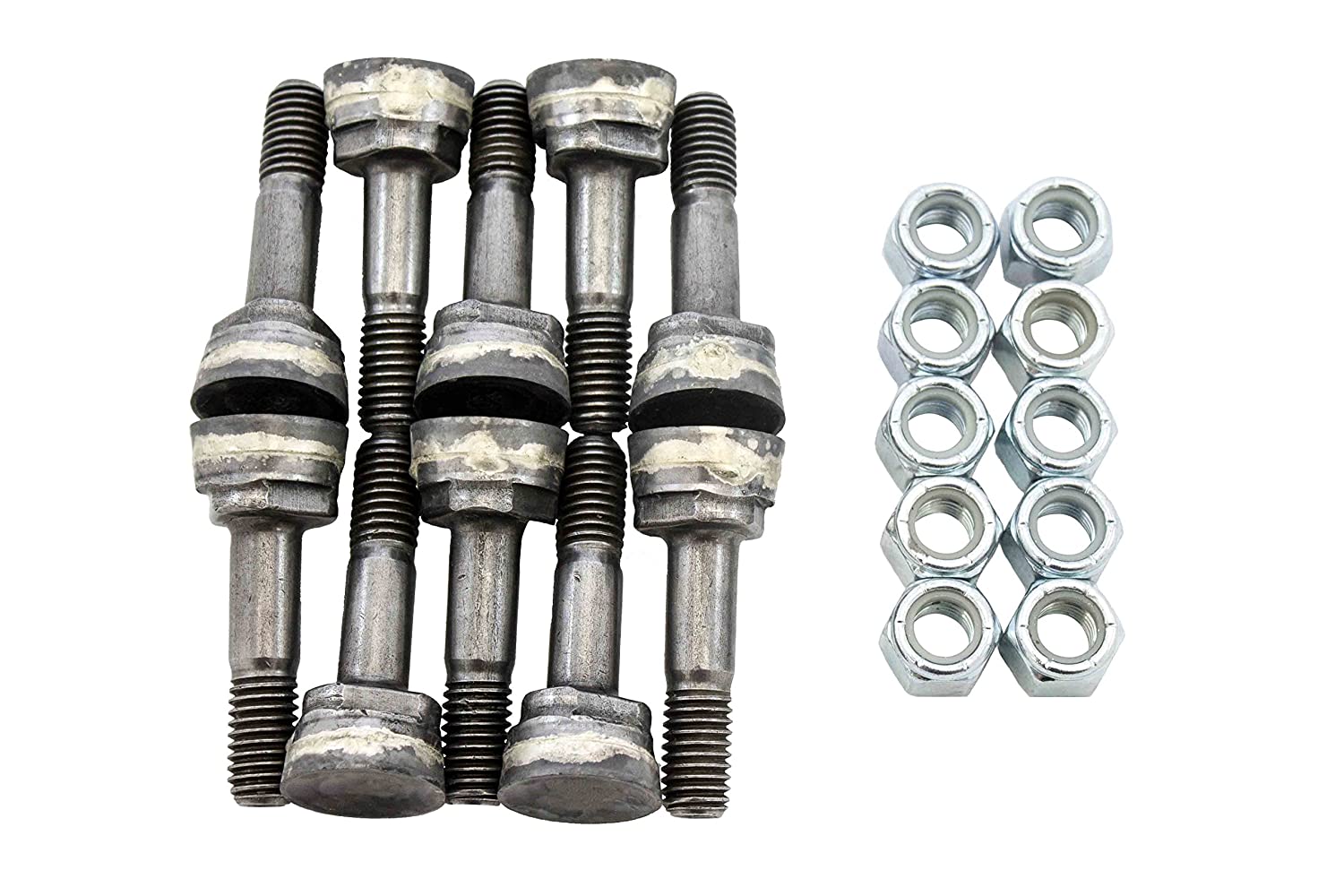 Now, the GreenTeeth1100 models are even more advanced than the 900 series, but I put them in third place because, while they claim to offer three rotations before they need sharpening, a lot of customers claim they only get two. These are very easy to replace and generally last between 10 and 15 hours before they have to be rotated.
These are not the more popular options because they aren't as versatile when it comes to other brands. You can only use them on machines that deliver more than 100 HP, so they really only work with commercial stump grinders. However, those who use them stand by them because of their durability, their quality, and usefulness in a professional capacity.
Pros
You get faster results and reliable shearing compared to other brands.
You can buy them in large packs, so even if you only need to replace a few teeth because they broke or something, you have spares on hand.
Cons
These are their most expensive replacements.
You can only use them on the 1100 series of grinders.
Rayco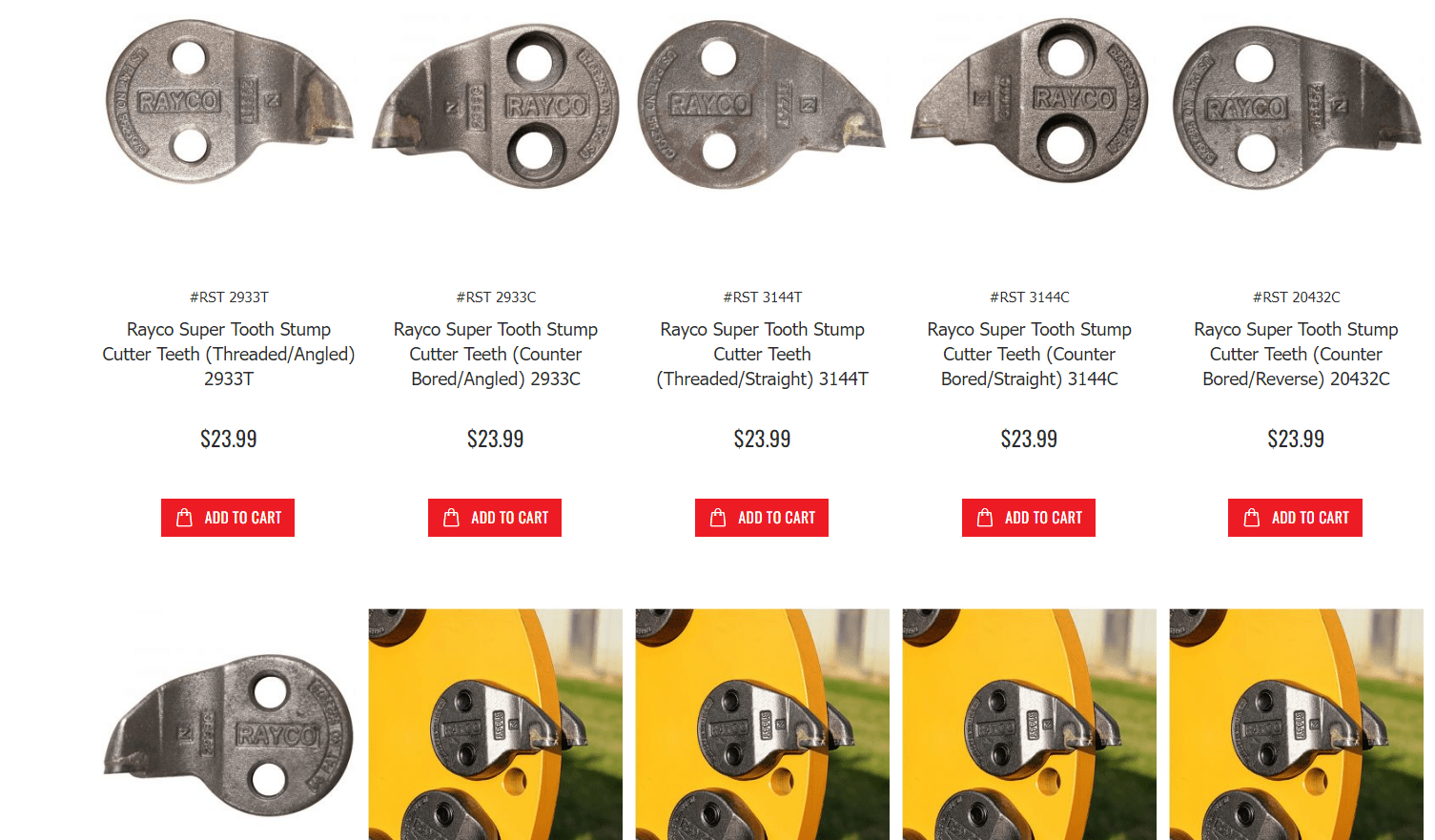 I like the Rayco brand, and their teeth are highly rated for durability. They rarely break while in use, and you won't see a lot of chipping on the teeth because of their construction. They are really good when you accidentally stumble upon rocks in the ground, where other brands are prone to breaking.
They are cheaper than GreenTeeth but also can't be rotated, so you only get one-time use out of them. My biggest issue is that you can't easily replace just one tooth; you have to replace the entire tooth assembly. This basically means returning to your truck or workshop to do repairs before finishing the job. So, just hope that you don't have this issue while working, and Rayco will serve you just fine.
Pros
These are durable teeth with minimal chipping or breaks.
They are hardy enough to withstand a few rocks you didn't notice in the ground.
Cons
You can't rotate these.
When a tooth breaks or wears down, you have to replace the entire assemble, not just one tooth.
Sandvik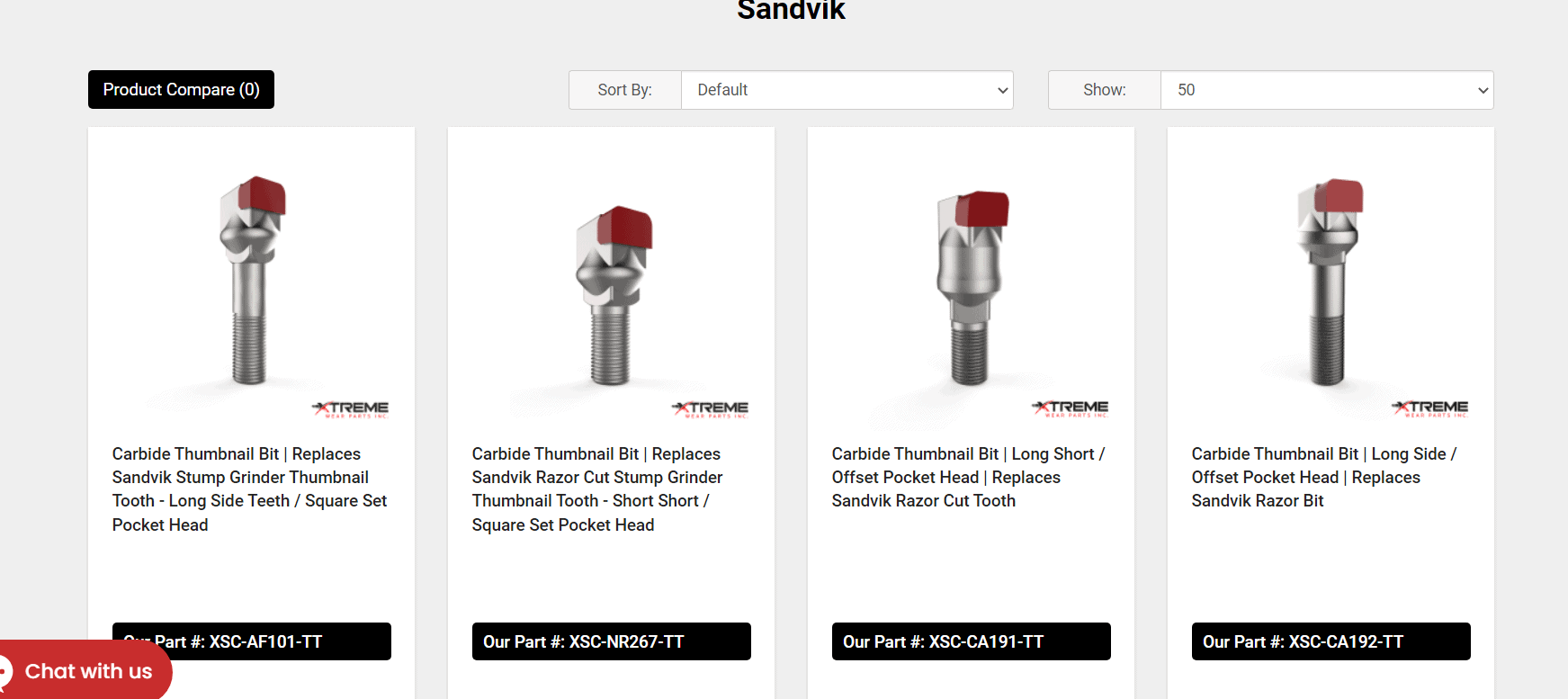 I like Sandvik because they work a lot longer than most teeth (except for the three times you get with GreenTeeth). However, they share some commonalities with GreenTeeth: You can remove a single tooth from a holder and replace it in the field. This is a huge advantage over Rayco because you can make replacements for individual teeth without having to disrupt work.
Nothing is more of a gumption trap than getting right into the start or middle of a job and having to stop and come back another day because of equipment failure (dead batteries, missing winch, frayed rope, or broken teeth, just to name a few of my recent frustrations).
Pros
Their teeth have a thumbnail-style head which reduces how far chips scatter.
They can be easily changed while working.
Their teeth last a long time before needing replacements (sans any damage, of course).
Cons
Their teeth are wheel-specific, so if you don't currently use Sandvik's teeth and want to switch, you will have to change the cutter wheel, holders, and teeth.
You can only use them once.
FAQs
Question: How long do stump grinder teeth last?
Answer: Many stump grinder teeth will only work between 5 and 15 hours before they have to be sharpened or replaced. However, the GreenTeeth line of stump grinder teeth replacements is very popular because they can be rotated three times, and you get about 15 hours of work out of each rotation which means you get a total of up to 45 hours of work compared to other replacements.
5-15 hours
Question: What are the teeth on a stump grinder made of?
Answer: Most stump grinder teeth are made from forged steel with carbide tips. Some designs are completely carbide, and others have a bolt in the tooth with a carbide tip.
Question: How do I maintain stump grinder teeth?
Answer: A big part of the efficiency of your stump grinder teeth is how well you maintain them. All machines work best when they are maintained. You should check your teeth after each use. If you see any dullness or imperfections, sharpen or replace them. It is always better to be safe than sorry.
Question: How much do stump grinder replacement teeth cost?
Answer: Teeth are a relatively inexpensive piece to replace. Generally, you can expect to spend between sixty dollars and one hundred fifty dollars, depending on the quality and features. But I advise against using a budget as your measuring stick here; stick to quality; otherwise, your teeth will fall apart right in the middle of a job. Treat your equipment better than that.
Question: Can I sharpen my stump grinder teeth?
Answer: Yes, you can sharpen them yourself before replacing them, but eventually, you will have to get a replacement even if you do this. The reason is that every time you sharpen the teeth, just like sanding something, you are removing the outer layer, so at some point, you will remove enough of the outer layer that there isn't a tooth left. You also need to make sure you have the right equipment to do this and the right safety gear.
You can watch someone sharpen Rayco teeth here:
Bottomline Upfront
GreenTeeth has the best line. If you want to save money or you need wider applicability, you can go with the 700 line, which works well on many brands. Regardless, GreenTeeth has the highest quality and features. They are the only replacement teeth that you can rotate three times to maximize your usage, so you get three times the workable hours out of one set of teeth.