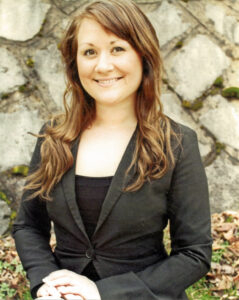 Latest posts by Lacey Jackson
(see all)
We have a nice, small tractor with five different attachments. These attachments make it easy to do things like blow the driveway when it's snowing, mow the lawn, and pick up and haul away debris, dirt, or mulch for gardening projects. But, we need to be able to drive or park the tractor in the area where we are working.
This doesn't work for our wooded area, which is on a steep slope. But, a portable chainsaw winch is a perfect solution. We can carefully hike anywhere on the property after felling trees or letting the latest snow storm do it for us, attach what we need, and pull it off the slope and onto flatter ground where someone else can pick it up with one of the five tractor attachments and take it away. 
Bottomline Upfront
I recommend Capstans PCW3000 or PCW5000 based on your average weight capacity in your logging activities. The PCW3000 has similar weight capacities to the electric models in this guide, but the PCW5000 is one of the biggest, badest portable winches for logging. 
How to Find the Best Portable Winch for Logging: Gas versus Electric Winches 
Portable winches for logging are either:
Gas-powered, or

Electric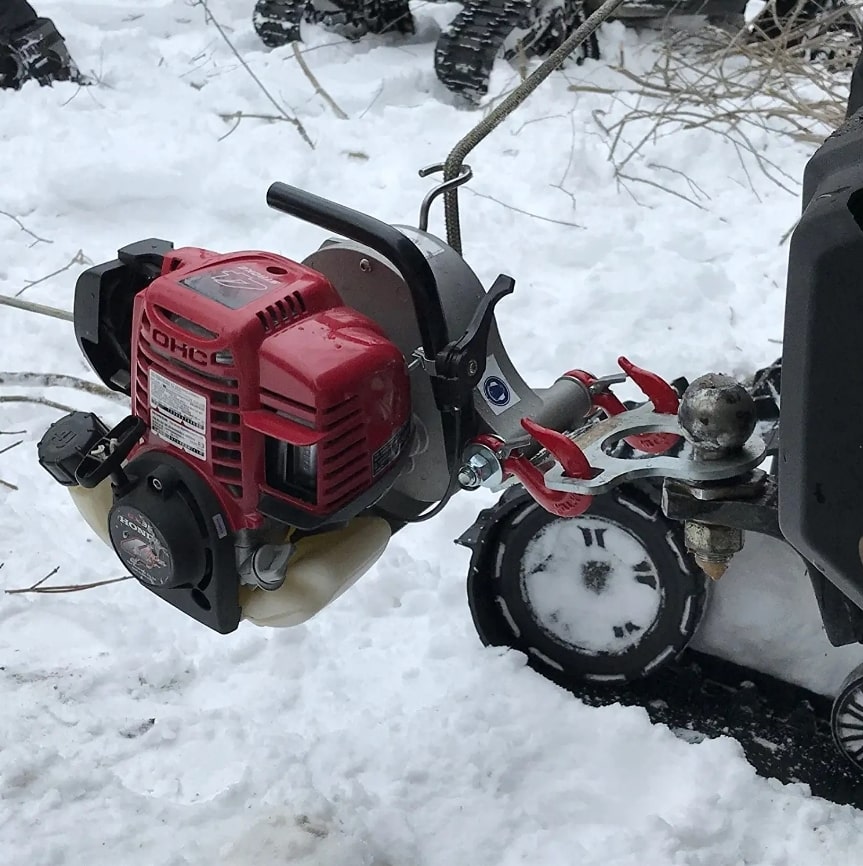 There are pros and cons to each. Most people don't like the sound and the air pollution that comes with using gas-powered. What's more, with gas-powered portable winches, you always need to ensure you have enough gas. If you run out of gas, you have to stop your job.
Gas Winches: These are best for people working with a boat, a snowmobile, or on foot. Hunters and people managing their property can use these winches to quickly pull logs and other materials without adding too much weight. 
People who dislike the sound, the air pollution, or the difficulty of bringing gas with them tend to pick electricity. Electric winches are better for small settings where you know you will have power nearby.
Electric Winches: These are best for people handling small logging projects on their residential property and have constant access to an outlet. Avoid electric winches if you have any reason to think you will need to transport the winch or move away from a power source. 
For electric winches, the dead weight capacity is measured in pounds. The number of pounds the winch can pull is directly correlated to the length of the cable or rope. The longer the cable, the less weight it can handle. 
Gas-powered portable winches rely on a gas-powered engine rather than electricity. This means you can take them anywhere. Gas-powered portable winches for logging don't have the same limitations in terms of cable length and hauling capacity, but more importantly, they don't need to be charged. 
Electric winches significantly impede productivity: you are only supposed to let them run for one minute and then rest for four minutes to prevent overheating. So if you are out in the woods or on the back part of your property trying to do tree work, you literally get twelve minutes of work for every hour.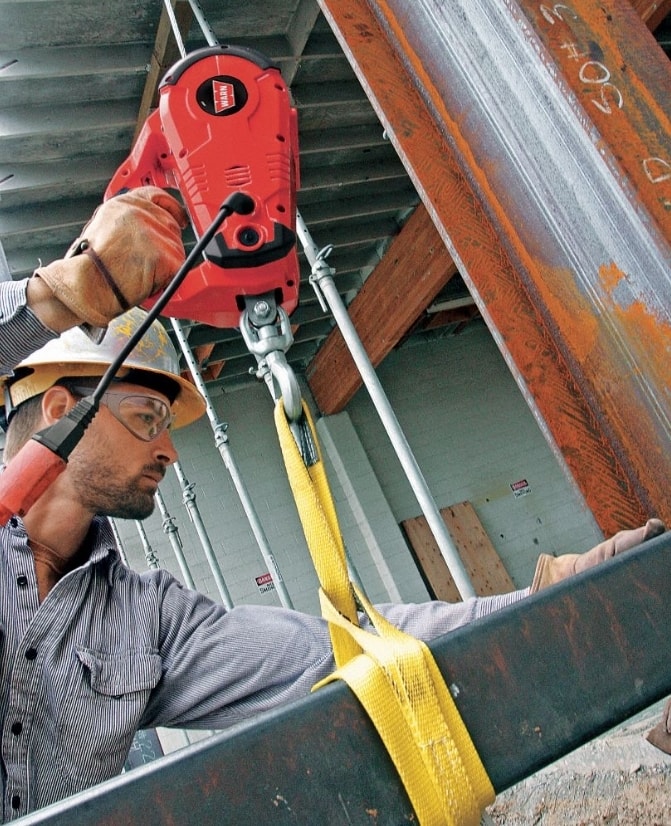 Accessories for a Portable Winch
You should invest in some winch kits, straps, hooks, and extra rope. Not all models come with rope, so you will need to supply yours. However, this works in your favor as you can pick the rope thickness for your drum and the length for your projects. 
Rope Bag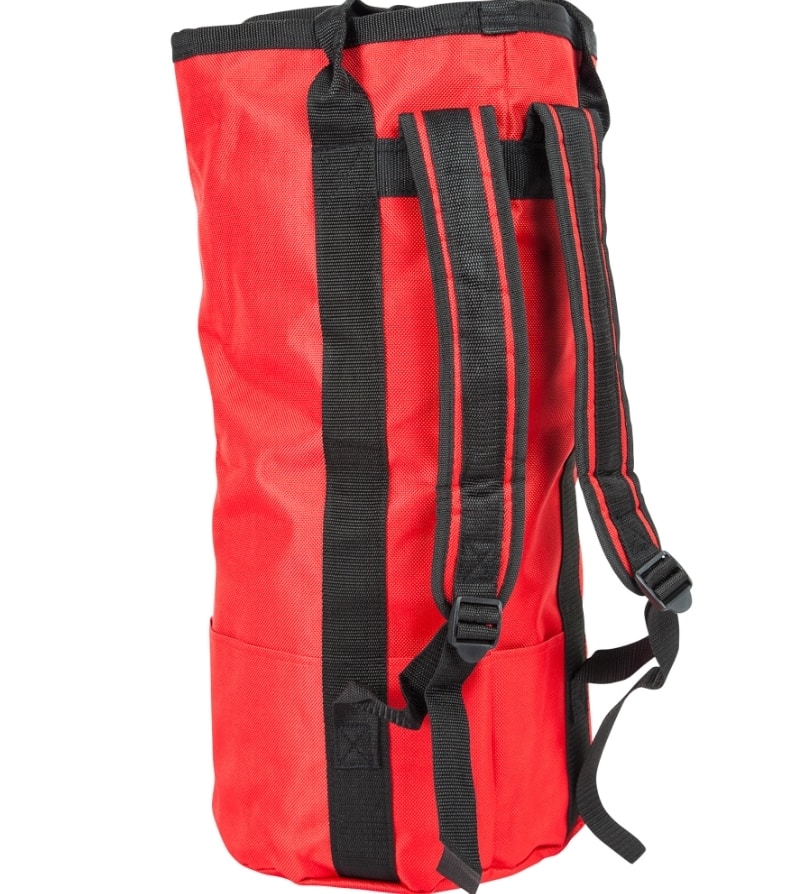 There is a lot of crossover between serious yard work and activities like climbing. For example, both use a rope. A heavy rope. So, in both cases, investing in a rope bag makes it a lot easier to bring your rope or cable with you and to keep it safe. 
The last thing you want is to keep your rope loosely coiled at the floor of your truck or boat because this leaves it susceptible to small abrasions and tears, which can compromise the safety, efficiency, and lifespan of your expensive product. Safety is key in all these activities, so invest in a bag where you can keep your rope or cable safe. 
Winch Log Skidding Cone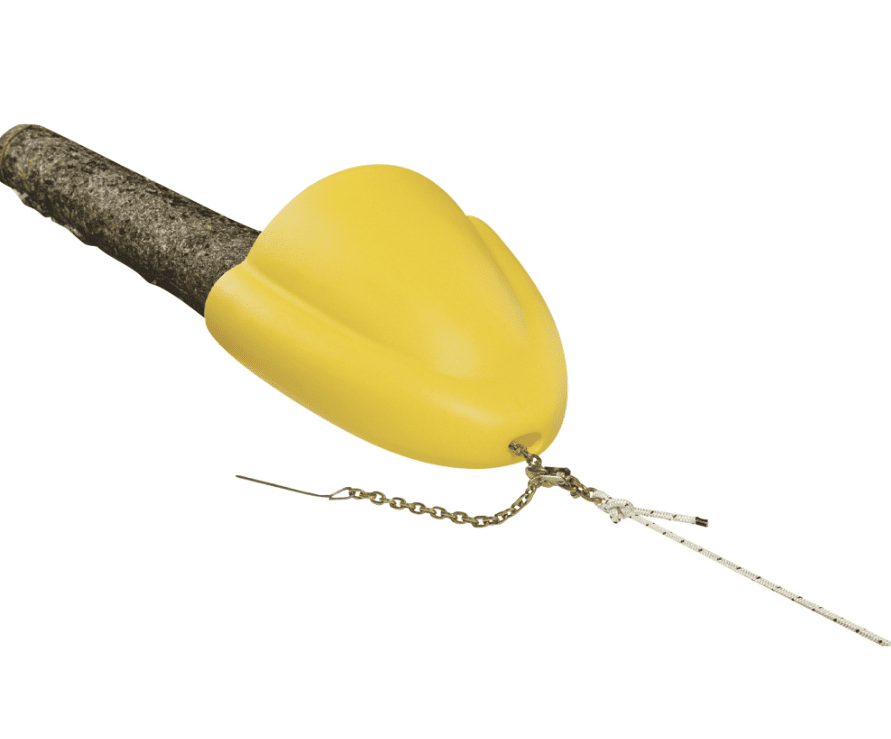 Other popular accessories for logging include the portable winch log skidding cone. In the video below, you can see someone using the PCW5000 model with the winch log skidding cone:
As the name suggests, this cone prevents the logs you have secured from skidding across the ground. They are simple to use and relatively inexpensive. 
Portable Winch Tree or Pole Mount Kits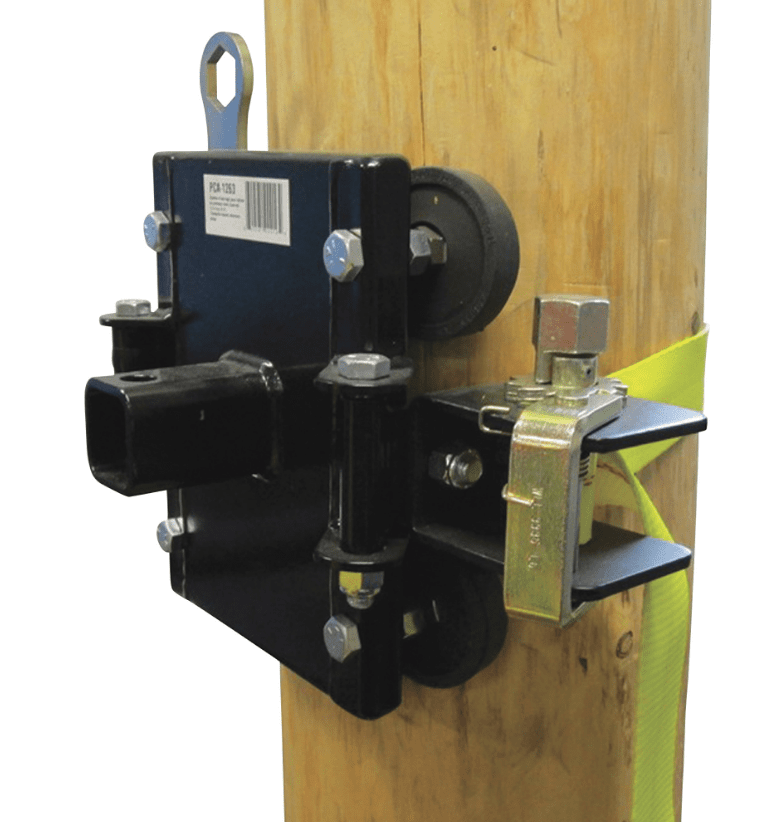 As mentioned, there are also portable winch tree or pole mount kits. These are designed for models like the PCW3000. The benefit of this accessory is that you can keep your winch out of the mud or dirt. If you have lots of logging projects to do, having this attachment makes it more comfortable compared to continually bending over a winch resting on the ground. 
Note: If you buy this tree mount, you must also buy the vertical pull winch support system. These are made by the manufacturer directly for each make/model. 
How to Find the Best Portable Winch for Logging: My Top Picks
Warn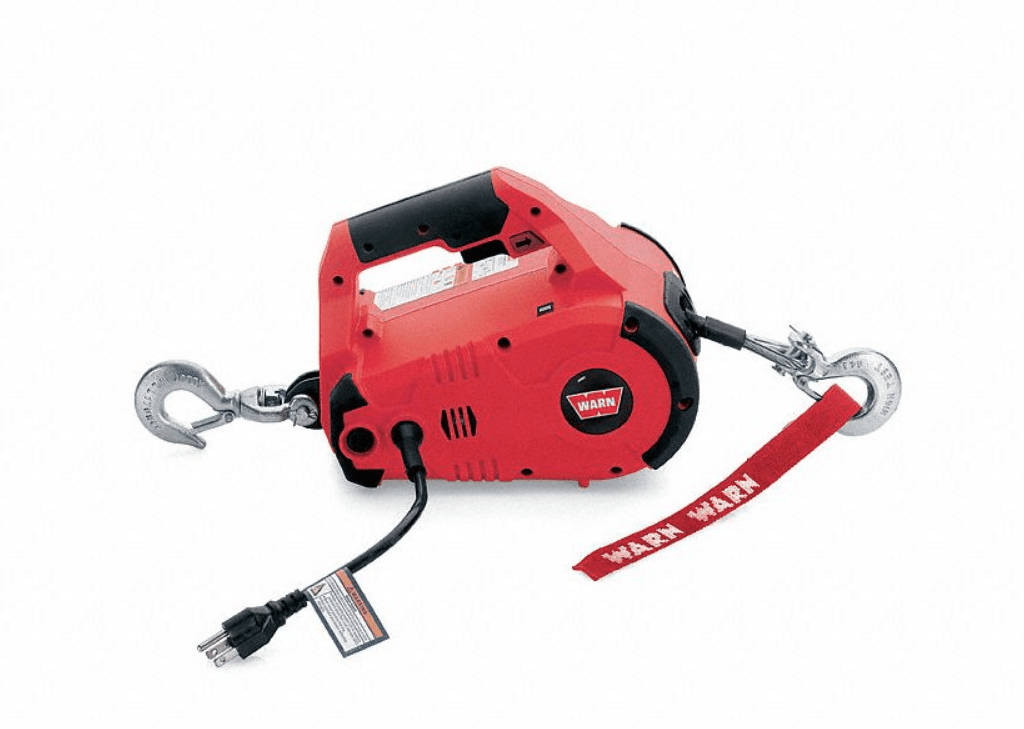 I'm going to get the electric models out of the way first. The Warn is the most popular electric model. It is made in China, but it is cheap. We have an electric model, but ours stays in the garage. It is permanently installed to help lift and move heavy tools onto their platforms or into another part of the garage. 
I don't take it out onto the property for a few reasons, like not wanting to work with electric tools in inclement weather or not having an extension cord long enough. That is not to say that you can't use the Warn model for logging; just be aware that if you buy this model, you are buying it for the initial savings it offers upfront (just don't expect it to put in as many hours as the others on this list). 
It has a more limited load than other models, at only 1,000 pounds. 

It requires a 7/32 inch rope and comes with one that is fifteen feet long. 

You can move it forward or reverse and control the speed with a trigger. 

It only weighs 15 pounds, so it is easier to carry around. 
So, as long as you have power available and aren't trying to move more than 1,000 pounds, it works well and is hundreds of dollars cheaper than the gas models. 
StrongArm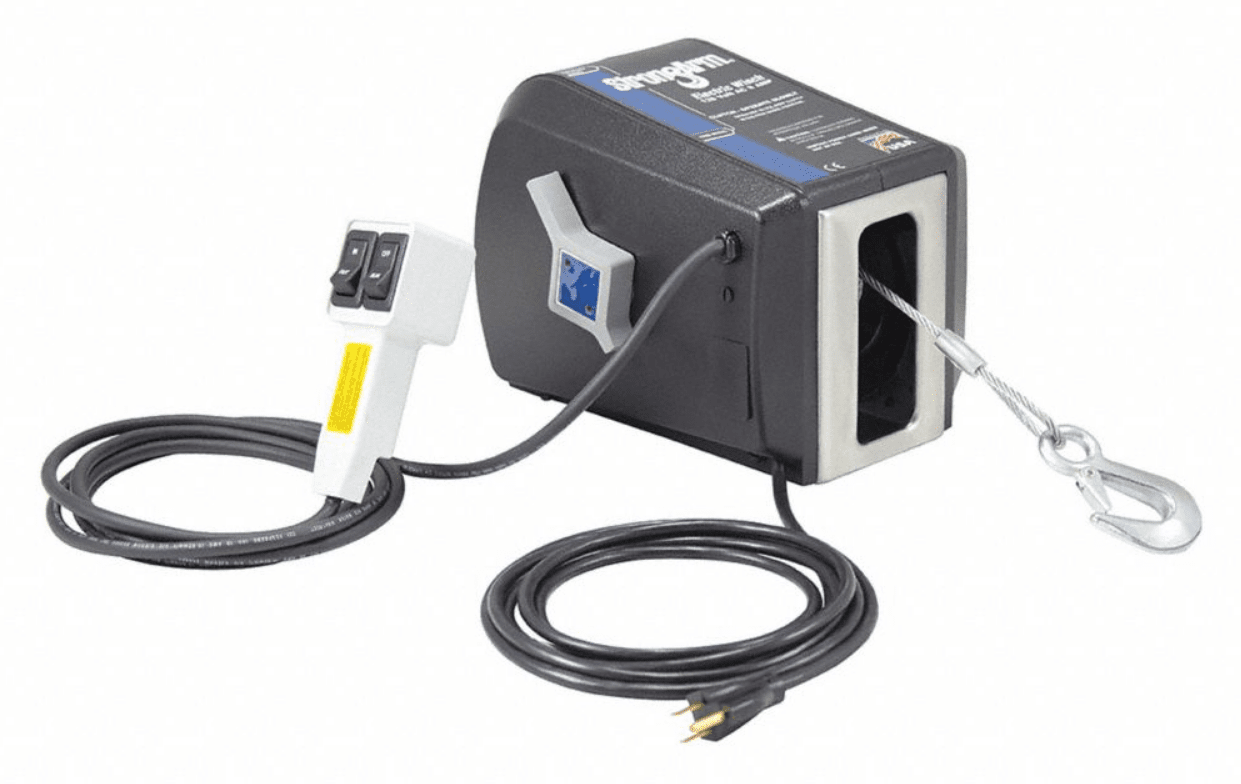 Comparably, there is the StrongArm electric winch. This is about one hundred dollars more expensive than the Warn because it can handle up to 1,200 pounds. It helps you move and stack logs you plan to cut for firewood or toss into a chipper. This is great if you need to clear logs from your property and move them for cutting and milling later. 
This uses a 3/16 inch rope. It comes with a twenty-foot rope. 

This one has a drum that can handle a ¼-inch cable up to 56 feet. 
Let me take a moment to go over the drums. Drums for winches work the same as on boats: they provide the metal drum around which the rope runs. The rope does not coil over the drum, but it does a preliminary wrap in order to create friction. 
Drums increase the efficacy of any winch because they allow you to optimize a full load at any length or speed. This friction is what enables the winches to pull more easily. Without a drum (like with the Warn), you don't have this option, so the maximum load you can haul when logging varies based on how much of the rope you are using and how fast your motor is going. 
So, if you need a winch with more weight capacity and improved performance, the StrongArm is a better pick than the Warn. 
PCW3000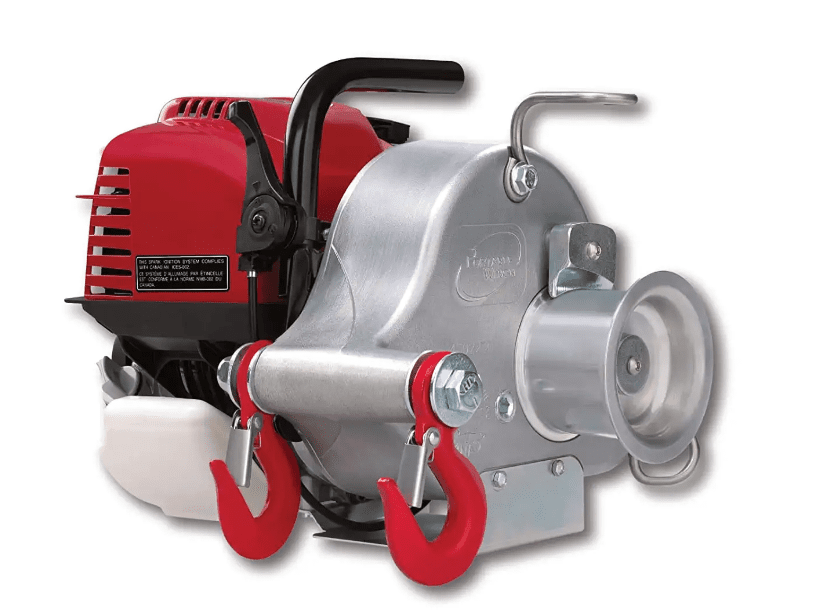 The PCW3000 is one of the most popular models for portable winches. This and the PCW5000 model are Capstan products. The company manufactures out of Canada. I don't know about you, but when I want reliable logging equipment, I want it from Canada; they know what they are doing up there. 
Customers have nothing but good things to say about this model. The company puts out a lot of information on their products too. Below is a video on how to properly use this model for logging:
It weighs 20 pounds. 

This has a 35 cc all-position Honda engine.

They have aluminum gearboxes. 

It provided 1550 pounds of pulling power. 

It pulls at 26 feet per minute. 

It needs a ⅜-inch rope. 
The smaller model is meant for residential purposes. If you have to clear your property, this comes with a carrying case so you can easily walk with it. Again, it's only 20 lb and designed to be carried through the woods to where you need it.
The PCW3000 has a tree mount for the portable winch. When you set it up, it works exactly like belaying someone rock climbing in the way you run the rope down, under a safety feature, and then move the excess rope out of the way as the winch tightens. 
PCW5000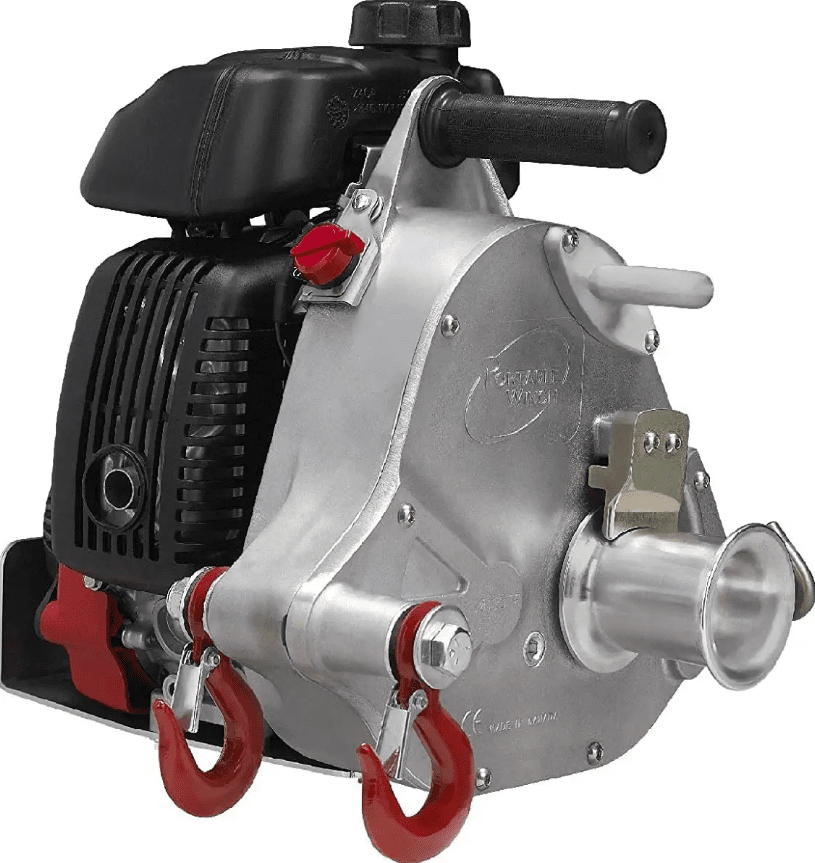 The PCW5000 is the next size up. It is a little bigger and a lot more powerful. If you are doing any type of regular logging, it's worth the extra cost to get this bad boy. Again, customers have nothing but good things to say about it. 
It weighs 35 pounds. 

This is a 50 cc all-position Honda engine. 

They have aluminum gearboxes. 

It has a 57 mm drum that can pull 2,200 pounds at 40 feet per minute. 

This design has an optional 85 mm drum which can pull at a rate of 60 feet per minute, pulling 1600 pounds. 

This uses a ½-inch rope. 
This model is not part of the commercial models, but it's still designed for heavy-duty residential work or more limited commercial work. 
FAQs
Question: Where are portable winches made?
Answer: The Warn is made in China. The StrongArm is made in America. The PCW3000 and PCW5000 are made in Canada. Some people have preferences on the manufacturing location, so consider this when evaluating different products. 
Question: How expensive are portable winches?
Answer: This depends entirely on the type. Electric winches are generally less expensive because they don't have motors and they take electricity to run, so most of your costs will come after purchase. The Warn is a little over $300. 
By comparison, you can expect to spend between $1000 and $1600 for the Capstan models, but the motors are very strong and durable, and the ongoing cost for fueling the gas-powered portable winches is minimal. 
Question: Can I use batteries to charge an electric winch?
Answer: Some models have battery power. This helps you get around the whole issue of not having an outlet nearby. However, there are still limitations to how long you can run it on a battery before you have to let it rest, and the battery can die just the same as you can run out of gas for a gas-powered model. 
Question: How safe are portable winches?
Answer: Operational safety is paramount for any gas or electric tools. Thankfully, winches don't have a blade anywhere, and the housing for electric and gas models is relatively small. Still, this is a serious piece of equipment, and you should always read operational manuals before starting, ensure you have a safe location from which to use it, and wear personal protective gear for your eyes, ears, hands, and feet. 
Question: Can the PCW3000 or PCW5000 be mounted to a truck trailer hitch or truck bumper?
Answer: Yes. You can buy extra mounting receivers or ball hitches for a truck trailer. There are, however, no accessories that mount it to a truck bumper.
Bottomline
I recommend Capstans PCW3000 for lighter logging. It has similar weight capacities to the electric models in this guide, but it is smaller, easier to take with you, and you don't need to worry about an outlet. But if you need something over 1000 pounds, the PCW5000 is one of the biggest, badest portable winches for logging.