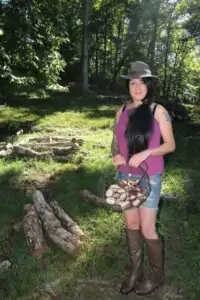 Latest posts by Samantha Biggers
(see all)
If you have chopped whole rounds of firewood into ready-to-burn splits, then you know how tiring it can be. I find chopping firewood on a nice cool fall day exhilarating. When I was in my twenties and working on a natural resources crew, I would spend 3 hours at a time chopping firewood to provide heat to the homes of staff and teachers at the college I was attending.
In my late 30s, I have a lot more responsibilities that require my time, and let's be honest; physical labor gets harder as you get older.
Thankfully, my husband and I discovered you do not have to spend $1000 or more and have a ton of storage space to have a log splitter to make heating with wood a lot less labor-intensive and sometimes more affordable because of the cost difference between split wood and unsplit when buying from others.
In this post, you will learn what type of performance you can expect from a 5-ton log splitter so you can make an informed choice. We will dive into the best 5 ton log splitters out there at various price points to fit your budget.
My Bottom Line Up Front: I prefer the Boss Industrial 5-Ton Electric Log Splitter over any other 5-ton log splitter on the market today. The Boss is well built and easy to use, and you can buy a stand and 4-way splitting head to make it even more versatile. This splitter has saved us a ton of time and energy on our farm.
Interesting Read: How to Find the Best Electric Log Splitters.
How I Chose My Top Pick 5-Ton Log Splitters
Availability
5-tons is on the smaller end of log splitters, so options are more limited. With supply chain issues also coming into play, I had to do my research to find log splitters in this size range.
My Personal Experience
We use a Boss Log splitter to provide split wood for two homes. My father loves to use wood heat but cannot split his own wood.
Availability of Accessories
Some log splitters either come with stands, or there is at least a stand that you can buy if desired. For example, the Boss 5-ton electric log splitter offers customers the option to buy a stand and 4-way splitting wedge.
Price
I like to find excellent products that fit a range of budgets. The log splitters in this article vary in cost significantly, but all still offer a lot of time-saving power.
Read also: How to Properly Use a Log Splitter?
My Top Picks
Advantages Of 5-Ton Log Splitters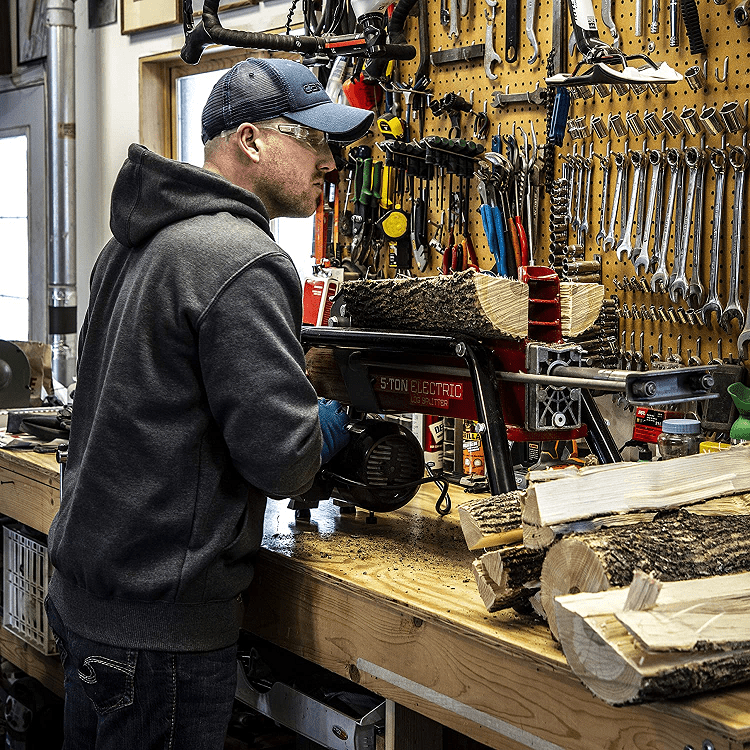 Runs on electricity provided by a standard 110V 15 amp household outlet or extension cord.
Much more affordable than gasoline-powered log splitters.
More portable and lighter weight than gasoline-powered log splitters
Require very little storage space
Does not rely on a steady supply of gasoline
Require less maintenance than gasoline engine-powered splitters.
Very quiet when in operation compared to gasoline log splitters
It may be used indoors
Disadvantages of 5-Ton Log Splitters
Limited amount of power
Cannot handle rounds over 10" regularly
A limited selection of brands and models to choose from
Must be rolled to a location or loaded into a vehicle for transport
Gasoline Log Splitters are Loud Compared to an Electric Log Splitter, no Matter what Size Splitter You Own
A gasoline-powered log splitter will be much louder than an electric motor. If you live out in the country, then this may not be a problem; however, if you live where neighbors are closer to you, then a loud gasoline engine may not be the best thing for long-term neighborly relations, especially if you have to take on tasks like wood splitting on a weekend or other times when many people are at home.
Don't underestimate the noise fatigue of the operator, either. Running loud equipment for hours at a time gets tiresome and requires you to use hearing protection. When my husband and I run our electric log splitter, there is no need for earplugs; it is so quiet.
Boss Industrial 5-Ton Electric Log Splitter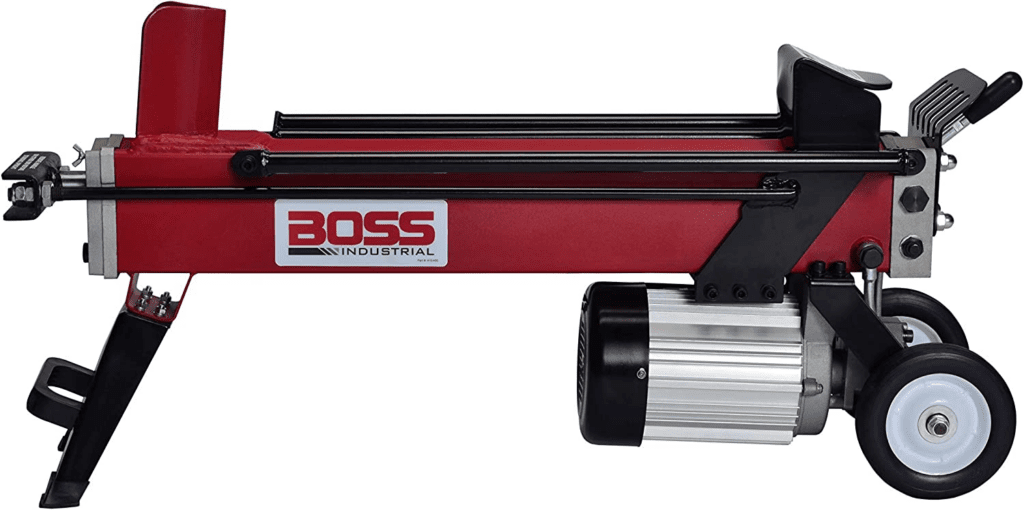 Weight:
Pros
Easily cuts through rounds
Can be used with or without a stand
Wheels and stand-up storage ability make it easy to store in a small space
Cons
Considerably more expensive than other 5-ton log splitters
It is hard to go wrong with the Boss 5-Ton Electric Log Splitter with electric log splitters. After spending hours researching log splitters, we could power on a standard 110V outlet; it was clear that Boss was the one for us because of its strong reputation for power and overall quality.
The strong 6-inch steel wedge easily splits through logs up to 10 inches in diameter and 20 inches long. I must admit that my husband and I have pushed it and split logs much larger in diameter than recommended, and it shocked us how well this splitter performed.
You can reduce splitting time by purchasing the 4-way splitting wedge that easily slips on and off.
They make the Boss to be used on the ground, but a stand is available for purchase. The stand is handy in situations where you want to offload rounds of wood from your truck directly onto the splitter. You can even position a wheelbarrow or other wood-moving method to catch your perfectly split rounds.
YARDMAX YS0552 5 Ton Electric Log Splitter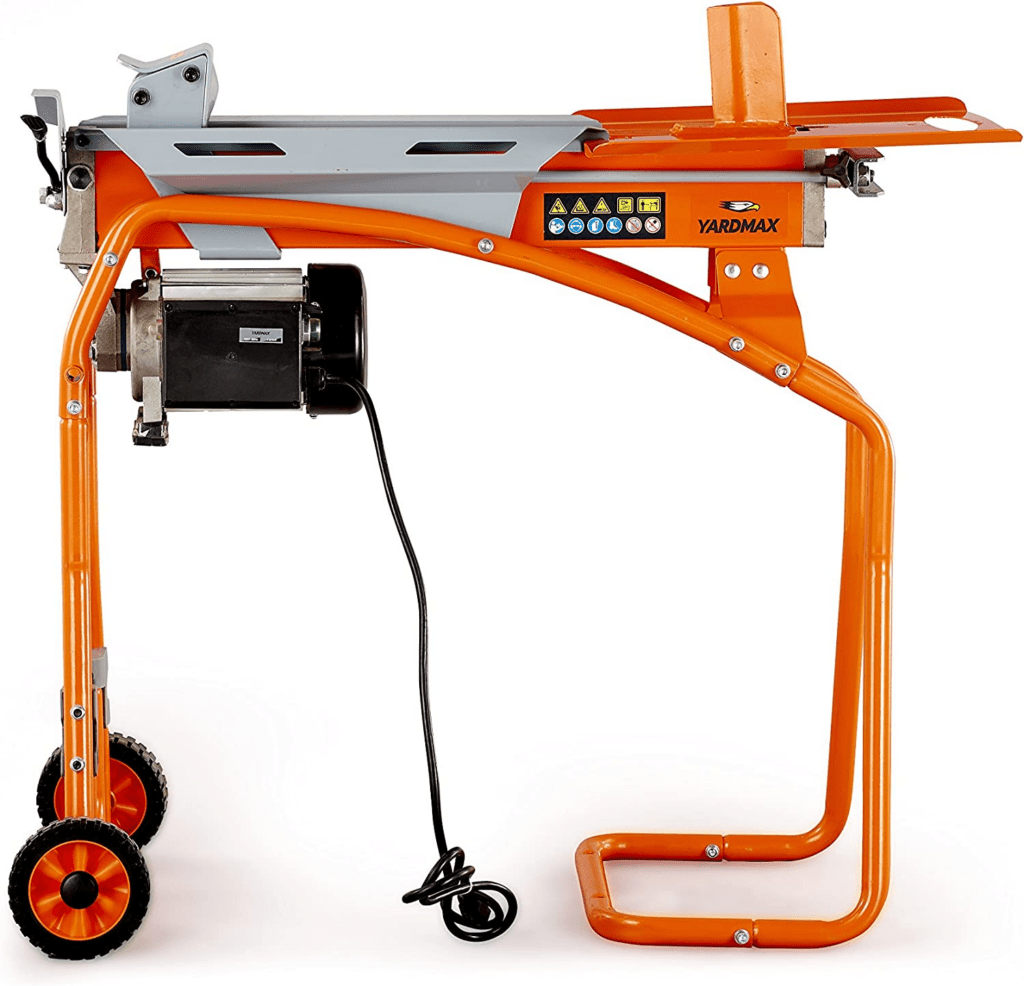 Weight:
Pros
Price includes stand and log tray
Very affordable price point
Wood catcher on end reduces lifting
Includes a stroke limiter for faster splitting of shorter rounds
Cons
Can sometimes be challenging to put together due to bolt holes not lining up.
No handle for moving
The Yardmax is an affordable electric log splitter with an excellent reputation for power and durability. Happy customers report using it to split over 3 cords of wood per year, 4 years in a row, with no problems. It is always good to know that a tool can withstand the test of time when used by the average person.
I noticed the Yardmax is a good choice for older adults who still like to use wood heat due to the wood catcher on the end. This catcher doesn't allow rounds to just drop to the ground, so you are not stuck picking them up from ground level after splitting.
If you need to use your splitter a long way from an electric outlet, rest assured that users report using the Yardmax with a 150′ heavy-duty extension cord with no problems.
Earthquake 5-Ton Electric Log Splitter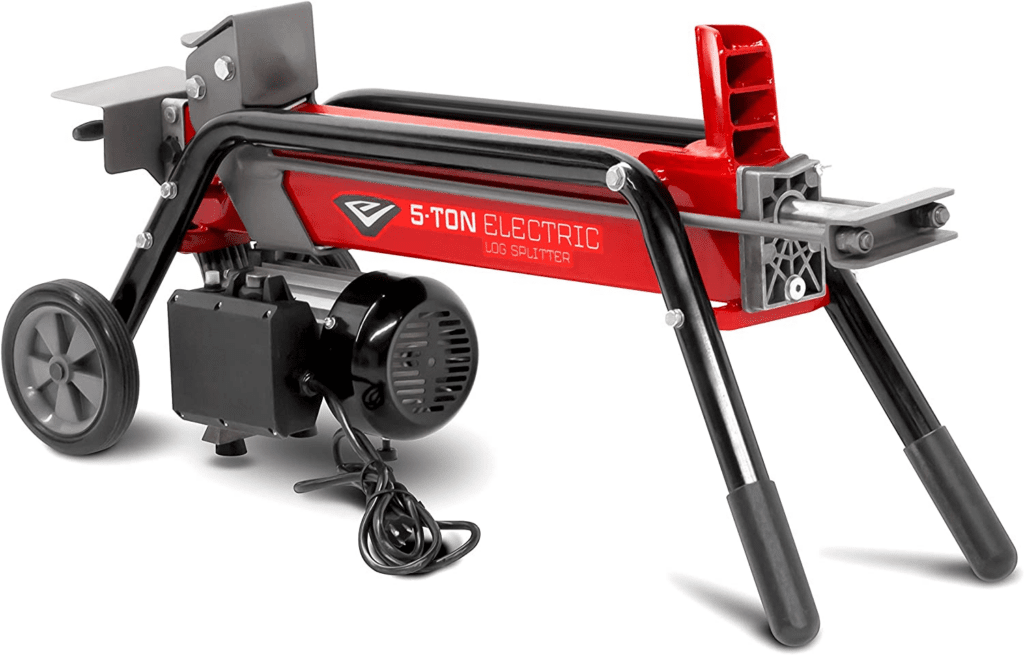 Weight: 105 lbs without stand or log tray
Pros
Exceptional 5-year warranty
Well-known consumer power tool brand
Very affordable
US-based customer service if there is a problem that needs immediate attention
Cons
Must buy a log tray and stand separately
The Earthquake is made of quality materials, including copper motor windings and precision pump gears for an ultimately smooth splitting experience each and every time. I really like the well-thought-out features that make transporting the Earthquake a little easier than some splitters.
For example, the front legs are coated with foam and double as super comfortable handles for when you need to wheel your splitter to your location or put it away for your next splitting session. These features would make it a lot easier to roll down a ramp and out of the back of a truck, no matter where you happen to be splitting.
Green-Power America GNLS05-1020H G-Power Electric, 5 Ton-1500 Watt Log Splitter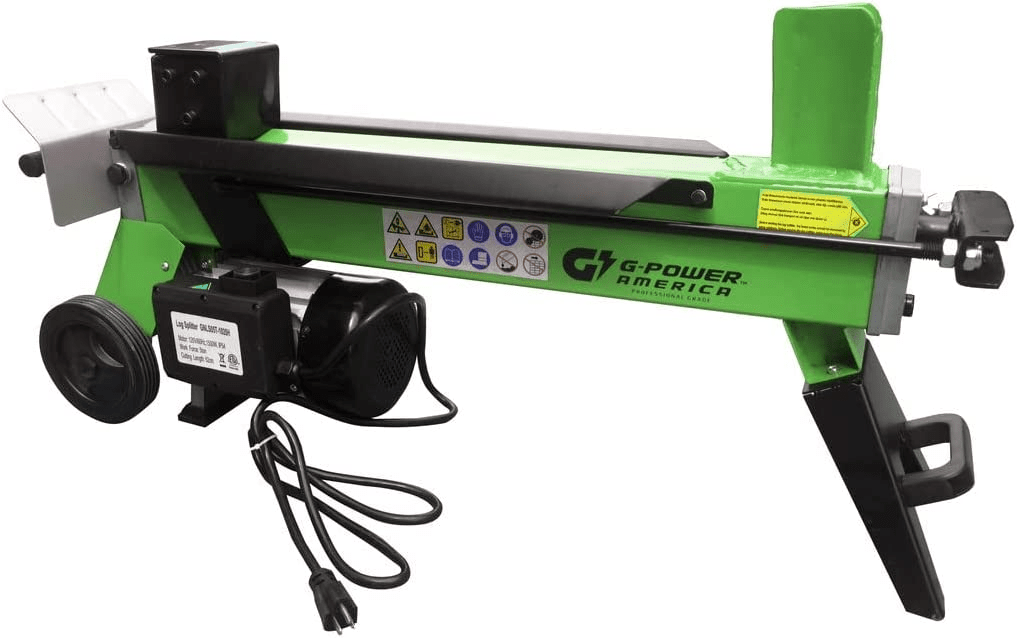 Weight: 101.2 lbs
Pros
Very affordable
6 inch never flat wheels
Sturdy front leg doubles as a handle for moving
Cons
18-second cycle time
No stand or aftermarket accessories
Hydraulic fluid is not included
The Green Power America is a newer model in the world of 5-ton electric log splitters. The 6-inch never-flat wheels are a slightly larger diameter than those found on some splitters in the 5-ton size category. What stands out to me about this splitter is the single front leg. Rather than having two smaller legs, this splitter boasts a robust solid piece of metal with a convenient handle.
You need to buy hydraulic fluid separately and fill the chamber before operating. Although this is not an enormous expense nor hard to do, it is important to know.
Sun Joe LJ602E 5-Ton 15-Amp Electric Log Splitter w/Hydraulic Ram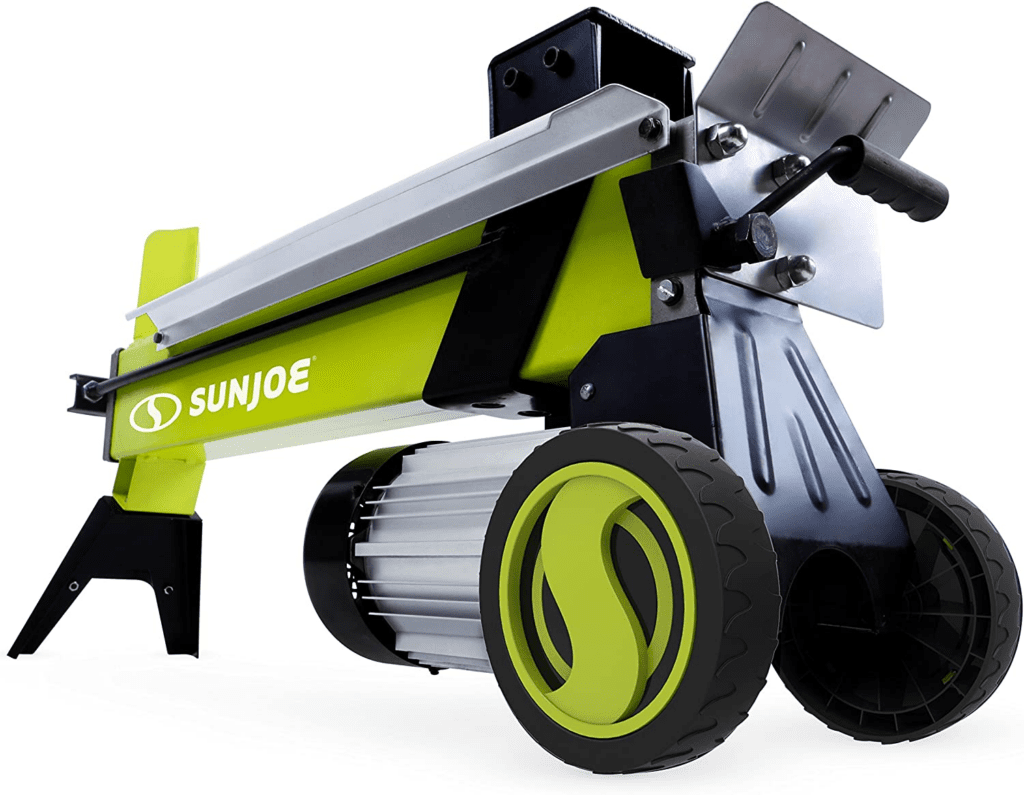 Weight: 92.6 lbs
Pros
Sturdy 6-inch wheels for fantastic portability
Affordable
Well-known brand
Cons
No log tray available
No stand included or available for purchase
Sun Joe is a well-known name in consumer outdoor power tools. I own a Sun Joe pressure washer and electric pole saw and can attest to the quality of their products.
The bright green color is easy to see when working outside. While it may seem like this is not important, the fact is that bright colors in the woods or when working around others makes it a safer working environment.
I like that the Sun Joe has robust and sturdy wheels compared to other 5-ton log splitters in the same price range. In fact, some of the more expensive ones do not offer wheels that seem sturdy enough to stand up to rougher terrain.
Ironton Horizontal Electric Log Splitter – 5-Ton, 15 Amp, 120V Motor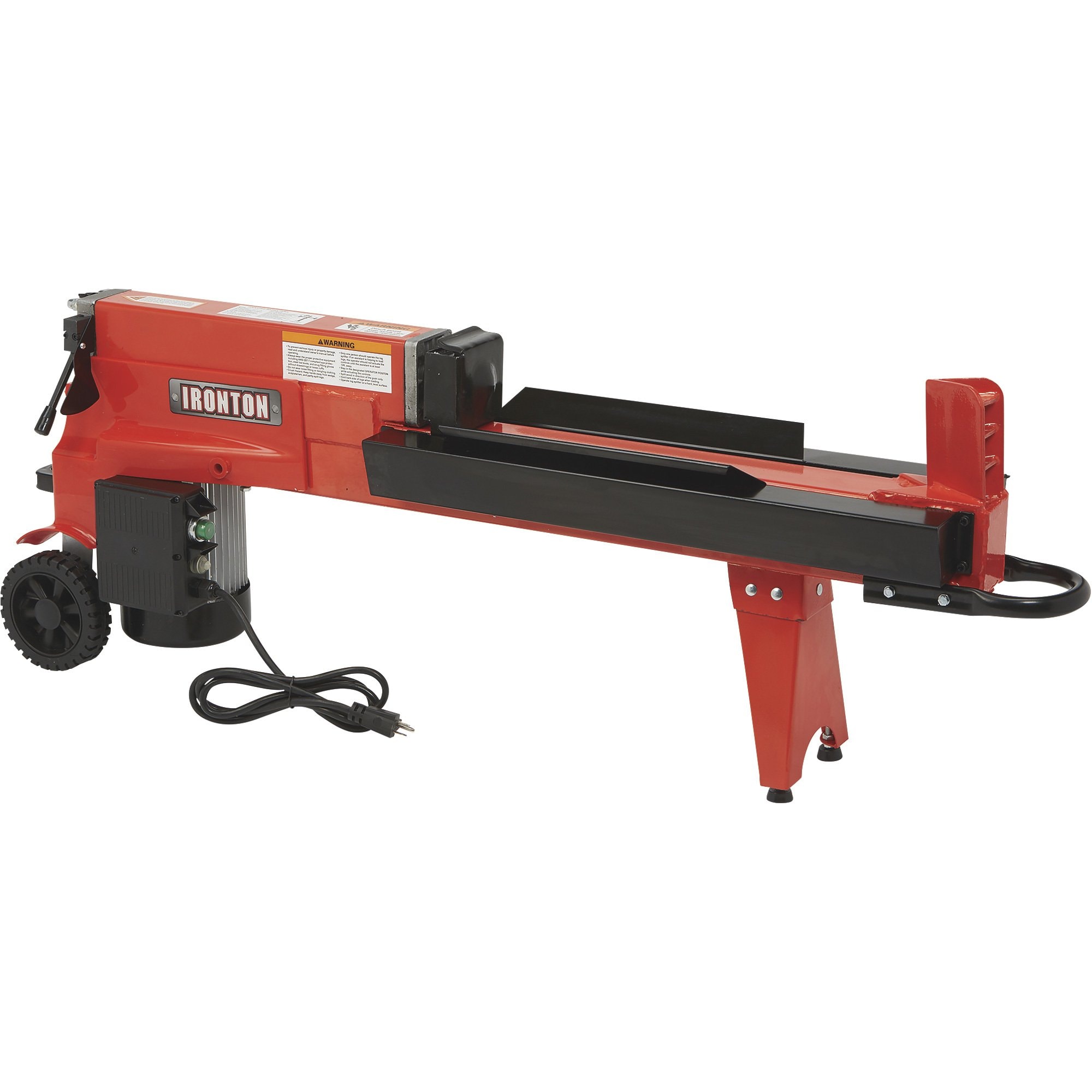 Weight: 114 lbs
Pros
14-second cycle time for fast splitting
Rugged 5 ¾-inch tires for moving over rougher terrain
¾ Horsepower motor

Built-in log cradle eliminates some lifting
Easy assembly
Cons
The Ironton is practically ready to split wood right out of the box. Just unwrap and put on the rubber feet, and you are essentially ready to go. The cycle time for the Ironton is a full 2 seconds less than other log splitters in this article. While that may not sound like a lot, it adds up to 12.5% faster splitting, which can really add up.

The Ironton packs plenty of power, but it does not have any aftermarket accessories like a stand, making it not the best choice for those that prefer to stand up part of the time. Using a small stool or chair to sit beside the splitter and operate it makes for a more comfortable experience compared to kneeling.
Always Check your Wood Splitter for any Shipping Damage or Other Faults as Soon as it Arrives
Although most wood splitters arrive with no damage, it is important that you check yours for any problems on arrival. Electric wood splitters are dense pieces of equipment, so sometimes during shipping, they can accidentally sustain damage on their journey from a foreign manufacturer to your doorstep.
If you order from Amazon, then returns and replacements are really easy if there is a serious problem. After the Amazon return window has closed, contact the manufacturer for any issues under warranty. Checking and testing your wood splitter upon arrival will ensure that you have a functioning splitter when it comes time to put all your firewood back for the cold season.
Electric Wood Splitters are Great, but You Still Need to Keep a Splitting Maul and a Wedge Around
No wood splitter is perfect, nor can they take on really enormous rounds. All the splitters discussed in this article are designed for pieces of wood that are a maximum of 10" in diameter.
This means that if you have larger rounds to split, you will have to split them by hand into a manageable size for your splitter. If you have rounds that are really huge or knotty, then you can use a chainsaw. Then you can size up rounds without as much physical labor.
Read this guide to learn how to find the best chainsaw for your needs.
You May Run into Trees Species of Wood that are Not Worth the Labor to Cut into Firewood even if you Have a 5-ton Log Splitter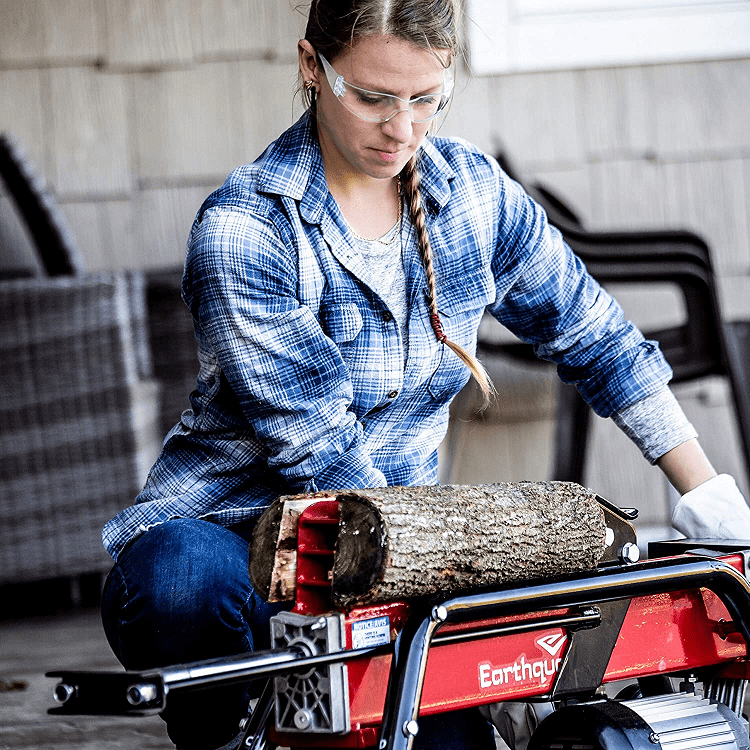 Large knots and wavy grain make for some truly tough splitting. While a really large gasoline-powered wood splitter may be able to take on rounds that look unsplittable, a 5-ton electric wood splitter is going to be more limited.
On our property, the hardest wood to split is Black Gum. In fact, if we cut down Black Gum, we use it for outdoor fires if the rounds are too big to fit in a stove whole because splitting it with a maul and wedge is next to impossible.
Always Practice Good Safety Procedures and Wear the Right Gear
Just because a log splitter is fairly slow-moving doesn't mean there is a lack of dangers. Splinters or even nails that have grown into a tree can become hazardous projectiles. Always wear at least a good quality pair of safety glasses or goggles. Hearing protection is not really necessary with an electric log splitter. Thick gloves will protect hands from splinters and scrapes.
When splitting logs, make sure that kids and pets are well out of the way. Rounds under pressure can sometimes fall to the side or shoot out faster than you expect. A 5-ton log splitter has moving parts that can pinch or catch objects. Children should never be allowed near a splitter in operation.
Electric Log Splitters Require Some Basic Maintenance
It is always a good idea to check your log splitter for any problems before using it. This is especially important if you didn't do it when you put it up at the end of the last firewood cutting season.
In general, you will have to do very little maintenance to get a long life out of your splitter. The main requirements are changing out the hydraulic fluid occasionally and checking for any cracks or splits in any of the metal housing.
When not in use, your splitter should be stored in a protected area where it is not subject to rain or snow. At the same time, if your splitter gets wet, it will probably be fine if allowed to dry out thoroughly. Electric motors are extremely tough and can handle accidentally getting wet occasionally over their working life.
Best 5-ton Log Splitters: The Bottom Line
When choosing a 5-ton log splitter, you need to consider your budget, how often you plan on using your splitter, and if the accessories available are adequate to meet your needs.
Of course, one must ask if a 5-ton log splitter is powerful enough for their needs in order to avoid disappointment and product failure. For the most part, a 5-ton log splitter is appropriate for a homeowner or someone with a 5-10 acre woodlot that they want to gather their own firewood from to heat their home, partially or entirely.
FAQs
Question: Are There Gasoline-powered 5-ton Log Splitters?
Answer: Most gasoline-powered log splitters have at least 6.5 tons of splitting power, but they cost significantly more than electric log splitters because gasoline engines cost a lot more. Electric log splitters are limited in power because they are designed so that homeowners can plug them into standard outlets and extension cords. This means that an electric log splitter cannot draw over 15 amps of current.
Question: Can I Just Rent a Log Splitter for Less Money?
Answer: Small equipment rentals are more expensive than you might think. It doesn't take many days of splitting wood with a rental to add up to a good chunk of what it would cost to buy a 5-ton log splitter.
If you experience a delay with a rental and have to keep it for longer to get your job done, pay for one or more extra days. In addition, a lot of equipment rental businesses stock really large gasoline-powered log splitters that are harder to move and way more log splitter than what a lot of small woodlot owners or homeowners need to take care of their firewood needs.
Question: Can Electric Log Splitters be Used Indoors?
Answer: You can definitely use a 5-ton electric log splitter indoors because they do not produce any harmful fumes as gasoline log splitters do. This means that if you have a heated garage or outbuilding, you can split firewood more comfortably, even if it is chilly outside, snowing, raining, etc.
Question: I Like a Log Splitter, but I See that There is no Stand Available. Can I Put a Log Splitter on a Bench or Table?
Answer: A 5-ton log splitter can be used on a bench or table for greater splitting comfort. The problem is lifting the splitter onto a bench. All the log splitters featured in this article are under 110 lbs, meaning two adults in good shape could lift the splitter, but it would mean lifting 47 lbs or more each.
Of course, if you choose to use your splitter on a bench, ensure the bench or table is sturdy enough to support the combined weight of the splitter and any wood you put on it without sagging.
Conclusion
A 5-ton log splitter is a great time saver for anyone that gathers their own firewood, buys unsplit rounds, or has a small woodlot on their property. Even the most expensive log splitter featured in this post is 1/2-1/3 of the cost of most gasoline-powered lot splitters.
A log splitter makes it possible for some people to use wood heat that otherwise would not be physically capable of gathering their own firewood or buying inexpensive rounds rather than split.