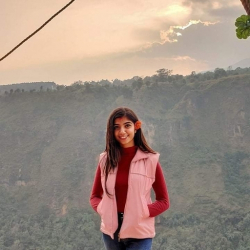 Latest posts by Rukmita Ghimire
(see all)
Do you like to heat your home with firewood? Do you use ax for splitting the logs? Do you want to get rid of physical exertion? Are you willing to shift to machine log splitter? But confused about which one to get? If your answer to all of these questions is a yes, then you'll find this article helpful.
Whether you're clearing your home or piling up the firewood, a log splitter is all you'll need. There is a majority of options for you to choose from. Light-duty log splitters are the best for home users as compared to heavy-duty ones. Amongst all, electric log splitters stand out the best for small-scale users. These are quiet, less polluting, and on top of that easy to maintain.
This article will include our top pick-up of electric log splitters based on durability, affordability, and product reviews. Also, we'll explain the things you need to know before buying the product, their pros, and cons, and end up with some frequently asked questions leaving our final verdict.
Top 8 Best Electric Log Splitter: At a Glance
What is a Log Splitter? What are its Options?
A log splitter is a tool that is used to split firewood from softwood or hardwoods logs. Many people complain about the use of traditional log splitters like an ax – which requires a lot of effort and physical involvement. As well as the downside includes – unfortunate wear and tear effect on your body. Splitting with an ax is time-consuming and requires a lot of energy.
That's the reason why people have shifted to using machinery-splitting tools. These tools eliminate the recurring issues of ax getting stuck in the woods – every time you struck it. There are various types of log splitters among which manual-hydraulic, gas-powered, and electric are more in use.
Why Electric?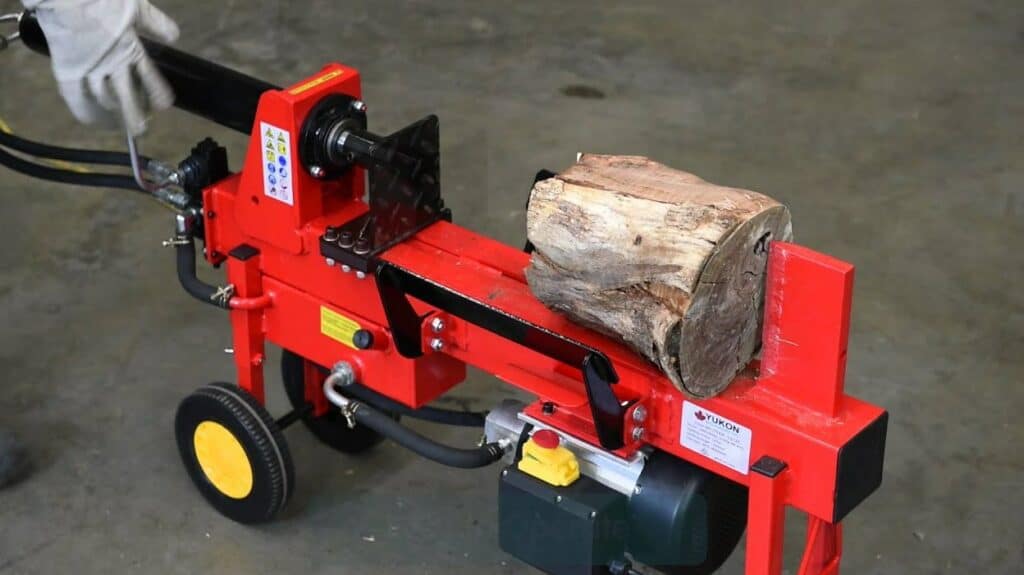 Electric log splitters are powerful, easy to use, and have long-lasting use. They require low maintenance, eliminates the need for a gas refill, and are best used indoors or outdoors. Since they're electrical and do not require gas or petrol, there's no need to worry about poisonous emissions. Electric units are quiet and less polluting as compared to gas-powered ones.
They are cheaper plus have low maintenance requirements – easily affordable. Plus, they are easy to use and no guidance is required. Easy-to-maneuver and easy to operate are its positive sides.
Electric log splitters are lighter as compared to gas-powered ones, making them suitable to carry to your desired locations. Besides this, it is a perfect tool for homeowners or small-scale use. The power delivered by them is sufficient for splitting logs.
Things to Consider When Buying an Electric Log Splitter
Choosing any particular product, if provided with many options, is burdensome. It's better to start seeking after you're clear about the dos and don'ts of buying a log splitter. A perfect electric log splitter is on your table only if you can answer your doubts.
Here are some things you should think of so that the product you buy is worth every penny.
Tonnage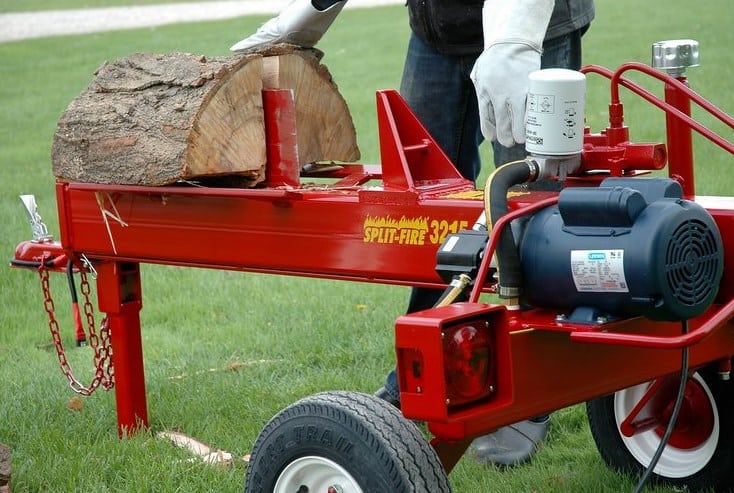 Power is the first thing we look after in any power tool. Tonnage is technically the maximum power splitter delivers for splitting the log. In the case of log splitters, the tonnage of the machine is directly linked with the types of wood. That means green logs require more power than seasoned logs.
Besides that, electric log splitter comes with low power than gas-powered ones. But if you're looking for a splitter that can run over harder or knottier logs, check one with high power. Electric log splitters with a 5-9 tons range can easily do regular splitting jobs.
Check out related guides on how to find the best log splitters if you're looking for a:
Type and Age of Wood
The selection of your log splitter also relies upon the type of wood you're willing to slice up. The majority of trees fall under two main categories .i.e. deciduous and evergreen trees. Since the deciduous trees have densely packed cellular structures, these are hardwood. Likewise, the woods of evergreen trees are softwoods. It's easier to split softwoods than hardwoods.
As we mentioned above, green woods require more power and are dense to cut. So if you are looking for an electric log splitter lookout for the one that can handle its heaviness.  Or else, allow the woods to dry out.
Log Size
It is an important consideration to be made during purchase. Make sure the log splitter you're about to buy can split the logs of the size you require.
Splitting Cycle Time
It is the amount of time any log splitter takes to split the logs. Plus, the time is taken by the ram to return to starting position for the next log. For your work to complete in less time, you want to buy a splitter with a quick splitting cycle time.
Mobility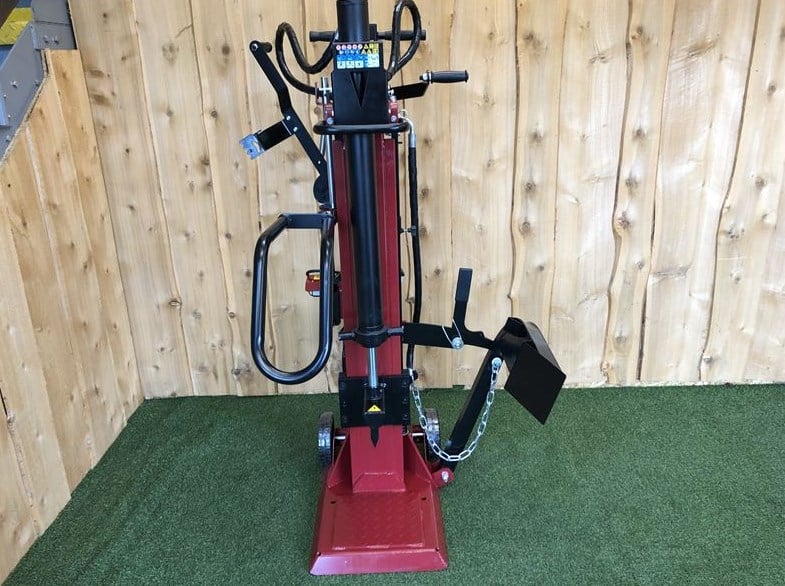 We've selected all the splitters that are easy to move. This is the major advantage of using the electric log splitter. It is one of the best options for you to use both indoor and outdoor.
Vertical or Horizontal
Most of the splitters we mentioned are used in horizontal positions. However, there are some splitters like Southland Outdoor Power Equipment SELS60 Electric Log Splitter that can be used in vertical position.
One advantage of vertical position is that you don't need to lift each log up to the rack. Plus, it is easy to store. If you want to split larger logs, it's better to use splitters with both options. Unfortunately, there are no such options for home use electrical splitters as they can not handle heavier, larger logs.
Besides all these, there are few other things to look after. You don't want a product that's too noisy, doesn't have proper safety control. Also, make sure to watch out for its weight and size for easy maneuverability.
Selection Criteria
We've been telling you, convenience is the key to any power tool. Troubleshooting is the last thing you want to deal with. You want the best product that does all of your work with zero problems. Keeping all that in mind, we've selected some of the best electric log splitter options.
The selection basis is quite simple. We filtered out some of the best electric log splitters based on the power they deliver, affordability, maneuverability, durability, portability, and product reviews. With thorough research and consumer feedback, we've picked the top eight electric log splitters for you.
Besides that, you'll notice that some products have similar log capacity. In such cases, make sure you check the power it delivers and the automatic ram return so that you can figure out the time it will take to split the log.
Best Electric Log Splitter Options
1. Boss Industrial ES7T20 Electric Log Splitter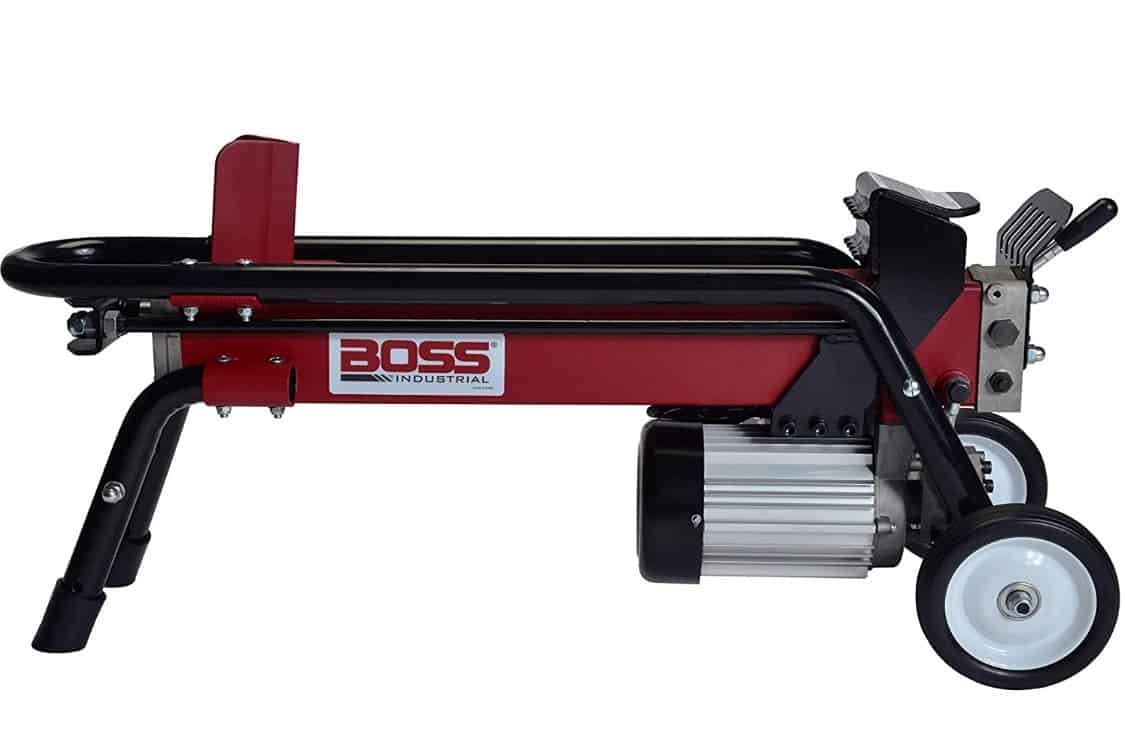 Boss Industrial ES7T20 electric log splitter is a top-rated electric log splitter with excellent quality and performance. This is a power splitter with a 2 HP electric motor that delivers a splitting force of 7 tons.
The convenience and portability feature is what makes it one of the best options for homeowners. It is easy in maneuvering because of the front handle and one-handle operation. There is no chance of gas emission and allows you to split either indoors or outdoors.
It also features automatic ram return that increases the working efficiency. The boss is portable in the sense that it features a 7″ built-in wheel. With a low weight of 106lbs and a built-in wheel, you can take it to wherever you need.
This is, in fact, the top recommendation for you if you are looking for small-scale use. It comes with a 2-year residential warranty and has a fair long-run price.
Pros
Easy and convenient
Lightweight and Portable
Powerful Splitting force
Has safety features
Cons
Doesn't include a frame or stand
2. Powerhouse XM-380 Electric Log Splitter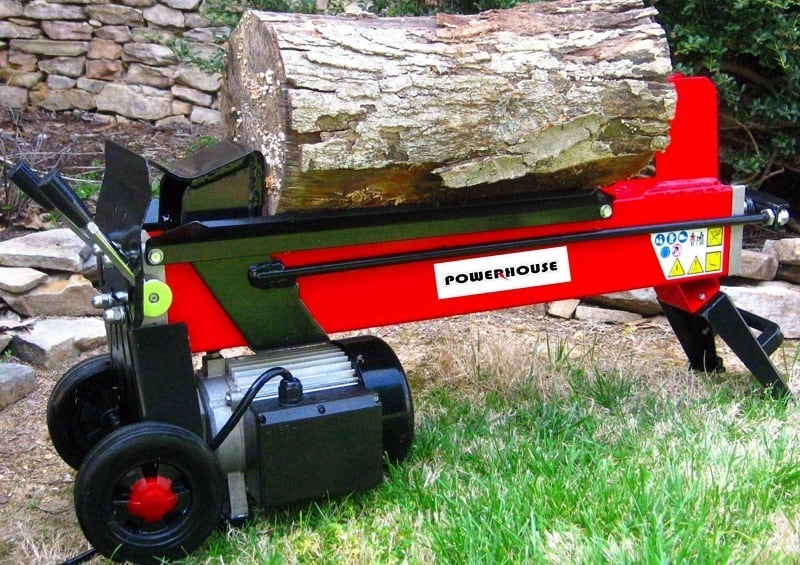 With a working rate of more than 100 logs per hour, the Powerhouse log splitter brings you its light-duty machine. Powerhouse XM-380 electric log splitter comes with a motor of 3.5HP/2200 W. It delivers the splitting force of 7 tons which can easily run over the log of length 20.5″ and diameter 12″.
The machine gives an optimum result with 3500 rpm and takes just 6-seconds to split the log. This machine has more safety features like two-handle operation and automatic ram returns. It provides minimal time and effort to load the next log.
Electric log splitter adds one additional merit to the user – allows you to use it indoor or outdoor. This machine values safety, convenience, and easy maneuvering.
Pros
Lightweight (104 lbs) and portable (with built-in wheels)
Powerful motor
Two-hand safety control
Durable steel construction
Cons
Slow working rates
3. Powerhouse XM-580 Electric Horizontal Log Splitter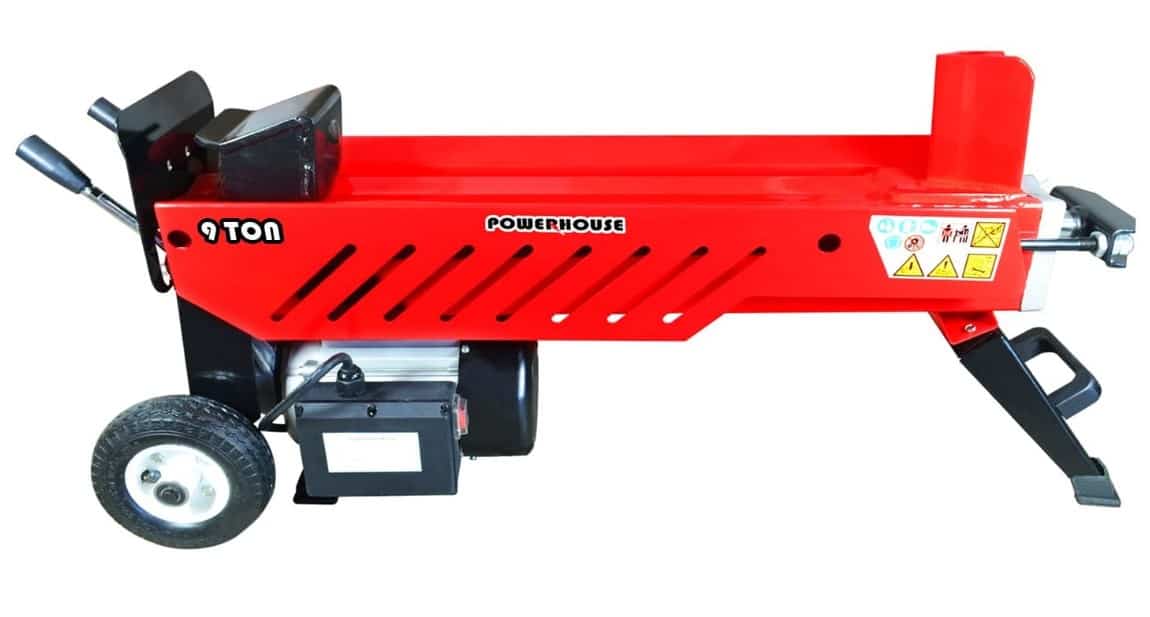 Just when we think of the 380 as a slow worker, the Powerhouse Log Splitter brings the 580. Powerhouse XM-580 9 ton Electric Horizontal Log Splitter delivers optimum results with its commendable log-splitting performance.
It has a 4HP/2900W motor with the capability of handling logs up to 20″ long and 12″ in diameter. Designed with a patented hydraulic ram design, this delivers increased torque by as much as 45%.
As it is an electric motor, you need to worry less about fumes and noise during operation. You can use it either on the ground or on the bench, outside or inside, because it does not emit any fumes.
Pros
Quiet, no fumes, no compression needed
Easy to use
Strong, powerful, and durable
Smooth cut and resets quickly
Cons
Low to the ground for loading
4. WEN 56207 6.5-Ton Electric Log Splitter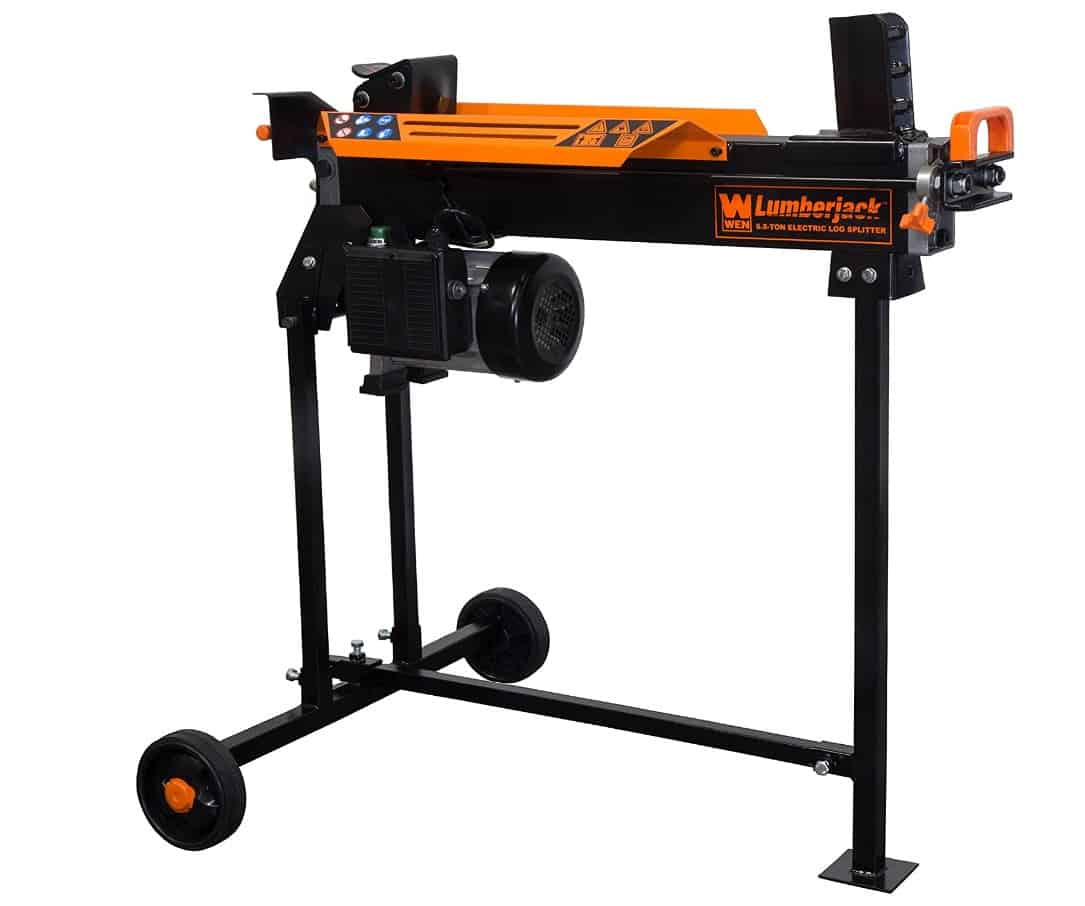 The powerful WEN 56207 Electric log splitter comes with a 15-amp motor that creates 13,000 pounds of log-cracker. A 2.5 HP motor with 6.5 tons of splitting pressure works easily on logs of 10 inches diameter and 20.5 inches length.
It comes with 34 inches sturdy stand. However, you can directly assemble the wheels to the body for a low-profile design. Forget about the cold starts or clogged carburetors, electric log splitter gives you freedom from these problems.
This can run over the hardest of woods. All thanks to its 20-second cycle time, a 14.75-inch cylinder stroke, a 16-square inch push plate, and a 5-inch Splitting Wedge. It comes with a two-handled operation system to maximize safety.
It is an easy tool for outdoor use all because of its onboard pull handle and the two never-flat 5.5-inch wheels. You don't need to worry more about environmental safety as it is fumes-free. This is a wholesome product for your day-to-day use.
Pros
Side-mounted support wings
Auto-return
Versatile
Spacious
Powerful and Portable
Easy-to-use
Adjustable
Cons
Complicated to assemble
5. Sun Joe LJ602E Electric Log Splitter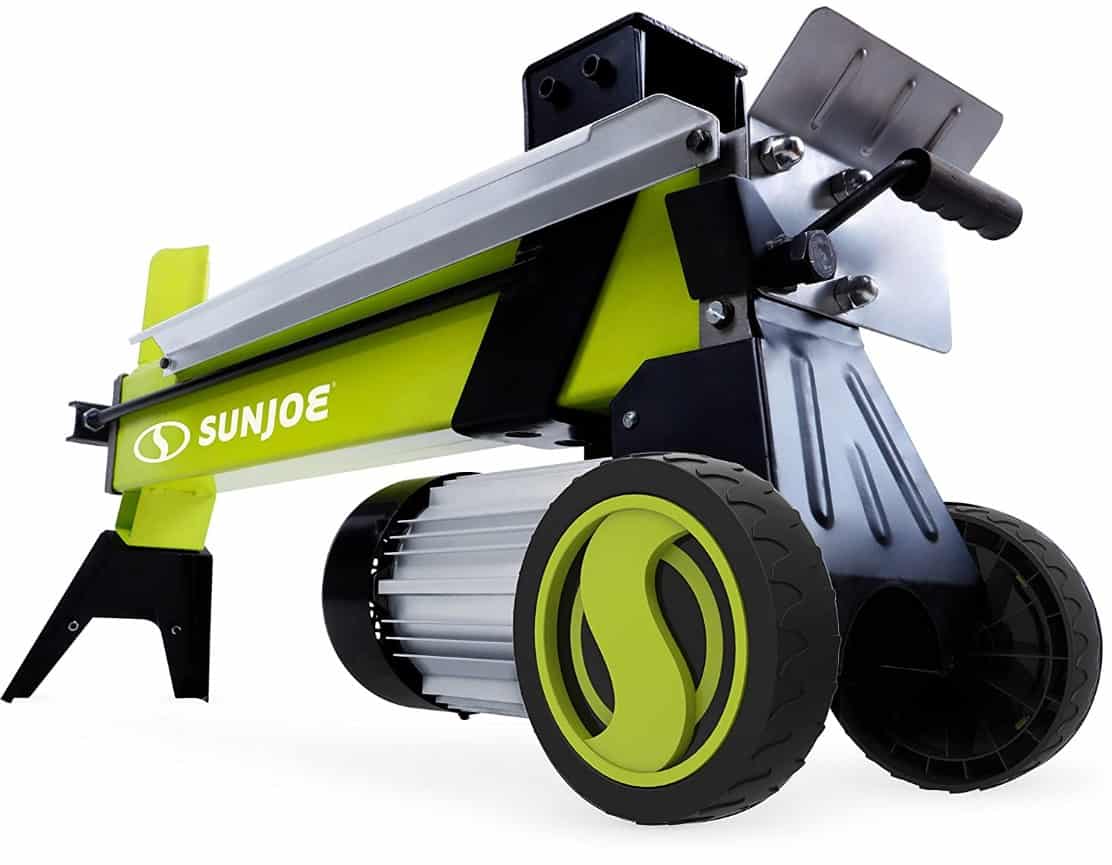 Best for light-duty work and backyard chores, Sun Joe brings you an LJ602E Electric Log Splitter. With a powerful 15-amp motor and 5 tons of driving force, you can easily split the logs of 20.5 inches long and 10 inches wide.
Its durable steel construction ensures long-lasting wear. Plus, it's equipped with a rear wheel so that you can take them wherever you want. the safety features include dual-hand operation and an overload circuit reset button.
All you got to do is load your lumber – simultaneously engage the hydraulic control and push-button switch – now watch the hydraulic-powered log pusher splits the log around the rail. Soon you'll notice a big pile of your firewood. Another plus point is it's approved by ETL inspection and has a two-year warranty.
Pros
Durable with a long-lasting frame
Advanced safety features
Budget-friendly
Perfect for home users
Powerful 15 amp motor
Cons
Limited to a small duty work
6. YARDMAX YSO552 Electric Log Splitter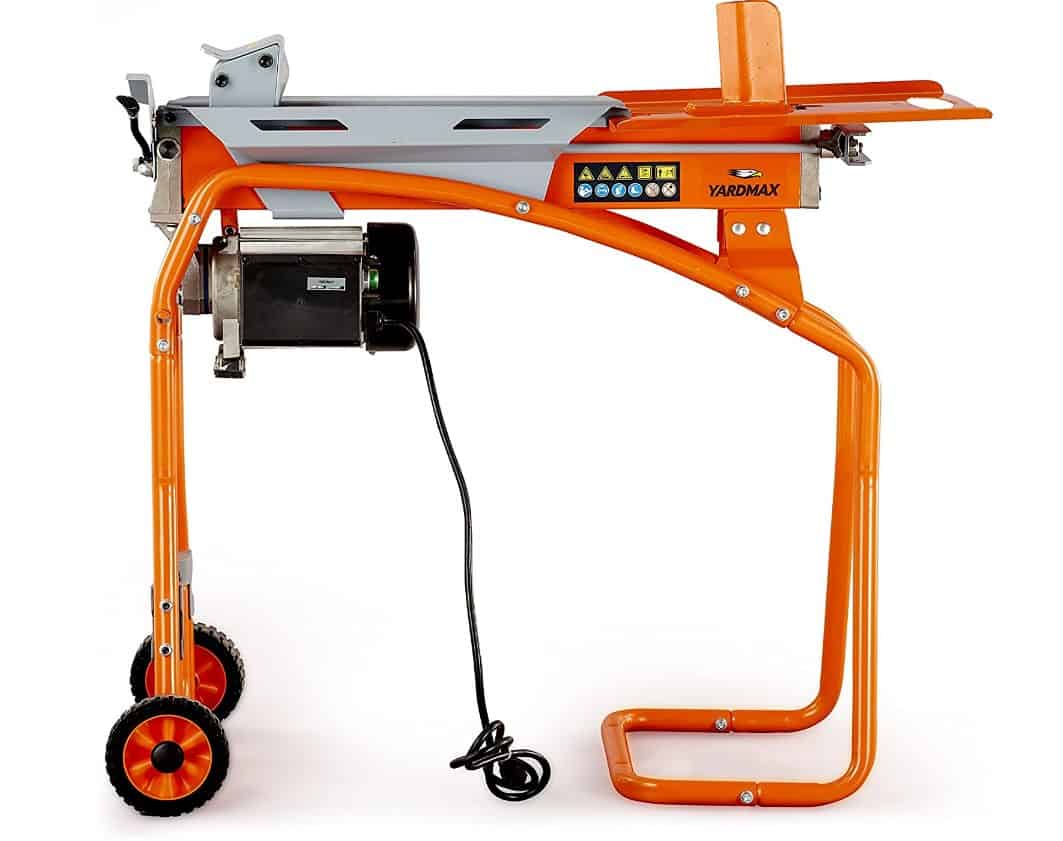 Yardmax has been providing durable products for both typical homeowners and professionals. It offers the perfect combination of practicality and performance with a guarantee to get the job right.
This time it brings to you YARDMAX YSO552 electric log splitter. It makes log splitting simple and efficient with a 15 amp electric motor. The splitting is easy and quick all because of its 5-ton splitting force that allows you to split the log of 20.5″ long and 10″ wide.
Like other log splitters, it features a 7″ wheel and is portable. This electric log splitter also features a two-handed operation for users' safety. Another plus point is its versatility. You can operate the machine with or without the stand. That's solely your choice.
You'll be overwhelmed by the log tray feature that ensures split logs lay safely. It eliminates the burden of bending over and picking the logs.
Pros
Minimal Assembly required
Portable and lightweight (108 lbs)
Stroke limiter
Includes stand and tray
Cons
Low splitting cycle (16 sec)
Comparatively low power
7. Southland Outdoor Power Equipment SELS60 Electric Log Splitter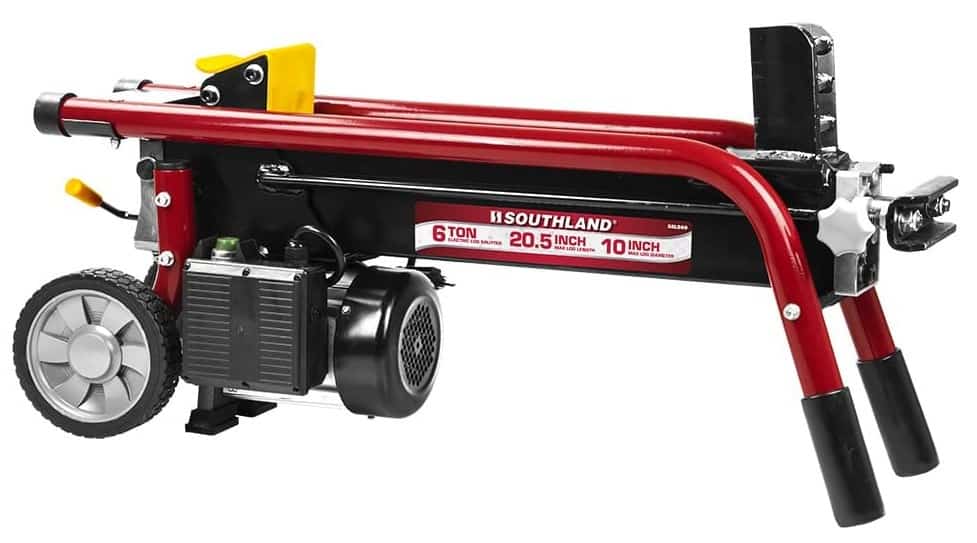 This is another best option for home users. It comes with a 1.75 HP, 15 Amp heavy-duty induction motor. The machine carries the power of a 6-ton driving force that can easily split the logs of about 20 inches long.
Furthermore, there is an 18 second reset time and integration of the stroke limiter option that allows you to move quickly through your job. In comparison to other log splitters, there is an option where you can use it either vertically or horizontally.
Besides maneuverability, it has the best portable functions. All because of the 7″ wheel that allows you to take the machine wherever needed. It is also able to be stored vertically – save space.
Pros
Vertical as well as horizontal operation
Easy to store
Portable and easy to use
Stroke limiter
Cons
Low to ground
Slow splitting cycle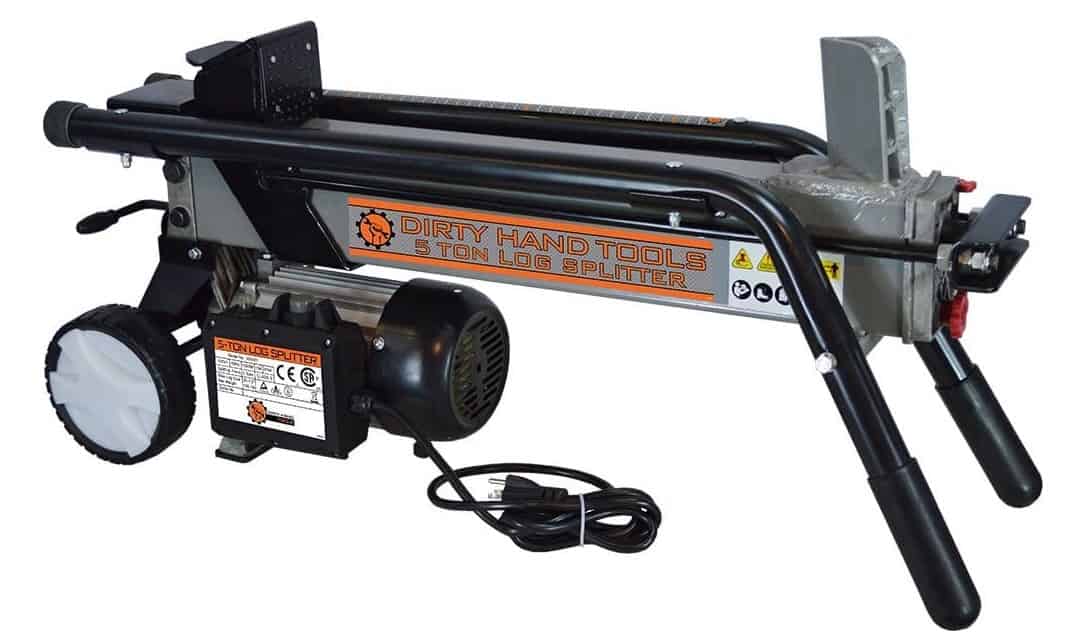 The search for a durable and reliable electric log splitter ends with this product. This model has a powerful 15 amp 2HP motor that allows you to split logs in a short time. Compared to other splitters, you can plug this product into regular household service using 6 foot grounded, 3 prong connection.
This product is equipped with 16″ flat-proof road wheels that help you move the machine anywhere needed to be. It delivers 5 tons splitting force with a 25 sec cycle time, that can split a variety of wood types up to 20.5 inches long.
What's more, is it comes with built-in log cradles, a hands-free auto-return valve, and is ready to use with hydraulic fluid already added. The product also features a safe two-handed operation.
For those of you who want to split a lot of wood without the hassle, this is a perfect choice. With two gripped handles you can move the splitters with ease. Overall, this machine is fast, dependable, easy to use, and plugs into a regular power outlet.
Pros
Powerful with 2 HP motor and 5-ton splitting force
Easy-to-operate
Versatile with 17.7″ working height
Efficient
Dependable
Cons
Limited to homeowners
Less power compared to other log splitters
FAQs
Question: How can I Maintain the Electric Log Splitter?
Answer: Every log splitter comes with an operation manual that includes maintenance tips. The steps can vary with the product. However, for keeping your tool in top-notch condition – make sure the hydraulic fluid is not leaking, fill in with hydraulic fluid at a regular time, lubricate the beam, clean the log splitter, and store it in a dry place.
Question: Why Should I Use a Log Splitter?
Answer: Using a log splitter saves you time and effort. Compared to the pain and time you needed to spend on the ax, this gives the result in seconds. Along with that, it is a lot safer and easy to use.
Question: Should I Select Log Splitter with a One-handed or two-handed Operation?
Answer: One-handed operation log splitter is more convenient. On the other side, a two-handed operation log splitter is safer. Considering the fact that we're always alert while using a power tool, a one-handed operation is better.
The Final Verdict
Electrical log splitters are the best option for those of you who use firewood more often. Specially designed for residential use, they run off your 120V wall plug. Its portability, lightweight, and easy-to-use feature are the other features we should talk about.
Provided with mobility and low-maintenance options, electric units are the best ones you can have. If you're looking for one with a good affordable price and advanced features, we recommend you Boss Industrial ES7T20 electric log splitter. But, if you're willing to pay a little more and have one with versatility, then choose WEN 56207 Electric log splitter.