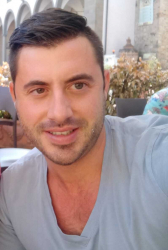 Latest posts by David Borgogni
(see all)
If you're on the lookout for a new chainsaw, then you've come to the right place. In this Husqvarna 395xp review, we'll be taking an in-depth look at one of the industry's longest and most powerful tools. Designed and built for professional loggers and foresters, this is a beast of a power tool.
Husqvarna is a brand that needs no introduction. It's a name synonymous with quality and has been one of the most popular chainsaw manufacturers in the country for many years. Models such as the 350 and 450 cemented Husqvarna's place as the go-to for industry pros but do their latest model, the 395xp, live up to the billing?
In this article, we'll be examining the main features of the 395xp, assessing its pros and cons, answering some of the most frequently asked questions, and even providing some alternatives for you to have a look at. Once we've looked at those, we'll round off with some thoughts of our own about who this saw suits best.
But before we get into the details, let's have a look at an overview of the Husqvarna 395xp.
Key Specifications of the Husqvarna 395xp
| | |
| --- | --- |
| Power | 6.6 horsepower |
| Max RPM | 12,500 |
| Weight | 17.4 lbs |
| Power Source | Gas |
| Noise Output | 115 dB |
| Cutting Arm Length | Up to 36 inches |
| Latest Price | Check here for the latest price |
Core Features of the Husqvarna 395xp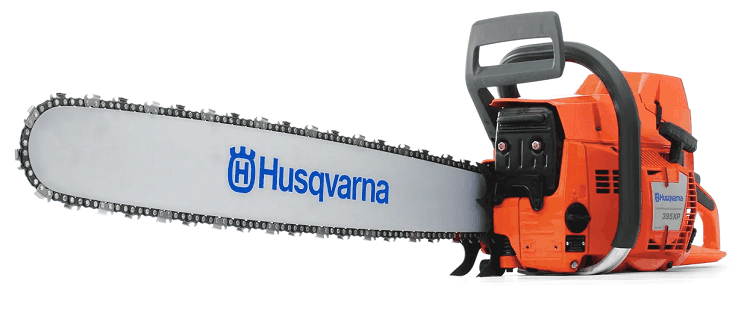 Described as 'one of the world's most capable and legendary chainsaws,' Husqvarna's 395xp has been built from start to finish with the pros in mind. There is a focus on balance to ensure even the toughest of jobs can be completed efficiently, even with the ultra-long 36-inch guide bar.
The clutch has been built with an aggressive spec, allowing the large power levels to be harnessed well and converted directly into raw cutting power. A wider than average clutch cover also ensures effective wood chip dispersal, allowing users to elevate their work and performance to the highest level.
But how does Husqvarna achieve this? Let's have a look at the 295xp's core features and find out.
Air Injection
A cleverly designed centrifugal air cleaning system removes larger bits of debris and dust particles before they have the chance to clog the air filter. The result of this reduces the number of times the air filter needs to be cleaned and greatly improves engine life.
Adjustable Oil Pump
The adjustable oil pump allows users to gain full control of il flow within the engine. This can be configured depending on the job at hand and the weather conditions in which you're working, allowing for greater overall control and precision in your work.
Quick Release Air Filter
Gaining quick and easy access to the air filter is vital to efficient operations. If you run into any issues while out on the job, then clear the filter quickly can be the difference between finishing the task and having to stop. Husky's quick-release mechanism makes sure this is never a problem and can even be used when wearing safety gloves.
Magnesium Crankcase
A crankcase built using magnesium means it's built to last. Designed to withstand everything regular use can throw at it, the 395xp crankcase is constructed to work under extreme stress, including high RPM, torque, and temperature.
The crankshaft is also a forged three-piece design for ultimate strength and durability.
Safety Features (Including LowVib)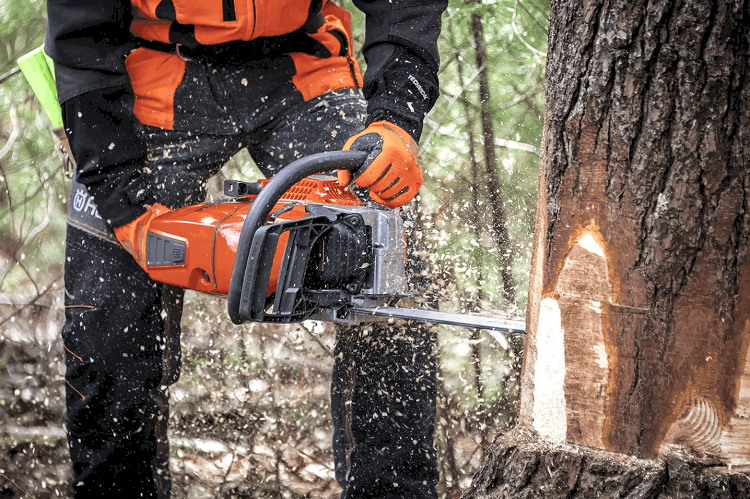 As with many previous models, Husqvarna's LowVib technology has been included with the 395xp. This means that both the handles and engine are isolated, dramatically reducing the impact that vibrations have on the operator's hands and forearms. This helps with fatigue daily and guards against any long-term physical effects caused by the vibrations.
An inertia-activated chain brake is also included. This is another of Husqvarna's essential safety features that are included with most of their chainsaws. If an accident like an operator fall or the saw is dropped, on the impact, the chain stops rotating immediately and dramatically reduces the risk of any severe injury.
Similarly, a 'dead man's switch' is also built into the design. This means that as soon as pressure is no longer applied to the throttle, the chain will stop rotating.
Smart Start
Getting gas-powered tools going can sometimes be tricky, particularly if it's a cold enter morning and the unit is yet to be fired up. However, with Husqvarna's smart start, these issues are a thing of the past. The engine has been designed so that it fires with minimal effort.
Felling Marks
These distinct markings are present on the back of the saw, right in the eye line of the operator. Used as a guide for falling timber, these markings help you line up trees that are being felled, helping to cut them down safely.
X-Torq Engine
An important part of Husqvarna's engine design, X-Torq comes as standard with the 395xp. This means that the engine uses up to 20% less fuel than previous models while producing the same high levels of power. It also helps Huskys to produce fewer emissions, a huge bonus if you're going to be using one all day or are working in a conservation area.
High Cutting Capacity
As a professional-grade tool, you would expect a high level of cutting capacity. Thankfully the 395xp delivers with not only its hugely powerful and efficient engine but also with its cutting bar that is available up to an incredible 36 inches long.
This is the longest cutting bar featured on a Husky, meaning the maximum reach is obtained. Of course, this cutting bar is also removable to allow for a smaller size to be fitted, depending on what the job requires. The 395xp is available from 20 to 36-inch bars.
The newly designed X-Torq engine includes a wide RPM range for peak performance, even when being used for heavy-duty work. The added cutting power means this is a highly efficient tool, even when being used with full-length guide bars.
How Does the Husqvarna 395xp Chainsaw Perform?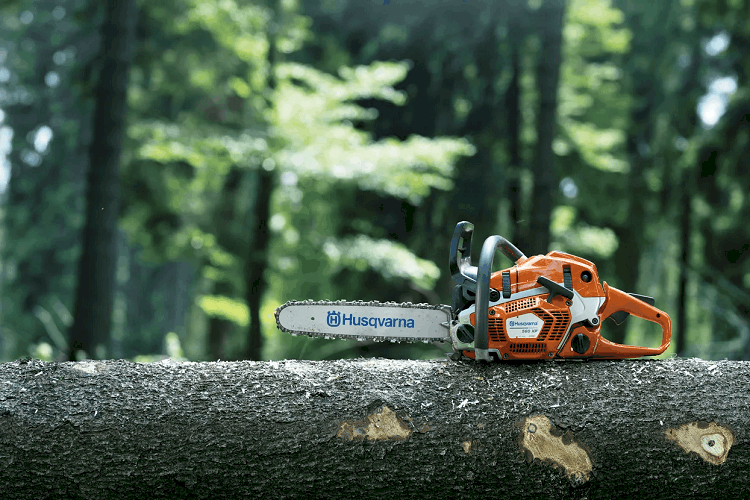 To put it simply, very well. The 395xp is a step up from the previous generation of professional-grade saws. The core features that we mentioned, like the upgraded cooling and air filtration systems, allow this tool to keep operating well after less powerful models would have to quit. This creates an ideal tool to get the job done in even the harshed conditions from a professional standpoint.
The cutting bar is 36 inches long as standard. This is 8 inches longer than their other longer models like the 572xp (check out our full review and guide of that model here). This makes the 395xp perfect for cutting down the tallest trees where professionals require heavy-duty tools.
As mentioned, the cutting bar is interchangeable, so if you only want the one chainsaw to use across multiple jobs, then 395xp can be adapted and used with a cutting bar as short as 20".
There are plenty of other clever elements that help this chainsaw achieve its incredible performance. Away from the obvious benefits of raw power and cutting arm length, things like having a smart start, quick release air filter caps, and felling guides help it work optimally and perform when used by the pros.
The Smart Start feature works by reducing the starter cord resistance, meaning less force is needed to pull it and get the motor firing. There is also an automatic choke, allowing the first pull on the cord to start the engine most of the time (there is even a manual override if you would prefer to set the choke by hand).
Another excellent feature that worked well during our testing was Husqvarna's AutoTune. This works by automatically adjusting the carburetor depending on current working conditions. This saves both time and energy, allowing the engine to operate consistently well.
Then you've got the 395xp's awesome feeling. The well-designed ergonomic handles are covered in a rubber material that makes holding this chainsaw feel great. A solid front auxiliary handle wraps its way around the outside of the casing at a precise angle, and there is a secure secondary handle at the rear.
This is where you'll find the accelerator complete with a dead man's switch. Husqvarna needed to get the handling right due to the size of the tool – if it was difficult to maneuver, it would be next to impossible to use.
At the end of the day, this is an excellent tool. It performs well and feels great. What more could you want? The price Husqvarna has set for this saw reflects its quality and performance, so it will inevitably limit the number of people who choose to buy one. But if you can get past the eyewatering price, there are few better options on the market today.
Pros of the Husqvarna 395xp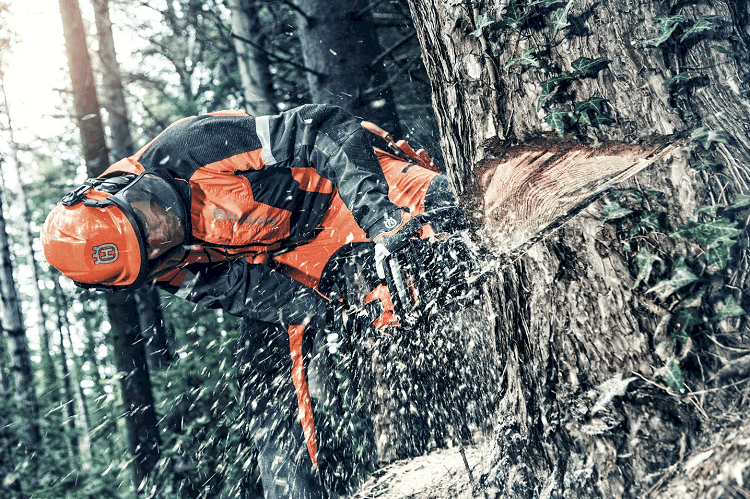 There is plenty of good points to get excited about when looking at Husqvarna's 395xp. Here are our favorites.
Powerful & Efficient Engine
The 395xp features an engine that produces 6.6 horsepower. That's way more than enough to tackle the majority of forestry jobs and even allows you to take on the very tallest trees mother nature can throw at you. When you think that the 395xp also features Husky's X-Torq technology, it makes for a powerful combination. The X-Torq design improves both fuel efficiency and reduces overall emissions.
Cutting Reach & Power
The second major positive about this chainsaw is its enormous reach and cutting capacity. As standard, the cutting bar is 36 inches long, helping on those mammoth jobs. However, thee clever design also allows the chainsaw can also be used with a much smaller cutting arm of around 20" if needed, thanks to its adjustability.
This makes it not only one of the largest and most powerful saws Husqvarna produces but also a highly versatile option for commercial outfits.
Upgraded Cooling & Filtration Systems
While they may not get as much attention as the engine size of cutting arm length, the next-gen cooling and air filtration systems are vital to the success of the 395xp. Without them, the engines would not function anywhere near their capacity, and efficiency would drop dramatically. In addition, keeping the engine cool and preventing large debris build-up allows this saw to work hard for longer.
AutoTune
Another huge benefit of going for the 395xp is the addition of Husqvarna's AutoTune tech. It automatically analyses and assesses your current working conditions and optimizes the carburetor accordingly. This means that even with little input from the user, this saw runs effectively.
Cons of the Husqvarna 395xp
Even though we have been singing the praises of the 395xp, there are a few downsides that potential users should be aware of before pressing ahead and getting one.
Price
The first and most obvious one is the price of the unit. At over a thousand dollars, this is not a cheap chainsaw at all. This may not be an issue for professional outfits, thanks to its supreme productivity, but for your average user, there are plenty of cheaper options on the market.
Size/Weight
The other major downside is the size and weight of this thing. Given the power it generates and the size of the cutting arm, its weight is no real surprise, but for anyone looking for a nimble saw to use day to day, this probably isn't it.
Are There Any Alternatives?
Husqvarna 450

The Husqvarna 450 Rancher is one of their most popular chainsaws, and for a good reason! It's a large but not huge tool, so it's smaller than the 395xp but not compact.
This results in an excellent all-around chainsaw that suits the majority of users, ones that need to work on larger trees but who also value the maneuverability of a slightly smaller model. You can read our detailed Husqvarna 450 Rancher review and guide for the full low down.
Stihl MS251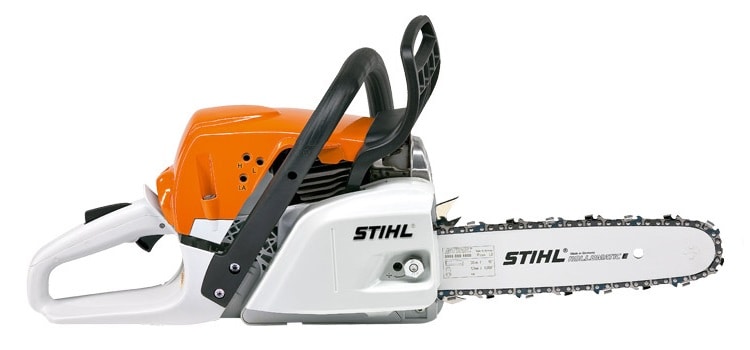 The MS251 from Stihl is another solid option for most users. A direct competitor to the 450, the MS251 provides an excellent cutting experience while being able to keep up with more powerful models like the 395xp. With Stihl, you know what you're getting; supreme quality at a good price. Definitely, one to check out for a chainsaw enthusiast. You can even get full info in our recent Stihl MS251 review and guide.
FAQs
Question: Is Husqvarna chainsaw a good brand?
Answer: There are two brands considered premium when it comes to chainsaws; Stihl and Husqvarna. When purchasing a product from either of these companies, you can rest assured that you are investing in quality.
Question: How Long is Husqvarna's Warranty?
Answer: Husqvarna offers warranties for 24 months (2 years) for domestic customers and 12 months (1 year) for professional ones. Remember that in order for your warranty to be valid, you must register it with the manufacturer.
Question: What Does the Husqvarna Warranty Service Cover?
Under a warranty service, Husqvarna will cover defects in materials used or caused by workmanship under normal working conditions for the duration of the warranty period. During this time, Husqvarna will replace or repair parts or products that prove to be defective due to poor workmanship or materials at no cost.
The Final Word – Is The Husqvarna 395xp a Good Chainsaw?
There is no doubt in our minds that the 395xp is yet another quality chainsaw from Husqvarna. It represents a modern chainsaw packed with features that is ready to take on the very largest jobs, making work easier for commercial users.
Its mammoth size, incredible power, and solid build make it the perfect choice for any situation where only the best will do. While this limits it to a specific scope of the job, there are few better equipped on the market to tackle them.
However, there are plenty of alternatives available. The 450 Rancher, for example, is one of Husky's most popular models and is well suited to take on a wide range of tasks, despite not having the size advantage of the 395xp. Similarly, Stihl's MS251 is another excellent tool that should be considered.