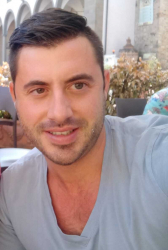 Latest posts by David Borgogni
(see all)
If you're on the lookout for a new chainsaw, then you'll no doubt have considered getting a Husqvarna. They have a long history of producing some of the best chainsaws around, and one of their latest, the 572xsp, is no different. This is the Forestry Pros' Husqvarna 572xp review and guide.
There is pretty much a Husqvarna chainsaw that suits any situation imaginable. From the smaller models like the 120 through to larger, more powerful tools like the 450 Rancher, there's a Husky for everyone. However, today we're looking at one of the big boys, the 572xp. The 572xp is aimed at professional use for commercial forestry work. Consequently, it's got more power than almost any other model, comes packed with more features, and weighs a ton more.
Husqvarna 572XP | eBay
Tested in the world's most rugged environments, the Husqvarna 572 XP® is ready for demanding work by forestry and tree care professionals.
Check Prices
We earn a commission if you make a purchase, at no additional cost to you.
In this article, we're going to be examining the 572xp in detail, exploring its key features and how they could impact your work, laying out the pros and cons associated with it, giving some of our own thoughts on the tool, and even giving you some alternatives to think about.
But before we get into it, let's take a look at an overview of the Husqvarna 572xp's core features.
| | |
| --- | --- |
| Power | 5.8 horsepower |
| Dimensions | 18.1 x 9.5 x 11.8" |
| Weight | 14.5 lbs |
| Power Source | Gas |
| Noise Output | (LWA) 120 dB(A) |
| Cutting Arm Length | 28" (adjustable) |
| Latest Price | Check here for the latest price  |
Core Features of the Husqvarna 572xp
The 572xp is one of Husqvarna's flagship models. This means it is packed to the roof with cool features and optional extras. It's been designed with the world's toughest work environments in mind and is ideal for forestry workers and industry professionals. It weighs 14.5 lbs and commands a more impressive power to weight ratio and 12% more cutting power than any of Husqvarna's previous models in the same class.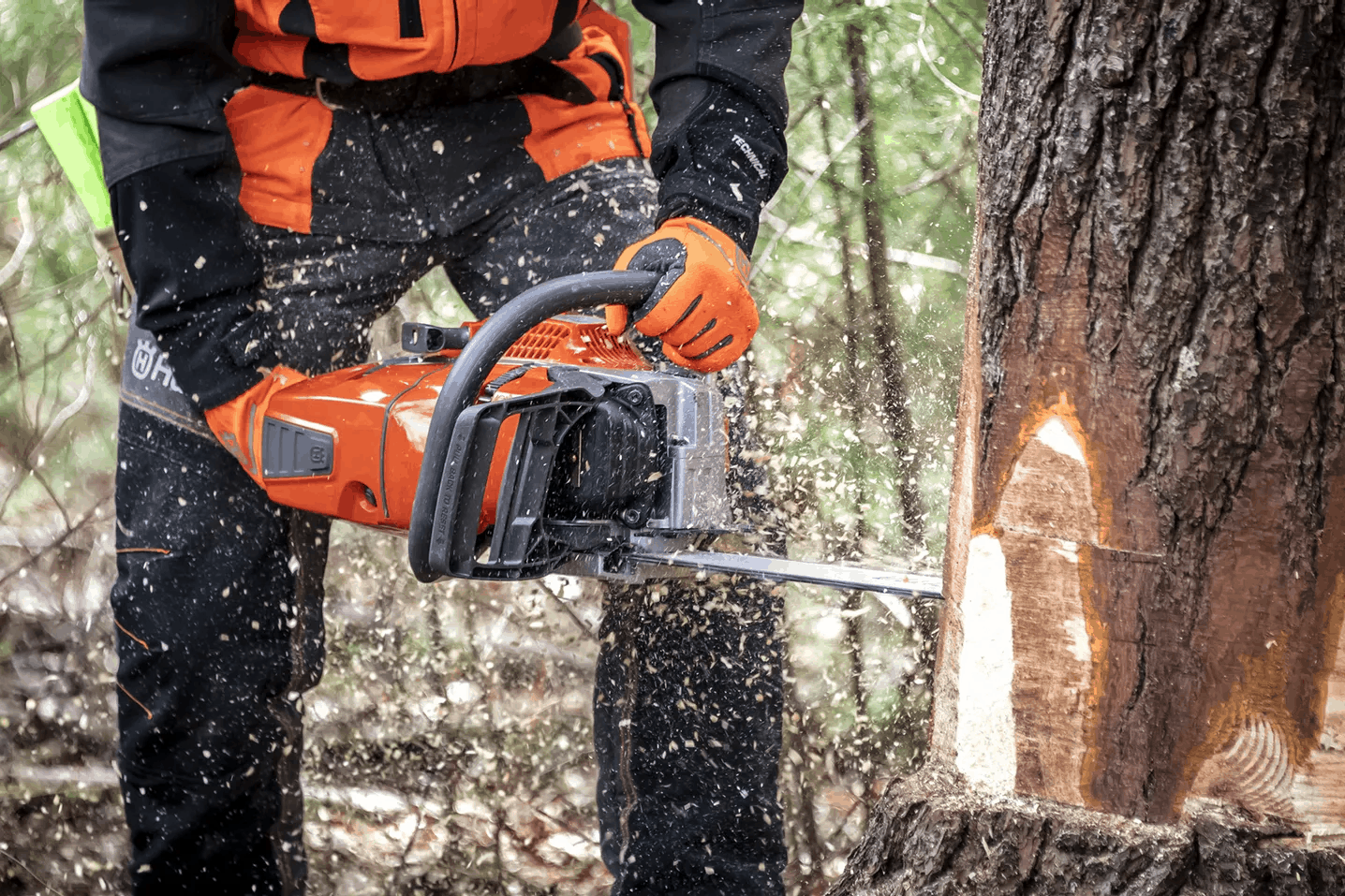 There are some really cool features included as standards like enhanced cooling systems, heavy-duty filtration mechanisms, extended guide bars, and AutoTune, amongst a whole host of others. Husqvarna also claims that using this chainsaw allows you to work longer and harder every day, thanks to its fatigue-reducing technology.
Extreme Power
The first thing to note about the 572xp is its power. It houses a 5.8 horsepower engine that produces a better power to weight ratio than any previous Husqvarna chainsaw. That's some serious power when you consider how long this company has been producing top-of-the-line gas-powered chainsaws.
X-Torq
A staple of Husqvarna engine design, X-Torq comes as standard with the 572xp. This means that the engine uses up to 20% less fuel than previous generations while producing the same levels of power. It also helps Huskys produce less noxious gas, a huge bonus if you're using one all day.
High Cutting Capacity
As a professional-grade piece of equipment, you would expect a good level of cutting capacity. Thankfully the 572xp delivers with not only its powerful and efficient engine but also with its 28" cutting bar. This is the longest cutting bar featured on a Husqvarna chainsaw, meaning the maximum reach is obtained. Of course, this cutting bar is removable to allow for a smaller size, depending on what the job requires.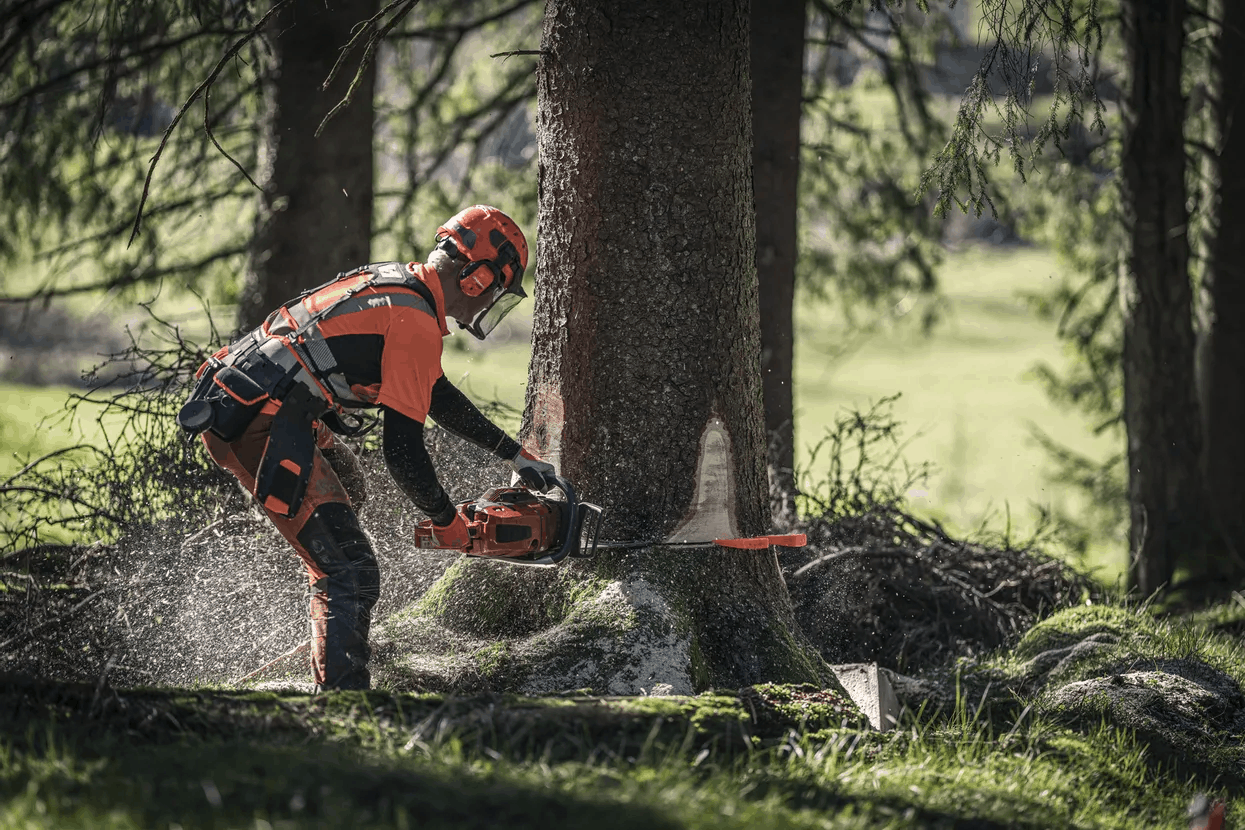 The newly designed engine includes a wide RPM range for optimal performance, even when being used for heavy loads. In addition, the added 12% cutting power means this is a highly efficient tool, even when being used with longer guide bars.
State of the Art Air Filtration
The new and improved heavy-duty air filter means longer life and better filtration. The filter is equipped with a much larger surface area than in previous generations, which means more air can be filtered before entering the engine. This leads to a healthier engine and better optimized overall performance.
Brand New Cooling System
The brand new cooling system has been redesigned from the ground up. While Husky has never had an issue with their cooling systems, introducing so much more power to a new model begged the question: could the original cooling system handle it? Rather than leaving anything to chance, the engineers at Husqvarna set about designing and building one of the best cooling systems available in a chainsaw today. This ultimately means the power can be transferred to the chain for extended periods without fear of overheating.
Safety Features
As with many previous models, Husqvarna's LowVib technology is present on the 572xp. This means that both the engine and handles are isolated, dramatically reducing the impact of vibrations on the operator. This greatly reduces fatigue daily and prevents any long-term physical effects that vibrations can have.
An inertia-activated chain brake is also included in the design. This is another of Husky's safety features that are present across the majority of their chainsaws. As a result, if an accident should occur, for example, a fall or drop, upon impact, the chain stops rotating immediately and greatly reduces the risk of serious injury.
Similarly, a 'dead man's switch' is also used. This means that as soon as pressure is no longer applied to the accelerator, the chain will stop rotating.
Husqvarna 572XP | eBay
Tested in the world's most rugged environments, the Husqvarna 572 XP® is ready for demanding work by forestry and tree care professionals.
Check Prices
We earn a commission if you make a purchase, at no additional cost to you.
How Does the Husqvarna 572xp Chainsaw Perform?
In short, very well. The 572xp is a step up from any previous Husqvarna generation. The core features that we outlined, such as the upgraded filtration and cooling systems, allow this machine to keep operating long after fewer models had to quit. From a professional point of view, this creates the perfect tool to get the job done in even the harshed of conditions.
The cutting bar is 28 inches long as standard, a whole 4 inches more than the next size down. This makes the 572xp perfect for cutting down the largest trees, where only the most heavy-duty tools will do. Of course, the cutting bar is removable, so should you only want the one chainsaw for use on multiple jobs, the 572xp can be used with a cutting bar as short as 15".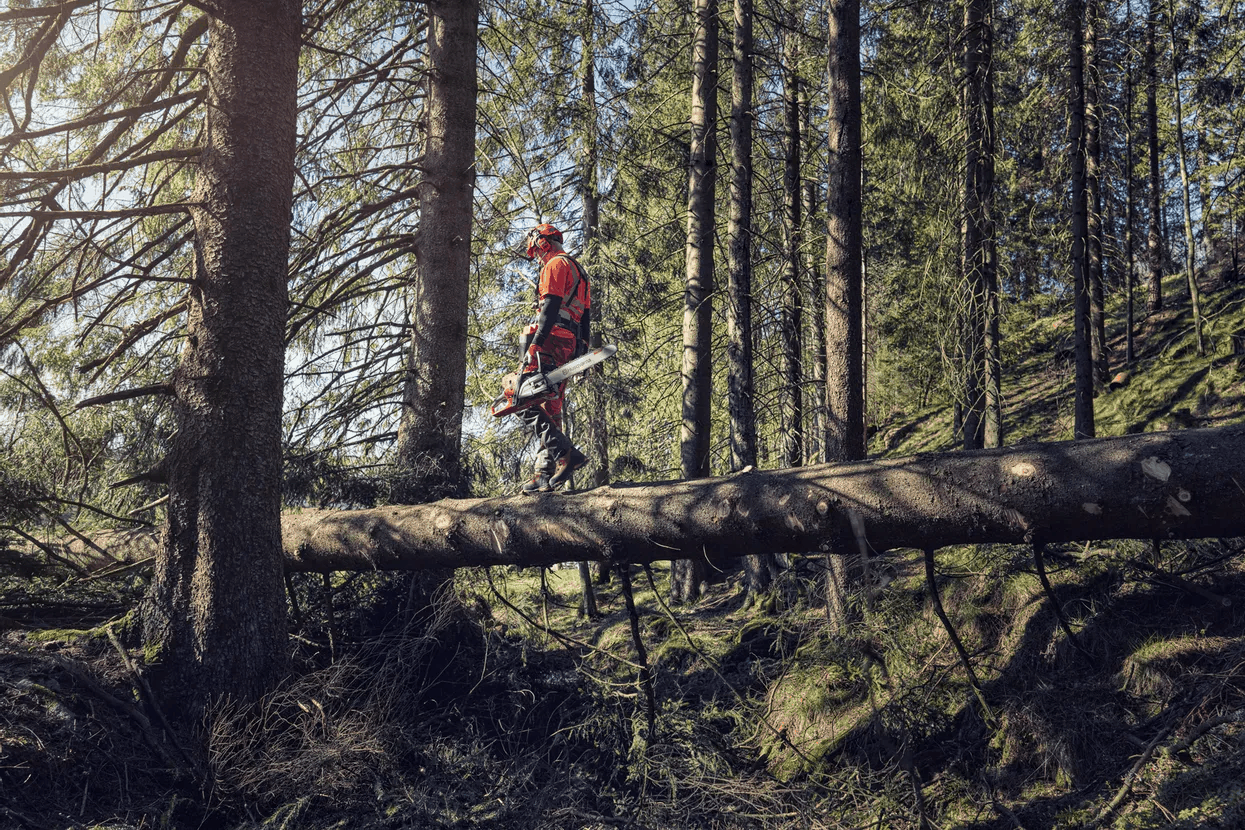 There are plenty of other clever elements to this chainsaw that help its overall performance. Away from the obvious benefits of size and raw power, things like having a clear strip on the gas tank to accurately measure fuel levels and Husqvarna's Smart Start technology that helps the way it works and performs when put to the test.
The Smart Start tech works by reducing the tension of the starter cord, meaning less force is needed to get the motor started. The choke is also automatic, which allows the first pull on the cord to start the engine 99% of the time (there is a manual override if you prefer to set the choke yourself).
Another performance-enhancing feature is the AutoTune included by the manufacturer. This works by adjusting the carburetor depending on the current conditions you're working in. This saves both time and energy and allows the engine to constantly work at optimal levels.
Then you've got the awesome feel of the thing. The ergonomically designed handles are covered in a rubber composite that makes handling this chainsaw a dream. A sturdy auxiliary handle wraps its way around the outside of the casing with a firm and secure secondary handle at the rear. This is where you'll find the accelerator complete with a dead man's switch. You can even pay a little extra and enjoy heated handles if you're going to be regularly working in colder conditions.
All in all, this is a machine that performs incredibly well. The price reflects how well it is built and the array of features included, but if that's not an issue, then there isn't too much to complain about. An efficient but powerful engine, X-cut chain, 28" cutting arm, and even the option for heated handles? It's almost too good to be true and certainly one of the best premium chainsaws on the market today.
Pros of the Husqvarna 572xp
There are plenty of pros to get excited about when looking at the 572xp. Here's the best of them:
Powerful & Efficient Engine
The 572xp features an engine that has nearly 6 horsepower. That's more than enough for the vast majority of chainsaw jobs and helps you tackle even the biggest of trees that need felling. When you then consider that the 572xp also features Husqvarna's X-Torq technology, it makes for quite the combination. The X-Torq design not only improves fuel efficiency but also helps to dramatically reduce overall emissions.
Cutting Reach & Power
The second major positive about this chainsaw is its reach and general cutting ability. As standard, the cutting bar is 28" long, right at the top end of what Husqvarna produces, and again helps on those mammoth jobs. The clever bit is that the chainsaw can also be used with a much smaller cutting arm of around 15" if needed. This makes it one of the most powerful and one of the most versatile chainsaws that Husqvarna produces.
Upgraded Cooling & Filtration Systems
These design features may not get the attention that the engine and cutting arm get, but they are equally as impressive in many ways. For example, the redesigned cooling system is imperative to allowing just a large chainsaw to keep operating over an extended period. Similarly, the improved air filtration prevents damaging build-ups, bocking the air intake, and potentially damaging the tool.
AutoTune
Another impressive innovation is Husqvarna's AutoTune technology. It works by assessing the working conditions and operating temperatures before setting and optimizing the carburetor settings as you work. As a result, no input is needed from the user, leading to a much more efficiently run tool.
Cons of the Husqvarna 572xp Chainsaw
Despite the overall positivity surrounding the 572xp, there are some drawbacks to consider before taking the plunge and purchasing one.
Price
The first and most obvious one is the product price. At close to a thousand dollars, this is not a cheap piece of kit. For commercial entities, this may not prove to be too unattractive given how well it performs, but for homeowners looking for a powerful chainsaw to use, this could prove to be a little on the expensive side. Depending on your needs, many cheaper alternatives will be just as suitable.
Weight
This unit is very heavy. With the size of the engine, cutting arm, and chain, it's no wonder it's on the heavy side. This does, unfortunately, mean this chainsaw is not suitable for someone looking for an ultralight and compact saw. Although the cutting arm is interchangeable, should you need to use a shorter one.
Are There Any Alternatives?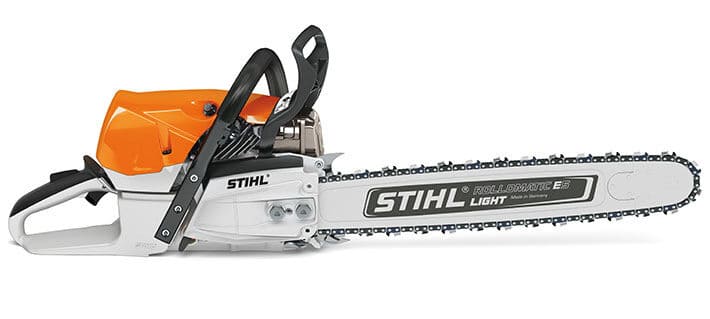 This is the direct competitor to the 572xp. It is a similar size and weight but features a little less power than the Husqvarna. Despite this, the engine is highly efficient and provides an excellent alternative to the 572xp. They are so similar that it comes down to personal preference and which brand the buyer ultimately wishes to own.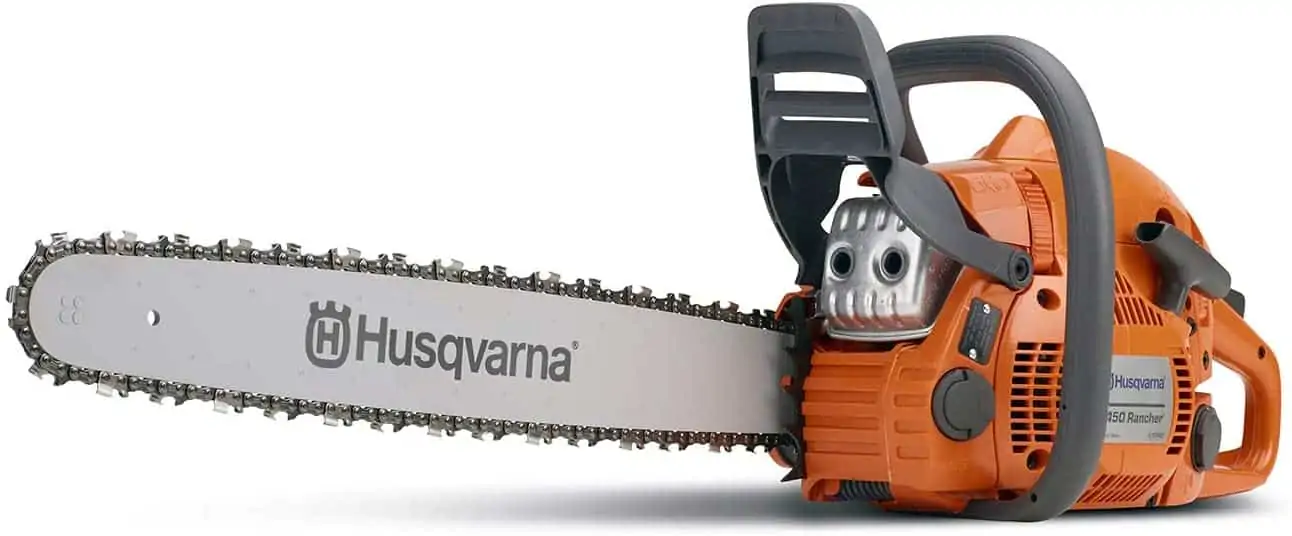 Another husky for you to think about is the 450 Rancher. This is still a large chainsaw that includes many of the features that the 572xp does. However, this comes in at a slightly lower price point. While still suitable for professional use, this particular model is much more suited to homeowners and other non-commercial use.
Husqvarna 20 Inch 450 Rancher II Gas Chainsaw | Amazon
The new lightweight & efficient 450E series chainsaw is an all-round saw, ideal for those looking for a chainsaw that is exceptionally easy to start & maneuver. Featuring X-Torq engine for lower fuel consumption & reduced emission levels.
Buy at Amazon.com
We earn a commission if you make a purchase, at no additional cost to you.
06/10/2023 10:29 am GMT
Frequently Asked Questions About the Husqvarna 572xp Chainsaw
Question: Is the Husqvarna 572xp suitable to use all day?
Answer: Thanks to added productivity features such as air injection, LowVib technology, and AutoTune, the Husqvarna 572xp can be used all day, with the effects of fatigue greatly reduced.
Question: What CC Engine Does the Husqvarna 572xp have?
Answer: The total size of the engine is 70.6cc and produces 5.8 horsepower. Consequently, it is one of the more powerful chainsaws on the market.
Question: How do you start a Husqvarna 572xp?
Answer: Starting this chainsaw is straightforward. First, simply place the unit between your thighs and behind the right knee while holding the handle with your left hand. Next, grip the unit tightly and pull the starter cord. The engine should fire first-time thanks to the manufacturer's easy start technology, but if it doesn't, keep pulling the cord until it does.
The Final Word – Is The Husqvarna 572xp a Good Chainsaw?
I don't think there is any doubt that the 572xp is an excellent chainsaw. It is particularly good if you are a professional landscaper or forester looking for a new tool to use regularly in a commercial setting. With its powerful engine, efficient fuel use, and incredible cutting power, it's pretty hard to go wrong.
Husqvarna 572XP | eBay
Tested in the world's most rugged environments, the Husqvarna 572 XP® is ready for demanding work by forestry and tree care professionals.
Check Prices
We earn a commission if you make a purchase, at no additional cost to you.
If you're looking for a more suitable saw to use around the home and on private property, this may prove to be a little overkill. However, there are plenty of smaller chainsaws that are still excellent tools that may be more suited to your needs. It'll also save you a few dollars too.